Chicken Pot Pie is a classic comfort food full of chicken, carrots, peas and celery in a delicious homemade creamy chicken sauce (no cans!) baked in a flaky pie crust.
We love cooking up classic comfort food in this house, and this week we're cooking Chicken Parmesan, Slow Cooker Pot Roast, and Oven Baked Pork Chops.
 CLASSIC CHICKEN POT PIE
As a child, my food memories are among my fondest. One dish I remember really well, but never got to enjoy homemade was chicken pot pie! Our version was always the Marie Callendar's classic chicken pot pies you would find in your freezer. I know, not gourmet dining, but they never lasted long!
I don't make pot pie often, mostly because we tend to reserve pie crusts for sweet options around here (like this Banana Cream Pie), and this chicken pot pie recipe takes a fair amount of time to make. I do find though, when I make it, the leftovers seem to vanish at an alarming rate.
HOW TO MAKE EASY CHICKEN POT PIE WITH BISCUITS
Another favorite in this house is the biscuit casserole version of chicken pot pie. I use the same biscuit recipe from my Buttermilk Biscuits, because they're tried and true, and double the filling recipe. Just grease a baking dish and pour in your chicken pot pie filling. Then top with biscuits in a layer, brush the tops with buttermilk, and bake until biscuits are fluffy and cooked through.
Or you could even make it with biscuits in the slow cooker using my Slow Cooker Crispy Chicken Pot Pie recipe.
HOW TO THICKEN CHICKEN POT PIE
The chicken pot pie filling is thickened by making a roux with butter and flour. When you whisk the flour in, cook for another minute until the flour has a chance to cook out some of the raw flavor. It doesn't take very long and for the purposes of the chicken pot pie we don't need to let it brown. Then pour in the liquid and cook until it begins to thicken.
In some recipes, especially southern recipes a roux can cook for quite a long time and can brown create a deep nutty flavor. You do not need to create that depth of flavor here. We are utilizing the flour for the purposes of thickening the sauce rather than for the flavor.
If your sauce doesn't thicken, you can whisk 2 tablespoons of corn starch into ¼ cup cold broth and pour it into the sauce while stirring. The pot pie filling will thicken as it heats.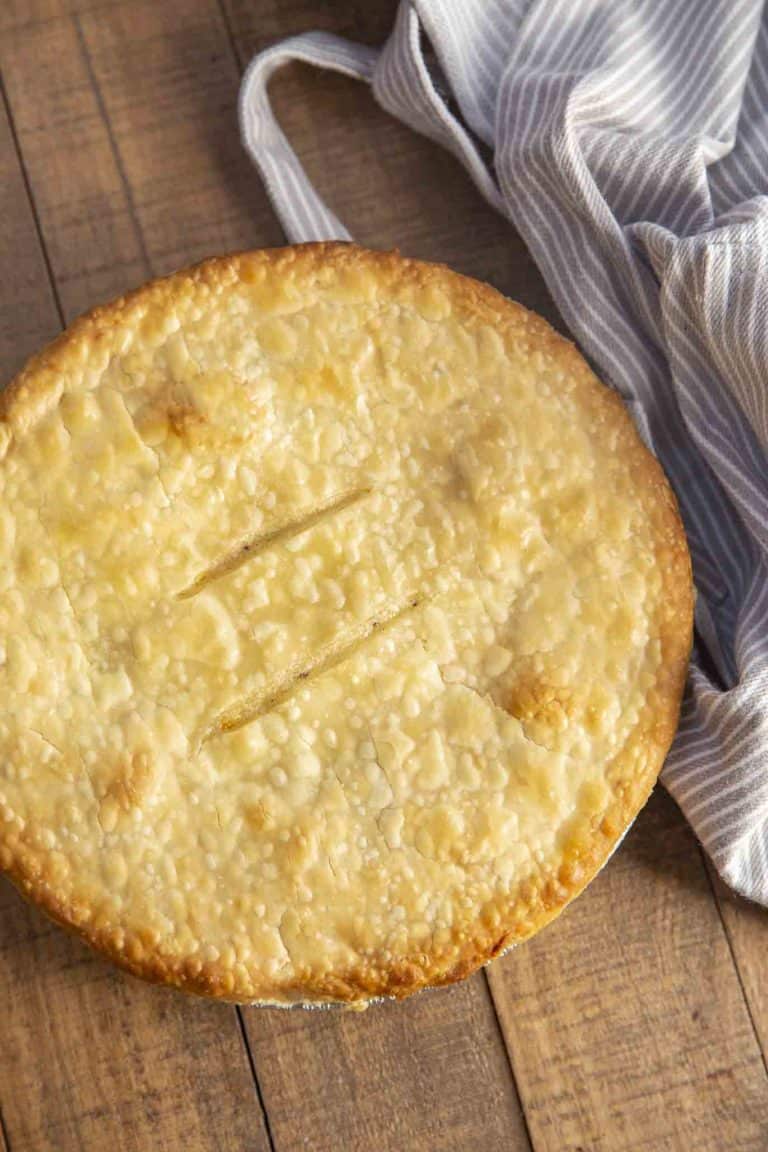 Create a free account to

Save Recipes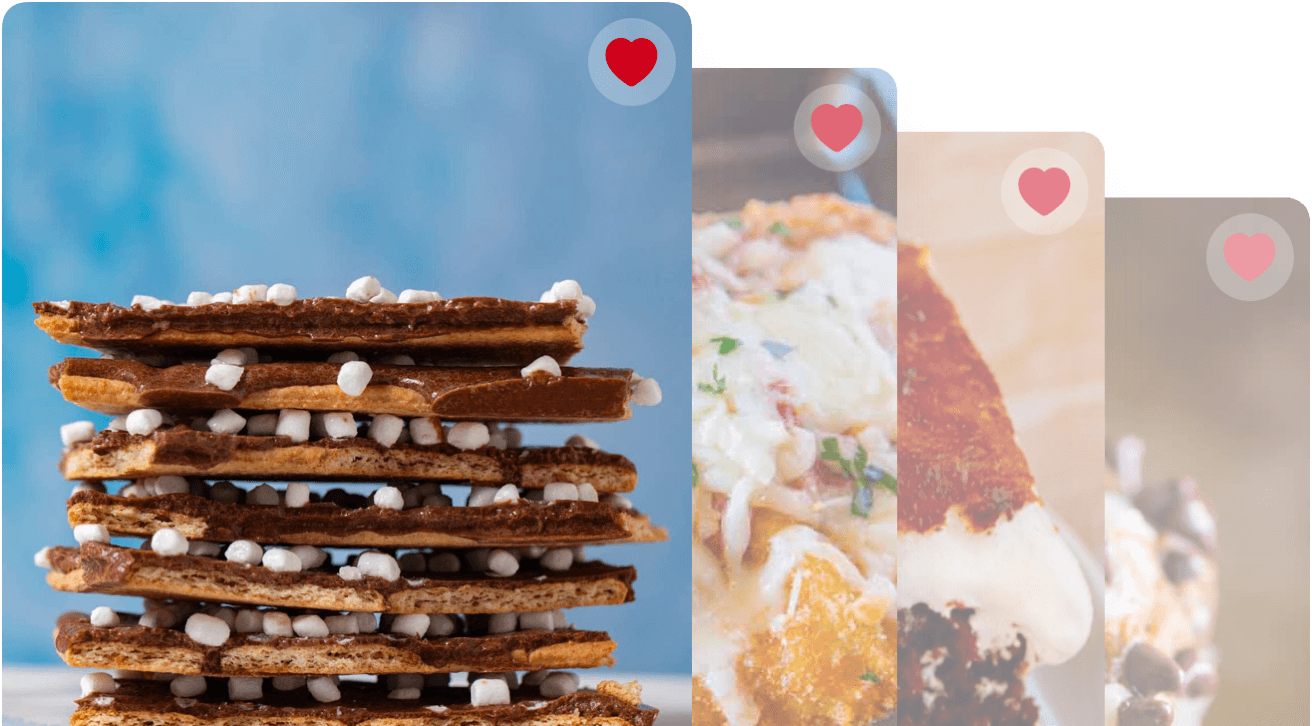 HOW TO REHEAT CHICKEN POT PIE
Preheat oven to 350 degrees F. Cover pot pie with tinfoil and bake for 10-15 minutes, or until warmed through. The tinfoil prevents the pot pie crust from burning. If you're taking the pot pie from the freezer to the oven, you will need to increase the cook time.
FREEZING CHICKEN POT PIE
You can make a double recipe of this old fashioned pot pie and freeze the second pie. When we do this, I usually reheat it by taking the dish out of the freezer the night before and letting it thaw in the fridge, then cook at 350 degrees for 45-50 minutes.
CAN YOU USE OTHER MEAT WITH CHICKEN POT PIE?
This easy chicken pot pie recipe can be used with other meats like leftover ham, turkey, or ground beef. It's the perfect way to use up leftovers from a holiday dinner or a store-bought rotisserie chicken.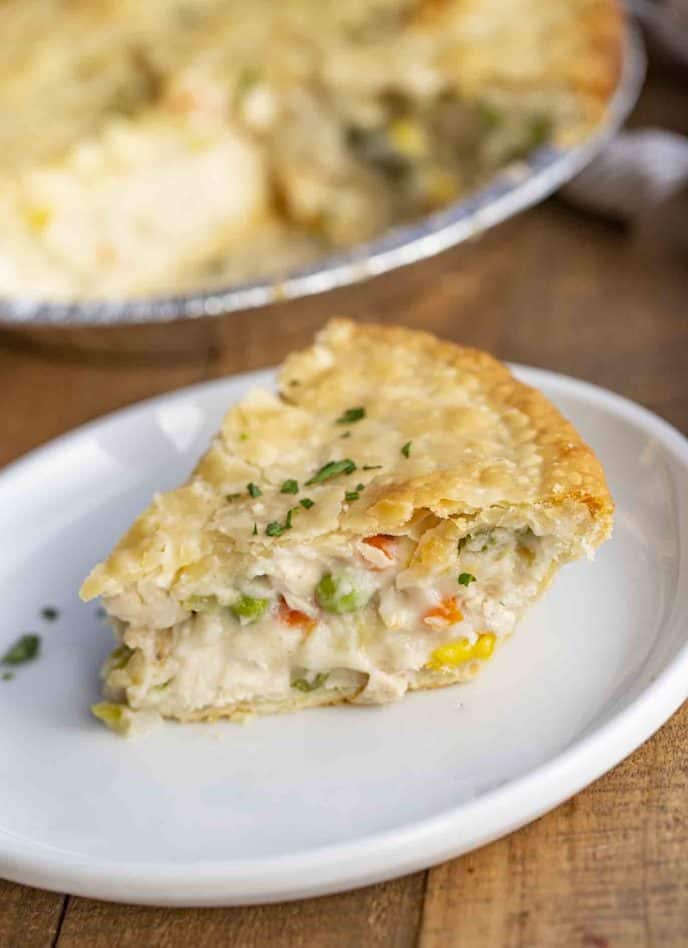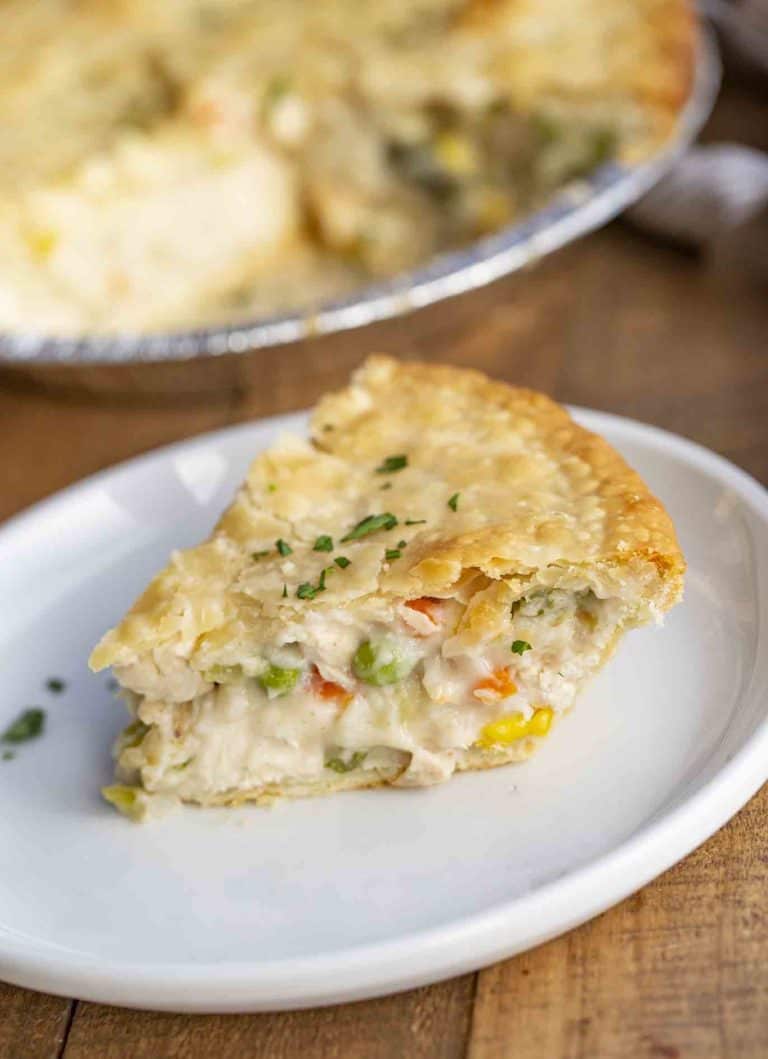 WHAT Vegetables work well in CHICKEN POT PIE?
Chicken pot pie traditionally uses carrots, celery, onions, and peas. But you can add other veggies if you want to. Here's a few that would work well.
zucchini
sweet potatoes
green beans
parsnips
turnips
broccoli
bell pepper
Really anything else you know your family will happily eat! I sometimes even just add minced up bits of spinach to the mix since I know they love everything else in the recipe. Why not, right?
TIPS FOR MAKING CHICKEN POT PIE
If you would like to make these into personal sized chicken pot pies, use small ramekins and cut out the pie crust to fit. You may need more crust for this method, cook for 5-10 minutes less time.
Crimp the sides of the pie crust using a fork to make it look more decorative.
Be sure to carve in a couple of vents to prevent the pie crust from cracking.
This recipe also works with reduced-fat milk or low-sodium / low-fat broth if you need it. Or you can substitute the milk with high-fat heavy cream if that's what you have in the refrigerator.
You can use pre-made pie crust or puff pastry to cut some time. Buy a second pie crust and roll it out for the top. Pre-bake the pie crust according to package instructions.
If you're stuck for time, you can use condensed cream of chicken soup in place of the roux. I would still saute some fresh cut-up vegetables in a skillet before adding this though.
If you want to mimic the flavors of the condensed soup you can also use my homemade version of Cream of Chicken Soup (Condensed).
If you make your crust from scratch you can make a double batch (two full pot pies worth) and make a double version of this dish in a foil lasagna pan for a crowd. Or you know, for a normal family meal…this chicken pot pie recipe will be popular, I promise!


Ingredients
2

pie crusts

(9 inch) unbaked

1/3

cup

butter

1/2

cup

celery

, sliced

1/3

cup

onion

, chopped

1/3

cup

flour

3/4

teaspoon

kosher salt

1/4

teaspoon

black pepper

1/2

teaspoon

celery seed

1

cup

milk

2

cups

chicken broth

2

cups

chicken breast

cooked and cut into 1/2" cubes

3

carrots

, diced

1

cup

green peas

, frozen

½

cup

corn

1

large

egg

2

tablespoons

water
Instructions
Preheat oven to 375 degrees and add the pie crust to your pie pan.

In a large skillet add the butter, celery and onions and cook on medium heat for

4-5 minutes

until the onions are translucent before adding in the flour and whisking well for

1 minute

.

Season with salt, pepper and celery seed before adding in the milk and broth slowly while mixing very well keeping the mixture smooth, simmering until thickened (about

6-8 minutes

).

Add the chicken, carrots, corn and peas to the saucepan and mix well with the milk mixture before pouring into the pie dish and topping with the second pie crust, sealing the edges.

Cut some small slits in the top of the pie crust, brush with egg wash (mix the egg and 2 tablespoons of water together to make this) and bake in the preheated oven for

45 minutes

, or until pastry is golden brown and filling is bubbly.
Notes
Note: click on times in the instructions to start a kitchen timer while cooking.
Nutrition
Calories:
420
kcal
|
Carbohydrates:
35
g
|
Protein:
17
g
|
Fat:
22
g
|
Saturated Fat:
9
g
|
Cholesterol:
97
mg
|
Sodium:
769
mg
|
Potassium:
503
mg
|
Fiber:
3
g
|
Sugar:
4
g
|
Vitamin A:
4320
IU
|
Vitamin C:
17.1
mg
|
Calcium:
77
mg
|
Iron:
2.6
mg