Slow Cooker Crispy Chicken Pot Pie with crispy chicken thighs and all your favorite pot pie vegetables cooked together to make a thick and creamy side dish to the chicken.
Like our Classic Chicken Pot Pie but with half the work, this Slow Cooker Recipe will be a hit with your family!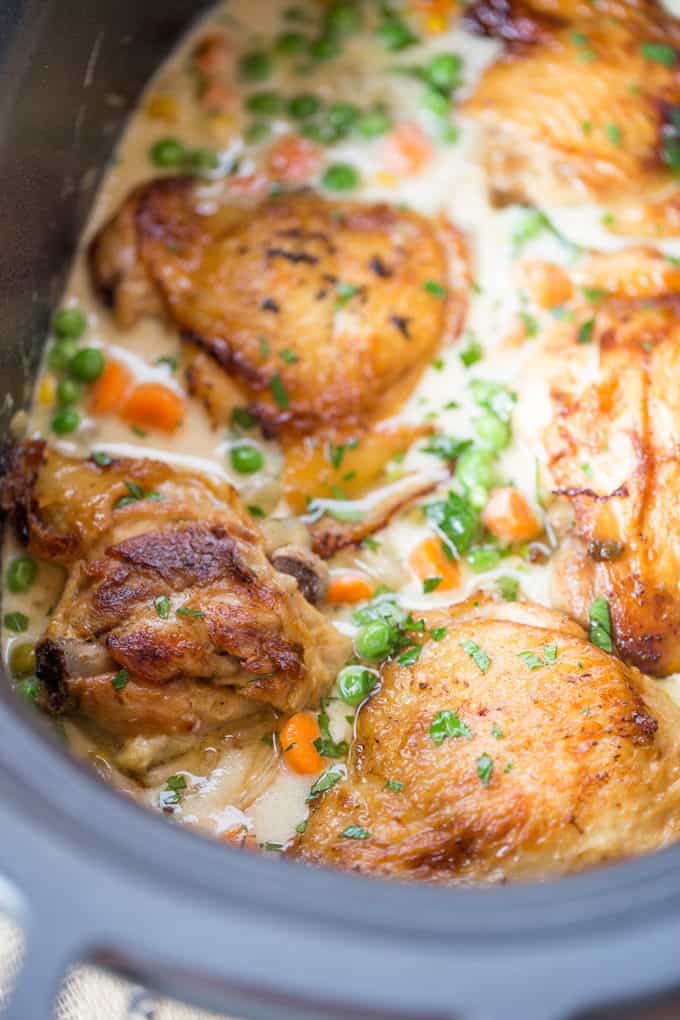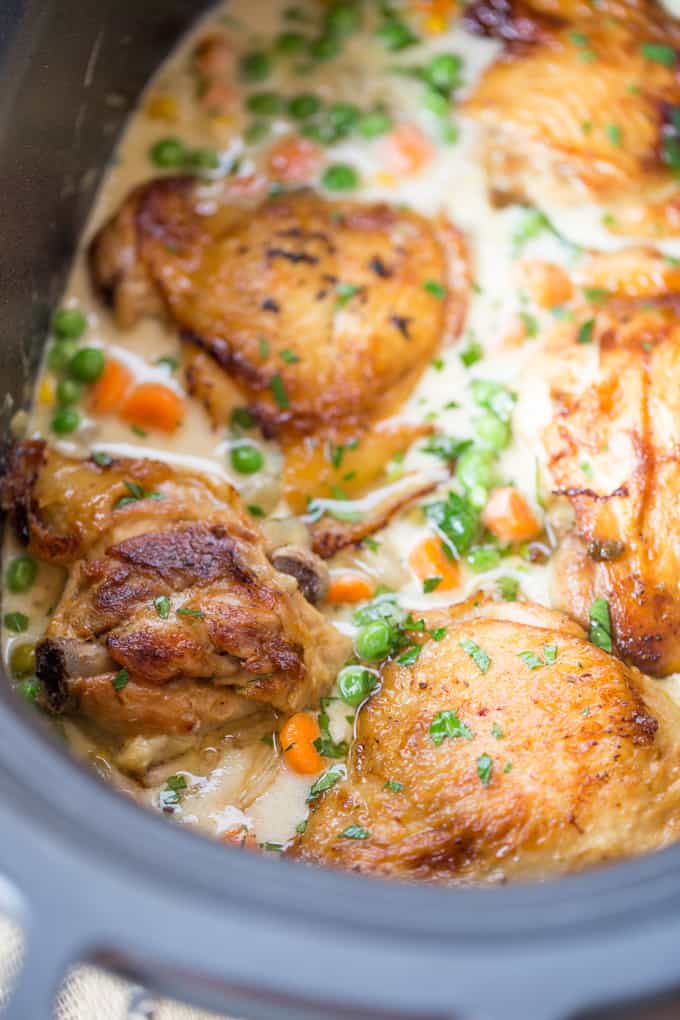 Crockpot Chicken Pot Pie
Slow Cooker Crispy Chicken Pot Pie is a quick take on the classic Chicken Pot Pie but instead of chicken chunks I leave the chicken thighs whole to make this a heartier meal.
Slow Cooker Crispy Chicken Pot Pie makes a perfect plate of food for your meal including the chicken and the side of all the classic vegetables you're used to. We include easy topping ideas to make on the side since you can't make that as part of the slow cooker cooking process.
MORE EASY CHICKEN RECIPES
Brown the Chicken
The chicken thighs in this recipe are browned ahead of time. I use a shortcut to do this because my slow cooker has an aluminum insert instead of porcelain but if you have porcelain it will make your meal infinitely better if you brown your chicken in a second pan before adding it to your slow cooker.
I know, I know, extra step and extra dirty dish is not what slow cookers are all about but I promise the flavors make up for it!
Vegetables:
Make this a quick meal using a classic frozen vegetable mix and canned (drained) potatoes.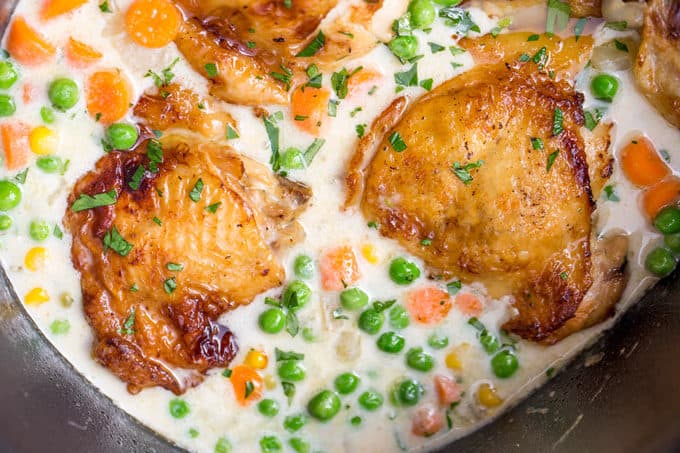 Create a free account to

Save Recipes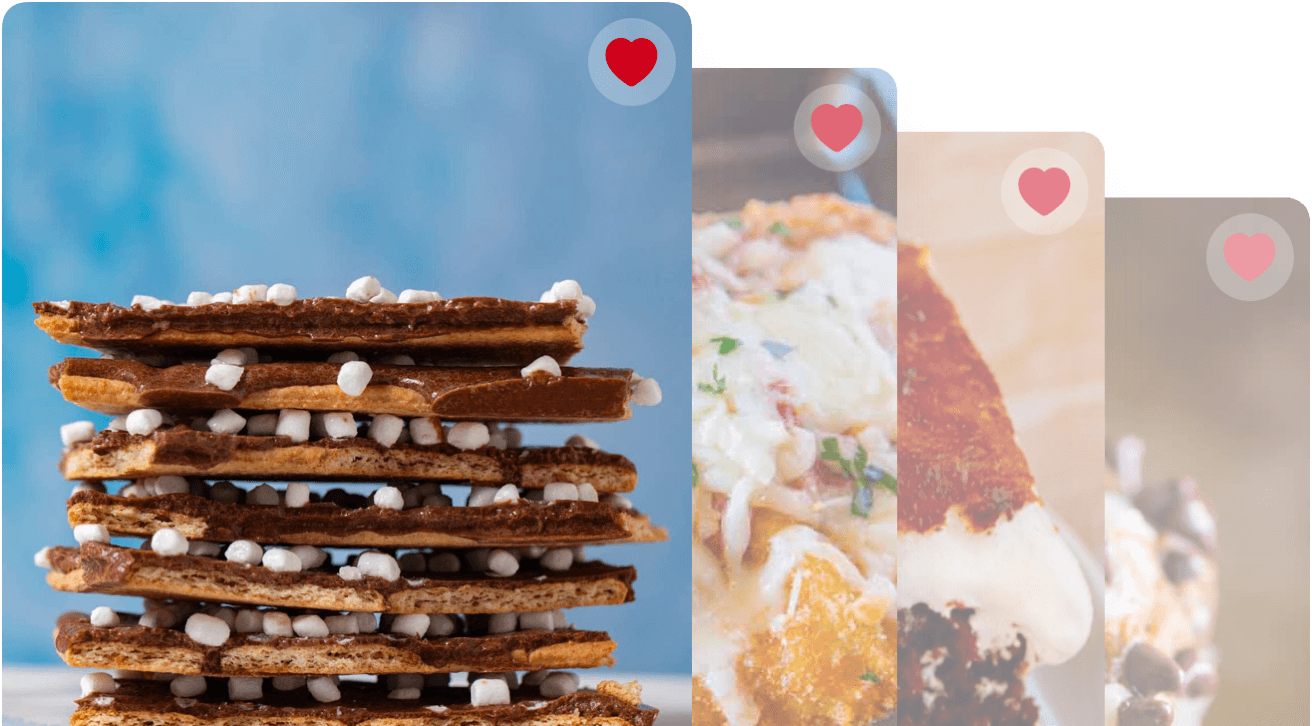 Chicken:
We use chicken thighs in this recipe for a heartier, richer meal. You can, instead chop 2 cups of chicken breasts or chicken thighs into the slow cooker instead if you would prefer. In testing we found the whole chicken thighs were rated higher, but either way you can't go wrong.
Crispy Topping:
You aren't going to get the same classic pie crust topping in your slow cooker, but you do have options!
Pie Crust: Roll out your pie crust and cut it into small squares or rectangles. Brush with an egg wash (1 egg + 1 tablespoon water mixed well) and bake until lightly browned. Once baked you can use it as a topping you break over the bowl or for dipping.
Puff Pastry: Using a sheet of puff pastry, cut it into 4 or 6 large squares, brush with egg wash and bake in the final 15 minutes while you're adding the cream and roux to your slow cooker.
Biscuit: If you're looking to add biscuits to your Slow Cooker Crispy Chicken Pot Pie instead of puff pastry like we did, top each bowlful with out delicious Buttermilk Biscuits.
Creamy Filling:
We use a mixture of broth and heavy cream that thickens into a beautiful gravy. Some other options include:
Evaporated milk: This is a good alternative to using milk and less rich than the heavy cream we are using. You'll need to thicken before serving, but the flavors are delicious.
Cream of Chicken Soup: In addition to your heavy cream, adding cream of chicken soup will add additional thickness to the gravy. You can also use cream of celery or cream of mushroom if you prefer.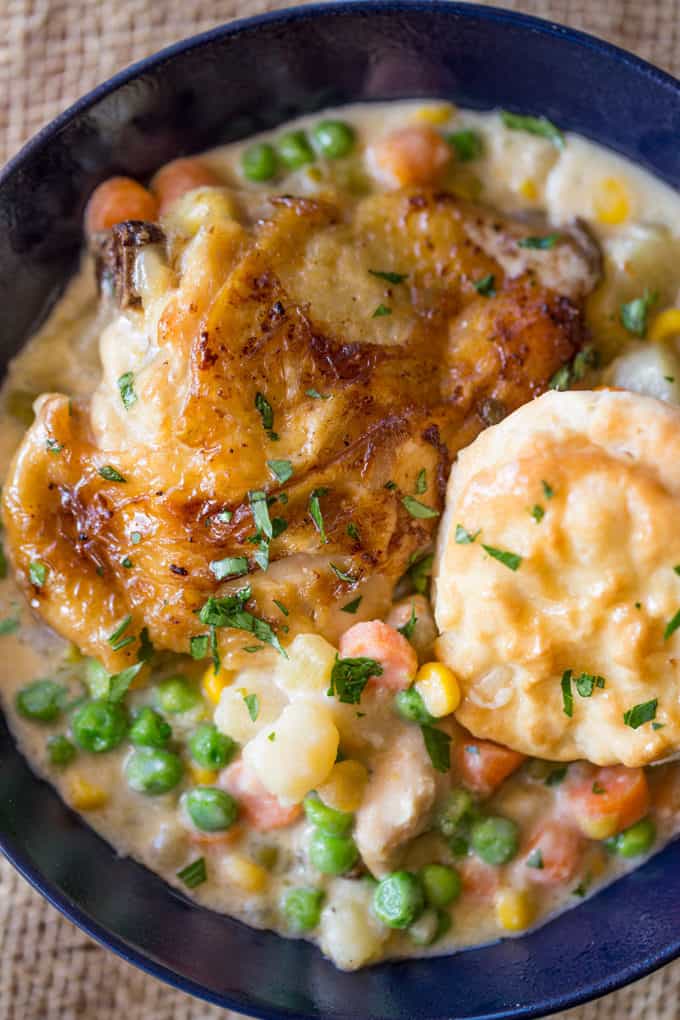 Tools Used in making this Recipe:
Food Flipper: I use this to flip the chuck roast easily. I use this tool EVERY time I cook something that requires flipping, it is amazing.
Slow Cooker: This recipe was made in this slow cooker. Love this slow cooker and how programmable it is. Plus the locking lid makes it a breeze for making a dish that needs to travel
Aluminum Insert Slow Cooker: I brown the meat in the insert without losing a bunch of the flavor by transferring the meat and leaving the browned bits behind. If you're thinking of a new slow cooker, consider it if your budget is open.
Cast Iron Skillet: If you don't have a slow cooker with a stovetop friendly
insert, this is my most used pan in my kitchen, heavy, keeps heat well and gives the BEST sear ever.


Ingredients
5

chicken thighs

, bone in and skin on

2

russett potatoes

, peeled and diced

1/2

yellow onion

, peeled and diced

1

celery stalk

, diced

1

teaspoon

Kosher salt and pepper to taste

1/4

teaspoon

coarse ground black pepper

1

cup

chicken broth

(or water)

1/4

cup

flour

4

tablespoons

unsalted butter

, softened

1/2

cup

heavy cream

12

ounces

frozen vegetable mix

, carrots, corn, peas and green beans

parsley and biscuits

, for garnish (optional)
Instructions
Remove the chicken to add in the vegetables.

Add the potatoes, onion and celery to the slow cooker and season with salt and pepper.

Put the chicken stock onto the vegetables.

Add the chicken thighs to the top of the vegetables cover.

Cook on low for

6 hours

or on high for

4 hours

.

About 15 minutes before the timer is done remove the chicken and make a paste out of the flour and butter using a fork to mash it together.

Add the butter mixture, the heavy cream and the thawed frozen vegetable mix to the vegetable mixture and stir.

If your chicken isn't crispy enough right out of the slow cooker, you can brown it in the oven on broil for a couple of minutes or if you have a cast aluminum slow cooker just add the chicken back on top and pop the whole insert into the oven under the broiler for

2-3 minutes

so the chicken skin crisps up.

Serve with biscuits or cooked puff pastry.
Nutrition
Calories:
452
kcal
|
Carbohydrates:
32
g
|
Protein:
29
g
|
Fat:
24
g
|
Saturated Fat:
13
g
|
Cholesterol:
165
mg
|
Sodium:
279
mg
|
Potassium:
920
mg
|
Fiber:
5
g
|
Sugar:
4
g
|
Vitamin A:
2915
IU
|
Vitamin C:
25.2
mg
|
Calcium:
68
mg
|
Iron:
4.7
mg