Slow Cooker Applesauce is an easy homemade recipe with apples, cinnamon, nutmeg and brown sugar. A tasty snack made with only four ingredients!
This delicious Applesauce recipe is a healthy homemade treat that tastes like the filling of a fresh baked Apple Pie, without all work or the calories. Serve it for Breakfast or Dessert!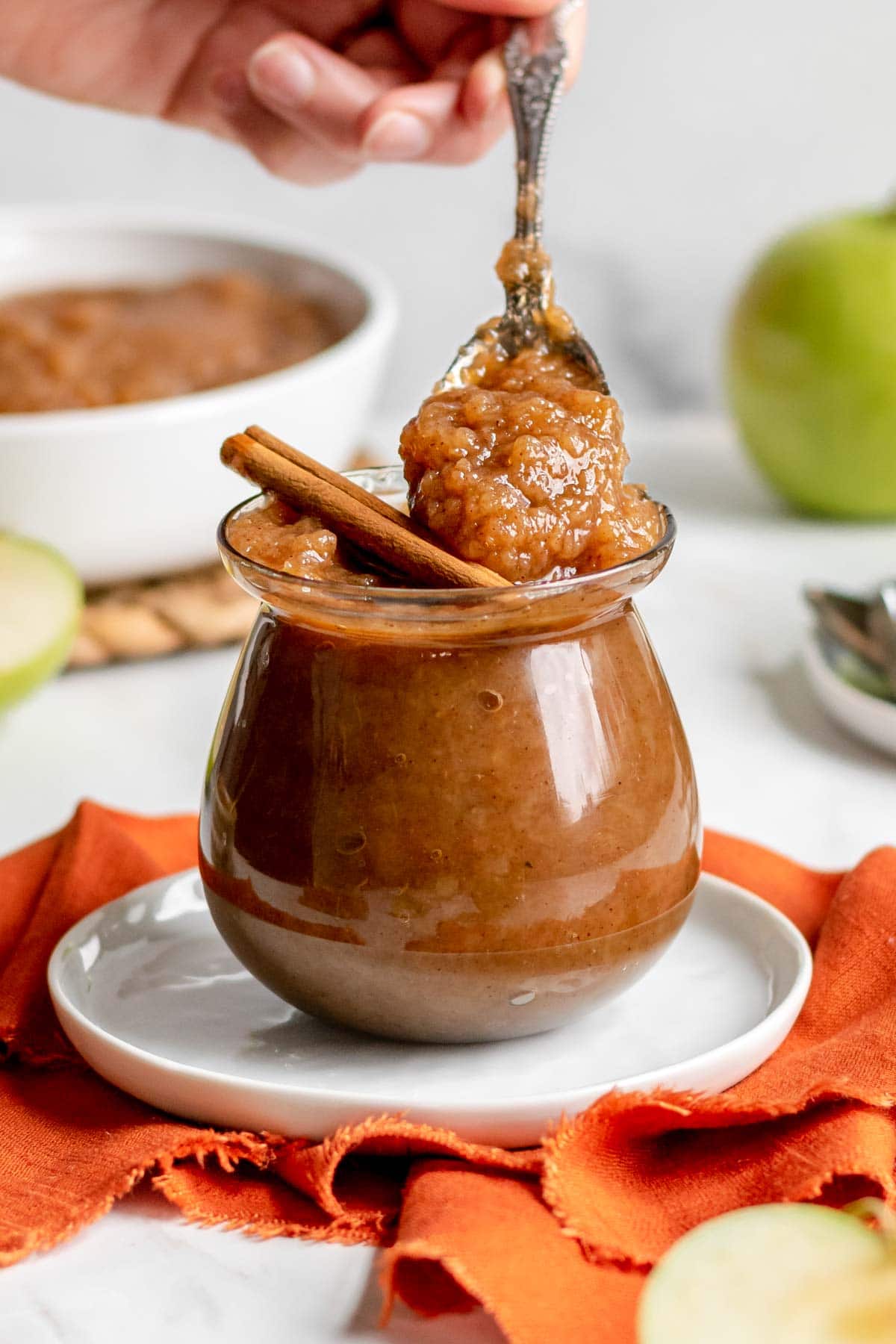 Who needs fall candles when you have a crock pot of Slow Cooker Applesauce cooking all day? Your house will be filled with the sweet, spiced aroma of apples, nutmeg, and cinnamon – plus you get to eat to it! The natural sweetness of apples means this recipe is low in added sugar, just enough to add delicious flavor.
This Chunky Applesauce recipe is so easy to make, with no stirring or watching your stove to make sure it doesn't burn. The simple ingredients mean it's a homemade treat you won't mind as part of your family's daily diet. It's the perfect snack recipe to let kids make, all they have to do is chop apples and dump everything in the crockpot. If you have a spiral vegetable peeler, kids can prepare peeled and sliced apples all on their own.
A slow cooker recipe makes the perfect applesauce every time, and it's almost impossible to overcook the apples. The longer they cook, the more they will break down and the easier it will be to get a smooth consistency by hand. If you want more nutrition, keep the skins on the apple for fiber and more tart flavor. Pulse in a food processor to break down the skin so it's easier to eat.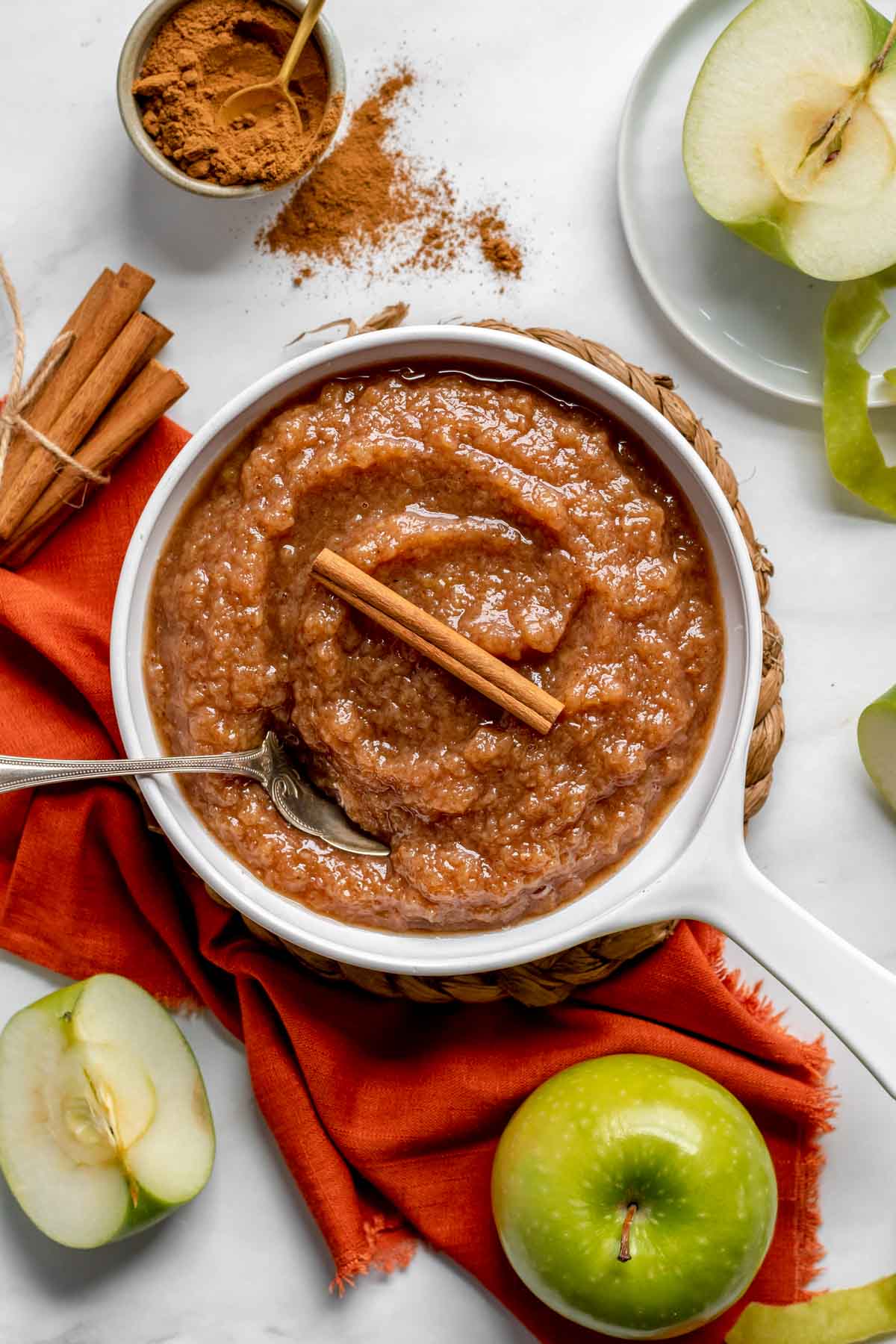 How to Make Slow Cooker Applesauce
Prep: Peel, core, and chop apples into large chunks. Place apples, cinnamon, and nutmeg into the slow cooker.
Cook: Cover and cook for 7-8 hours on low or 4-5 hours on high.
Mash: You can mash the apples with a fork. Otherwise let them cool completely and puree them.
Cooking Tips
Consistency: You can use a fork or a potato masher to smash the cooked apples for a chunkier applesauce, or use an immersion blender for smooth applesauce.
Blender Tip: If you use a high speed blender, make sure you cool it before blending so you don't splash boiling apple juice on yourself.
Apple Skin: If you don't mind the skin and like a chunky sauce, use an apple corer to core apples quick and make dicing apples fast.
Apple Cider: Want a quick apple cider? Add 10 cups water and 1 tablespoon whole cloves to your apple sauce mixture. Cook and mash as usual then strain through a fine mesh strainer, discarding solids.
Serving Options: Applesauce isn't just the perfect snack, you can serve it as dessert or for breakfast! Check out the ways to serve applesauce below.
More Delicious Apple Recipes
How to Serve Applesauce
Breakfast: Top oatmeal with delicious Applesauce for the perfect sweet taste and a healthy start to the day. You can also top pancakes, french toast, or waffles with Applesauce the same way you would any fruit topping.
Lunch: Divide the Applesauce into small, single serving containers for a grab and go homemade treat in lunchboxes. It would also make a nice morning snack for the kids at school.
Dinner: Apples and pork are a natural pair. Serve Grilled Pork Chops with Applesauce on the side. You can also set out a jar of sauce on your dinner table alongside a Pork Loin Roast.
Dessert: Serve warm Applesauce for dessert with a drizzle of Salted Caramel Sauce and a dollop of Whipped Cream. Add Applesauce to vanilla ice cream along with your favorite toppings for a delicious sundae.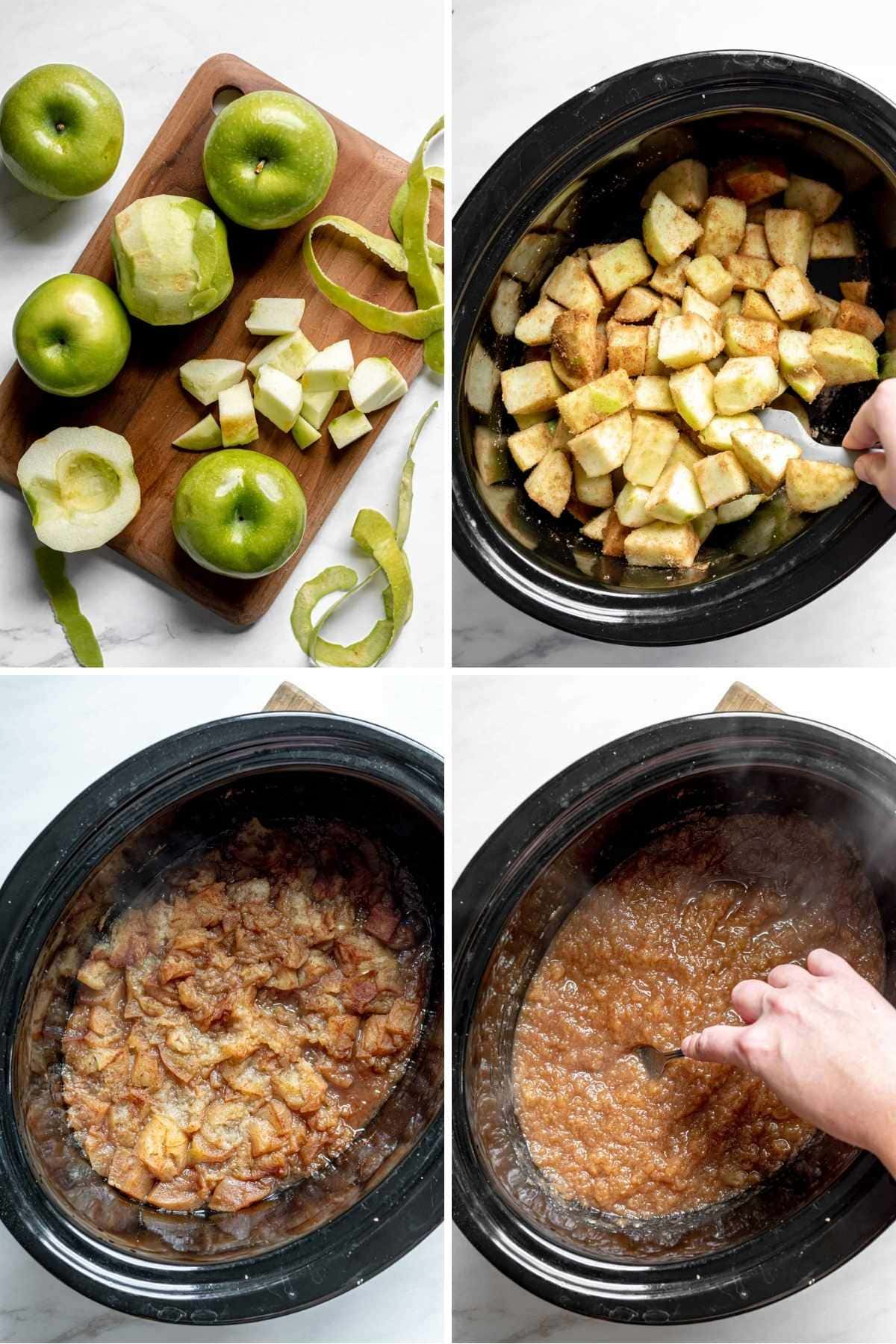 Create a free account to Save Recipes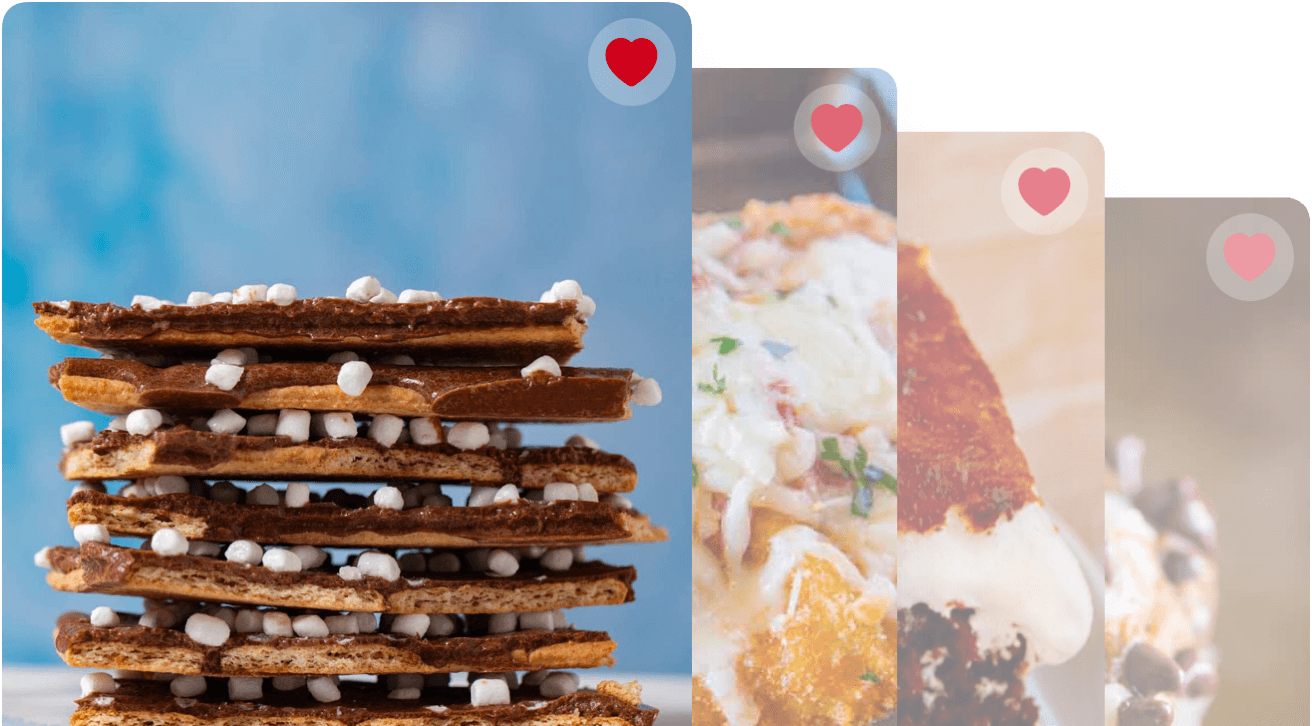 Frequently Asked Questions
What kind of apples should I use for homemade applesauce?
Unlike baking, where you only use certain apple varieties, it's a personal preference when it comes to applesauce. Try a sweet variety like Honey Crisp, Jonagold, Braeburn, or Fuji. Tart apples like Golden Delicious or Granny Smith are tasty, and Red Delicious is a budget friendly, easy to find variety!
How do you make Strawberry Applesauce?
Add a pound of fresh strawberries, that have been hulled and cut in half, to your apple mixture to make Strawberry Applesauce.
Can I substitute the sugar in Slow Cooker Applesauce?
Instead of brown sugar, use maple syrup, white sugar, honey, agave, or use a mixture of sugars. Use a really sweet variety of apple and add 1 tablespoon lemon juice for unsweetened applesauce.
What spices can I add to Slow Cooker Applesauce?
Try adding apple pie spice blend, Pumpkin Pie Spice, or a couple whole cinnamon sticks. Remove the cinnamon sticks before serving and storing.
How do I make homemade applesauce on the stove?
Cook on stovetop in a large dutch oven over medium heat for 30-35 minutes, stirring every 5 minutes. Once apples have broken down, you can smash or use immersion blender for smooth applesauce.
How do I make homemade applesauce in the oven?
Preheat oven to 350 degrees. Prepare applesauce according to recipe card and pour in a dutch oven or large casserole dish. Bake for 45 minutes. Remove and smash or cool and puree.
Why Make Applesauce at Home?
Applesauce can be purchased at the store quite easily. So why make it yourself at home? First of all, the smell while the applesauce cooks is just amazing. You'll never get that from a jar. Second, you can customize not only the flavor, but also the texture of your applesauce. Fine tune the spice and sweetness, and try a chunkier, or a smoother, more velvety texture. Lastly, this is really fun to make with the kids in your life. They will enjoy the process, make memories, and learn a little bit about cooking.
More Kid Friendly Desserts
How to Store Slow Cooker Applesauce
Serve: Serve Slow Cooker Applesauce warm or chill before serving. You can keep warm in slow cooker, covered, up to 4 hours and stir occasionally. Store after 2 hours at room temperature.
Store: Store Slow Cooker Applesauce in an airtight container, like a glass jar, for up to 1 week. Cool applesauce to room temperature before storing.
Freeze: Once cooled, freeze homemade applesauce in a sealed container for up to 3 months. Thaw overnight in the refrigerator and stir well before serving.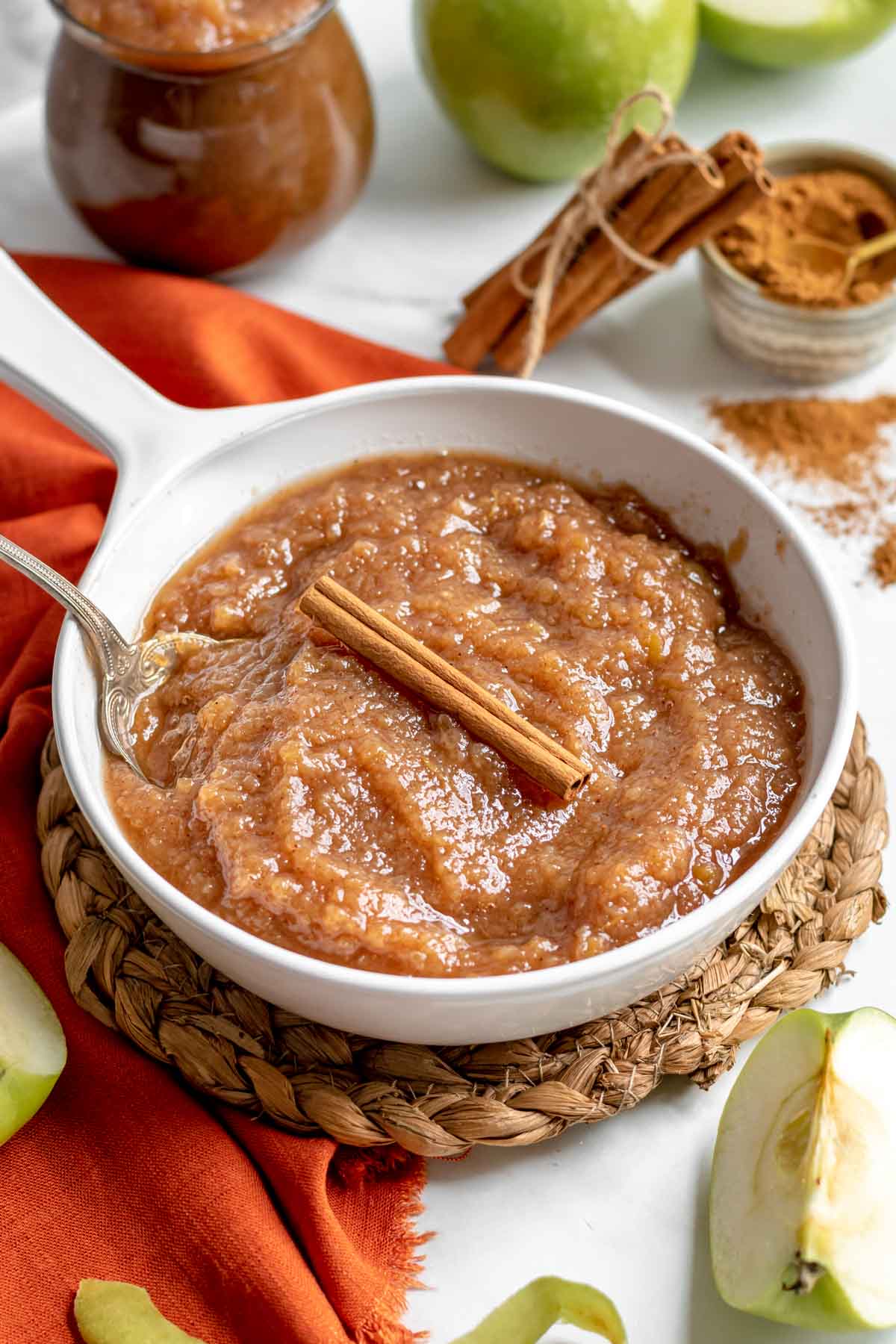 Ingredients
4

pounds

Granny Smith apples

, about 8

1/2

cup

brown sugar

, packed

1

teaspoon

cinnamon

1/4

teaspoon

ground nutmeg
Instructions
Peel, core, and chop the apples into large chunks.

Place the apples, cinnamon, and nutmeg into a large slow cooker.

Cover and cook on low for

7-8 hours

or on high for

4-5 hours

.

Carefully smash with a fork or let cool completely before pureeing smooth.
Nutrition
Calories:
137
kcal
|
Carbohydrates:
36
g
|
Protein:
0.5
g
|
Fat:
0.3
g
|
Saturated Fat:
0.1
g
|
Polyunsaturated Fat:
0.1
g
|
Monounsaturated Fat:
0.01
g
|
Sodium:
5
mg
|
Potassium:
210
mg
|
Fiber:
4
g
|
Sugar:
30
g
|
Vitamin A:
99
IU
|
Vitamin C:
8
mg
|
Calcium:
22
mg
|
Iron:
0.3
mg