Slow Cooker Rotisserie Chicken Thighs are tender and juicy on the inside with a crispy skin seasoned with savory, smokey flavors!
Using this easy Rotisserie Chicken Seasoning, you'll achieve the crispy outside texture similar to Crisp and Juicy Slow Cooker Chicken and all the flavors similar to Slow Cooker Rotisserie Chicken with the simplicity of using succulent chicken thighs.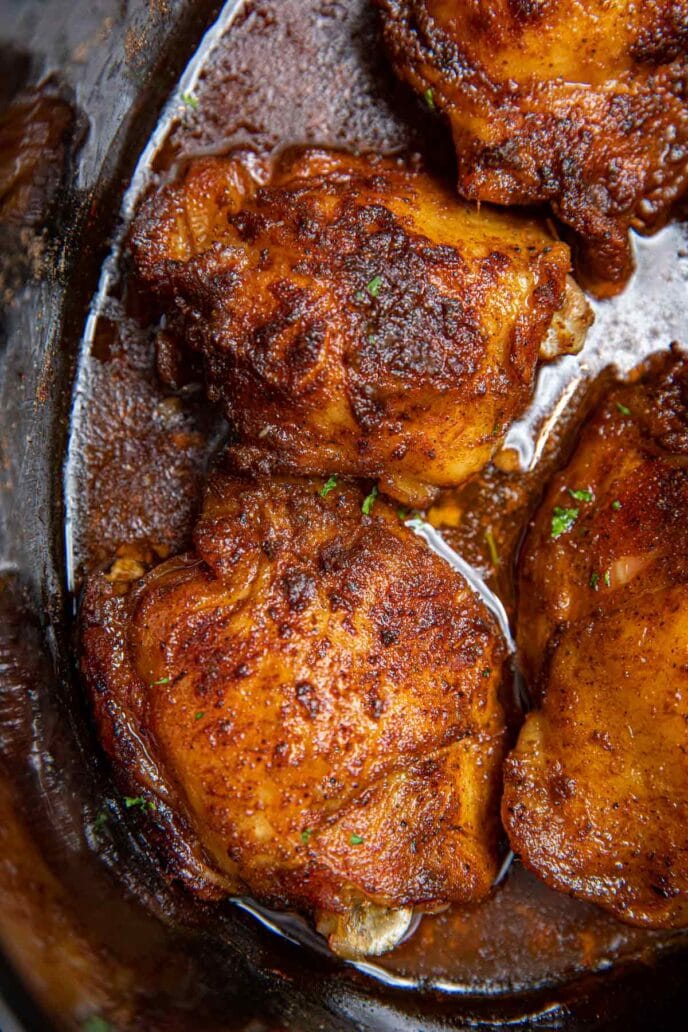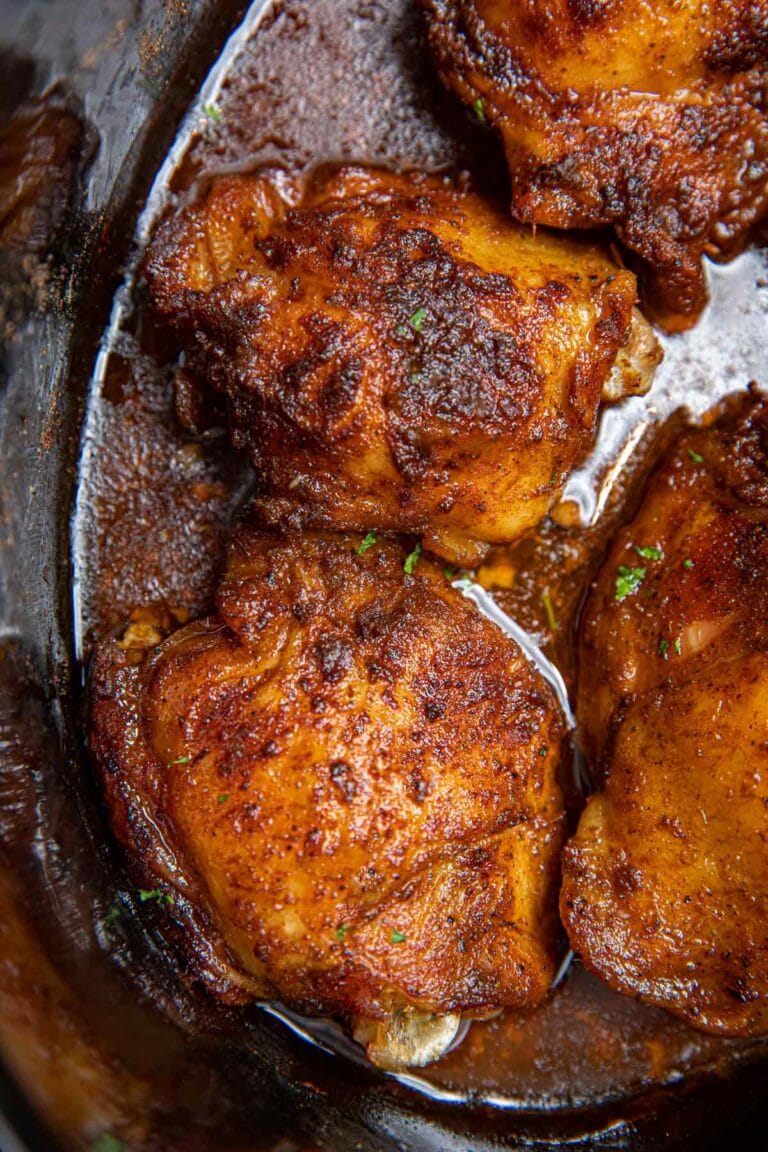 SLOW COOKER ROTISSERIE CHICKEN THIGHS
If you love the convenience of picking up a grocery store rotisserie chicken, you'll be thrilled with this slow cooker version that fills your home with the same tempting aroma and is ready to eat by dinner time, without a trip to the store.
Slow Cooker Recipes are some of the most popular on the site, and for good reason! They allow you to complete prep work for your main dish early in the day, freeing up your time and oven space for making sides and desserts. These Slow Cooker Rotisserie Chicken Thighs have all the classic rotisserie flavors of garlic, onion, thyme, salt, paprika, and cayenne pepper.
Bone-in chicken thighs are a favorite cut for the slow cooker. The bone and skin on the chicken thighs will infuse a ton of flavor and moisture into the chicken while it slowly cooks to perfection. By the time these are finished in the slow cooker, the fat in the skin will melt away and leave a thin, crispy exterior. To achieve this mouth watering texture, do not add any liquid to the slow cooker with the chicken thighs.
If you'd like a quicker method, these can also be made with an Instant Pot. Because of the faster cooking time, the skin does not always get as crispy as it would in the crock pot or oven, so I like to place the chicken thighs on a baking dish and put them under a low broiler for a few minutes after they come out of the Instant Pot to make the chicken skin nice and crispy.
This recipe would also be delicious prepared on an outdoor grill! If you plan to add any wet sauces to the rotisserie chicken thighs, such as Homemade BBQ Sauce, you will want to wait until after the thighs are finished cooking and you are about to serve them. Adding a sauce too soon will make the skin soggy.
You can also use bone-in, skin-on chicken breasts instead of chicken thighs. When making rotisserie chicken breasts in the slow cooker, reduce the cooking time to 4-5 hours on low so that the chicken breast does not dry out. As always when cooking poultry, use a meat thermometer to make sure the internal temperature reaches 165 degrees.
While your crock pot does the work for these Slow Cooker Rotisserie Chicken Thighs, prepare a comforting side dish such as Super Creamy Mac and Cheese or Easy Mashed Potatoes. Or put together an Easy Fruit Salad or Rainbow Roasted Vegetables to balance the bold rotisserie flavors with something light and fresh.
MORE EASY CHICKEN RECIPES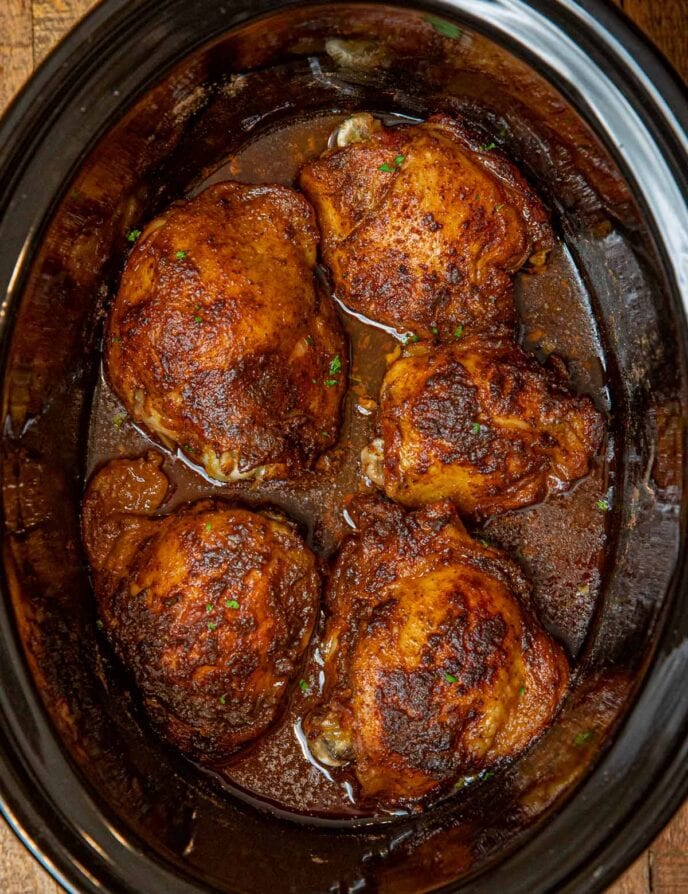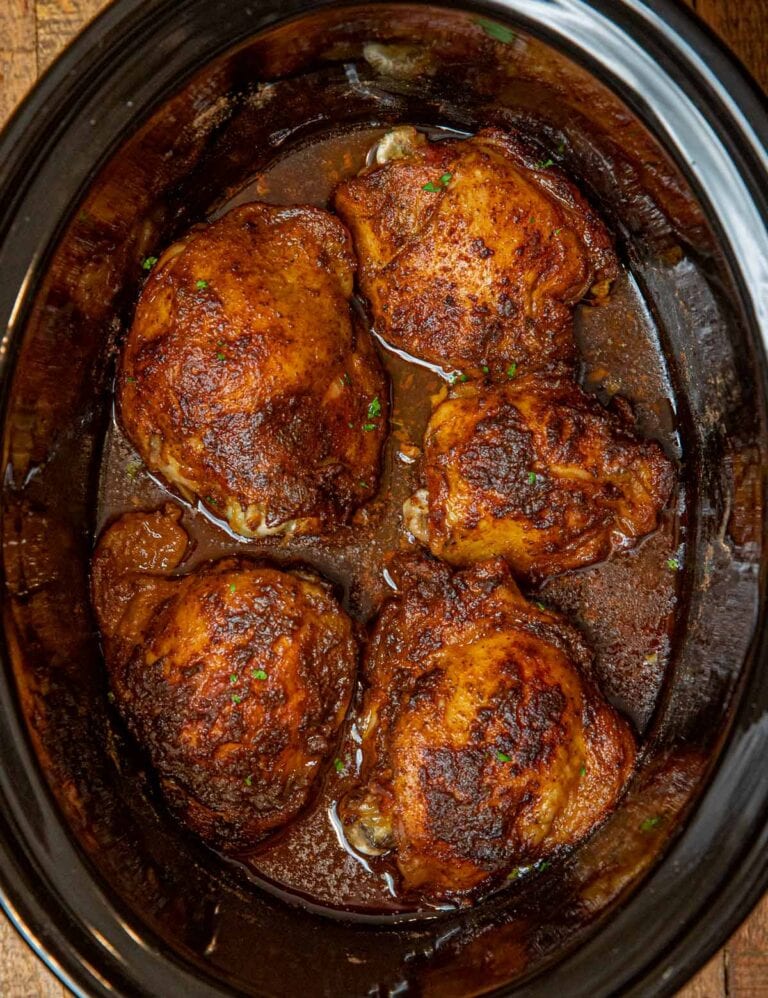 Create a free account to

Save Recipes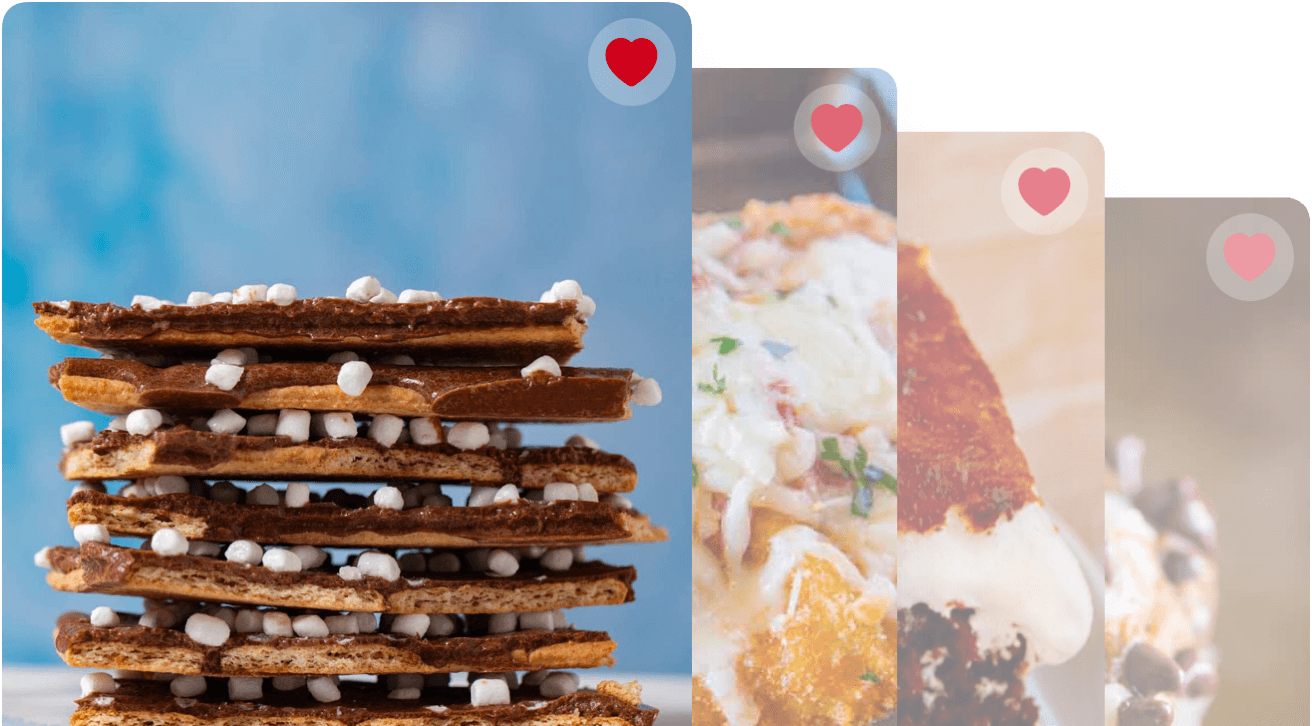 VARIATIONS ON SLOW COOKER ROTISSERIE CHICKEN THIGHS
Meat: Use chicken leg quarters, which is the thigh and drumstick connected, instead of only thighs to have a variety of dark meat pieces the whole family will love.
Seasonings: Change up the flavors of this slow cooker chicken thigh recipe by swapping out the rotisserie seasoning for Ranch Seasoning or Taco Seasoning.
Instant Pot Rotisserie Chicken Thighs
Season chicken thighs with 1 tablespoon Rotisserie Chicken Seasoning.
Pour 1 cup of water into the Instant Pot, and add chicken thighs on top of trivet.
Secure lid and set manual high pressure for 12 minutes, or 10 minutes if using boneless skinless chicken thighs.
Natural release for 5 minutes before quick release and removing lid.
Place thighs on a baking sheet and broil on low for 3 minutes to crisp skin, monitoring closely.
MORE SLOW COOKER CHICKEN RECIPES
HOW TO STORE SLOW COOKER ROTISSERIE CHICKEN THIGHS
Serve: Slow Cooker Rotisserie Chicken Thighs can be left at room temperature for up to two hours before they should be stored.
Store: Store chicken thighs in the refrigerator, wrapped in foil or in an airtight container, for up to four days.
Freeze: After chicken cools completely, remove meat from the bones and place in a freezer bag. Freeze up to 4 months.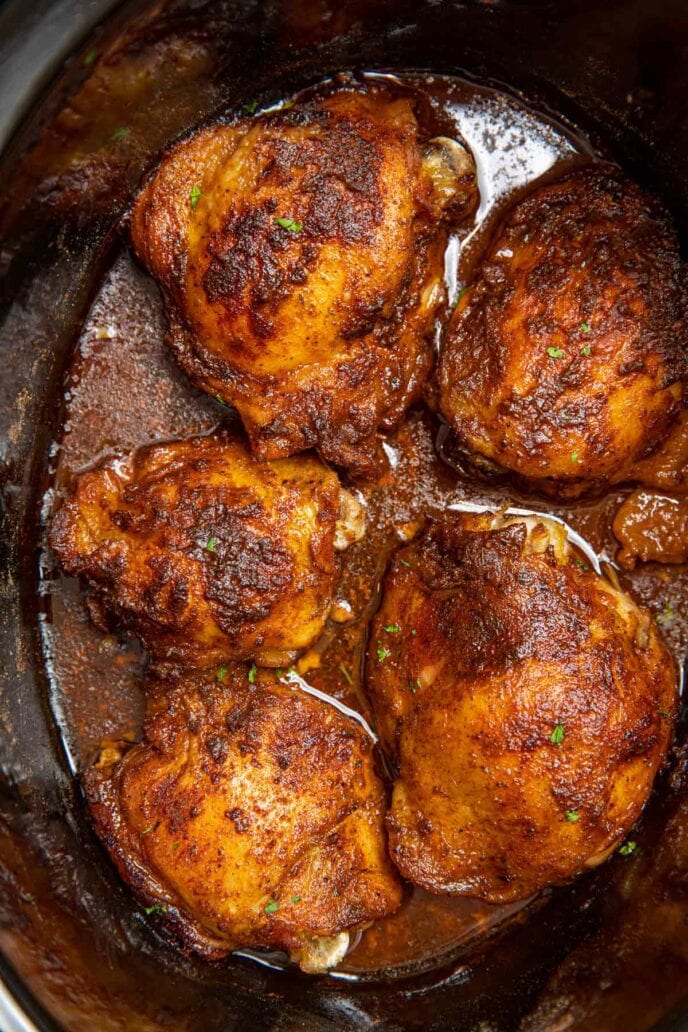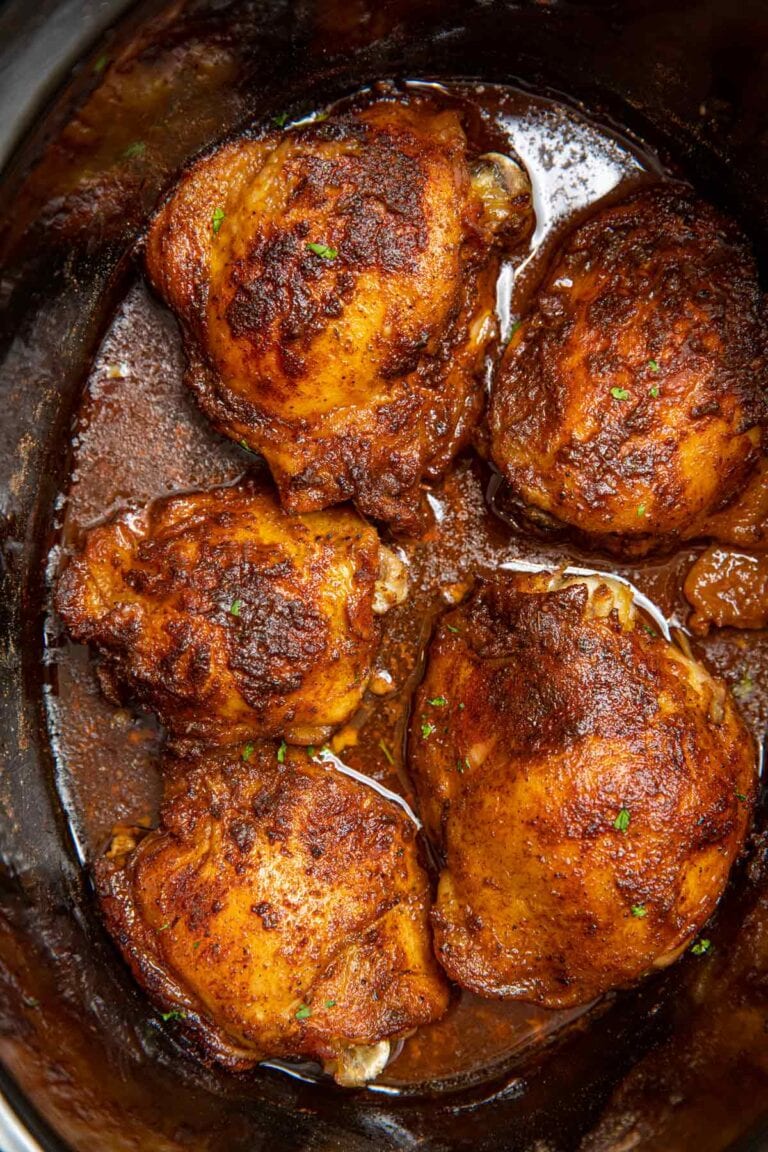 Instructions
Pat chicken thighs dry with paper towels and coat with oil. Cover evenly with Rotisserie Chicken Seasoning.

Arrange chicken thighs in the slow cooker in a single layer, skin side up.
Nutrition
Calories:
337
kcal
|
Carbohydrates:
1
g
|
Protein:
23
g
|
Fat:
26
g
|
Saturated Fat:
8
g
|
Cholesterol:
142
mg
|
Sodium:
111
mg
|
Potassium:
296
mg
|
Vitamin A:
113
IU
|
Calcium:
12
mg
|
Iron:
1
mg