Breaded Pork Chops are wonderfully tender with a crunchy cracker coating on the outside. Ready for a delicious dinner in under 15 minutes!
This easy Dinner Recipe takes our Traditional Pork Chop Recipe and adds a delicious crispy crust for an even more comforting meal.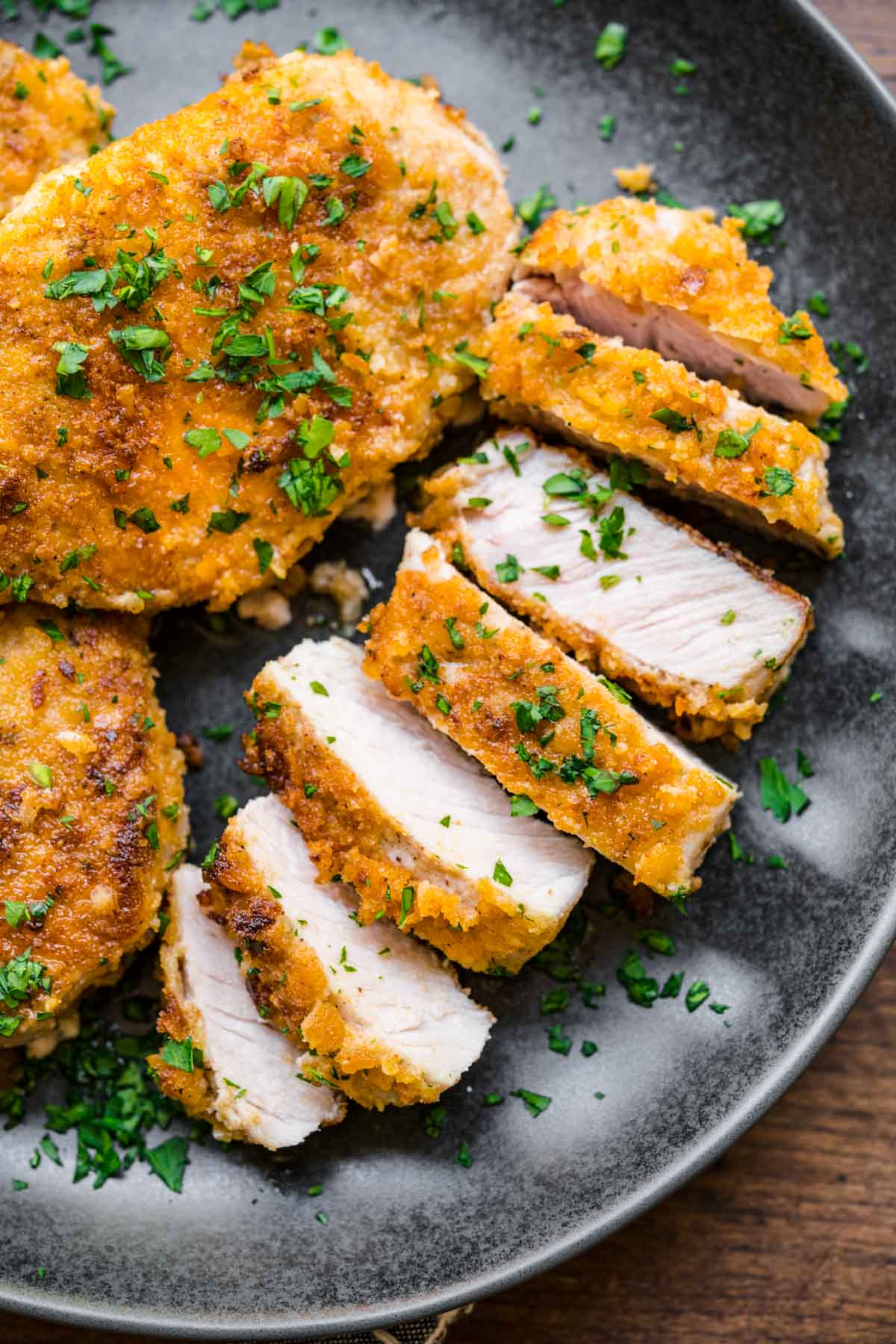 Pan-Fried Pork Chops have the same amazing texture as you'd get with deep-fried meat. Instead of the batter coating, we've used a simple cracker crumb mixture. They are made on the stovetop with easy cooking instructions, and the crumb coating gives the dish a crisp texture that goes perfectly with the amazing flavor from the lightly seasoned, juicy pork.
This wonderful dinner is easy to make in just a few minutes. It's great to serve for any weeknight when you want a delicious home cooked meal, but don't want to be spending all night in the kitchen. Most of the recipe ingredients are things you will already have in your pantry, like eggs, milk, and paprika. Just add pork chops to your grocery list and it should be super easy to throw this recipe together. Just dredge the meat in cracker crumbs and a little paprika, then cook them in the skillet and enjoy.
After the cooking, serve the Breaded Pork Chops with your favorite side dish recipes to round out the dinner. They'd taste great with green vegetables like Roasted Green Beans or Broccoli. Then finish the amazing meal off with some filling and comforting dishes like Mashed Potatoes, or Soft Dinner Rolls.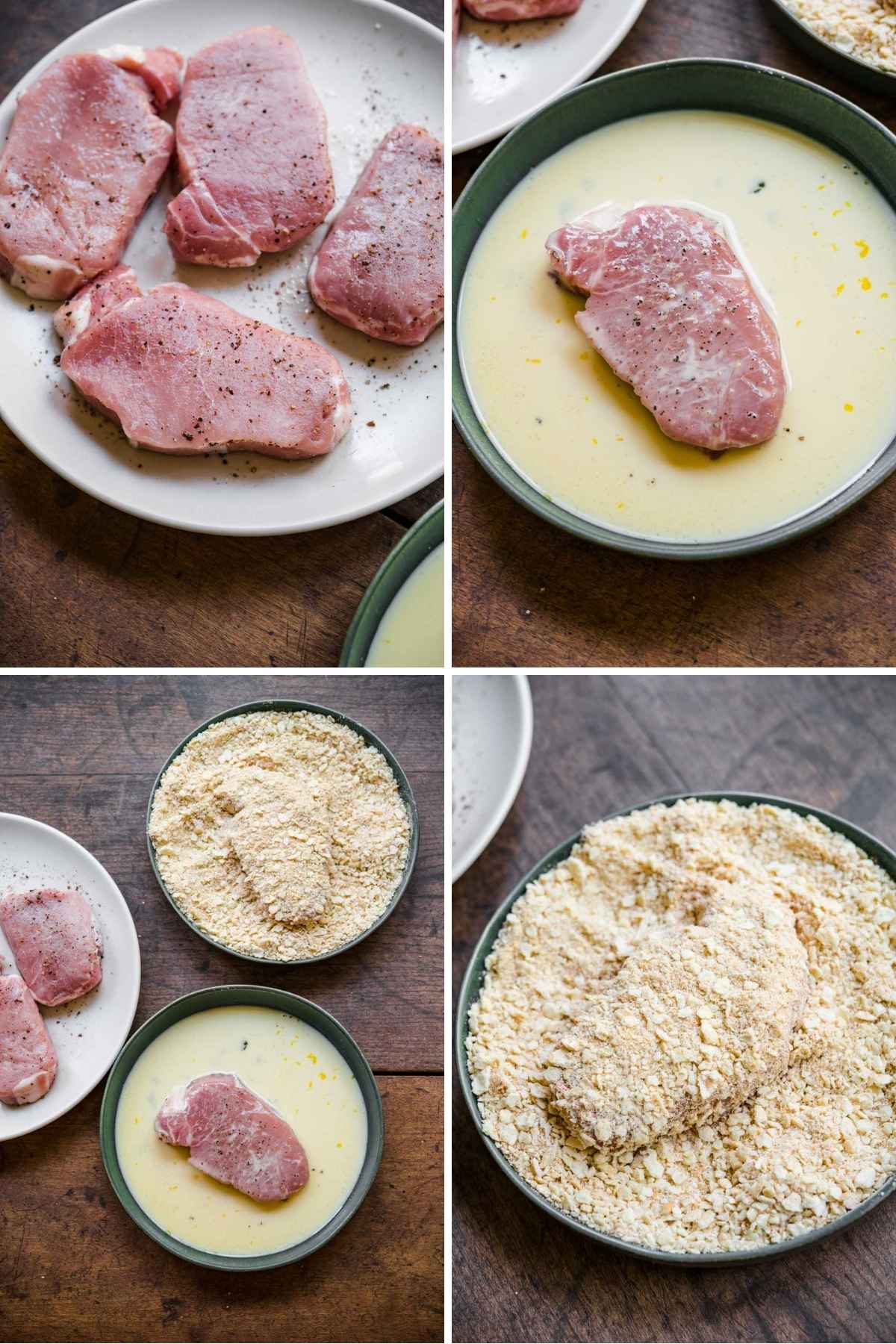 How to Make Breaded Pork Chops
Prep time: Prep the recipe ingredients before the cooking begins. Season the meat with salt & pepper on each side. Then put the saltine crackers in a sealed ziplock bag and use a rolling pin to break them into cracker crumbs. You can also make the crumbs using a food processor if you want them finer.
Crumb coating: Whisk the cracker crumbs with the paprika in a shallow dish. Add the eggs and milk to a separate bowl, and whisk until the egg mixture is well combined. Drench each of the boneless pork chops in the egg ingredients. Wait a couple of seconds for any excess egg wash to drip off of the meat. Then dredge the egg-coated pork chop in the seasoned crumbs. Let the pork chops sit for 2-3 minutes.
Cook time: Set your stove top to medium heat, and place a large skillet on top. Spray the skillet with vegetable cooking spray, then melt butter over the bottom. Transfer pork chops to the skillet to cook on each side for 4-5 minutes until cooked through and golden brown. Depending on the size of your pan, you may need to do this step in batches. Just move the pork to your serving tray as they finish cooking. To make sure you don't have undercooked pork, stick a meat thermometer in the boneless center to check that the internal temperature has reached at least 145 degrees.
More Delicious Pork Recipes
Frequently Asked Questions
Why use olive oil and butter to pan fry?
Olive oil and butter are often used in combination when pan frying dishes such as these breaded pork chops. This not only adds delicious buttery flavor along with the taste from the olive oil, but they work together to give you the best final texture and to keep the food from burning. Olive oil has a higher smoke point than butter, but if you use only olive oil the dish may come out too oily. If you use only butter, the butter will likely burn in the pan before your dish is ready. By combining them, you get the best of both worlds with a lighter fried result and no burning.
How can I tell when Pork Chops are done?
The best way to test meat for doneness is to use a meat thermometer. For pork, you want to make sure it's cooked to 145 degrees. If you don't have a meat thermometer, make a small cut into one of the chops and make sure the meat looks white throughout and juices run clear.
Can I bake Breaded Pork Chops in the oven?
If you'd like to skip the oil and butter, just spray a light coating of oil on both sides of the breaded pork chops and bake at 400 degrees for 20-25 minutes or until the internal temperature is 145 degrees. Flip halfway through the baking time to let both sides get crispy.
Why should I use boneless pork chops instead of bone-in?
The advantage of using boneless pork chops is that the cooking time will be more even throughout the chop, and you will have a juicier end result. Bone-in pork chops can have a lot of flavor when prepared well, but when pan frying you're more likely to dry out the loin side of your chop before the meat next to the bone is a safe temperature.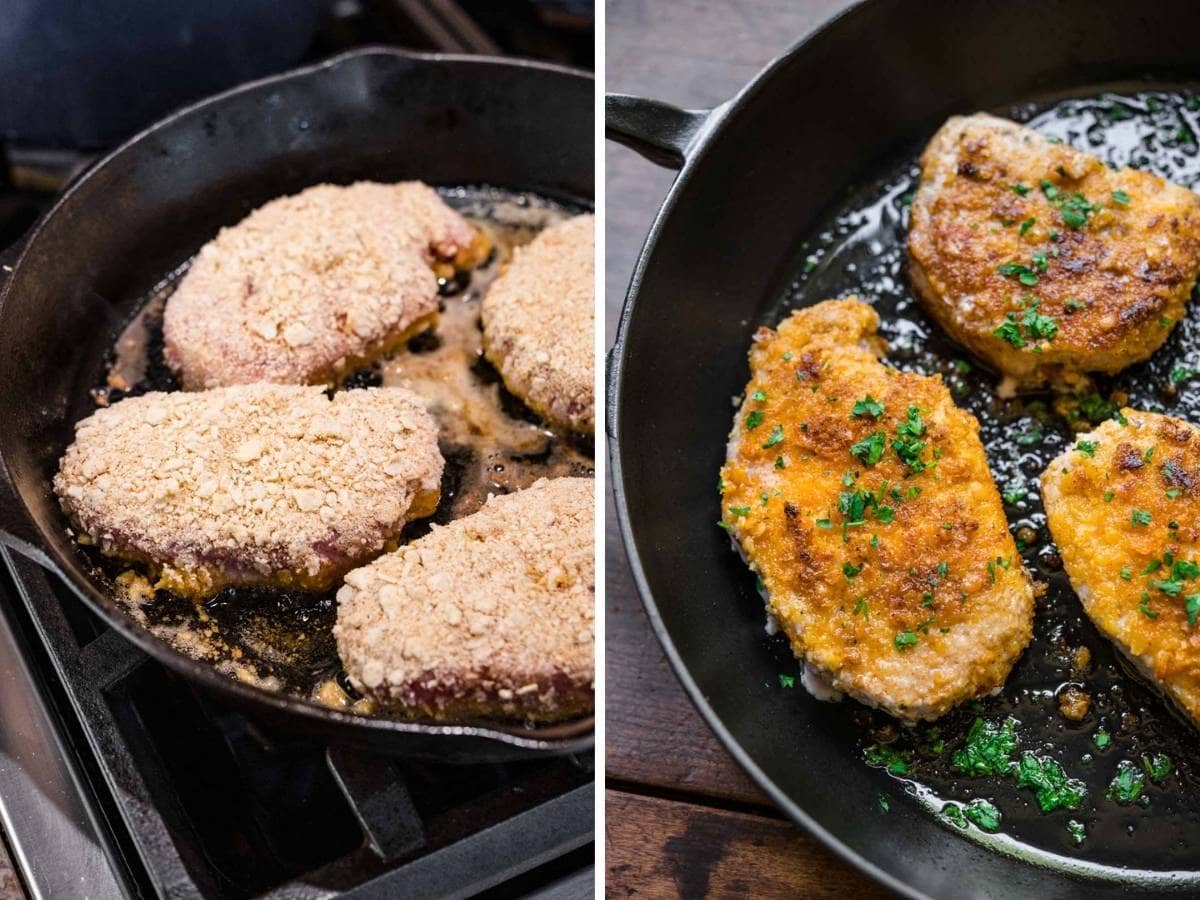 Create a free account to

Save Recipes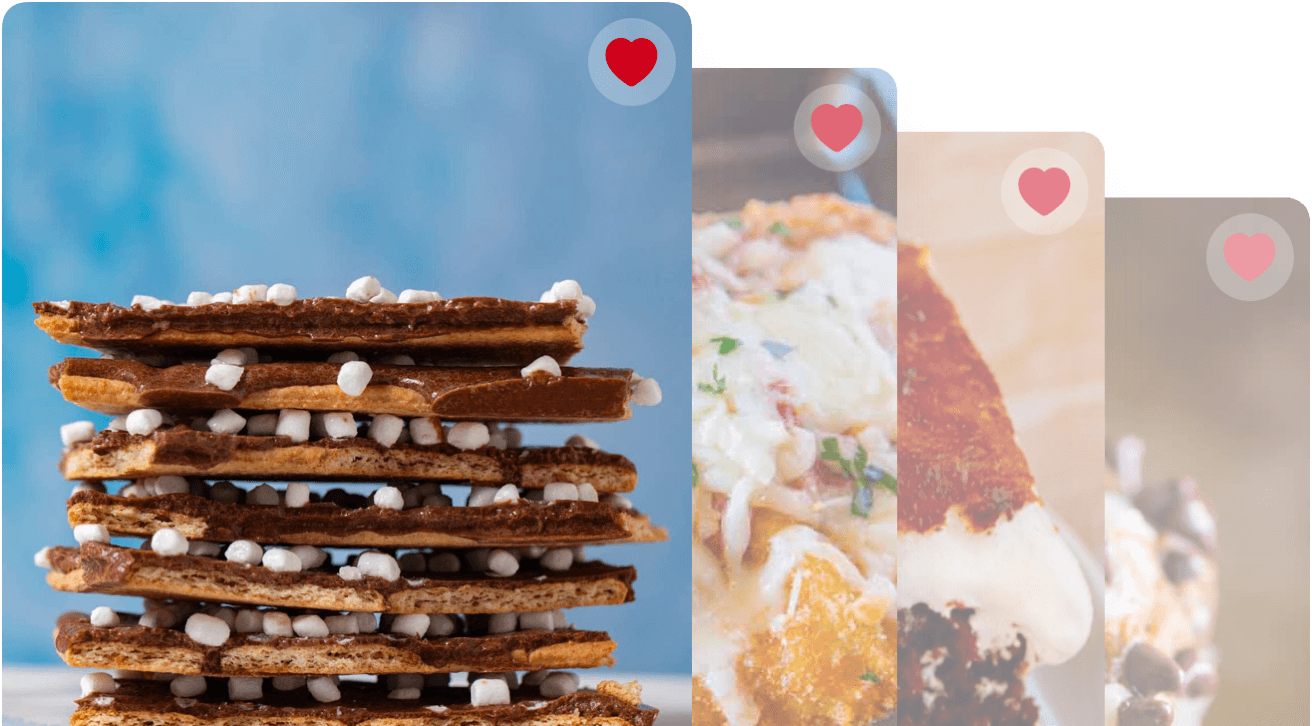 Key Ingredients for Breaded Pork Chops
Pork: Look for pink boneless loin chops with a small amount of fat on the edge and a bit of marbling throughout. Choosing chops that are about 1 inch thick will ensure you still have a juicy tender inside.
Saltines: Classic saltine crackers make a wonderful breadcrumb for frying. They are already seasoned and provide a crunchy, light coating that crisps and browns nicely. You can place them in a plastic bag and crush them with a rolling pin, or use a food processor to quickly turn the crackers into fine breadcrumbs
Paprika: Paprika is made with ground dried chili peppers, and it ranges from mild and sweet to smokey and spicy. Whichever kind you choose, it will add a lovely color and a hint of peppery flavor to the saltine coating mixture.
Air Fryer Breaded Pork Chops
Make these Breaded Pork Chops even healthier by cooking them in the air fryer. Preheat your air fryer to 400 degrees and spray the basket and both sides of the prepared pork chops with baking spray. Cook for 12 -15 minutes on each side, flipping halfway through, until the internal temperature reaches 145.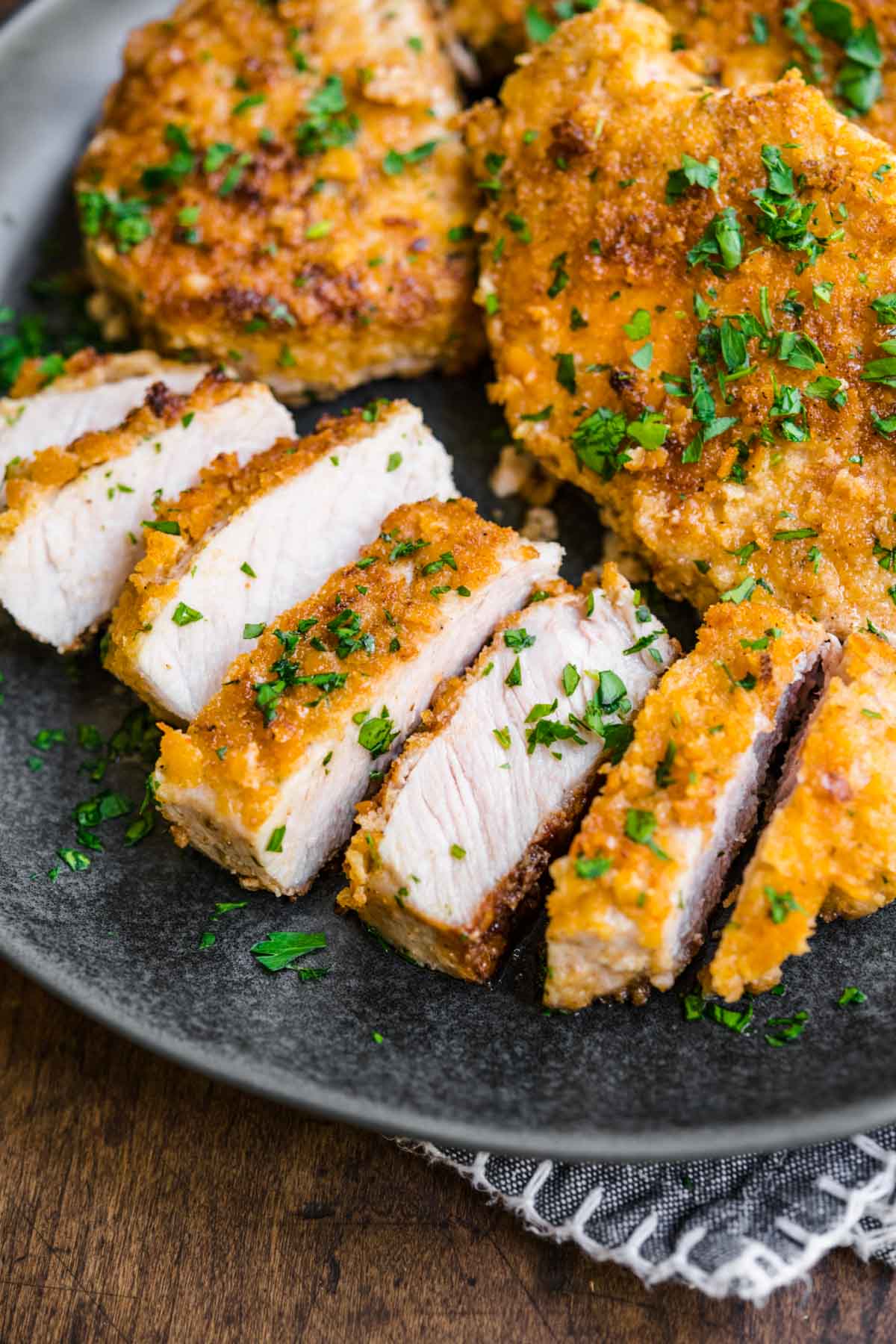 Variations on Breaded Pork Chops
Parmesan-crusted pork chops: Another way to add some extra flavor to the recipe is by adding some delicious parmesan cheese to the coating. Whisk together the paprika with ¾ cup freshly grated parmesan cheese and 1 cup Italian breadcrumbs. If you don't have Italian-style or panko breadcrumbs handy, you can add the grated parmesan to the cracker mixture, and whisk in a little Italian seasoning.
Breadcrumbs: We've used cracker crumbs in this recipe, but a breadcrumb mixture would work just as well. You can use regular panko breadcrumbs, seasoned breadcrumbs, or make fresh breadcrumbs yourself. To make your own breadcrumb mixture, raise the oven temperature to 300 degrees. Then break your choice of bread into cubes, and lay them in a single layer over a baking sheet. Put the sheet in the oven for 10 minutes. Then stir the bread crumbs, and put the sheet back in the oven for another 5 minutes. Let the bread crumb mixture cool before using it in the pork chops recipe.
Cornflake: Another coating option for the crispy pork chops is replacing the crackers with cornflake crumbs.
Seasonings: A simple way to add some extra flavor to the recipe is by mixing spices into the crumb mixture. Try adding ground pepper, garlic powder salt, a pinch of cayenne pepper, cajun seasoning, or Italian seasoning.
Side Dishes to Serve with Breaded Pork Chops
How to Store Breaded Pork Chops
Serve: Don't leave crispy Breaded Pork Chops at room temperature for more than 2 hours.
Store: If you have leftovers, you can cover them in tin foil or transfer them to an airtight container to store in the fridge for 3-4 days.
Freeze: You can also seal and freeze the pork chops for up to 6 months. Before serving, let the meat defrost in the fridge overnight. Then you can reheat them on the stovetop, or place them in a single layer on a baking sheet or large oven-proof skillet to heat in a preheated oven. To make the coating crispy again, spray the crumbs with cooking spray before heating.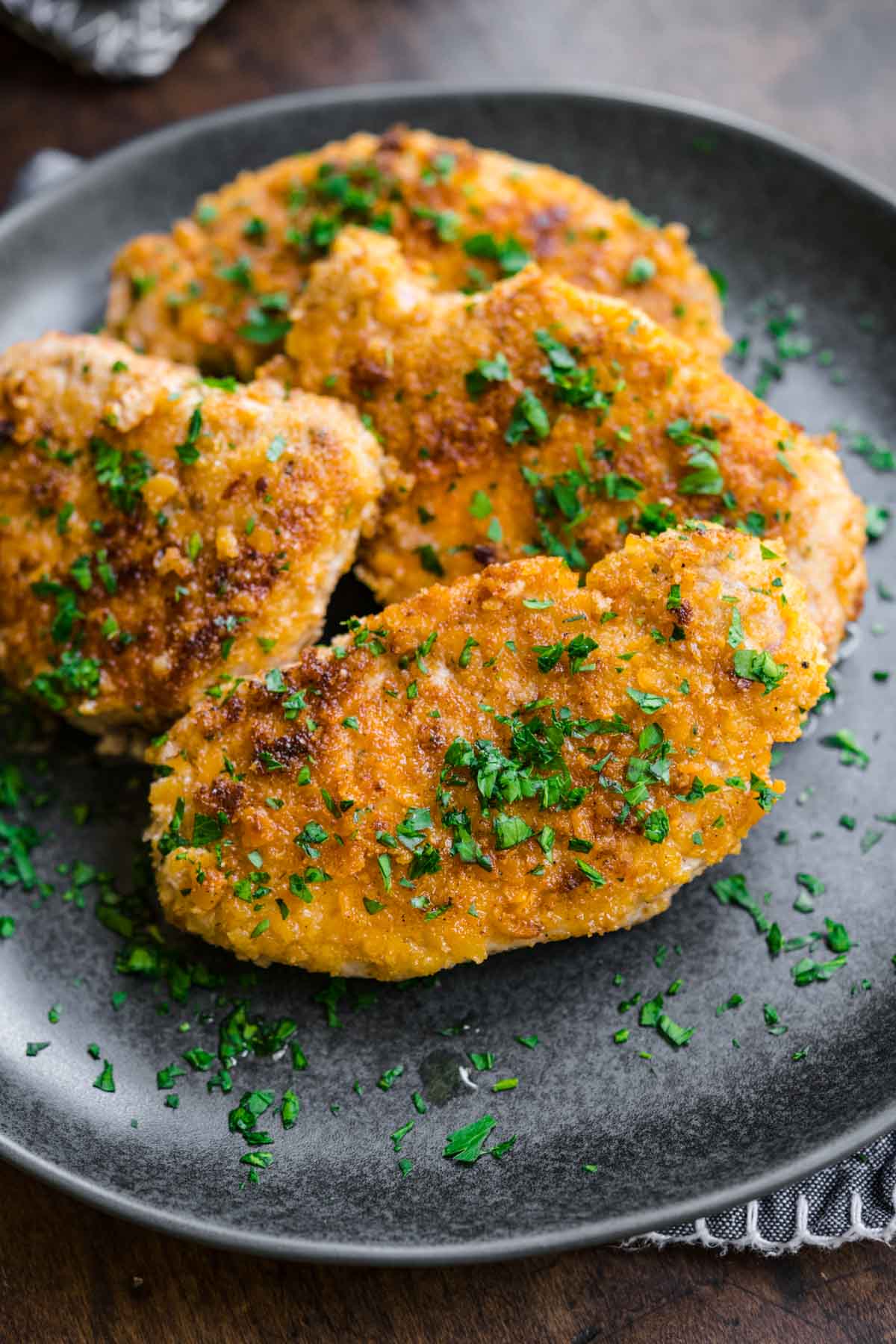 Ingredients
4

pork loin chops

, boneless (1 inch thick)

1

teaspoon

kosher salt

1/2

teaspoon

coarse ground black pepper

1/2

cup

whole milk

1

large

egg

2

cups

saltine crackers

, crushed finely

1/2

teaspoon

paprika

2

tablespoons

vegetable oil

2

tablespoons

unsalted butter
Instructions
Season pork chops with salt and pepper.

In a low bowl whisk together milk and egg until well combined.

Add saltine crumbs to a second bowl with paprika.

Dredge pork chops in the egg wash then press into the crumb mixture.

Let pork chops sit for

2-3 minutes

then add vegetable oil and butter to a large heavy skillet on medium-high heat.

Cook pork chops for

4-5 minutes

on each side until cooked through (minimum temperature of 145 degrees).
Nutrition
Calories:
252
kcal
|
Carbohydrates:
14
g
|
Protein:
17
g
|
Fat:
14
g
|
Saturated Fat:
7
g
|
Trans Fat:
1
g
|
Cholesterol:
77
mg
|
Sodium:
517
mg
|
Potassium:
312
mg
|
Fiber:
1
g
|
Sugar:
1
g
|
Vitamin A:
211
IU
|
Vitamin C:
1
mg
|
Calcium:
31
mg
|
Iron:
1
mg