Fig and Pig Pork Chops are easily seared on the stovetop and served with delicious bacon, fig preserves, and honey sauce.
Pork Chops make a quick and easy dinner that you can sear on the stovetop in a matter of minutes. With this Dinner Recipe, that same basic process is used, then a delicious bacon and fig topping is added to it for even more delicious flavor.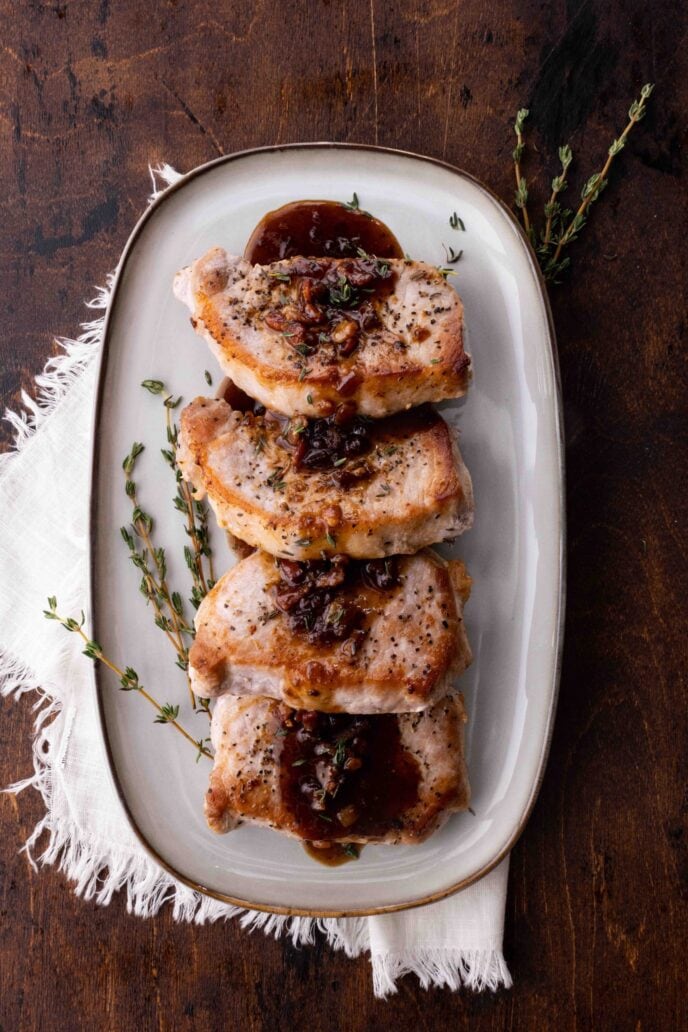 This delicious pork chops recipe has quickly become a family favorite. The savory and sweet flavors are a winning combination for all ages, so don't be afraid to serve it up to your family. Prepping the flavorful pork with the sweet and salty blend of figs, honey, and crispy bacon gives it a complex and irresistible flavor. It's the perfect way to dress up easy pork chops for dinner.
Along with how tasty this dish is, it's also oh-so-easy to make! After cooking the bacon, the pork chops only take 8-10 minutes to sear on the stovetop. It's a fantastic method to make pork, because you just add the chops to a skillet, cook for a few minutes, and flip to finish. It honestly couldn't be easier. Then you just whisk together the amazing sauce, cook until it's thickened, and drizzle it over the chops before serving.
As you're prepping the dinner on the stovetop, it's easy to prepare some sides in the oven. That way, you don't have to worry about having a bunch of pots and pans on your stove at once. Try making Roasted Green Beans, Garlic Crispy Potatoes, or Oven Roasted Brussels Sprouts to go along with this dinner.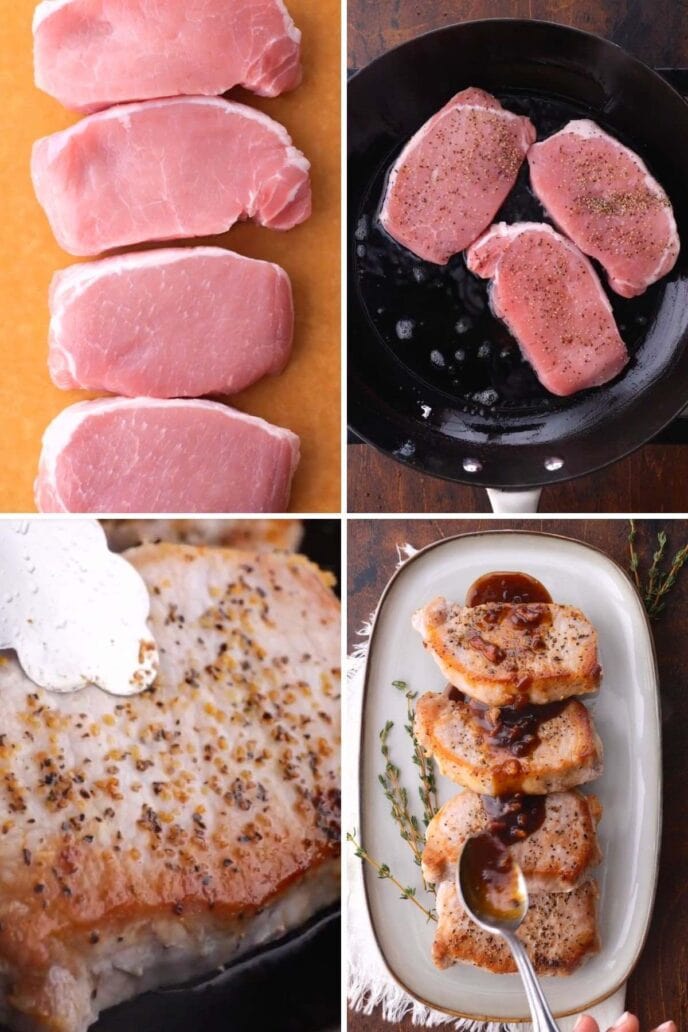 Frequently Asked Questions About Fig and Pig Pork Chops
What are figs?
If you were to ask, most people would tell you that figs are a fruit. Technically they are not. Inside each fig are a bunch of seeds and flowers. It is the sweet juice inside the fig that allows us to treat them like fruit to cook with or even make preserves out of them.
How can I make sure my Pork Chops don't dry out?
Searing the pork chops the way this recipe calls for will help ensure the juices stay inside the pork. When you're nearing the end of the cooking time use a thermometer to check the internal temperature and watch it closely to make sure it reaches, but does not go over 145 degrees.
More Pork Recipes
Key Ingredients
Pork Chops: Pork chops are the perfect cut of meat to use for this recipe. They're easy to cook quickly, somewhat lean, and they have a naturally slightly sweet flavor.
Bacon: The thick-cut bacon is a great addition to this recipe that makes it an instant crowd-pleaser. After cooking, the bacon to crispy perfection, it is added to the simple fig sauce and used to top off the pork chops.
Fig Preserves: Using fig preserves is an amazing way to get lots of concentrated sweet and fruity fig flavor in the sauce. It easily mixes with the chicken broth and cooks down into a thick and sticky sauce that adds lots of depth to the pork.
How to Make Fig and Pig Pork Chops
Bacon: Add the thick-cut bacon slices to a large skillet over medium heat. Sear the bacon on each side until it's cooked through and crispy. Then take the bacon from the pan and set them to the side on a plate. Reserve 2 tablespoons of the bacon fat and dispose of the rest.
Pork Chops: Season the pork with salt and black pepper, then add it to the skillet on medium-high heat. Sear the pork on both sides until the pork is cooked through. You can use a meat thermometer at the thickest point to make sure the pork has reached 145 degrees, it should only take about 8-10 minutes. Once it's done remove the chops and set them to the side.
Glaze Ingredients: Add the chicken stock, fig preserves, and honey to the sauce. Bring the fig mixture to a simmer then add in the bacon and continue to cook for 2-3 minutes until the sauce is thickened.
Serve: Place the pork chops on a serving dish, and coat in sauce before serving.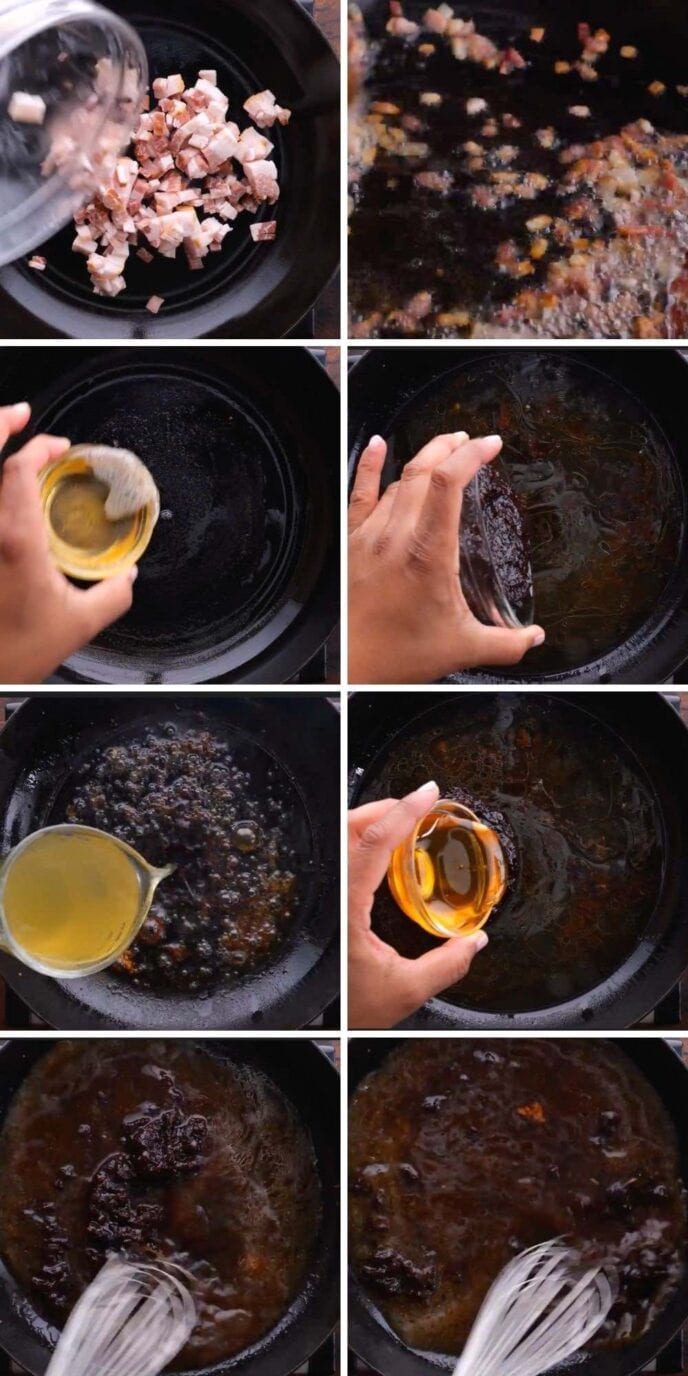 Create a free account to

Save Recipes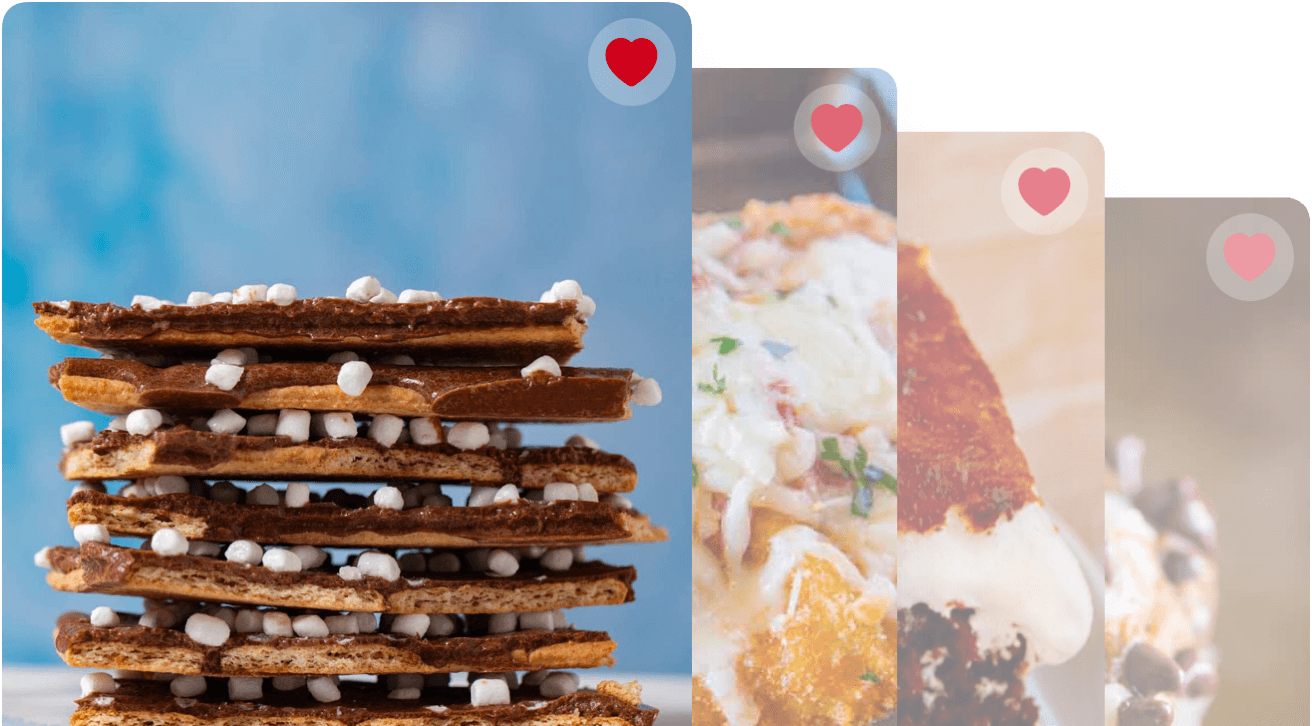 Variations on Pig and Fig Pork Chops
Seasonings: You can add some extra flavors to this recipe with fresh ginger, garlic salt, minced garlic cloves, fresh thyme leaves, parsley, basil, white pepper, or onion powder. You can also add some moderate heat to the dish with red pepper flakes.
Caramelized Onions: Fig and Bacon Pork Chops would taste amazing with caramelized onions. You can make them by slicing up yellow onions and adding them to a pan with 2 tablespoons of olive oil. Then cook until caramelized. You can use the onions to top off the pork chops along with the fig sauce.
Balsamic-Fig Sauce Recipe: For a tangy balsamic vinegar sauce, use ½ cup of balsamic vinegar to replace half of the chicken broth in the recipe.
Chicken: If you don't like pork, you can swap out the Pork Chops for chicken breasts in this recipe. Just prepare everything the same way. You want the internal temperature of chicken breast to reach 165 degrees and then you'll know it's finished.
Side Dishes
How to Store
Serve: Delicious pork chops can keep well at room temperature for up to 2 hours.
Store: If you have leftovers, transfer pork to an airtight container to store in the fridge for 3-5 days.
Freeze: You could also freeze the pork to keep them for a longer period. The recipe can stay good in the freezer for up to 6 months.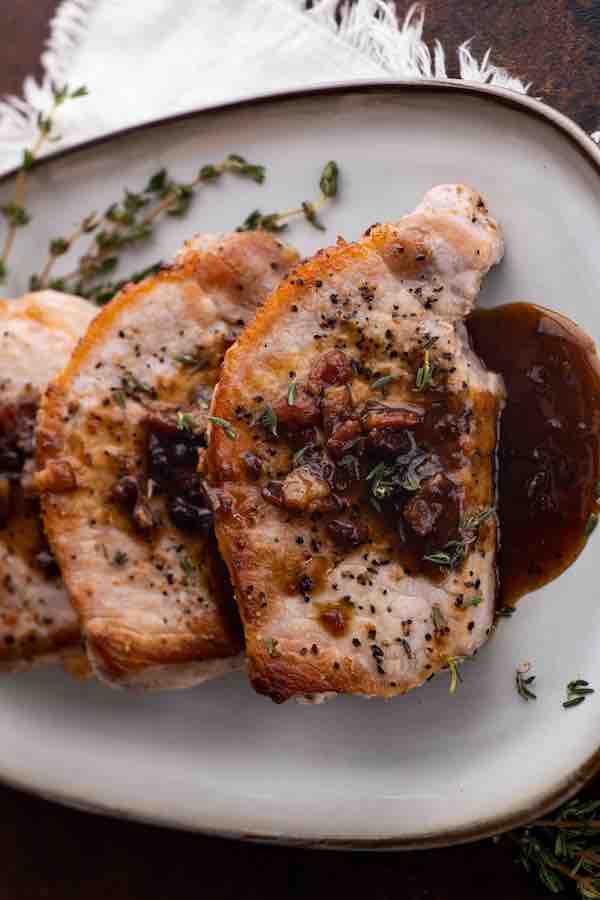 Ingredients
4

slices

bacon

, thick cut, diced

4

pork chops

, boneless loin

1/2

teaspoon

kosher salt

1/4

teaspoon

coarse ground black pepper

1

cup

chicken broth

1

cup

fig preserves

2

tablespoons

honey
Instructions
Add bacon to a large skillet on medium heat.

Cook until crisp, then remove bacon and reserve two tablespoons of bacon fat.

Season pork with salt and pepper and add to skillet on medium-high heat.

Sear the pork on both sides until the pork is cooked through, about

8-10 minutes

total.

Remove pork chops, add in chicken broth, fig preserves, and honey.

Bring to a simmer, add in bacon and cook for

2-3 minutes

until thickened.

Pour the sauce over the pork chops.
Nutrition
Calories:
251
kcal
|
Carbohydrates:
24
g
|
Protein:
17
g
|
Fat:
10
g
|
Saturated Fat:
4
g
|
Polyunsaturated Fat:
1
g
|
Monounsaturated Fat:
4
g
|
Trans Fat:
0.2
g
|
Cholesterol:
60
mg
|
Sodium:
456
mg
|
Potassium:
309
mg
|
Fiber:
0.3
g
|
Sugar:
18
g
|
Vitamin A:
91
IU
|
Vitamin C:
2
mg
|
Calcium:
14
mg
|
Iron:
1
mg