Cranberry Relish is the fresh version of the classic Thanksgiving Day favorite Cranberry Sauce punched up with some orange, lemon and ginger for a fresh, citrus flavor with bite.
I always make a batch of Easy Cranberry Sauce for Thanksgiving dinner, but this year I thought I'd add an old fashioned Cranberry Relish to my holiday table. It's really easy to make, and it compliments almost any Thanksgiving dish.
If you like this easy Cranberry Relish recipe, check out some other tasty Holiday Recipes.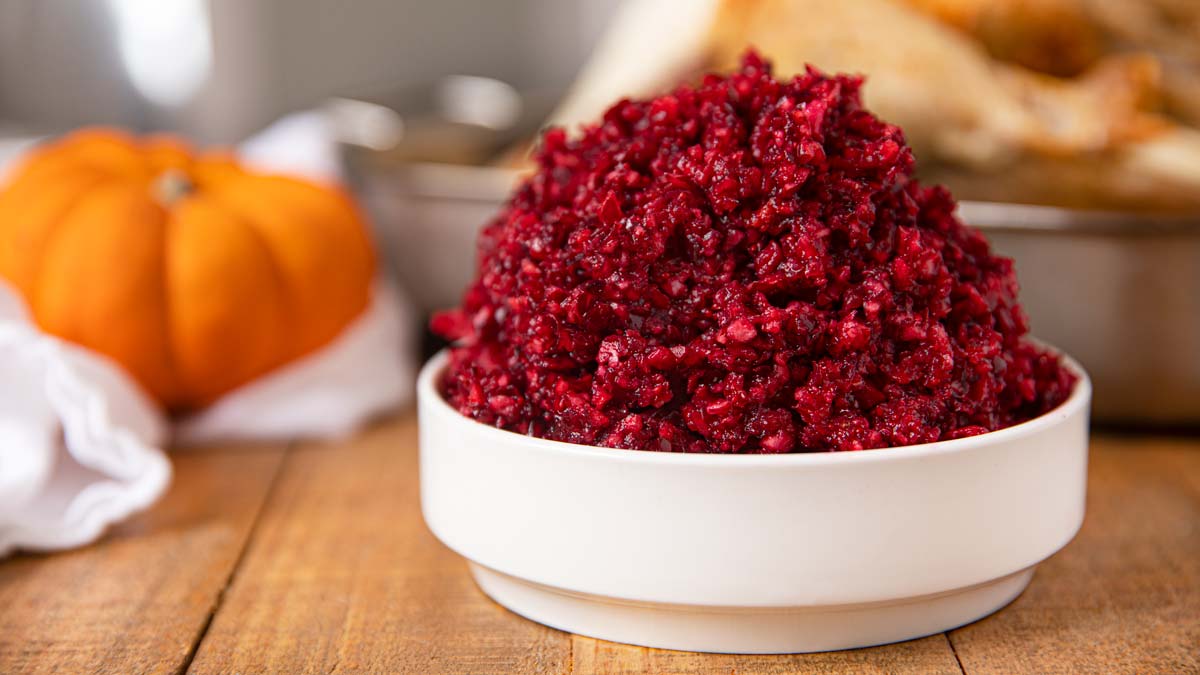 CRANBERRY RELISH
Cranberry Relish isn't the traditional option most people reach for when planning their holiday meals, but then again, why add another thing to your list of recipes you need to cook? Instead of going the traditional cranberry sauce route, try making Cranberry Relish. This is one of the easiest cranberry recipes you'll ever make, and you don't just have to use it on the turkey, it's delicious on pretty much every Thanksgiving side dish.
This old fashioned Cranberry Relish is full of orange, lemon, ginger and fresh cranberries, which not only gives it a complex, delicious favor but a great texture. Fresh Cranberry Relish only takes about 5 minutes to prepare, and doesn't involve any stove or oven, so it is truly a game changer on busy holidays.
Cranberry Relish is a perfect dish to prep the day before to cut down on the stress of making everything all at once on Thanksgiving day, right before your guests start showing up. Making it ahead of time also gives the relish time to fully combine all the wonderful flavors.
That is the best part! I tested this recipe for prepping ahead and it is just as delicious as much as five days ahead of time! Consider this a full speed ahead on getting a jump start on Thanksgiving day prep.
CLASSIC HOLIDAY DINNER RECIPES
HOW TO MAKE CRANBERRY RELISH
Cut orange and lemon into wedges; peel and remove any seeds.
Add the orange, lemon, ginger, cranberry and sugar to the food processor.
Pulse until finely chopped.
Add to an airtight container and refrigerate overnight.
Good for meal prepping up to five days ahead of time.

Create a free account to

Save Recipes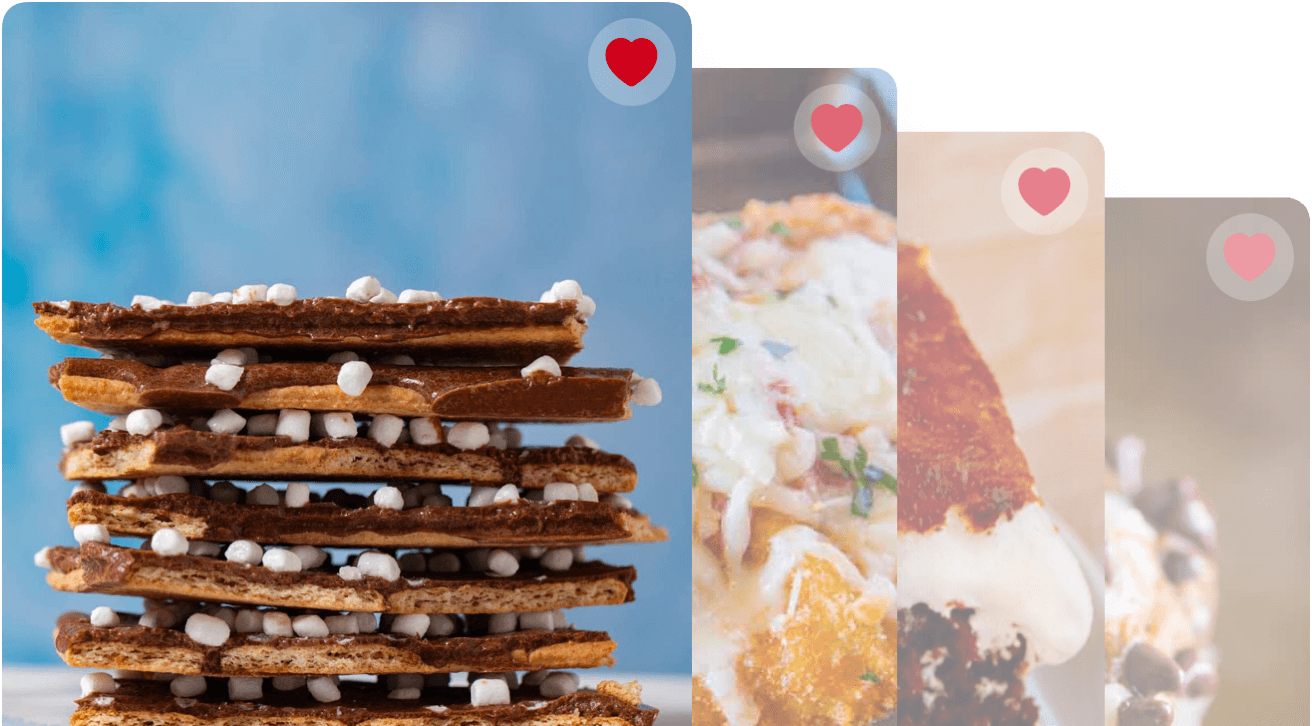 VARIATIONS ON CRANBERRY RELISH
Nuts: Make Cranberry Relish more festive by garnishing with nuts by like chopped pecans, walnuts, or cashews.
Topping: Cover a block of cream cheese with the Cranberry Relish for a festive dip or  top some crockpot oatmeal with it on Black Friday morning for a healthy, hearty breakfast that will give you all the energy you need for shopping.
Other Variations: You can add finely diced granny smith apples, lemon juice, nutmeg, cinnamon or even a splash of cointreau to make your Cranberry Relish just how your family likes it.
CRANBERRY RELISH FAQS
What's the difference between Cranberry Relish and cranberry sauce? Cranberry sauce is most commonly made with cranberries, sugar, and orange juice and is cooked. Cranberry Relish is an uncooked dish with more ingredients in it that give it a fresher feel with a more complex taste.

What can I do with Cranberry Relish? Cranberry Relish is great on pretty much all Thanksgiving foods, like mashed potatoes, casserole, and sweet potatoes, but it's also delicious on leftover turkey sandwiches or your favorite healthy breakfast foods like oatmeal and a yogurt.
How did I get this deep red color all over the cranberries? In testing this recipe I found that making it 2 days before allows for the best red color all over as well as the best flavors.
OTHER HOLIDAY SIDE DISH RECIPES
HOW LONG IS CRANBERRY RELISH GOOD?
Serve: You really shouldn't leave Cranberry Relish at room temperature for longer than about 2 hours.
Store: Cranberry Relish can last in the fridge for up to 1 weeks as long as it's properly sealed up, but tastes best for about 5 days if prepping ahead for your holiday meal. Keep it in plastic wrap or an airtight container to prevent moisture from seeping in. You also want to serve it cold or at least chilled rather than room temperature.
Freeze: In an airtight container, the Cranberry Relish will stay good for around 2 months in the freezer.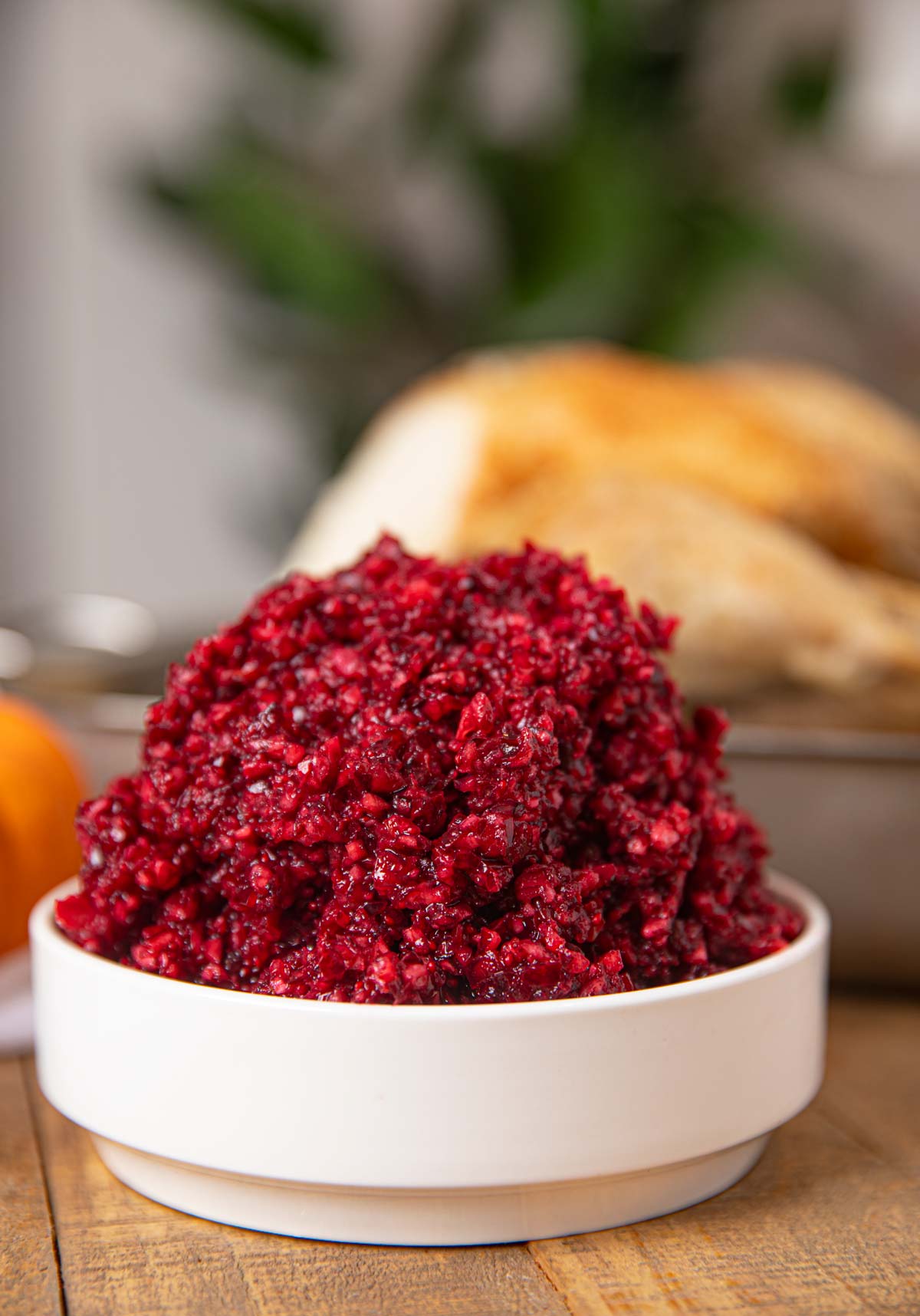 Ingredients
1

large

orange

1

medium

lemon

12

ounces

cranberries

1/2

cup

sugar

2

tablespoons

fresh ginger root

, chopped
Instructions
Cut the orange and lemon into wedges, then peel and remove any seeds you find.

Add the orange, lemon, cranberries, sugar and ginger to a food processor and pulse until finely chopped.

Refrigerate overnight in an airtight container before serving.
Nutrition
Calories:
40
kcal
|
Carbohydrates:
10
g
|
Protein:
1
g
|
Fat:
1
g
|
Saturated Fat:
1
g
|
Sodium:
1
mg
|
Potassium:
43
mg
|
Fiber:
1
g
|
Sugar:
8
g
|
Vitamin A:
39
IU
|
Vitamin C:
10
mg
|
Calcium:
6
mg
|
Iron:
1
mg