Cranberry Dip is a delicious Thanksgiving appetizer that has a classic holiday flavor, with fresh cranberries, pecans, and cream cheese.
This Thanksgiving, give your hungry friends and relatives something yummy to snack on while they wait for the turkey. Every year, home cooks prepare all sorts of appetizers and dips to set out for everyone to enjoy. Cranberry Dip is really similar in principle to a deconstructed Cheese Ball with all of the flavors of Thanksgiving. If you're expecting a lot of people and just one dip recipe isn't going to be enough, check out some other tasty Thanksgiving appetizers on the Holiday Recipe Page.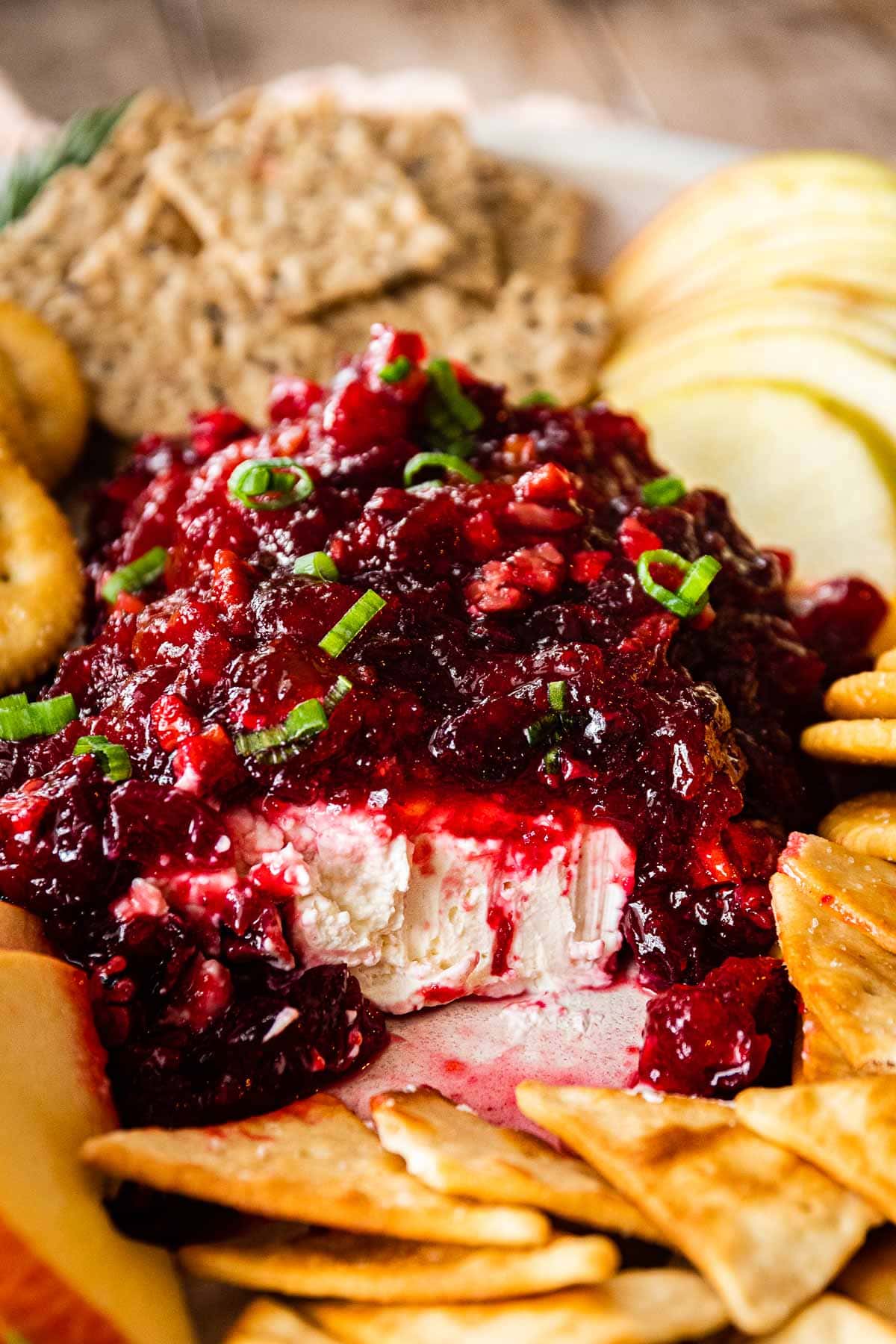 We've all had that Thanksgiving where everyone's hungry, the turkey is hours from being done, and tempers start to flare. If this is your first time hosting, don't panic, make appetizers! Thanksgiving appetizers have saved countless holiday parties, since they keep everyone from getting too hungry. Plus you also get to snack along with all your guests while you cook. Cranberry Cream Cheese Dip takes all of the classic flavors of Thanksgiving and combines them into a tasty, super easy dip that is sure to be a huge hit. When you start to hear everyone ask if the turkey is done, just take out this dip. Then the only thing you will hear out of your guests will be contented chewing. 
Bring this dip along to any Friendsgiving potluck. It travels so well, and this yummy holiday appetizer is always a crowd-pleaser. Serve the Cranberry Dip at Christmas parties too. It's is sure to be an all-time favorite recipes and it goes with all sorts of sweet and savory dippers. The tart cranberries pair so nicely with the rich, creamy flavor and texture of the cream cheese. You may have never thought to mix apricot jam with cranberries, but the sweetness and tartness are so good together that you'll wonder why you didn't try it sooner. Now all you need is the Homemade Cranberry Sauce and Roasted Turkey, and you're all ready to go.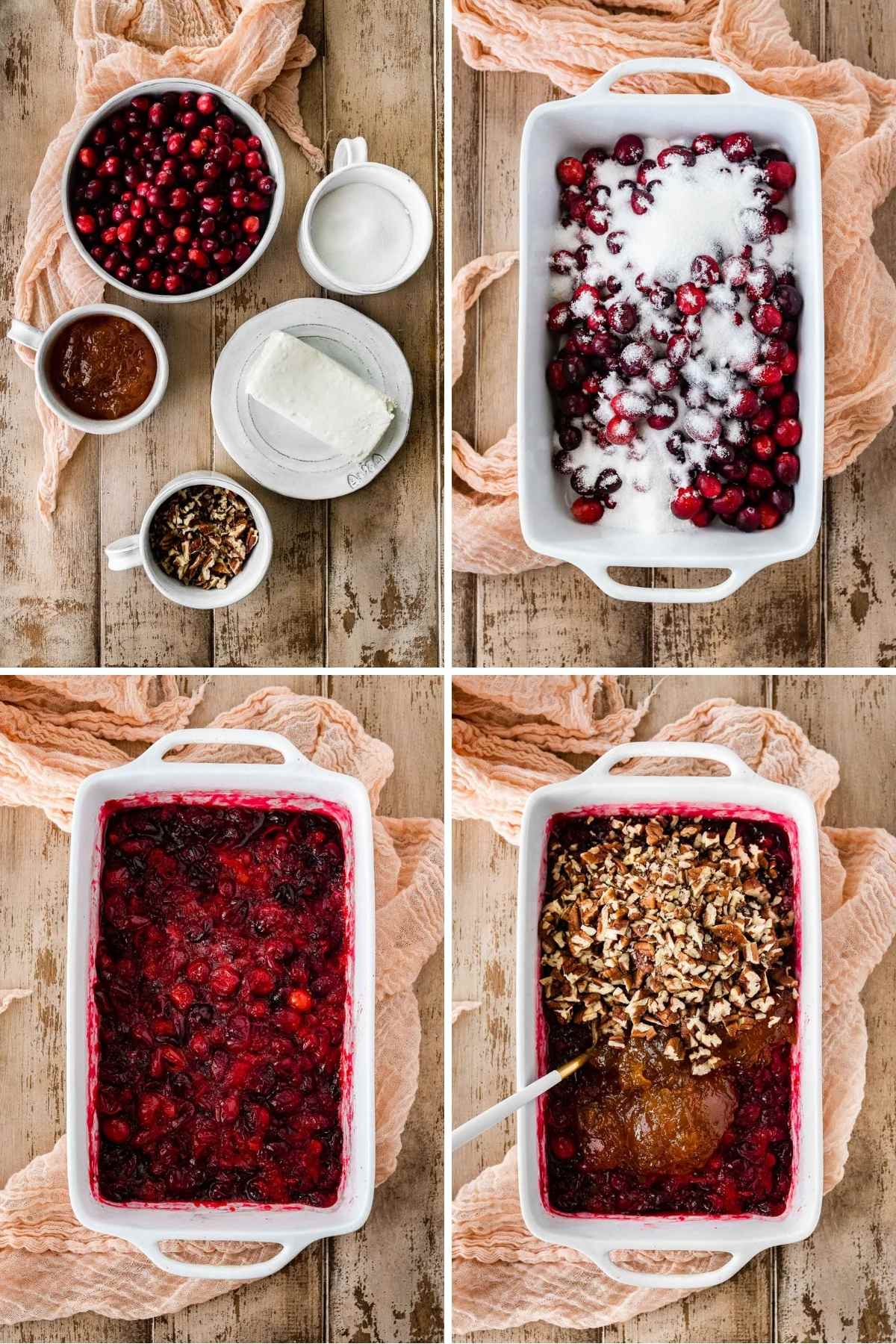 More Cranberry Recipes
Key Ingredients in Cranberry Dip
Whole Cranberries and Sugar: Cranberries are the key flavor in this recipe, but they need a little help with a few extra ingredients. Tossing the cranberries in sugar and baking them will make a chunky, jam-like cranberry sauce. They pop and their juices run as they bake, then those juices mix with the sugar to sweeten and thicken.
Apricot Jam: The cranberry mixture can be pretty tart, even with the sugar. However, when mixed with apricot jam, that mild, fruity sweetness will bring exactly what the cranberries need to come together with the rest of the ingredients.
Pecans: Chopped pecans bring the needed crunch along with warm, nutty flavors which go well with the sweet and tart fruit mixture.
Cream Cheese: The fruit and nut mixture will be sweet and tart. The last thing you need for a good balance of flavors is creaminess. That's where the cream cheese come in. The tangy flavor of cream cheese is an added bonus to take the flavor of this dip over the top.
How to Make Cranberry Dip
Prep: Preheat the oven to 350 degrees F and get out a 2-quart baking dish with a lid.
Cranberries: Combine cranberries with sugar in the baking dish. Make sure you stir well and coat all of the berries with the sugar. Bake the cranberries until they pop and release their liquid.
Jam and Pecans: Remove from the oven and stir in apricot jam and pecans. Refrigerate over night.
Serve: Take out cream cheese to allow it to come to room temperature. Then pour the cranberry mix over the block of cream cheese on a serving dish.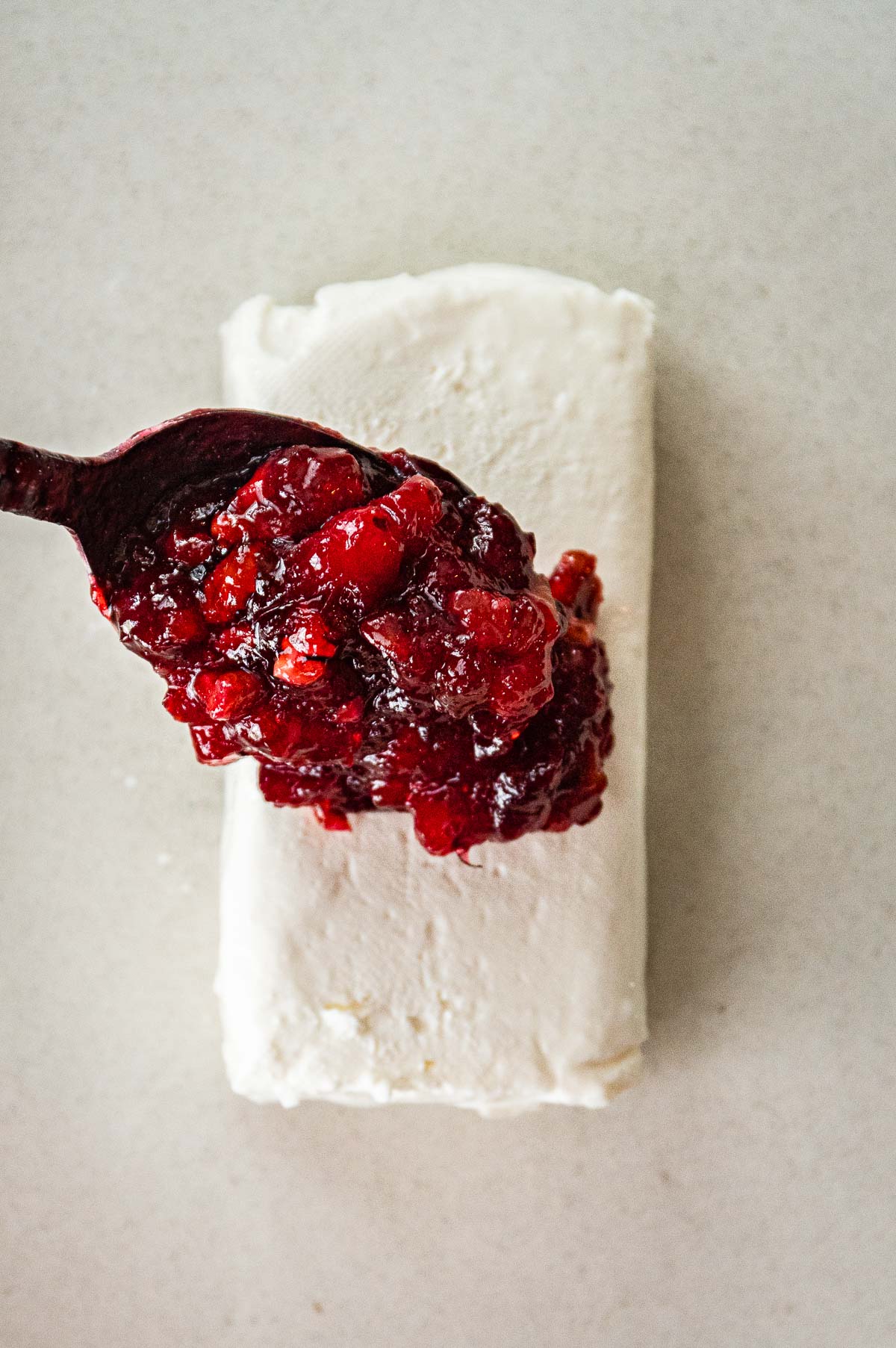 Create a free account to Save Recipes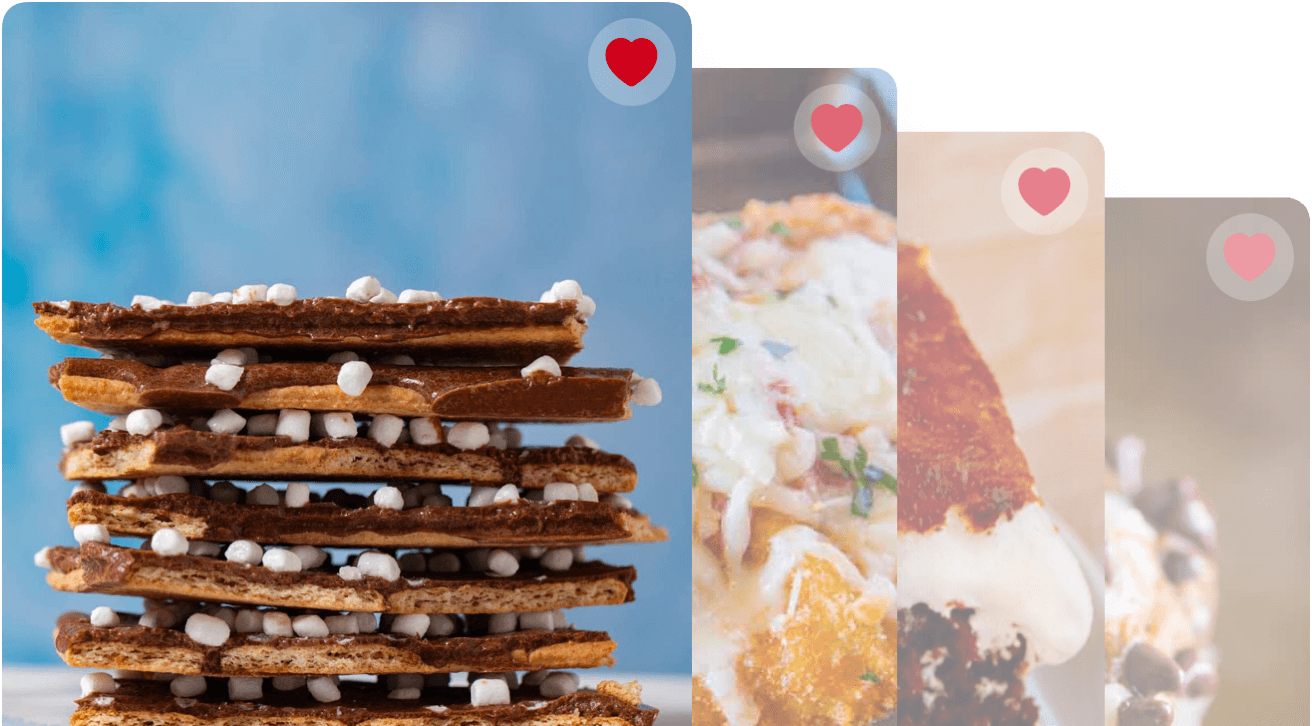 Variations on Cranberry Dip
Add-ins: There are a lot of different things that you can mix into this dip, such as green onions, pomegranates, or cilantro. Try fresh parsley along with the jam. You can even chop up some dried fruits to add flavor and texture like dried pineapples or mangos. You can also use a food processor to chop the add-ins into small, flavorful chunks.  
Spicy Cranberry Dip: Jalapeños would add a lot of spice to your Cranberry Dip. So would crushed red pepper, cayenne pepper, prepared horseradish, or bell peppers for a mild spicy flavor. If you decide to go the route of Cranberry Jalapeño Dip, remember that cold temperatures activate capsaicin, the chemical that makes hot food hot, so for a spicier dip, add the jalapenos later in the process.
Nuts: Change up the pecans in this recipe. Chopped walnuts would make an excellent choice. Pistachios or macadamia nuts would bring unique flavors and textures to the dip as well. Try your favorite nuts to make this dip all your own!
Salty and Savory: Add a little salt to the recipe for a sweet and salty flavor. Also try some garlic powder, or onion powder to bring a savory edge. Start small with your additions. Use ¼ or ½ teaspoon and then add more to taste if you like.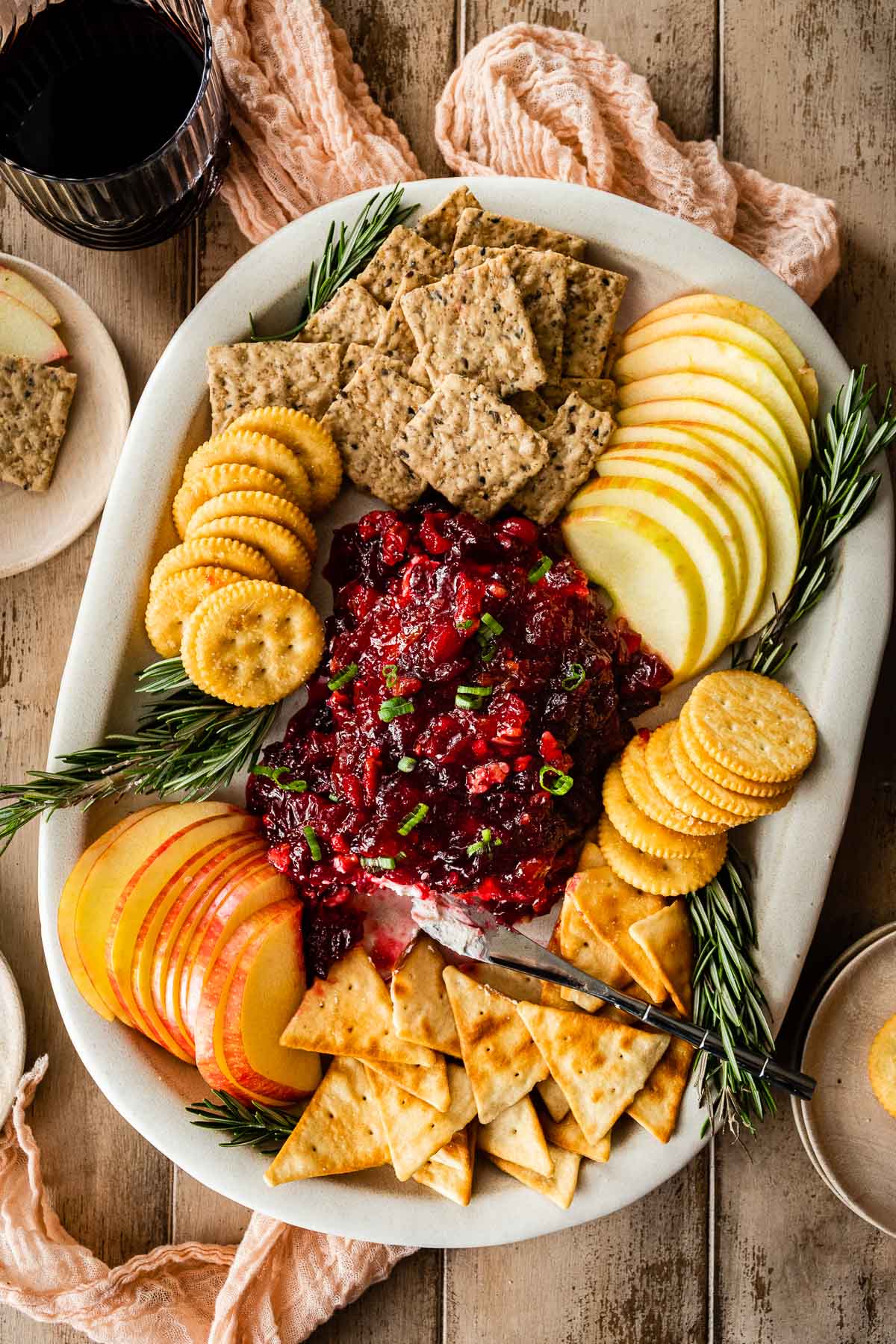 Cranberry Dip FAQs
Can you freeze a dip with cream cheese in it?
You can, but it's not advised. Cream cheese dips are much better enjoyed fresh or out of the fridge. Dairy products don't really freeze well because ice crystals form in them and change the texture. It will take a little bit of work to get it back to how you want it.
How do you make frozen cream cheese dip creamy again?
Put it into a bowl, give it a stir, and microwave it in ten-second intervals, stirring in between. This should bring your dip close to the consistency of what it was when it was fresh. It will also get rid of any lumps. 
Can Cranberry Dip be made ahead?
If you're preparing this for Thanksgiving or any other holiday, it is needless to say that you'll be pretty busy cooking, entertaining, or traveling that day. Making this dip ahead of time is a no-brainer because you already need to let the cranberries sit in the refrigerator over night. However you can go ahead and prepare your Cranberry Dip a couple of days ahead of time. They'll be fine in the refrigerator. Just take the cream cheese out to soften, and top with the tart cranberry sauce before you're ready to serve.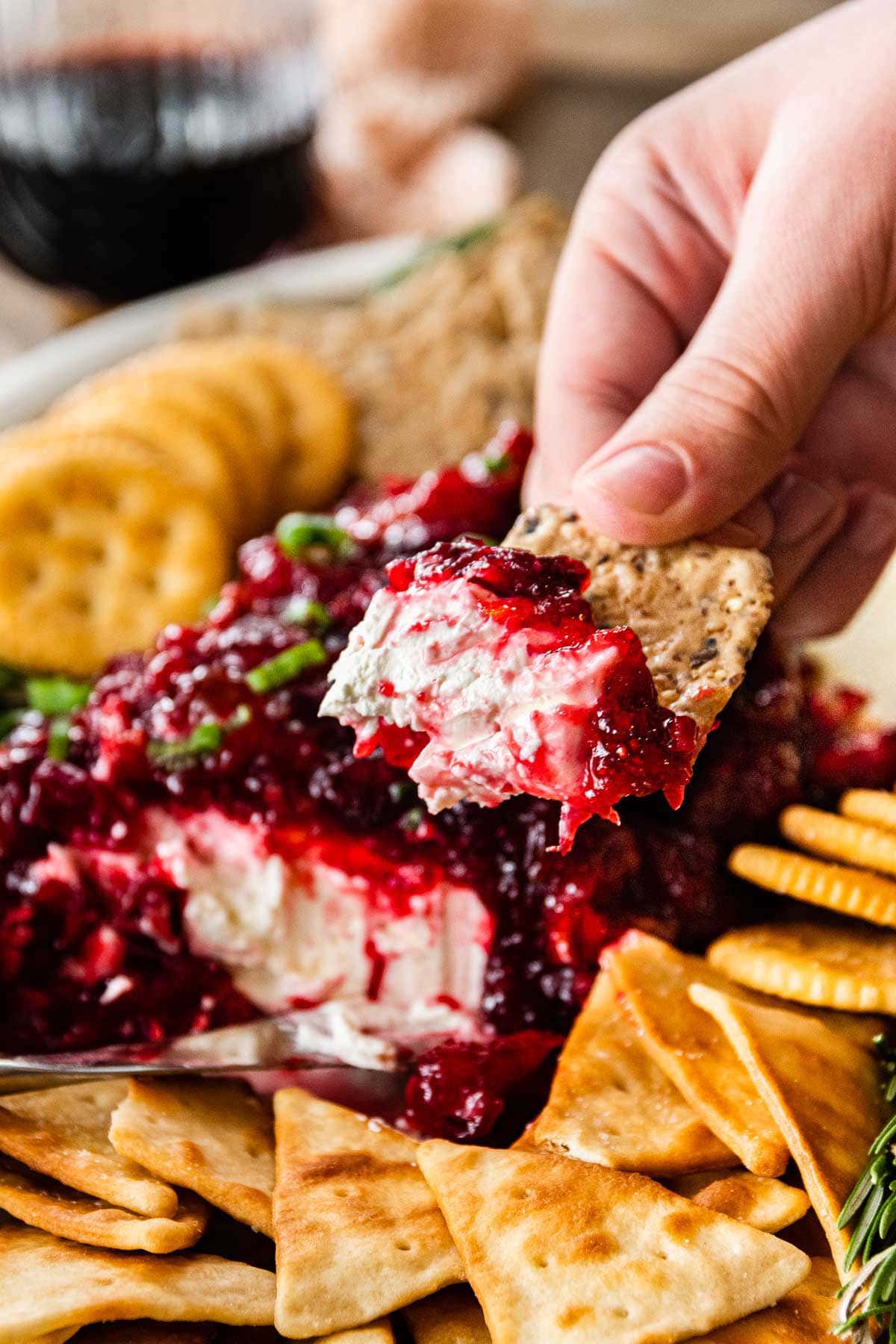 What goes well with Cranberry Dip?
Crackers: You can set out your favorite crackers to pair with this dip recipe. You're going to want them to be sturdy crackers that won't break when you dip them. Also you will want them to be large enough to hold plenty of this delicious dip. Butter crackers would be delicious, or some hearty whole grain crackers. You could also go more simple with saltine or water crackers. Ultimately, if you set out a variety of crackers, that will be really satisfying to serve to a group whether large or small.
Pita Chips: Crunchy, tasty, and just the right size, pita chips are an excellent choice to pair with Cranberry Dip. You can find them in all sorts of shapes and even flavors. Grab your favorite or a couple of different bags for variety. Some of the savory varieties would pair well with the sweet, tangy, creamy Cranberry dip. Try sea salt, or garlic pita chips for a sweet and salty snack.
Crostini: You can make your own toasty, crunchy dippers by slicing a french baguette into 1/4-inch slices, brush them with olive oil, and toast them in a 350 degree oven. Take them out when they're as browned as you would like them to be. Typically about 15 minutes should do the trick.
Fruits and Veggies: To add some variety to your appetizer table, slice some fruit or veggies for dipping. Sliced apples or pears taste so great with cranberries and cheese. Cucumber slices or radish slices would also work well, and so would celery sticks, carrot sticks, jicama sticks, or snap peas.
Other Tasty Dip Recipes
How Long is Cranberry Dip good?
Serve: Do NOT leave Cranberry Dip out at room temperature for longer than 2 hours.
Store: If you refrigerate Cranberry Dip when it's properly sealed in plastic wrap or an airtight container, it should stay good for up to 4 days. Make sure your dip is sealed tight enough to keep any moisture out, and always allow the dip to cool all the way down to room temperature before you put it away.
Freeze: It is recommend to eat this dip fresh or from the fridge, since cream cheese famously doesn't freeze well.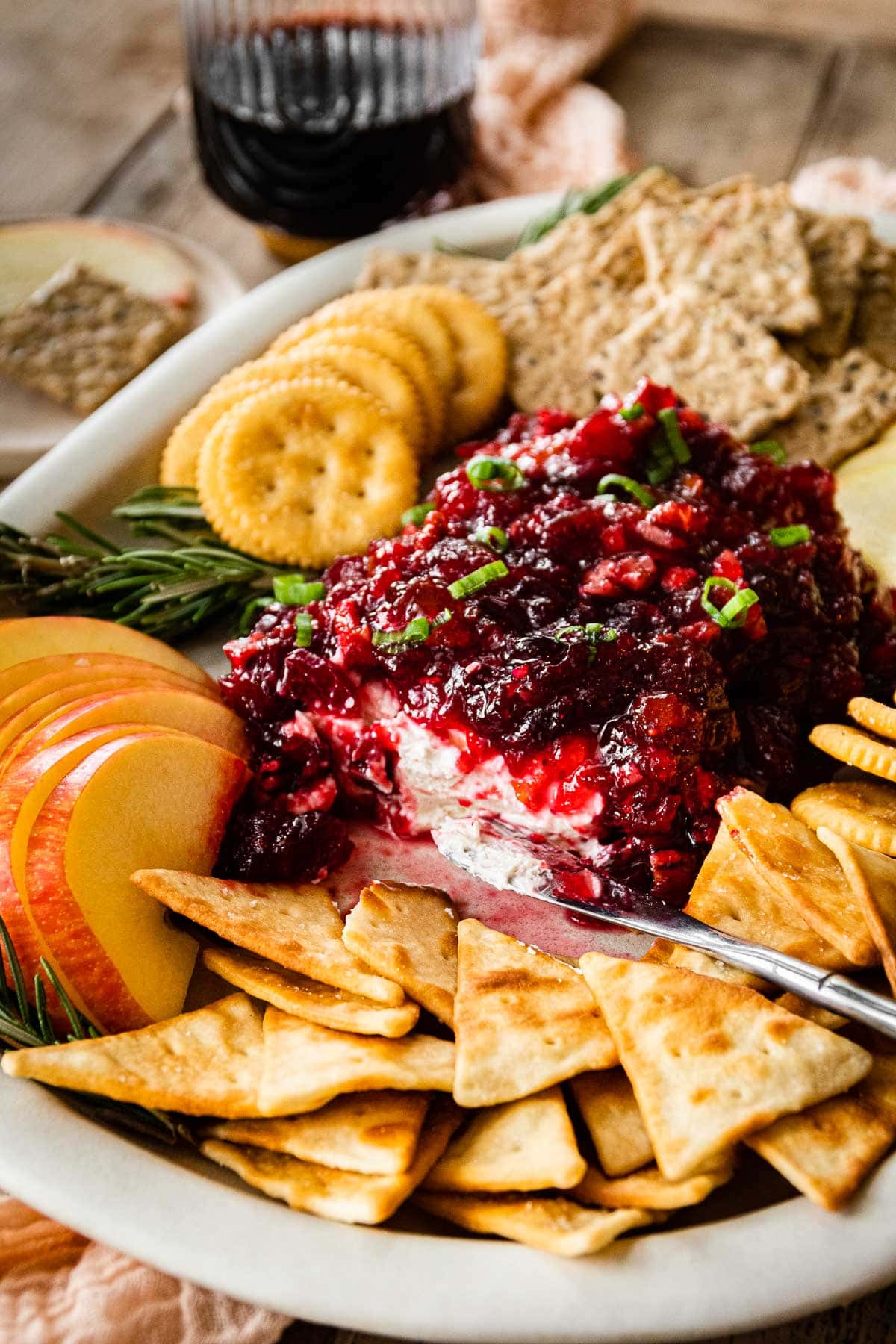 Ingredients
12

ounces

fresh cranberries

1

cup

sugar

1

cup

apricot jam

1

cup

pecans

, chopped

8

ounce

cream cheese

, softened
Instructions
Preheat an oven to 350 degrees F (175 degrees C).

Combine cranberries with sugar in a 2 quart baking dish with a lid, stirring well to coat all the berries.

Bake in the preheated oven, covered, for about

30 minutes

, until the cranberries pop and release their liquid.

Remove from oven and stir in the apricot jam and pecans.

Refrigerate overnight to blend the flavors.

To serve, allow the cream cheese to come to room temperature, and pour dip over the block of cream cheese on a serving dish.
Nutrition
Calories:
165
kcal
|
Carbohydrates:
23
g
|
Protein:
1
g
|
Fat:
8
g
|
Saturated Fat:
3
g
|
Polyunsaturated Fat:
1
g
|
Monounsaturated Fat:
3
g
|
Cholesterol:
13
mg
|
Sodium:
45
mg
|
Potassium:
65
mg
|
Fiber:
1
g
|
Sugar:
18
g
|
Vitamin A:
211
IU
|
Vitamin C:
4
mg
|
Calcium:
20
mg
|
Iron:
0.3
mg