Cranberry Cheesecake is an easy festive holiday dessert recipe with rich creamy cheesecake and sweet fresh cranberry sauce layers in a graham cracker crust.
New York Cheesecake is a classic dessert cake for special occasions but this show-stopping Dessert Recipe is the ultimate Christmas treat.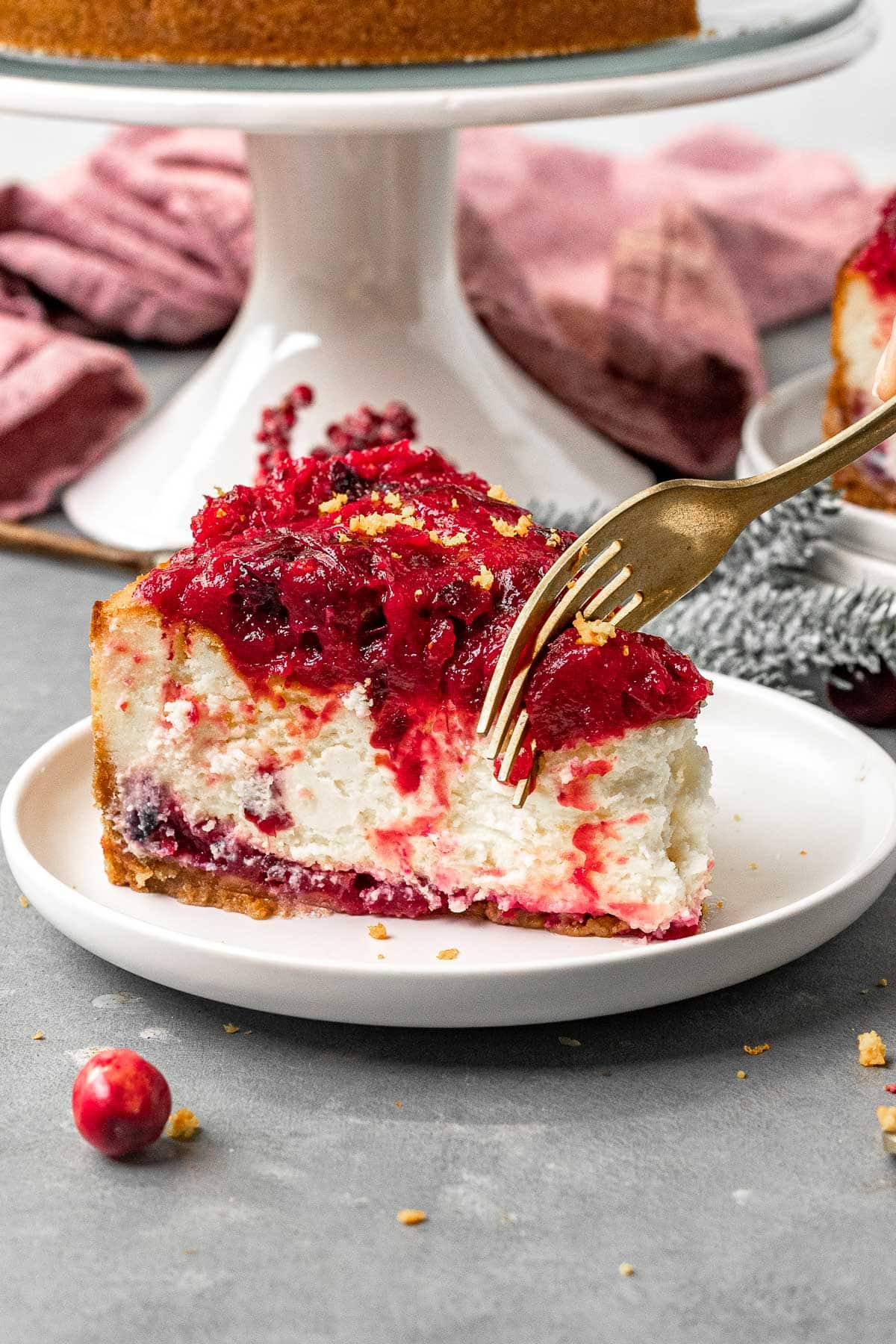 No winter holiday baking list could be complete without desserts filled with sweet, tart Cranberry flavor. Whether you want a dazzling dessert for fancy holiday parties or want a little sweet Christmas spirit, this Cranberry Cheesecake is the perfect treat. The combination of layers of sweet, creamy, and tart flavors makes every bite delicious and festive.
Cranberry Cheesecake is an easy layered cheesecake recipe made completely from scratch, including the tasty tart Cranberry sauce topping. The baked cheesecake filling is lightly orange flavored, which pairs beautifully with the double Cranberry sauce layers. A buttery sweet graham cracker crust is a classic, but you can always swap it with your favorite crunchy cookie crumbs.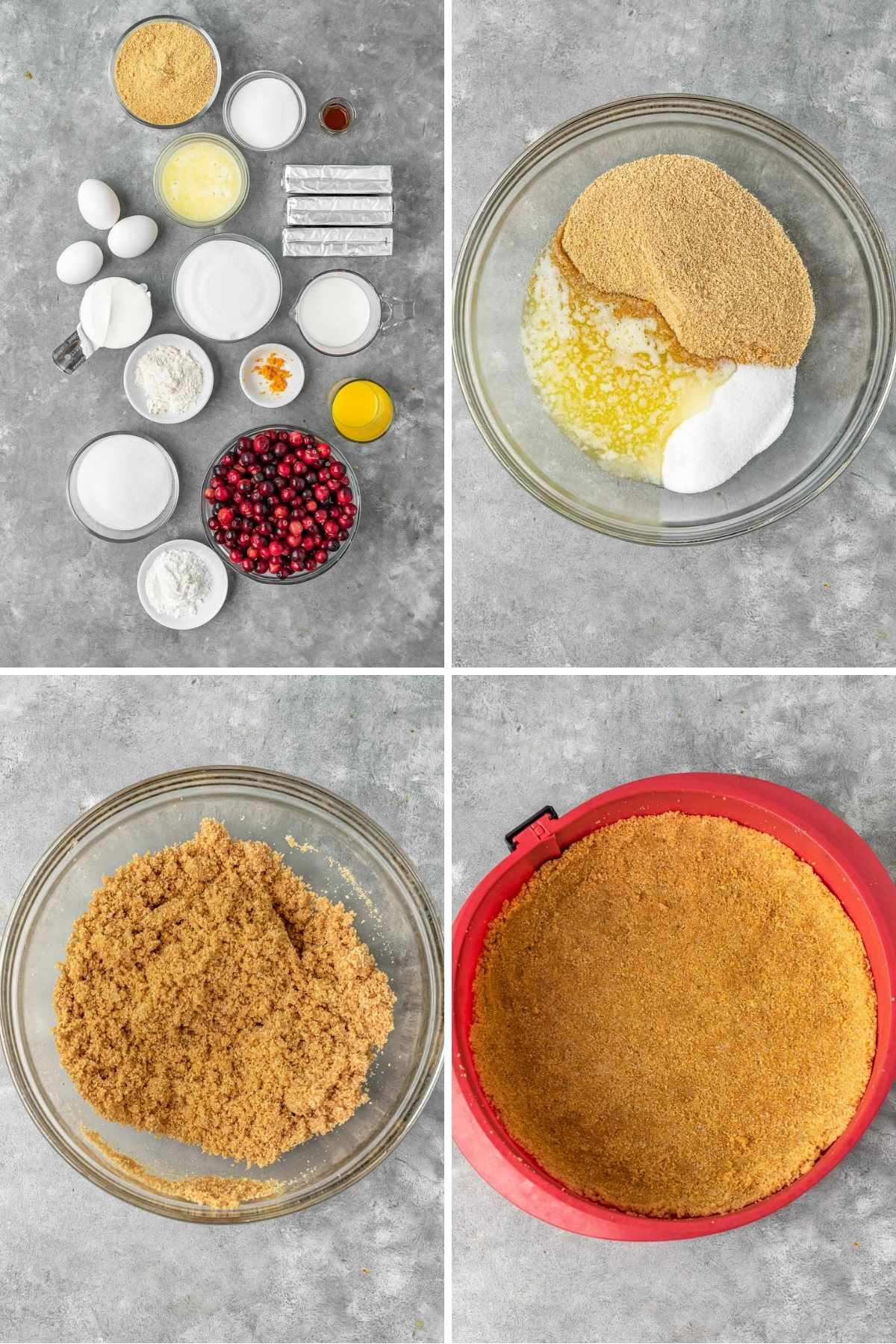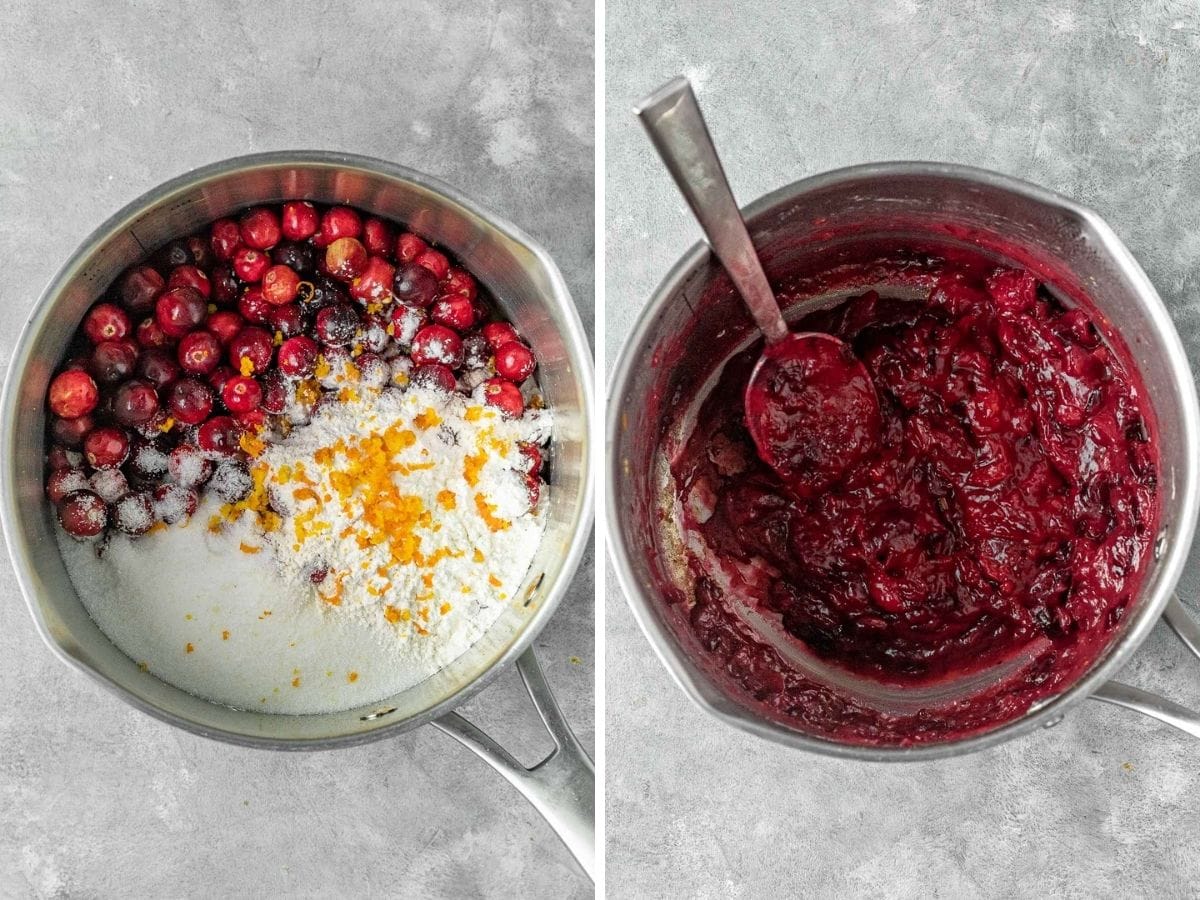 If you want Cranberry Cheesecake during the holidays, make a double batch of your favorite homemade Cranberry Sauce and use half for the Cranberry filling and half for your Thanksgiving Turkey. It is possible to swap the Cranberry filling for canned Cranberry sauce in a pinch, but the real stuff is hands down so much tastier!
You bake this Cranberry Cheesecake recipe using a water bath method and allowing it to cool in the oven. The water bath method cooks the egg cream cheese filling evenly with steam which keeps it creamy and moist. Steam from the hot water rises the cake slowly, which prevents it from sinking as the cheesecake cools. Cooling the cheesecake slowly in the oven keeps cracks from forming and keeps hot air from escaping too quickly and deflating your cake.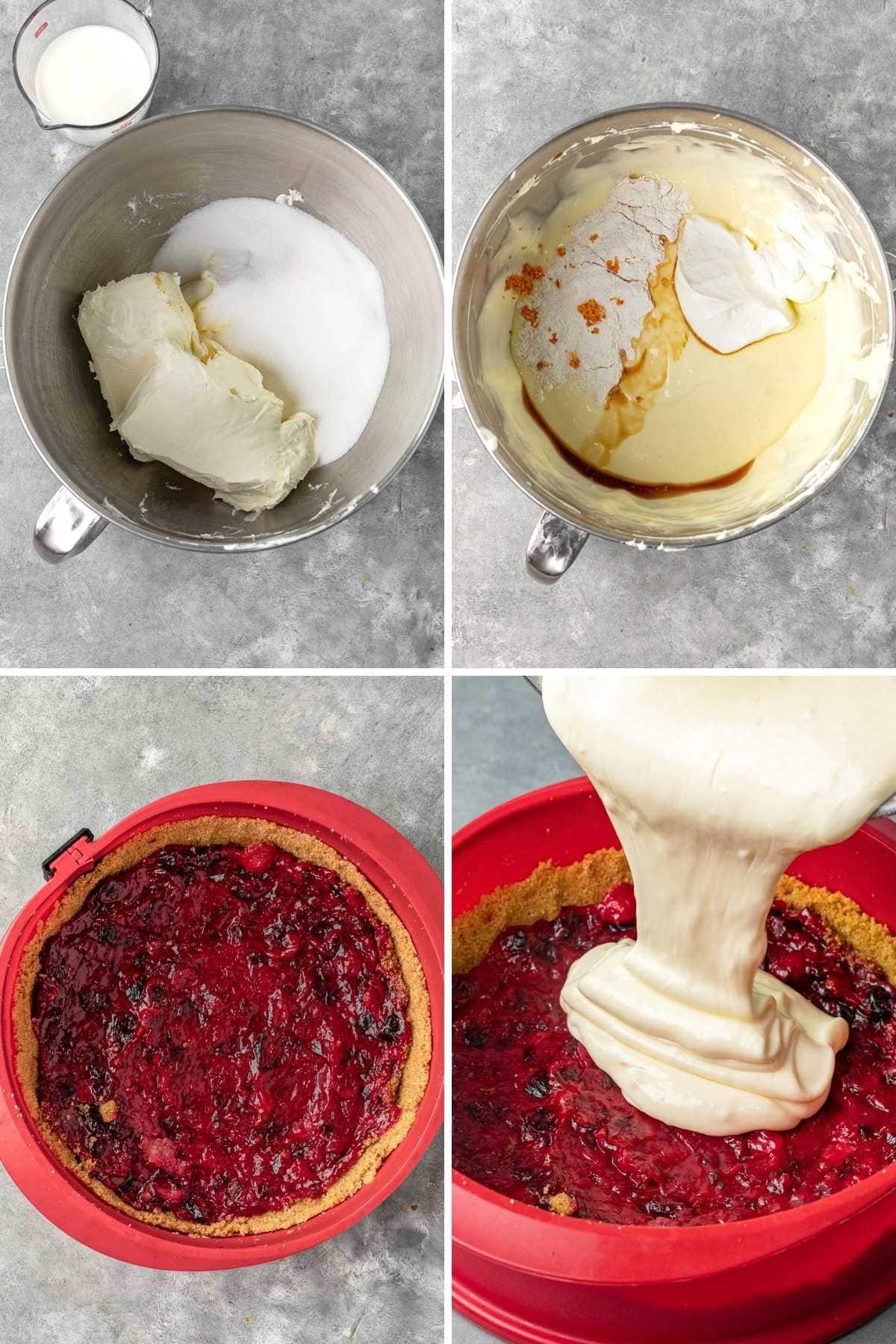 You won't have to worry too much about the cracks forming on the top of the cheesecake layer though, because you serve it covered with Cranberry topping. If you wanted extra sweet topping, you could serve it with fresh Whipped Cream or Cool Whip. To keep the cheesecake filling fresh and creamy, store your Cranberry topping separately from the cheesecake so it doesn't soak in. Just top the cake right before serving.
More Cranberry Dessert Recipes
How to Make Cranberry Cheesecake
Prepare: Heat your oven to 350 degrees, then get your pans ready. Fill your large pan with water, and wrap a 9-inch springform pan in foil on the outside to protect it from the water.
Crust: Mix your graham cracker crumbs, sugar, and melted butter, then press into the bottom of your pan, going 1 inch up the sides.
Filling: Bring cranberries, sugar, cornstarch, orange juice, and orange zest to a boil over medium heat. Boil for 8-10 minutes until cranberries break down and sauce thickens, stirring often. Add it to a heat-safe bowl, then add 1 ½ cups to the bottom of your crust.
Cheesecake Batter: Beat the cream cheese, sugar, and milk, then add in eggs one at a time. Next, add in sour cream, vanilla, flour, and orange zest. Pour the batter over the Cranberry topped crust and spread evenly. Place the pan into your water bath.
Bake: Put the water bath with the Cheesecake in the oven and bake for 1 hour. Then turn off the oven and open the door a couple of inches. Let the Cheesecake cool in the oven for 1 hour.
Serve: Remove from the oven and the water bath. Take off the foil and refrigerate overnight. Top with the Cranberry sauce before you serving.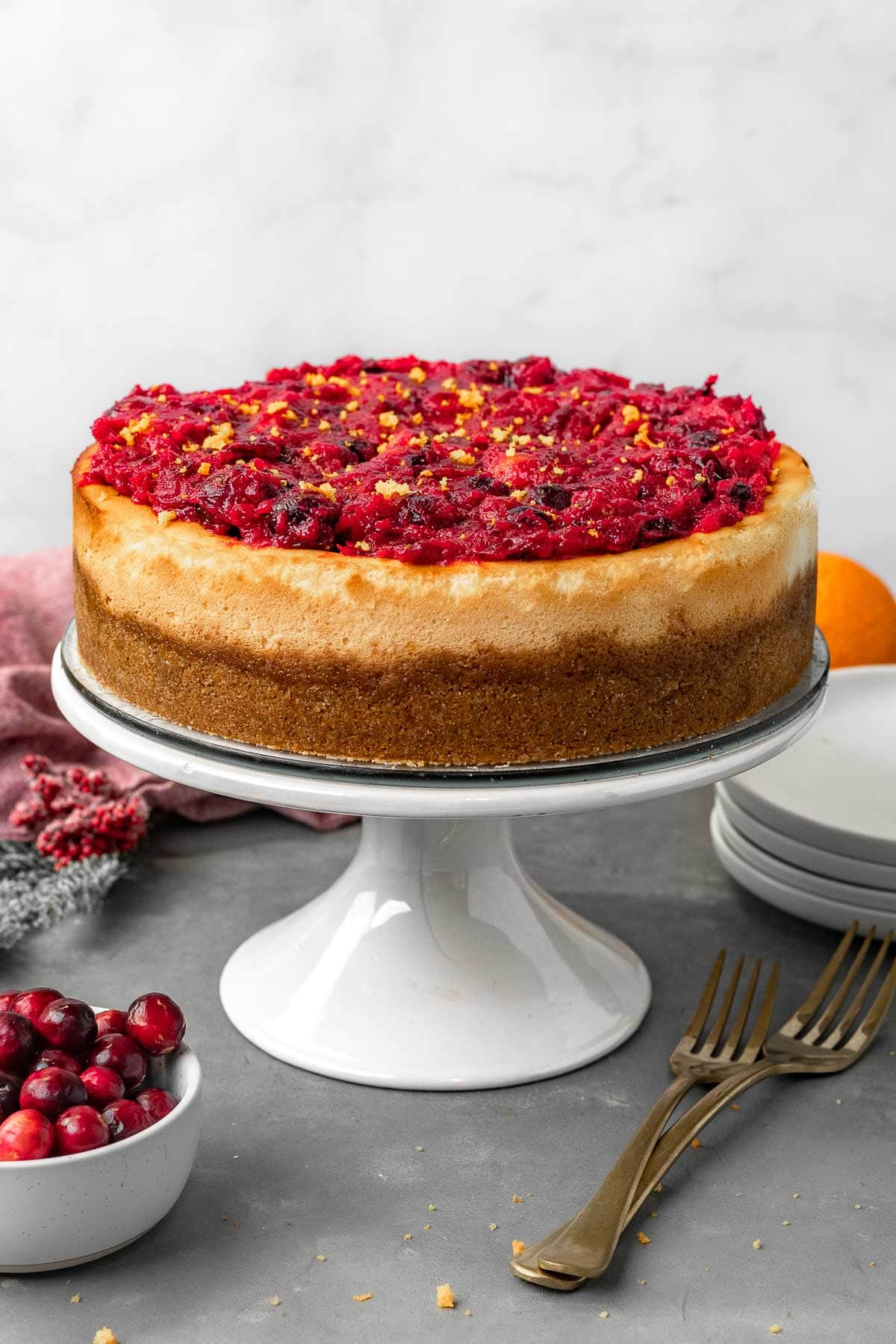 Create a free account to

Save Recipes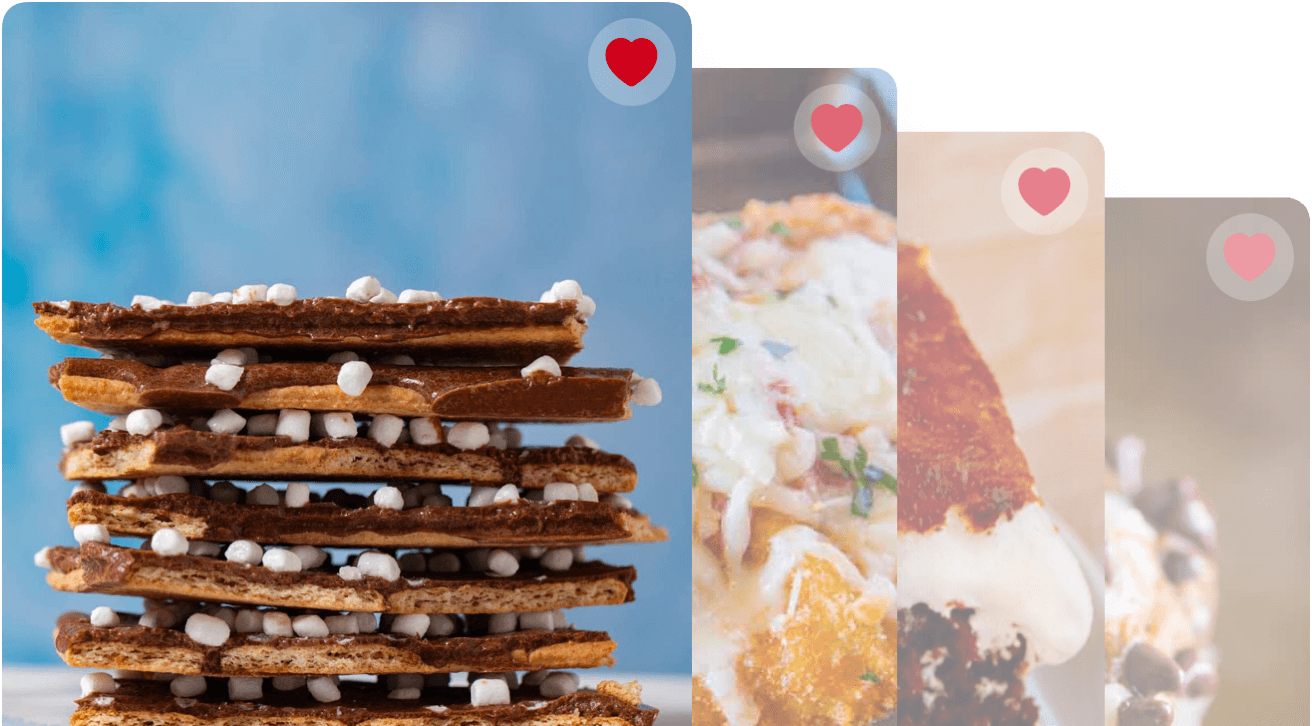 Frequently Asked Questions About Cranberry Cheesecake
What kind of Cheesecake is used in this recipe?
This recipe uses classic New York Cheesecake. New York Cheesecake is typically more dense, with a creamier, smoother texture, and a lightly browned exterior. It really holds up nicely to the Cranberry topping and flavors.
Can I make a No-Bake version of this Cheesecake?
If you love the ease of No-Bake desserts, you can easily make this version of No-Bake Cheesecake as your base. Just follow the recipe and refrigerate it so it will set. Make the Cranberry topping in this recipe and add it to the top of your No-Bake Cheesecake before serving.
How can I tell if my Cheesecake is done?
To check your Cheesecake for doneness, just give it a little shake. It should wobble slightly in the center, but not wiggle all over like it is still wet. If you keep it in the oven too long it will start to look dry and cracked.
Variations on Cranberry Cheesecake
White Chocolate: Melt 4 ounces of white chocolate and add to your cheesecake batter, or you can add ½ cup white chocolate chips. To keep your cheesecake from tasting too sweet, reduce the sugar to 1 cup.
Chocolate Cranberry Cheesecake: You can make this Chocolate Cheesecake Recipe and then use the Cranberry topping to make a delicious Chocolate Cranberry Cheesecake. The combination of sweet, creamy Chocolate and tangy Cranberry is a wonderful holiday treat.
Gingersnap Cookie Crust: Add another layer of holiday flavor by swapping the graham crackers with finely ground gingersnap cookies and use brown sugar instead of granulated sugar.
Shortbread Cookie Crust: Make your crust mixture with Shortbread Cookie crumbs for a rich, buttery cookie crust. You could also use crispy Sugar Cookie crumbs, or add a little cinnamon for a cinnamon sugar cookie crust.
Cranberry Orange: For Cranberry Orange Cheesecake, you can bring out more orange flavor in the Cranberry filling with a little extra orange juice, orange extract, or more orange zest.
Fruit Topping: You can use other fresh berries like strawberries, blueberries, or cherries instead of cranberries to make the fruit compote filling. 
Cranberry Cheesecake Bars: Double the graham cracker crust and press into a well-greased 9×13 pan. Preheat the oven to 325 degrees and prepare the cheesecake batter as usual. Bake the cheesecake for 40-45 minutes and cool cheesecake on a wire rack then chill completely before serving.
Individual Cheesecakes: Turn this cheesecake recipe into mini cheesecakes by pressing the graham cracker crust into a muffin tin instead of the springform pan, then fill evenly with cheesecake filling, cool, and add the fruit topping.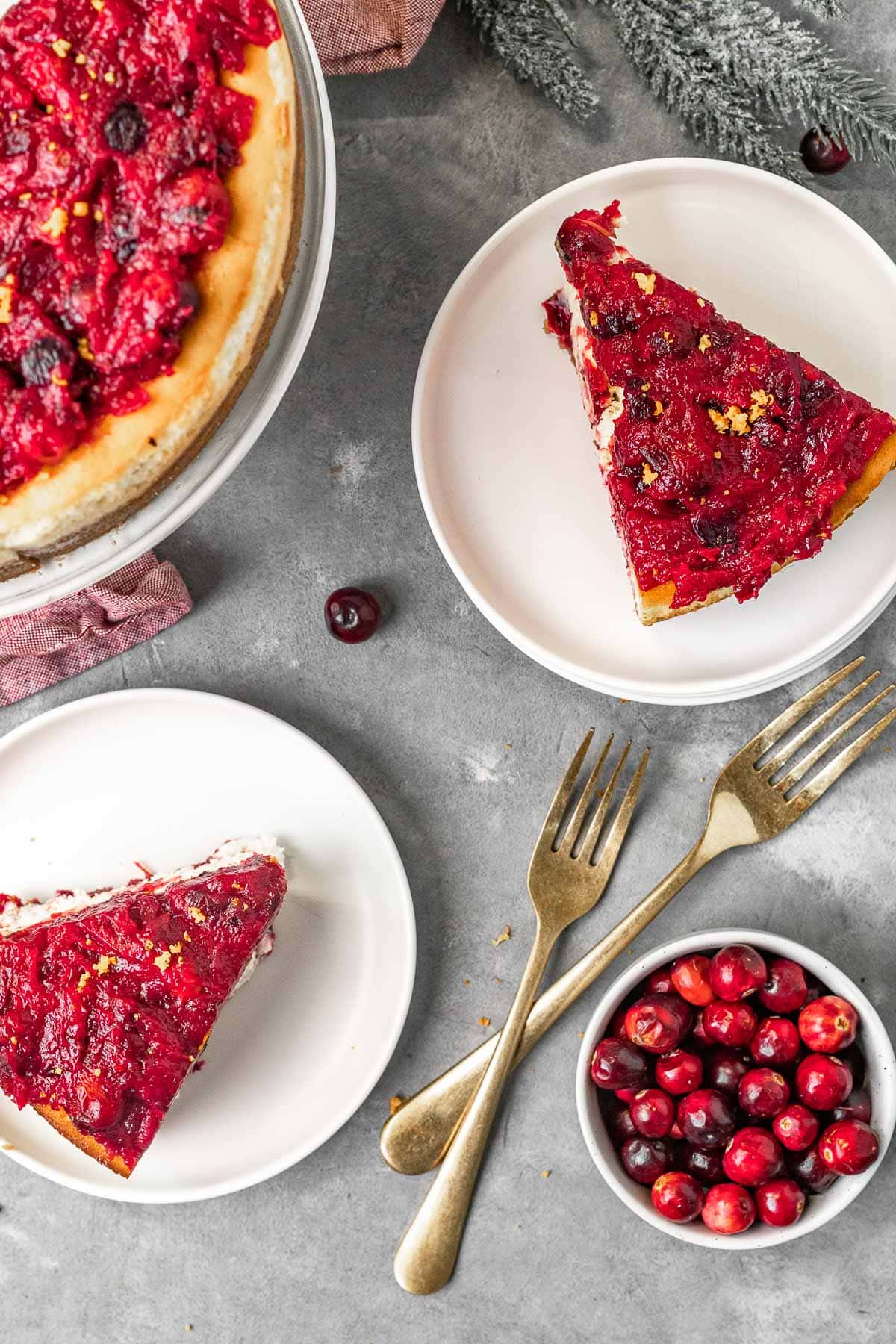 More Delicious Cheesecake Recipes
How to Store Cranberry Cheesecake
Serve: Allow the Cranberry Cheesecake to chill for at least 8 hours so it fully sets. You can keep Cranberry Cheesecake at room temperature for up to 2 hours before it needs to be chilled.
Store: Cover leftover cheesecake tightly with plastic wrap and store Cranberry Cheesecake in the refrigerator for up to 1 week. For best results, store with the Cranberry topping in a separate container.
Freeze: Cool cheesecake completely before wrapping tightly with plastic wrap and store it in an airtight container. Freeze Cranberry Cheesecake for up to 3 months and thaw overnight before serving. 


Ingredients
Graham Cracker Crust:
1 1/2

cups

graham cracker crumbs

, 12 full crackers

1/3

cup

sugar

6

tablespoons

unsalted butter

, melted
Cheesecake Filling:
24

ounces

cream cheese

, softened

1 1/4

cups

sugar

1/2

cup

whole milk

3

large

eggs

3/4

cup

sour cream

1

tablespoon

vanilla extract

3

tablespoons

flour

1

tablespoon

orange zest
Cranberry Layer
4 1/2

cups

fresh cranberries

, or frozen

1

cup

sugar

3

tablespoons

cornstarch

1/4

cup

orange juice

4

teaspoons

orange zest

, grated
Instructions
Preheat the oven to 350 degrees. Get a large pan of water you can set a 9" springform pan in to bake. Wrap the 9" springform pan in a large piece of foil to protect it from the water bath.
Graham Cracker Crust:
Mix the graham cracker crumbs, ⅓ cup sugar, and 6 tablespoons melted butter. Press into the bottom of the springform pan and 1 inch up the sides.
Cranberry Filling:
In a large saucepan on medium heat add the cranberries, sugar, cornstarch, orange juice, and orange zest.

Bring to a boil, stirring often.

Cook for

8-10 minutes

until cranberries breakdown and mixture thickens, stirring every few minutes.

Remove from heat and pour into a heat-safe bowl.

Add 1 ½ cups of mixture to the bottom of the crust (refrigerate the rest for serving).
Cheesecake:
In a stand mixer, beat the cream cheese and sugar then add in the milk until combined.

Add in the eggs one at a time until fully combined, then add in the sour cream, vanilla, flour, and orange zest until combined.

Pour filling into pan over the cranberry filling and spread evenly.

Place the pan in the water bath and bake for

1 hour

.

Turn off the oven, open the door a couple inches to let the heat out gently and let cool for

1 hour

.

Remove from oven, discard the foil, and refrigerate overnight.

Top with remaining cranberry sauce before serving.
Nutrition
Calories:
556
kcal
|
Carbohydrates:
79
g
|
Protein:
9
g
|
Fat:
24
g
|
Saturated Fat:
13
g
|
Polyunsaturated Fat:
1
g
|
Monounsaturated Fat:
6
g
|
Trans Fat:
1
g
|
Cholesterol:
116
mg
|
Sodium:
359
mg
|
Potassium:
307
mg
|
Fiber:
2
g
|
Sugar:
62
g
|
Vitamin A:
829
IU
|
Vitamin C:
11
mg
|
Calcium:
160
mg
|
Iron:
1
mg