No-Bake Cheesecake is an easy light, fluffy cheesecake made with cream cheese, heavy cream, sugar, vanilla extract, and lemon juice. No Jello and no baking!
Rich and creamy New York Cheesecake is a classic Dessert for special occasions, but takes a bit of patience to get perfect. This no-bake recipe is creamy perfection with half the work!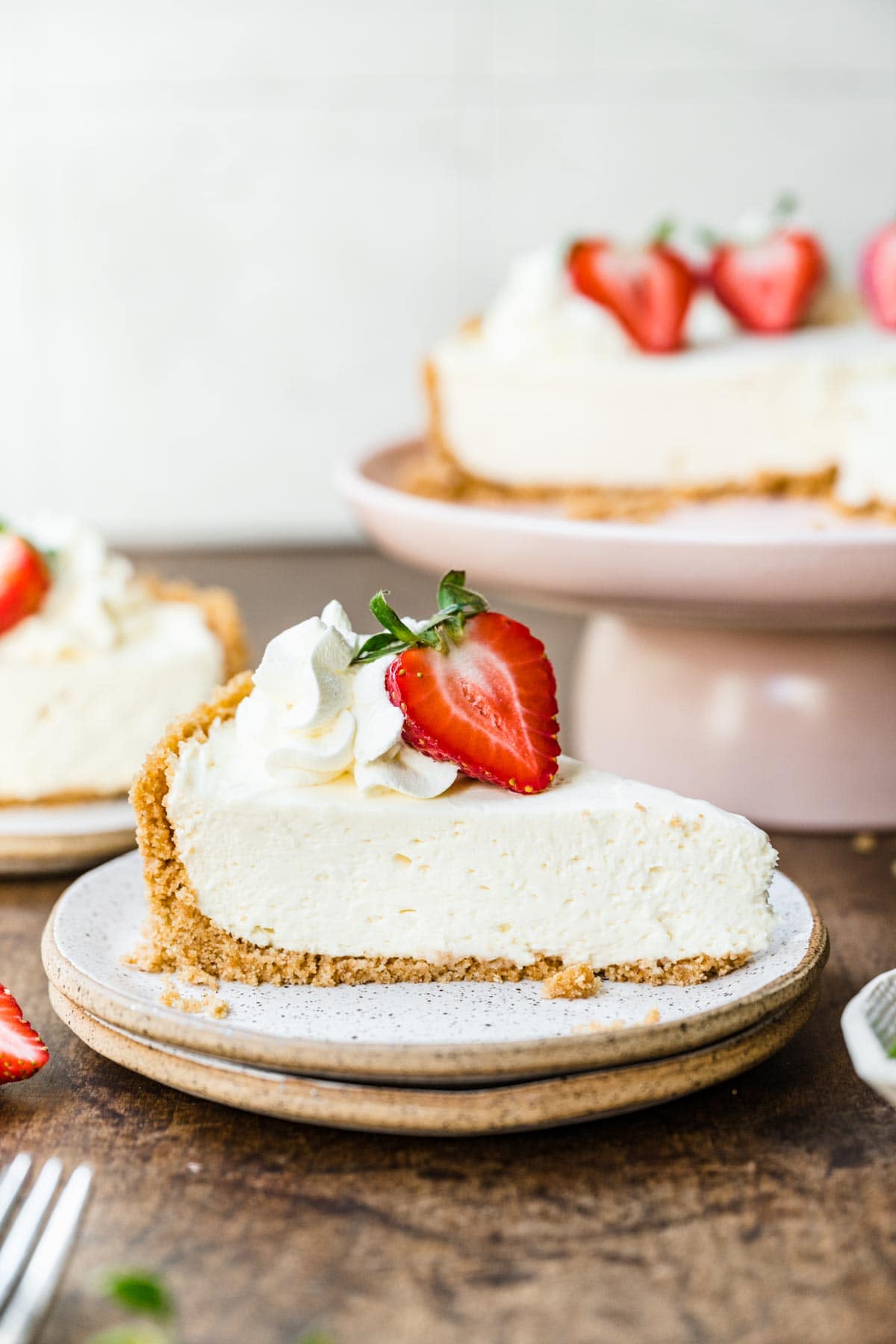 NO-BAKE CHEESECAKE
This sweet and simple-to-make cheesecake recipe cuts out all the hassle of baked cheesecake without losing any of the creamy texture and delicious flavor. You don't need a water bath and you don't need to turn on your oven because even the Graham Cracker Crust is no-bake. This may be the easiest cheesecake recipe you will ever make!
A No-Bake Cheesecake is the perfect dessert to make ahead for special occasions, especially when your holiday menu is long and your oven will be occupied. It takes at least 6 hours for No-Bake Cheesecake to fully set, but it only takes minutes to whip together. A graham cracker crust holds up well with creamy fillings, so no need to worry about soggy crusts if you make it a few days ahead of time.
This No-Bake Cheesecake recipe is made without Jello or Cool Whip, so it's completely homemade with the perfect balance of sweetness and tangy cream cheese. Since there is no gelatin or vegetable oil, it does need longer to set, but the creamy fluffy texture is worth it. You will know the cheesecake is set when you can wiggle it and the filling doesn't move. If your cheesecake filling isn't setting, refrigerate it a few hours longer.
Unlike our normal graham cracker crust recipe, this crust is made with brown sugar so it is chewy with a slight caramel flavor. You can always make a traditional graham cracker crust or check out the variations for other ideas that you don't need to bake. Easily make this into Mini No-Bake Cheesecakes by pressing the crust mixture into a muffin tin that's well greased or lined with paper liners.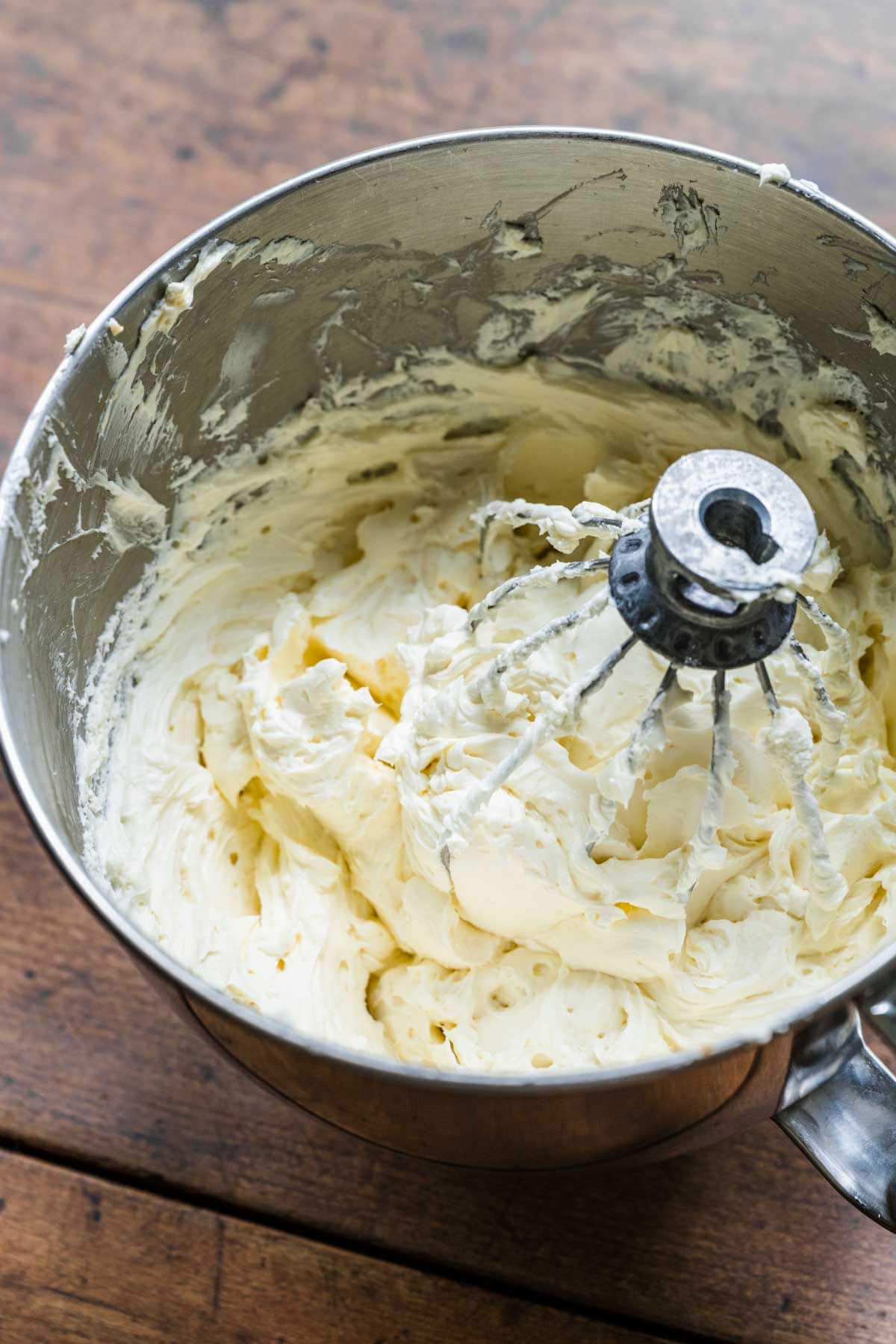 There are so many ways to serve this No-Bake Cheesecake! Enjoy the light and creamy sweet vanilla cheesecake plain or add some of the amazing topping ideas we have below. If you are feeling adventurous, or just to give this cheesecake extra pizazz, check out the variations section for flavor ideas. Let us know what other flavors you come up with too!
SOME DELICIOUS TOPPING IDEAS:
Toppings for No Bake Cheesecake
Chocolate: Cover the entire top of the cheesecake once it's set with Chocolate Ganache. You can also add chocolate shavings, chocolate sauce drizzle, or dust with sweetened cocoa powder.
Fruit: Fruit and creamy cheesecake are the perfect pair. Spread an even layer of homemade fresh fruit toppings like Strawberry Topping on top after the cheesecake is set. You can also use fresh berries or chopped fruit.
Sweet Cream: A sweet cream like Cool Whip or Whipped Cream is an easy topping to serve on a No-Bake Cheesecake. You can serve with a dollop on top of a single slice, or spread a thin layer of creamy topping over the whole cheesecake.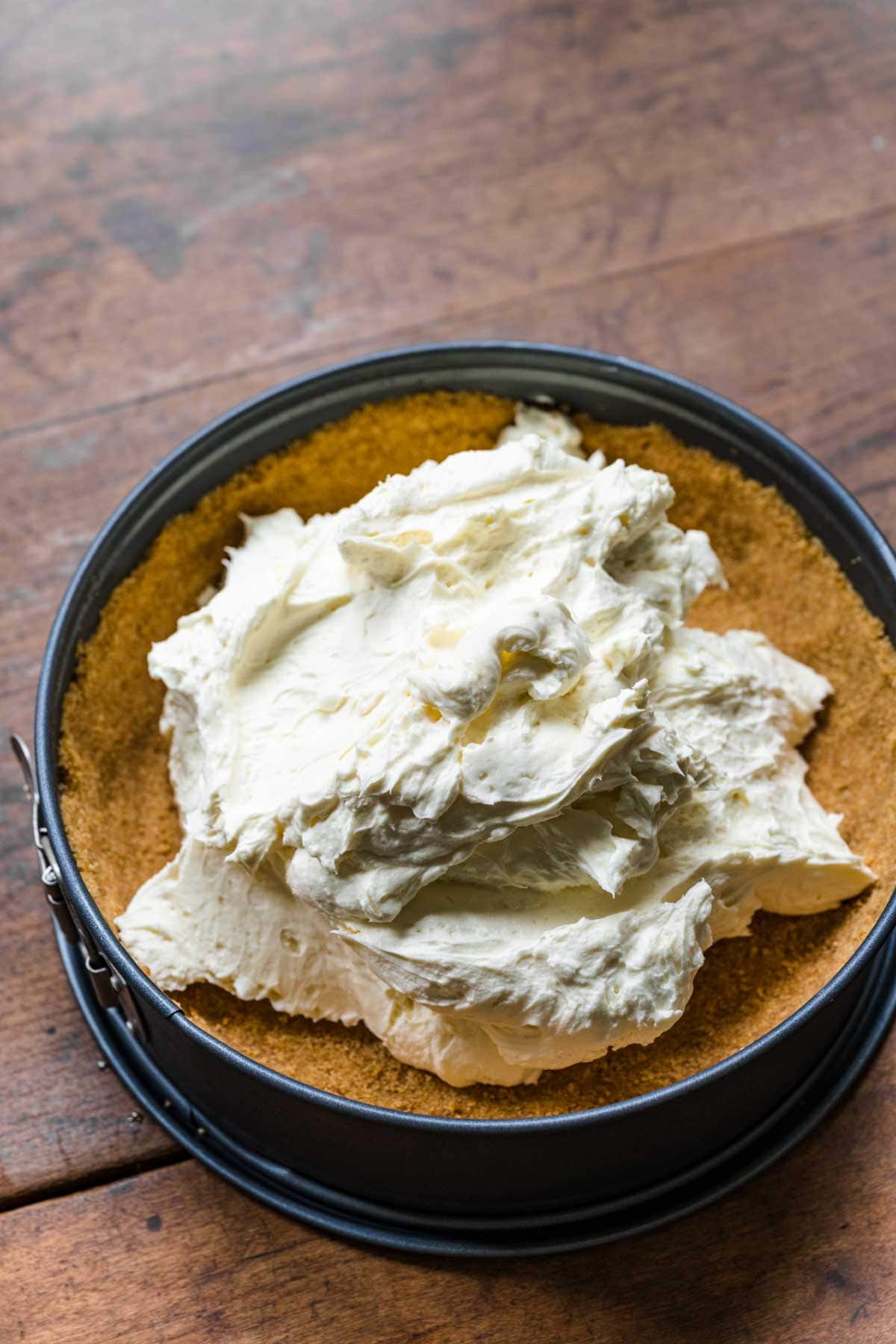 Create a free account to

Save Recipes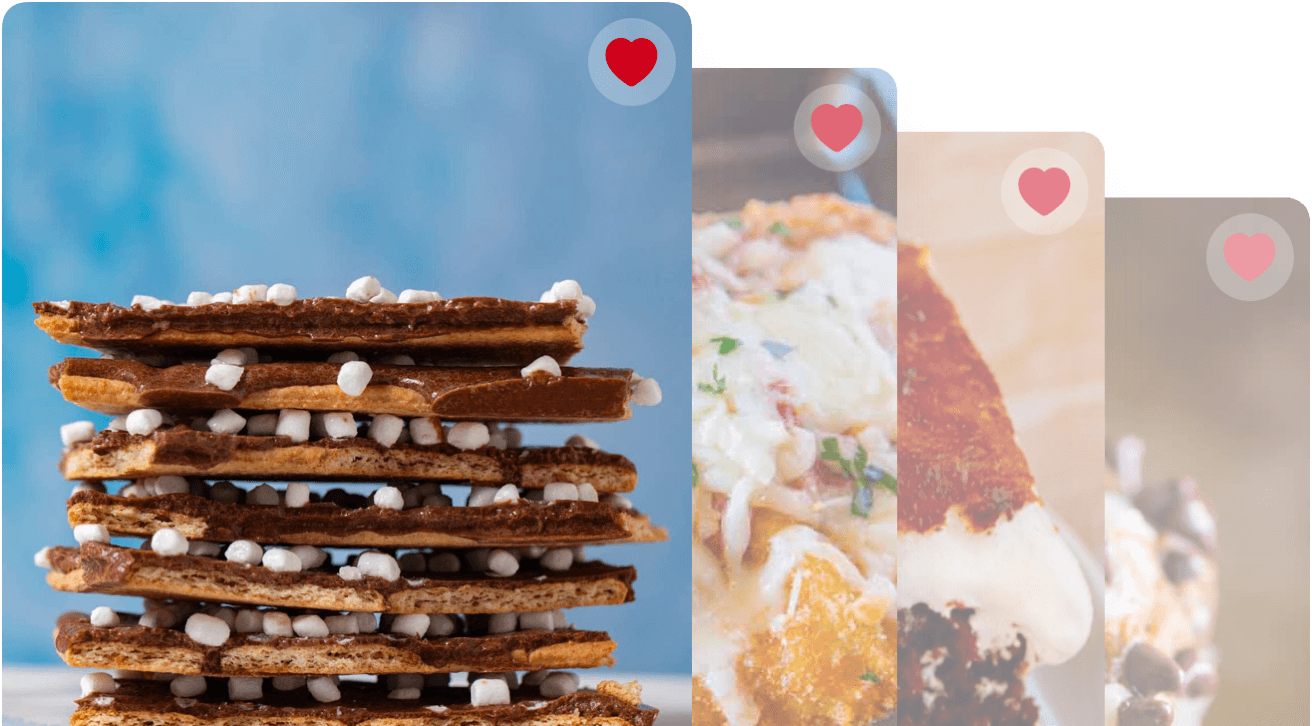 VARIATIONS ON NO-BAKE CHEESECAKE
Mix-Ins: Gently stir in up to ½ cup mix-ins like chocolate chips, crushed candy canes, rainbow sprinkles, M&Ms, peanut butter chips, or chopped peanut butter cups. Add dollops of chocolate sauce, strawberry sauce, or Caramel Sauce and swirl with a knife before the filling sets.
Cookie Crust: Instead of graham crackers, you can use 12-14 crushed Oreos (with or without filling), Shortbread Cookies, animal crackers, vanilla wafers, or gingersnap cookies.
Substitutions: For a tangy cream cheese filling, replace ½ cup heavy cream with 1/3-½ cup sour cream. For a fluffier, sweeter cheesecake, use 1 tub Cool Whip and 1 cup heavy cream. Swap the regular granulated sugar with powdered sugar for maximum sweetness.
No-Bake White Chocolate Cheesecake: Melt 1 cup white chocolate chips in the microwave in 30 second bursts until melted and smooth. Fold melted chocolate into cheesecake filling mixture. Add ½ cup fresh raspberries to the filling for White Chocolate Raspberry Cheesecake.
No-Bake Lemon Cheesecake: Add in 1 tablespoon fresh lemon zest with the lemon juice. Once set, spread a thin layer of Lemon Curd over the top and garnish with candied lemon slices.
No-Bake Cheesecake Bars: Double the graham cracker crust mixture and press into a greased 13×9 baking dish. Prepare cheesecake filling as usual and spread evenly over crust. Set for at least 5 hours and cut up into bars.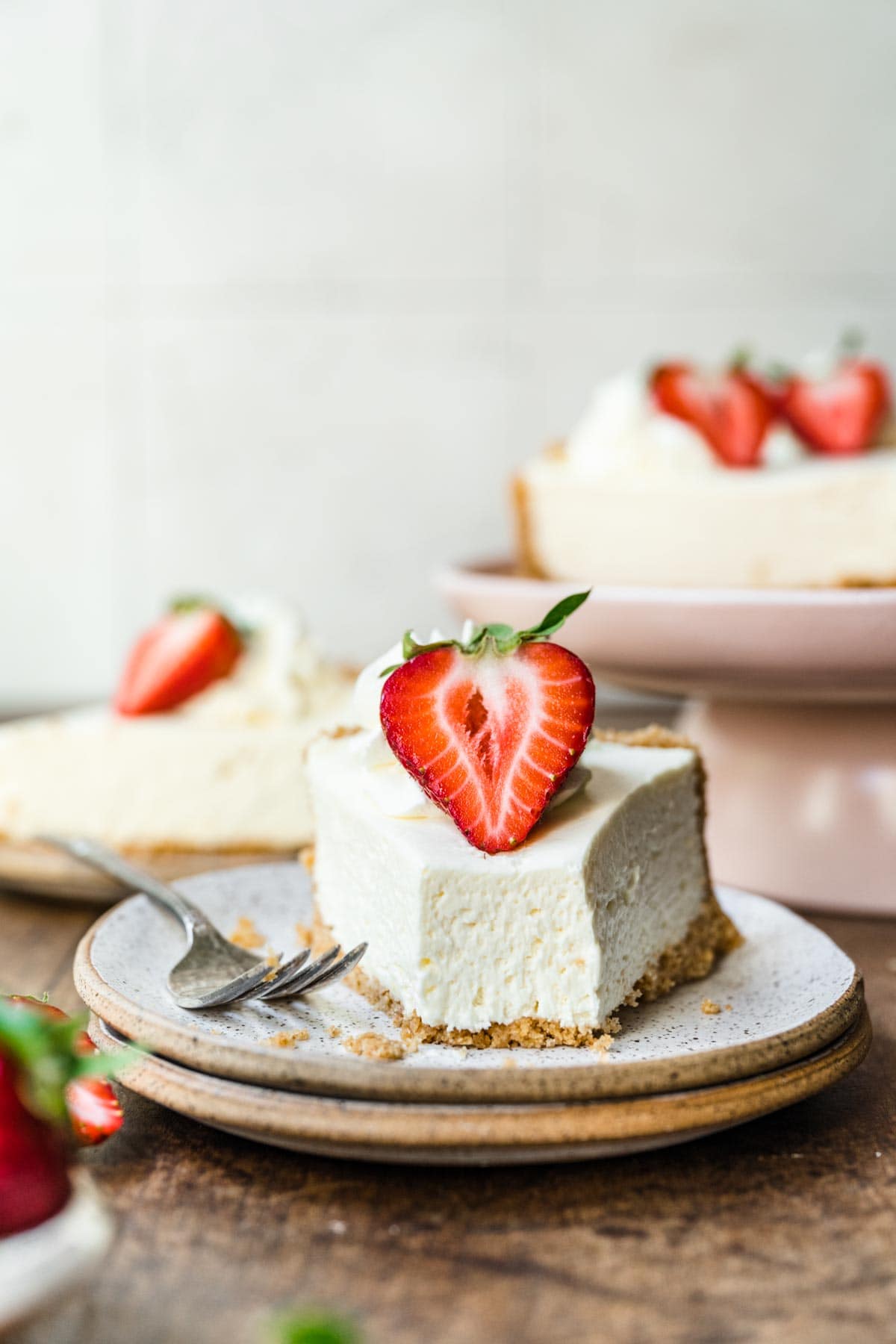 MORE CHEESECAKE DESSERTS:
HOW TO STORE NO-BAKE CHEESECAKE
Serve: Allow No-Bake Cheesecake to refrigerate for at least 6-8 hours, preferably overnight, to fully set. Keep at room temperature for up to 2 hours before returning to the refrigerator to store.
Store: Cover No-Bake Cheesecake tightly with plastic wrap or store in an airtight container. Refrigerate No Bake Cheesecake for up to 1 week without toppings and up to 3 days with toppings.
Freeze: Once filling is completely set, wrap No-Bake Cheesecake tightly with plastic wrap and aluminum foil. Freeze cheesecake up to 3 months and thaw overnight in the refrigerator before serving.


Ingredients
Graham Cracker Crust:
2

cups

graham cracker crumbs

1/3

cup

brown sugar

, packed

1/2

cup

unsalted butter

, melted
Cheesecake Filling:
1 1/2

cups

heavy cream

, very cold

24

ounces

cream cheese

, softened

1/3

cup

sugar

1

teaspoon

vanilla extract

2

teaspoons

lemon juice
Instructions
Graham Cracker Crust:
Spray a 9 inch springform pan with baking spray.

Mix the graham cracker crumbs, brown sugar sugar and melted butter and press into the bottom of springform pan and 1 inch up the sides.
Cheesecake Filling
Add heavy cream to your stand mixer on low speed, raising it to a higher and higher speed and beat until stiff peaks form, about

3-4 minutes

.

Remove the whipped cream from the bowl and set aside.

To your stand mixer add the cream cheese, sugar, vanilla extract and lemon juice and beat until light and fluffy, about

2 minutes

.

On the lowest speed add in the whipped cream until just evenly combined.

Spoon mixture over crust, spread evenly.

Refrigerate, covered, overnight. The longer it refrigerates, the firmer it will be.
Nutrition
Calories:
445
kcal
|
Carbohydrates:
29
g
|
Protein:
6
g
|
Fat:
35
g
|
Saturated Fat:
21
g
|
Cholesterol:
114
mg
|
Sodium:
398
mg
|
Potassium:
180
mg
|
Fiber:
1
g
|
Sugar:
19
g
|
Vitamin A:
1234
IU
|
Vitamin C:
1
mg
|
Calcium:
117
mg
|
Iron:
1
mg