Easy Cold Corn Dip is a creamy, cheesy appetizer made in minutes with sweet corn, cream cheese, sour cream, cheese, green chiles and peppers.
Whether it's Creamy Spinach Dip, Bacon Cheddar Ranch Dip, or this Mexican Corn Dip, a creamy dip loaded with cheese is always the ultimate Party Appetizer!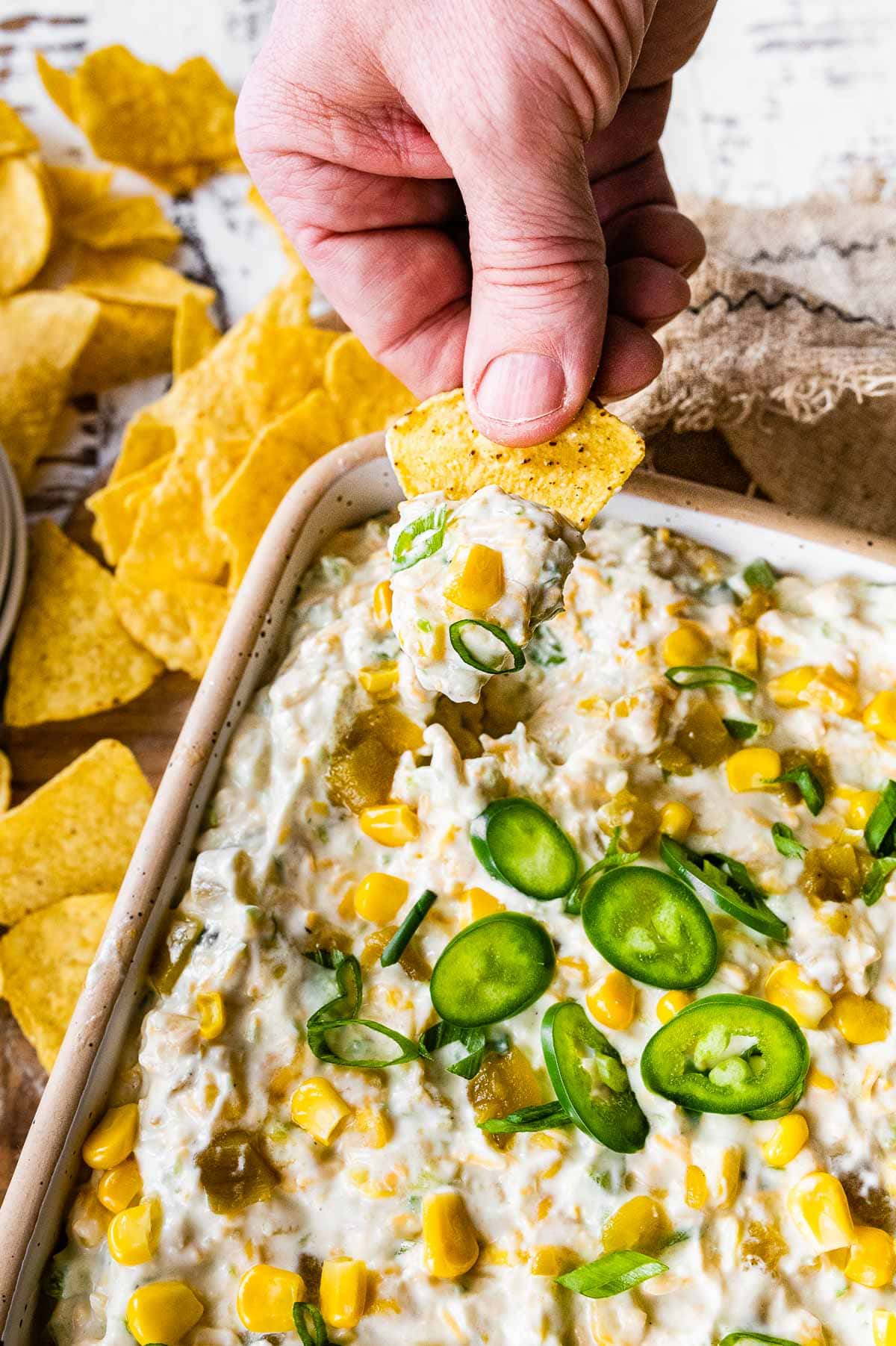 Who doesn't love dunking corn chips into a cream cheese dip? It's creamy and cheesy and the perfect appetizer for holidays, parties, potlucks, or a summer get-together. This cool crowd-pleasing dip doesn't last long no matter where you bring it and will have folks begging you the recipe!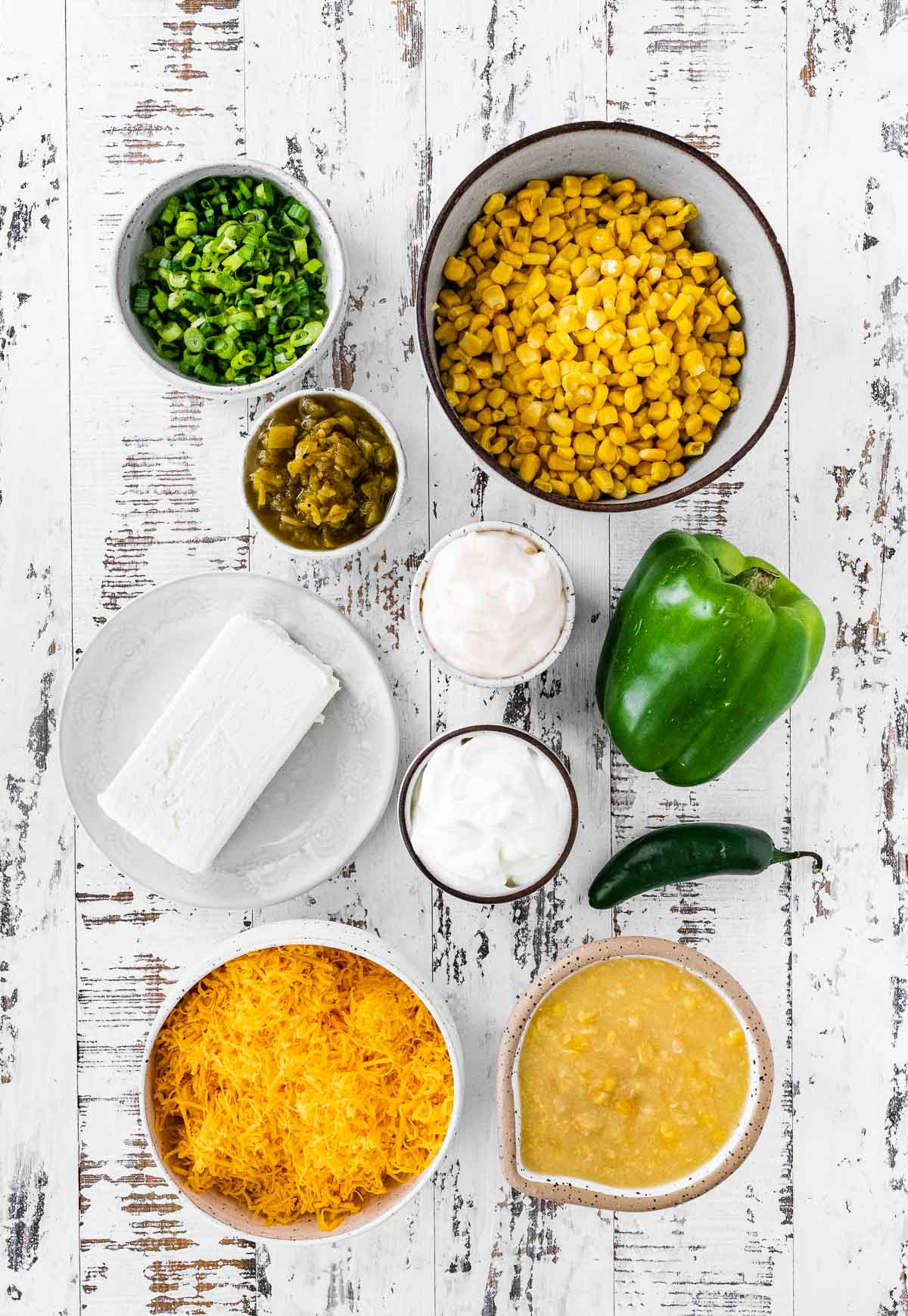 You'll love making Corn Dip for so many reasons, but the number one reason to love it is because it comes together in just a few minutes. The only prep work besides slicing some green onions is making sure you thaw your corn and soften your cream cheese. It's a great summer appetizer because there is no stove required and you'll only dirty one bowl. It is literally one of the easiest party dishes you could ever make and is a hit every time.
This Easy Corn Dip recipe is perfect for potlucks and birthday parties because it's so inexpensive and is always a crowd-pleaser. It has just a hint of heat from the jalapeno but it is still very family friendly. Plus it's so easy to change up the flavors with one or two substitutions or additions. You can even bake this dip or make it in a slow cooker, just follow the preparation variations later in this post.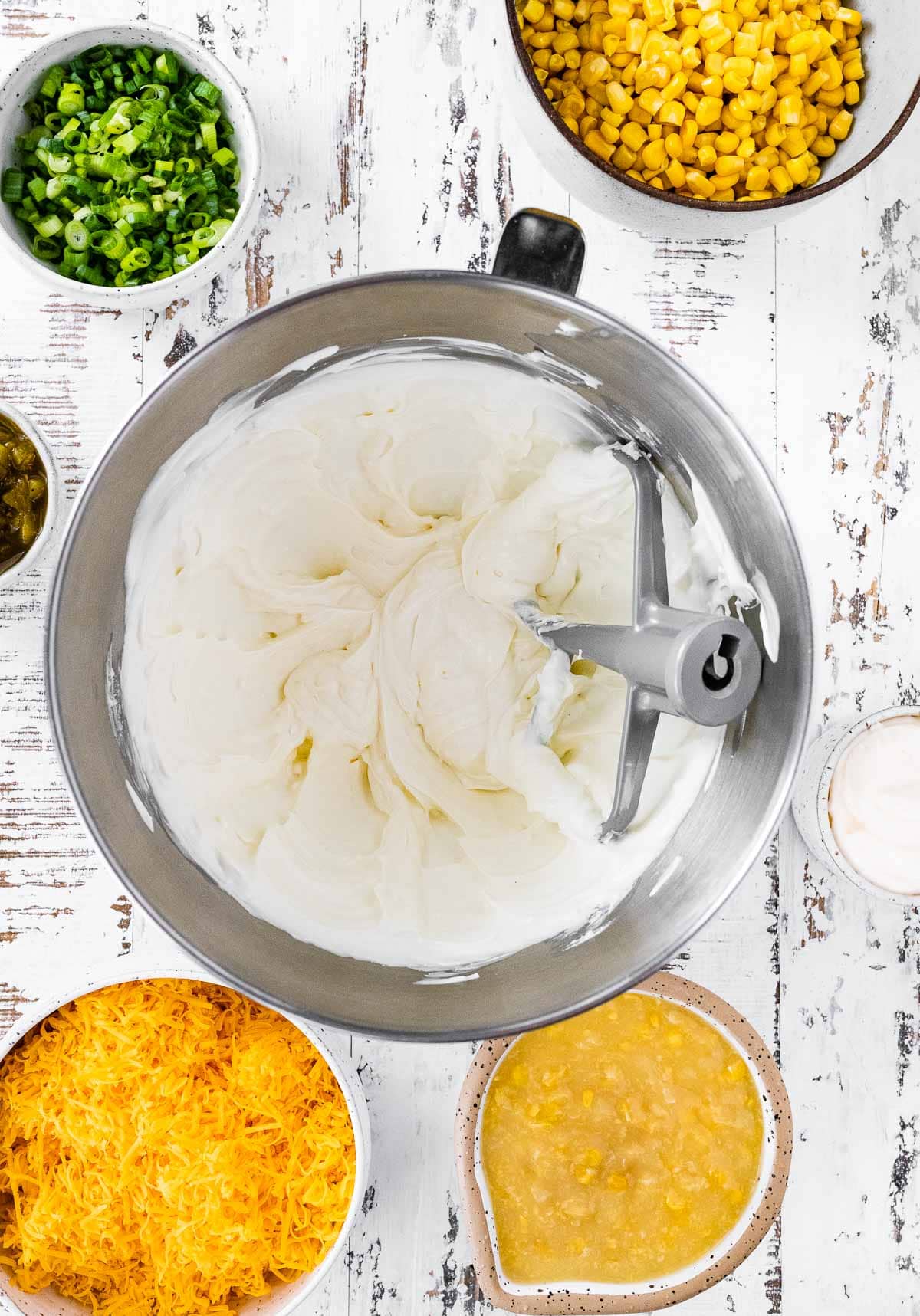 Since this amazing Corn Dip is pretty thick, you want to choose dippers that are crispy and hearty to scoop up the dip like an edible spoon. Pita Chips, tortilla chips, Frito scoops, and crackers are all great. Fresh veggies like halved mini peppers, celery, and cucumber slices are a crispy, crunchy way to enjoy this summery dip. It doesn't just have to be a dip though – try it on a Burger or Grilled Chicken Sandwich instead of cheese and mayo!
How to Make Corn Dip
Blend: Mix the sour cream and cream cheese with a hand blender until combined.
Stir: Using a spatula, stir in the corn, creamed corn, and mayo until well mixed. Fold in the rest of the ingredients.
Chill: Refrigerate covered for at least 2 hours and up to 2 days before serving.
More Creamy Cheesy Dip Recipes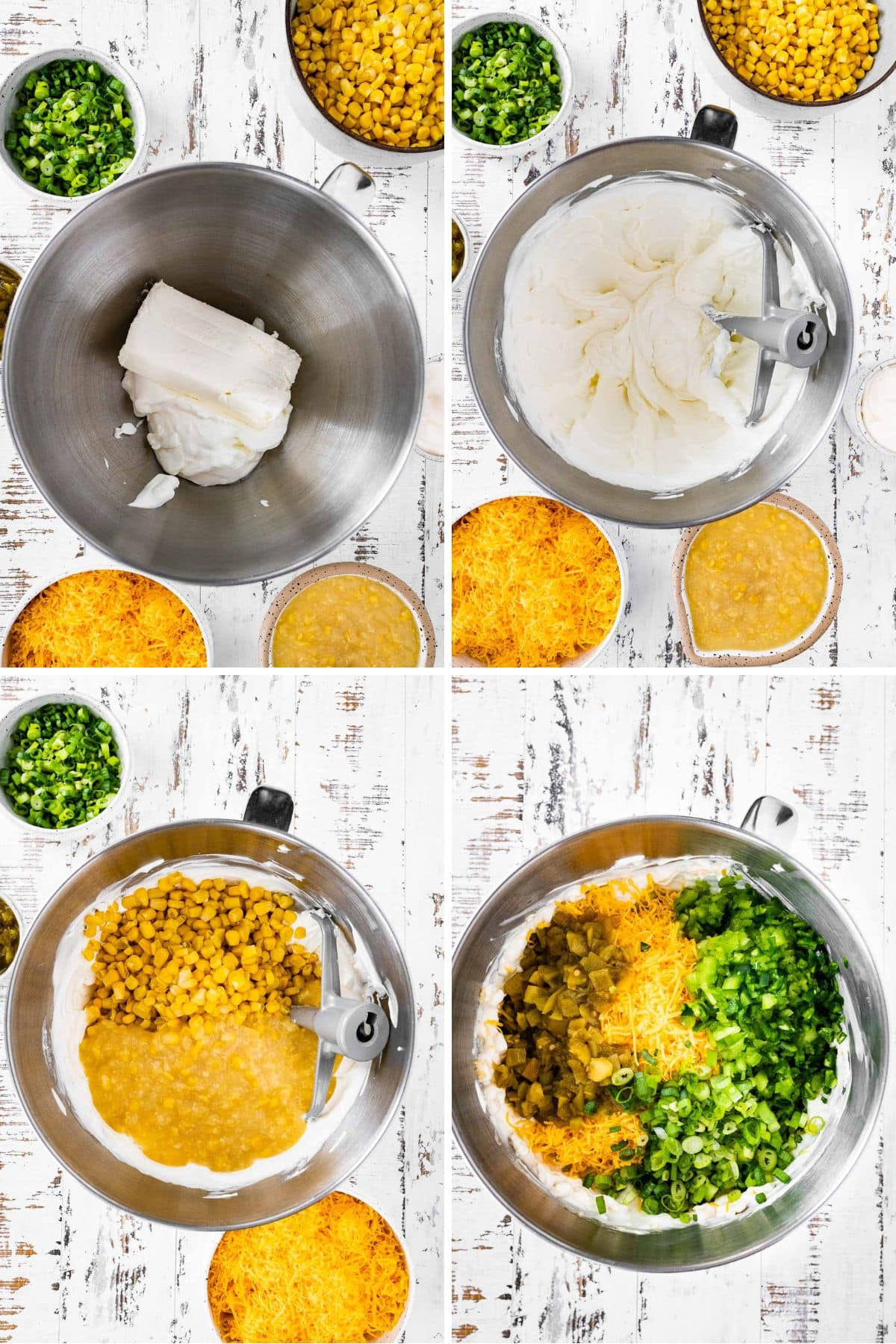 FAQs for Corn Dip
Can I use Fresh Corn?
You can use fresh corn if you want instead of frozen corn in this dip. You don't have to cook raw corn before eating it, just cut it right from the cob and enjoy. Make sure to rinse well to remove any husk strands. If you don't want the raw corn so crispy, blanch it by boiling 2-3 minutes then immediately cooling in ice water. Grilled corn from the cob would taste delicious too!
How to Keep Corn Dip Chilled?
A trick to keep cold dips cool is to get a big disposable turkey-sized roaster pan and put 2-3 serving bowls inside of it, leaving space to add ice. Add ice around the bowls and spoon your dips into them. If your dip gets too warm, chill it for at least 30 minutes and bring it back out. If you know it's gonna be a long party, maybe split the dip into two bowls, keeping one in the fridge to swap in when the other has been out too long. 
Can I make Hot Corn Dip?
If you like a warm and gooey baked dip, you can easily turn this into a Hot Corn Dip! Just prepare the dip as usual and then bake it at 350 degrees for about 30-40 minutes. Another way you can make a hot Corn Dip is with your slow cooker.
Can I freeze this Corn Dip?
Since this Creamy Corn Dip is made with mayo, cream cheese, and sour cream, it's definitely one you don't want to freeze. When mayonnaise freezes and then thaws, the oil separates and it can't come back together for the same creamy texture. The same thing happens to sour cream with the natural liquids unless it was baked into a dish like a coffee cake or casserole.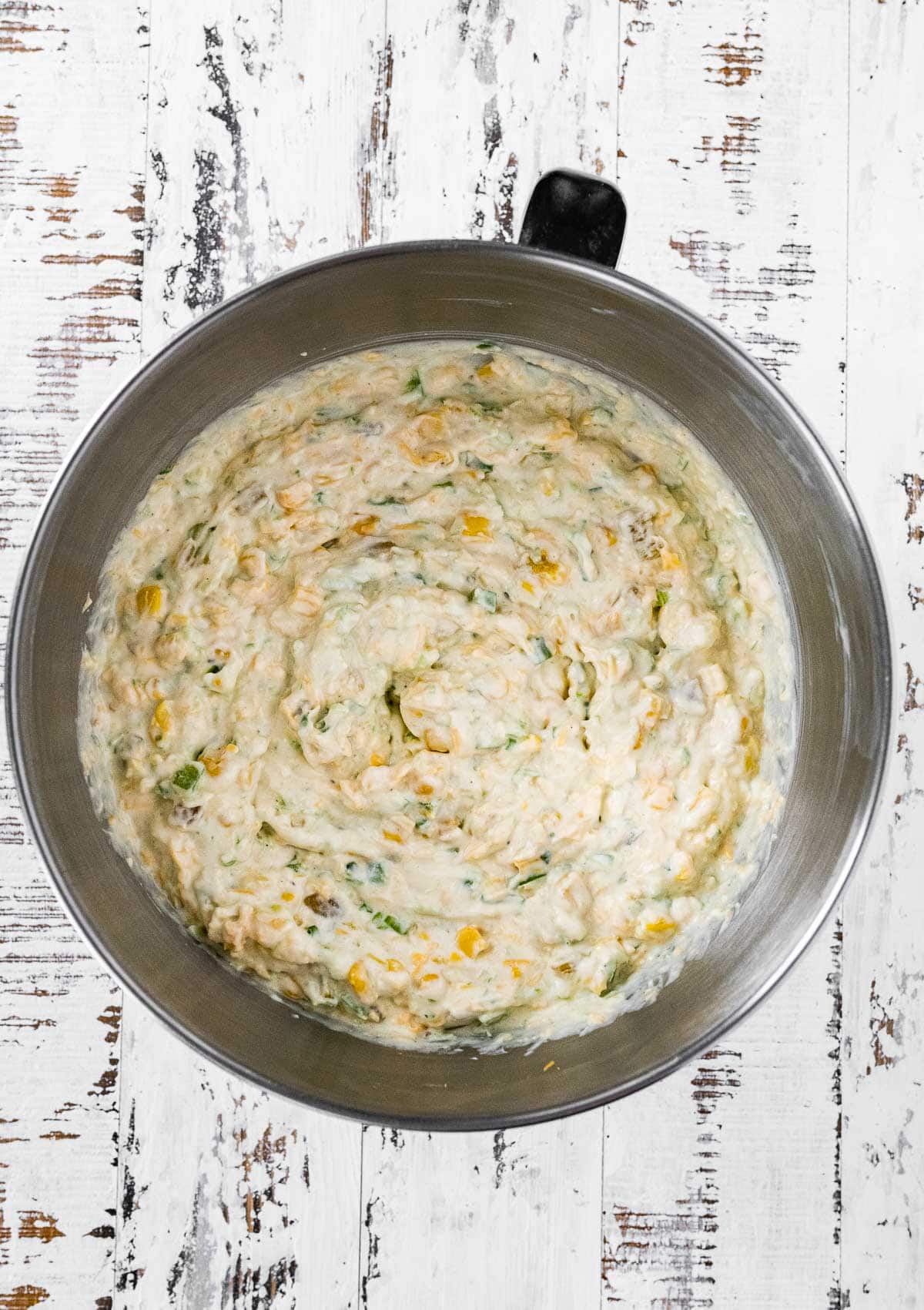 Create a free account to

Save Recipes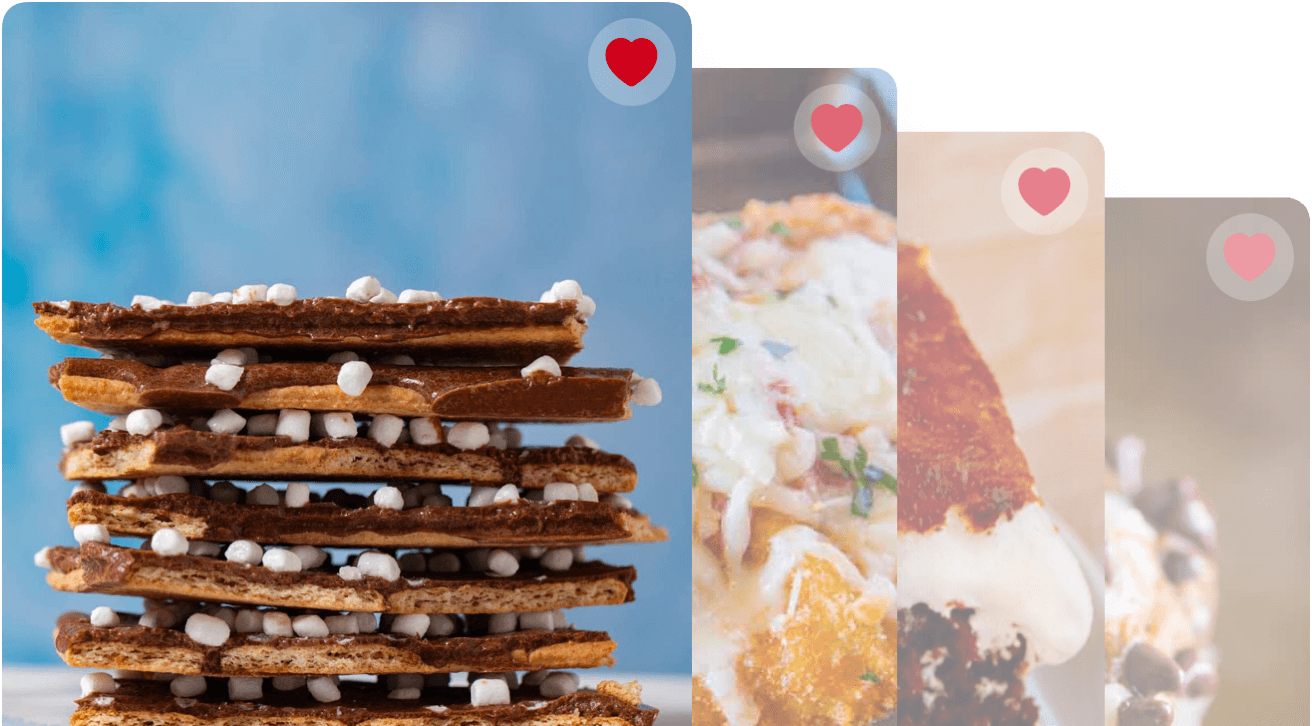 Key Ingredients
Corn: There is a combination of corn in this recipe for some texture. The frozen corn is more firm and gives a sweetness to the dip. The creamed corn makes this extra creamy while also adding a bit of sweetness from the sauce.
Cream Cheese: To make this dip extra indulgent and addicting, it has every party appetizer's best friend, cream cheese. Make sure to soften it to room temperature so that you can mix it easily.
Cheddar Cheese: Sharp cheddar adds a lot of flavor to this dish and the thicker shreds add some contrast to all the creaminess.
Sour Cream: The sour cream gives this corn dip a tangy flavor and lightens up the thick cream cheese and mayo. You can do a one-to-one swap with plain Greek yogurt if you prefer that to sour cream.
Mayonnaise: Rich and creamy mayo is what holds this dip together, keeping it from being too thick or too runny. You can use any kind of mayonnaise that you like, but we recommend full fat because hey, party dips are meant to be indulgent!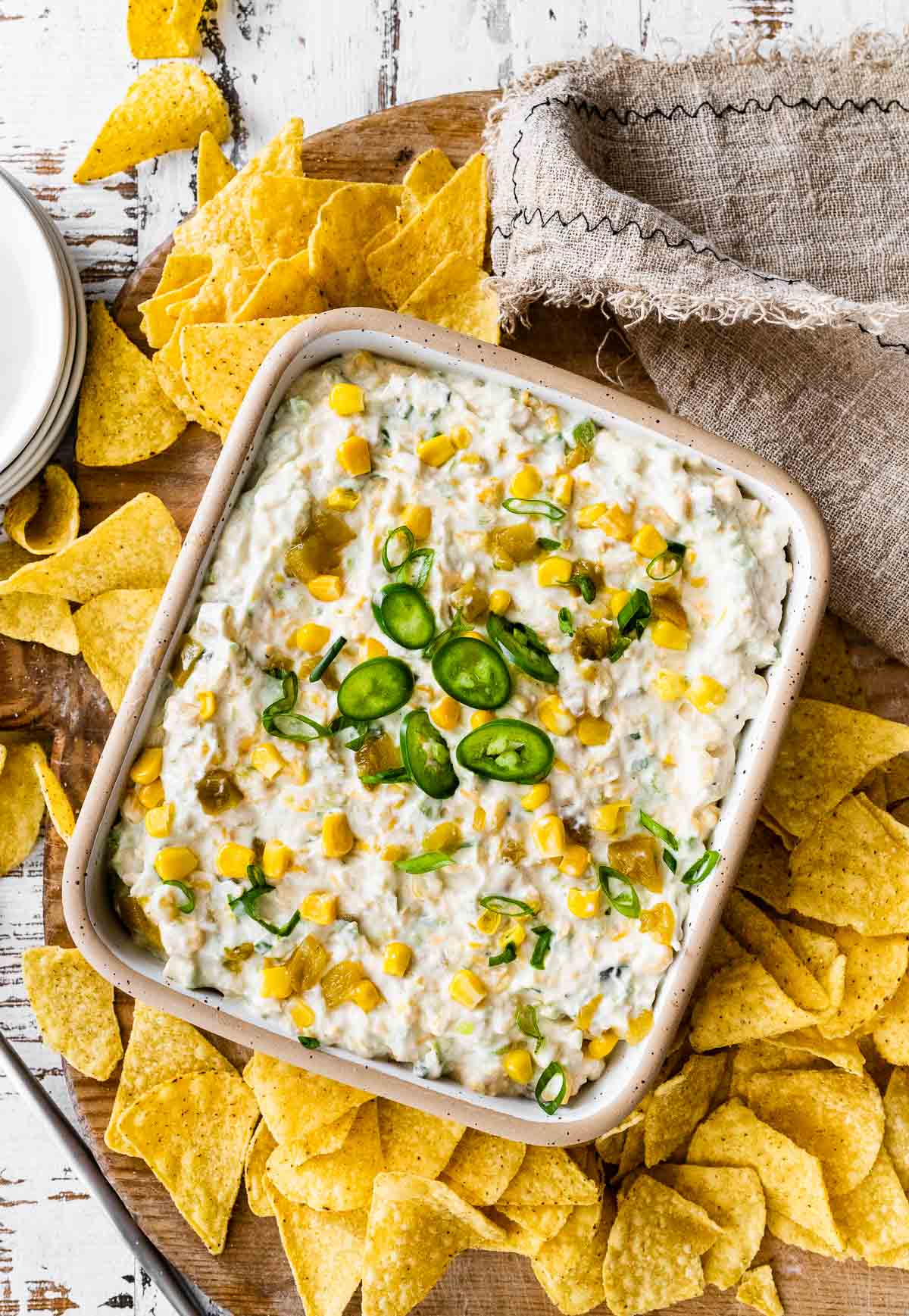 Can Corn Dip be made ahead of time?
Yes, you do want to make this Corn Dip at least 2 hours in advance. It will be at peak freshness within the first 2 days, after that the dip starts separating and getting watery. It's still good to eat but it just doesn't look as appetizing. Store it covered in the bowl, or in an airtight container, then give it a good stir before serving.
Variations
Rotel Tomatoes: Add a can of mild or spicy Rotel diced tomatoes with green chilies to this dip for even more flavor. Drain the tomatoes before adding so they don't make your dip runny.
Mexican-Style Corn: Swap the creamed corn for 2 cans Mexican-style corn (also called Mexicorn) for even more southwest flavor. Mexicorn is a blend of corn and diced peppers so it can replace green bell pepper too if you want.
Cheese: You can swap a cup cheddar cheese for another shredded cheese like Pepper jack or Monterey Jack. Completely replace it with a bag of Mexican blend cheese or other favorite blend.
Bacon: We all know bacon flavor makes everything better! Add cooked finely chopped crispy bacon pieces or ¼ cup crunchy bacon bits to the dip. Serve with extra bacon bits sprinkled on top! Make a bacon ranch dip by adding 2 tablespoons Ranch Seasoning. 
Spices and Seasonings: You can add a variety of spices to enhance this Mexican Corn Dip like ground cumin, chile powder, or garlic. Turn up the heat with red pepper flakes, cayenne pepper, hot sauce, or more fresh jalapeno pepper to taste.
Creamy Street Corn Dip: Give this appetizer the flavors of Street Corn by adding lime juice, chile powder, fresh cilantro, and crumbled cojita cheese. Top with some chile lime seasoning.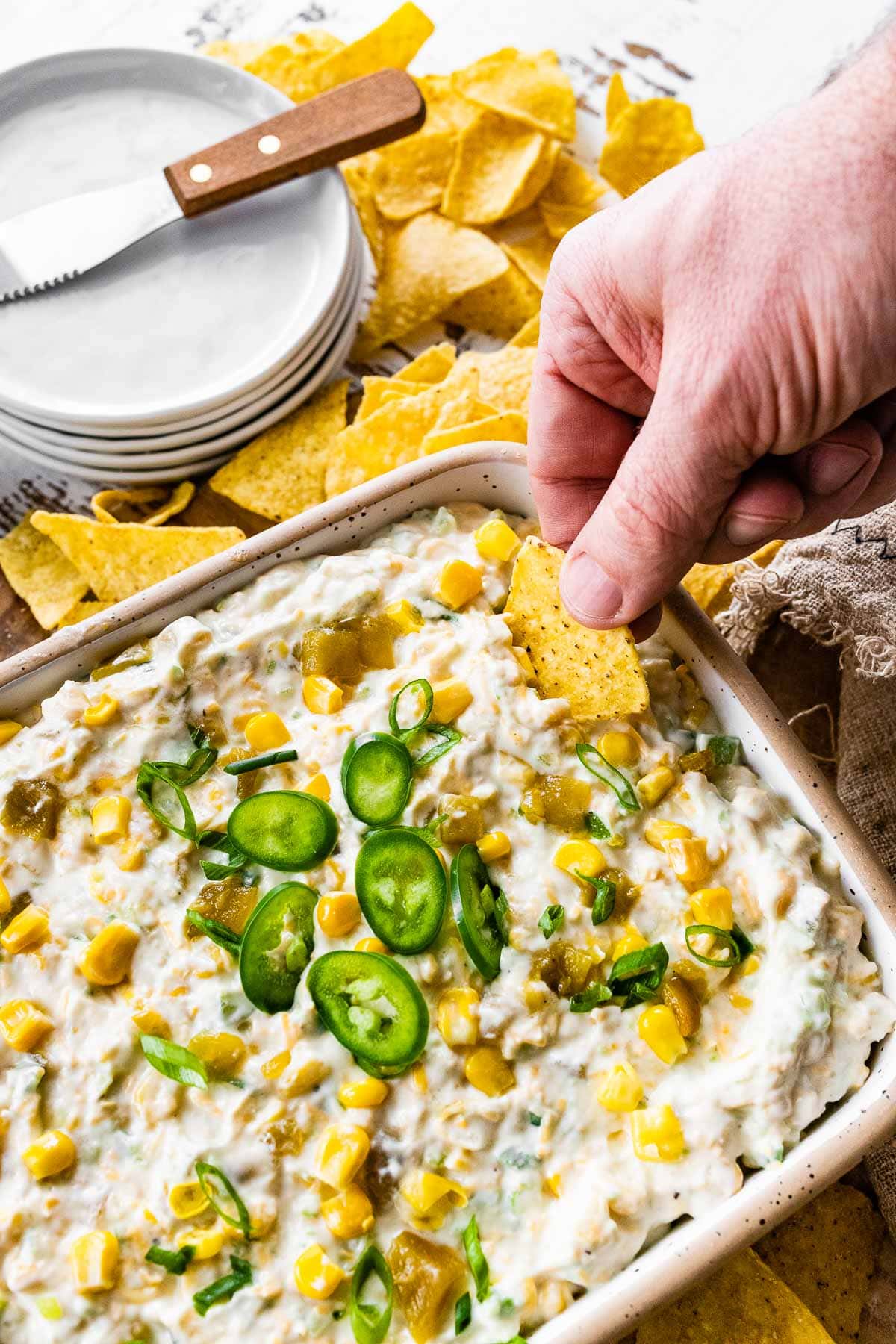 Baked Corn Dip
Preheat your oven to 350 degrees and spray a baking dish with cooking spray.
Prepare dip as usual and then pour into the prepared baking pan.
Bake for 30-40 minutes, until it is hot and bubbly.
Slow Cooker Corn Dip
You don't need to soften the cream cheese ahead of time, but you will need to cut it into cubes.
Add all the ingredients except the cream cheese to your crockpot and stir to combine.
Top with cubes of cream cheese.
Cover and cook on low for 2 hours, stirring halfway through to mix everything together.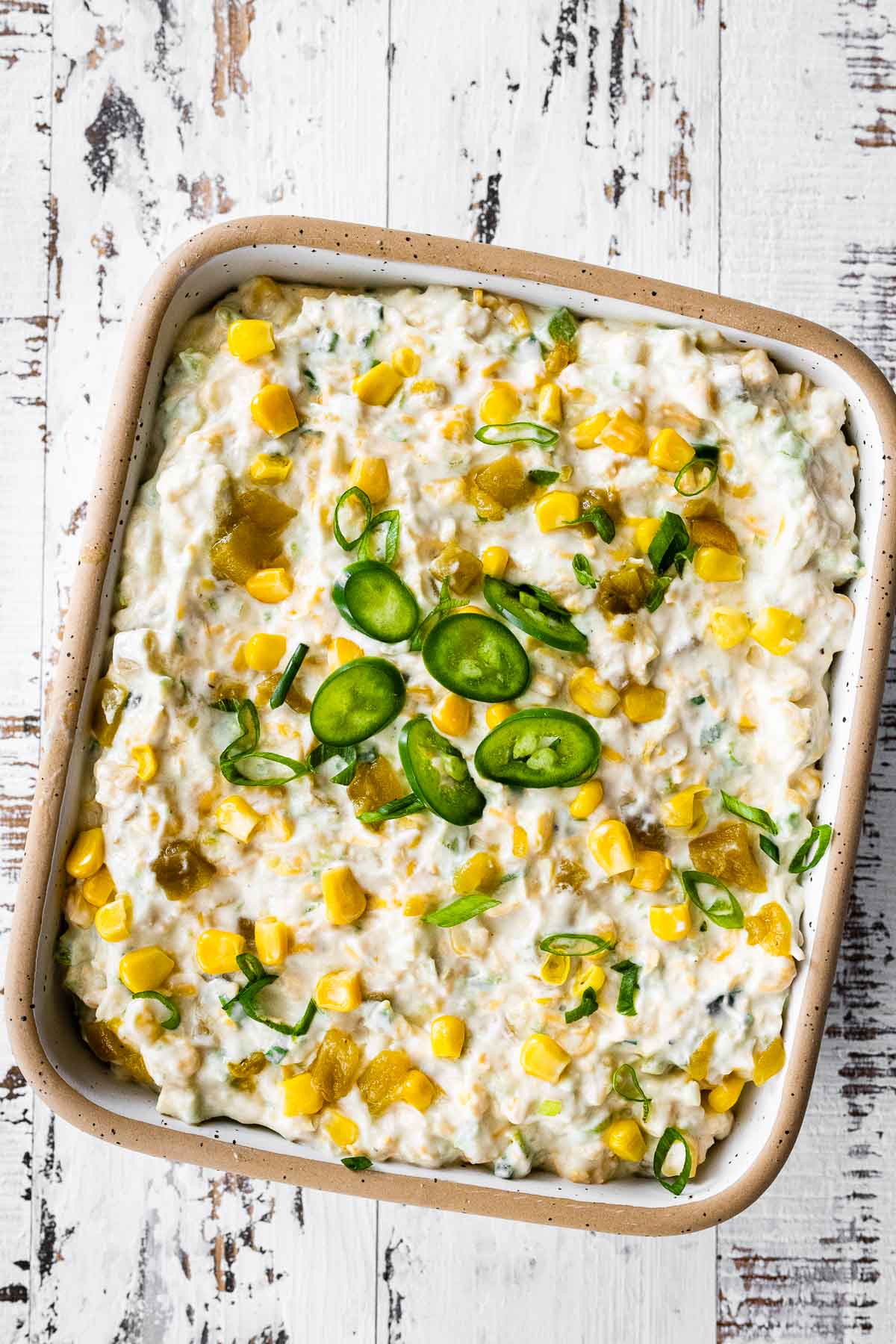 Delicious Summer Corn Recipes
How to Store
Serve: If you are serving Cold Corn Dip, then you need to keep it chilled and store after no more than 2 hours at room temperature. If you make it the hot variation, keep warm in the slow cooker for up to 4 hours, stirring occasionally.
Store: Store leftover dip in the refrigerator for up to 5 days in an airtight container. Stir it before serving if any of the liquid from the corn and sour cream have separated.
Freeze: It is not recommended to freeze this dip because of all the mayonnaise and sour cream. Discard any leftovers past the fridge storage date.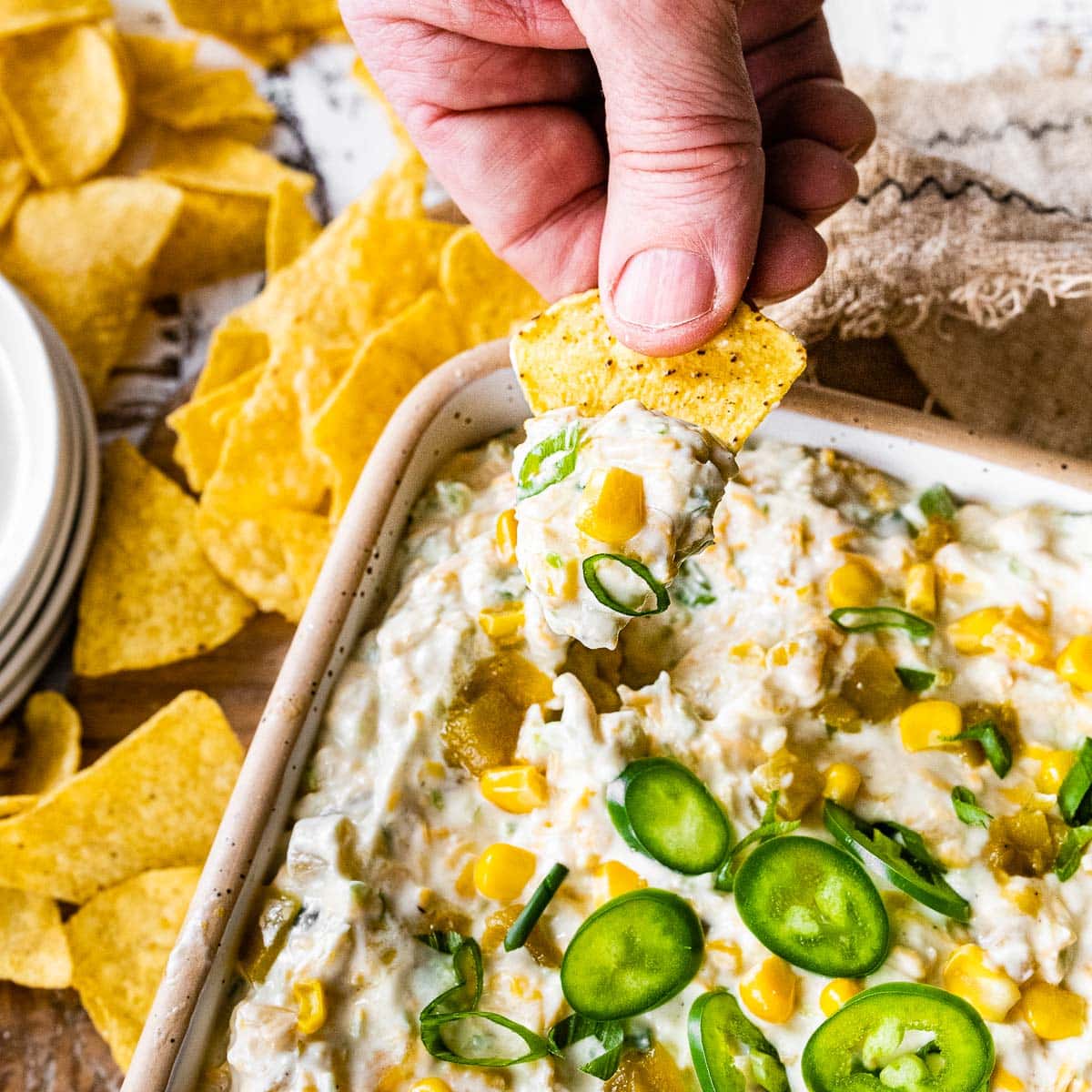 Ingredients
8

ounces

sour cream

8

ounces

cream cheese

, softened

16

ounces

sweet frozen corn

, thawed and drained

15

ounces

creamed corn

3/4

cup

mayonnaise

2

cup

cheddar cheese

, finely shredded

4

ounces

canned diced green chiles

, drained well

1/2

cup

green onions

, thinly sliced

1

green bell pepper

, de-seeded and minced

1

jalapeno

, minced, de-seeded and de-veined

tortilla chips

, for dipping
Instructions
To your stand mixer add the sour cream and cream cheese.

On medium speed beat together until well mixed.

Add in the corn, creamed corn and mayonnaise until well mixed.

Add in the diced green chiles, green onions, green bell pepper and jalapeno until just mixed.

Spoon into serving dish, refrigerate for at least

2 hours

.

Serve with tortilla chips.
Nutrition
Calories:
152
kcal
|
Carbohydrates:
12
g
|
Protein:
5
g
|
Fat:
10
g
|
Saturated Fat:
5
g
|
Polyunsaturated Fat:
2
g
|
Monounsaturated Fat:
2
g
|
Trans Fat:
0.004
g
|
Cholesterol:
25
mg
|
Sodium:
267
mg
|
Potassium:
174
mg
|
Fiber:
1
g
|
Sugar:
2
g
|
Vitamin A:
331
IU
|
Vitamin C:
11
mg
|
Calcium:
115
mg
|
Iron:
0.4
mg