Easy Corn Salad is a quick no-cook summer side dish. A tasty deli salad made with sweet corn, bell pepper, and red onion in a homemade Dijon red wine vinaigrette. 
From Macaroni Salad to Coleslaw, one of the best parts of a Summer BBQ is creamy deli Salads. This lighter deli Side is tossed in a vinaigrette, but it's every bit as delicious as creamy salad favorites.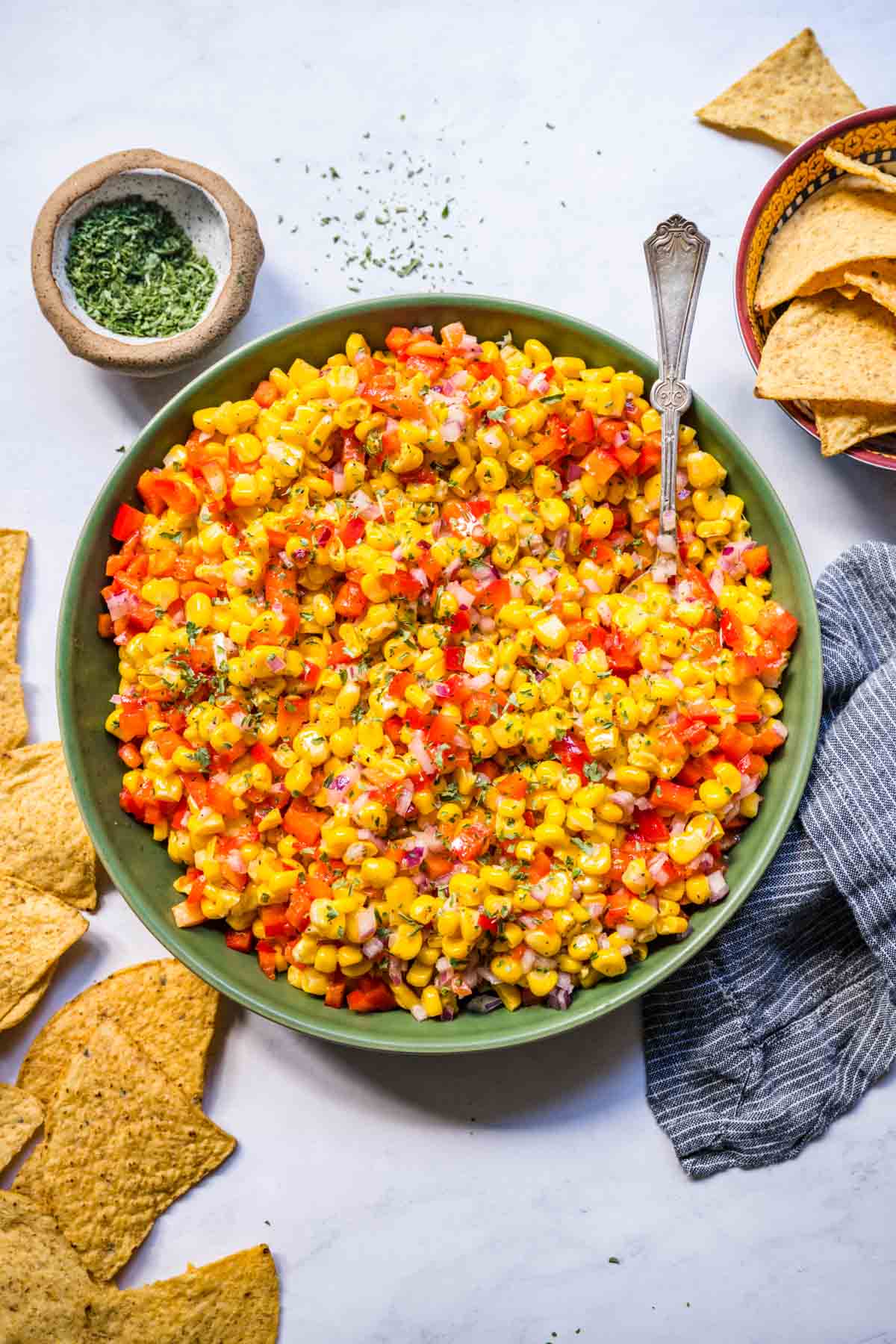 Mexican Corn Salad is a cheesy, chili-lime treat loaded with grated Cotija cheese and tastes like street corn. This simple and light Summer Corn Salad is just as tasty without the heavy mayonnaise and Cotija cheese dressing. The easy Dijon and red wine vinaigrette packs a lot of flavor without adding a lot of calories so you'll feel great munching on this salad by the pool.
Corn Salad is one of the easiest deli salad recipes ever! No need to boil pasta or peel potatoes to prep this dish. If you want to make it even easier, use a food processor to mince the red onion and bell peppers, or buy them pre-chopped in the produce salad section. The tangy vinaigrette is made with ingredients you have on hand like olive oil, Dijon mustard, red wine vinegar, and sugar for an easy homemade dressing in seconds.
This Easy Corn Salad recipe is made with frozen corn so you don't have to do any extra work besides thawing and draining. You can use fresh ears of corn when it's in season and you have a bit more time to be shucking and chopping. Use canned corn in a pinch, just be sure to rinse off the starches and use low or no sodium added so your salad isn't too salty.
More Summer Deli Salad Recipes
Summer Corn Salad is the perfect BBQ side dish for all your cookout favorites like Pulled Pork and Grilled Chicken Breasts. Since there's no mayonnaise in this easy salad, you can serve it guilt free with richer, heavier summer favorites like Baked Mac and Cheese. Easy Corn Salad also makes a light and delicious filling or topping for Beef Taco Salad, Chicken Enchiladas, and other Mexican Dishes.
How to Make Easy Corn Salad
Dressing: Add the oil, vinegar, mustard, sugar, kosher salt, and pepper to a measuring cup and whisk to combine.
Toss: Grab a large bowl and add the corn, red bell pepper, and onions. Toss the vegetables in the dressing, then refrigerate for at least 2 hours before serving.

Create a free account to

Save Recipes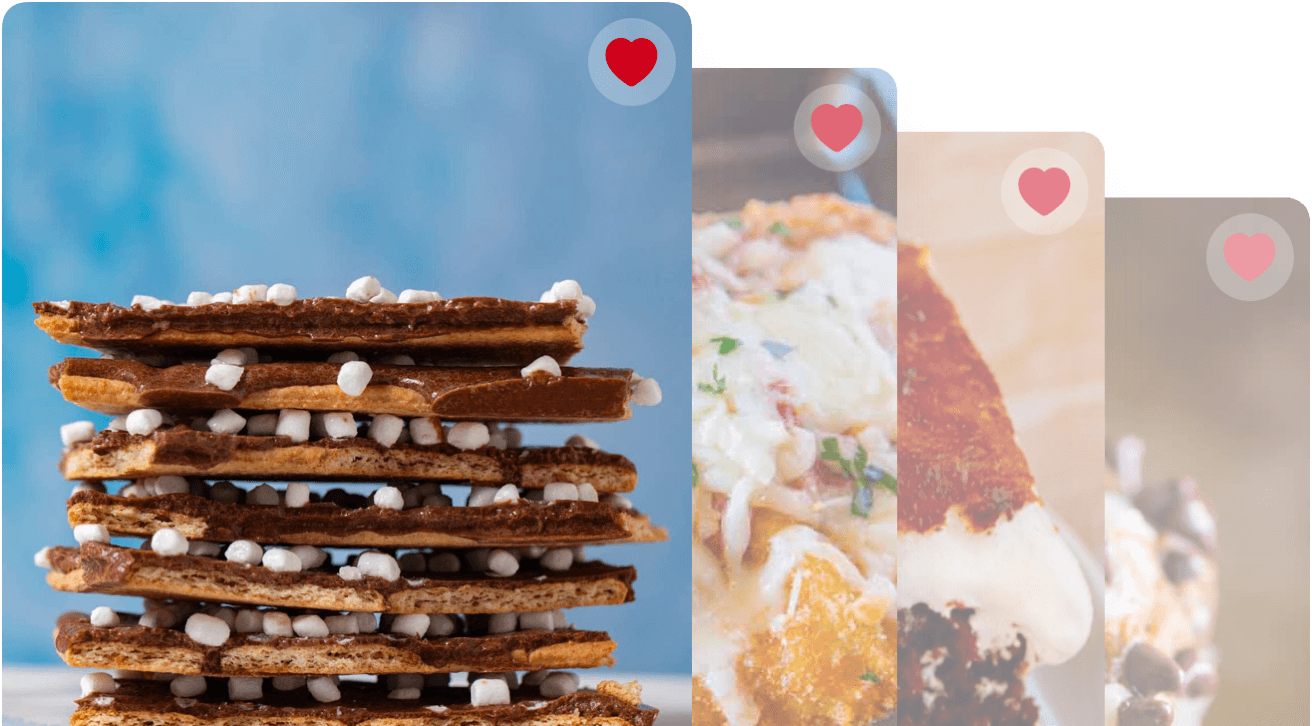 Frequently Asked Questions About Easy Corn Salad
What is the difference between Corn Salad and Corn Succotash?
There are several differences between Corn Salad and Corn Succotash. First, Succotash has more vegetables, namely squash and lima beans. Second, the preparation is different as Succotash is a cooked side dish, whereas the Corn Salad is tossed together cold, like most traditional salads.
Why does the salad have to be refrigerated before serving?
The dressing ingredients will come together while sitting in the fridge for a couple of hours, and the vegetables will marinate and absorb all of that wonderful flavor. The veggies will also soften up a little bit while sitting in the dressing. The end result is an even tastier salad than when you first tossed the ingredients together.
Variations on Easy Corn Salad
Spicy Mexican Corn Salad: Make a spicy hybrid of Mexican corn salad by adding diced jalapeños, fresh cilantro, and a tablespoon of Taco Seasoning to this Easy Corn Salad. Top with grated Cotija cheese.
Creamy Corn Salad: Add up to a ½ cup mayonnaise, sour cream, or plain Greek yogurt to your dressing to make an easy, tangy Creamy Corn Salad. You can also make a mixture of sour cream and mayo, just don't add more than a ½ cup total or it will be way too much dressing.
Veggies: Try other diced or minced veggies like cucumbers, zucchini, broccoli florets, arugula, tomatoes, shallots, or carrots. Fold in a diced avocado for a heart-healthy creamy bite.
Beans: If you'd like a little variation of texture, plus the nutritional benefits of beans, mix in a can of fully rinsed beans. Try black bean, white beans, kidney beans, or garbanzo beans. The addition of beans will also make your salad into a more hearty side dish.
Seasoning Swaps: Instead of white sugar, you can use honey or brown sugar. For the red wine vinegar, substitute apple cider vinegar, rice wine vinegar, or white wine vinegar. Add herbs and spices like Mexican oregano, fresh basil, chili powder, red pepper flakes, garlic powder, or cilantro.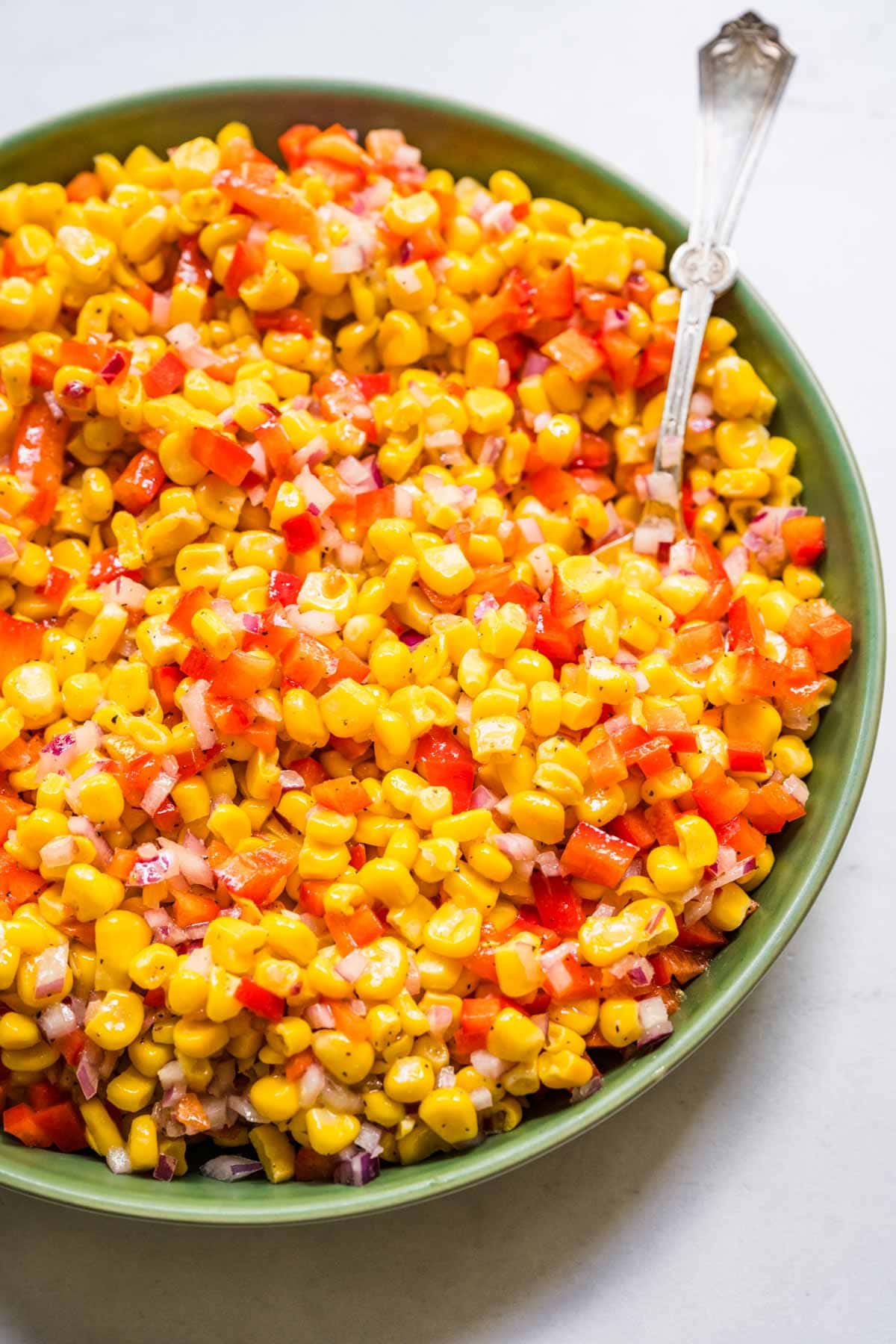 Even More Deli Salad Recipes
Can Easy Corn Salad Be Made Ahead?
Once you mix everything in the bowl, let this salad sit for a couple of hours and then it's ready to serve. The longer Corn Salad sits, the more the flavors develop. However, because the veggies will start to break down after a few days, you should serve this salad within 24 hours. If you want to make it a couple of days ahead of time, use raw corn kernels that will get softer as they marinate in the vinaigrette.
How to Store Easy Corn Salad
Serve: Even though there is no mayo or dairy in this Corn Salad, it's still best enjoyed chilled. Store Corn Salad after 2 hours at room temperature.
Store: You can keep Easy Corn Salad in an airtight container in the refrigerator for up to 1 week, but it's best within the first 2-3 days.
Freeze: You could freeze Corn Salad, but the corn will be mushy as it thaws and the vinaigrette will separate. For the best texture, make this deli salad fresh and don't freeze it.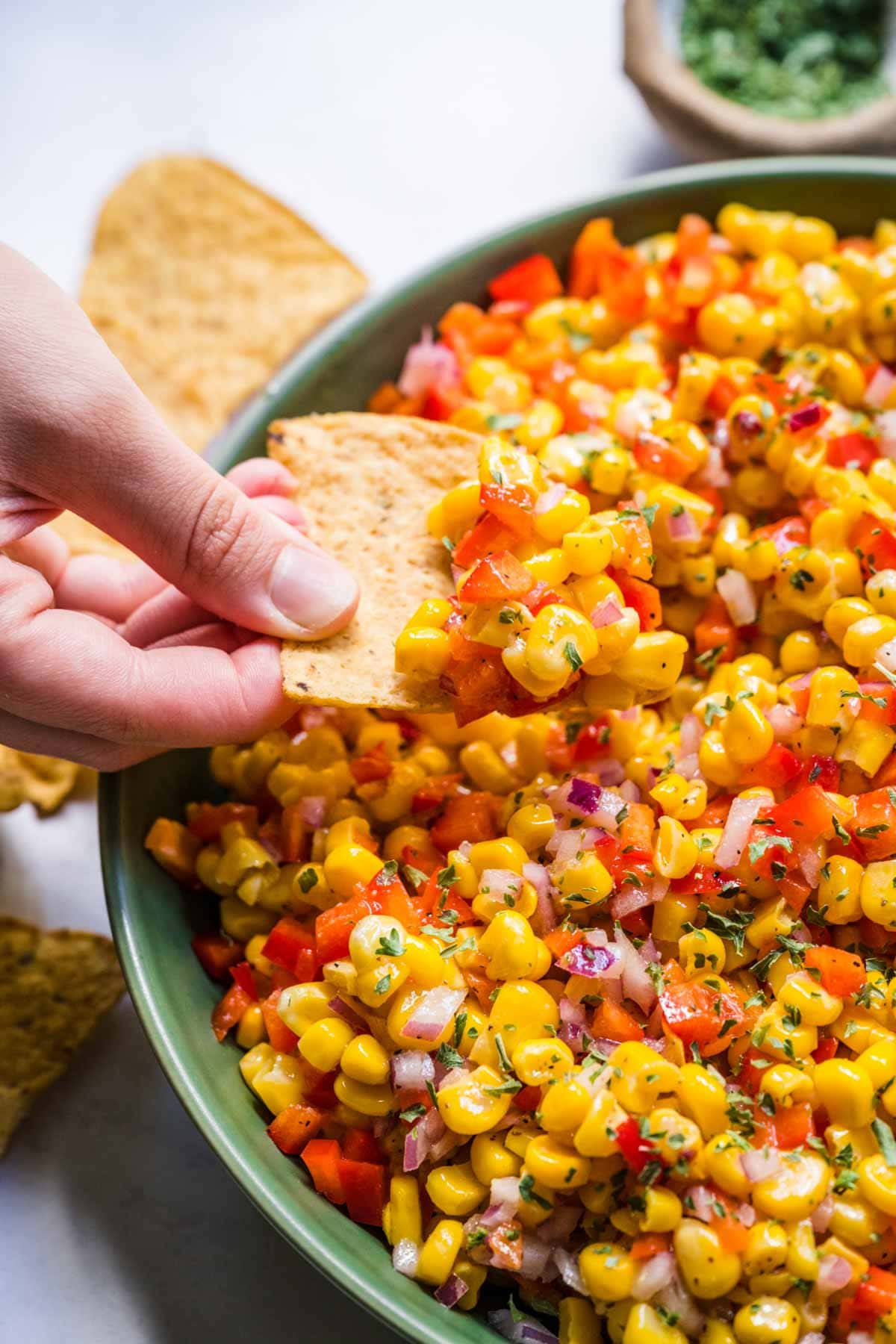 Ingredients
1/4

cup

olive oil

2

tablespoons

red wine vinegar

1

tablespoon

Dijon mustard

1/2

teaspoon

sugar

1

teaspoon

kosher salt

1/2

teaspoon

coarse ground black pepper

5

cups

sweet corn

, frozen or thawed

1

red bell pepper

, minced

1/2

cup

red onion

, minced
Instructions
Whisk together the oil, vinegar, mustard, sugar, kosher salt, and black pepper in a small measuring cup.

In a large bowl carefully add together the corn, red bell pepper, onions, and the dressing. Refrigerate for at least

2 hours

before serving.
Nutrition
Calories:
163
kcal
|
Carbohydrates:
22
g
|
Protein:
4
g
|
Fat:
8
g
|
Saturated Fat:
1
g
|
Polyunsaturated Fat:
1
g
|
Monounsaturated Fat:
5
g
|
Sodium:
314
mg
|
Potassium:
262
mg
|
Fiber:
3
g
|
Sugar:
6
g
|
Vitamin A:
721
IU
|
Vitamin C:
25
mg
|
Calcium:
8
mg
|
Iron:
1
mg