Corn Succotash made with freshly grilled corn, zucchini, grape tomatoes, red bell peppers, lima beans and red onion.
Summer is our favorite time of the year to enjoy all the classic favorites like Easy Pulled Pork, BBQ Pulled Chicken and Best EVER Baked Beans.
 Corn Succotash
Corn Succotash is side dish that's perfect for the summer season. You can alter it with any vegetables you'd like and you can even leave it completely raw if you'd like (I like swapping cucumber for zucchini when enjoying raw).
When working on BBQ/summer party menus I like to plan on warm and cold sides. Side dishes like Easy Cole Slaw are easy and served cold but they require mayonnaise which isn't something most people like to keep at room temperature for extended periods of time.
If you want another easy mayo-free side dish we also love this classic Three Bean Salad.
An easy summer side dish like this corn succotash is perfect because the ingredients are perfect at room temperature. We even love packing this in picnic baskets during the spring/fall seasons to enjoy with other sandwiches or pasta salads.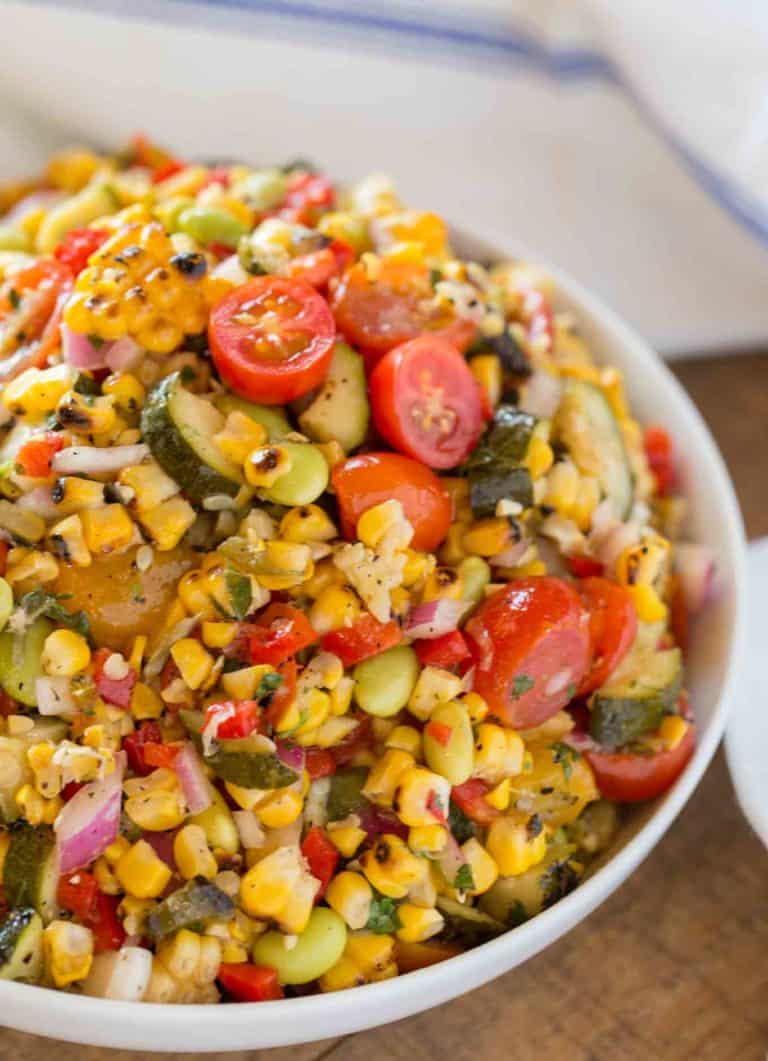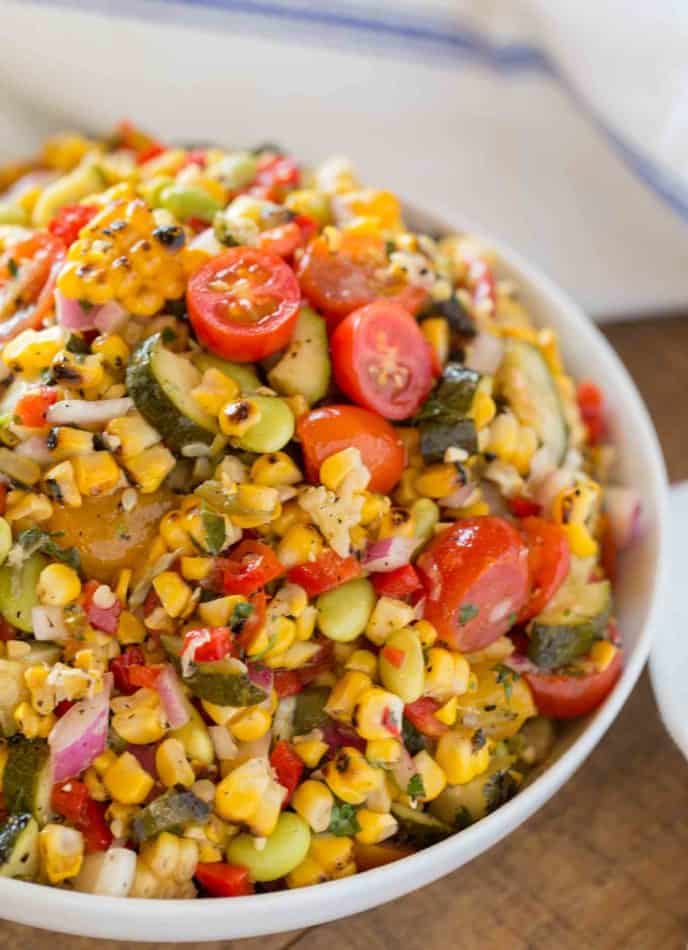 Like This
Like this recipe? Then Like us on Facebook!
What is in corn succotash
Corn succotash includes corn (raw, frozen or grilled works well), lima beans, bell peppers and onions. Lima beans, corn and bell peppers are among the most common ingredients in a corn succotash, but you can certainly be as creative as you'd like with your own recipe. Many people enjoy corn succotash with bacon.
If you'd like to make corn succotash with bacon make the bacon first and chop. Keep the bacon to the side, remove the fat from the pan and continue making the recipe as directed. Do not use the bacon fat in cooking the rest of the ingredients UNLESS you are planning to serve this succotash warm.
If you're planning to serve it at room temperature you are going to have a terrible cold hard fat texture on your tongue because bacon fat is a solid at room temperature.
If you'd like to make a creamy corn succotash, work with butter and when the vegetables are done cooking, just before adding the spices, add in 1/2 cup heavy cream.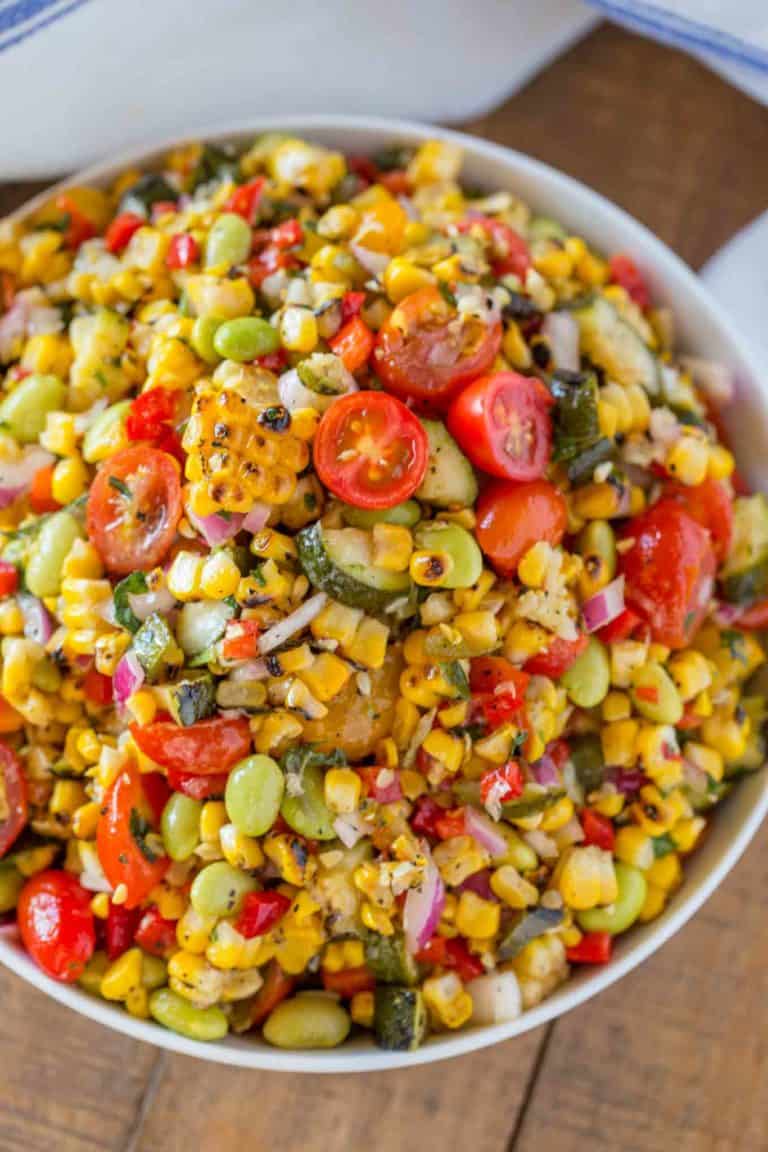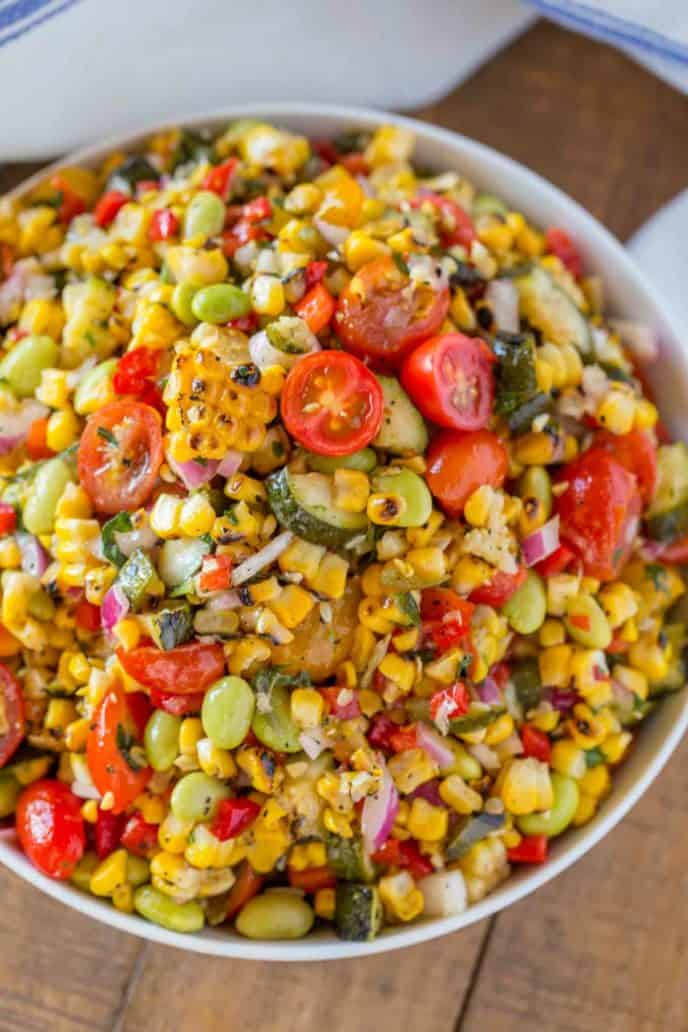 Fun Tip! Keep the corn cobs that you cut the corn off of. These are perfect for making soups/vegetable broths/chowders and add a ton of corn flavor.
In case you love copycats as much as I do I also have the Cheesecake Factory Copycat version. I was going to just make that recipe for you all but the Cheesecake Factory version doesn't include lima beans and the spices are unique.
I wanted to give you all a more classic option with this little mini recipe inside if you want a different option.
Cheesecake Factory Corn Succotash (Copycat):
2 tablespoons olive oil
2 cups frozen or fresh corn
1/2 yellow onion, chopped
1 yellow squash, diced
1 red bell pepper, chopped
1 teaspoon cumin powder
1/4 teaspoon hot sauce
1/2 teaspoon Kosher salt
1/4 teaspoon coarse ground black pepper
chopped cilantro
Add the olive oil, corn, onion, squash and bell pepper to the pan and cook on medium heat for five minutes.
Add in the rest of the ingredients except for the cilantro and stir, cooking another five minutes.
Garnish with cilantro and serve.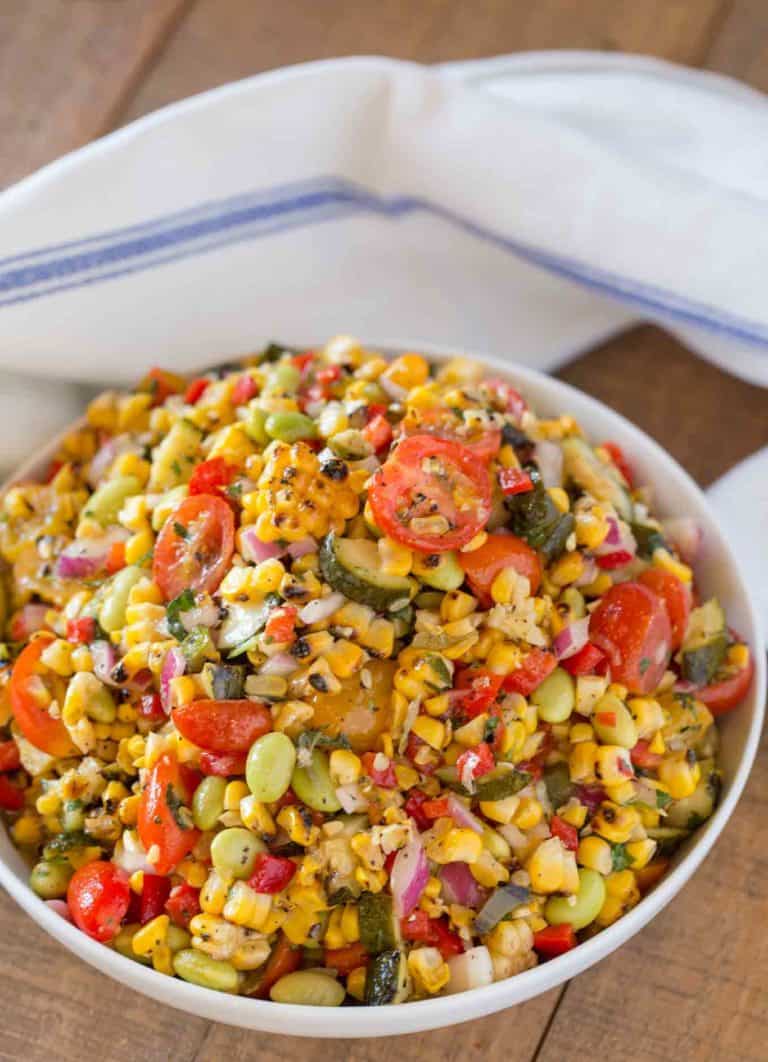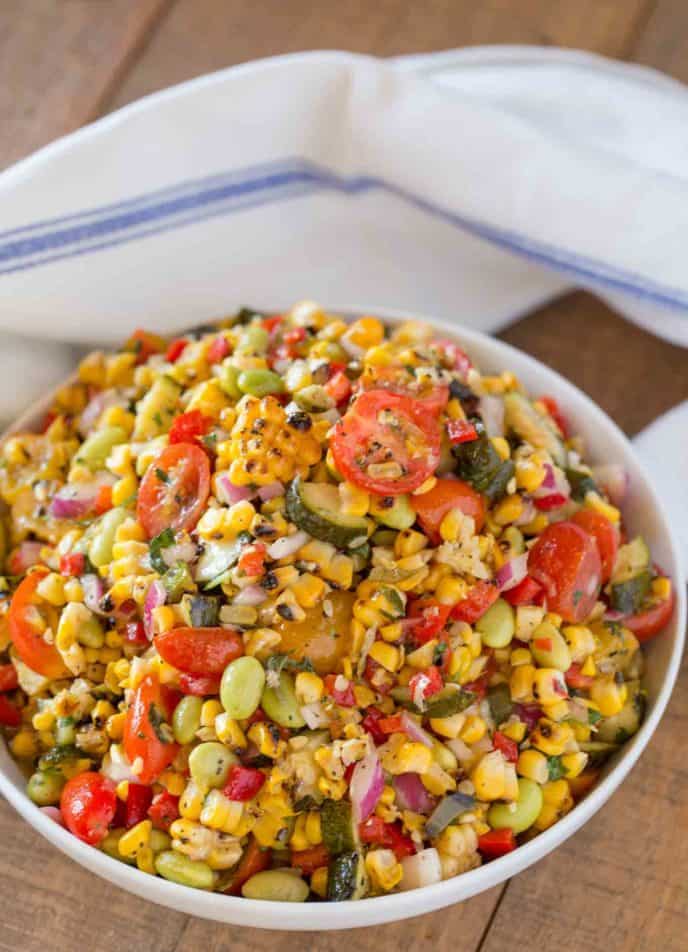 Recipe
Save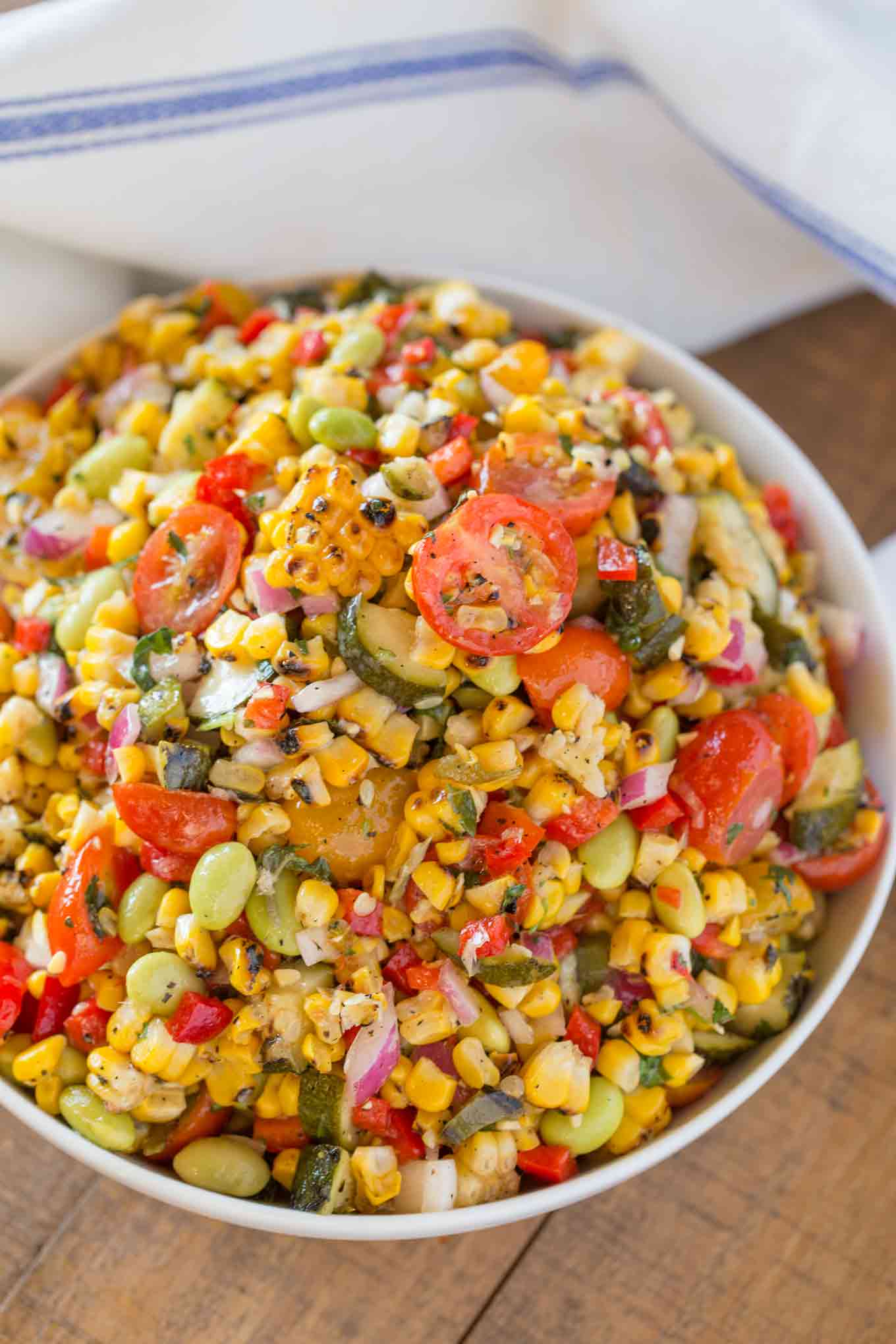 Corn Succotash
Yield:

6

servings

Prep Time:

10

minutes

Cook Time:

10

minutes

Total Time:

20

minutes

Course: Side Dish
Cuisine: American
Author: Sabrina Snyder
Corn Succotash made with freshly grilled corn, zucchini, grape tomatoes, red bell peppers, lima beans and red onion.
Ingredients
1

tablespoon

canola oil

4

ears yellow corn

2

tablespoons

butter

2

zucchini

chopped

1

pint

cherry tomatoes

cut in half

1

cup

lima beans

1/2

red onion

chopped

1/4

cup

cilantro

chopped

1/2

teaspoon

Kosher salt

1/4

teaspoon

coarse ground black pepper

1

lime

juiced and zested
Instructions
Note: click on times in the instructions to start a kitchen timer while cooking.
Rub the canola oil on the corn and cook the ears of corn on the grill or on a cast iron griddle on your stovetop (on medium-high heat) until lightly charred (4-5 minutes) then let cool.

Cut the corn off the ears into a large bowl, add the butter to a skillet, and cook the corn and zucchini for 5-6 minutes or until softened.

Add in the rest of the ingredients and toss before serving.
Nutrition Information
Yield: 6 servings, Amount per serving: 122 calories, Calories: 122g, Carbohydrates: 13g, Protein: 4g, Fat: 6g, Saturated Fat: 2g, Cholesterol: 10mg, Sodium: 242mg, Potassium: 526mg, Fiber: 3g, Sugar: 5g, Vitamin A: 680g, Vitamin C: 33.7g, Calcium: 30g, Iron: 1.6g
All images and text © for Dinner, then Dessert.
Keywords:
bbq, corn, Corn Succotash, side dish, summer, vegetarian
Save