Classic Tuna Salad is the PERFECT combo of creamy and crunchy, made with tuna, mayo, celery, mustard, and seasoning, ready in no time at all!
If you're looking for a fast and easy lunch, you'll never go wrong with a classic Salad Recipe, like this one, Classic Chicken Salad, Crab Salad, or Macaroni Salad!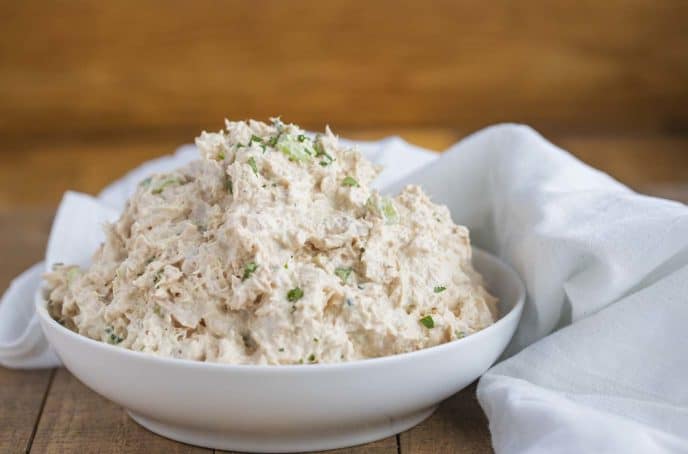 CLASSIC TUNA SALAD
Classic Tuna Salad is the PERFECT choice for an easy and quick lunch, made out of savory tuna and crunchy celery, mixed with mayo, mustard, and relish, and a dash of lemon juice. I like to make a big batch of this on Friday, so we have quick lunches all weekend.
You can serve this tuna on top of a salad, or on a sandwich with lettuce and sliced red onion. I also like to make this with a side of crackers, or with some Perfectly Easy Dinner Rolls.
HOW LONG IS TUNA SALAD GOOD FOR?
Tuna Salad will last in a sealed container refrigerated for 2-3 days. I don't like to freeze tuna salad because the mayo will not defrost well.
MORE EASY LUNCH SALADS
Tuna Salad Mix-in Ideas:
Sliced cherry tomatoes
Chickpeas
Apple
Red onion
Avocado
Hard boiled egg
Bell pepper
Sun dried tomatoes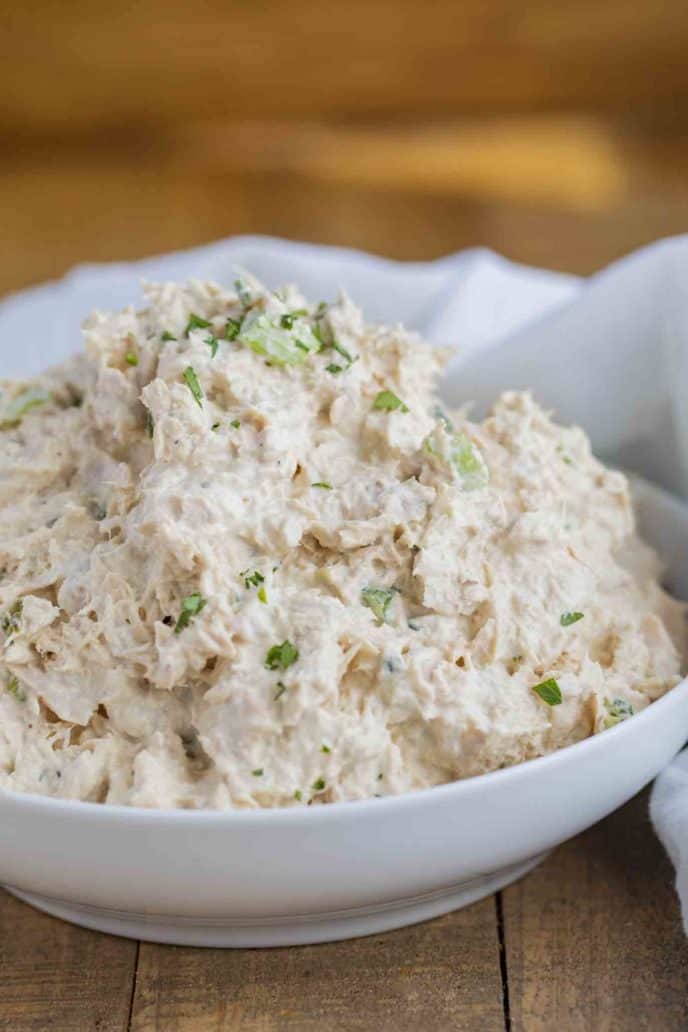 HOW TO MAKE TUNA SALAD
Tuna Salad goes great on toasted bread. This way the bread holds up better and doesn't get too soft with the moisture from the tuna and mayo.
You can serve Tuna Salad on top of salad greens, and it's especially good with tomato slices and extra wedges of lemon for flavor and pops of color on the tray.
Hollow out tomatoes and serve tuna inside for an easy brunch recipe that looks like you spent forever making it.
Serve tuna salad topped with fresh dill, parsley, or chopped green onions.
Hollow out an avocado and add to the tuna salad, then serve inside of the avocado shell.
SOUTHERN-STYLE TUNA SALAD
Southern tuna salad is basically tuna salad with the addition of relish and hard boiled eggs. This recipe already calls for relish to get a satisfying salty crunch, so all you'd have to add is chopped hardboiled egg.
Tips for Making Tuna Salad
Lighten this recipe up by using greek yogurt instead of mayonnaise, and get tuna packed in water instead of oil.
Add spices like curry powder or celery seed to add some variation to your tuna salad recipe.
Make this spicy by substituting dijon with spicy mustard, and adding some diced jalapeno peppers.
Add healthier fats to make this an avocado tuna salad, by replacing some of the mayo with pureed avocado. Or just add cut up avocado pieces to the tuna salad.
For a healthier version, you can also add chopped veggies to this dish. Try cucumber, fennel, or jicama.
If you don't have relish, add chopped dill pickle with a splash of pickle juice to the tuna salad.
This recipe is typically made with canned tuna, but if you have fresh you can cook it through, allow to cool, then chop into pieces and follow the recipe as usual.
You can use this recipe to make a tuna melt sandwich. Place on toasted bread with lettuce and tomato on a baking sheet with a slice of Swiss or provolone cheese on top, and broil for 1 minute. You can also do this in a toaster oven.
How to Store TUNA Salad:
Serve: Tuna Salad is traditionally served cold and it has mayonnaise in it, so it shouldn't stay out for longer than 2 hours or it will go bad.
Store: The salad will keep for about 3 days in the fridge in an airtight container.
Freeze: The mayonnaise will prevent the salad from freezing and defrosting well, so don't bother. Toss it and make a new batch!
Recipe
Save
Classic Tuna Salad
Yield:

4

servings

Prep Time:

10

minutes

Total Time:

10

minutes

Course: Lunch
Cuisine: American
Author: Sabrina Snyder
Classic Tuna Salad is the PERFECT combo of creamy and crunchy, made with tuna, mayo, celery, mustard, and seasoning, ready in no time at all!
Ingredients
1/2

cup

mayonnaise

1

tablespoon

dijon mustard

2

tablespoons

sweet relish

1/4

teaspoon

coarse ground black pepper

1

tablespoon

lemon juice

18

ounces

tuna

drained well

1/2

cup

celery

minced
Instructions
Note: click on times in the instructions to start a kitchen timer while cooking.
Add the mayonnaise, mustard, relish, pepper and lemon juice to a large bowl and mix well before adding in the tuna and celery and mix well again.

Refrigerate for at least one hour before serving.
Recipe Notes
Note: click on times in the instructions to start a kitchen timer while cooking.
Nutrition Information
Yield: 4 servings, Amount per serving: 315 calories, Calories: 315g, Carbohydrates: 3g, Protein: 25g, Fat: 22g, Saturated Fat: 3g, Cholesterol: 57mg, Sodium: 606mg, Potassium: 261mg, Sugar: 3g, Vitamin A: 240g, Vitamin C: 1.8g, Calcium: 27g, Iron: 2.3g
All images and text © for Dinner, then Dessert.
Keywords:
classic tuna salad, tuna salad
Save