Cranberry Orange Biscotti Cookies are perfectly buttery, crispy twice-baked Italian biscuits with classic holiday mix-ins.
This cranberry and orange version of Classic Biscotti is perfect for holiday baking. You can enjoy the crisp Cookie Recipe for a sweet Breakfast with your coffee or enjoy it as a snack throughout the day.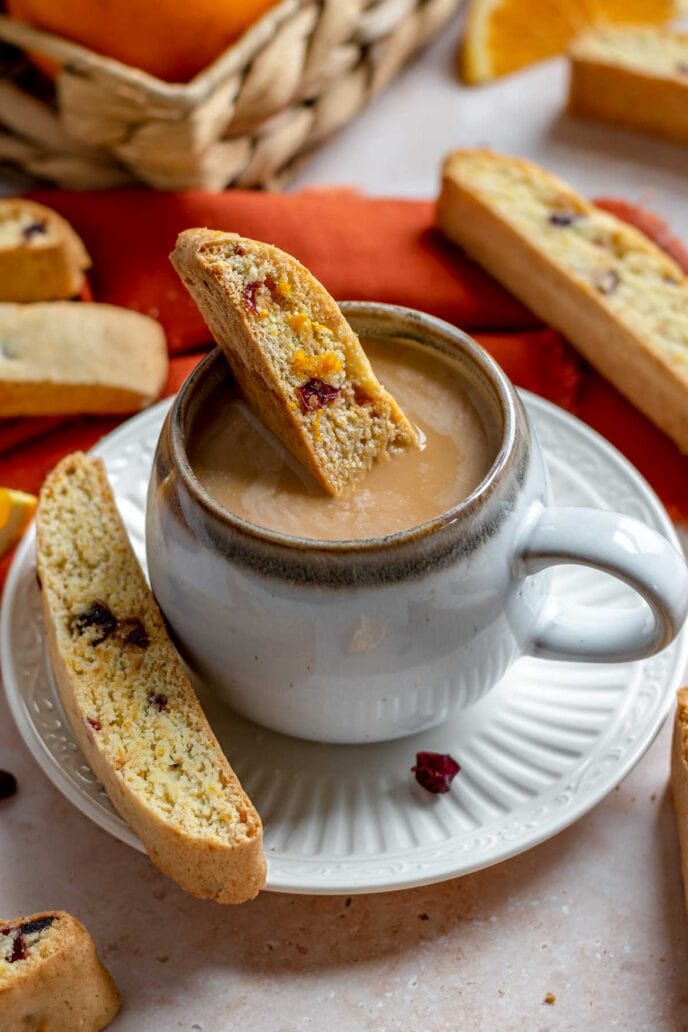 Biscotti is a traditional Italian cookie with a unique crunchy texture. The secret to making the perfect batch of biscotti is twice baking the dough. That way, you get the ideal crisp cookies made for dipping into your morning or afternoon coffee.
The addition of orange citrus zest and dried cranberries are some of my favorite flavors I've tried in biscotti. (We've also posted Cherry Almond Biscotti, which is delicious!) The combination of cranberries and citrus flavor is perfect for the holidays, and the orange zest makes the whole house smell amazing, while the Cranberry Biscotti bakes.
Cranberry Orange Biscotti Cookies make an excellent addition to the holiday cookie baking season. Their unique shape, crisp texture, and lightly buttered flavor set them apart from other cookie recipes. But they're absolutely delicious, and the cranberries make them look particularly festive.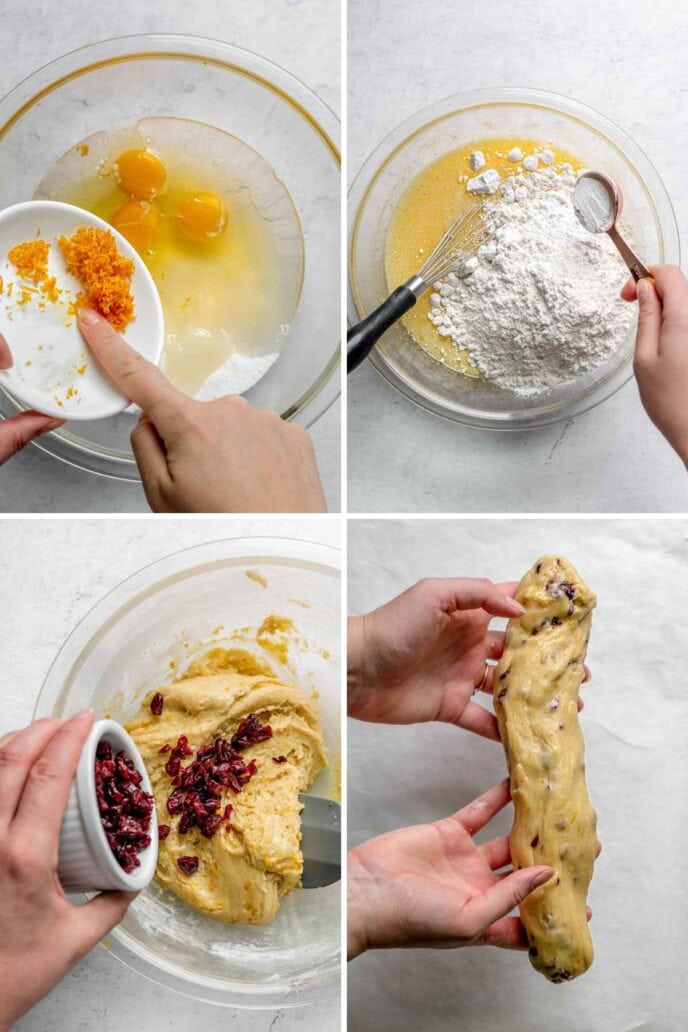 FAQs for Cranberry Orange Biscotti Cookies
Can I use whole wheat flour?
To make this Cranberry Orange Biscotti recipe a little more healthy, you can use wheat flour. However, it will make the biscotti more dense. So, if you want to add some extra nutrients without sacrificing nutrients, I'd recommend doing half white and half wheat flour. 
How to make gluten-free biscotti?
To make any basic biscotti recipe gluten-free, all you have to do is replace the all-purpose flour with a gluten-free substitute. Almond flour, coconut flour, or oat flour are good options for Cranberry Orange Gluten-Free Biscotti. Making Cranberry Orange Gluten-Free Biscotti is excellent if you're baking for anyone with dietary restrictions.
More Coffee Shop Treats

Key Ingredients for Cranberry Orange Biscotti Cookies
Orange Zest: This is the perfect ingredient to add orange flavor because the orange part of the peel contains the deepest orange flavor. Mixing in just a bit of orange zest with the classic biscotti flavors is an easy way to add amazing fresh citrus flavor to the dough. Be careful not to zest too deeply into the white part of the orange, as that part of the peel is bitter. The combination of sweet and tart cranberries and fresh orange is perfect for the holidays.
Cranberries:

For the cranberry mix-in, you want to use dried and chopped cranberries. Fresh cranberries would add more liquid to the biscotti recipe that bleeds into the dough while it bakes. So, it's better to stick to the dried fruit. Just remember the fresher the dried cranberries, the more plump they will be. Dried fruit will lose moisture over time if they've been sitting in your pantry for a while.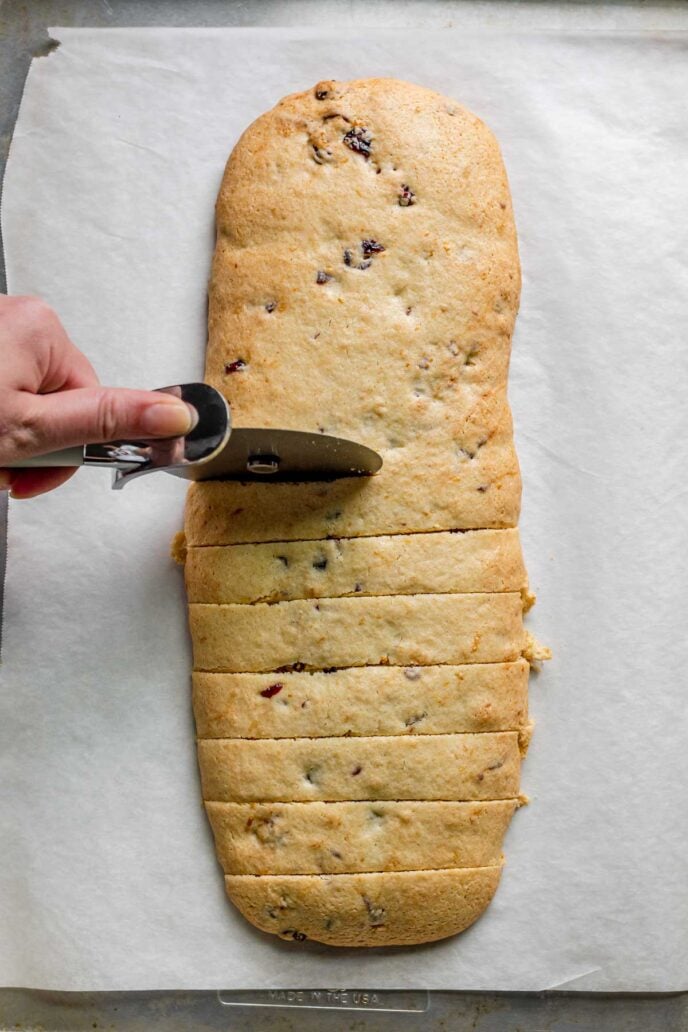 How to Make Cranberry Orange Biscotti Cookies
Prep Time: Start by preheating the oven temperature to 375 degrees. Get out two large cookie trays, then line each baking sheet with parchment paper and set them to the side. 

Biscotti Dough: Add granulated sugar, oil, eggs, and orange zest to a large bowl. Whisk until well combined. Then add the all-purpose flour and baking powder. Mix until the dry ingredients are just combined into a cohesive dough. Then stir cranberries into dough. 

Shape: Divide the biscotti dough into two pieces. Then shape them into logs, and place each one on a prepared baking sheet. Roll out the biscotti log so it's ½ inch thick and 4 inches wide. 

Baking Time: Here comes the first bake. Put the biscotti dough in the oven for 20-22 minutes, or until lightly brown. 

Slice: Take the Cranberry-Orange Biscotti Cookies from the oven and use a pizza cutter or serrated knife to cut the biscotti into slices. 1/2″ inch slices are ideal. 

Baking Time: Now it is time for the second bake. Flip the biscotti slices so that they're facing cut side up. Then bake for another 8-10 minutes until the tops are golden brown.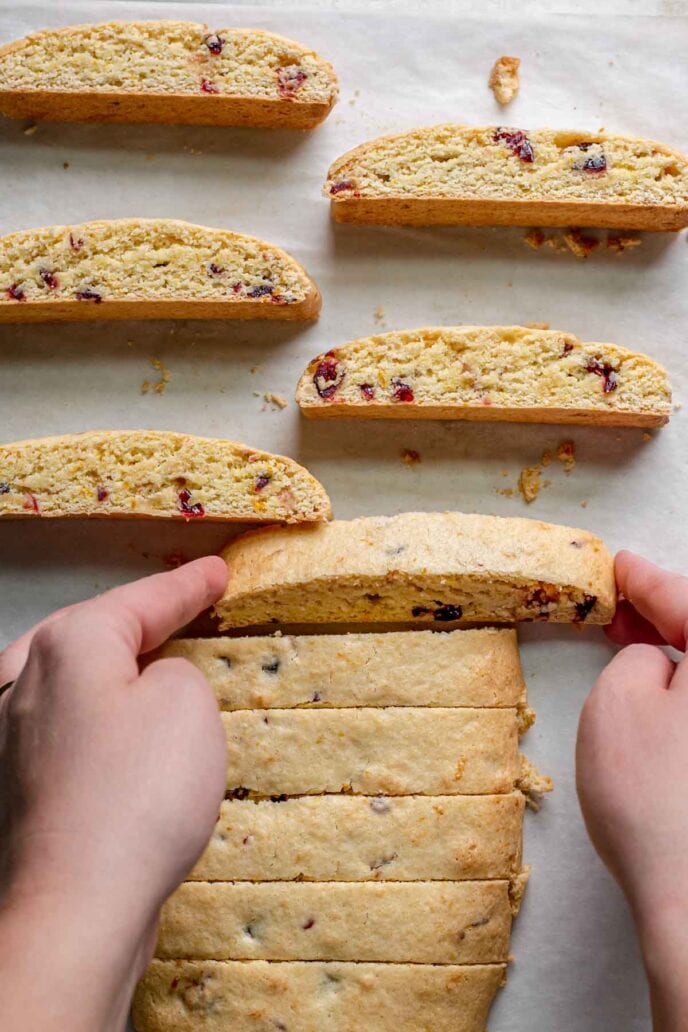 Create a free account to Save Recipes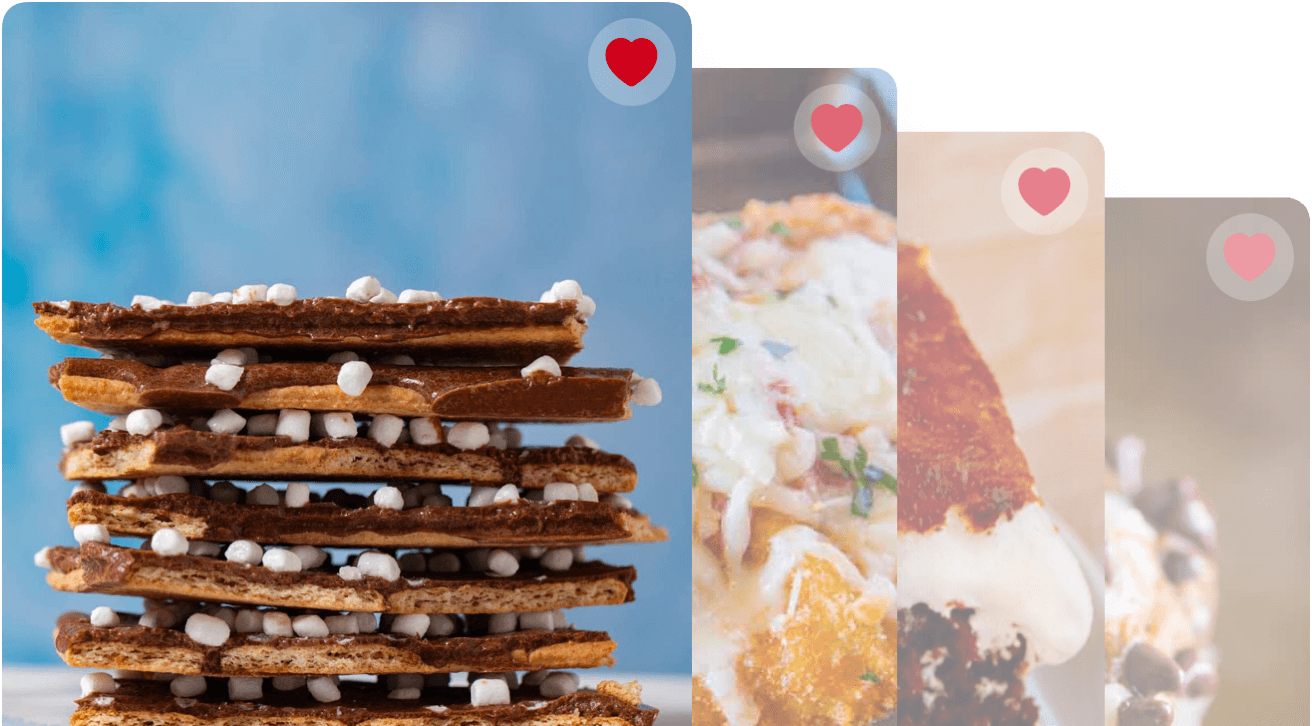 Variations on Cranberry Orange Biscotti Cookies
Cranberry Almond Biscotti: Tart berries and crunchy almonds make an amazing flavor combination. To add almonds to your Cranberry Orange Biscotti Cookies, just add ½ cup chopped almonds along with the dried cranberries. You can also add almond extract or vanilla extract to the dough to give it a more warm, comforting flavor. 

Chocolate Chip Biscotti: You can also make a Chocolate Chip Cranberry Orange Biscotti recipe. Add mini dark chocolate chips to the recipe along with the cranberries, or leave out the fruit and just make a chocolate batch. Dark Chocolate Orange Biscotti cookies would taste delicious as orange and chocolate are a delightful combination.

Chocolate Dipped Biscotti: Another way to give the biscotti some chocolate is by using melted chocolate for dipping. After baking the cookies, dip them in a cup of melted chocolate so the chocolate coats half the biscotti. Then as the chocolate sets, you can add a white chocolate drizzle. If you prefer, you can use the drizzle by itself and choose any chocolate you like to drizzle over your Biscotti Cookies.

Honey Cranberry Orange Biscotti: To make Honey Cranberry Orange Biscotti, you can replace the cup of white sugar with ¾ cup honey. Another option is using coconut sugar. This will keep the Cookies nice and sweet, but add a different dimension of flavor.
Toppings: Try topping off the entire batch with a sprinkling of flaky sea salt, coarse sugar, brown sugar, or cinnamon before baking. Drizzle with an orange, vanilla, or lemon glaze. Zesting some orange over the top of your Biscotti Cookies will look beautiful, add a final touch of orange flavor, and the visual will tell everyone that these are, in fact, orange-flavored.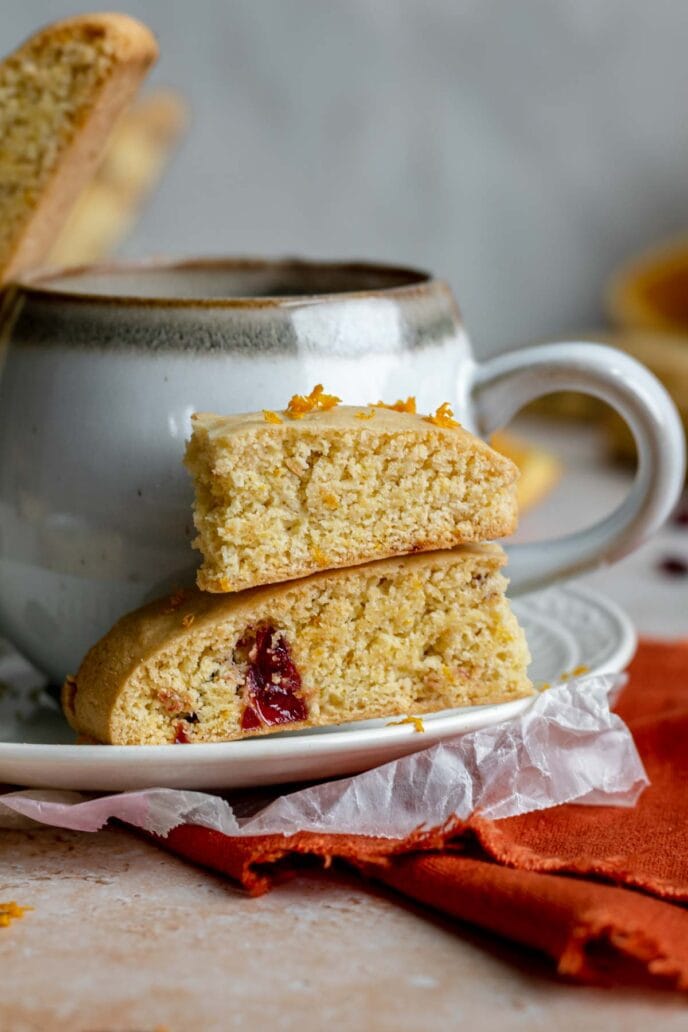 Can Cranberry Orange Biscotti Cookies be made ahead?
These are a great dessert or snack to make ahead of when you want to serve them. They keep for a month in an airtight container so you could make them to be used at a couple of different occasions in your life. Double or triple the batch to be used at your office pot luck, gifts for the neighbors, and to serve the guests staying at your house over the holidays.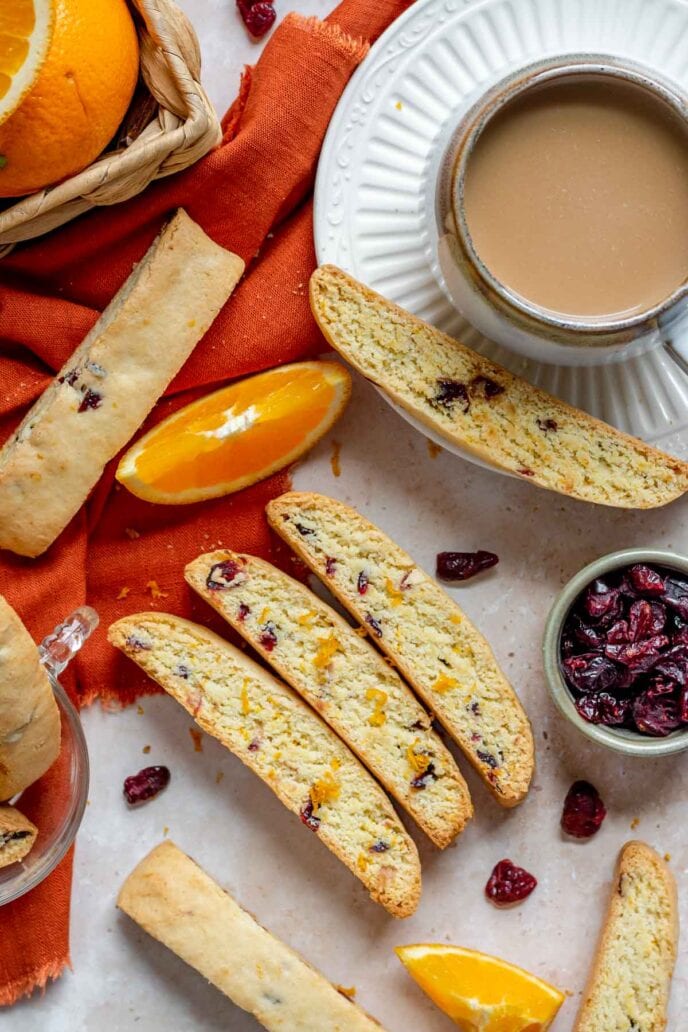 More Cranberry Recipes
How to Store
Serve: Cranberry Orange Biscotti Cookies are best served once they've had a chance to cool completely. 

Store: Any leftover biscotti cookies keep well in an airtight container at room temperature for up to 1 month. 

Freeze: You can also freeze biscotti for up to 3 months. First, freeze them flat on a parchment-lined baking sheet. After an hour or so, they should be hardened, and you can transfer them to an airtight container for long-term storage.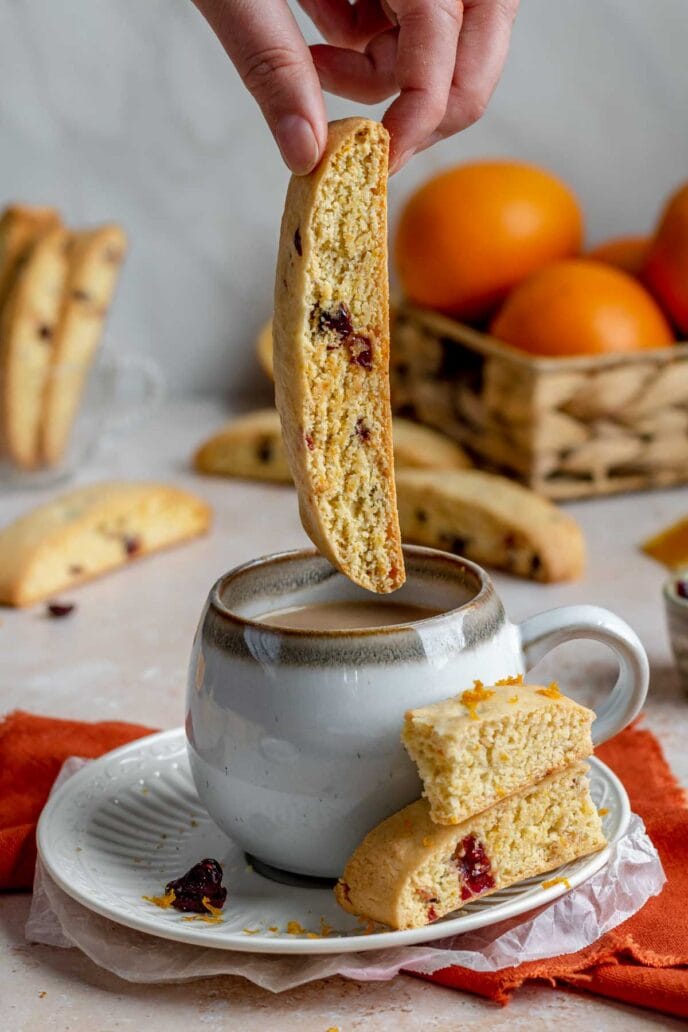 Ingredients
1/2

cup

vegetable oil

1

cup

white sugar

3

large

eggs

1

tablespoon

orange zest

3 1/4

cups

flour

1

tablespoon

baking powder

1/2

cup

dried sweetened cranberries

, chopped
Instructions
Preheat oven to 375 degrees and line two baking sheets with parchment paper

In a large mixing bowl whisk together oil, sugar, eggs and orange zest.

Add in the flour and baking powder whisking until just combined.

Stir in the cranberries.

Divide the dough into two pieces and roll into logs almost as long as the baking sheets.

Place the dough on the baking sheets and roll to about ½ inch thick, about 4 inches across.

Bake for

20-22 minutes

or until golden brown.

Using a pizza cutter, roll the slicer across the log in 1/2" slices.

Turn the cookies to cut side up and bake it an additional

8-10 minutes

until the tops are slightly golden brown.
Notes
Note: If you need the log to be shorter to make it still 4 inches wide and ½ tall then shorten the log.
Nutrition
Calories:
201
kcal
|
Carbohydrates:
31
g
|
Protein:
3
g
|
Fat:
7
g
|
Saturated Fat:
1
g
|
Polyunsaturated Fat:
4
g
|
Monounsaturated Fat:
2
g
|
Trans Fat:
0.04
g
|
Cholesterol:
31
mg
|
Sodium:
83
mg
|
Potassium:
38
mg
|
Fiber:
1
g
|
Sugar:
14
g
|
Vitamin A:
46
IU
|
Vitamin C:
0.5
mg
|
Calcium:
48
mg
|
Iron:
1
mg