Maple Cinnamon Rolls have a classic gooey pastry topped with cream cheese maple icing. Perfect for weekend mornings, holidays, and brunches.
Maple Cinnamon Rolls are quite similar to our Classic Cinnamon Roll Recipe, but with the addition of a sinful maple frosting. The soft rolls and flavors of cinnamon and maple make it the ultimate Breakfast Recipe that's sure to be a crowd-pleaser!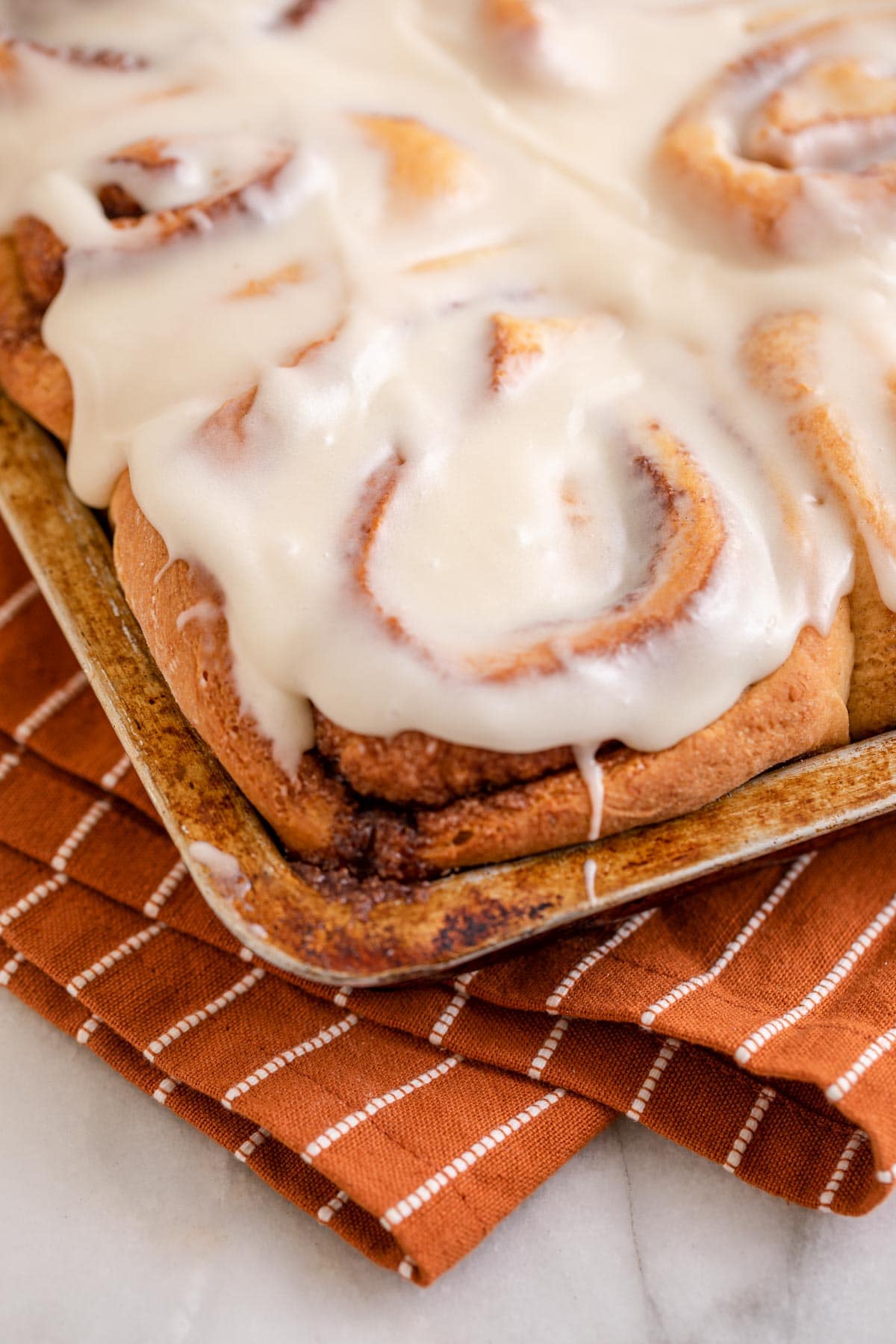 MAPLE CINNAMON ROLLS
These soft and gooey cinnamon rolls are made with a wonderful maple syrup flavor. Maple is probably the most iconic breakfast topping there is. Whether it's being served over a stack of Pancakes, Waffles, or used to flavor sausage, the sweet topping is the perfect way to start off your morning. So, why not add it into cinnamon rolls?
These warm rolls are topped with Maple and Cream Cheese Frosting so you get bites of maple goodness in every mouthful. Your whole family is sure to love the slight twist on classic cinnamon rolls, and the recipe makes enough you'll probably have leftovers to enjoy later!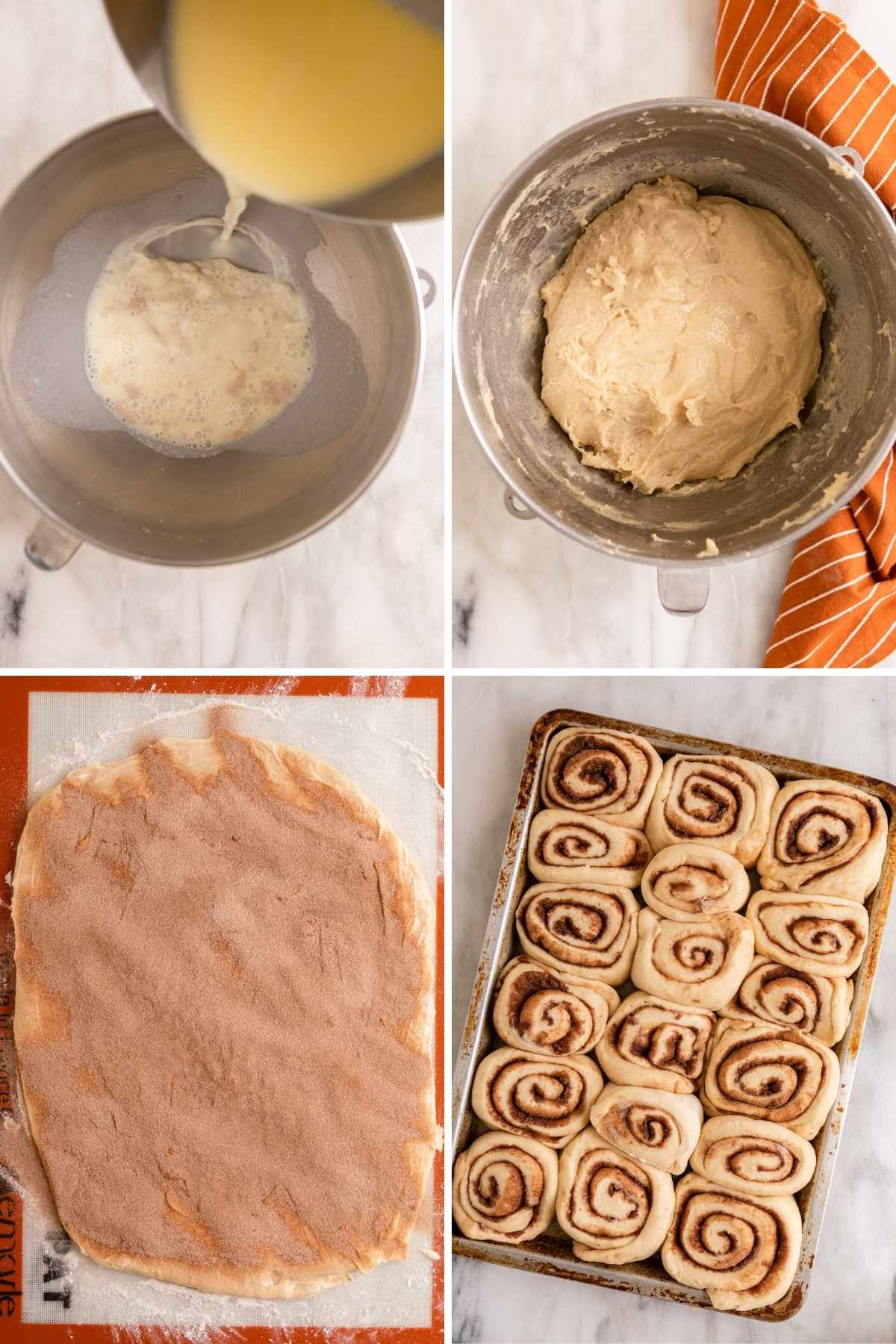 MORE CINNAMON ROLL RECIPES
MAPLE CINNAMON ROLLS BAKING TIPS
Pastry-making can be difficult if you're new to it. There are a few things you have to get right to make sure the dough rises and stays nice and fluffy. However, if you follow just a few instructions you shouldn't have a problem getting soft airy cinnamon rolls every time.
Be careful to heat the milk to around 110 degrees. Too much colder, and the dry yeast won't activate. On the other hand, if it's too hot it will kill the yeast. It's also important to give the warm milk and yeast a minute to sit together before making the dough.
If the dough is too sticky, you can add in a little extra flour to help it pull away from the edges. However, you should be careful not to add too much flour or the dough will turn out too dense.
To help the dough rise, lightly grease the bowl. That way it won't be stuck to the bowl as it's trying to rise.
Be sure to use a floured work surface and rolling pin to roll out the dough.
Give the cinnamon roll dough some time in the fridge before you roll it out and shape it. The dough is going to be less sticky and much easier to handle if it's cold.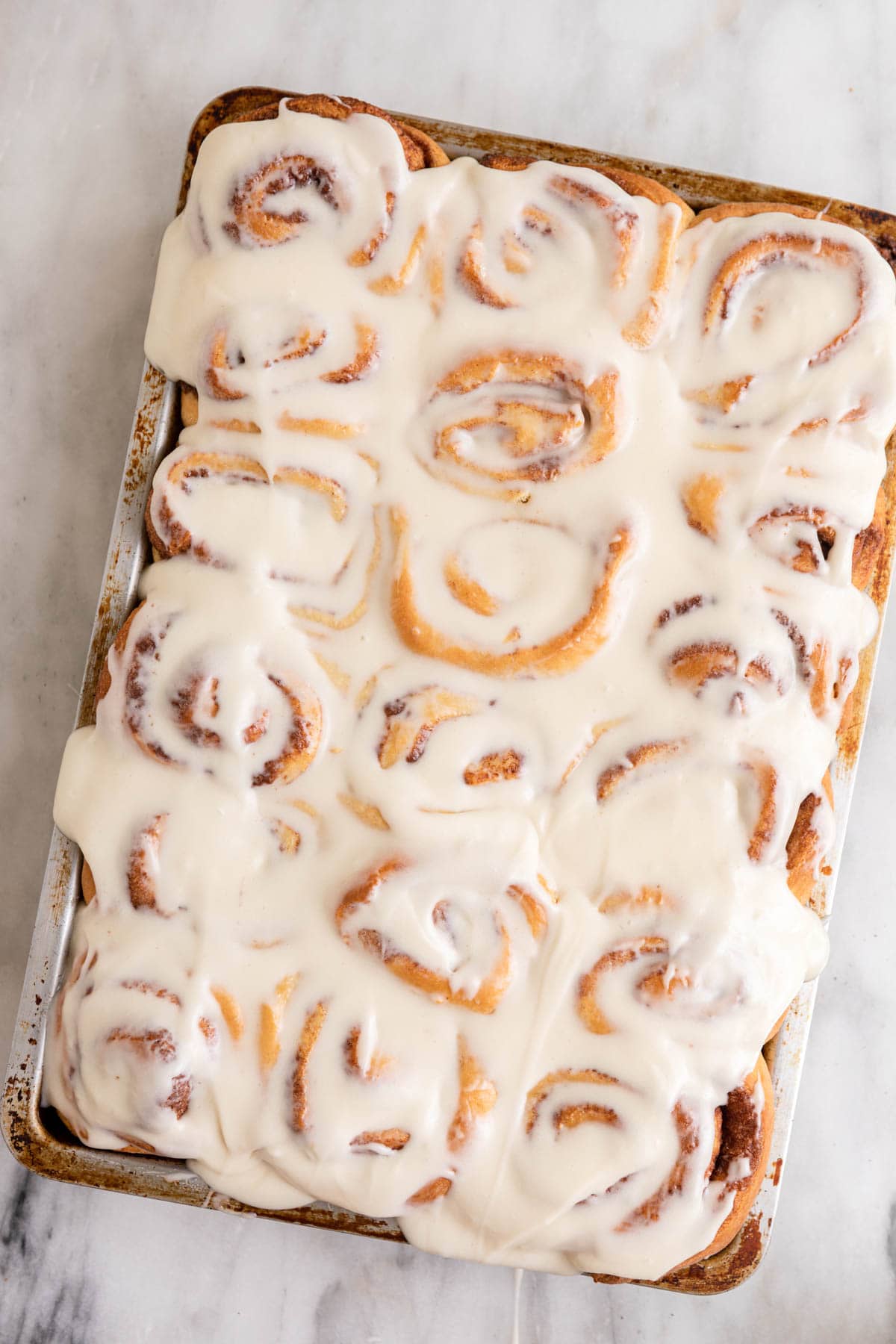 Create a free account to

Save Recipes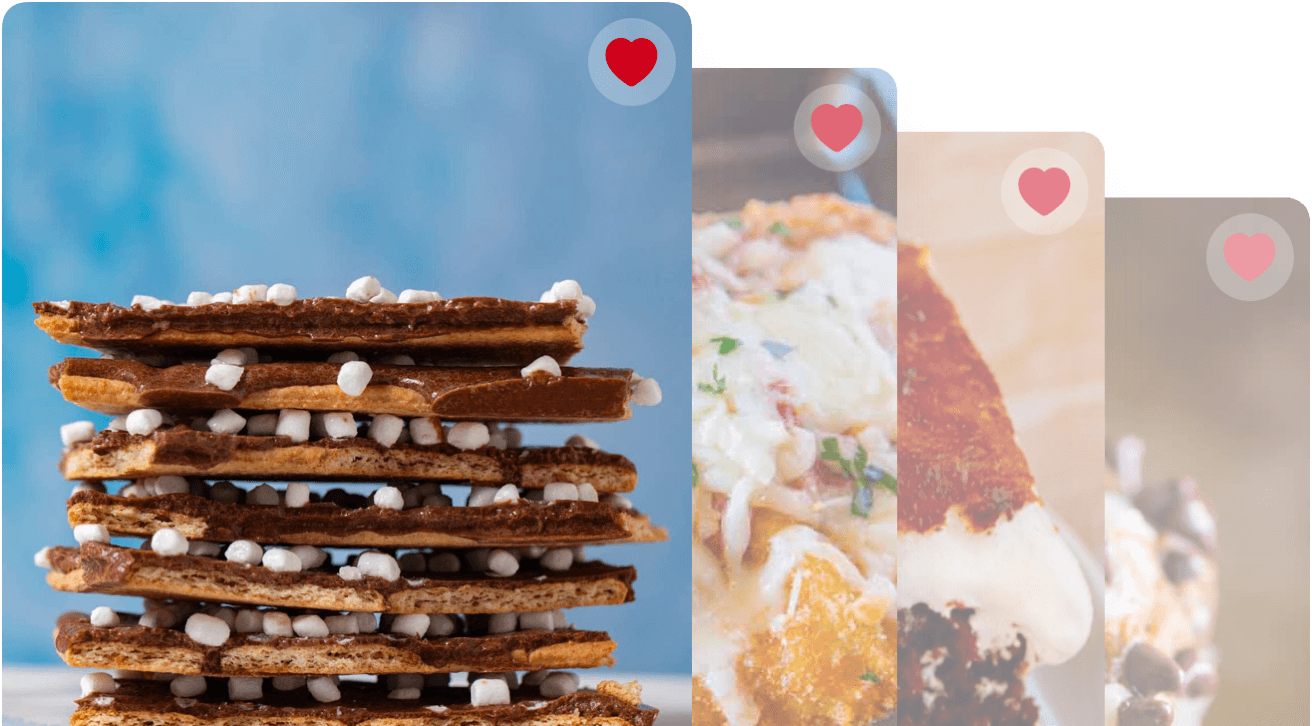 FREQUENTLY ASKED QUESTIONS
Can I use brown sugar for the filling?
If you prefer a more sweet roll without the cinnamon spice, replace the cinnamon sugar in the filling with brown sugar. 
How do I use maple syrup in the filling too?
You could also make a fresh maple syrup filling for inside the rolls. To include the sweet maple flavor in the filling as well as the icing, combine 1 tablespoon maple syrup with the butter before you spread it over the dough. 
How do I make a maple glaze instead of icing?
Another option is replacing the rich cream cheese icing with a delicious maple glaze. To make your own glaze whisk together 1 cup powdered sugar, ¼ teaspoon cinnamon, 1 tablespoon unsalted butter, ½ teaspoon vanilla, and ¼ cup maple syrup in a medium bowl. 
What other add-ins can be used with this recipe?
There are lots of mix-ins and toppings you could add to Maple Cinnamon rolls. Try mixing in toasted pecans for some crunch. You could also add chocolate chips, toffee bits, or coconut flakes for some more sweetness. 
MORE CROWD-PLEASING BREAKFAST RECIPES
HOW TO STORE MAPLE CINNAMON ROLLS
Serve: You can leave Maple Cinnamon Rolls out at room temperature for 2-3 days. Just cover them in plastic wrap or aluminum foil to make sure they don't dry out.
Store: Kept in an airtight container in the fridge the recipe will stay good for up to a week.
Freeze: You can also make the rolls ahead of time and freeze them in a freezer-safe container for as long as 4 months.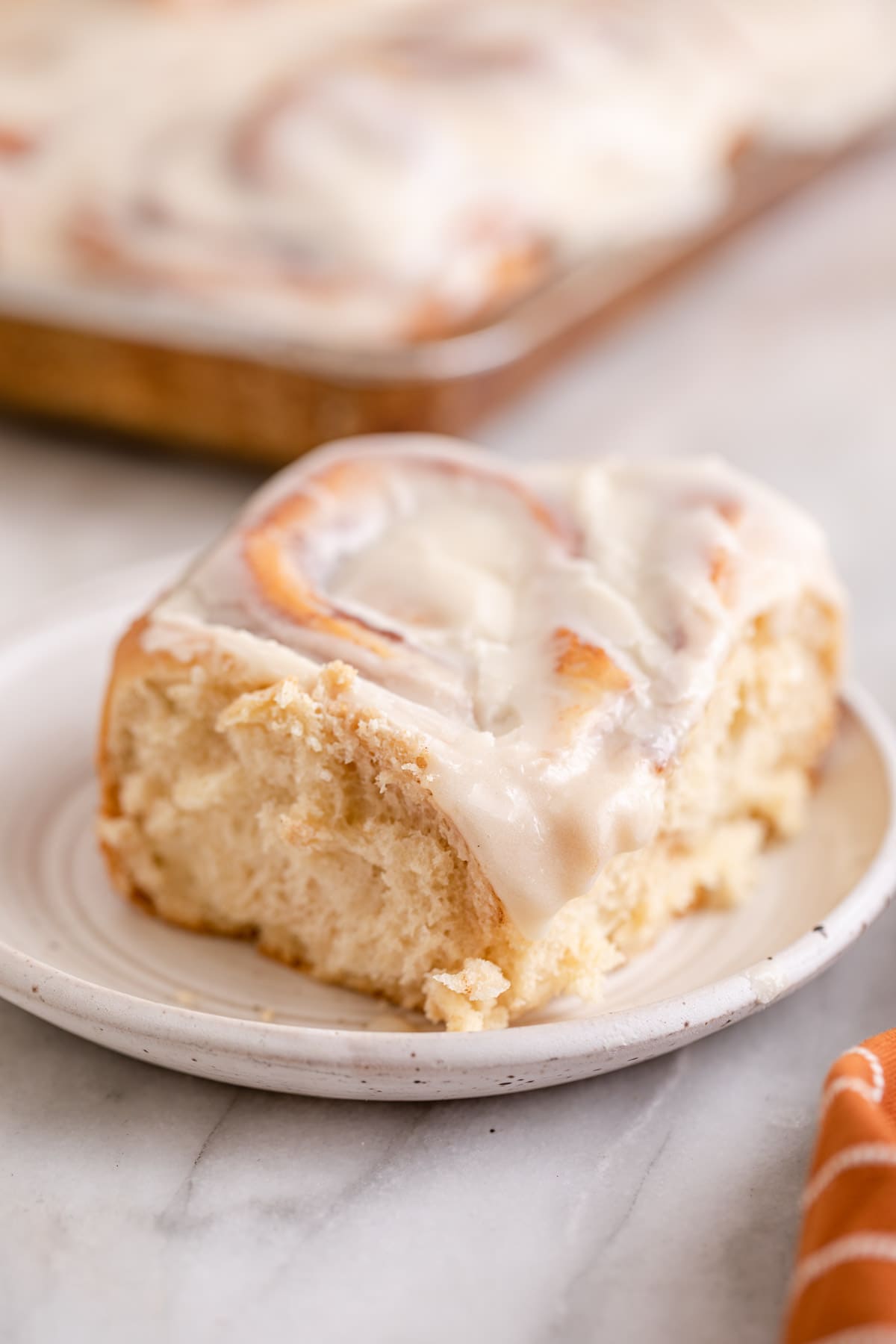 Ingredients
Maple Cinnamon Roll Dough:
2

cups

whole milk

1/2

cup

unsalted butter

, room temperature

1/2

cup

maple syrup

6 1/2

cups

flour

, divided

1

teaspoon

salt

2

packets

instant rapid rise yeast

2

large

eggs
For the Filling:
1

cup

sugar

3

tablespoons

ground cinnamon

1/2

cup

unsalted butter

, room temperature
Maple Cream Cheese Icing:
12

ounces

cream cheese

, (1 ½ packages) softened

1/3

cup

unsalted butter

, room temperature

1

tablespoon

vanilla extract

5

cups

powdered sugar

1/3

cup

maple syrup
Instructions
Cinnamon Roll Dough:
In a small saucepan heat the milk and butter to 110 degrees (warm to touch).

Into your stand mixer add the yeast and milk and whisk and let sit for

1 minute

.

On the lowest speed setting add in maple syrup and mix until smooth.

Add 6 cups of the flour, salt, and eggs to the stand mixer.

PRO TIP: COVER YOUR MIXER WITH A CLEAN DISH TOWEL.

Attach the dough hook and turn the mixer on speed 3-4 (low to medium).

Let it go for

5-7 minutes

, you want the dough to become a ball that doesn't stick to the walls of the bowl.

If you find sticking add flour ¼ cup at a time until it pulls away (no more than another cup)

Take the dough out, grease the stand mixer bowl, and put it back in.

Cover the dough with the dish towel you used to keep the flour in the stand mixer.

Let sit for

10 minutes

while you set the oven to preheat to 350 degrees and you make the filling.

In a medium-sized bowl mix the sugar and cinnamon.

Using a large even surface, add ½ cup of flour and roll it out onto the surface to coat the rolling pin and the surface.

Roll out the dough into a large rectangle about a ½ inch thick (if your space is limited do this in two halves).

Spread the butter over the dough with your hands and sprinkle the cinnamon sugar over the butter.

Roll the dough tightly to form a long log and using a piece of thread slice off pieces.

The dough will make 18 large cinnamon rolls.

Place the rolls into buttered baking pans or jelly rolls.

Place the rolls into a warm place for

20 minutes

(If you have a second oven, heat it to warm when you start the recipe, then turn it off and open the door for a couple of seconds then close the door. The residual warmth is perfect for these rolls).
Cream Cheese Icing:
In your stand mixer beat cream cheese and butter until smooth.

Add in the vanilla, sugar, and maple syrup until light and fluffy.
To Finish:
Bake the rolls for

18-20 minutes

or until golden brown.

Spread the cream cheese frosting over the rolls and serve warm or at room temperature.
Nutrition
Calories:
566
kcal
|
Carbohydrates:
93
g
|
Protein:
8
g
|
Fat:
18
g
|
Saturated Fat:
11
g
|
Trans Fat:
1
g
|
Cholesterol:
70
mg
|
Sodium:
331
mg
|
Potassium:
185
mg
|
Fiber:
2
g
|
Sugar:
55
g
|
Vitamin A:
602
IU
|
Vitamin C:
1
mg
|
Calcium:
103
mg
|
Iron:
2
mg