Coca-Cola Pork Roast is an easy, juicy meat recipe flavored with coke and baked in a creamy sauce. Cooked low and slow in the oven to tender perfection.
Using soda in meat recipes is a great way to make a juicy and flavorful Main Dish. Try Coca-Cola Chicken, Dr. Pepper Pot Roast, and Slow Cooker Root Beer Chicken for more dinners flavored and tenderized with soda.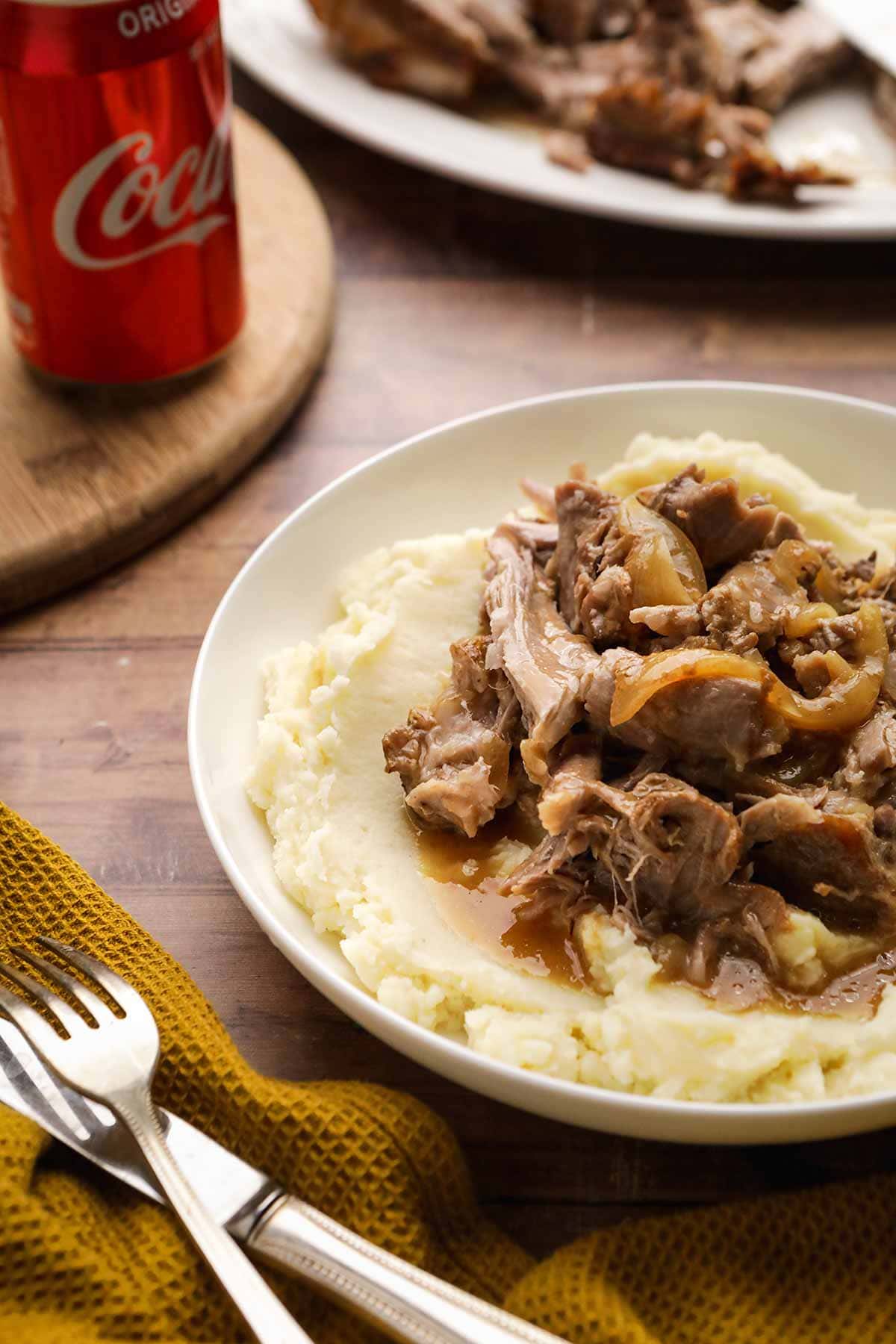 This easy Pork Roast recipe is perfect for a big family dinner or holiday. It's decadent and delicious enough, it will seem like you spent all day on it, but in reality Coca-Cola Pork Roast is wonderfully easy to make. It's a simple matter of adding the onion and cooking liquid over the top of the pork shoulder, then cooking it nice and slow. As it slowly roasts the pork will absorb the flavors and liquid around it for a rich, juicy meat. 
Once it's done, slice the roast and serve it with easy and classic side dishes like Creamy Mashed Potatoes and Sautéed Mushrooms. There are plenty of sides that will taste great with pork and make this simple recipe worthy of any celebration or dinner party.
Of course, you don't have to dress up the pork roast too much. Its simple ingredients make it great for a weeknight dinner, especially if you use the slow cooker version later in the post. You can toss it all together before work and have your dinner ready in the evening. The leftovers are also great in an easy sandwich. Just pull the meat apart and serve it in a toasted hamburger bun for an easy lunch.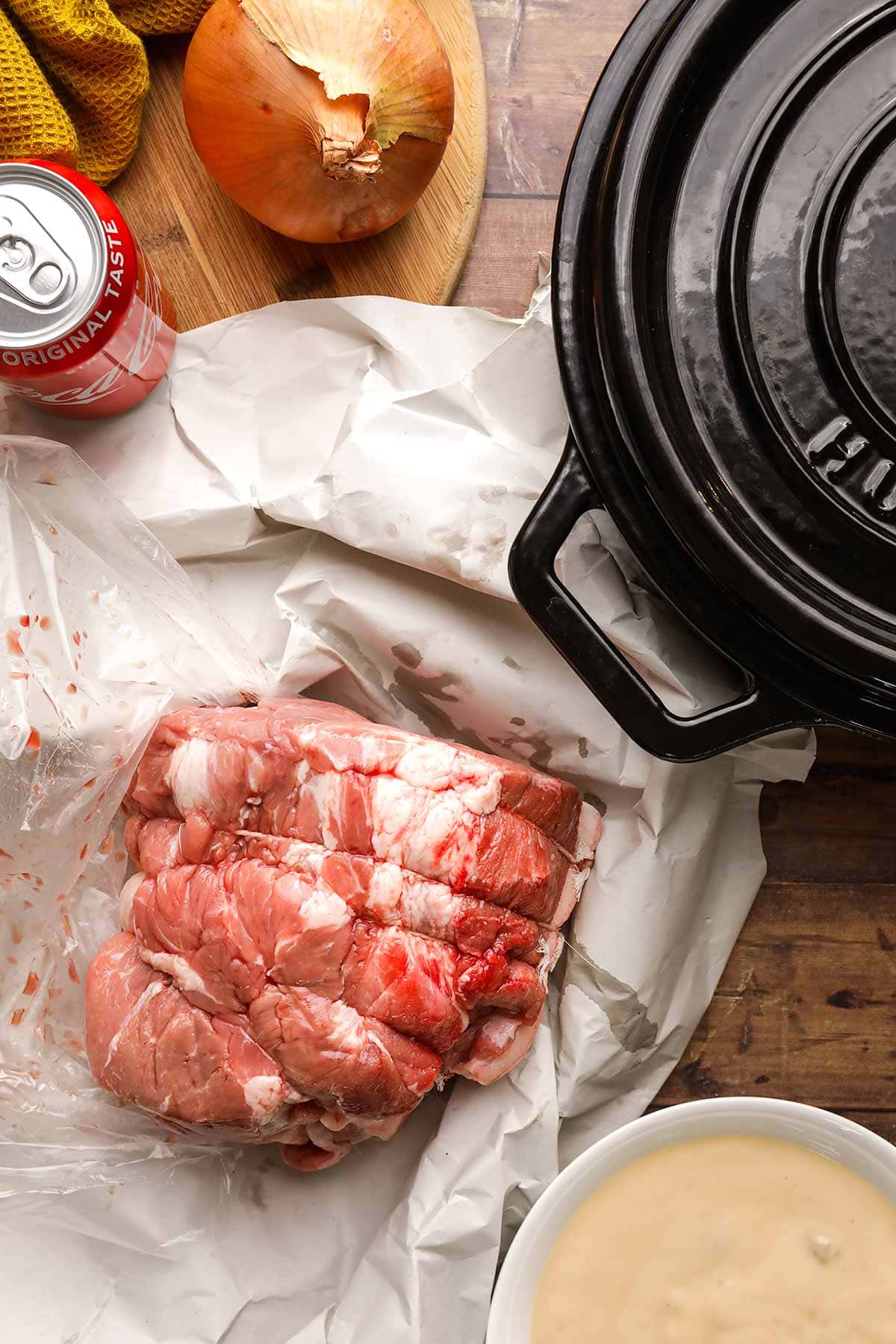 More Easy Pork Recipes
FAQs About Coca-Cola Pork Roast
Why use Coca-Cola?
If you haven't cooked meat with soda before you may be hesitant, but this recipe is definitely worth a try. The acidity in the coke helps to further tenderize the meat. The Coca-Cola also adds a sweet flavor to the meat from the sugar. It's the most juicy, slightly sweet, tender pork roast ever! 
What cut of meat is the Pork Shoulder or Butt?
The pork butt comes from the thicker part of a pork shoulder. You'll see both in the grocery store. They both require longer cooking and will provide a pork dish that can shred or pull apart, though the shoulder will stay together a little bit better for larger chunks or slices. They can be used interchangeably in this recipe
Why does Pork Shoulder Roast need to be cooked for so long?
This cut of meat requires long cooking in order for the connective tissues to be broken down and cooked out for a nice, tender finished roast.
How to Make Coca-Cola Pork Roast
Prep: Put the pork in the dutch oven fat side up to help keep the Pork Roast tender. The fat layer will baste the roast as it cooks and stop the pork from drying out. 
Liquid: It's also important to cook the pork covered so the moisture and liquids stay in. Whisk together the Coca-Cola, cream of mushroom soup, and onion soup. Mix until well combined before pouring it over the top of the Pork. 
Roast: Cook the Coca-Cola Pork Roast for 3-4 hours until cooked through but still tender. Use an internal meat thermometer to make sure the pork is cooked before taking it out of the oven. Pork is safe to eat when it reaches an internal temperature of 145 degrees.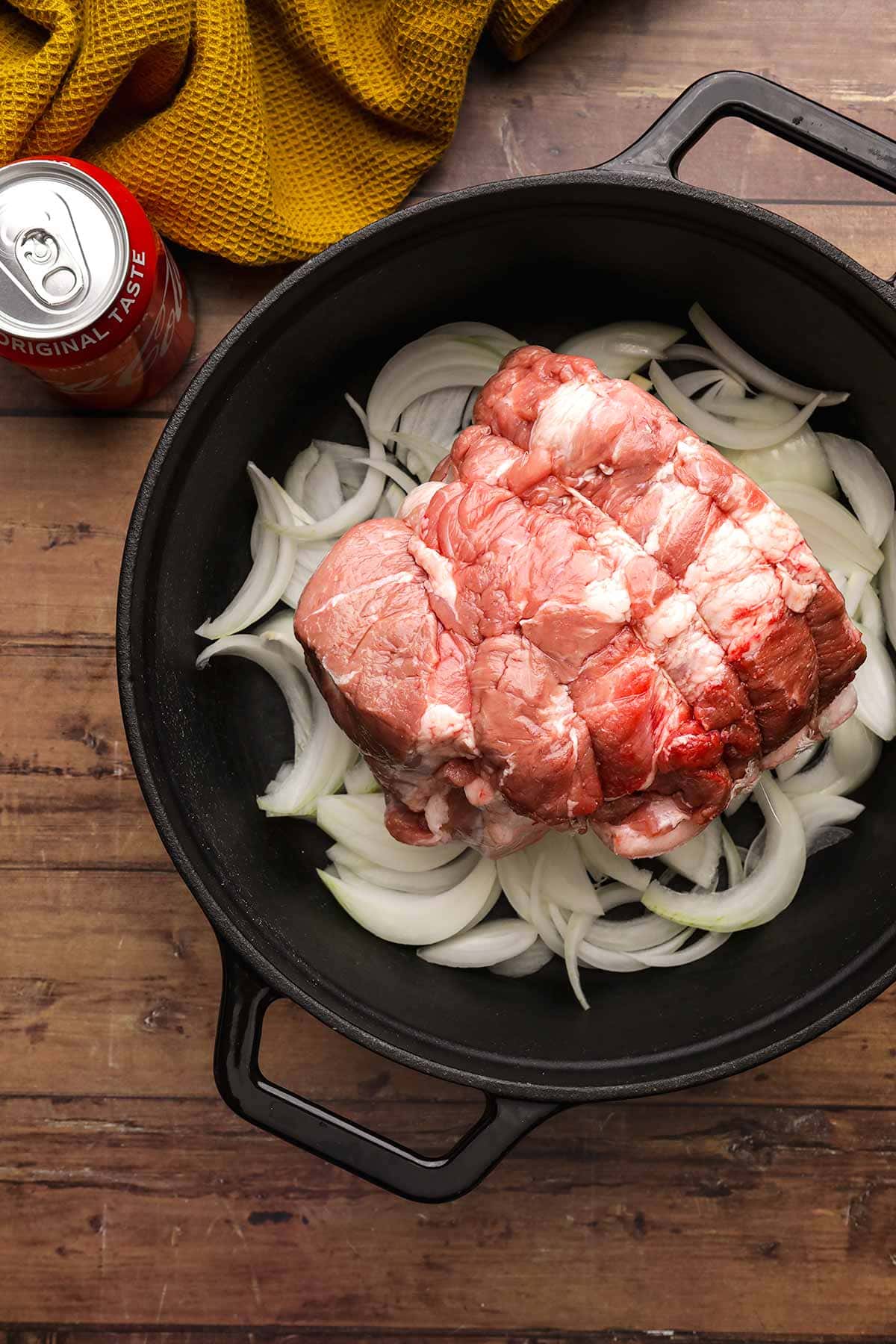 Create a free account to

Save Recipes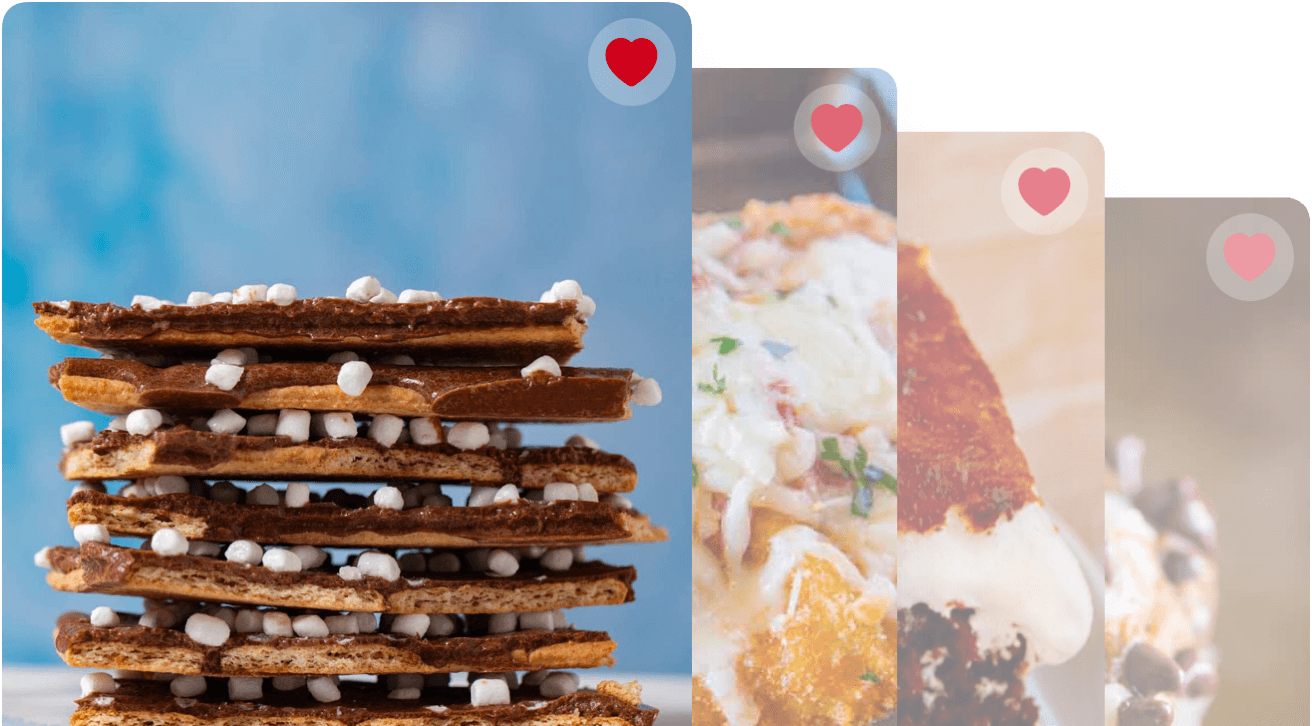 Serving Ideas for Coca-Cola Pork Roast
Sandwich: Scoop the meat, bathed in the sauce onto fluffy bread like ciabatta, brioche buns, Texas toast, toasted sourdough, or any of your favorites. Drizzle with more of the cooking liquid for flavor. Add a dash of mustard, mayo, or barbecue sauce if you like. Spread garlic butter over the bread before toasting it for extra flavor. Top the whole thing off with a slaw for a cool, crunchy element.
Traditional Open-Faced Sandwich: Slice some thick bread, top with meat, and the cooking liquid for a traditional meal. The bread will soak up the sauce perfectly, for a filling, throw-back dinner.
Tacos: Make some homemade tacos, and add in your favorite fillings. Rice would be especially helpful as it will soak up the juices. Slaw would be a great topping, as would onions, tomatoes, cheese, there's really no limit to what you might add.
Bowls: Pack a bowl with mashed potatoes on the bottom, then add the Pork Roast, roasted corn kernels, cooked and chopped carrots, green onions, or any vegetable you love. You can make these for lunch, just microwave them when you're ready to eat. You can also have a build-your-own bowl station set up for a fun dinner!
Variations on Coca-Cola Pork Roast
Soda: You can use different kinds of soda in this recipe instead of coke. Try Dr. Pepper, Root Beer, or Pepsi in place of the Coca-Cola. You could also replace the soda entirely with a dark beer for a completely different taste.
Soup: If you don't have cream of mushroom soup try using cream of chicken soup, or make your own cream substitute. To make a cream soup replacement combine 1 cup of milk and 4 ounces of cream cheese.
Add-ins: There are plenty of different ingredients you can add to Coca-Cola Pork Roast to experiment with the taste and add some more variety. Try adding some herbs like garlic, thyme, or rosemary. You could also mix in some mustard or BBQ Sauce with the cooking liquid. For a sweeter recipe rub some brown sugar over the pork before cooking it. You can also top it with some sliced mushrooms, green onions, or carrots.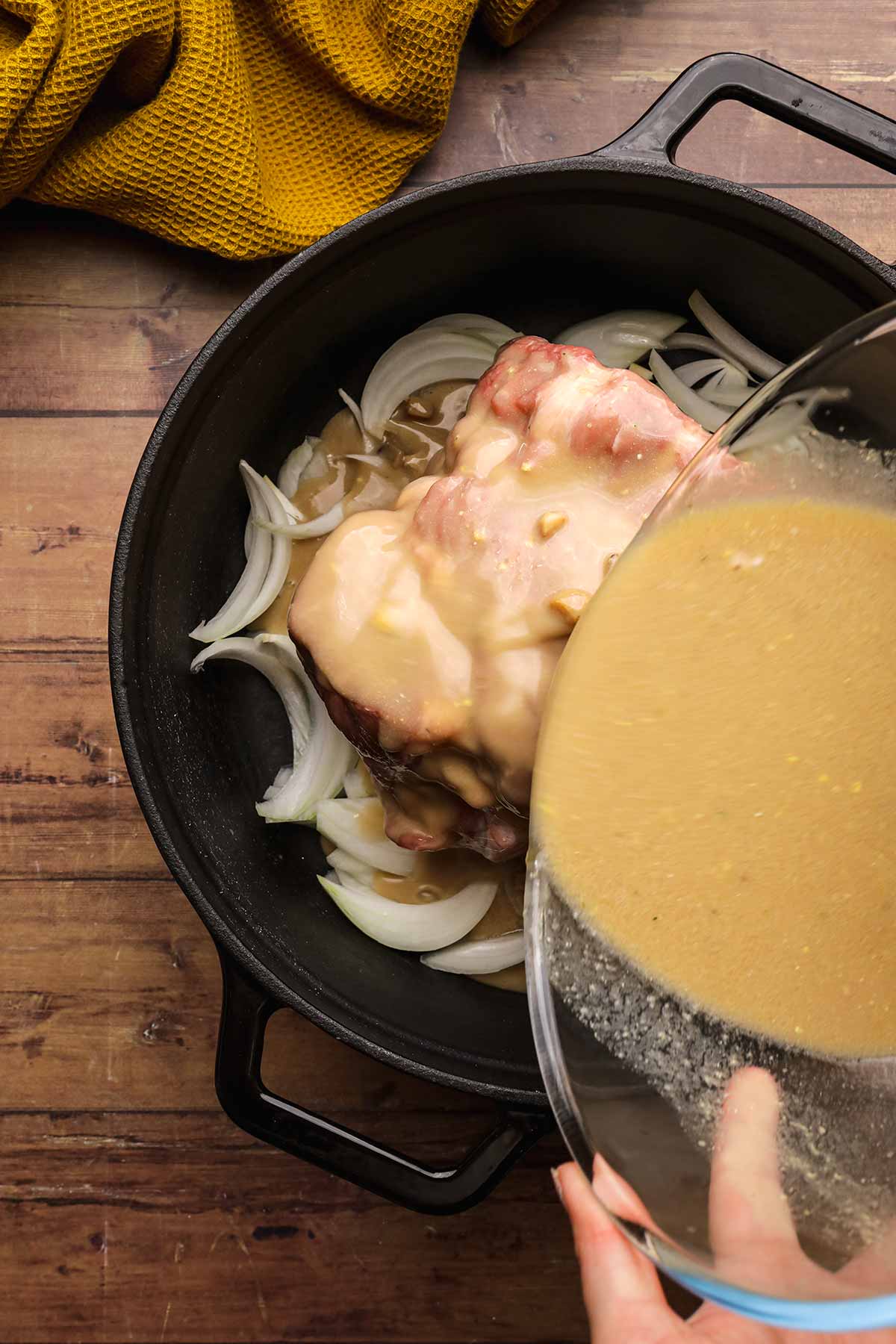 Can Coca-Cola Pork Roast be made ahead?
If it is helpful to you for your Roast to be fully cooked on the day you'd like to serve it, you can make it ahead! You can cook it, shred or chop it, and store it in the liquid. Then reheat it in that same liquid in the oven, or over the stovetop for the best results. You could also brown the meat in a pan and stir fry it. Take it out of the liquid and heat the liquid apart from the Roast. Browning it in a pan will add a new element of flavor to the Pork!
Slow Cooker Coca-Cola Pork Roast
Prepare the Meat: Add the pork shoulder to the crockpot. 
Onions: Slice the onions and add them over the top.
Liquid: Mix together the Coca-Cola, cream of mushroom soup, and onion soup mix in a separate bowl. Then pour it over the pork. 
Cook: Close the slow cooker and cook on low for 6-8 hours. 
What to Serve with Coca-Cola Pork Roast
How to Store Coca-Cola Pork Roast
Serve: Don't leave your Pork Roast at room temperature for more than 2 hours.
Store: Let the Coca-Cola Pork cool down before storing it. Slice and put it in an airtight container to store in the fridge for 2-4 days.
Freeze: Kept sealed, frozen pork will be good for 3-4 months.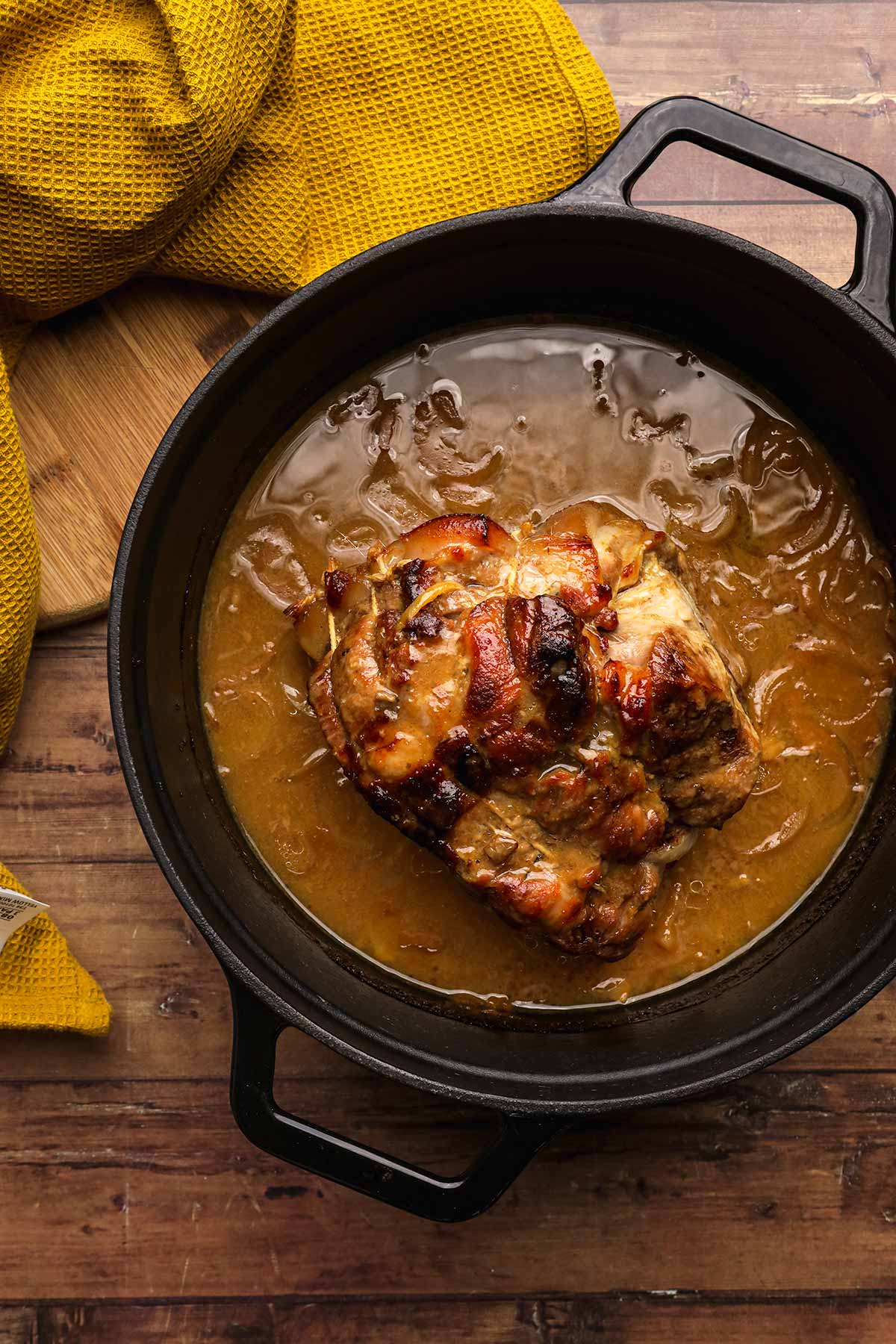 Instructions
Preheat oven to 325 degrees.

Place onions in a large dutch oven and top with pork roast.

Mix Coca-Cola, cream of mushroom soup, and onion soup mix.

Pour over pork roast and cover.

Cook for

3-4 hours

until tender.
Nutrition
Calories:
264
kcal
|
Carbohydrates:
11
g
|
Protein:
29
g
|
Fat:
11
g
|
Saturated Fat:
4
g
|
Polyunsaturated Fat:
1
g
|
Monounsaturated Fat:
5
g
|
Cholesterol:
95
mg
|
Sodium:
779
mg
|
Potassium:
577
mg
|
Fiber:
1
g
|
Sugar:
5
g
|
Vitamin A:
9
IU
|
Vitamin C:
2
mg
|
Calcium:
32
mg
|
Iron:
2
mg