Sangria is a delicious Spanish wine cocktail made with red wine, orange juice, brandy, and fresh fruit slices.
This fruity beverage is the perfect Drink Recipe to add to your party menu, serve with dinner, or enjoy during cocktail hour. Be sure to try our Moscow Mule for another favorite homemade cocktail.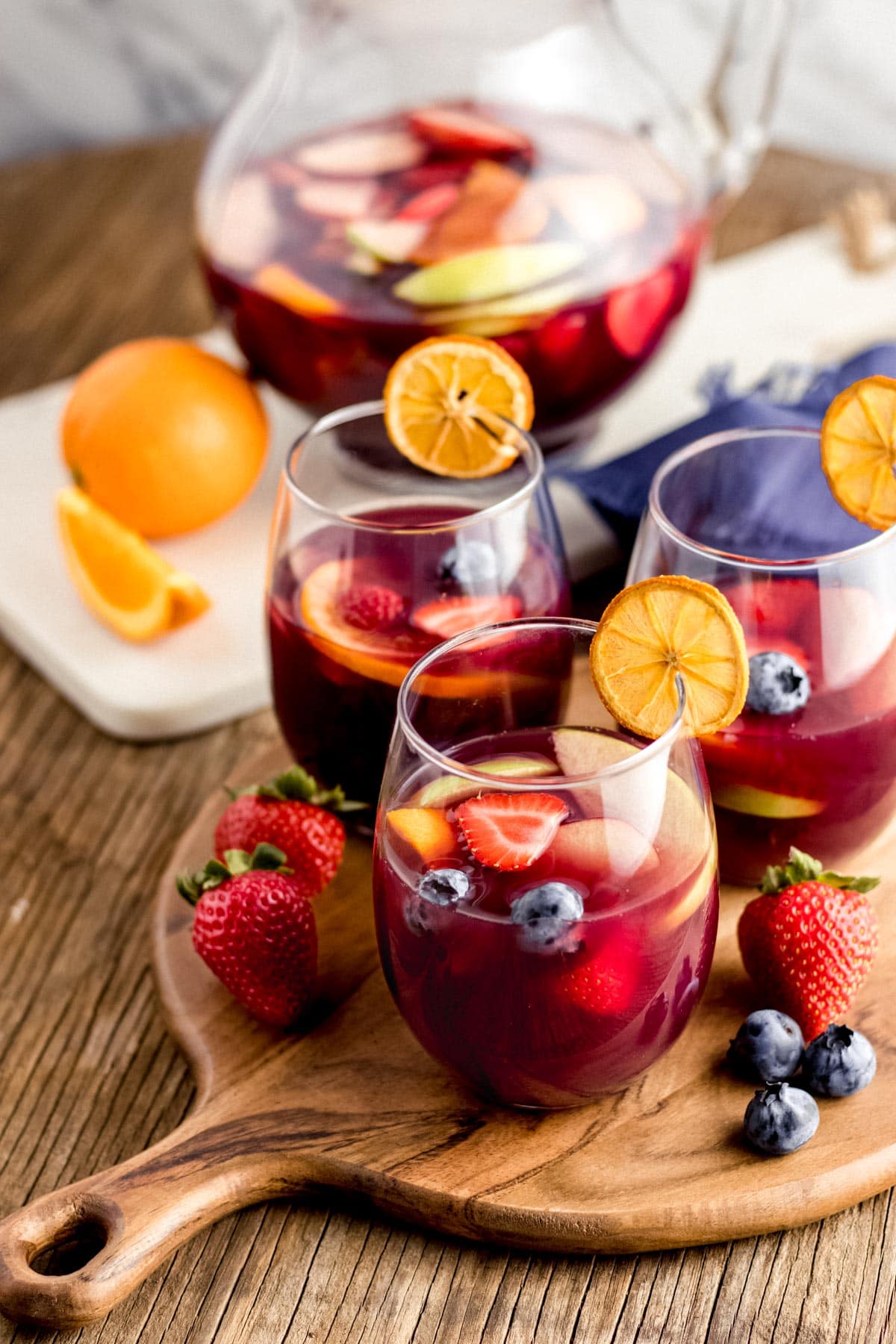 Homemade Sangria makes the perfect addition to small get-togethers, birthday parties, or your next deck party. This drink is a serious crowd pleaser. The wine-based punch is a classic recipe from Spain, and it's always a crowd-pleaser. The addition of orange juice, sweetener, and seltzer makes classic red wine even more delicious with a little bit of fizz. Then the addition of brandy kicks the boozy blend up a notch. 
If you're serving this dish with dinner, the citrus fruity flavors make it perfect to pair with your favorite seafood dishes. It would taste amazing with Shrimp Scampi or Baked Salmon. The versatility is endless, though. Try it with tacos, Italian dishes, roasts, or burgers.
Frequently Asked Questions About Sangria
Is Sangria high in alcohol?
Depending on how you make it, Sangria can vary a lot in alcohol content. Some people skip the brandy in their blend and only use wine. Although wine is somewhat high in alcohol, the orange juice and other ingredients decrease the percentage in each glass. In this Traditional Sangria recipe, both red wine and brandy are used, so a glass of this Sangria is slightly higher in alcohol than an average glass of red wine. 
What kind of glass should I serve Sangria in?
This alcoholic beverage is traditionally served in a large balloon wine glass with a stem or in short tumbler glasses. You can also use any glass that you would normally serve wine in.
What kind of red wine should I choose for Sangria?
To make a Sangria everyone will love, choose a wine that you already enjoy the taste of. Due to all sweeteners in the Sangria, you want to go with a wine that is a little less sweet. However, you can try different wines in the recipe until you find your favorite for Sangria.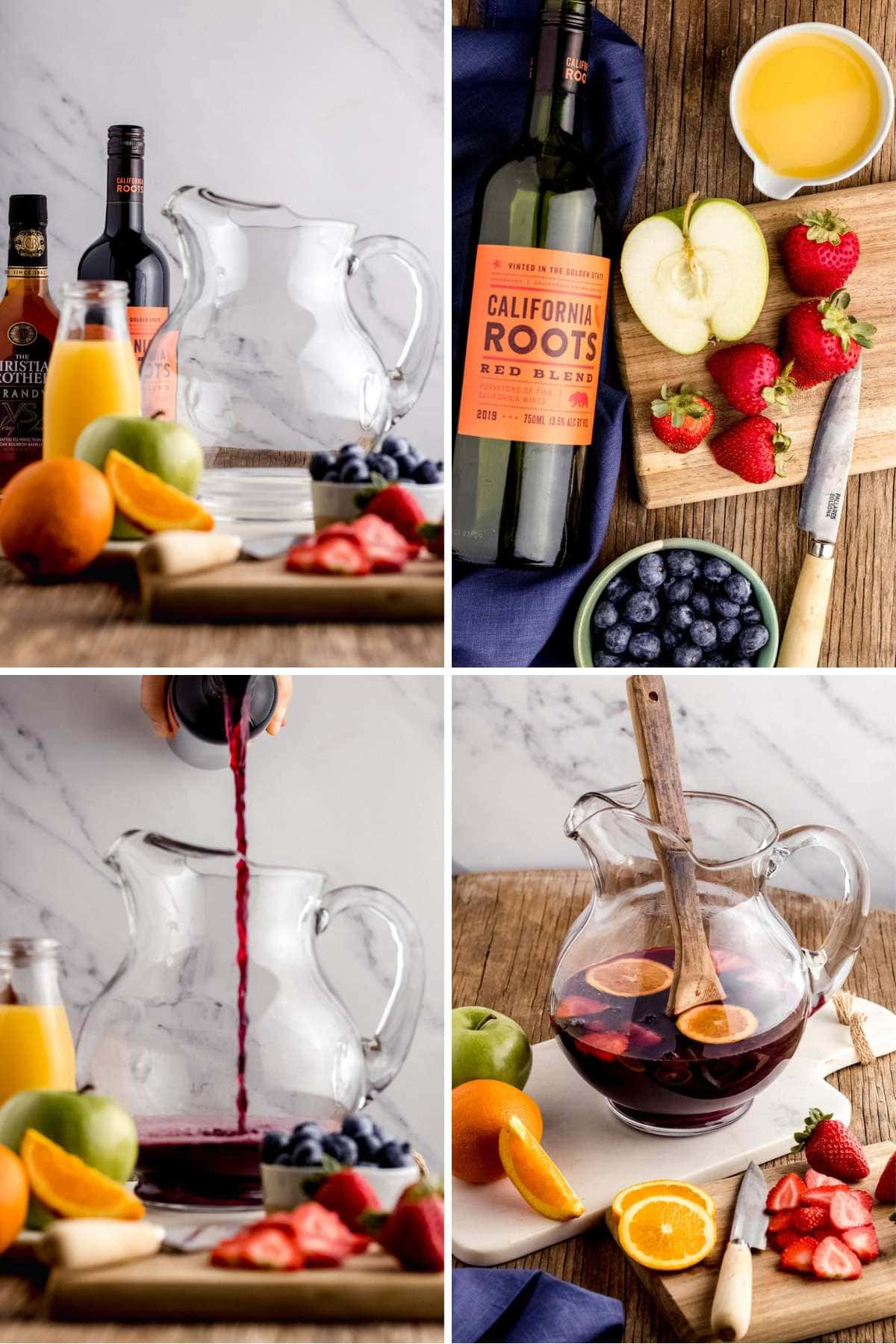 Appetizers to Pair with Sangria
Key Ingredients
Red Wine: You'll want a whole bottle of red wine for this recipe. Turning your red wine into this delicious Sangria punch is the perfect way to make your bottle go farther to serve a group. 
Brandy: Add ½ cup of brandy. You don't want too much brandy because the flavor and alcohol content is quite strong, and it could easily overwhelm the delicious fruit flavors.
Sugar: Mix in ¼ cup sugar or add simple syrup to sweeten the drink mix. 
Fresh Fruit: To finish the drink with a more fruity flavor, add fresh fruit ingredients like green apple slices, sweet strawberries, blueberries, and orange slices. By letting the fruit slices soak in the drink recipe, the wine blend will absorb the fruit juice for a tangy and sweet flavor profile. 
How to Make Sangria
Mix: Add red wine, orange juice, brandy, and sugar to a large bowl or pitcher. Then mix until the liquid ingredients are well combined. 
Add Fruit: Stir in orange slices, apple slices, blueberries, and strawberries. Then put the pitcher in the fridge until you're ready to serve. It's best to let the Sangria chill for 2 hours or more. 
Serve: Top with seltzer and serve the chilled and fizzy Sangria.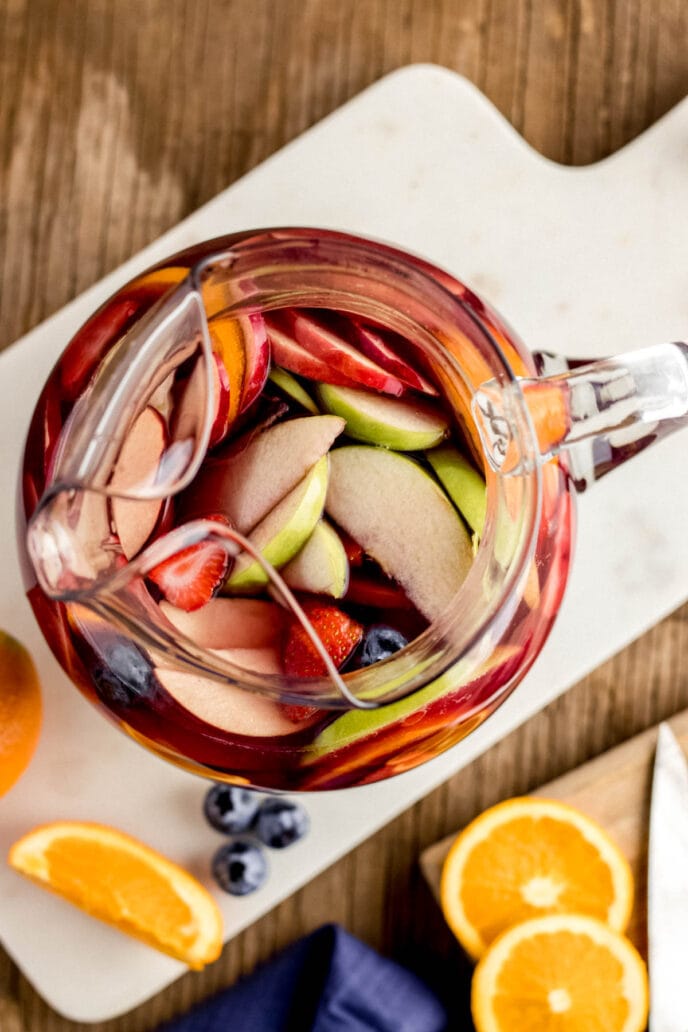 Create a free account to

Save Recipes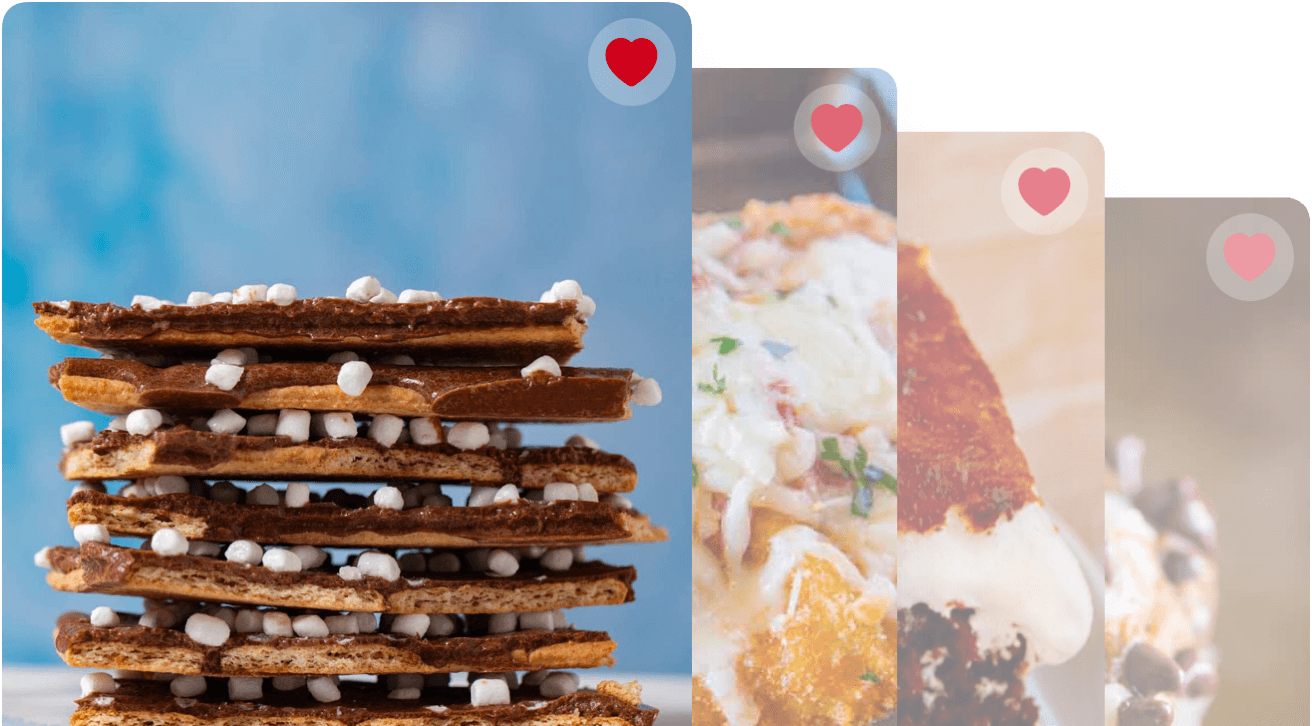 Variations
Blood Orange Sangria: To give the drink mix a more concentrated orange flavor, substitute the orange juice for 10 ounces of freshly squeezed blood orange juice. Mix the freshly squeezed orange juice with the other ingredients and top the Blood Orange Sangria recipe with orange wedges. 
Lemonade Sangria: If you just want to make your Sangria with more of a lemony flavor, you can add citrus-flavored soda like lemon-lime soda with the seltzer. But, if you want a more dramatic change, you can swap the red wine for white wine, use vodka in place of brandy, and substitute the orange juice for raspberry lemonade to make a delicious, refreshing lemonade-inspired sangria mix. This is a perfect option for a BBQ or garden party drink. 
White Wine Sangria: Another simple change you can make is exchanging the red wine for dry white wine to make delicious White Wine Sangria. 
Frozen Sangria: This refreshing drink also tastes amazing frozen. To make the classic Sangria flavors into a delicious frozen treat, you'll need 3 large frozen clementine oranges peeled and sectioned, 10 ounces frozen berries, 2 cups red wine, and 2 tablespoons honey. Blend the frozen fruit with red wine and honey. Add seltzer as desired to get the consistency you want. Then serve the frozen drink in cocktail glasses or sundae dishes, and garnish with additional fruit as desired. 
Non-Alcoholic Sangria: You can also make Sangria as a non-alcoholic beverage. Instead of wine and brandy, you'll use a combination of different delicious juices. Mix together 2 cups cranberry juice, 2 cups grape juice, 1 cup orange juice, and ½ cup lemon juice. Stir the ingredients together, and put the pitcher in the fridge for about 2 hours. Then add sparkly water or lemon-lime soda. Top with fruit for garnishes.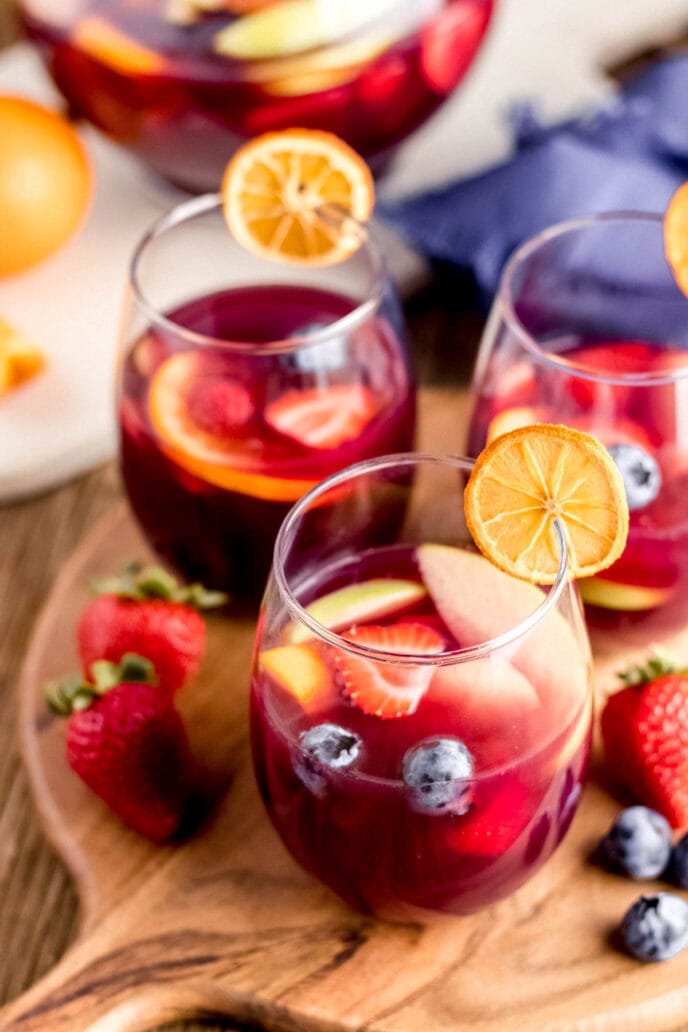 Sangria Serving Ideas
Pre-Game Cocktail: Whether your game is football, tennis, or a game of Uno, have a pitcher of Sangria ready when your guests arrive so they can start off on a tasty note.
Appetizer Party: Host an appetizer party with all your friends. Set out a bunch of tumblers that are easy to move around the house with, next to a pitcher of this Sangria for guests to help themselves. 
Cheese Board: Serve Sangria with a night of cheese tastings, or alongside your Cheese Board, or charcuterie board. 
After-Dinner Cocktail: This Sangria is nice and sweet. It would make an excellent drink after dinner is finished, when you'd welcome something sweet but maybe you're too full for dessert. 
Recipes to Serve with Sangria
How to Store
Serve: Make sure you give the Sangria enough time to chill before taking it out of the fridge and serving. 
Store: If you want to make the drink in advance, you can keep it in a covered pitcher in the fridge for up to 5 days. 
Freeze: You could also freeze Sangria for up to 3 months.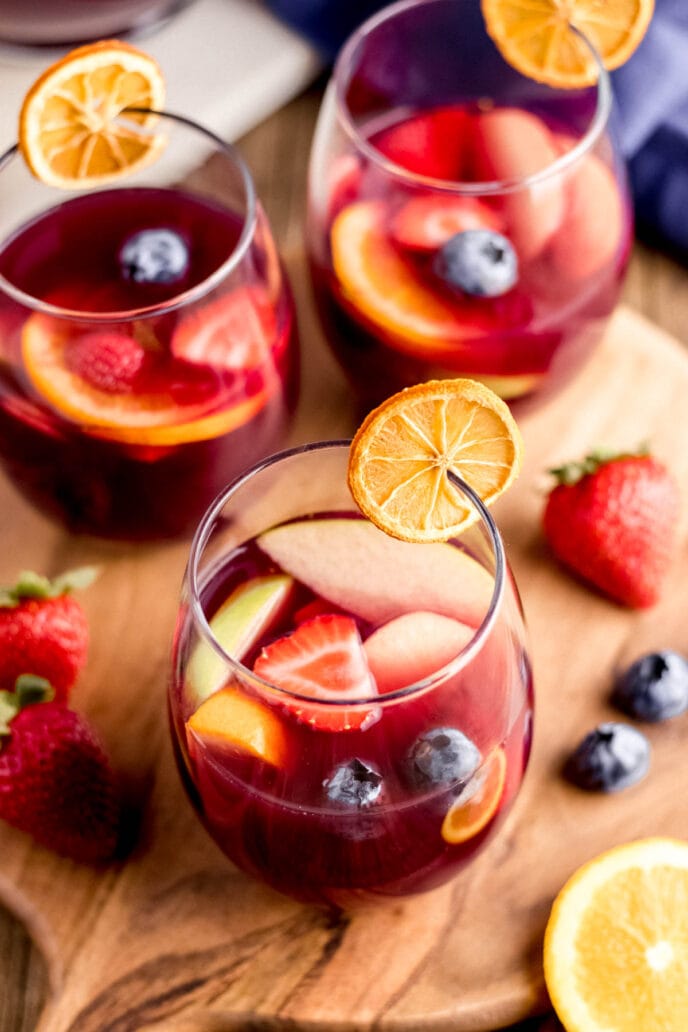 Ingredients
750

ml

red wine

, (1 bottle)

1

cup

orange juice

1/2

cup

brandy

1/4

cup

sugar

1

orange

, sliced

1

apple

, sliced

1

cup

blueberries

1

cup

strawberries

, sliced

12

ounces

seltzer

, (1 can)
Instructions
Add wine, orange juice, brandy, and sugar to a large bowl or pitcher and mix until well combined.

Stir in orange slices, apple slices, blueberries, and strawberries.

Refrigerate until ready to serve, 2 or more hours.

Top with seltzer and serve.
Nutrition
Calories:
189
kcal
|
Carbohydrates:
21
g
|
Protein:
1
g
|
Fat:
0.3
g
|
Saturated Fat:
0.02
g
|
Polyunsaturated Fat:
0.1
g
|
Monounsaturated Fat:
0.03
g
|
Sodium:
14
mg
|
Potassium:
280
mg
|
Fiber:
2
g
|
Sugar:
16
g
|
Vitamin A:
125
IU
|
Vitamin C:
38
mg
|
Calcium:
25
mg
|
Iron:
1
mg