Welcome to the Ultimate Cookie Dough Ice Cream Sandwich! Creamy meets legendary and it only takes one bite to taste the magic! Try now!
There's an undeniable charm associated with the classic ice cream sandwich that evokes feelings of sunny summer days and cherished memories. A staple in American culinary history, these treats have been relished at countless family gatherings, barbecues, and festive celebrations. And our version is steeped in nostalgia – reminiscent of those lazy summer afternoons when a cold treat was the only respite from the sun.
So, what sets this cookie dough ice cream sandwich apart from the rest? Imagine an ice cream not just sprinkled with cookie dough bits, but actually flavored with melted eggless cookie dough. Enriched with large chunks of semi-sweet chocolate and paired with luscious Eggless Chocolate Chip Cookie Dough, every bite is an adventure of textures and flavors. But the grandeur doesn't end there. This dreamy ice cream finds its perfect match between two legendary Chocolate Chip Cookies, promising a yummy experience. For detailed instructions on the Vanilla Ice Cream, visit the Classic Drumstick Ice Cream Cones post.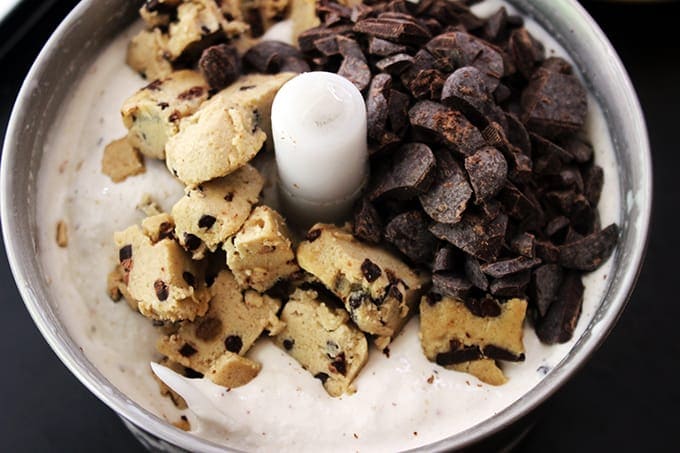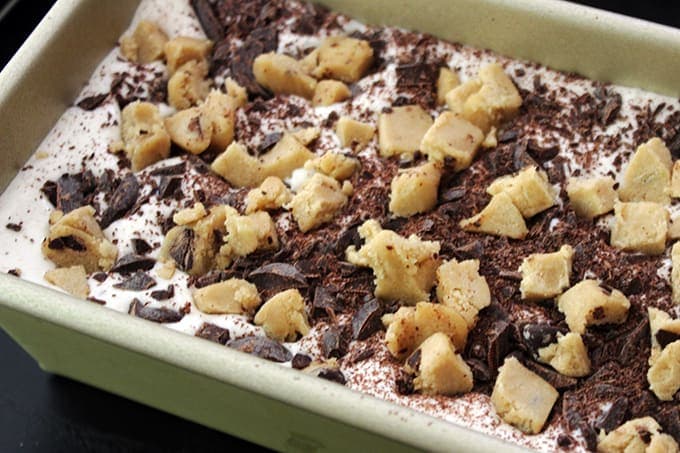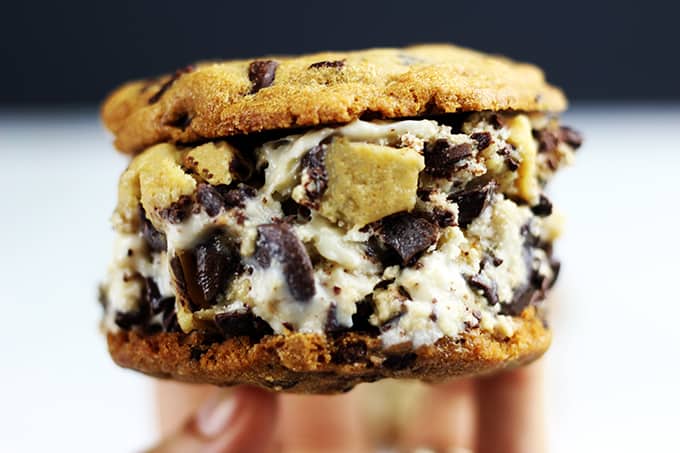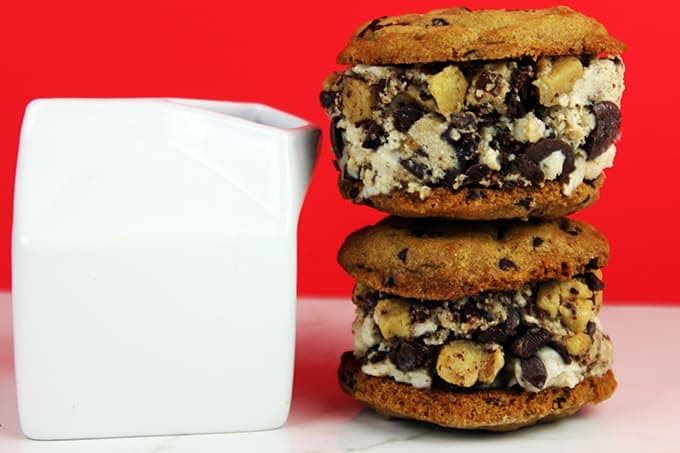 About our Ultimate Cookie Dough Ice Cream Sandwich Recipe
Every culture has its comfort food, and for many, the ice cream sandwich holds a special place in their hearts. Remember those sunlit afternoons, perhaps at a grandparent's house or a local diner, where the only dilemma was choosing your ice cream flavor? The cookie dough ice cream sandwich is a delightful nod to such American memories. While other regions might boast of wafer-thin biscuits or crispy exteriors, our heart belongs to those soft, rich chocolate chip cookies that speak the language of home. It's more than just a dessert; it's a story of summers gone by, of holidays with loved ones, and of those treasured family recipes passed down through generations.
But what makes our version stand tall among the rest? It's that extra mile we go in embracing cookie dough, not just as an add-on but as the very soul of the ice cream. It's like taking a classic family recipe and adding a twist that only enhances its legacy. So, whether you're serving it at an elegant soirée or just craving a late-night treat after a long day, this cookie dough ice cream sandwich promises a blend of nostalgia and gourmet delight in every bite. It's tradition and innovation, all sandwiched together!
Ultimate Cookie Dough Ice Cream Sandwich Ingredients
1 stick unsalted butter, softened: Butter gives the cookie dough its signature rich texture and flavor. Softened, it effortlessly mixes with sugars to create a smooth base. If you're looking for a dairy-free switch, try equal amounts of coconut oil or vegan butter.
2 tbsp granulated sugar: Essential for sweetness, granulated sugar also promotes browning and crispiness in cookies. Coconut sugar or cane sugar could stand in.
⅓ cup brown sugar, packed: This one's a game-changer! Besides sweetness, it gifts the dough its moist texture and a deep, molasses hint. If you're in a pinch, a mix of granulated sugar with a teaspoon of molasses can be your go-to.
2 tbsp whole milk: Milk helps in binding the dough and adding a creamy touch. If dairy's not your thing, almond or soy milk could work wonders too.
1 tsp vanilla extract: It's all about the aromatic depth with vanilla. This part is for the cookie dough itself.
1 ¼ cups flour: Flour is the foundation, providing structure to our cookie dough. Gluten-free? Opt for a GF flour blend.
¼ teaspoon kosher salt: Just a pinch balances the sweetness and enhances overall flavors. Regular table salt can be used, but reduce the quantity slightly.
1 ⅓ cup semisweet chocolate chips or disks, divided: The star! It brings bursts of chocolaty goodness. Feel free to use dark or milk chocolate based on your palette.
4 cups half-and-half: This contributes to the creamy texture of the ice cream. A combination of equal parts milk and cream can be an easy substitute.
1 can sweetened condensed milk (1 can = 14 ounces): It imparts creaminess and sweetness. For a lighter touch, try evaporated milk with some sugar.
2 tablespoons vanilla extract: Again, it's for that aromatic depth, ensuring the ice cream sings with flavor. No vanilla? Maybe a touch of bourbon could elevate it to adult dessert!
36 chocolate chip cookies: A delicious envelope for our ice cream. Feel free to get store-bought, or if you're up for some fun, make them from scratch.
Kitchen Tools & Equipment
Bowl: Used for mixing the ingredients together. A standard kitchen bowl works fine, but if you don't have one, any large deep dish would do.
Mixer or Stand Mixer: Essential for creaming the butter and sugars to the right consistency. Don't have one? No worries, a little elbow grease with a wooden spoon can be an effective (though tiring) substitute!
Microwave-safe Bowl: Needed for melting some of the cookie dough. If you're microwave-free, you could melt the dough in a heatproof bowl set over a pot of simmering water (double boiler method).
Ice Cream Machine: Helps in churning and freezing the ice cream mixture for a smooth texture. Don't own one? A manual method of freezing and stirring every 30 minutes can also be used, although the texture might be a tad different. Check out this handy Gelato maker used in our kitchen for this recipe: http://amzn.to/2ErJWEu.
Pan: Essential for storing the ice cream. Typically, a 9×13 inch dish is optimal, but any similar-sized container would work.
Scoop: A scoop ensures uniform ice cream sandwiches. In its absence, a large spoon serves the purpose.
How to Make Ultimate Cookie Dough Ice Cream Sandwich
Time needed: 6 hours.
Nothing says ice cream indulgence like The Ultimate Cookie Dough Ice Cream Sandwich. This delectable treat takes about 6 to 8 hours from start to finish, accounting for freezing time, and yields approximately 18 delightful sandwiches. What truly sets this recipe apart? The ice cream itself boasts a cookie dough flavor, amplified with chunks of semisweet chocolate and eggless chocolate chip cookie dough, all snugly sandwiched between two legendary chocolate chip cookies. It's an irresistible fusion of texture and taste, destined to become a favorite in your dessert repertoire. Perfect for those special occasions, or just because!
Prepare the Cookie Dough Base

Begin by creaming together the unsalted butter, granulated sugar, and packed brown sugar. Mix in the whole milk and vanilla extract, followed by the flour and kosher salt. Fold in a portion of the semisweet chocolate chips or disks.

Make the Ice Cream

Combine the half-and-half, sweetened condensed milk, and vanilla extract. Once well-blended, add in the prepared cookie dough and the remaining chocolate chips. Follow your ice cream maker's instructions to churn until it reaches the desired consistency.

Assemble the Sandwiches

Take one cookie, scoop a ⅓ cup amount of the cookie dough ice cream onto it, and top with another cookie. Gently press to form a sandwich. Repeat until all the sandwiches are made, and then freeze until they're firm and ready to serve.
Nutritional Facts
Nutrition Facts
The Ultimate Cookie Dough Ice Cream Sandwich
Amount Per Serving
Calories 432
Calories from Fat 216
% Daily Value*
Fat 24g37%
Cholesterol 43mg14%
Sodium 176mg8%
Potassium 289mg8%
Carbohydrates 48g16%
Protein 6g12%
Vitamin A 415IU8%
Vitamin C 1mg1%
Calcium 137mg14%
Iron 2mg11%
* Percent Daily Values are based on a 2000 calorie diet.
Recipe Tips & Tricks
Check out some of these nifty ideas to make the perfect ice cream sandwich. Feel free to share any of your own tips or delightful twists in the comments. The culinary world thrives on shared experiences and knowledge!
Mind the Butter: The consistency of the butter is crucial. Softened butter makes for a fluffier, more consistent cookie dough. To achieve the perfect softness, remove the butter from the refrigerator about an hour before you start the recipe. If you're in a pinch, microwave the butter in short bursts, checking often to avoid melting it.
Chill Before Scooping: Once the ice cream mixture is prepared, it might be tempting to immediately churn it or add it between cookies. However, for the best texture and flavor melding, always freeze the ice cream for at least 4-6 hours, though overnight is ideal.
Chocolate Choices: While the recipe calls for semisweet chocolate chips or disks, don't hesitate to experiment. White chocolate, dark chocolate, or even mint-infused chips can give your sandwich a refreshing twist.
Ice Cream Consistency: When churning the ice cream, keep a close eye on its consistency. Over-churning can make it too buttery, while under-churning might leave it too soft. Aim for a texture that's creamy yet holds its shape.
Avoiding Soggy Cookies: If you're not serving the ice cream sandwiches immediately, consider wrapping them individually in parchment paper and then in foil. This not only helps retain their shape but also prevents the cookies from becoming too soft in the freezer.
How to Store The Ultimate Cookie Dough Ice Cream Sandwich
Storing these delightful ice cream sandwiches requires a bit of finesse to maintain their just-made freshness. To keep the ice cream's moisture and the cookie's crunch intact, wrap each sandwich tightly in parchment or wax paper. Then, place these wrapped delights into an airtight container. This not only protects from potential freezer burn but also prevents the absorption of other flavors from the freezer.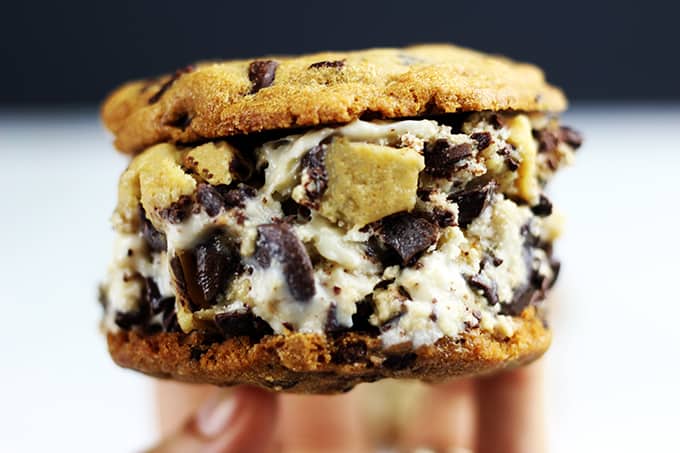 How to Preserve Cookie Dough Ice Cream Sandwich in the Freezer
If you're thinking ahead and want to enjoy these treats in the future, freezing is your best bet. For optimal taste preservation, wrap each sandwich first in parchment paper and then in aluminum foil. This double-wrap method acts as a shield against freezer burn. For added protection, pop these wrapped treats into a zip-top freezer bag, pushing out as much air as possible before sealing. When that craving strikes later on, let the sandwich thaw for a few minutes at room temperature before indulging, ensuring it tastes as fresh as the day you made it.
Frequently Asked Questions
Can I use store-bought chocolate chip cookies instead of homemade ones?
Absolutely! While homemade cookies have their unique charm, store-bought ones can be a quick and convenient substitute. Just ensure they are of good quality and have the desired thickness for your ice cream sandwiches.
What can I use if I don't have half-and-half?
You can make your own by combining equal parts of heavy cream and whole milk. This mixture will give a similar richness to half-and-half.
My ice cream turned out too icy. What did I do wrong?
This can happen if the ice cream mixture isn't churned enough or if it's introduced to warm air frequently during the freezing process. Ensure you're using a pre-chilled ice cream maker and try to minimize opening the freezer while it sets.
Can I substitute the unsalted butter with salted butter?
Yes, you can. If you're using salted butter, you might want to adjust or skip the added kosher salt in the recipe.
I'm vegan. Any suggestions for dairy-free versions?
Certainly! Use coconut milk or almond milk in place of half-and-half, and opt for a vegan condensed milk. Ensure your chocolate chips are vegan too.
How long can I store these ice cream sandwiches in the freezer?
Ideally, they're best enjoyed within two weeks for maximum flavor and texture quality. After that, they might start to lose their freshness and might develop a bit of freezer burn. Consume within 30 days.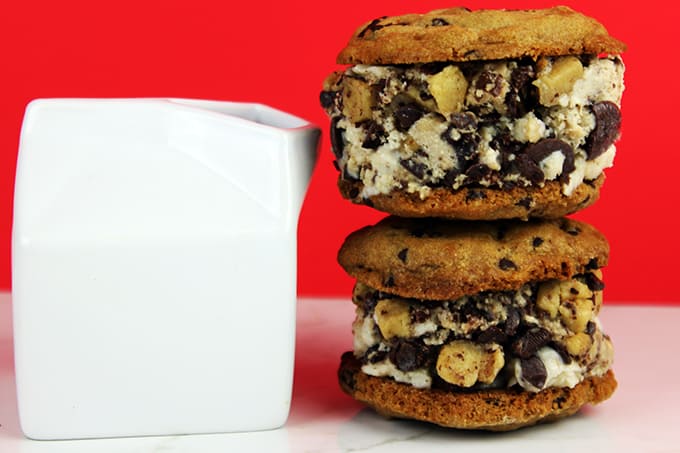 Ingredients
Cookie Dough
1

stick

unsalted butter

, softened

2

tbsp

granulated sugar

1/3

cup

brown sugar

, packed

2

tbsp

whole milk

1

tsp

vanilla extract

1 1/4

cups

flour

1/4

teaspoon

kosher salt

1 1/3

cup

semisweet chocolate chips

or disks, divided
Ice Cream Base
4

cups

half-and-half

1

can

sweetened condensed milk

, (1 can = 14 ounces)

2

tablespoons

vanilla extract

36

chocolate chip cookies
Instructions
For the cookie dough pieces, in a bowl with a mixer or a stand mixer, cream the butter and sugars. until they are noticeably lighter in color and very fluffy. This usually takes a couple of minutes.

Add in whole milk and vanilla extrct and mix for a couple of seconds.

Take a third of the cookie dough out of the bowl and into a large microwave safe bowl.

Mix ⅓ cup chocolate chips into remaining dough.

Freeze the cookie dough in a sheet. Take out and cut into small squares for adding into the ice cream.

For the ice cream base, melt the cookie dough without the chocolate chips in the microwave on half power for a minute until it gets melty.

Add in 4 cups of half and half, can of sweetened condensed milk and vanilla. Mix well together until mostly combined. Some of the cookie dough may not completely break down, that is totally okay.

Freeze in your ice cream machine according to instructions.

Seconds before you are ready to take ice cream out, add the chunks of the eggless cookie dough and ½ cup of chocolate chips into the machine. Top the ice cream once your transfer it to a pan with the remaining cookie dough and chocolate chips.

Freeze for

4-6 hours

or overnight (recommended).

Sandwich between two cookies ⅓ cup scoop of ice cream.
Nutrition
Calories:
432
kcal
|
Carbohydrates:
48
g
|
Protein:
6
g
|
Fat:
24
g
|
Saturated Fat:
13
g
|
Polyunsaturated Fat:
2
g
|
Monounsaturated Fat:
6
g
|
Trans Fat:
0.3
g
|
Cholesterol:
43
mg
|
Sodium:
176
mg
|
Potassium:
289
mg
|
Fiber:
2
g
|
Sugar:
32
g
|
Vitamin A:
415
IU
|
Vitamin C:
1
mg
|
Calcium:
137
mg
|
Iron:
2
mg
Ultimate Cookie Dough Ice Cream Sandwich Recipe Variations
While the original recipe offers a mouth-watering combination of flavors and textures, there are numerous tweaks and twists to make each bite suit your personal preference or the available pantry staples. Here are a few delightful variations:
Oatmeal Raisin Cookies: Swap out the classic chocolate chip cookies with chewy oatmeal raisin cookies. The slight cinnamon touch and the natural sweetness of raisins can complement the cookie dough ice cream beautifully.
Minty Freshness: Introduce a refreshing twist by adding four or five drops of peppermint extract to your ice cream mix. This pairs exceptionally well with dark chocolate chips.
Nutty Crunch: Integrate crushed almonds, walnuts, or pecans to the cookie dough ice cream. If you're opting for this, consider using a nutty cookie variant as well.
Fruity Blast: Replace semisweet chocolate chips with dried fruits like cranberries or cherries. A hint of citrus zest in the ice cream can elevate the fruity flavor.
Vegan Delight: Beyond the previously mentioned vegan substitutions, you can try using oat flour or almond flour in your cookies for an extra nutty flavor.
Double Chocolate: For the true chocoholics, use a chocolate ice cream base instead of vanilla. Combine this with double chocolate chip cookies and maybe even throw in some chocolate fudge!
More Yummy Cookie Dough Treats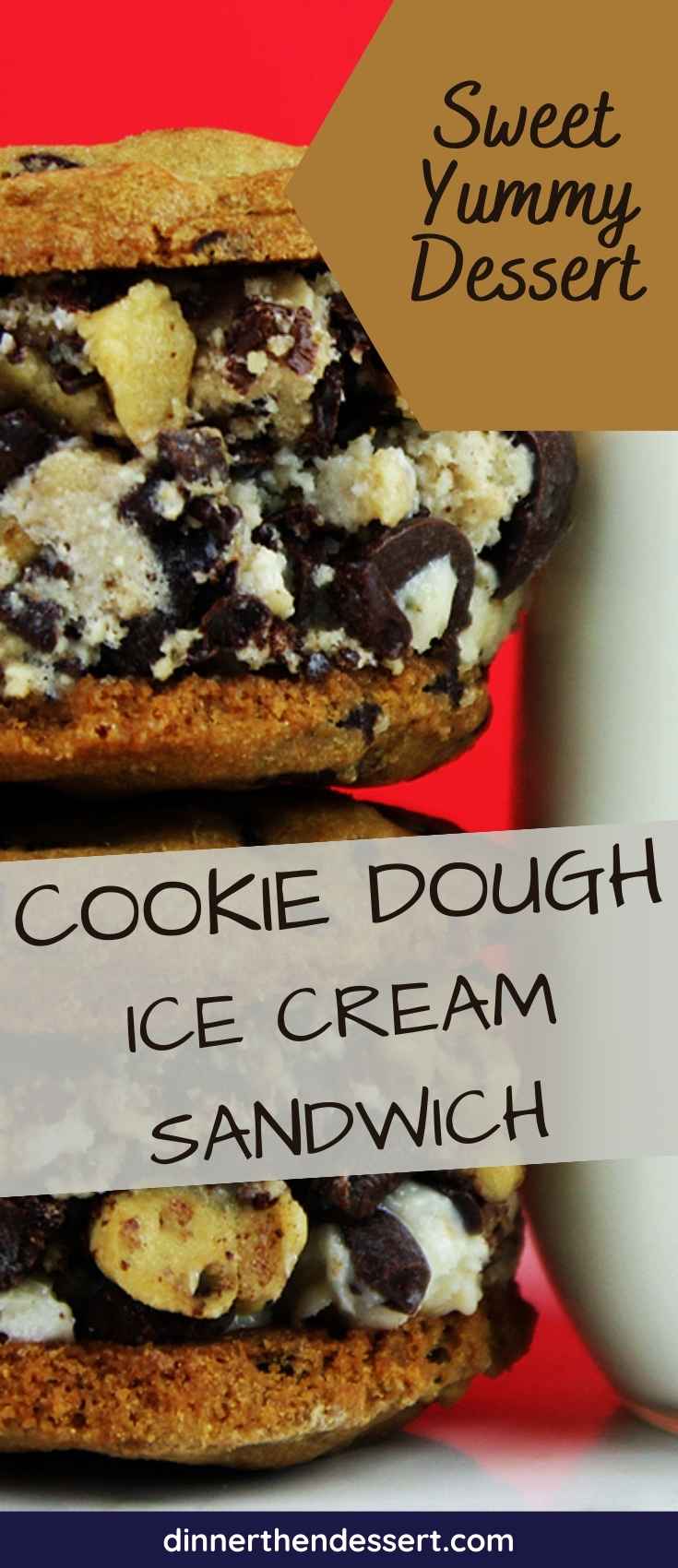 Photos used in previous versions of this post.