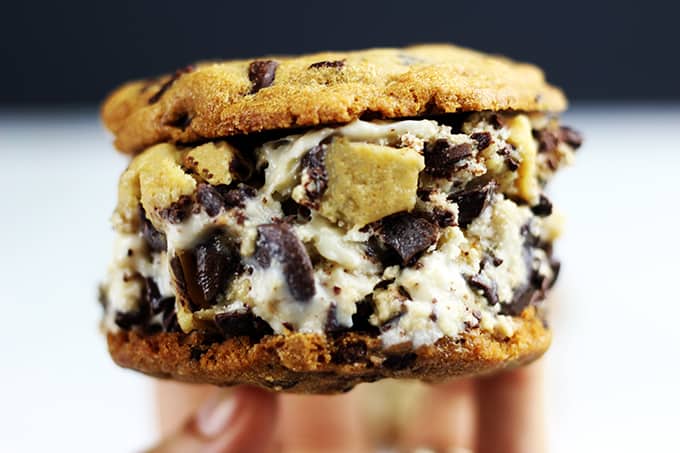 We've had enough savory food for a while so today I am making The Ultimate Cookie Dough Ice Cream Sandwich! What makes it The Ultimate? We start with cookie dough flavored ice cream (yes the ice cream itself is made with melted eggless cookie dough, mixed with large chunks of semisweet chocolate and Eggless Chocolate Chip Cookie Dough. Then we sandwich that delicious ice cream with two of the most amazing Chocolate Chip Cookies you'll ever eat in your life.
Why? Because we were celebrating the end of summer by having a fantastic BBQ and I couldn't think of a better dessert to end the season with! There is also the fact that I have been going through a huge period of nostalgia in my life and these remind me of the chocolate chip cookie ice cream sandwiches I ate as a kid… just you know, kicked up a notch… or 10? Haha. The thing is if you look at the recipe and you are like "oh heck no, I don't have time for that!" then you can make any part of the recipe you want. Just the ice cream or just the cookie dough! The recipe couldn't be any easier either! Yes, it seems like a lot of steps, but they are all so easy to follow along I promise they won't fail you!
For detailed instructions on the Eggless Chocolate Chip Cookie Dough, you can visit that post as well! In a bowl with a mixer or a stand mixer, cream the butter and sugars. until they are noticeably lighter in color and very fluffy. This usually takes a couple of minutes. Add in milk and vanilla and mix for a couple of seconds. Add in flour and salt. *Change to the original recipe here* Take a third of the cookie dough out of the bowl and into a large microwave safe bowl. Mix ⅓ cup chocolate chips into remaining dough. Freeze the cookie dough in a sheet. Take out and cut into small squares for adding into the ice cream.
Melt the cookie dough without the chocolate chips in the microwave on half power for a minute until it gets melty. For detailed instructions on the Vanilla Ice Cream, visit the Classic Drumstick Ice Cream Cones post. Add in 4 cups of half and half, can of sweetened condensed milk and vanilla. Mix well together until mostly combined. Some of the cookie dough may not completely break down, that is totally okay.
Freeze in your ice cream machine according to instructions. Seconds before you are ready to take ice cream out, add the chunks of the eggless cookie dough and ½ cup of chocolate chips into the machine.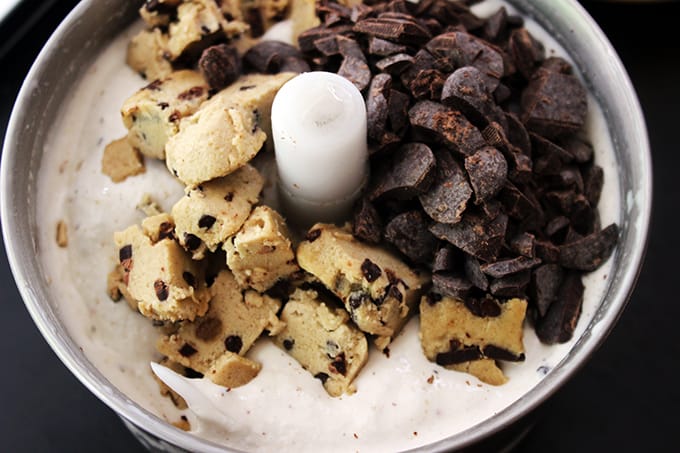 Top completed ice cream with additional chunks of cookie dough and chocolate.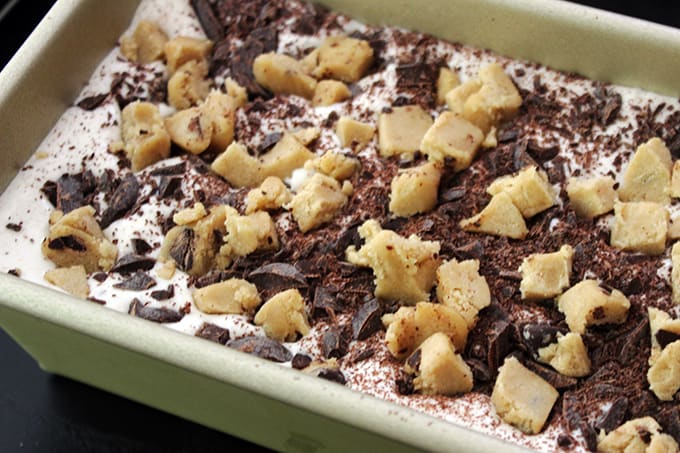 Freeze for 4-6 hours or overnight (recommended). Sandwich between two cookies with ⅓ cup scoop of ice cream with the most delicious Jacques Torres Chocolate Chip Cookies (or your own recipe for Chocolate Chip Cookies).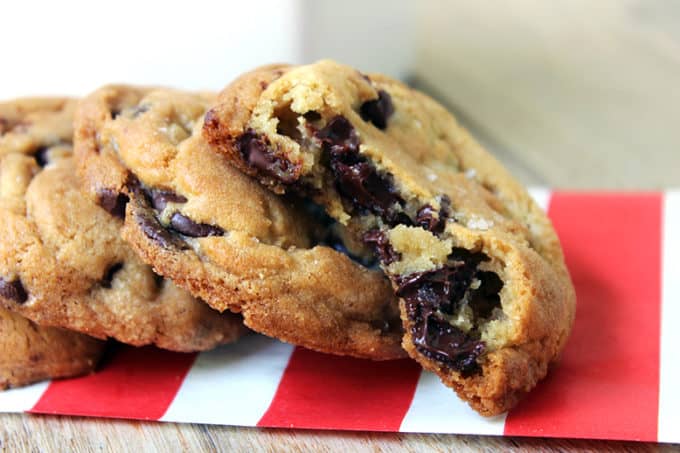 until you end up with these beauties!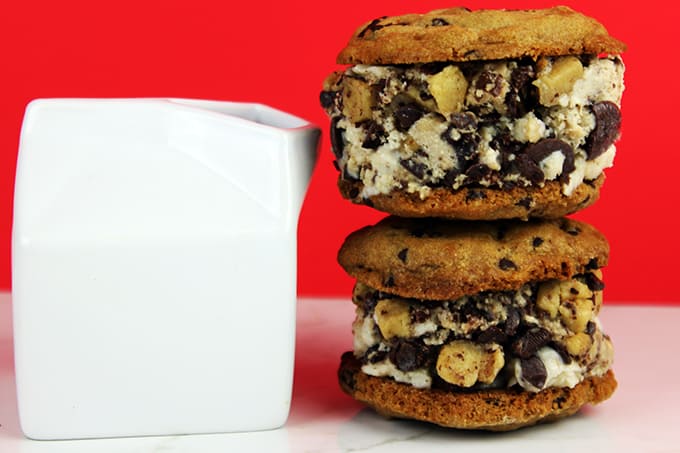 Ingredients
1

stick

softened unsalted butter

2

tbsp

granulated sugar

1/3

cup

packed brown sugar

2

tbsp

milk

1

tsp

vanilla extract

1 1/4

cups

all-purpose flour

1/4

teaspoon

Kosher salt

1 1/3

cup

semisweet chocolate chips or disks

(divided)

4

cups

half-and-half

1

(14 ounce) can

sweetened condensed milk

2

tablespoons

vanilla extract

36

Chocolate Chip Cookies
Instructions
In a bowl with a mixer or a stand mixer, cream the butter and sugars. until they are noticeably lighter in color and very fluffy. This usually takes a couple of minutes.

Add in milk and vanilla and mix for a couple of seconds.

Add in flour and salt.

Take a third of the cookie dough out of the bowl and into a large microwave safe bowl.

Mix ⅓ cup chocolate chips into remaining dough.

Freeze the cookie dough in a sheet. Take out and cut into small squares for adding into the ice cream.

Melt the cookie dough without the chocolate chips in the microwave on half power for a minute until it gets melty.

Add in 4 cups of half and half, can of sweetened condensed milk and vanilla. Mix well together until mostly combined. Some of the cookie dough may not completely break down, that is totally okay.

Freeze in your ice cream machine according to instructions.

seconds before you are ready to take ice cream out, add the chunks of the eggless cookie dough and ½ cup of chocolate chips into the machine. Top the ice cream once your transfer it to a pan with the remaining cookie dough and chocolate chips.

Freeze for

4-6 hours

or overnight (recommended)

Sandwich between two cookies with ⅓ cup scoop of ice cream
Nutrition
Calories:
316
kcal
|
Carbohydrates:
36
g
|
Protein:
4
g
|
Fat:
16
g
|
Saturated Fat:
8
g
|
Cholesterol:
22
mg
|
Sodium:
137
mg
|
Potassium:
204
mg
|
Fiber:
1
g
|
Sugar:
17
g
|
Vitamin A:
195
IU
|
Vitamin C:
0.5
mg
|
Calcium:
71
mg
|
Iron:
1.6
mg