Creamy and cheesy Stouffer's Macaroni and Cheese is pure nostalgic comfort food made easily from scratch in just 30 minutes.
We love Copycat Recipes on the site but we've only scratched the surface of giving you Mac & cheese copycats starting with our Boston Market Mac and Cheese (Copycat).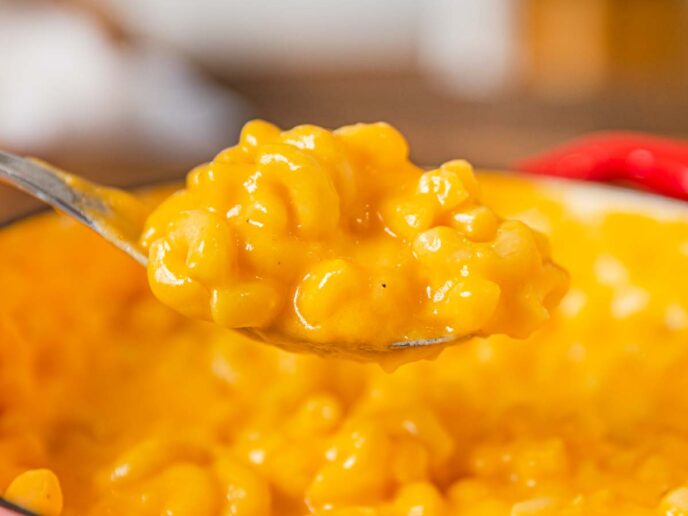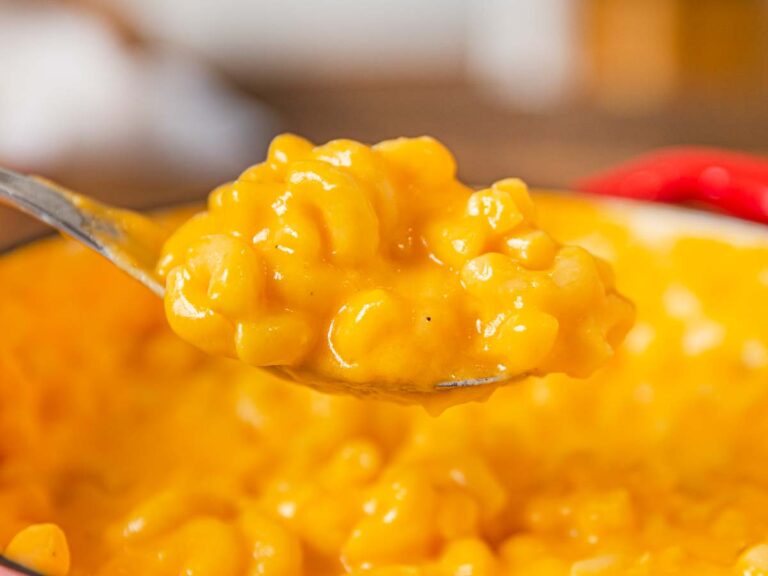 STOUFFER'S MACARONI AND CHEESE
This Stouffer's Mac and cheese is such an All-American classic, we knew it had to be included. The real reason though? All through the holiday season as we were enjoying Home Alone (best holiday movie ever) I would see Kevin make his mac and cheese and sit down to his meal and it made me feel warmth and joy for the holiday season.
There is something about the creamy, cheesy flavors we all grew up with in this recipe. No stringy cheese here, just creamy sauce.
As much as Stouffer's classic macaroni & cheese is easy to grab from the freezer section of your grocery store, toss on a baking sheet and place in the oven, I wanted to give you a made from scratch recipe that still gives you that same delicious flavor.
Most copycat recipes use a canned cheese spread for this Mac and cheese but if you're worried about preservatives, we opted to make a real cheddar cheese sauce. The end result is a creamy, cheesy, with a bit of tang sauce that's totally worth the little bit of extra time it takes to cook it. It doesn't get any better than real cheese!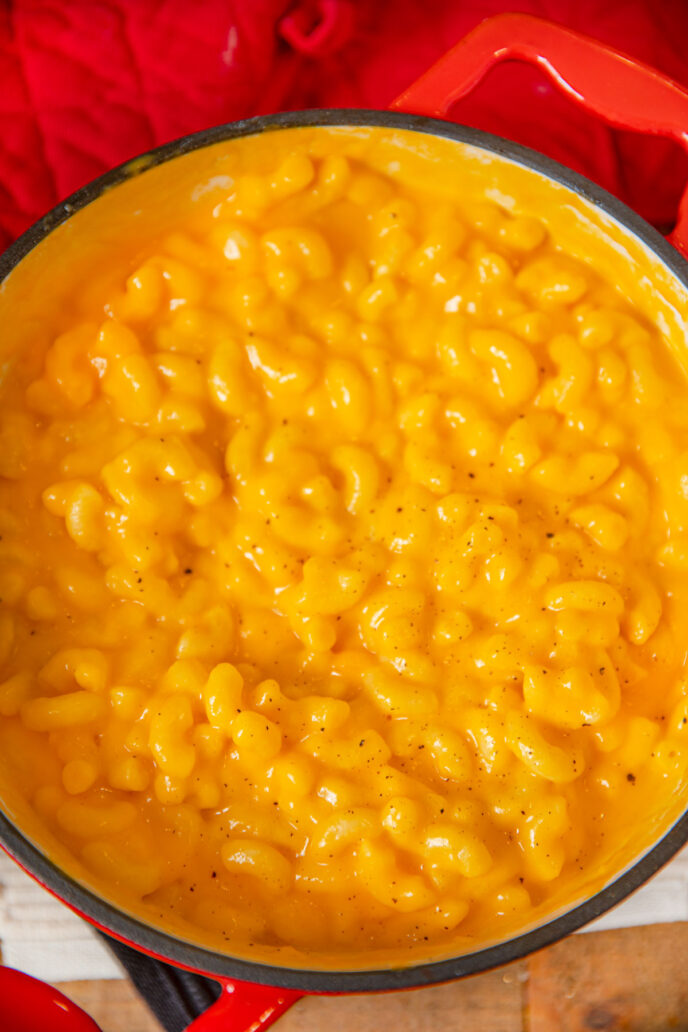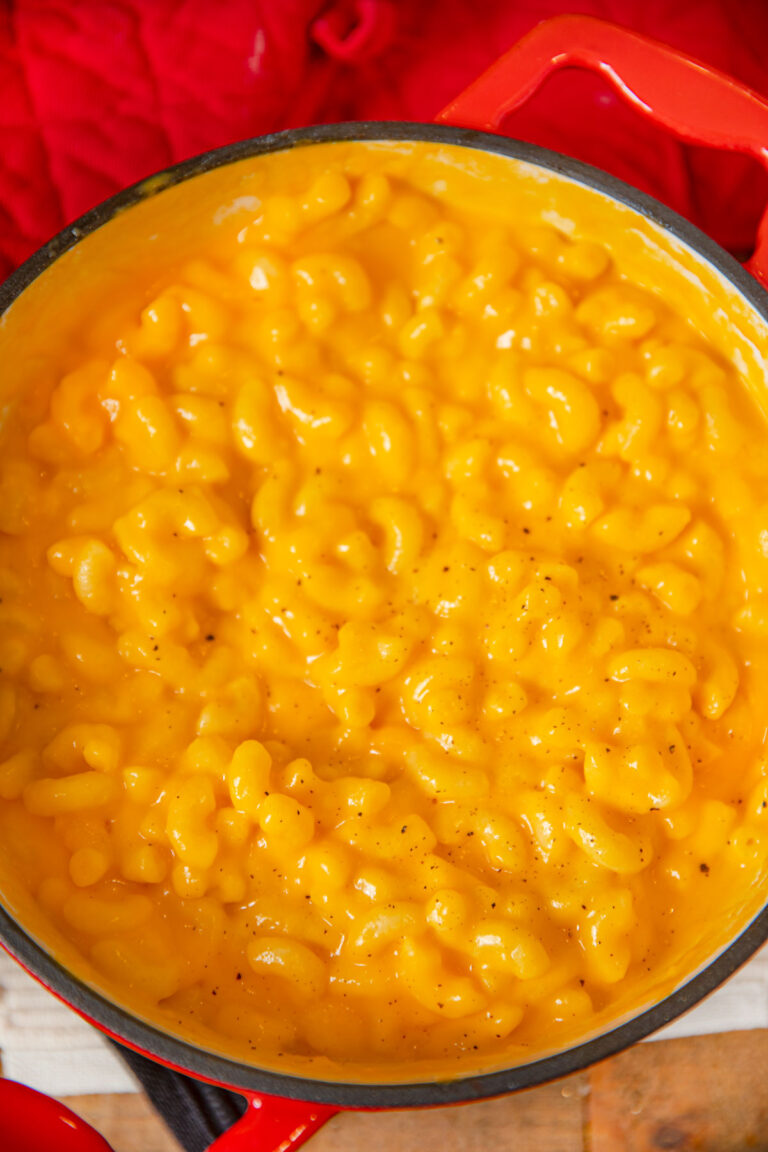 Because there are so few ingredients in this recipe, I like to focus on using quality ingredients. You really want the best of flavors to come through. I also encourage you to shred your own cheese for this macaroni and cheese. Pre-packaged shredded cheese isn't always the easiest to melt smoothly due to the extra additives in the cheese. It can tend to get clumpy and you don't want that.
This Stouffer's Macaroni & Cheese recipe makes enough to be a side dish, but if you want to make this as a family size entree or have it party size, I would suggest doubling the recipe. All of my recipe cards have a slider tool to adjust the ingredients to help you with measurements. You might need to add an additional 10 minutes of cook time.
MORE AWESOME MAC AND CHEESE RECIPES:
HOW TO MAKE STOUFFER'S MACARONI AND CHEESE
Boil Pasta: Cook 8 ounces of elbow pasta according to package directions. Drain and set aside.
Make Sauce: In a medium-size pot over medium heat add butter and flour. Stir continuously while for about 1 minute. The flour paste should become fragrant. Slowly add milk in thirds and stir until it has thickened before adding the next portion of milk. Shred cheese and slowly add the cheese to the milk mixture. Add dry mustard powder and paprika and stir well.
Bake: Stir pasta into cheese sauce and pour into a large 2 quart baking dish. Bake at 350 degrees for 20 minutes.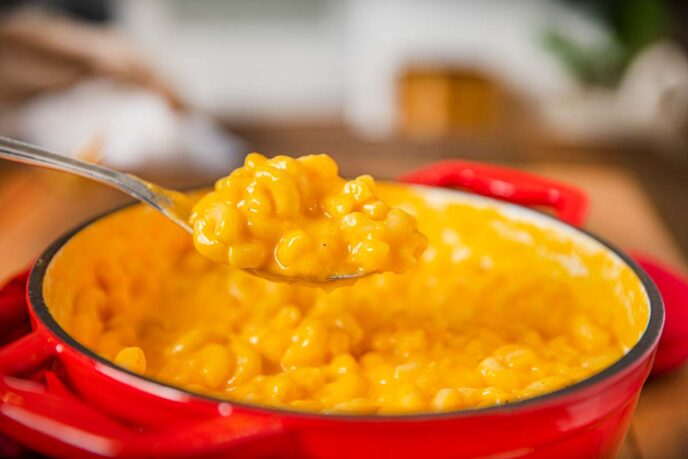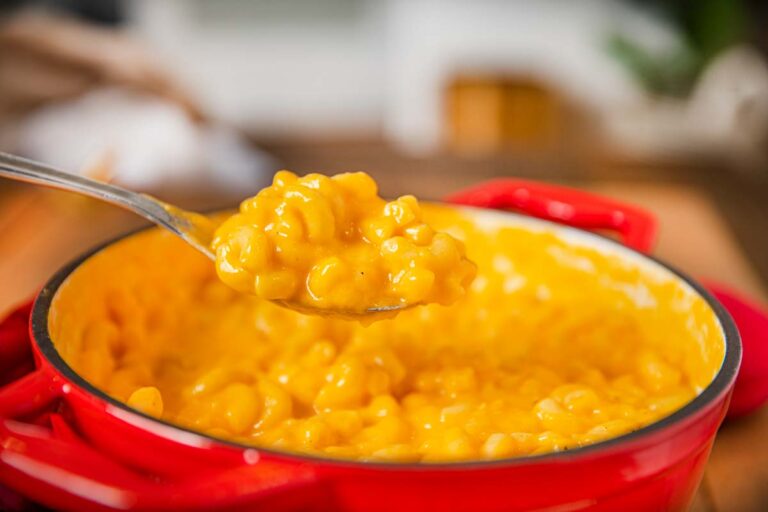 Create a free account to Save Recipes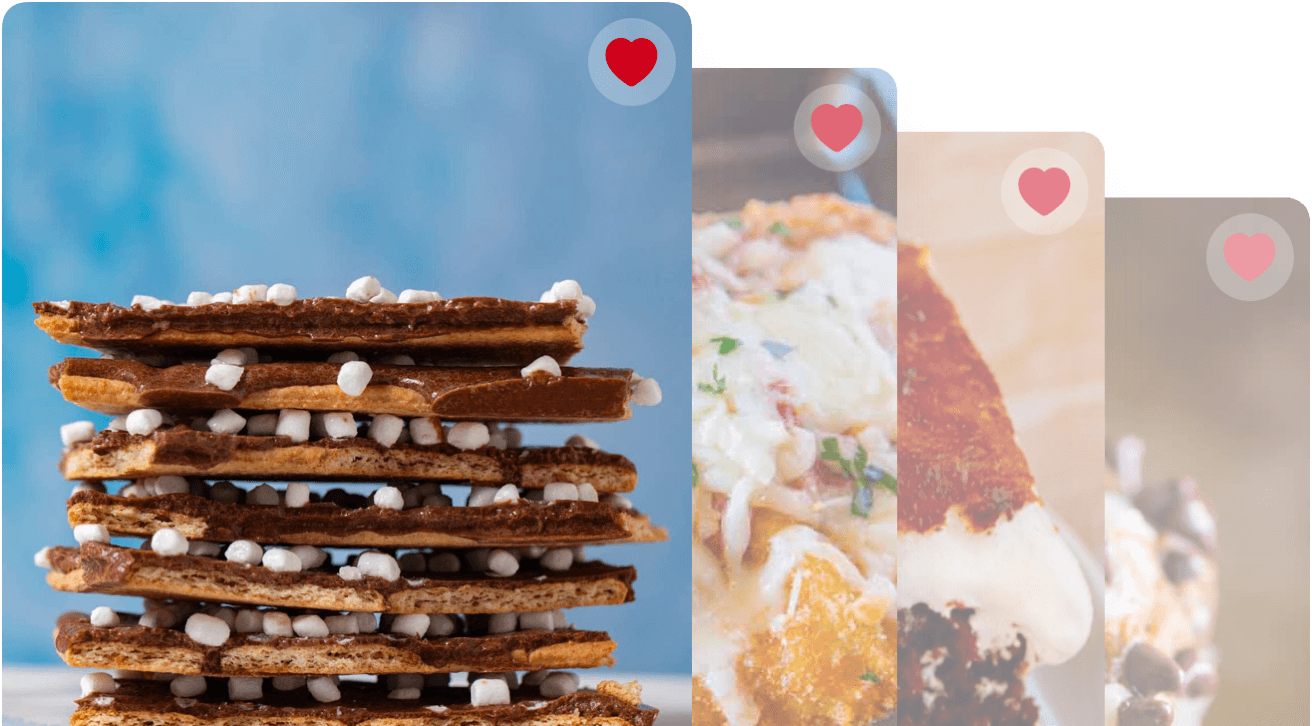 VARIATIONS ON STOUFFER'S MACARONI AND CHEESE
Gluten-Free: Substitute the wheat flour in this recipe with a gluten-free all purpose flour, almond flour, or any other gluten-free substitute. Make sure to use a gluten-free pasta in place of the elbow macaroni.
Cheese: Try using sharp cheddar cheese in the real cheddar cheese sauce for a more pronounced flavor. You could also completely change it by making a White cheddar Mac or Alfredo sauce. Finish with a sprinkle of parmesan cheese.
Pasta: To keep this a true copycat I used elbow macaroni but you can use any type of pasta. Shells and wheel-shaped pasta are just a few suggestions.
Milk: I like using whole milk for this recipe because it has a higher fat content than skim milk which helps with its creaminess.
Origin Story:
Stouffer's originated from a small restaurant offering sandwiches and grew to a small chain of family operated restaurants. After World War II, the family wanted to give the convenience of eating their Stouffer meals at home. They decided to freeze their offerings and soon after opened a small processing plant to help facilitate their dream. Today, Stouffer Foods continues to be a part of Nestle Corp. and is famously known for their lasagna, macaroni and cheese, meatloaf, Salisbury steak and ravioli.
EASY SIDE DISH RECIPES:
More easy side dishes for your dinner table!
HOW TO SERVE AND STORE
Serve: For food safety, don't allow the Mac & cheese to stay out at room temperature for longer than 2 hours.
Store: Store leftovers in a sealed container and keep in the refrigerator for up to 4 days. To reheat, simply place back in the conventional oven, toaster oven or pop in the microwave oven.
Freeze: This dish can be frozen either before or after baking. Make sure to store it in a freezer safe container. It'll last in the freezer for up to 3 months. Make sure to thaw in the refrigerator overnight before baking.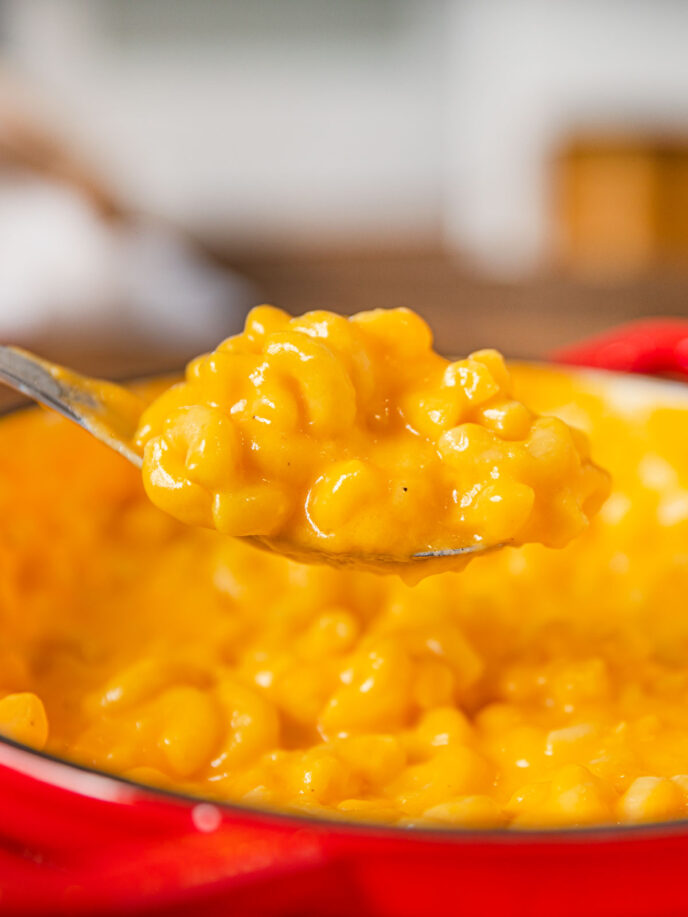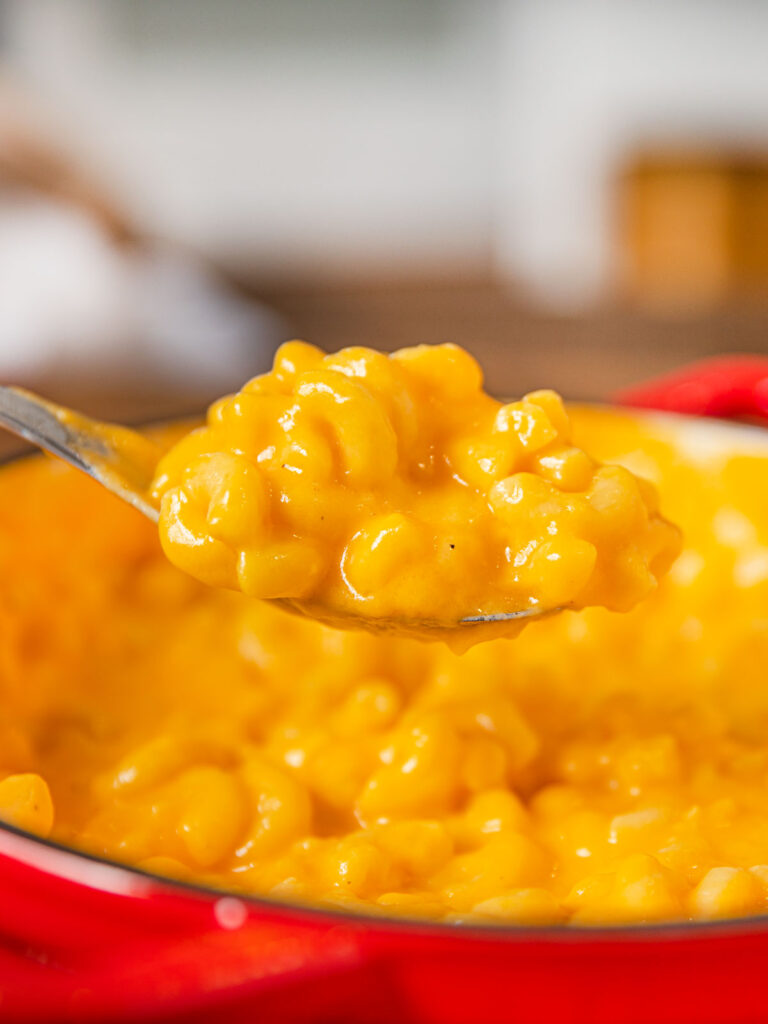 Ingredients
8

ounces

elbow pasta

2

tablespoons

unsalted butter

2

tablespoons

flour

1 1/2

teaspoons

mustard powder

1/2

teaspoon

paprika

2

cups

whole milk

2

cups

Colby Cheese

, shredded

2

cups

Mild Cheddar Cheese

, shredded
Instructions
Cook the pasta according to the directions on the box then rinse and set aside.

Preheat oven to 350 degrees.

In a medium-size pot over medium heat add butter and let melt.

Add in the flour, mustard, and paprika and whisk together for about

1 minute

.

Slowly add milk in thirds and stir until it has thickened (about

2 minutes

between each third) before adding the next portion of milk.

Add in the Colby cheese, whisk until fully melted.

Add in the Mild Cheddar Cheese and whisk until fully melted.

Add the pasta to the cheese sauce, mix well then cover and bake for

20 minutes

(if your pot is not oven safe transfer to a baking dish first).
Nutrition
Calories:
347
kcal
|
Carbohydrates:
14
g
|
Protein:
19
g
|
Fat:
24
g
|
Saturated Fat:
15
g
|
Cholesterol:
71
mg
|
Sodium:
426
mg
|
Potassium:
171
mg
|
Fiber:
1
g
|
Sugar:
4
g
|
Vitamin A:
845
IU
|
Calcium:
505
mg
|
Iron:
1
mg