Bacon Mac and Cheese is a rich and creamy three cheese baked mac and cheese with bacon inside and on top. The perfect holiday side dish!
You already know and love our Baked Mac and Cheese, and while it's hard to beat a classic, adding Bacon just seemed natural. For more tasty popular dishes to serve alongside your main meal, check our Side Dish Recipes.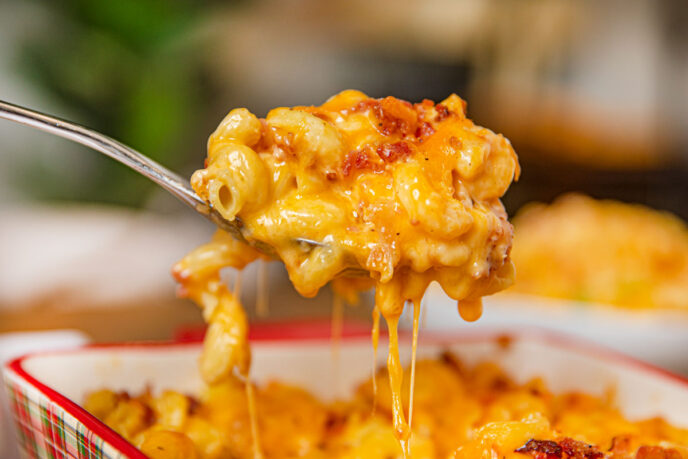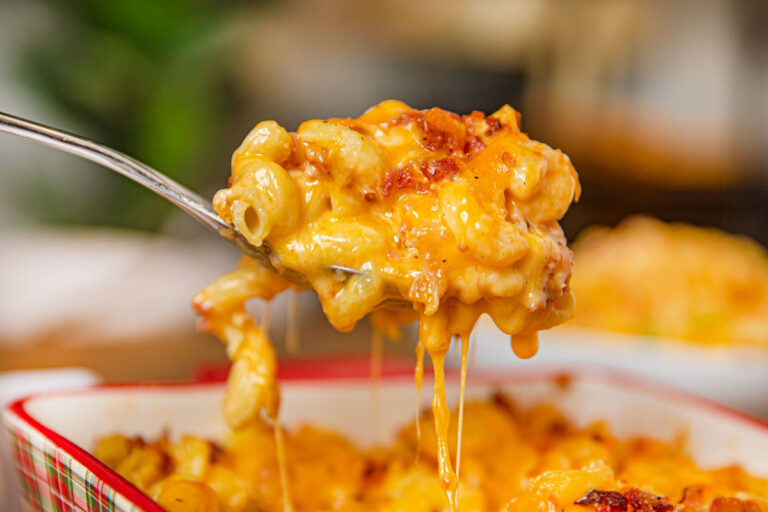 BACON MAC AND CHEESE
Whether it's from a box, a slow cooker, or a casserole dish, there's no doubt about it – Macaroni and Cheese is the ultimate comfort food. There are entire restaurants that center around the cheesy, delicious classic and serve it almost exclusively, that's how much people love their Mac.
We've long perfected Baked Mac and Cheese, but sometimes you want a little more. Sometimes you want to add some crispy, smokey flavor to compliment the sharp cheddar. And the best way we know how is to add a main dish's favorite side kick: bacon!
Our baked Bacon Mac and Cheese is a creamy, decadent dish that isn't just for grown-ups. I can barely keep my oldest out of the kitchen when I've got bacon going in the skillet so it definitely makes their top five side dishes.
A rich, Baked Bacon Mac and Cheese recipe goes great with meaty dishes like Ultimate Pork Loin with a side of Roasted Veggies, to balance out all the cheese sauce and bacon. When it's kid's choice night, Crispy Chicken Tenders are always on the menu with our Mac and Cheese.
Pasta Recipes like this Bacon Mac are great for potlucks because you can assemble them the day before and they reheat so well. You can make our slow cooker version below for even more convenience plus it will keep warm all day as co-workers come back for seconds and thirds.
PERFECT MAIN COURSES TO SERVE WITH BACON MAC AND CHEESE
HOW TO MAKE BACON MAC AND CHEESE
Cook your pasta: I like to cook the pasta as directed then let the pasta sit in the water an additional 10 minutes to soak more liquid. This prevents it from soaking up too much of your cheese sauce.
Prep work: Shred the cheese and cook and crumble your bacon.
Make your Sauce: With some bacon fat still in the pan, add the flour, mustard, cayenne and paprika and whisk together then slowly add in the milk.
Adding Eggs: To add your eggs without cooking them keep 1 cup of the sauce in the fridge for 10 minutes then whisk the eggs into the cooled sauce before adding it back to the pot.
Combine everything: Mix the pasta, sauce and shredded cheese with half of the bacon, then pour into the baking dish.
Bake Time: Bake for 30 minutes, uncovered and in the last 10 minutes top it with the remaining bacon.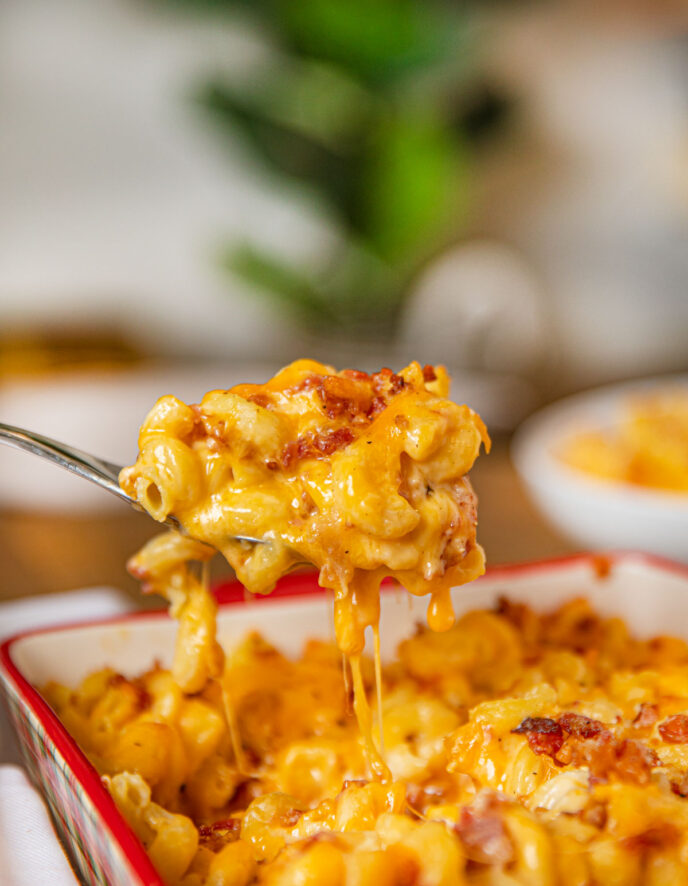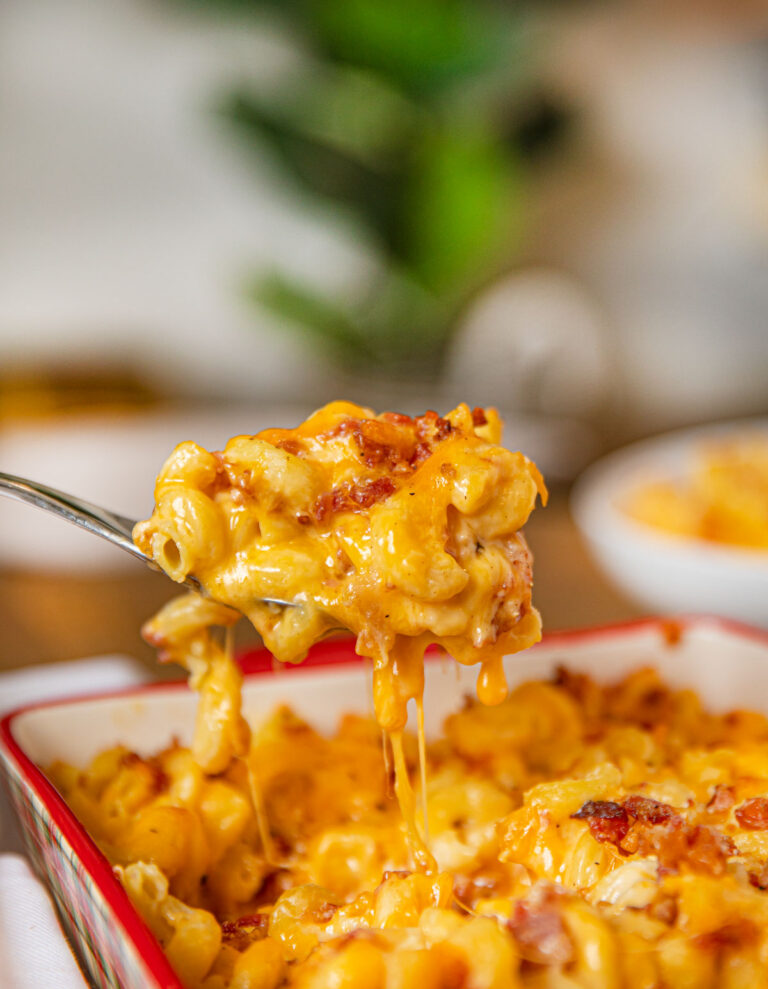 Create a free account to

Save Recipes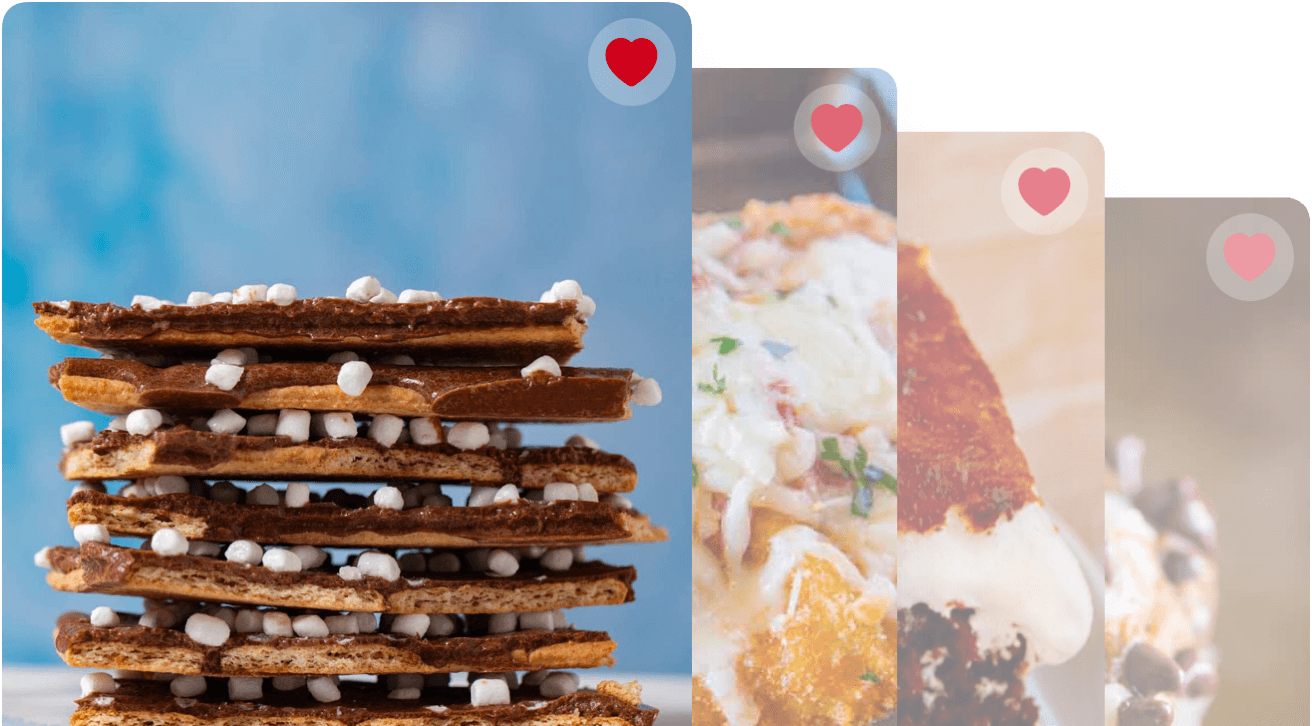 VARIATIONS ON BACON MAC AND CHEESE
Pepperoni Mac: Pepperoni and bacon taste amazing together. Add some mini pepperoni slices to your mac and cheese and top with mozzarella cheese for a pizza spin.
Toppings: Give your Baked Mac and cheese more crunch by sprinkling the top with breadcrumbs, mixed with seasonings and butter, during the last 5-10 minutes of baking.
Bacon Ranch: Make this into mouthwatering Chicken Bacon Ranch Mac and Cheese recipe. Take 2 cups of shredded chicken and 2 tablespoons dry Ranch Dressing Mix and combine in skillet. Add chicken mixture to your pasta before baking.
Pasta: Switch up your pasta by using another small noodle that has curves or hollow centers perfect for catching more of that delicious cheese sauce. We like to use cavatappi, fusilli, or small shells.
MAKE AHEAD BACON MAC AND CHEESE
To make this dish ahead of time, follow recipe until it is time to add to oven. You can store in the freezer, covered in foil for up to 3 months, and in the fridge for up to 4 days. To reheat from frozen, thaw in the fridge overnight and bake as usual.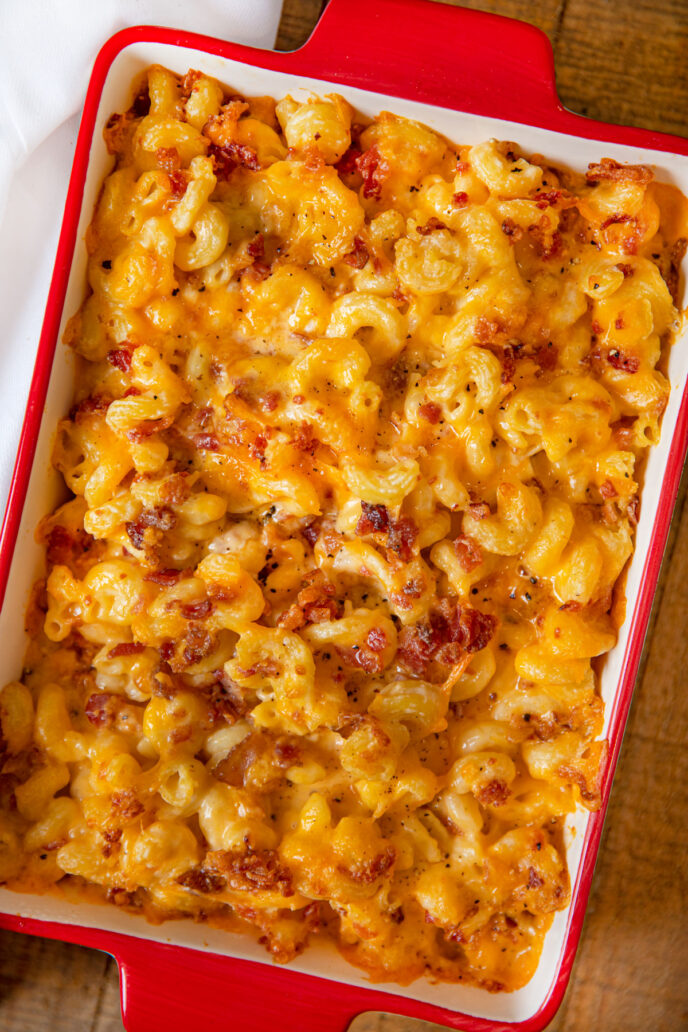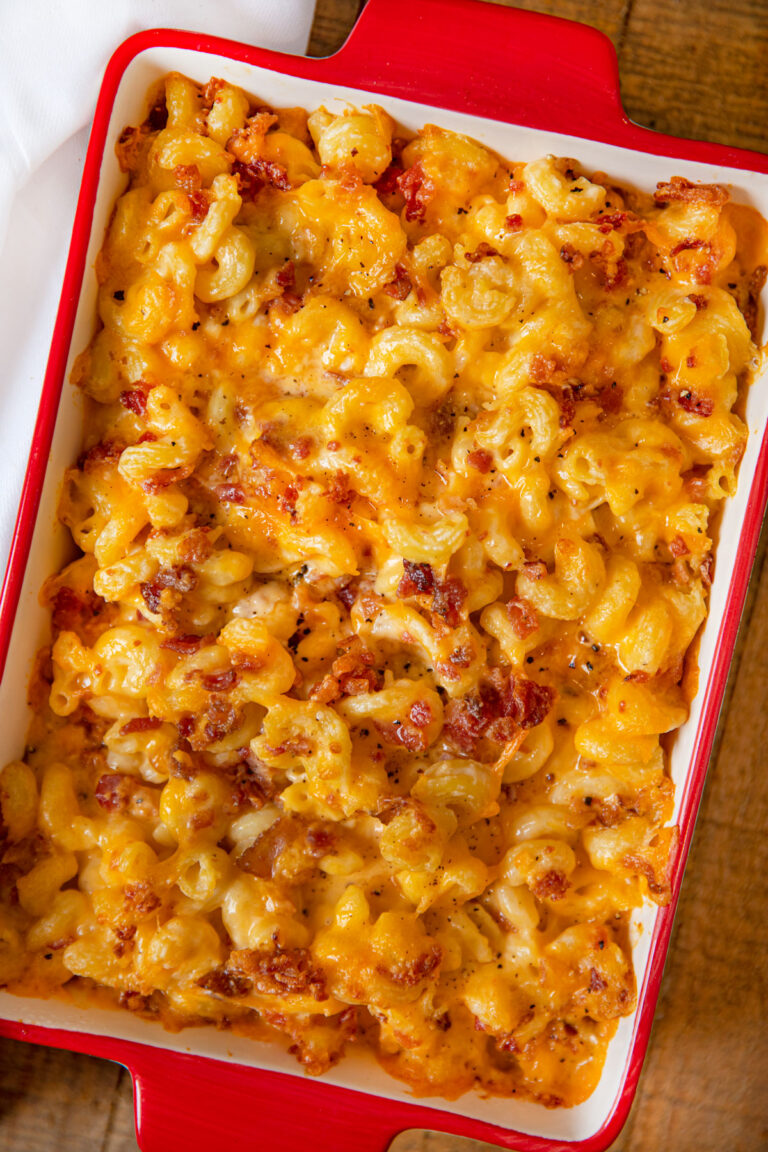 SLOW COOKER BACON MAC AND CHEESE
Reduce milk to 4 cups, add 1 can evaporated milk.
Whisk your eggs, milks, flour and seasonings in your 5-6 qt slow cooker.
Add in uncooked pasta and cheeses, reserve 2 cups cheddar.
Cook on low 3-4 hours, until pasta is tender.
Meanwhile, cook bacon and drain grease.
When pasta is done, stir in half of bacon. Top with remaining cheddar and bacon.
Cover and cook until cheese is melted.
MORE AWESOME MAC AND CHEESE RECIPES:
HOW TO STORE BACON MAC AND CHEESE
Serve: Mac and Cheese is always best served right away. Don't leave out more than 2 hours.
Store: Store leftovers for up to 3 days in a sealed container.
Freeze: Bacon Mac and Cheese can be frozen in an air-tight container for up to 3 months. Thaw overnight before reheating in the oven.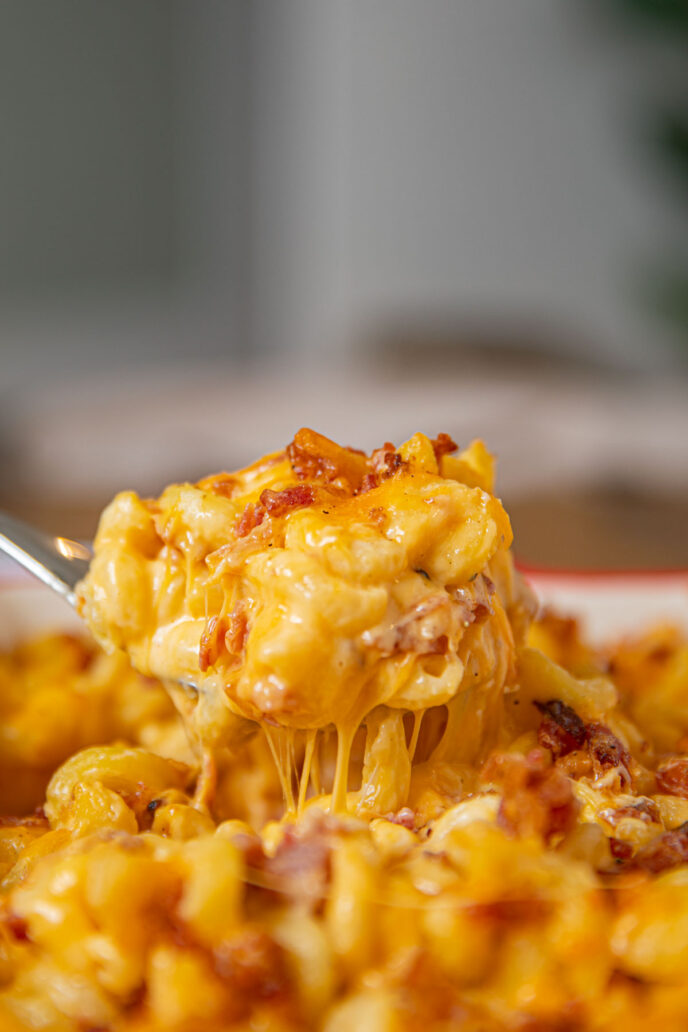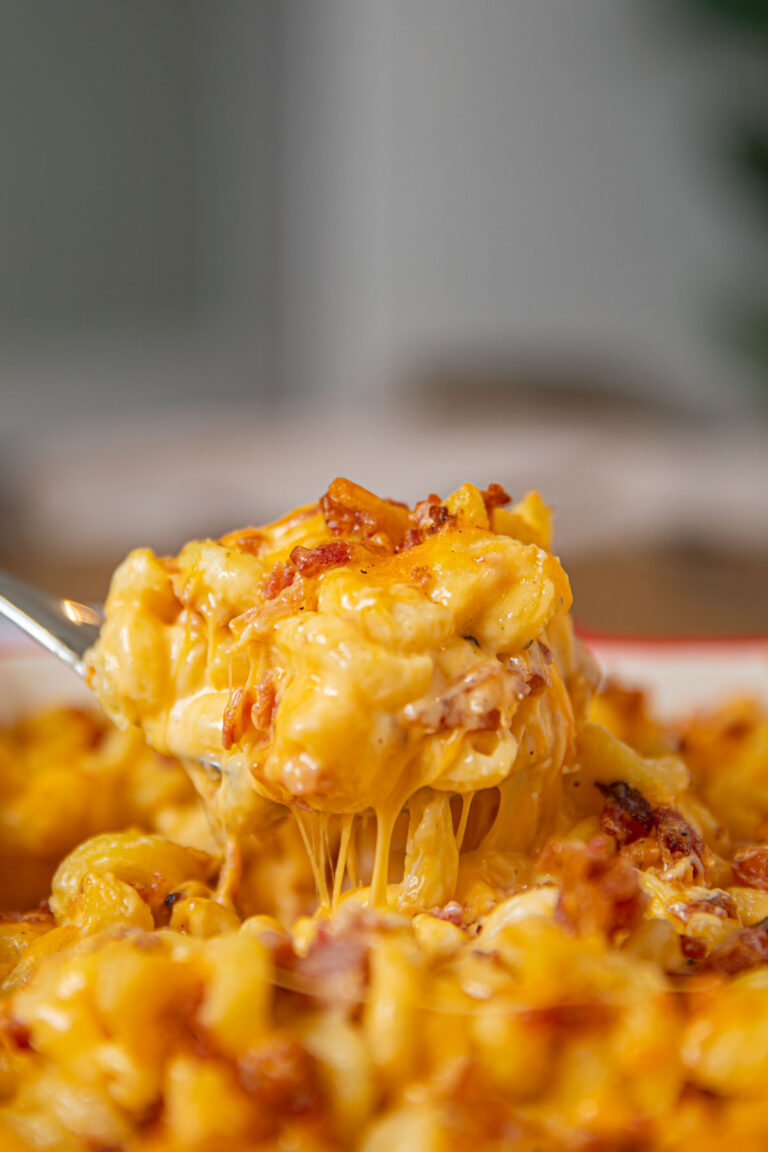 Ingredients
8

ounces

bacon

, cooked and crumbled

1

pound

elbow macaroni

1/2 

cup 

unsalted butter

1/2 

cup 

flour

2 

teaspoons 

powdered mustard

1/2 

teaspoon 

cayenne pepper

1 

teaspoon 

paprika

6

cups 

milk

2

teaspoons

kosher salt

1/2

teaspoon

coarse ground black pepper

1 

large

egg

4 

ounces 

Monterey jack cheese

4 

ounces 

mozzarella

12

ounces

sharp cheddar

, divided
Instructions
Pre-heat the oven to 350 degrees.

Shred the cheeses, keeping 2 cups of the cheddar off to the side for the topping.

Cook the pasta then let it sit in the water an extra 10 minutes (this will help it avoid soaking up the cheese sauce) before draining and rinsing gently.

Place the bacon in a large pan over medium heat. Cook until crispy, about

4-5 minutes.

Remove the bacon from the pan and drain on paper towels.

Leave 2 tablespoons of bacon fat in the pan; discard the rest of the fat.

Add the butter to the pan and melt.

Add the flour, mustard, cayenne and paprika and whisk together until fully combined, cook for an additional

15 seconds

.

Add the milk slowly while whisking to keep the mixture well combined.

Add in the salt and pepper and cook for an additional

5 minutes

.

Turn off the heat.

Remove 1 cup of the milk  mixture and let cool for a

3-5 minutes

in the refrigerator in a larger glass measuring cup or bowl.

Add the egg to the cooled milk and whisk it well until fully combined.

Turn the heat on the pot back on to medium-low.

Slowly pour the egg and milk mixture into the rest of the milk while whisking very well.

Add in the Monterey jack, mozzarella and 1 cup of the sharp cheddar and whisk until combined.

Add the rinsed macaroni and half of the bacon pieces back into the pot and toss with the cheese sauce.

Pour into a 9x13 baking dish and top with the remaining 2 cups of shredded cheddar cheese and bacon.

Bake for

30 minutes

, uncovered.
Nutrition
Calories:
426
kcal
|
Carbohydrates:
31
g
|
Protein:
18
g
|
Fat:
26
g
|
Saturated Fat:
13
g
|
Cholesterol:
74
mg
|
Sodium:
651
mg
|
Potassium:
279
mg
|
Fiber:
1
g
|
Sugar:
5
g
|
Vitamin A:
859
IU
|
Vitamin C:
1
mg
|
Calcium:
345
mg
|
Iron:
1
mg