KFC Mac and Cheese is an indulgent creamy cheddar side that pairs perfectly with crispy chicken. Includes how to make it into a KFC Mac and Cheese Bowl!
Skip the drive-thru lines by making popular fast food Copycat Recipes at home whenever a craving hits. Make your own Family Bucket meal by paring this KFC Mac and Cheese with our KFC Original Chicken and KFC Coleslaw copycats.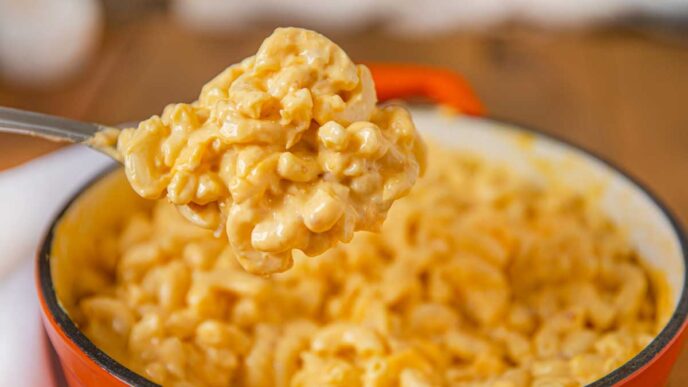 KFC MAC AND CHEESE
This past summer, Kentucky Fried Chicken decided to take it's well loved side dish, Mac and Cheese, and turn it into a Famous Bowl. That's right, they said how can we make this better? Make it an entree!
Because this new Mac was only briefly offered, we knew it was time to master KFC's Mac. Not only so we can pair with copycat Fried Chicken whenever we want, but also to recreate these limited time only Famous Bowls.
First though, let's take a minute to gush about the delicious, creamy cheese sauce that is the key to KFC Mac and Cheese. It's absolutely mind-blowing that a dish this cheesy and flavorful could come from a fast food chain. Yet here it is.
While we certainly love other favorite side dishes like mashed potatoes, and will definitely copycat them in the future, there's something about Mac and cheese that makes getting a classic fried chicken bucket meal more of a splurge.
MORE FRIED CHICKEN RECIPES
This Mac and cheese has a slightly tangy, sharp cheddar sauce gets soaked up into the tender jumbo elbow noodles. When you bite into the macaroni, you get bursts of hidden creamy cheddar that you never want to stop.
Who among us hasn't scraped the container to get every last drop of this thick and rich cheesy goodness?
Now that your (hopefully) convinced that it's a must have side dish, you can understand why KFC would take this masterpiece and kick it to the next level by topping with crispy popcorn chicken and even more cheese.
Since Mac and cheese bowls were limited time only, and we don't know if they will ever be back, we've got instructions to make both the regular and spicy versions. If they disappeared off the menu before you got to try one, you no longer have to wonder what you missed out on!
Drop a comment below of more limited edition or lifetime classic KFC Menu Copycats you'd like to see. KFC is one of my favorite fast food places to recreate copycats for.
MORE POPULAR RESTAURANT COPYCAT DISHES:
HOW TO MAKE KFC MAC AND CHEESE
Cook the elbow macaroni for 18 minutes then drain.
Add in the milk, milk powder, mustard powder, cornstarch and salt until the milk is warm, stirring gently.
Add in the Velveeta and cheddar cheese until smooth and creamy, mixing gently, then serve immediately.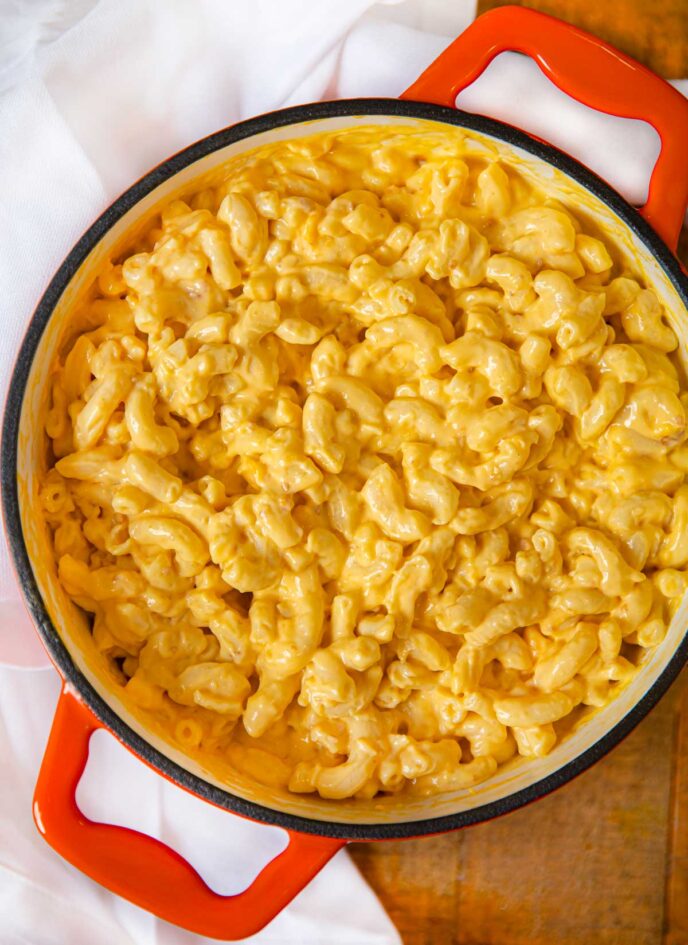 Create a free account to

Save Recipes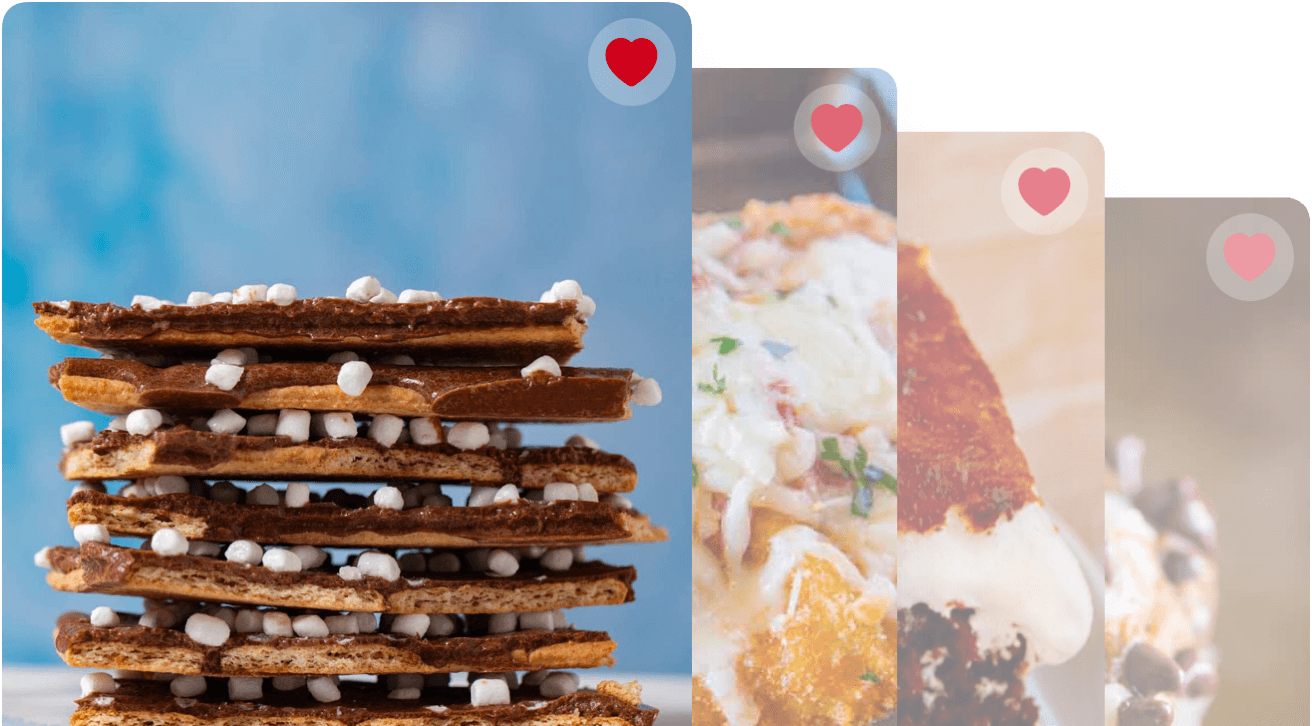 HOW TO MAKE KFC MAC AND CHEESE FAMOUS BOWLS
So, these cheese bowls are super easy to make, literally just 2-3 toppings depending if you make the regular or spicy versions. It really comes down to what ingredients you use in order to get the taste spot on.
Popcorn Chicken: The chicken that KFC uses on top their Famous Bowls, including the ones with mashed potatoes, is their popcorn chicken. Little chicken bites with thick crunchy breading. We don't have a copycat (yet) but we suggest the Tyson frozen brand for the closest version until we do.
3 Cheese Blend: The 3 cheese blend in the Mac and Cheese Famous Bowls is a blend of equal parts Low Moisture Mozzarella, Mild Cheddar Cheese, and Monterey Jack Cheese.
Spicy Mac: To make the Spicy Famous Bowl, you will need to make a Nashville Hot Sauce and drizzle it generously. Nashville Hot Sauce is a spicy sweet hot sauce filled with more spices than your traditional hot wing sauce.
Make it a Combo: If you want to make this into a full Fill Up meal, for much less, serve your Mac and Cheese Famous Bowls with a Chocolate Chip Cookie and a drink.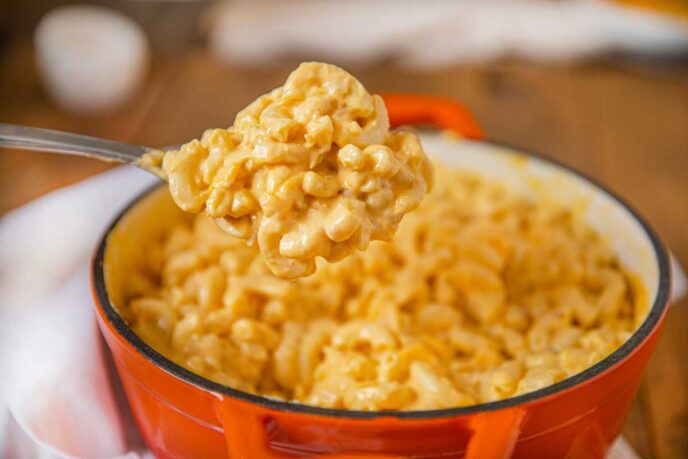 HOW TO MAKE NASHVILLE HOT SAUCE
3 Tbsp. cayenne pepper
1 Tbsp. dark brown sugar
1 tsp. paprika
½ tsp. garlic salt
½ cup vegetable oil (the kind used for frying)
Whisk all ingredients and pour over your Mac and Cheese Bowls. You can also use this on fried chicken and make into a Nashville Hot Chicken Sandwich.
FUN FACTS ABOUT KENTUCKY FRIED CHICKEN
Not So Kentucky Fried Chicken: Although KFC was founded as Sanders Court & Cafe in Corbin, Kentucky in 1930, the first franchise location was opened in Salt Lake City, over 20 years later.
Do the Dew: Mountain Dew made a special flavor specifically for drinking with the Colonel's Original Recipe. The Sweet Lightening flavor is a peach and honey blend, which sounds like the definition of southern flair in soda form.
Bucket of Facts: Before 1957, you would not be able pick up a KFC Bucket Meal. Created by one of the first franchisees, the same one that would coin "Finger Lickin' Good", the first bucket was 14 pieces of chicken, 5 rolls, and a pint of gravy.
MORE POPULAR COPYCAT RECIPES:
HOW TO STORE KFC MAC AND CHEESE
Serve: This dish is best served immediately. It can sit out for up to 2 hours, but the sooner it's eaten, the better.
Store: You can store this Mac and Cheese up to 4 days. Add a bit of milk, a tablespoon at a time, when reheating to get some creaminess back.
Freeze: You shouldn't freeze this. The sauce will separate and the noodles will become gummy when defrosted.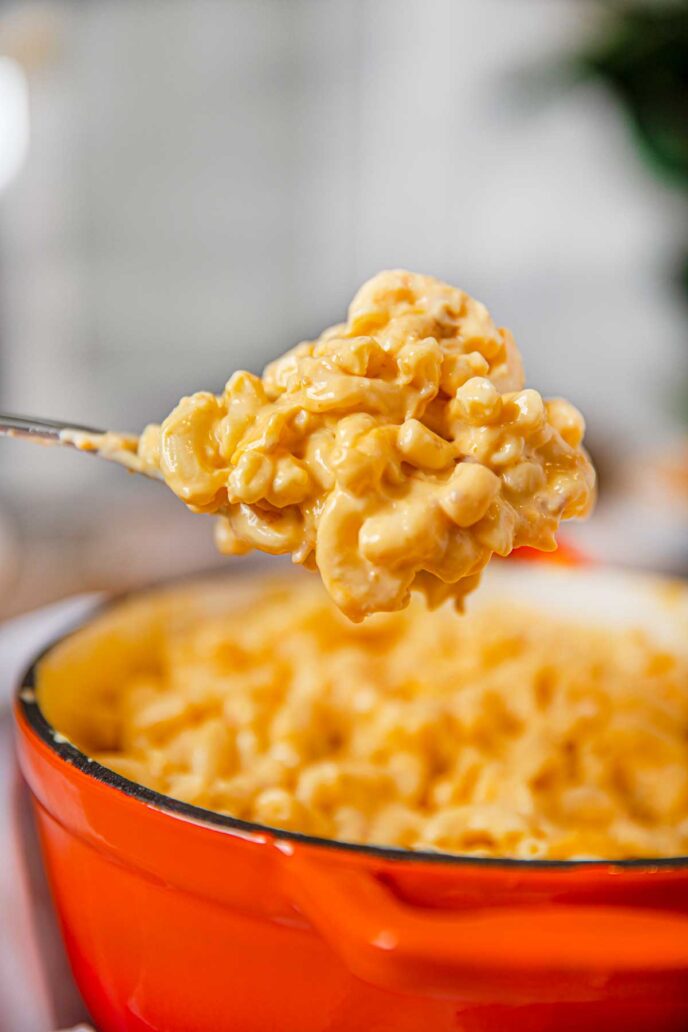 Ingredients
1

pound

large elbow macaroni

2 1/2

cups

whole milk

2

tablespoons

nonfat dry milk powder

1

teaspoon

mustard powder

1

teaspoon

cornstarch

1/4

teaspoon

Kosher salt

24

ounces

Velveeta cheese

8

ounces

cheddar cheese

, cut into 1" cubes
Instructions
Cook the elbow macaroni for

18 minutes

(this is longer than directed on purpose to keep sauce creamier).

Drain pasta, then to the pot with the pasta add in the milk, milk powder, mustard powder, cornstarch and salt until the milk is warm, stirring gently.

Add in the Velveeta and cheddar cheese until smooth and creamy, mixing gently, then serve immediately.
Nutrition
Calories:
326
kcal
|
Carbohydrates:
38
g
|
Protein:
20
g
|
Fat:
10
g
|
Saturated Fat:
6
g
|
Cholesterol:
35
mg
|
Sodium:
1034
mg
|
Potassium:
383
mg
|
Fiber:
1
g
|
Sugar:
9
g
|
Vitamin A:
772
IU
|
Calcium:
473
mg
|
Iron:
1
mg