Velveeta Mac and Cheese is the ultimate creamy, cheesy comfort food that is sure to be a hit with your entire family!
It's no secret that our readers love Mac and Cheese. Taking a look at this blog, you'll find Stovetop Mac and Cheese, Baked Mac and Cheese, Bacon Mac and Cheese, and even Flamin' Hot Cheetos Mac and Cheese. However, one version not shared yet is this Velveeta Mac and Cheese. It's similar to the packaged Velveeta Mac but so much fresher and even more delicious. It's an amazing Side Dish or Main Course.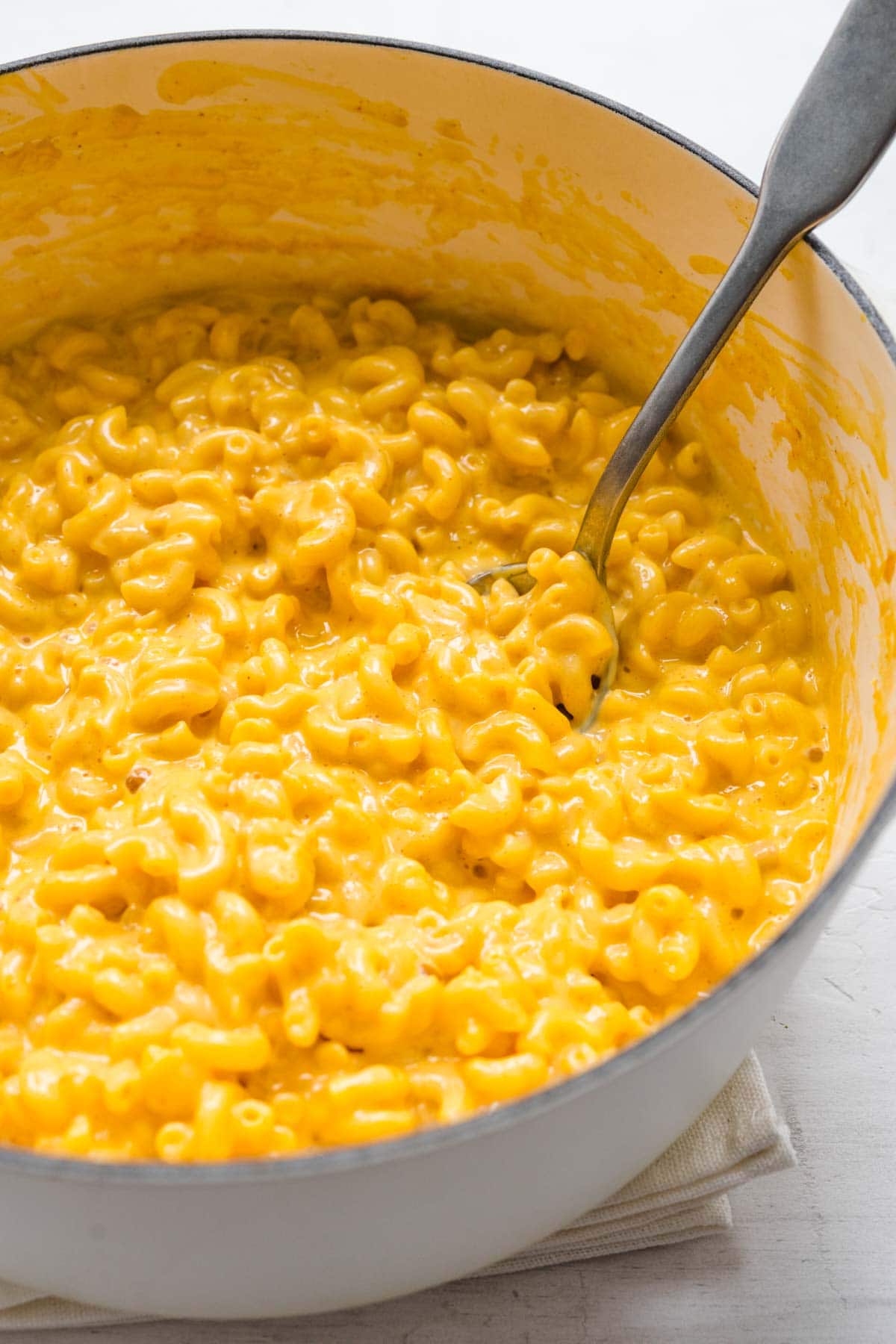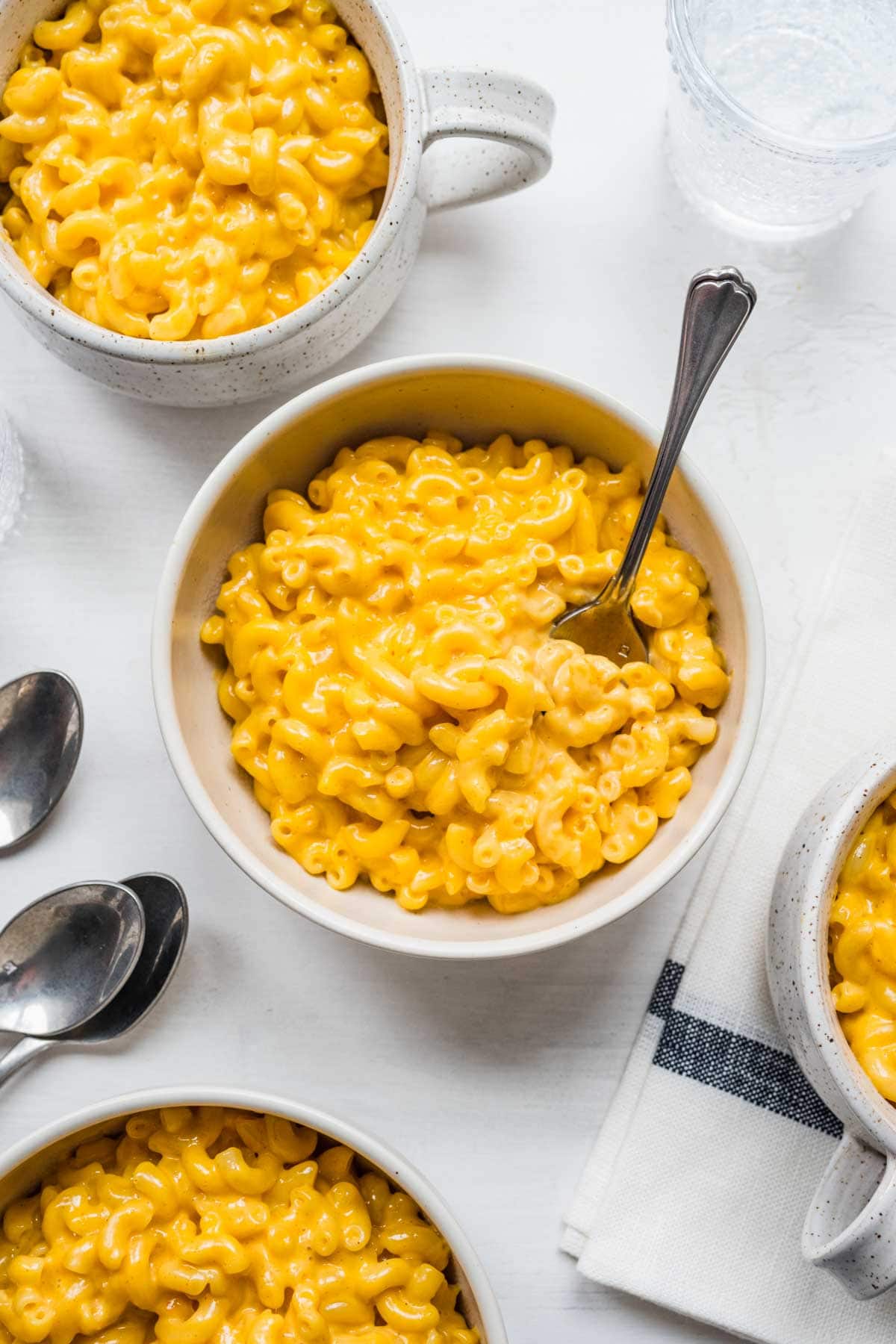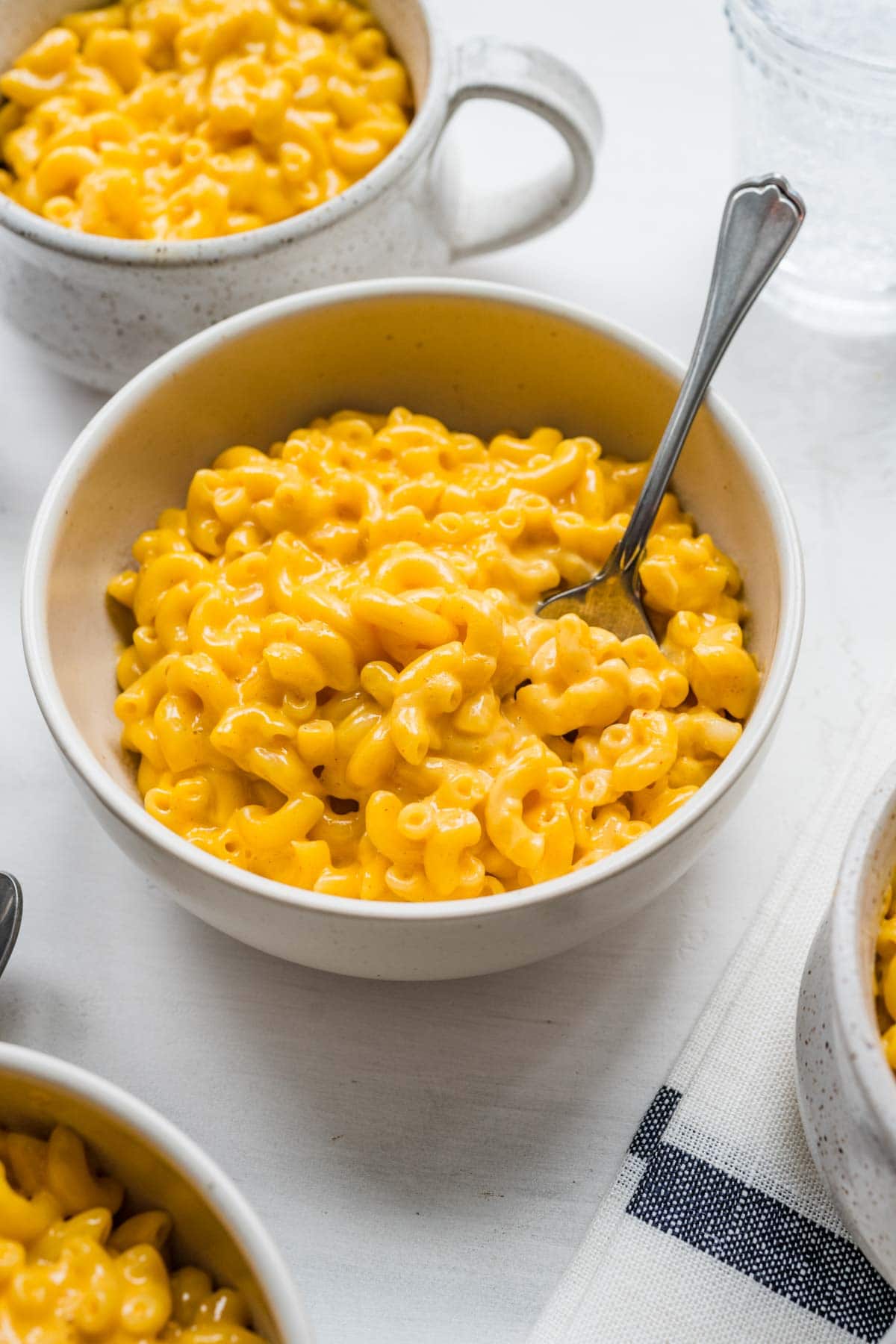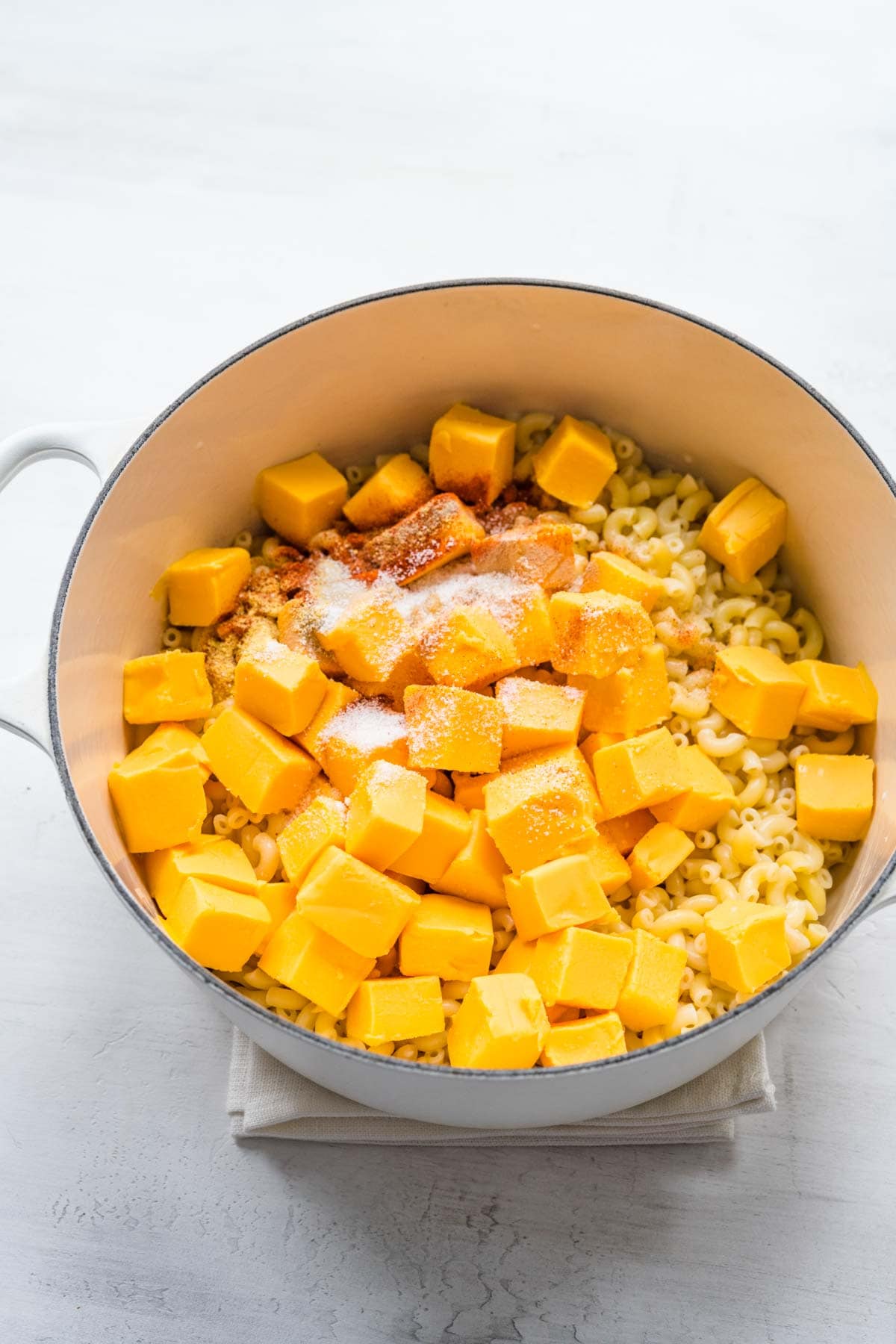 About Our Velveeta Mac & Cheese Recipe
Boxed Mac and Cheese is a dorm food staple. This homemade classic recipe elevates the Mac and Cheese meal to something everyone can enjoy. Instead of squeezing premade cheese from a cheese sauce pouch, prepare homemade cheese sauce with milk, cubed cheese, and delicious seasonings. You'll love the creamy texture and amazing flavor.
This dish has quickly become a family favorite recipe for so many. It's great for a busy weeknight dinner because you can make the pasta and creamy cheese sauce in under 20 minutes. Then serve it as-is or add breadcrumbs, bacon, or other toppings of your choosing to dress up the simple dish. This Velveeta version of Mac and Cheese might just become your favorite recipe too!
"Can Velveeta Mac and Cheese be made ahead?"
Yes, you make your Velveeta Mac and Cheese ahead of time. Just prepare the recipe in its entirety, and leave it out to let it cool. Cover it up and place it in the refrigerator. Reheat it over the stove to return it to that creamy texture. Add a splash of milk as needed, if your sauce is too thick or sticky.
Velveeta Mac & Cheese Ingredients
1 pound Pasta: Elbow macaroni is used for this recipe. When you first cook that pasta, make sure you stop boiling a little before you usually would. That way, they won't be too soft. The pasta will continue to cook in the cheese sauce later, so you'll have perfectly tender noodles in the finished Velveeta Mac and Cheese dish.
2/3 cup Milk: The whole milk mixes with the melted cheese to make an easy, creamy sauce with a rich taste.
24 ounces Veleeta Cheese: You'll notice there is no shredded cheese in this recipe. Using only cubed Velveeta cheese is the way to get that classic Velveeta texture and flavor. The cheese melts into the perfect velvety texture to coat the pasta.
Seasonings: Finish the velvety cheese sauce with 1 teaspoon kosher salt, and ½ teaspoon each of white pepper, ground mustard, and paprika for extra flavor.
Kitchen Tools & Equipment
Kitchen Knife: You won't need a cheese grater, but you will need a knife to cut the Velveeta into cubes. Use a long kitchen knife for fast, accurate cuts.
Large Pot: Grab your favorite pot for boiling pasta. Make sure it has plenty of room for the pasta and lots of water, without bubbling over once it starts boiling.
Large Spoon: Use a long handle spoon to stir your pasta to ensure it isn't sticking together in the pan. The spoon just needs to be as long as the pot is tall, plus some extra so there is room for you hands.
Cup: You'll need a cup that can hold hot pasta water fresh from the pot. A ceramic cup or glass cup will work for this.
Strainer: Use a strainer that can hold 1 pound of pasta, which is typically 1 full box or 1 bag of pasta.
Teaspoon Measure: A teaspoon measure will be necessary to measure the seasonings in your Velveeta sauce.
How to Make Velveeta Mac & Cheese
Time needed: 15 minutes.
Prep Time

Take out a block of Velveeta cheese, and cut the Velveeta into cubes. Set the cheese chunks to the side until you're ready to add them to the recipe.

Cook Pasta

Bring a large pot of water to a boil, then add the uncooked macaroni noodles. Continue the cooking time until 1 minute shy of the box instructions, then remove from heat. Reserve 1 cup of pasta water and set it to the side in case you need to thin the macaroni and cheese later. Then drain the cooked macaroni without rinsing. Add the cooked pasta back to the pot.

Cheese Sauce

Turn the stovetop to medium heat. Then add the milk, cubed cheese, kosher salt, white pepper, dry mustard powder, and paprika over the cooked macaroni.

Simmer

Bring the cheese mixture to a simmer, and continue the cook time until it thickens. If the cheese sauce thickens too much, add ¼ cup of reserved pasta water. Keep over heat until cheese sauce is done. Then serve Velveeta Mac and Cheese.
Nutritional Facts
Nutrition Facts
Velveeta Mac and Cheese
Amount Per Serving
Calories 330
Calories from Fat 72
% Daily Value*
Fat 8g12%
Cholesterol 31mg10%
Sodium 1321mg57%
Potassium 363mg10%
Carbohydrates 43g14%
Protein 20g40%
Vitamin A 744IU15%
Vitamin C 0.1mg0%
Calcium 421mg42%
Iron 1mg6%
* Percent Daily Values are based on a 2000 calorie diet.
What to Pair With Velveeta Mac & Cheese
The cheesy goodness of Velveeta Mac and Cheese makes an excellent side dish to go with a comforting meal. You can set this out as a Holiday side dish and it will be a hit. You will love serving it with your favorite crispy chicken recipes. The tender pasta and creamy cheese sauce pair perfectly with Fried Chicken or Crispy Chicken Tenders.
This recipe also pairs really well with barbecue. Include Velveeta Mac and Cheese for your next cookout. You can also create a barbecue in your kitchen with Oven Baked Barbecue Ribs, or Shredded Barbecue Chicken that you can serve by itself or on sandwiches. Bring in some Baked Beans, and Cole Slaw to go with it and you have a perfect barbecue meal!
How to Store Velveeta Mac & Cheese
Serve: After cooking Velveeta Mac and Cheese, don't leave it out at room temperature for more than 2 hours.
Store: To keep Mac and cheese for later, you can cover the dish in plastic wrap or transfer it to an air-tight container. Leftovers can stay good in the fridge for 3-5 days. Reheat in the microwave or over the stove, stirring frequently. Add a dash of milk if your reheated mac and cheese is too thick.
Freeze: You can also freeze the recipe for 1-2 months.
Ideas to Serve Velveeta Mac & Cheese
Spoon your Velveeta Mac and Cheese into a serving dish, a baking dish, or a large bowl when ready to serve. You can also place it into a slow cooker on the warm setting to keep it warm at a party. If you're going for a different look, take out small ramekins and spoon the Velveeta Mac into individual ramekin servings for your guests. You could also serve in small plastic bowls if you're serving to kids, or just want to guarantee nothing gets broken.
If you like the look and flavor, you can sprinkle a dash of paprika over the top of Velveeta Mac and Cheese to give it a more sophisticated appearance. This works well whether you serve it in a serving dish or in a ramekin. A small sprinkling of fresh ground black pepper would also add a little extra to the dish, if you prefer that.
FAQs for Velveeta Mac & Cheese
Can you freeze Mac and Cheese?
Yes, you may be surprised, but you can quite easily freeze this classic comfort food meal. Store the Mac and Cheese in an airtight container and make sure it's carefully sealed. Then it can stay good for 1-2 months. Reheat it on the stovetop or in a casserole dish in the oven when you're ready to serve.
Why is my Mac and Cheese turning out grainy?
The main reason your Mac and Cheese recipe may become grainy is if the cheese curdles. Because of the dairy products in cheese, it is possible for it to curdle while you're making the recipe. To keep your Mac and Cheese creamy, try turning down the heat. If the heat is too high, the fat and milk can cook out, leaving the cheese grainy. Keep the temperature low, and if you notice it getting grainy, add a little bit of butter to the sauce.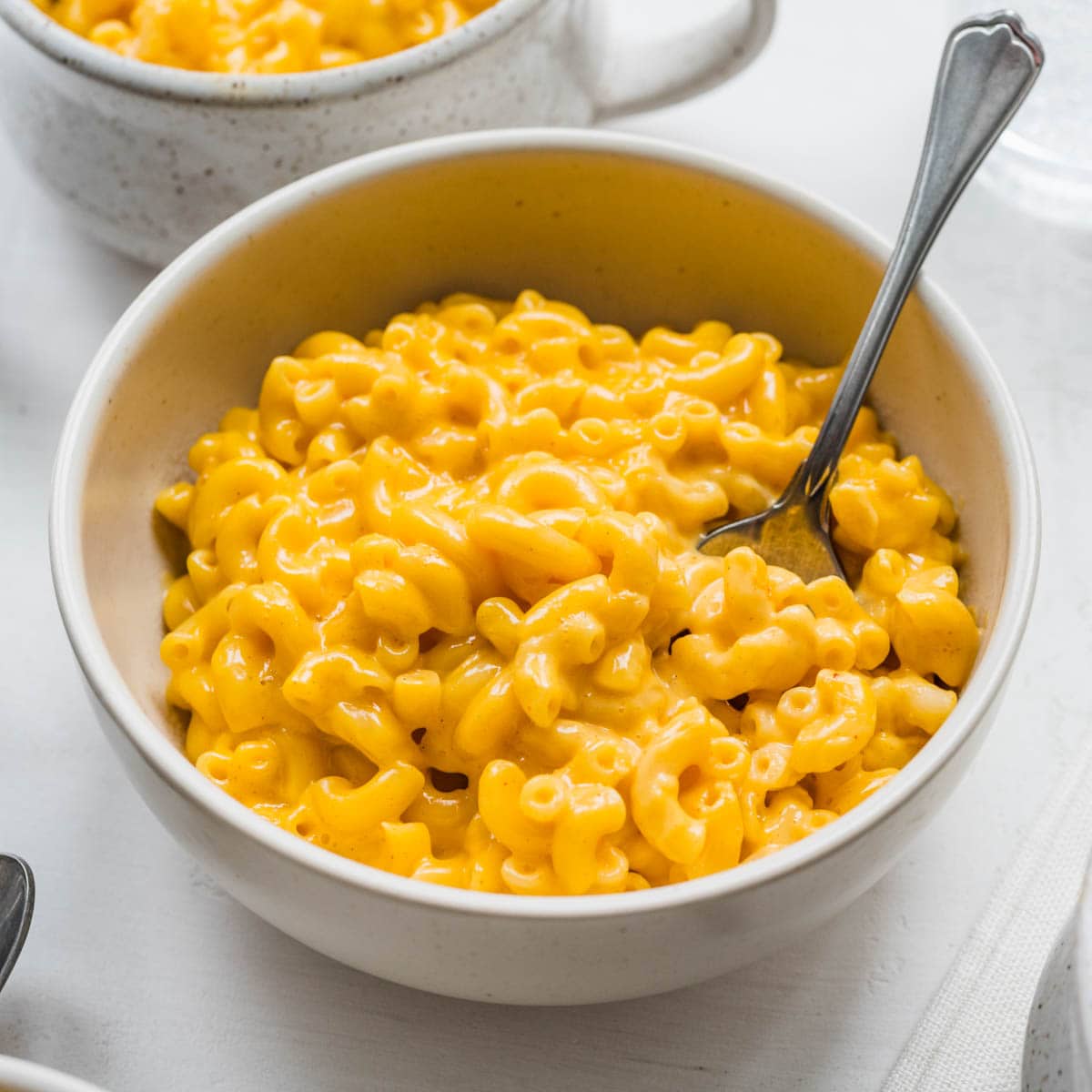 Recipe Card


Ingredients
1

pound

elbow macaroni

2/3

cup

whole milk

24

ounce

Velveeta cheese

, cut into chunks

1

teaspoon

kosher salt

1/2

teaspoon

ground white pepper

1/2

teaspoon

ground mustard

1/2

teaspoon

paprika
Instructions
Add pasta to a large pot of boiling water and cook 1 minute shy of the directions on the box.

Reserve 1 cup of pasta water in case you need to thin the macaroni and cheese.

Drain but don't rinse the pasta, then add it back to the pot.

Turn the heat onto medium heat.

Stir in the milk, cheese, salt, white pepper, ground mustard, and paprika.

Bring to a simmer and stir, cooking until the cheese sauce has thickened.

If sauce thickens too much add ¼ cup of pasta water and stir to combine.
Nutrition
Calories:
330
kcal
|
Carbohydrates:
43
g
|
Protein:
20
g
|
Fat:
8
g
|
Saturated Fat:
5
g
|
Polyunsaturated Fat:
0.3
g
|
Monounsaturated Fat:
0.2
g
|
Cholesterol:
31
mg
|
Sodium:
1321
mg
|
Potassium:
363
mg
|
Fiber:
2
g
|
Sugar:
8
g
|
Vitamin A:
744
IU
|
Vitamin C:
0.1
mg
|
Calcium:
421
mg
|
Iron:
1
mg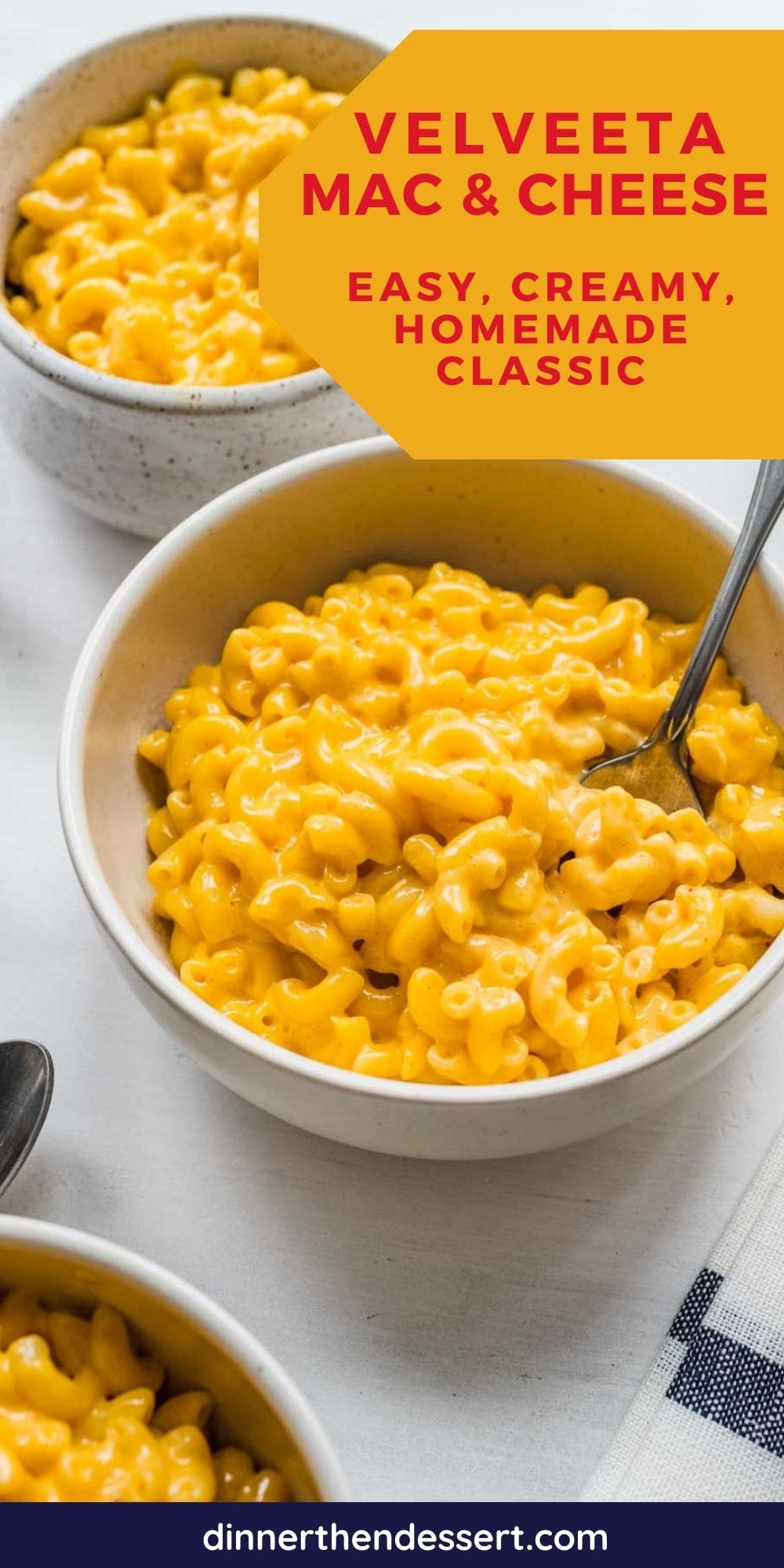 Velveeta Mac & Cheese Variations
Cheeses: You can add extra cheese to the cheese sauce mix to alter the flavor of Velveeta Mac and Cheese. Try American cheese, mild cheddar cheese, sharp cheddar cheese, Pepper Jack cheese, or Monterey Jack cheese. You can use either grated cheese or cut cubes from a block of cheese. After cooking the recipe, you can also add crumbles of blue cheese as a cheese topping, or sprinkle extra shredded cheese on top.
Velveeta Shells: Elbow macaroni is a favorite pasta of choice for Mac and Cheese recipes. However, store-bought Velveeta shells and cheese is made with shell pasta. To make this homemade recipe more similar to that version, you can use pasta shells too. If you don't have shells or macaroni, you can use another type of pasta shape, like bow-tie pasta, penne, or fusilli.
Seasonings: You can also add seasonings like onion powder, garlic powder, black pepper, or red pepper flakes to the creamy sauce. Onion powder and garlic powder would especially make a great combo to add to this recipe.
Broccoli Mac: Mac and cheese tastes great with a broccoli side. However, you could also add the broccoli florets directly into the pasta recipe. Cooking the broccoli florets with Mac and Cheese is a great way to get your kids eating vegetables.
Cheeseburger Mac: Make a full meal out of Mac and Cheese by adding cooked ground beef into the mixture at the end. Then serve on plates or bowls along with a side salad or your favorite Roasted Vegetables to round out your meal.
Add-Ins: There are a lot of additional ingredients you can add for more flavor and texture in this simple recipe. You can sprinkle crispy bacon on top for delicious Bacon Mac and Cheese. Top with crunchy breadcrumbs, cracker crumbs, or crumbled potato chips for a nice texture change. To make the breadcrumbs more flavorful, you can toast breadcrumbs with butter before adding them to the recipe. You can also add green chiles, onions, or bell peppers.
Related Recipes
More Mac and Cheese Recipes