Stick of Butter Rice is a buttery, casserole-like side dish, with beef broth, French Onion Soup, white rice and butter that's a creamy, holiday favorite!
If you love casseroles and casserole-like dishes, such as Easy Chicken Casserole, but are looking for something a little more unusual to bring to your next potluck, then you should make a pan of Stick of Butter Rice. It's one of the most delicious creamy rice dishes, and you can make it big enough for a crowd.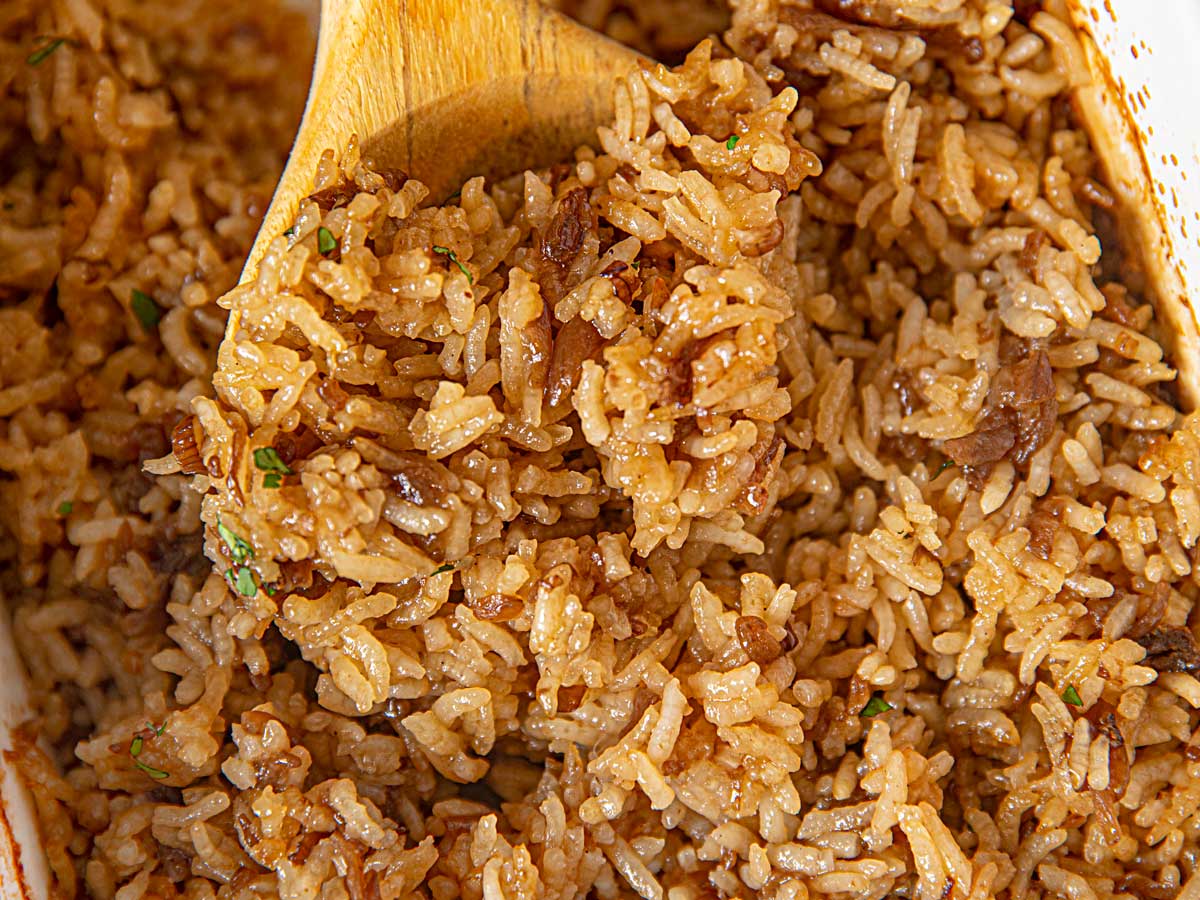 STICK OF BUTTER RICE 
If you've got a few cans of French onion soup laying around and want to try a delicious new oven rice recipe, then you should definitely break out a casserole dish and make some Stick of Butter Rice. There are a few Campbell's French onion soup recipes floating around out there, but this version is one of my all time favorites, and is sure to become a family favorite of yours as well. This onion rice recipe takes almost no prep and is completely baked through in about an hour, which is a great cook time for a casserole. One of the best things about this butter rice recipe is that you end up with soft, flavorful rice without having to use a rice cooker, crock pot, instant pot, or stove top. Cooking rice in the oven also takes a lot of the guess work out of it and won't leave you with hard, chewy grains.
What is Rice Consommé?
Stick of Butter Rice is also called rice consommé. Consommé refers to the sauce that the rice is cooked in, and there are a lot of different kinds, like chicken or beef consommé, and even though this recipe doesn't use the traditional bouillon, it's still very much in the same vein as consommé.
HOW TO MAKE STICK OF BUTTER RICE 
Preheat the oven to 400 degrees.
In an 8×8 baking dish add the rice, onion soup, beef broth and butter, then stir well.
Cover and bake for 30 minutes.
Remove foil and bake for an additional 30 minutes.
OTHER SIDE DISH RECIPES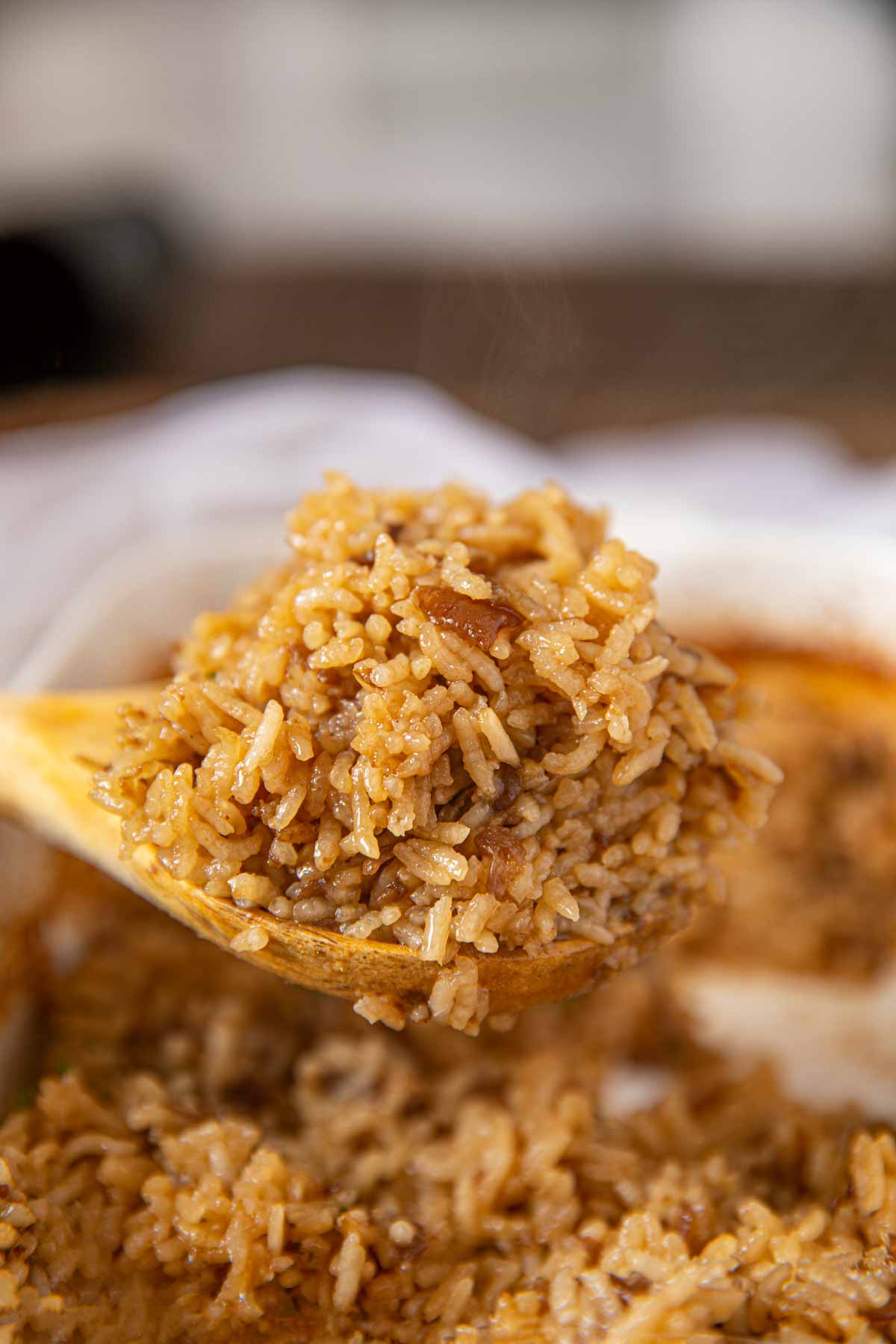 Create a free account to Save Recipes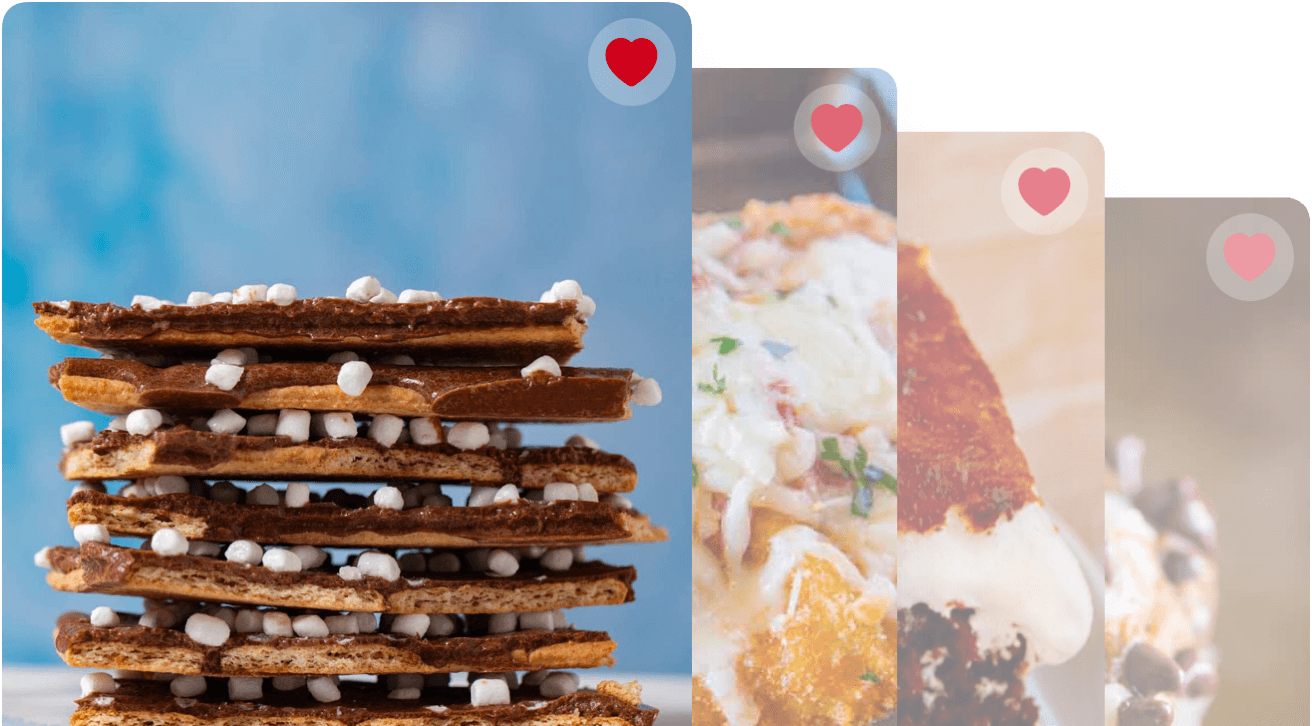 VARIATIONS ON STICK OF BUTTER RICE 
Cheese: Try sprinkling Parmesan cheese over the top of the casserole when it's still warm from the oven, or just before you put it in. If you want the Stick of Butter Rice to have a harder, crisper layer of cheese on top, add the parmesan before you put the casserole in the oven. If you want the cheese to stay light but be deliciously melty, add it when the rice is cooked but still warm.
Rice: You can use a variety of different grain rice in this recipe, from brown rice to wild rice. However you should NOT use instant rice for this recipe, because it will turn out dry, hard and nasty.
Sauces and add ins: You can experiment with the kind of broth used in Stick of Butter Rice. Try using chicken broth or veggie broth if you aren't crazy about the flavor of beef broth.  You can also add a little sauce, like soy sauce, Worcestershire sauce, or cream of mushroom soup to the rice to give it a little bit of a kick. You can also stir in some mushrooms sauteed in butter to the casserole once it's finished cooking for a meaty, hearty addition.
Protein: This casserole is great as a side dish, or you can mix in some protein, like pork chops or chicken breasts. If you end up going that route, you need to keep an eye on the meat and thoroughly check it to make sure it has cooked all the way through before you serve it up.
STICK OF BUTTER RICE FAQS
Is it healthy to eat rice? Yes and no. Brown rice is great for you because it has doesn't digest as quickly, but white rice doesn't have very much nutrition.
Do I need to rinse rice? It depends on the texture you want. For sticky rice like Chinese Steamed Rice, you should not rinse the uncooked rice. For recipes where you want the texture to be finer, rinse uncooked white rice before hand.
OTHER TASTY RICE DISHES
HOW LONG IS STICK OF BUTTER RICE GOOD?
Serve: Don't leave Stick of Butter Rice out at room temperature for longer than about 2 hours.
Store: If you keep Stick of Butter Rice properly sealed in an airtight container or in freezer bags, it should last up to about 1 week. Always let the rice cool down to room temperature completely before you put it away.
Freeze: You can freeze Stick of Butter Rice in a sealable container for up to 3 months. After that point, you should throw the casserole out and make another one.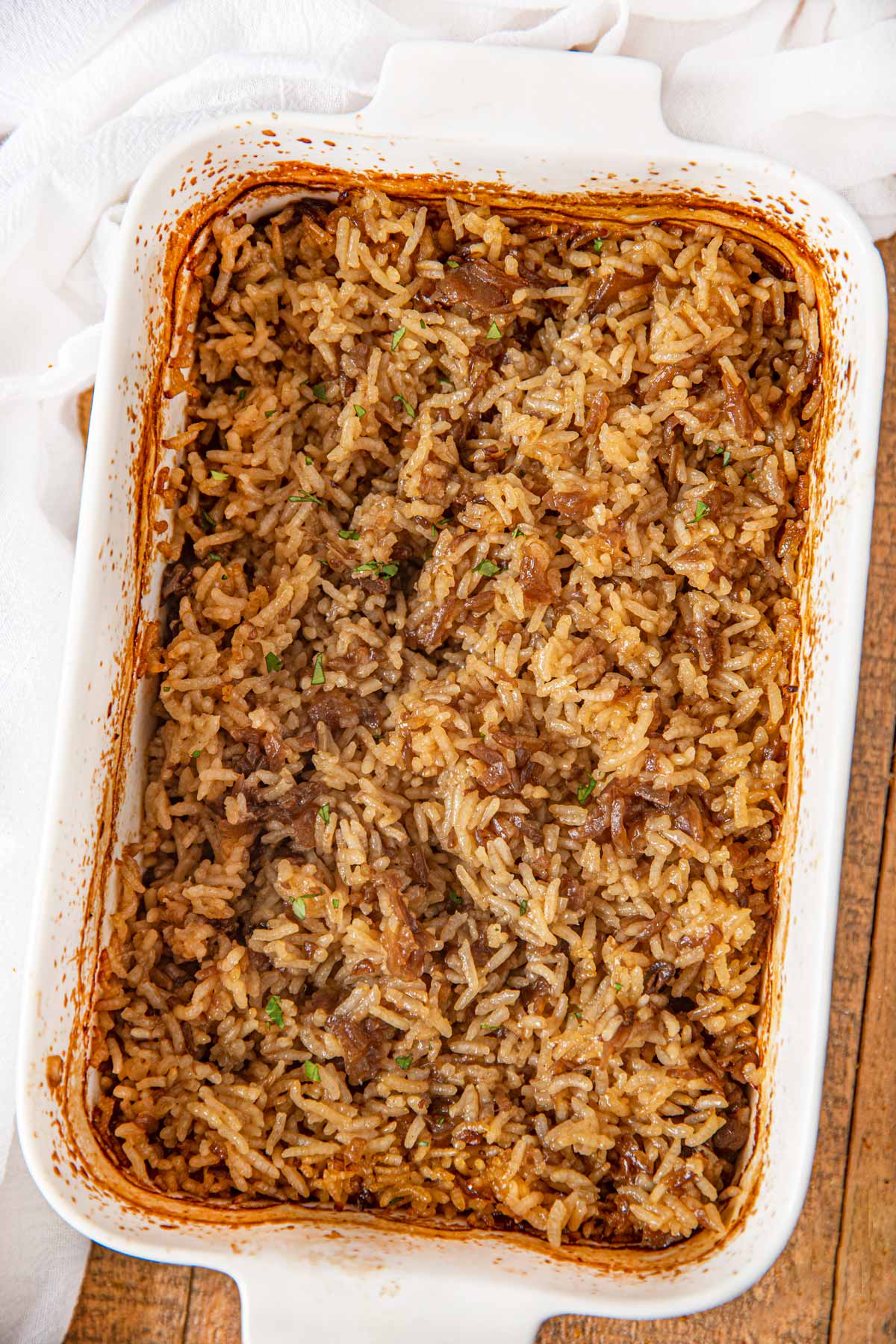 Ingredients
1

cup

white rice

, uncooked

10

ounces

condensed French Onion Soup

10

ounces

condensed Beef Broth

, (or 1 ¼ cups)

1/2

cup

unsalted butter

, cut into cubes
Instructions
Preheat the oven to 400 degrees.

In an 8x8 baking dish add the rice, onion soup, beef broth and butter, then stir well.

Cover and bake for

30 minutes

.

Remove foil and bake for an additional

30 minutes

.
Nutrition
Calories:
403
kcal
|
Carbohydrates:
40
g
|
Protein:
5
g
|
Fat:
24
g
|
Saturated Fat:
15
g
|
Cholesterol:
64
mg
|
Sodium:
834
mg
|
Potassium:
406
mg
|
Fiber:
1
g
|
Sugar:
2
g
|
Vitamin A:
709
IU
|
Calcium:
35
mg
|
Iron:
1
mg