Bread and Butter Pickles are easy to make with simple ingredients, then seal and store in the fridge. No fancy canning equipment required.
This easy recipe makes slightly tangy, sweet pickles perfect to enjoy as a Side Dish or toppings to go on Homemade Burgers and other favorite Sandwich Recipes.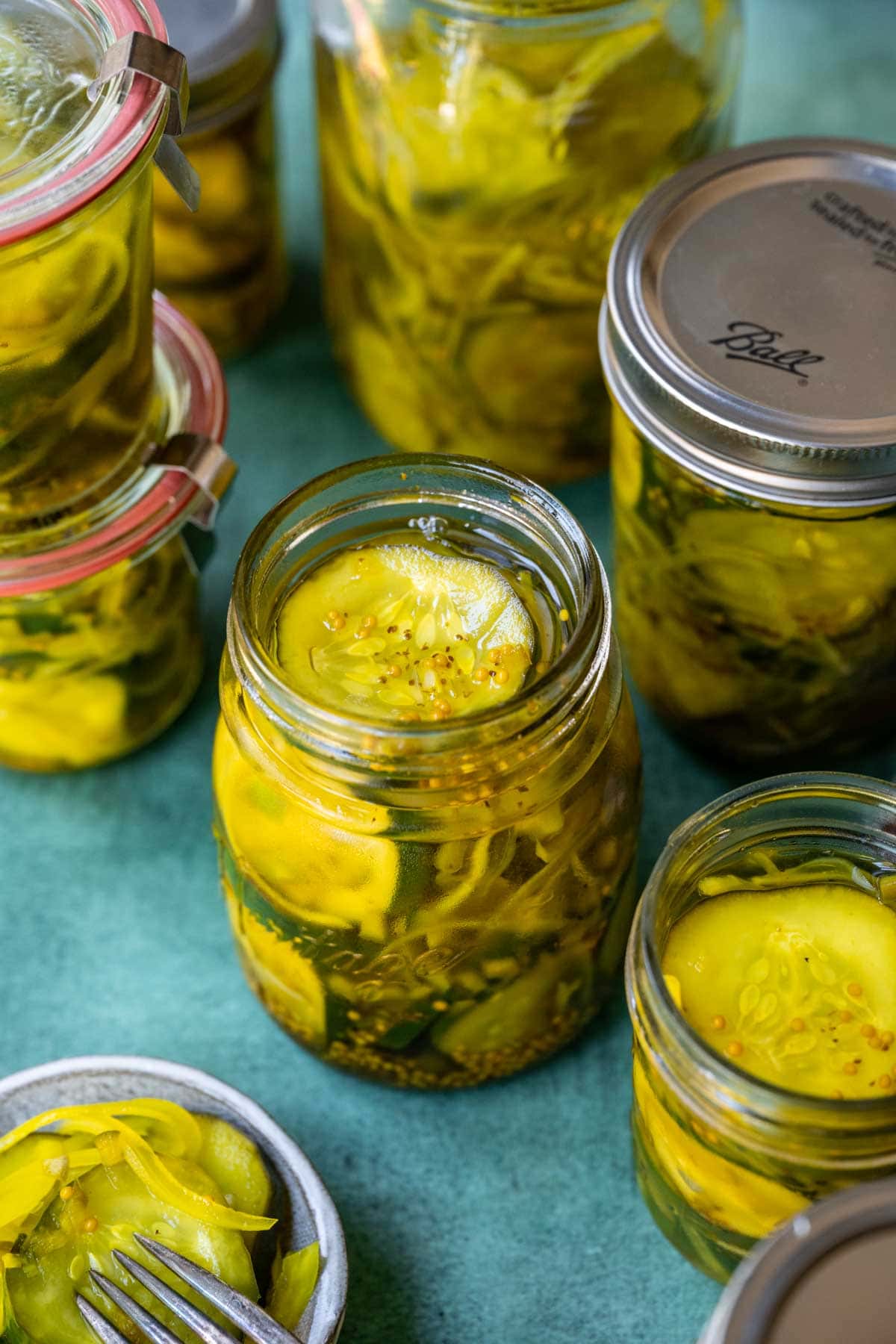 These delicious pickles are sure to become your favorite sandwich pickle. The Homemade Pickles are made with a handful of fresh ingredients like cucumber, bell pepper, and onion. Then the vegetables are mixed in a vinegar sugar syrup that gives them the perfect sweet and tangy flavor.
Easy refrigerator pickles are great if you're a fan of pickles but don't want to go through any complex canning steps. After letting the vegetables sit, the hands-on process time is just a few minutes. Then you just put the Bread and Butter Pickle recipe in the fridge to set. The finished result is the perfect sweet pickle with some crunch, perfect for Summer.
This pickle recipe is so good, you'll want to enjoy them as often as possible! The most obvious way to serve Bread and Butter Pickles is in sandwiches and hamburgers. However, you can also try serving them in more unexpected dishes. Chop the pickles and mix them in your favorite Coleslaw or Potato Salad Recipe. You could also use this Butter Pickles recipe as a topping for dishes like Tater Tot Casserole, Big Mac Salad, or Totchos.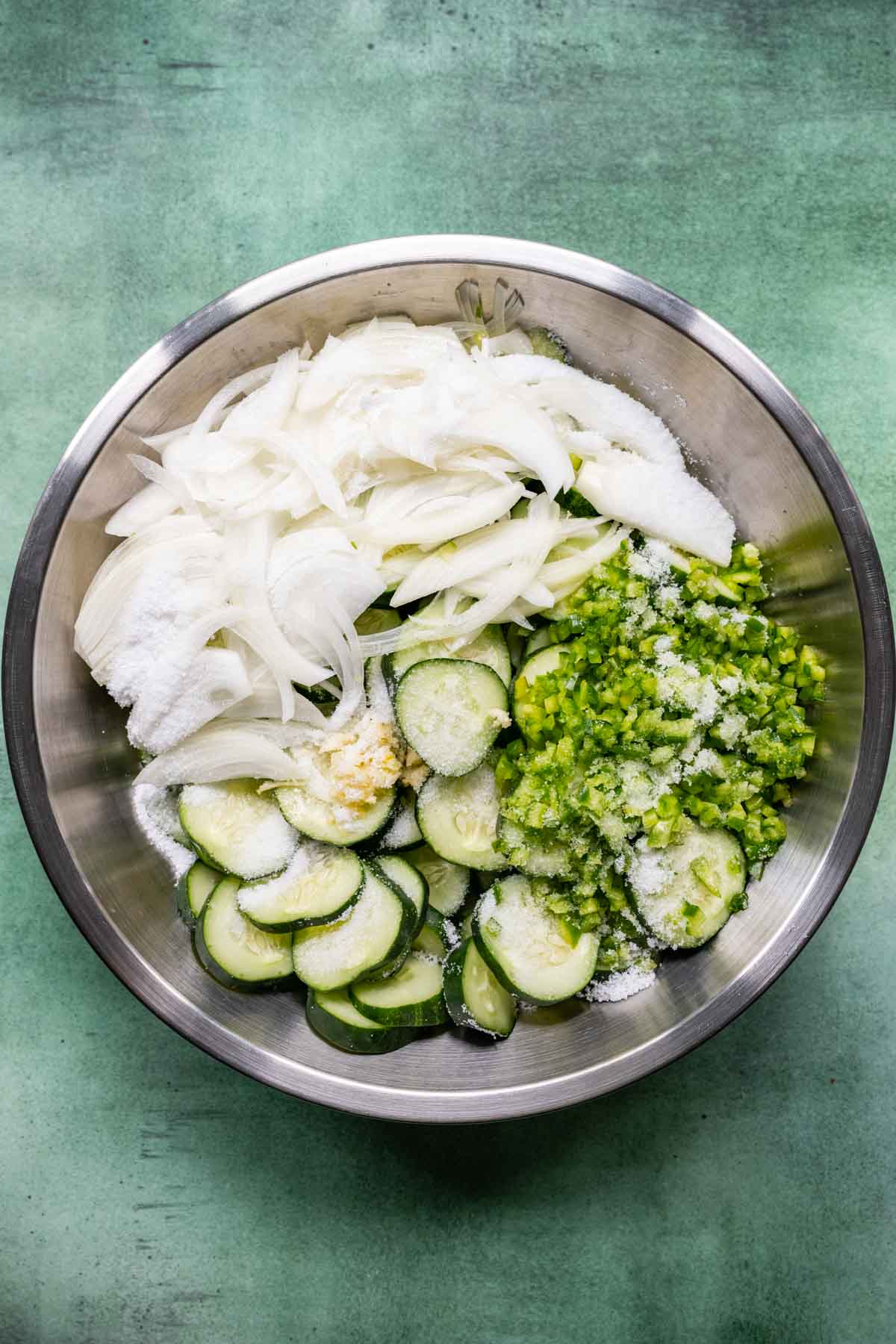 Frequently Asked Questions About Bread and Butter Pickles
Why are they called bread and butter pickles?
Bread and Butter Pickles are an American classic at this point. They were first created by cucumber farmers, Omar and Cora Fanning, during the great depression. One of the ways the couple got through the hard time was by exchanging jars of their homemade pickles at the local grocer for bread and butter. Hence the name, Bread and Butter Pickles.
Why does the brine need to be boiled?
Boiling the brine for Bread and Butter Pickles allows the sugar granules to dissolve, and the different liquids to combine. Heating the liquid will also bring out the flavors of the seasonings you choose to use in your brine.
How soon will Bread and Butter Pickles be ready to eat?
The pickles will take some time to cool off in the refrigerator, however you can enjoy your pickles right away. Just remember the longer they sit in the jar, the more classic pickle flavor they will absorb. When you eat them can be a matter of personal preference as some people like theirs a little less, or a little more pickled.
What is the difference between Bread and Butter Pickles and Dill pickles?
These different types of pickles use different seasonings in the brine to give them distinct flavors. Bread and Butter Pickles, in particular, use more sugar and the end result is a sweeter flavor to go along with the other pickle flavors.
More Toppings
How to Make Bread and Butter Pickles
Prep Time: Start the recipe by slicing the cucumber, onions, and bell pepper. Then toss together the cucumber slices, onion slices, bell peppers, minced garlic, and salt. Toss the ingredients well and leave the cucumber mixture to sit for 3 hours.
Brine: Add the water, white sugar, white vinegar, mustard seed, celery seed, ground turmeric, and cloves to a large pot over medium heat. Then bring the pickling brine to a boil. Turn the heat off of the boiling brine.
Combine: Drain any excess liquid off of the vegetables, then stir them into the hot vinegar mixture. Make sure the hot pickling liquid is fully coating the vegetables.
Canning: Get out your canning jars and make sure you have canning lids for all of them. (1-pint jars are the most convenient for storage). Spoon the liquid and vegetable slices into jars, making sure to leave about ½ inch of headspace. Screw the lids on tightly and put the jars of pickles in the fridge until you're ready to serve.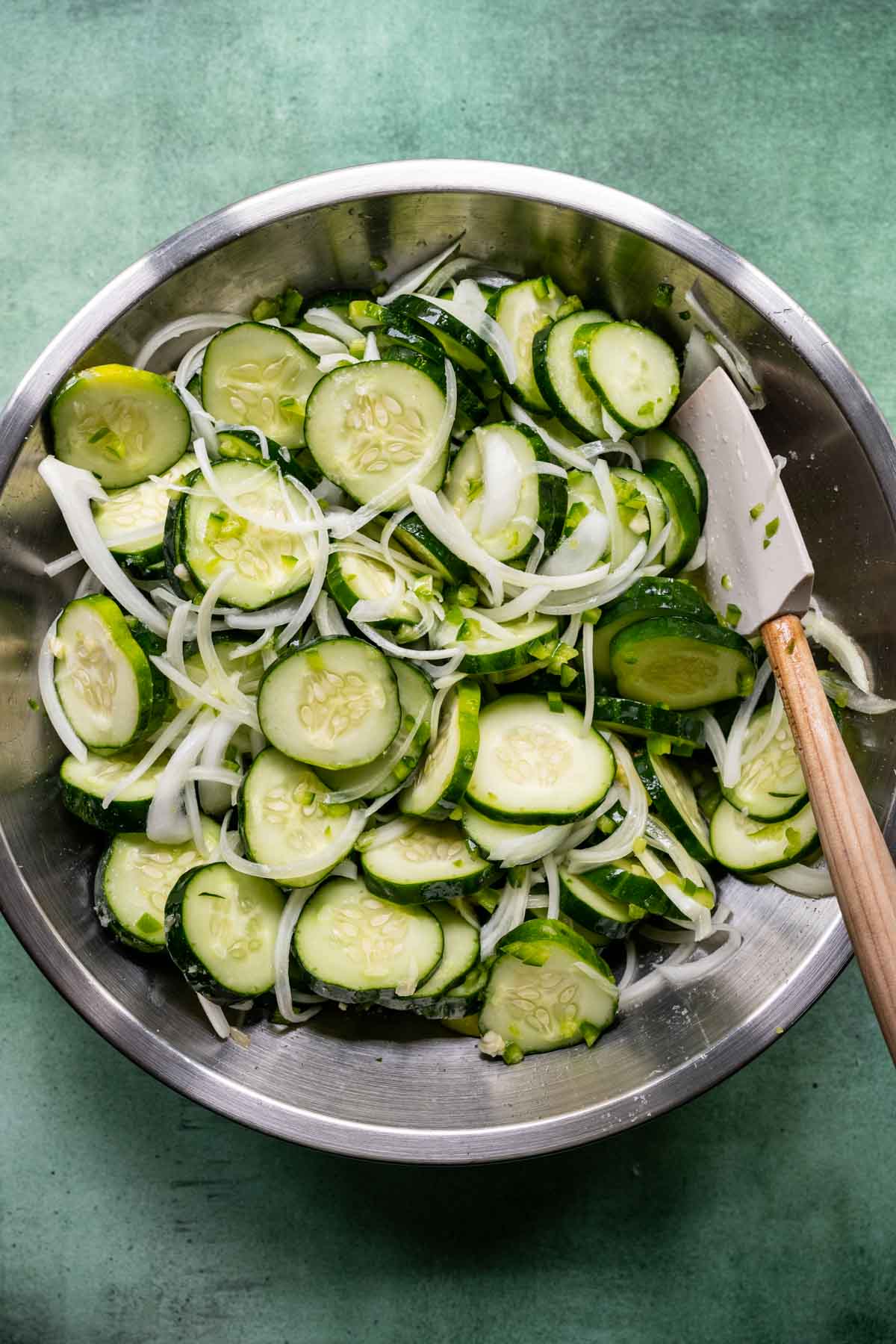 Create a free account to Save Recipes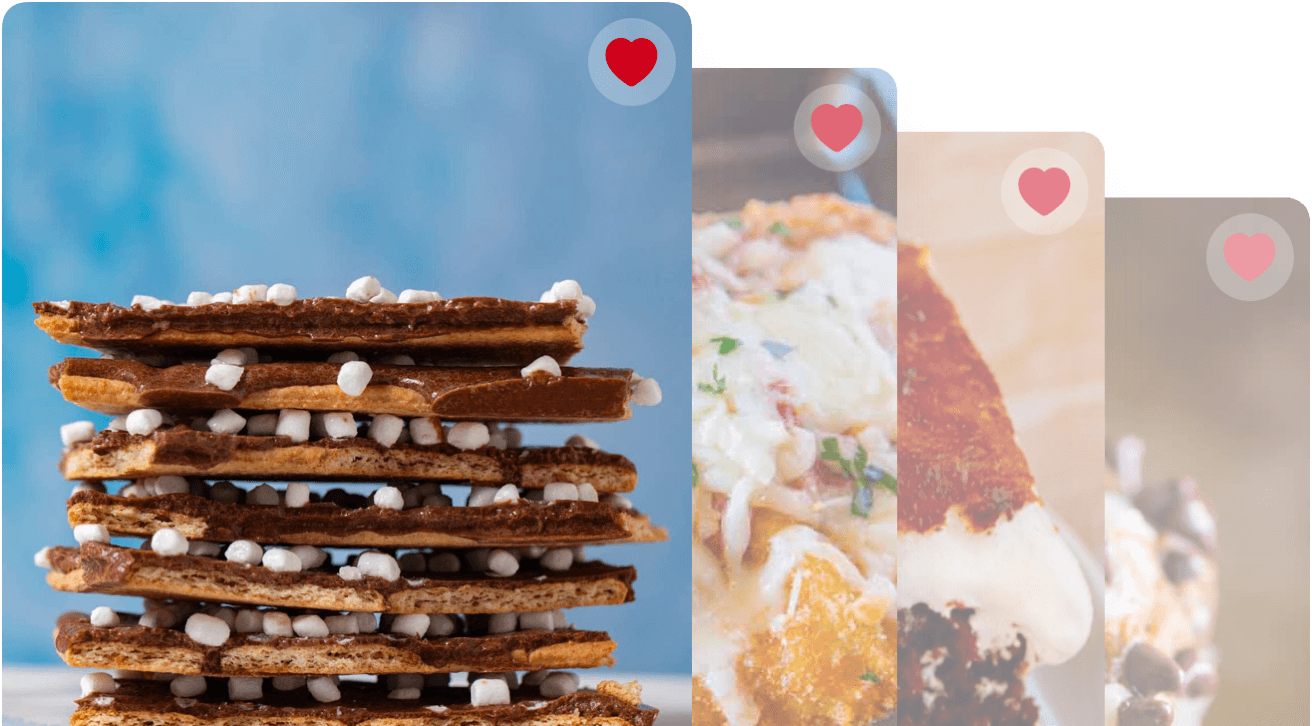 Variations on Bread and Butter Pickles
Seasonings: You can flavor Bread and Butter Pickles in lots of different ways, depending on what spices you mix into the brine. Try adding in ground ginger, red pepper flakes, chili powder, paprika, or cumin.
Vinegar: If you don't have white vinegar for the pickling liquid, you can use apple cider vinegar or malt vinegar.
Spicy Pickles: If you want a spicy pickle mixture, try slicing jalapeño peppers and let them soak with the other vegetables before adding them to the canning jars.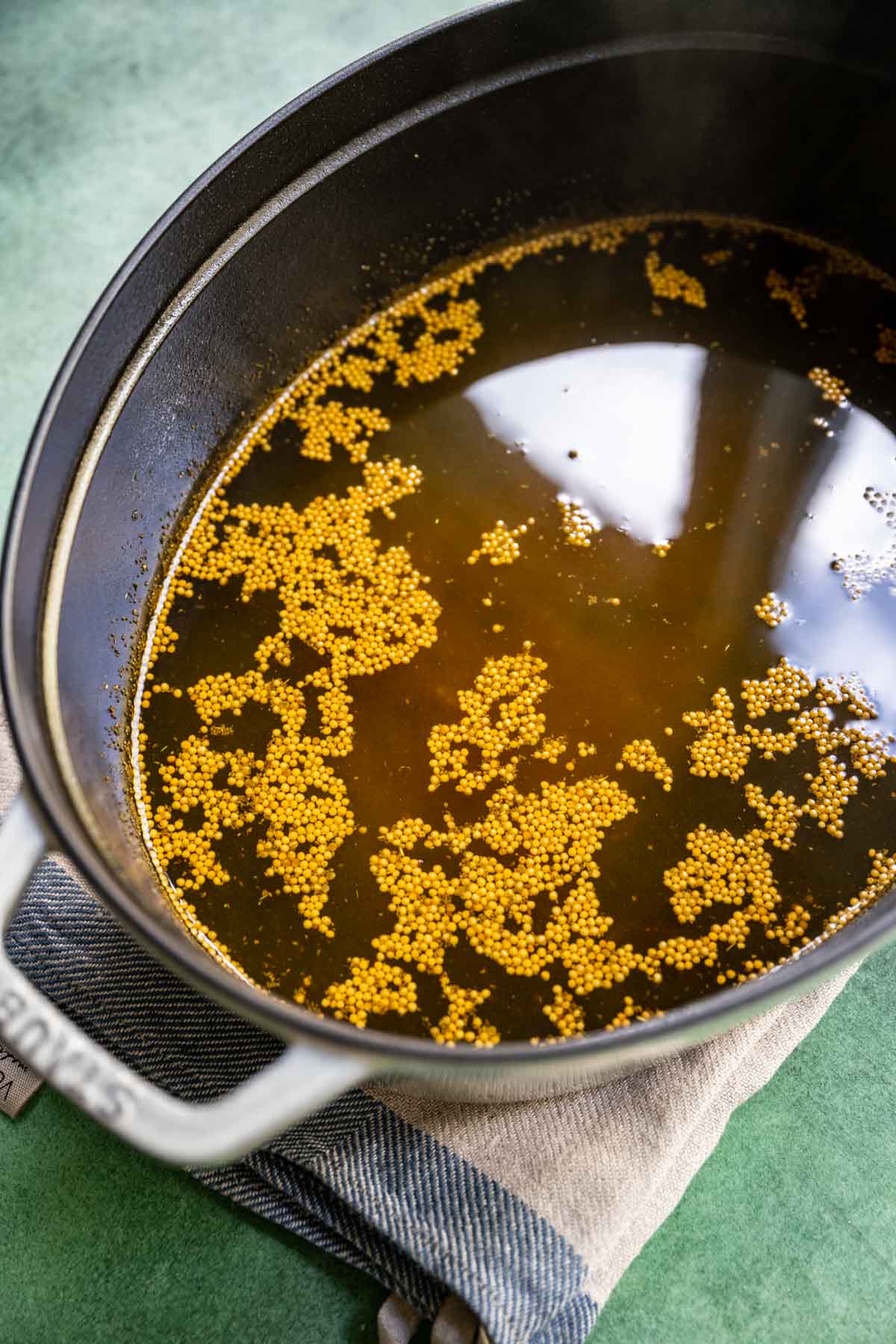 Recipes to Serve with Bread and Butter Pickles
How to Store Bread and Butter Pickles
Serve: For optimal flavor, leave the pickle container in the refrigerator for at least a week before opening and serving. When you serve Bread and Butter Pickles, don't leave an opened jar out at room temperature for more than a few hours.
Store: As long as they're tightly sealed in an airtight container, you can keep the pickles in the fridge for up to 1 year. So, this is a great recipe to make in advance and enjoy for months.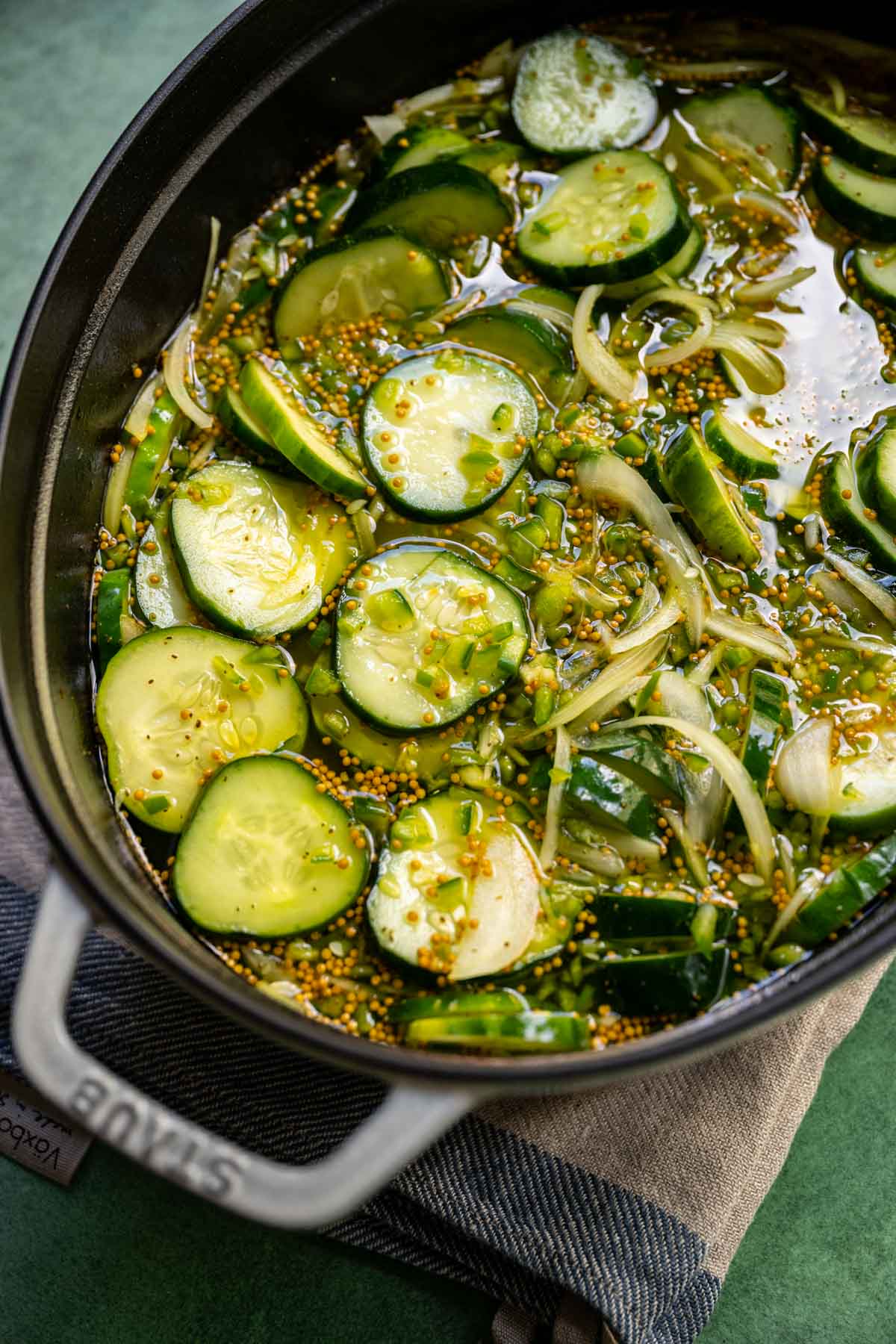 Ingredients
10

cups

pickling cucumbers

, sliced, do not peel

1

yellow onion

, thinly sliced

1

green bell pepper

, minced

1

clove

garlic

, minced

1/4

cup

kosher salt

4

cups

water

2

cups

sugar

2

cups

white vinegar

1

tablespoon

mustard seed

1

teaspoon

celery seed

1/2

teaspoon

ground turmeric

1/8

teaspoon

ground cloves
Instructions
In a large bowl add the cucumbers, onions, bell pepper, garlic, and salt, and toss well.

In a large pot add the water, sugar, white vinegar, mustard seed, celery seed, turmeric, and cloves.

Bring to a boil, then turn off the heat.

Drain any liquid that has seeped out of the vegetables.

Add the vegetables to the hot liquid and stir well.

Transfer to small glass jars and store in the refrigerator until serving.
Nutrition
Calories:
80
kcal
|
Carbohydrates:
19
g
|
Protein:
1
g
|
Fat:
0.3
g
|
Saturated Fat:
0.02
g
|
Polyunsaturated Fat:
0.1
g
|
Monounsaturated Fat:
0.1
g
|
Sodium:
1183
mg
|
Potassium:
98
mg
|
Fiber:
1
g
|
Sugar:
18
g
|
Vitamin A:
59
IU
|
Vitamin C:
6
mg
|
Calcium:
16
mg
|
Iron:
0.3
mg