Philly Cheesesteak Egg Rolls with an easy, tasty ground beef and melty cheese filling. All the classic flavors you love in a crispy wrapper!
This delicious, fun Appetizer combines the mouthwatering, beefy goodness of a Philly Cheesesteak with a dunkable, crispy fried Egg Roll. It's East meets West finger food that's sure to be a hit at all your parties!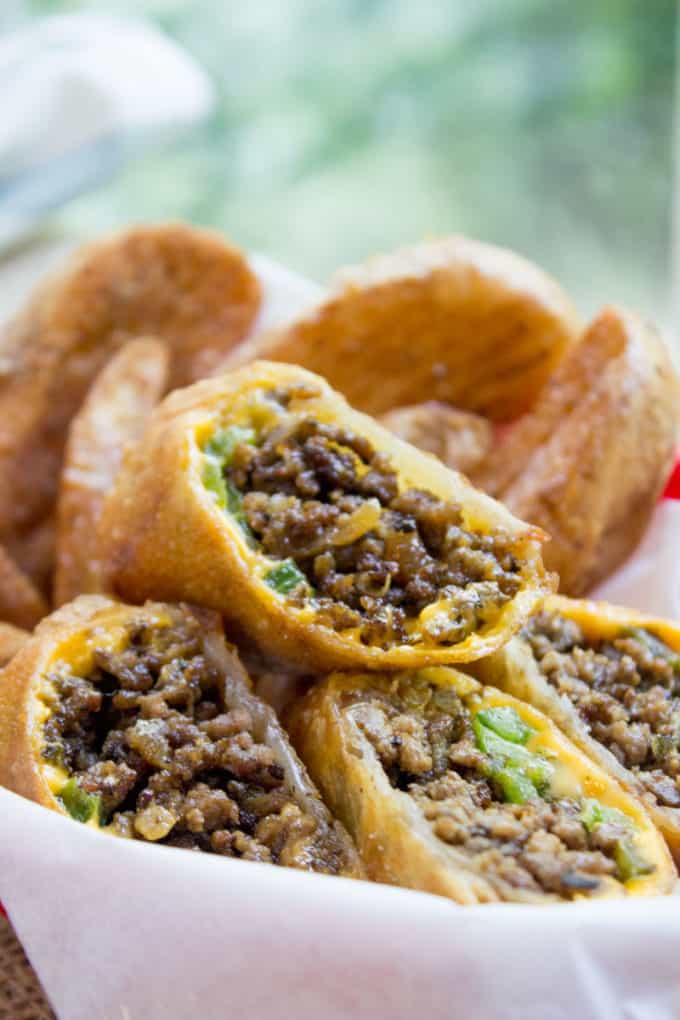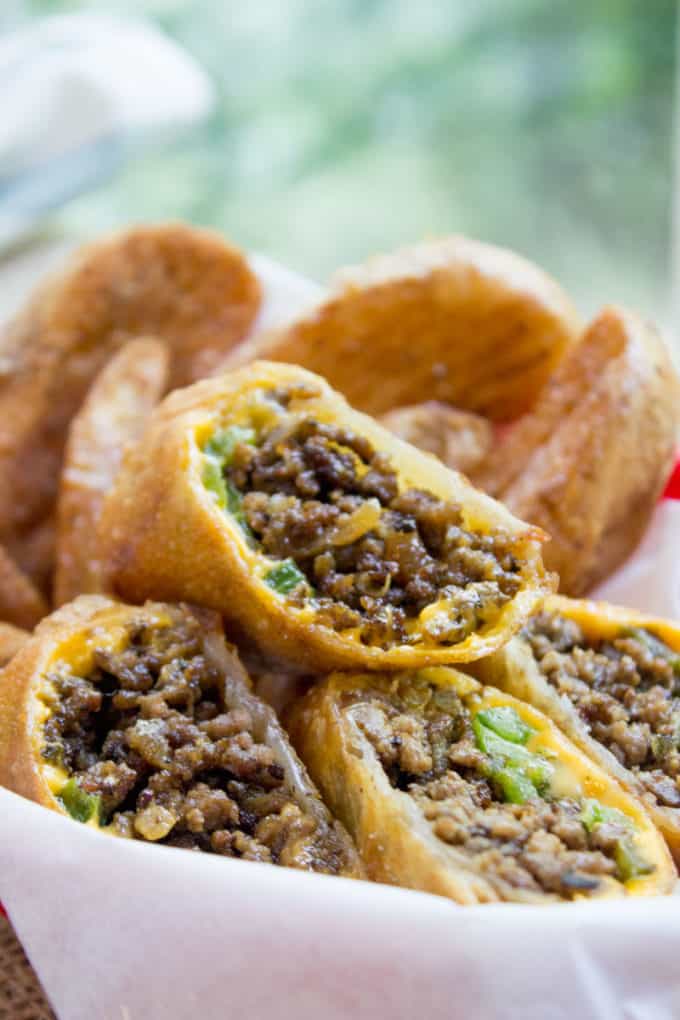 For those of us who love to cook for others, deep down we all want to come across that dish. You know, the instant hit that everyone can't stop raving about. The one everyone wants the recipe for and whenever there's a potluck, they say "are you bringing that dish again?!". We all secretly chase the rush of finding that super special recipe. Well, these amazing Philly Cheese Steak Egg Rolls are absolutely that dish!
Philly Cheese Egg Rolls are basically the perfect fusion of classic American food and Chinese food in one crispy, cheesy bite. They have all the classic cheesesteak flavors of beef, sauteed green peppers and onions, and of course lots of cheese. They are super delicious all on their own but the beefy flavor. melty cheese, and crispy fried goodness goes great with all your favorite dipping sauces too! From Ranch Dressing to Beer Cheese Dip to Spicy Mayo, these Philly Cheese Steak Rolls are perfect for dunking in the best dips and sauces. 
Egg Rolls might seem like a restaurant-only appetizer, but they are actually very easy to make at home. All you need is some store bought egg roll wrappers and a tasty filling that can be anything from traditional egg roll ingredients to this Philly Cheesesteak twist. You don't need a special deep fryer to fry them to crispy perfection either, just a large pot and some canola oil. You can even cook them in an air fryer, if you have one, or bake them for even less work and clean up!
Homemade Cheesesteak Egg Rolls are an awesome, crowd-pleasing finger food for parties. They are really budget friendly too, so you won't mind adding them to your party trays for any occasion.They are made with cheaper ground beef instead of ribeye steak and the rest of the filling is made of simple ingredients like green peppers and American Cheese. Egg roll wrappers are pretty cheap too plus these Beefy Philly Cheese Rolls are really hearty, so 24 rolls can go a long way to serve a crowd on a budget!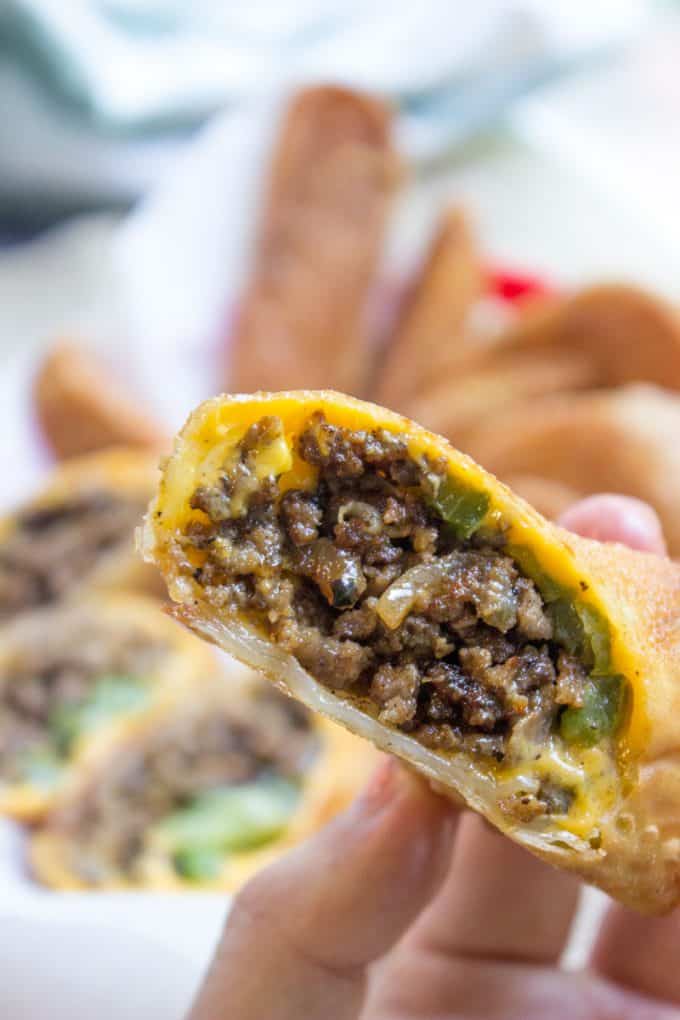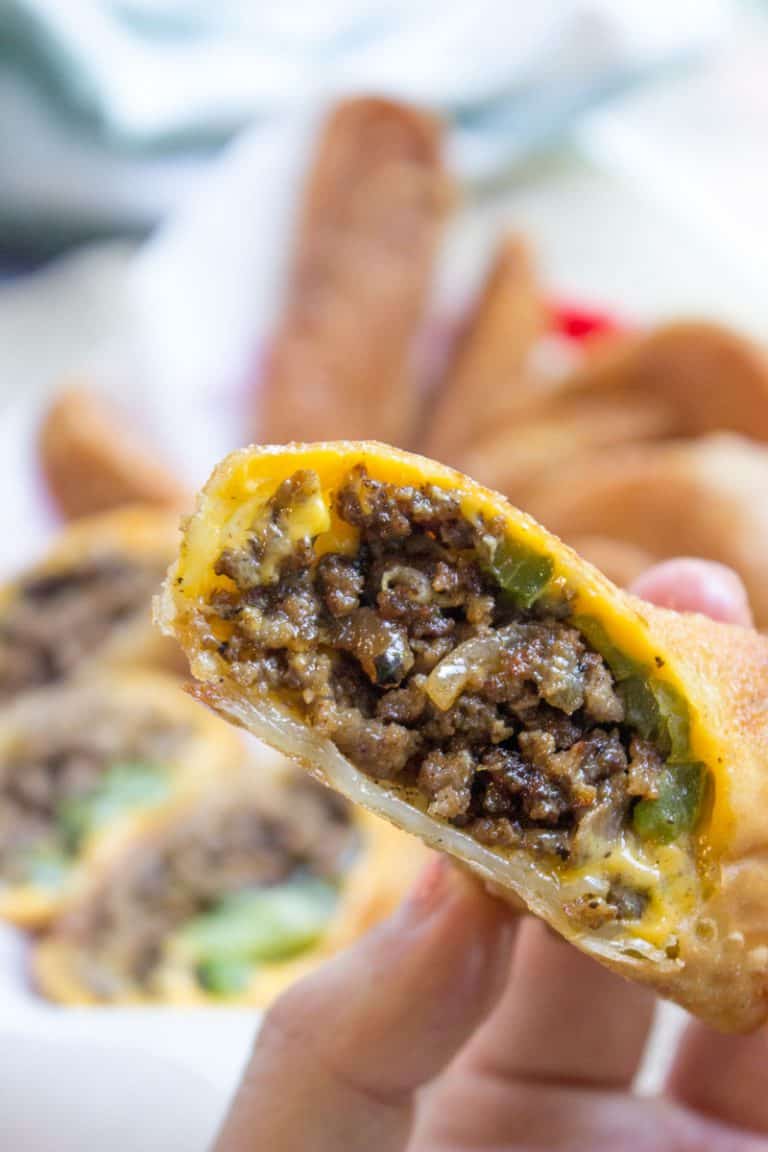 How to Make Philly Cheesesteak Egg Rolls
Meat: Brown the beef in a large pan, careful to keep it in larger chunks while cooking through and getting a good sear. Stir in the salt, pepper and Worcestershire, then transfer the beef to a plate.
Filling: In the same pan, melt the butter and add the veggies. Cook until they are softened and caramelized. Return the meat back to the pan and stir until combined. Cool the beef mixture.
Assemble: Lay the egg roll wrappers out and place ½ a slice of American Cheese in the middle. Top with some of the beef mixture.
Roll: Pull the left bottom corner over the filling, then the two side corners. Wet around the exposed edges and roll the wrapper over the filling tightly.
Fry: Heat about 3 inches of oil to 375 degrees in a large pot. Once hot, fry 3-4 egg rolls at a time until they are golden. Only the outside needs to cook so remove when brown all over. Drain on a cooling rack and serve hot.
More Amazing Philly Cheesesteak Recipes
FAQs for Philly Cheesesteak Egg Rolls
What kind of meat do you use in a cheesesteak?
Thinly sliced steak, usually ribeye or top round, is used to make a traditional Philly Cheesesteak. The steak is frozen so you can slice it very thin before seasoning and cooking. However these egg rolls are made with ground beef that is seasoned like the classic steak so they are more affordable and a bit easier to make.
How do I keep the egg rolls from getting soggy?
The key to making sure your egg rolls aren't soggy is having the right oil temperature. If the oil is too cool, they take longer to cook and soak up more oil which makes them soggy. Use a thermometer to monitor the temp, and don't over-fill your pot, so the temperature stays at the right temperature. 
How do you fold Egg Rolls?
Starting with a wrapper turned sideways like a diamond. Place the filling in the middle. Fold the bottom corner over the filling, followed by the two side corners. Then, brush a little water on the edges to help seal the roll, and tightly roll it towards the top corner.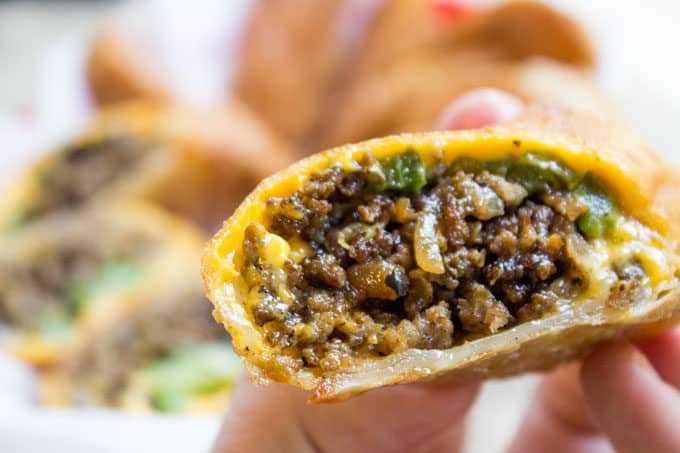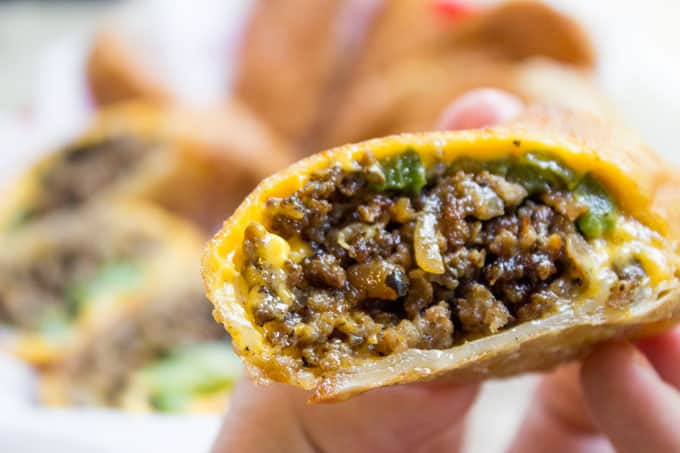 Create a free account to Save Recipes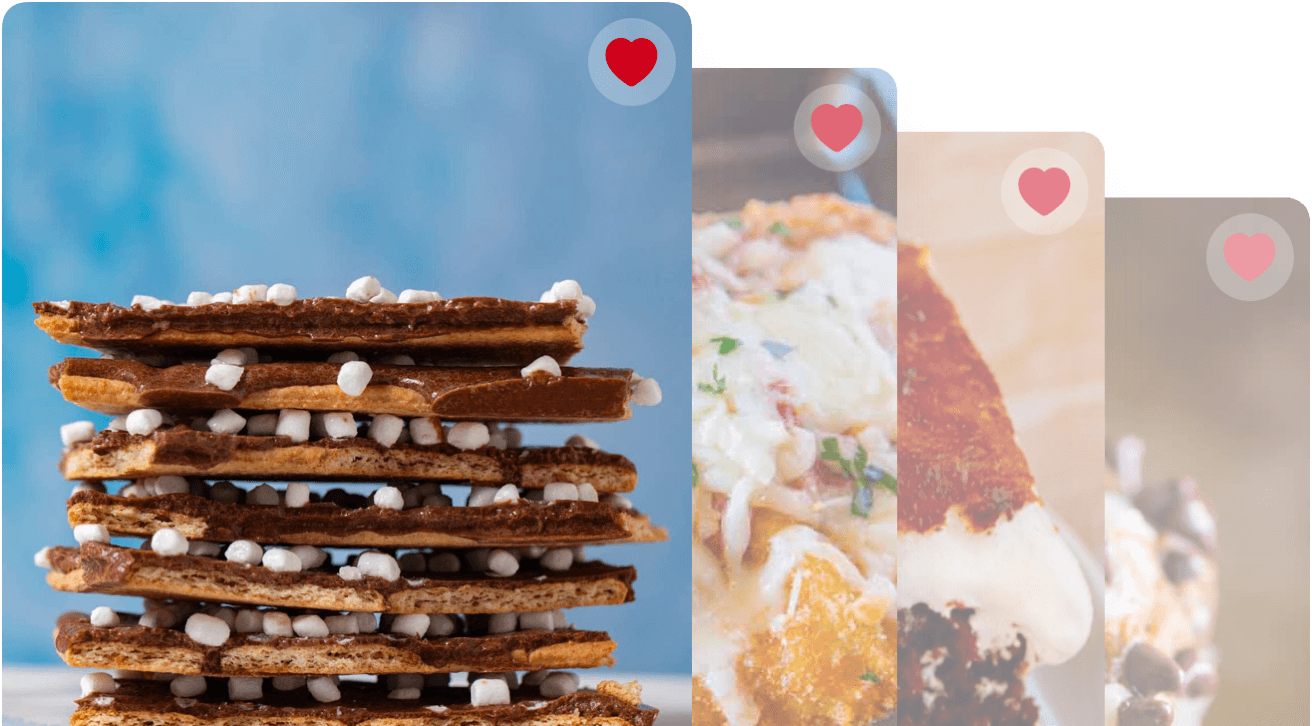 Key Ingredients
Ground Beef: Ground beef brings the classic, beefy flavor that Philly Cheesesteak is known for but way more cost effective and quicker to make than shaving frozen steak.
Worcestershire Sauce: Worcestershire sauce, with its vinegary, sweet, and savory elements, heightens the taste of the beef and is a classic seasoning for Philly Cheesesteaks.
Onions and Peppers: There are a lot of optional toppings, but one thing any true Philly Cheesesteak has to have is some sauteed onions and bell peppers! Green bell peppers and yellow onion are standard but you can swap in red peppers if you want.
American Cheese: This one might be controversial for the Provolone purists, but the American cheese just melts so much better into the ground beef. Plus, for those who love their Philly Cheese "wit", you'll love the nod to Cheez-Wiz.
Egg Roll Wrappers: These thin pastry sheets get deliciously crispy as soon as they are fried. They are thicker than spring roll wrappers to hold in all the hearty beefy filling without breaking.
Can Philly Cheesesteak Egg Rolls be made ahead of time?
Yes! Prepare and roll the egg rolls, then store them in the refrigerator covered with a damp cloth until ready to cook. You can also freeze them without cooking and fry them frozen. Freeze them individually on a tray before transferring them into a freezer bag. They can be stored frozen for up to 3 months and fried directly from frozen, just add a few extra minutes to the cooking time.
Variations
Mushrooms: Don't worry mushroom lovers, you can add some Sauteed Mushrooms to your Philly Cheese Egg Rolls too! This will bulk up your filling a bit, so you may want to get extra wrappers, or serve the leftover filling over rice the next day for lunch.
Chicken Cheesesteak: Use ground chicken, or ground turkey, instead of beef. This variation is lighter yet still packed with flavor. Season the chicken just as you would the beef, and or adding a pinch of smoked paprika for extra smoky flavor.
Cheese: Feel free to swap in provolone instead of American cheese if you prefer that on your Philly Cheesesteaks. You can also use Cheese Wiz for a creamy, cheesy egg roll, or other cheeses that melt easy like mozzarella or jack cheese.
Baked Philly Cheesesteak Egg Rolls
Prepare the filling and wrap the egg rolls as usual.
Preheat your oven to 425 degrees.
Line a cookie sheet with parchment paper and place the egg rolls on the sheet without touching.
Brush or spray the egg rolls lightly with oil. This step helps achieve a golden-brown, crispy exterior.
Bake the egg rolls in the preheated oven for 15 minutes, then flip each egg roll and bake for an additional 10 minutes, or until they're golden and crispy.
Air Fryer Philly Cheesesteak Egg Rolls
Prepare the egg rolls as usual, including making the filling, and rolling the egg rolls with the cheese and filling.
Preheat your air fryer to 370 degrees. Lightly spray or oil the air fryer basket.
Place the egg rolls into the basket, ensuring they don't overlap.
Mist the tops of the egg rolls with oil spray. This helps them to brown evenly.
Cook the egg rolls in the air fryer for about 10 minutes.
Carefully flip each egg roll and cook until they are crisp and golden, up to 10 more minutes.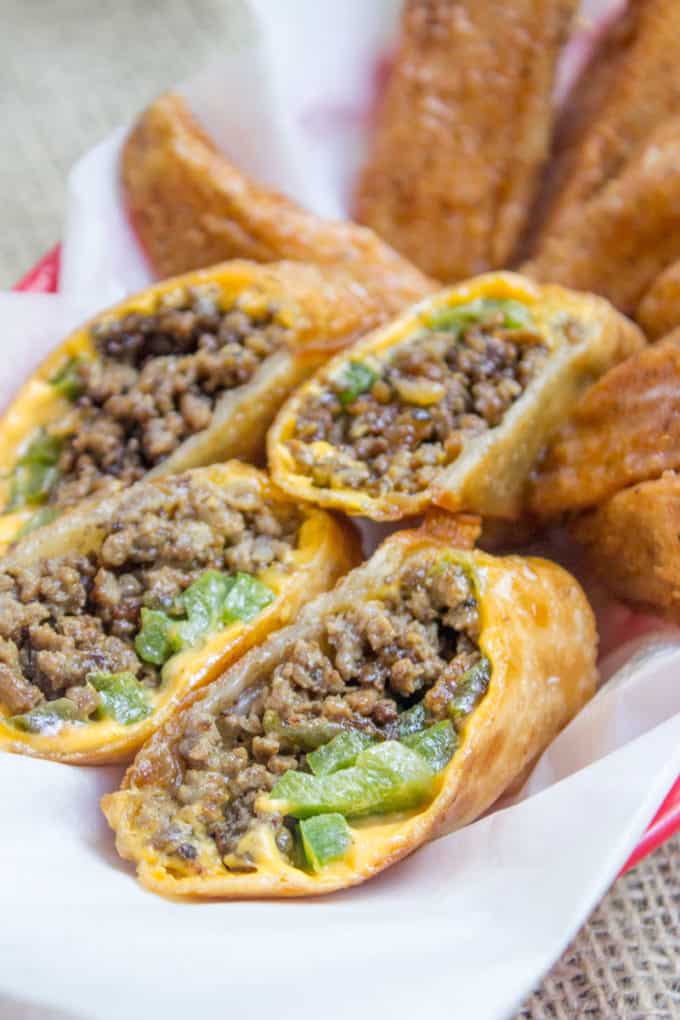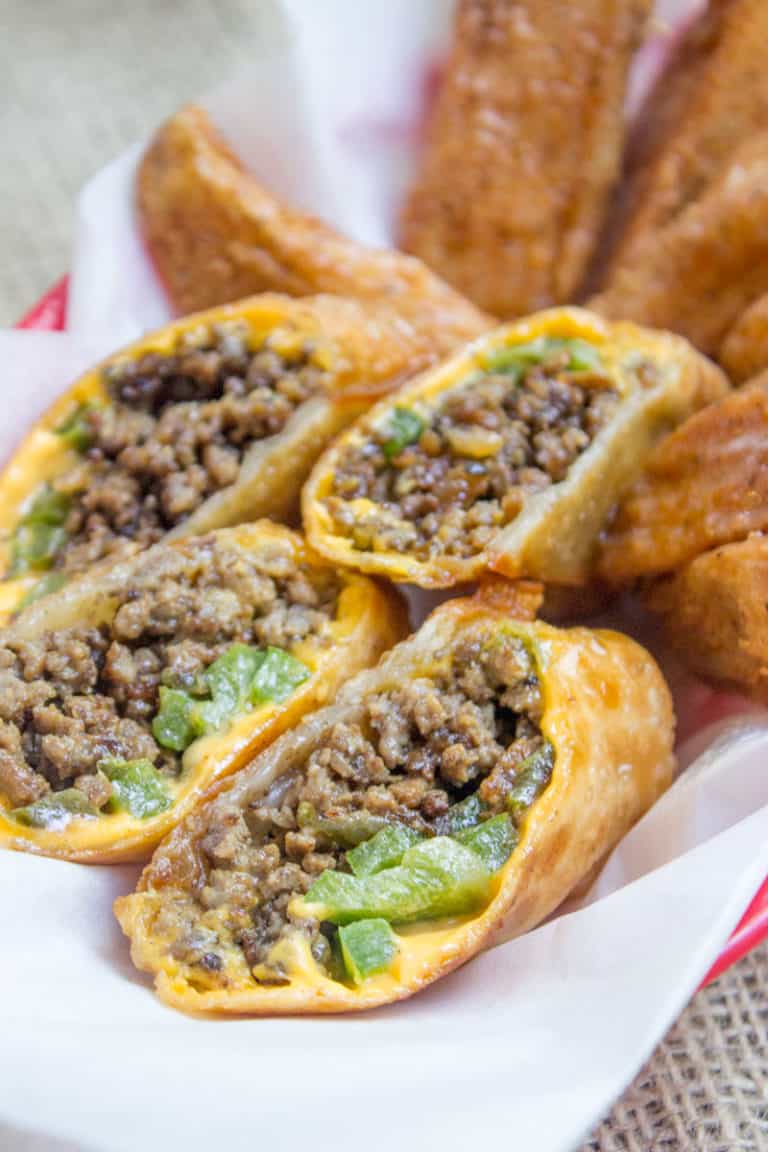 More Tasty Egg Roll Recipes
How to Store
Serve: These egg rolls are best served hot and fresh, but don't leave them out more than 2 hours at room temperature. Leftover Philly Cheesesteak Egg Rolls can be stored in the refrigerator for up to 4 days.
Reheat: To reheat, bake in an oven preheated to 375 degrees until heated through and crispy again, flipping halfway through.
Freeze: Cool the leftover egg rolls completely, then freeze until solid on a tray to prevent freezer burn and sticking. Store the frozen rolls in a freezer safe bag for up to 3 months. Reheat from frozen in the oven.


Ingredients
1

pound

ground beef

1/2

teaspoon

salt

1/2

teaspoon

pepper

1

tablespoon

Worcestershire sauce

2

tablespoons

butter

1

yellow onion

, chopped

1/2

green bell pepper

, chopped

12

slices

American Cheese

24

egg roll wrappers

small bowl of water

canola oil

, for frying
Instructions
Start by browning the beef in the skillet.

Note: Try to brown without breaking up the meat too much, get a nice brown sear on the beef, then break apart as little as possible. (You want the meat to resemble a pea in size, you want to avoid taco meat consistency).

Add the salt, pepper and Worcestershire sauce, stir gently and remove from pan.

Add the butter in the pan and add the chopped onions and green bell pepper, cooking until browned and caramelized.

Once browned, add the meat back in and combine together.

Let the mixture cool while you prepare your egg roll wrappers and cheese.

Lay them on a flat surface and place a half a slice of American cheese on the wrapper.

Add three tablespoons of the meat mixture on top of the cheese.

Starting from the bottom left pull corner over the meat, then fold the two sides in.

Wet the edges and roll tightly.

Set a pan to heat with canola oil, about an inch high would do the trick.

Add 3-4 egg rolls in them at once.

Once they have browned, take them out and dry them on a cooling rack or brown paper bag.
Notes
Make sure to keep the wrappers covered when you aren't actively using them so they don't dry out.
You don't really want to crowd the pan because they may stick together or it could even drop the temperature down too far.
Avoid cooling on napkins and paper towels, you don't want to capture steam under the egg roll, it will create sogginess.
Nutrition
Serving:
1
g
|
Calories:
129
kcal
|
Carbohydrates:
9
g
|
Protein:
7
g
|
Fat:
7
g
|
Saturated Fat:
4
g
|
Polyunsaturated Fat:
0.3
g
|
Monounsaturated Fat:
2
g
|
Trans Fat:
0.3
g
|
Cholesterol:
27
mg
|
Sodium:
328
mg
|
Potassium:
98
mg
|
Fiber:
0.4
g
|
Sugar:
1
g
|
Vitamin A:
140
IU
|
Vitamin C:
2
mg
|
Calcium:
121
mg
|
Iron:
1
mg