Pepperoni Pizza Egg Rolls are the perfect party appetizer or after-school treat, and they're ready in just 15 minutes!
Everyone loves party foods and some of the most popular ones are amazing takes on classic Take-Out Recipes including Buffalo Chicken Dip, Cheesy Beef Rotel Dip, and Ultimate Bean Dip.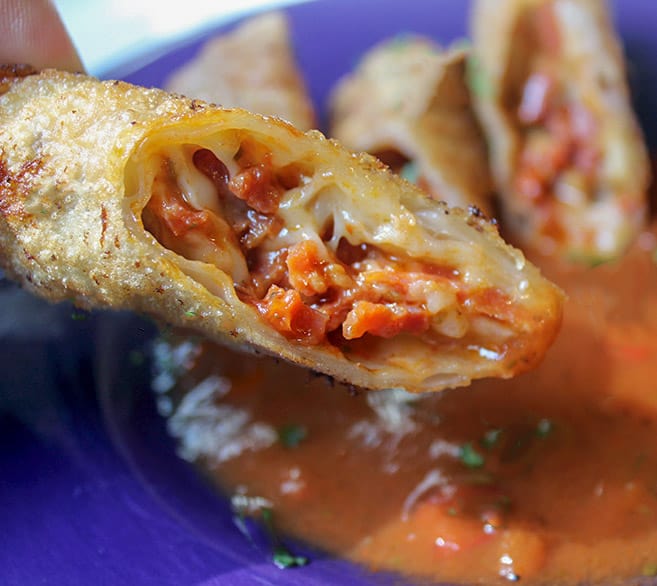 Pepperoni Pizza Egg Rolls is a game-changing recipe that's about to revolutionize your appetizer and snack time routine! It's hard to resist the appeal of pizza, and when its iconic flavors are ingeniously packed into a crispy, golden egg roll, it elevates the pizza experience to a whole new level.
Why are these egg rolls so irresistible? It begins with the filling – a mouthwatering blend of mozzarella cheese, thick-cut pepperoni, robust marinara sauce, and a hint of spicy crushed red pepper and Italian seasoning. This combination creates a familiar pizza flavor profile, yet in an exciting new form making a quick dinner.
The unique factor in this recipe lies in the wrapping. Egg roll wrappers, a staple of Asian cuisine, are employed to encase the pizza ingredients, offering a unique texture and aesthetic to this fusion dish.
This delightful dish is appropriate to whip up for a wide variety of occasions. Its ease and quick preparation make it ideal for game day snacks, party appetizers, or simply a fun family dinner. Originating from the creative fusion of Italian and Asian cuisines, this recipe proves that sometimes, the best dishes are those that push the culinary boundaries.
When you're done making these, and perhaps are craving for another innovative finger food, consider trying the Crispy Zucchini Fries from the same website. They are a fantastic option to keep your finger food game strong. Don't forget sauce for dipping!
How to Make Pepperoni Pizza Egg Rolls
Why stop at ordering pizza when you can bring the pizzeria experience home for a fun dinner or as a delicious appetizer? Homemade Pepperoni Pizza Egg Rolls are a surefire way to surprise and impress your loved ones. Easy to make, and even easier to enjoy. Check it out!
Step One: Combine your mozzarella cheese, pieces of pepperoni, marinara sauce, crushed red pepper, and Italian seasoning in a bowl.
Step Two: Distribute approximately two tablespoons of your prepared filling onto each egg roll wrapper.
Step Three: Apply a brush of water around the edges of your egg roll wrapper and roll it up securely.
Step Four: Heat up your vegetable oil in a Dutch oven and fry your prepared egg rolls until they reach a golden brown color. Drain on paper towels momentarily. Not too long or they won't stay crispy.
Frequently Asked Questions
Can I use a different cheese in this recipe?
Yes, while mozzarella is classic for pizza, feel free to experiment with other types of cheese like provolone or cheddar.
What kind of pepperoni should I use?
The recipe suggests using thick-cut pepperoni to replicate the delicious, meaty cubes typically found on a pizza. However, regular sliced pepperoni will work as well.
Can I use pizza dough instead of egg roll wrappers?
While you can technically use pizza dough, it will result in a different texture and cooking process. The thin and crispy texture of the egg roll wrappers really sets this recipe apart.
Can I bake these instead of frying them?
Absolutely, while frying provides a crispier exterior, baking is a healthier alternative and will still result in delicious egg rolls.
Can I add more ingredients to the filling?
Yes, just like with a traditional pizza, feel free to add your favorite pizza toppings to the filling. Vegetables, different types of meat, or additional cheeses would all make great additions.

Create a free account to

Save Recipes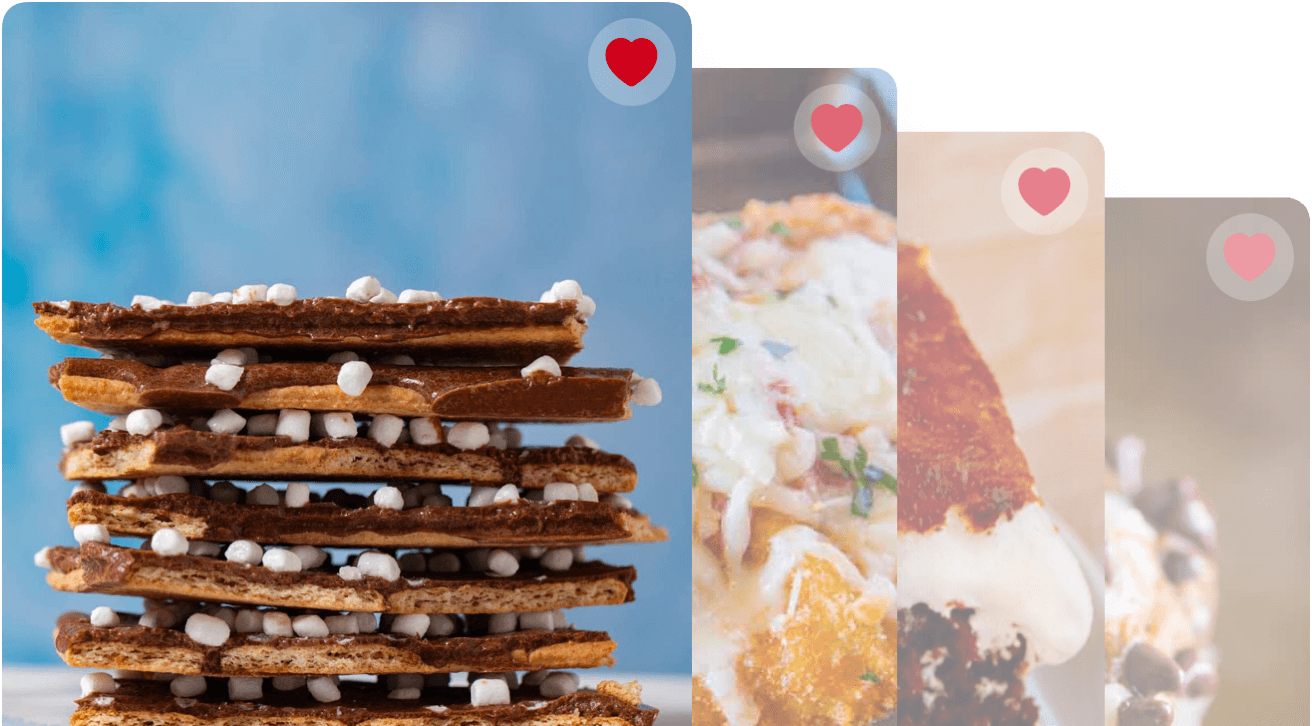 Key Ingredients in Pepperoni Pizza Egg Rolls
Making Pepperoni Pizza Egg Rolls at home is straightforward, with easily accessible ingredients. These components are integral to achieving the signature pizza flavor, each bringing something special to the table.
Mozzarella Cheese: This cheese melts beautifully, offering a creamy, stretchy texture and mild flavor that allows the other ingredients to shine. You can also use mozzarella sticks if you don't have shredded mozzarella.
Pepperoni: A defining feature of the classic pepperoni pizza, the thick-cut pepperoni delivers a flavorful, meaty bite to our egg rolls. You could use mini pepperonis or regular sliced pepperoni, but the thick-cut variety contributes to a more substantial texture.
Marinara Sauce: Adding a bit of tang and depth of flavor, marinara sauce is a crucial component of the filling. You can use store-bought for convenience or homemade for a personal touch. You can also use your favorite pizza sauce as well.
Egg Roll Wrappers: These are what set this recipe apart from a traditional pizza. The wrappers crisp up beautifully when fried, adding a wonderful contrast to the cheesy, meaty filling inside. One package of egg roll wrappers includes between 16 and 24 pieces. Be sure to check the package first.
Alternative Cooking Methods for Pepperoni Pizza Egg Rolls
While frying is the conventional method used in this recipe, you can also bake these pepperoni pizza egg rolls for a healthier alternative.
Baking Method
Preheat your oven to 400°F (200°C). Place the prepared egg rolls on a baking sheet lined with parchment paper. Lightly spray or brush the egg rolls with oil. Bake for about 15-20 minutes or until golden brown and crispy, flipping halfway through.
Air Fryer Method
Step One: Prepare your Pepperoni Pizza Egg Rolls as directed in the main recipe, stopping just before the frying step.
Step Two: Preheat your air fryer to 390°F (200°C). If your air fryer does not have a preheat function, simply run it at the cooking temperature for about 5 minutes.
Step Three: Arrange the egg rolls in the air fryer basket in a single layer, ensuring they are not touching. Depending on the size of your air fryer, you may need to cook in batches.
Step Four: Lightly spray the egg rolls with a bit of oil. This will help them achieve a beautiful golden color.
Step Five: Cook the egg rolls in the air fryer for about 8-10 minutes, flipping halfway through the cooking time, until you have a golden brown and crispy egg roll wrapper.
Can Pepperoni Pizza Egg Rolls Be Made Ahead of Time?
Absolutely, Pepperoni Pizza Egg Rolls are excellent candidates for advanced preparation. Assemble the pizza rolls, place them on a baking sheet, and freeze until solid. Once frozen, transfer them to a freezer bag or container for storage. They can be fried or baked straight from the freezer, adding a couple of extra minutes to the cooking time.
For storage after cooking, let them cool completely, then store them in an airtight container in the refrigerator. They can be reheated in the oven or in an air fryer to maintain crispness.
Substitutions in Pepperoni Pizza Egg Rolls
Cheese: If you're looking for a different flavor profile, provolone or cheddar could be a great substitute for mozzarella.
Meat: Not a fan of pepperoni? Substitute with other pizza-friendly meats like ham or sausage.
Sauce: For a different taste, substitute marinara sauce with Alfredo or pesto sauce. You can also use your favorite pizza sauce. 
Egg Roll Wrappers: If egg roll wrappers are not available, you can use, wonton wrappers, spring roll wrappers, or phyllo dough.
Variations on Pepperoni Pizza Egg Rolls
Pepperoni Pizza Egg Rolls are open to interpretation. There's plenty of room to play and customize the recipe with a fun twist according to your personal preferences. Just add your favorite pizza toppings!
Vegetarian Pizza Egg Rolls: Substitute pepperoni with mushrooms, bell peppers, and onions for a veggie-packed treat.
BBQ Chicken Pizza Egg Rolls: Swap out the pepperoni and marinara for cooked chicken and barbecue sauce for a BBQ chicken pizza twist.
Hawaiian Pizza Egg Rolls: Combine ham and pineapple in place of pepperoni for a Hawaiian-style variation.
Taco Egg Rolls: Cooked Taco meat (cook in larger crumbles), salsa, cubed cheddar – optional olives, corn, black beans.
Breakfast Egg Rolls: Barely cooked scrambled eggs, shredded cheddar, bacon or sausage with any other mix-ins you'd like.
Dessert Cheesecake Egg Rolls: 1 package of cream cheese, 1 tablespoon vanilla, ½ cup sugar mixed well topped with pie filling frozen at least 45 minutes before frying.
Bacon Cheeseburger Egg Rolls: Use the Bacon Cheeseburger Sloppy Joes as a filling.
Combo Pizza Egg Rolls: Chopped Pepperoni, bell peppers, onions, olives, mozzarella, marinara, Italian seasoning, and cooked sausage.
How to Store Pepperoni Pizza Egg Rolls
Serve: After cooking, these egg rolls can be left out at room temperature for up to 2 hours.
Store: Store leftover egg rolls in an airtight container in the refrigerator for up to 3 days. Reheat them in the oven or air fryer to crisp them back up.
Freeze: To freeze, place the cooked, cooled egg rolls in a single layer on a cookie sheet and freeze until solid. Transfer to a freezer-safe bag or container and keep for up to 3 months! We freeze them separately so they don't stick together when combined.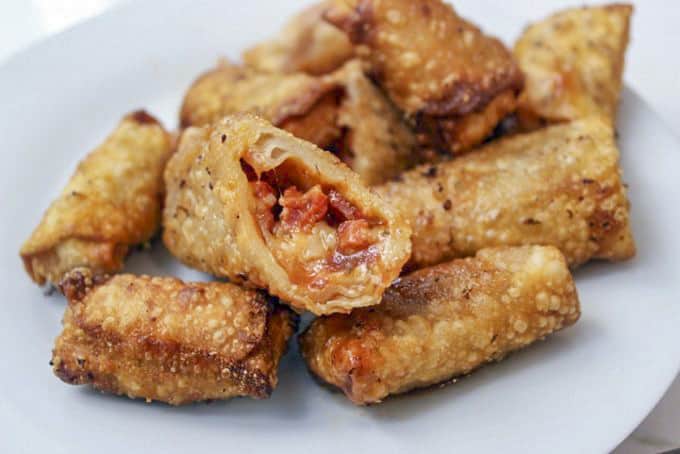 Ingredients
1

cup

mozzarella cheese

, shredded

8

ounces

pepperoni

, chopped [thick cut is best for replicating those delicious pepperoni cubes]

1/4

cup

Marinara Sauce

1/4

teaspoon

crushed red pepper

1

teaspoon

Italian seasoning

1/4

cup

water

24

egg roll wrappers

vegetable oil

, for frying
Instructions
Mix together the mozzarella cheese, pepperoni, marinara sauce, crushed red pepper and Italian seasoning in a medium sized bowl.

Put about two tablespoons of filling into the middle of each egg roll wrapper, then brush the edges of the egg roll with water, fold in the sides and roll closed.

Add 3 inches of vegetable oil to a dutch oven and heat to 375 degrees with a thermometer and fry the egg rolls for

1-2 minutes

or until golden brown.
Nutrition
Calories:
141
kcal
|
Carbohydrates:
8
g
|
Protein:
7
g
|
Fat:
8
g
|
Saturated Fat:
3
g
|
Cholesterol:
25
mg
|
Sodium:
371
mg
|
Potassium:
59
mg
|
Vitamin A:
135
IU
|
Vitamin C:
0.2
mg
|
Calcium:
104
mg
|
Iron:
0.7
mg
Photos used in a previous version of this post.