Slow Cooker Chicken Carnitas are an easy Mexican weeknight meal with fresh citrus, jalapeños and spices made crispy in a skillet for the perfect carnitas!
We love easy Mexican recipes like Carne Asada, Baked Tacos, and Mexican Rice. These Slow Cooker Chicken Carnitas are the perfect easy weeknight recipe you'll make over and over again all year long!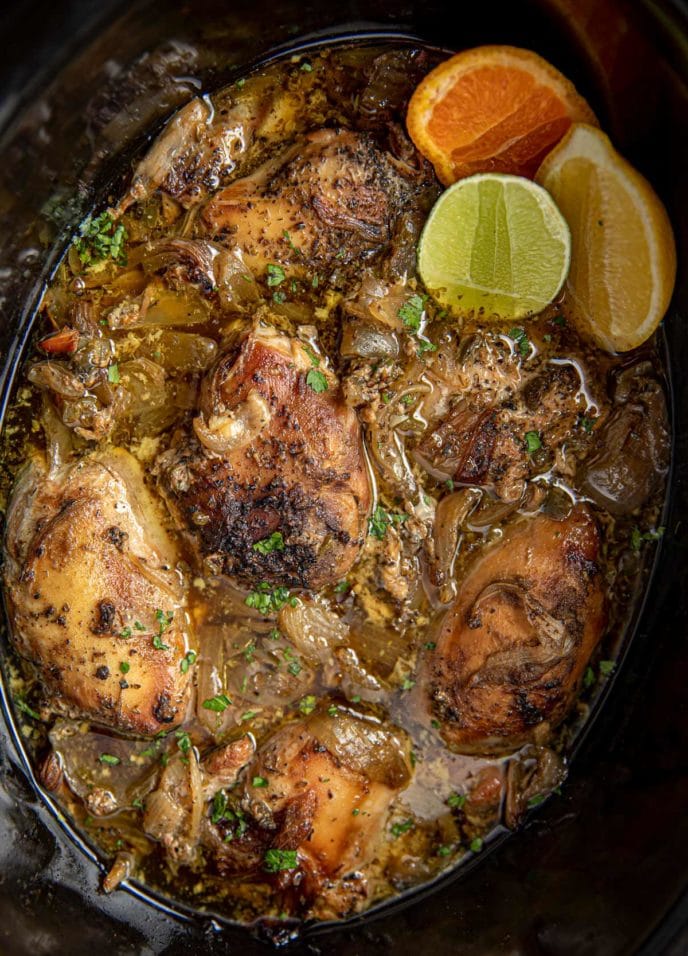 SLOW COOKER CHICKEN CARNITAS
Carne Asada doesn't just have to be pork (though I won't lie, I love pork carnitas). Using chicken thighs in your slow cooker is the perfect way to get the same flavors in a fattier cut of chicken that you can sear in your pan in just a few minutes for that traditional crispy texture.
We like to use chicken thighs vs pork in this recipe for a handful of reasons:
Less expensive on a regular basis. Sometime during the summer pork will be on a good sale, but that isn't true the entire year. For us we can always count on $0.99 a pound chicken thighs. If you have bone-in skin-on, just pull the skin off before cooking and remove the bones when the meat is done. This recipe is not fussy.
Healthier: While thighs are still the "dark meat" of the chicken vs chicken breast, they are a significantly leaner meat than pork shoulder.
Easier: Handling and cooking chicken thighs (even sourcing them) is easier than pork shoulder. It's a protein we all rely on constantly so you won't run the risks of it just not being available.
Crowds: When making this for a crowd you're more inclusive. There are a lot more people who won't eat pork than who won't eat chicken. This cuts down on how many different dishes you'll have to make for get-togethers.
Carnitas means "little meats" in Spanish, originates in Michoacán, Mexico, and is a delicious, juicy way to cook. You can cook any kind of meat this way. Pork carnitas are a traditional favorite. Carnitas-style chicken is absolutely delicious on its own or in any style of classic Mexican food like tacos, burritos, nachos, fajitas, burrito bowls, quesadillas, enchiladas, and a ton of other recipes. I also like to use this crispy chicken topped on salads, added to soups. The added texture brings a lot to other recipes where chicken may be boiled or grilled.
Slow Cooker Chicken Carnitas are great as a main course or over some chips and guacamole as an appetizer. You can also make it a few days in advance and keep it in the fridge for nights when you want something hearty to eat but don't feel like cooking. Serve it up with a spoonful of sour cream, chipotle peppers, fresh lime juice, warm tortillas, adobo sauce, and some fresh lime wedges.
HOW TO MAKE SLOW COOKER CHICKEN CARNITAS
Add the onions to a large slow cooker and top with chicken.
Add chicken broth, orange juice, lime juice and lemon juice.
In a bowl mix the jalapeño, salt, pepper, oregano, cumin.
Rub mixture all over the chicken..
Cover and cook on high for 6 hours.
Shred the chicken in large pieces.
Add in batches to a large skillet with 3 tablespoons vegetable oil.
Cook on medium high until crispy, stirring until it is crispy throughout.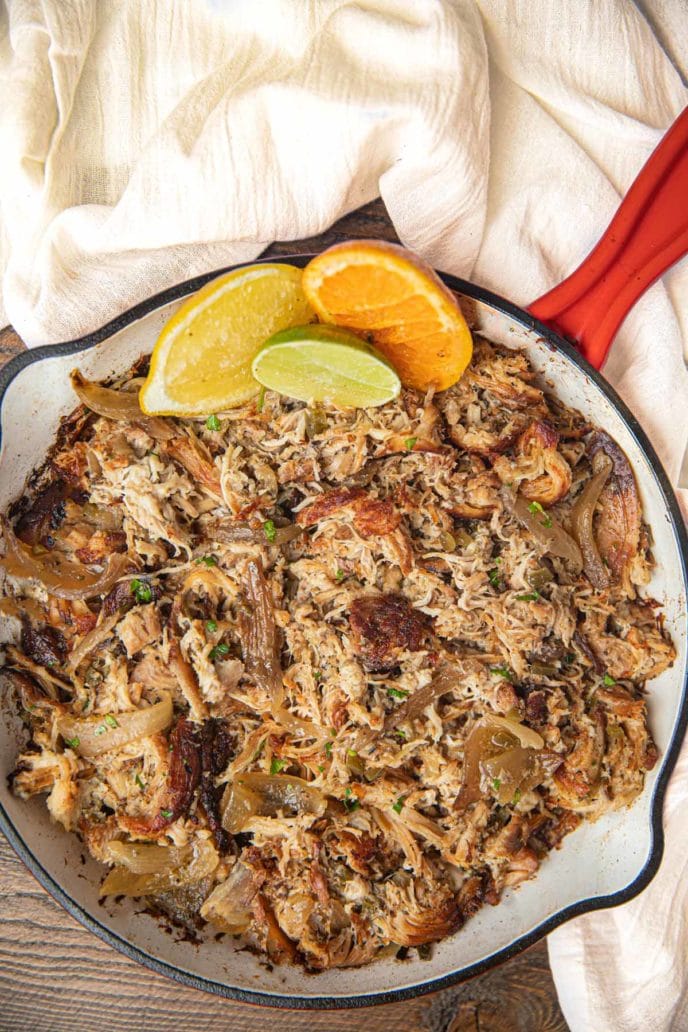 Create a free account to

Save Recipes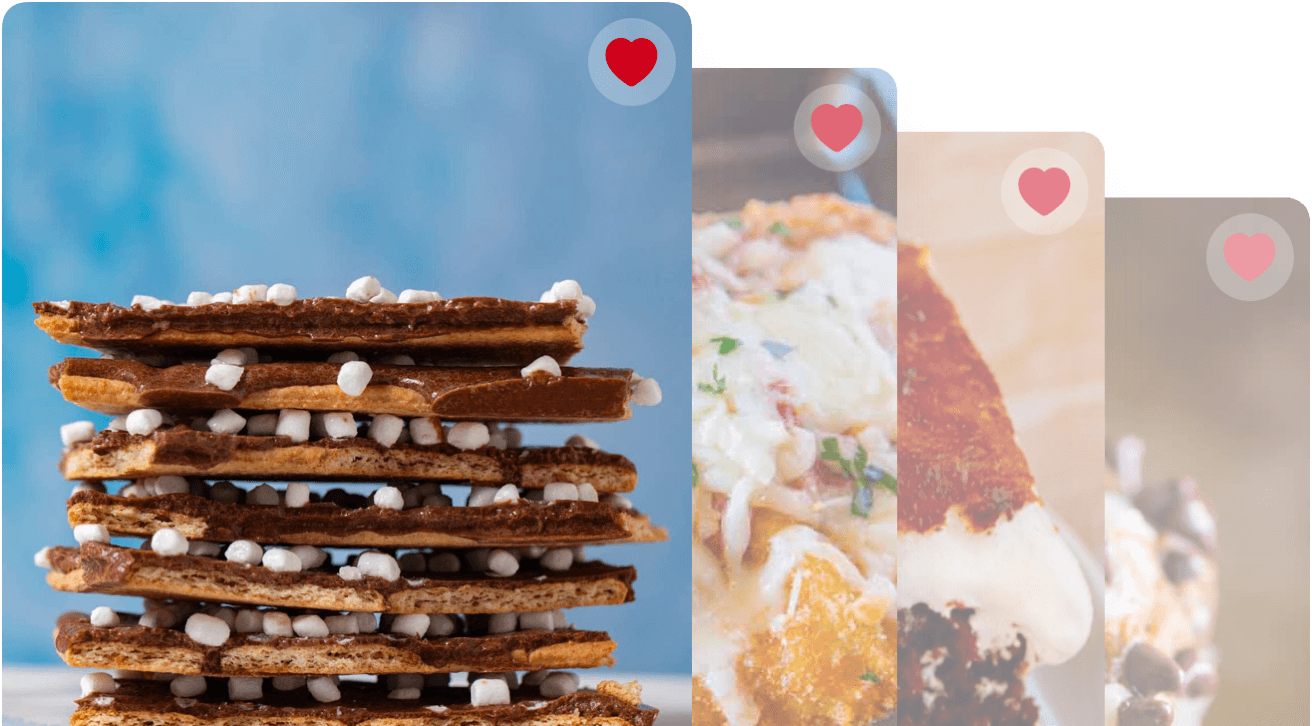 VARIATIONS ON SLOW COOKER CHICKEN CARNITAS
Pico de gallo: Chop up some fresh cilantro, Roma tomatoes and a red onion, mix them together in a food processor with some lime juice and garlic powder and smother your Slow Cooker Chicken Carnitas with your batch of homemade pico de gallo. Or, add in a chopped avocado and mush it all together for homemade guacamole, put it in a corn tortilla with the Slow Cooker Chicken Carnitas, shredded cheddar cheese and sour cream and enjoy.
Spice: Sprinkle some chili powder and paprika onto the chicken carnitas to give them a little bit of a spicy bite. For even more spice, add some additional red pepper flakes or some chipotle hot sauce. If that's still not hot enough, it's time to start piling on the jalapeños.
HOW LONG ARE SLOW COOKER CHICKEN CARNITAS GOOD?
Serve: After you've cooked your carnitas, you should remember not to leave them out at room temperature for longer than 2 hours. After 2 hours the chances of the meat developing bacteria are much higher and you can get sick from it.
Store: Allow your Slow Cooker Chicken Carnitas to fully cool down to room temperature before you wrap it up in plastic wrap or an airtight container and put them away in the fridge. Chicken Carnitas are best eaten up to 3 days after you make them.
Freeze: Slow Cooker Chicken Carnitas will last in the freezer for up to 3 months before you should make yourself a new batch of them.
What to eat with Chicken Carnitas:
Let's make this a party!


Ingredients
1

yellow onion

, cut into wedges

6

chicken thighs

1

cup

chicken broth

1

orange

, juiced

1

lime

, juiced

1

lemon

, juiced

1

jalapeno

, deseeded and sliced

1

teaspoon

kosher salt

1/2

teaspoon

coarse ground black pepper

1

tablespoon

dried oregano

1

tablespoon

ground cumin

3

tablespoons

vegetable oil
Instructions
Add the onions to your slow cooker, then top with the chicken (skin side up).

Add the chicken broth, orange juice, lime juice and lemon juice.

In a bowl mix the jalapeno, salt, pepper, oregano, cumin and sprinkle it all over the chicken.

Cover and cook for on high for

6 hours

.

Remove the chicken from the slow cooker and remove the skin and bones before shredding with a fork.

Add half of your vegetable oil to your skillet on medium high heat with half the chicken and allow to crisp for

3-4 minutes

before flipping and cooking

3-4 minutes

.

Repeat with remaining vegetable oil and remaining chicken before serving.
Nutrition
Calories:
346
kcal
|
Carbohydrates:
5
g
|
Protein:
32
g
|
Fat:
21
g
|
Saturated Fat:
10
g
|
Cholesterol:
97
mg
|
Sodium:
771
mg
|
Potassium:
476
mg
|
Fiber:
1
g
|
Sugar:
3
g
|
Vitamin A:
201
IU
|
Vitamin C:
20
mg
|
Calcium:
46
mg
|
Iron:
2
mg