Slow Cooker Brown Sugar Pineapple Ham is a total breeze with just three ingredients and no oven space to lose!
If you love this yummy pineapple recipe, you're going to love these other Dinner recipes that incorporate the flavors of citrus, like the popular Baked Orange Chicken, the mouthwatering Lemon Pepper Honey Fried Chicken, and one of the gameday favorites: Slow Cooker Meatball Pineapple Smokies.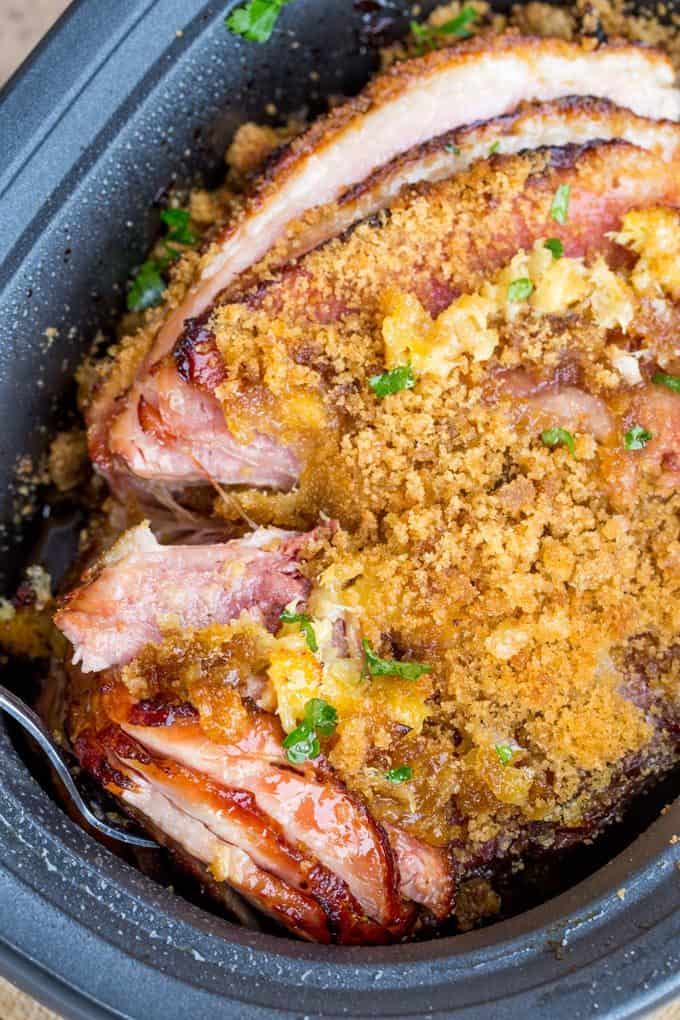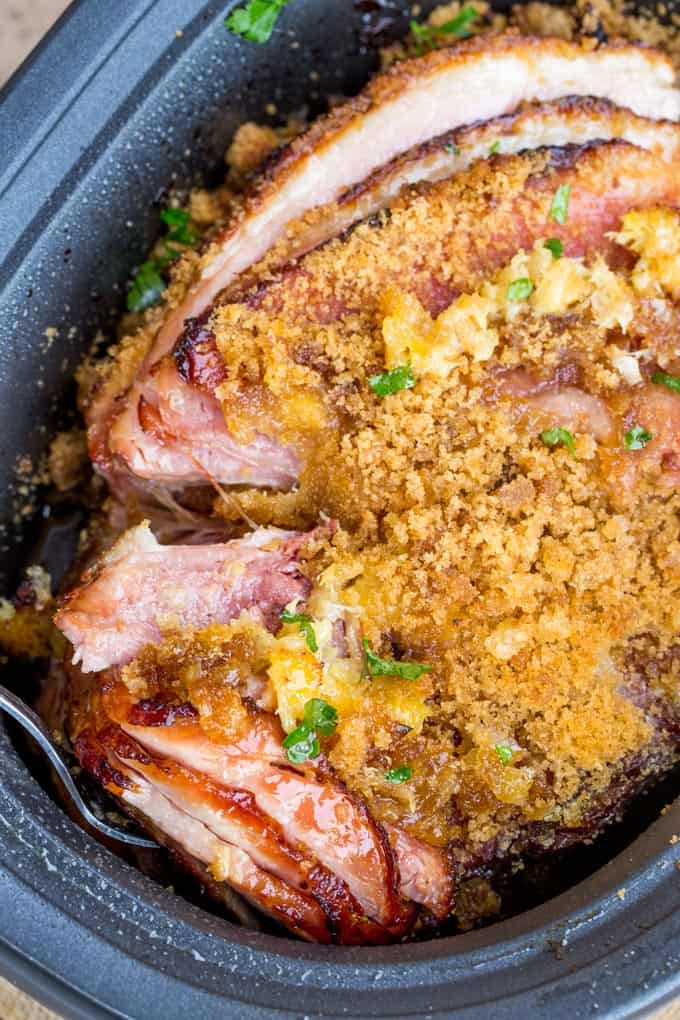 Slow Cooker Brown Sugar Pineapple Ham is a popular holiday season meal because it frees up oven space while you're busy working the oven to the max! The allure of the Slow Cooker Brown Sugar Pineapple Ham lies not just in its tantalizing flavors and ease of cooking, but in its rich historical backdrop. Hams have been central to celebrations for centuries, a symbol of prosperity and festive feasting. Combined with the tropical sweetness of pineapple and the caramel undertones of brown sugar, this dish becomes a decadent blend of tradition and innovation. Everyone loves slow cooker ham. This recipe takes it up a notch! Slow cooking not only retains the meat's moisture but ensures that the flavors are deeply infused, making every bite a delicious experience.
In many ways, the Slow Cooker Brown Sugar Pineapple Ham embodies the spirit of a festive celebration: traditional yet adaptable, sweet yet savory, and above all, shared with loved ones. Its simplicity ensures that even novice chefs can create a memorable dish, while its versatility allows seasoned cooks to experiment and make it their own. A similar recipe is Bourbon Glazed Ham, another delectable treat for those special occasions.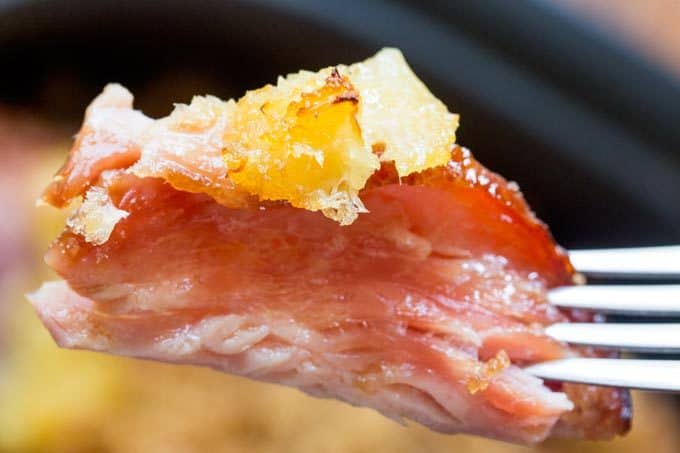 How to Make Slow Cooker Brown Sugar Pineapple Ham
The beauty of this recipe is its simplicity and the genius use of the slow cooker to achieve a moist, flavorful ham. No fuss, just set, and forget! Check it out!
Step One: Begin by placing the spiral-sliced ham into the Slow Cooker or crock pot. If needed, trim the base of the ham so it fits comfortably within.
Step Two: Top the ham with crushed pineapple bits, ensuring even distribution. Sprinkle over two cups of brown sugar. Add the brown sugar in layers because the first half will melt in the slow cooker.
Step Three: Set the slow cooker on low, and allow the ham to cook for 2-3 hours. Once done, cover the ham with the remaining brown sugar before serving. If you want a crispier ham you can finish it in the oven at 375 degrees for 20 minutes before serving.
Easy Baked Chicken Breasts w/ a Balsamic Pan Sauce
Frequently Asked Questions
What type of ham works best for this recipe?
A spiral-sliced ham is recommended as it allows for even cooking and better absorption of the pineapple and brown sugar mixture.
How do I choose the right pineapple?
Canned crushed pineapple bits are perfect as they contain their juices, enhancing the ham's sweetness. If not available, fresh pineapple pulsed in a blender can be a substitute.
Why use brown sugar instead of white?
Brown sugar contains molasses which provides a deep, rich caramel flavor, complementing the savory ham and sweet pineapple.
Can I use a non-slow cooker method?
Absolutely! An oven can be used, but cooking times and temperatures will vary. Always ensure the ham's internal temperature reaches 140°F. See below for more info on how to do this.
What should the consistency of the sauce be?
The combined juices of the pineapple and the melted brown sugar will form a light glaze. If a thicker sauce is desired, it can be simmered separately.
Can you use a bone-in ham for this recipe?
Absolutely! A bone-in ham can be used in this Slow Cooker Brown Sugar Pineapple Ham recipe. In fact, many believe that bone-in hams often result in a juicier, more flavorful end product due to the bone marrow's contribution to the cooking process. However, be aware that a bone-in ham might require a slightly longer cooking time than a boneless ham. Make sure you adjust the ham to fit your slow cooker, and check for doneness periodically. The bone can also make carving a bit more challenging, but the flavor payoff is often worth the extra effort.

Create a free account to

Save Recipes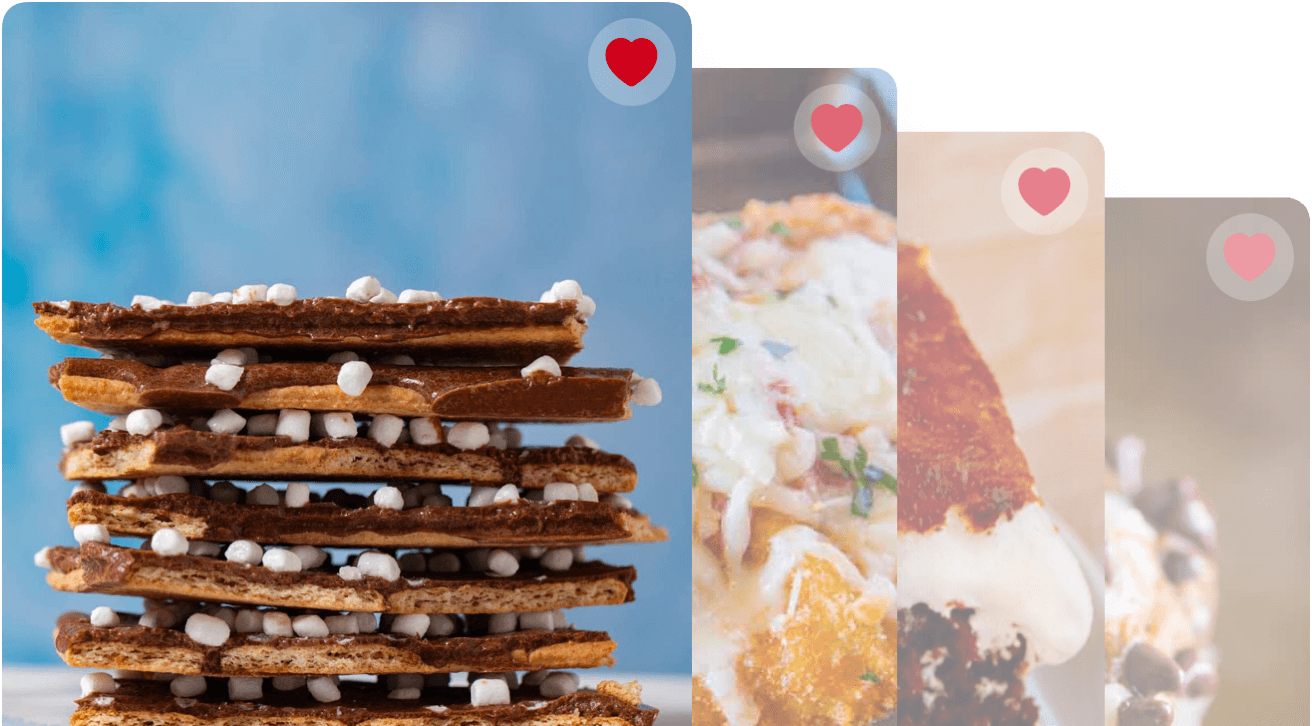 Key Ingredients in Slow Cooker Brown Sugar Pineapple Ham
The charm of the Slow Cooker Brown Sugar Pineapple Ham lies in its simplicity and the choice of key ingredients that complement each other perfectly. Plus, everything can be easily found in your local grocery store! Here's a breakdown:
Ham: Spiral sliced hams are optimal for this dish, as the slices allow for even flavor absorption. Plus, they are already fully cooked which is why it only takes 2 hours to cook it to perfection, instead of an uncooked ham which can take 6 hours or more!
Pineapple: The tropical sweetness of Crushed Pineapple tidbits contrasts with the ham's saltiness, providing a burst of flavor. Plus, the pineapple juice help keep the ham moist! You can use the canned pineapple chunks that come in the can no matter the size, as long as they are cut up and not pineapple rings.  
Brown Sugar: Brown sugar offers a caramel undertone, deepening the taste profile and complementing the pineapple's acidity.
Oven Brown Sugar Pineapple Ham
For those without a slow cooker, the oven is a fantastic alternative. Preheat your oven to 325°F. Follow the same preparation steps and place your ham in a roasting pan. Cover with foil and bake for about 15 minutes per pound or until it reaches an internal temperature of 140°F.
Can Slow Cooker Brown Sugar Pineapple Ham Be Made Ahead of Time?
Certainly! You can prepare the ham a day in advance. After the slow cooking process, allow it to cool and store it in the refrigerator for up to 3 days. Before serving, warm it in the slow cooker or oven. Add the final brown sugar glaze just before serving to retain its freshness and texture.
Substitutions in Slow Cooker Brown Sugar Pineapple Ham
Ham: If spiral-sliced ham isn't available, a regular bone-in ham will suffice. Adjust the cooking time accordingly.
Pineapple: Fresh pineapple, finely chopped or pulsed in a blender, can replace canned pineapple bits.
Brown Sugar: You can easily substitute with white sugar. To make the molasses-heavy flavor, mix two cups of white sugar with 4 tablespoons of molasses to make your own!
Traditional Glaze: If you wish for a more traditional glaze, you can heat brown sugar, honey, mustard, and some spices in a saucepan until it turns syrupy and brush it over the ham during the last 30 minutes of cooking. Remember, the key is to frequently baste the ham with its juices and the glaze to get that rich, shiny finish.
Variations on Slow Cooker Brown Sugar Pineapple Ham
Looking for a twist? Here's how you can customize the recipe:
Spiced Variation: Introduce a touch of warmth by adding ground cinnamon or cloves.
Tropical Delight: Mix in some shredded coconut and a half cup of orange juice with the brown sugar for an added tropical flair. Maraschino cherries are of course a fun and welcome addition!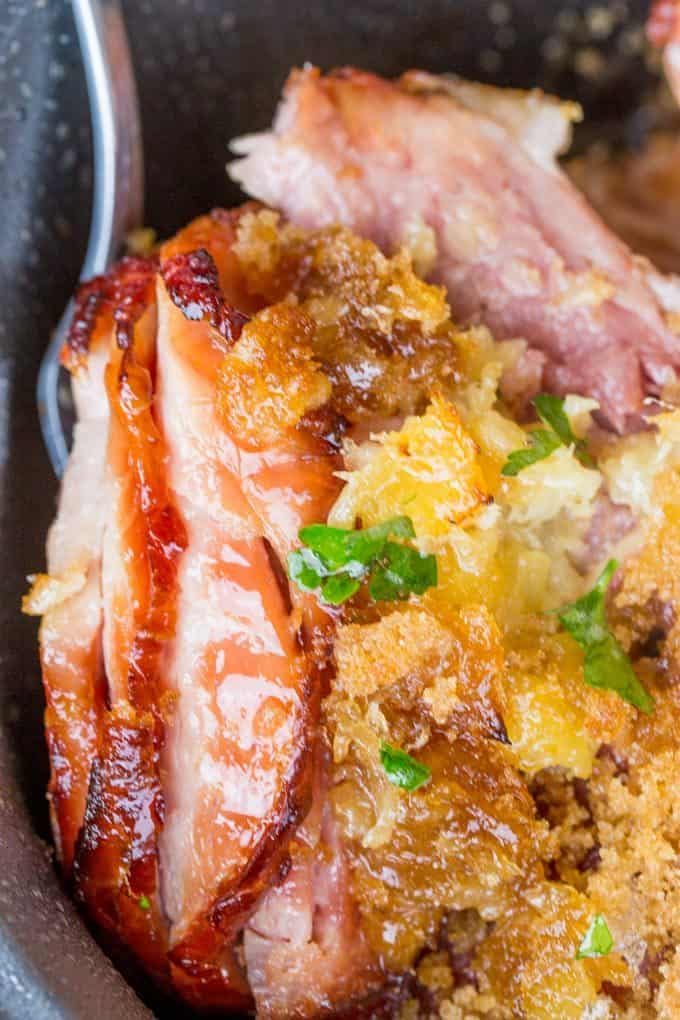 How to Serve Slow Cooker Brown Sugar Pineapple Ham
Hams are a festive centerpiece that pairs beautifully with a variety of side dishes. To complement the sweet and savory flavors of this Slow Cooker Brown Sugar Pineapple Ham, consider the following accompaniments:
Easy Baked Chicken Breasts w/ a Balsamic Pan Sauce
The perfect cheesy, sausage-stuffed Italian dinner
Cold Cream Cheese & Clam Dip Ready in Minutes!
How to Store Slow Cooker Brown Sugar Pineapple Ham
Serve: Leave the ham at room temperature for up to 2 hours post-cooking. Refrigerate if not consumed within this time.
Store: After cooling, wrap the ham tightly or use an airtight container. Store in the refrigerator and consume within 3-4 days. Reheat at 275°F in the oven for 15 minutes, or until warmed through.
Freeze: For longer storage, wrap portions and freeze. Best used within 2 months. Thaw in the fridge before reheating. Pineapple texture may alter slightly when frozen and reheated.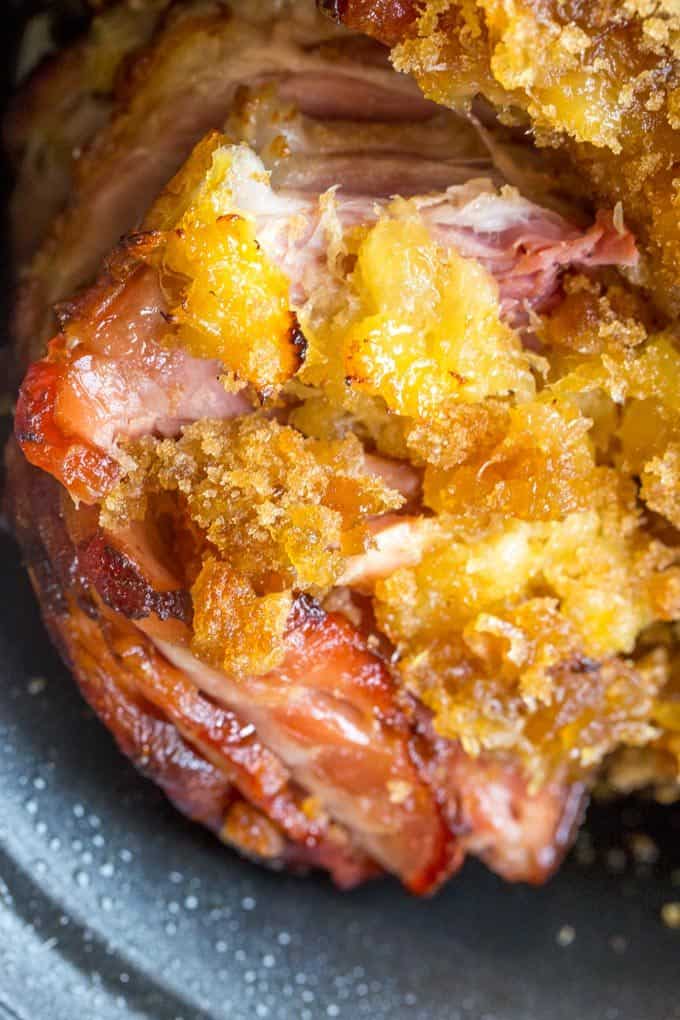 Ingredients
1

spiral sliced ham

8-10 pounds

1

can crushed pineapple bits

20 ounces (include the juice)

2

cups

brown sugar
Instructions
Add the ham to the slow cooker, trimming off the bottom as needed to fit it into the slow cooker. Keep the trimmed pieces around it in the slow cooker.

Add the pineapple bits to your ham then cover with one cup of the brown sugar.

Cook covered and on low for

2-3 hours

, then you can keep warm during your party.

Cover with remaining cup of brown sugar before serving.
Nutrition
Calories:
104
kcal
|
Carbohydrates:
26
g
|
Sodium:
8
mg
|
Potassium:
36
mg
|
Sugar:
26
g
|
Calcium:
23
mg
|
Iron:
0.2
mg
Photos used in a previous version of this post.