Ultimate Ham Sandwich is a simple recipe for the perfect combination of ham, cheddar cheese, spread and veggies on toasted slices of bread.
This savory Sandwich Recipe is a quick and easy way to make a meal with leftover Baked Ham. It's great to make in the days after Thanksgiving or Easter when you need to feed your family but don't want to spend any more time cooking!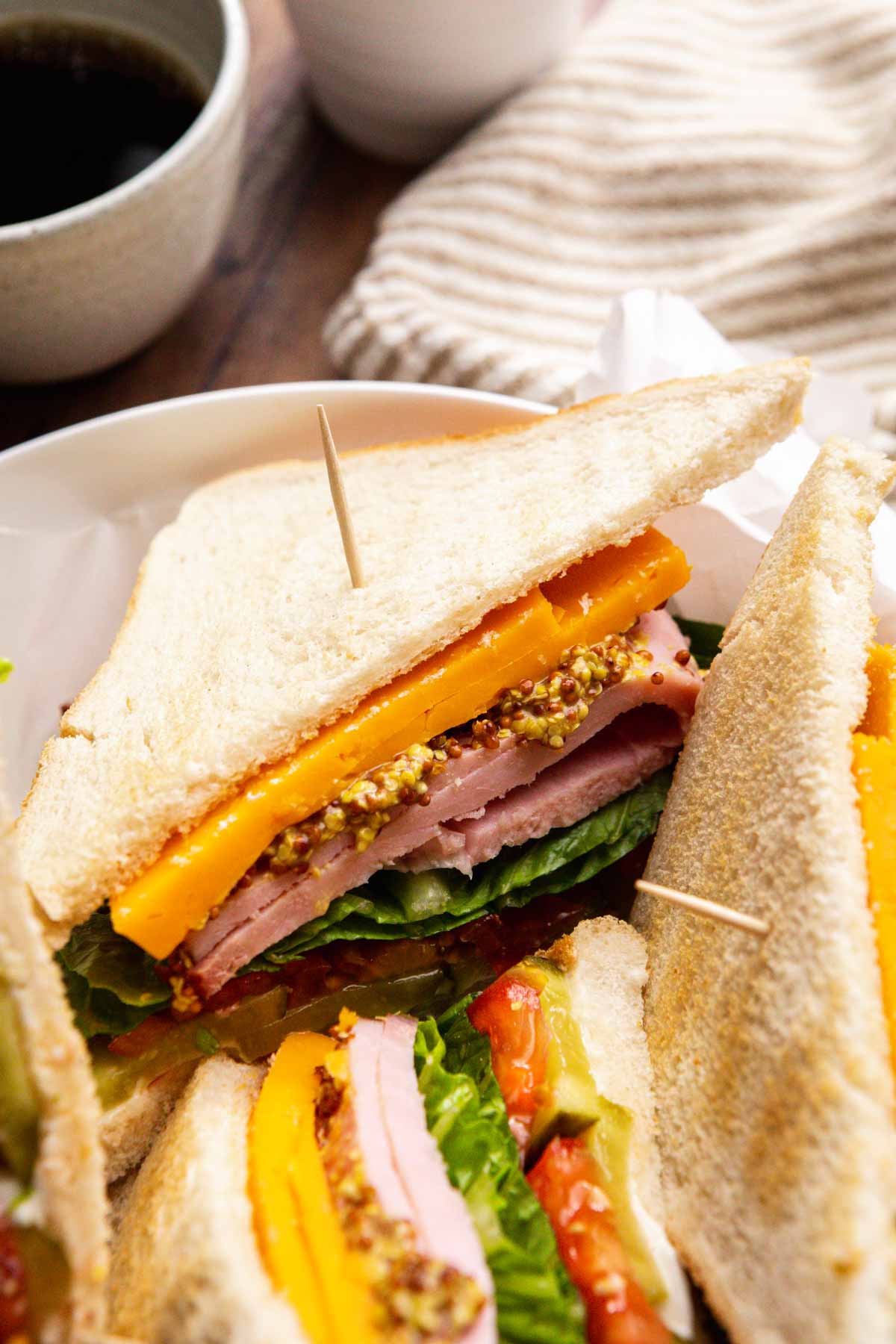 Anytime you have leftovers from a big dinner, it's nice to find a new recipe to use them in, rather than just reheating the same dish in the microwave. With baked ham, you can use the flavorful meat in an easy soup like Ham and Bean Soup or Ham and Potato Soup for dinner. Or, make it into a simple lunch with this wonderfully easy, classic ham sandwich recipe.
Ham and cheese sandwiches are the ultimate lunch recipe for one person or for a crowd. They're easy to toss together in a few minutes, wonderfully filling and satisfying, and you can make them as simple or complicated as you want! Even if you don't have any holiday ham leftover, you can still make these tasty sammies with some good quality ham from the deli.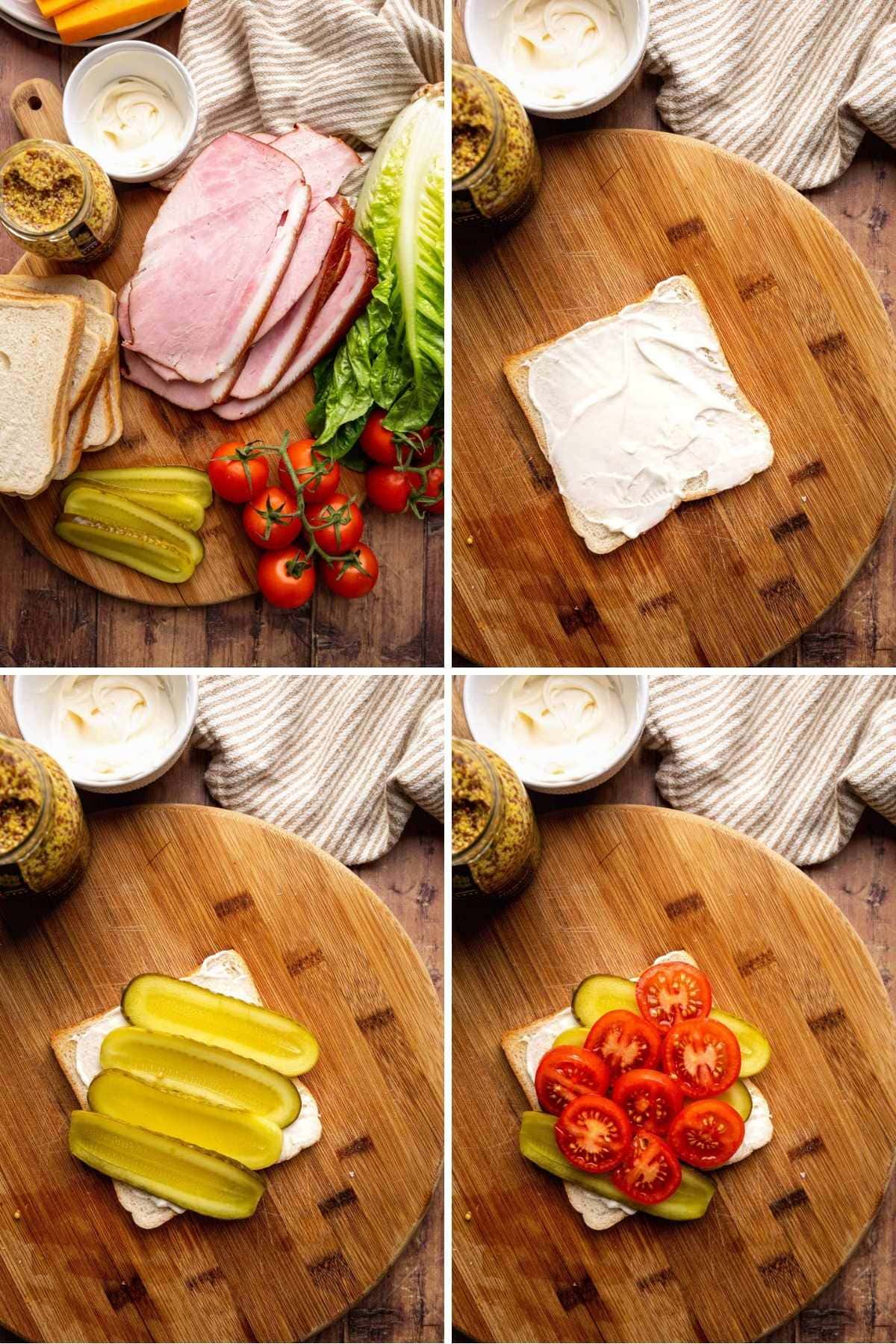 Taking a little extra time to toast the pieces of bread makes them crusty and hardy while the mayonnaise and mustard mixture add a creamy, rich flavor to balance out the salty flavors in the ham and cheese slices. Crispy lettuce, beefy tomato, and briny pickles are the perfect combination of simple veggies to round out the toppings. These delicious Classic Ham Sandwiches taste just as good as any you could get at your favorite cafe!
Serve these Ultimate Ham and Cheese Sandwiches with traditional deli sides like potato chips and Potato Salad or recreate a bistro meal with a bowl of Tomato Soup. These easy, savory sandwiches are great for serving a crowd, either as regular size sammies, on large French Baguettes cut up in pieces, or on rolls as a mini ham and cheese sliders. You could even make a ham and cheese party platter and let people assemble the sandwiches themselves so feeding your guests is a breeze.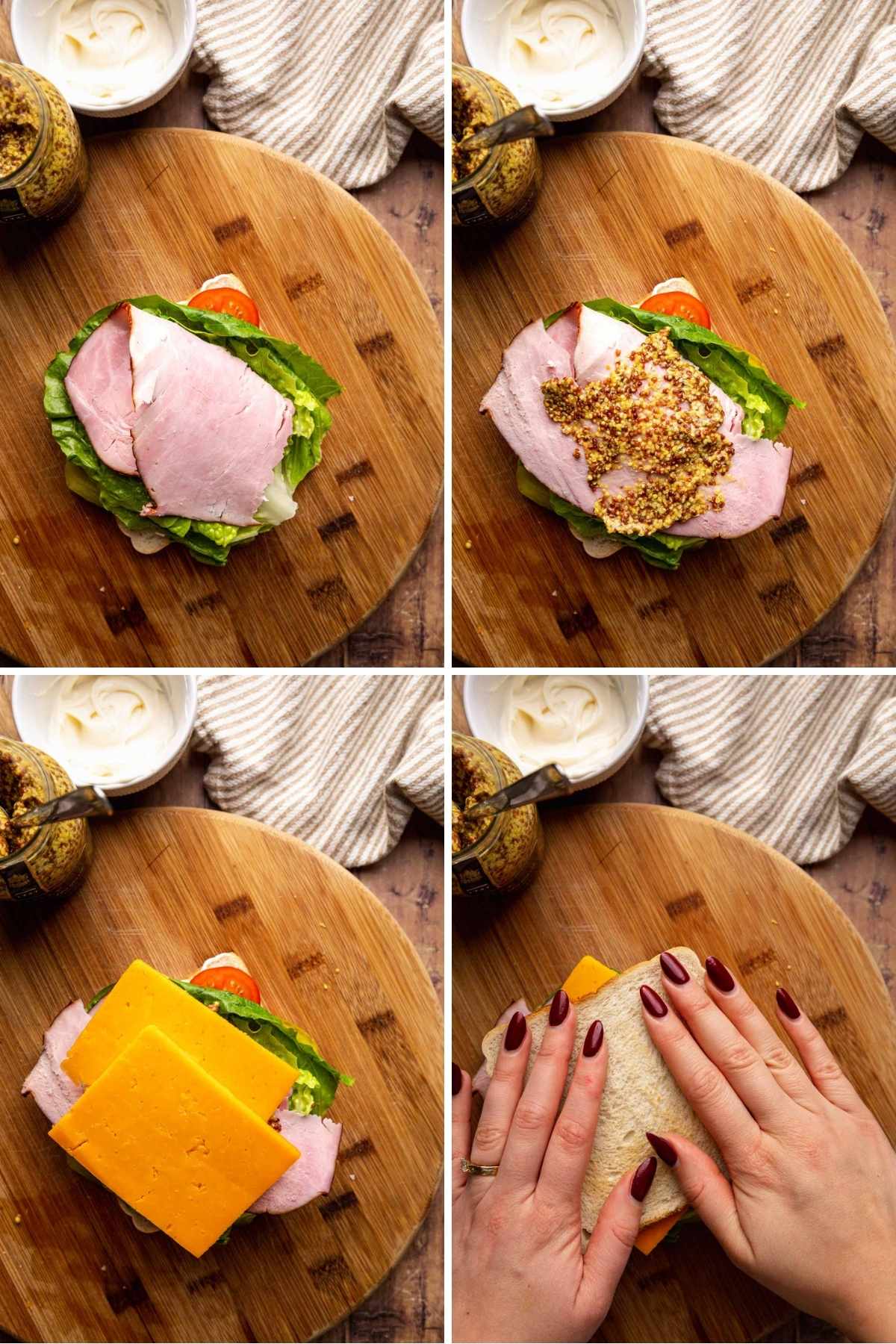 How to Make Ham Sandwiches
Bread: Choose a thick, hearty white bread or wheat bread. Cut into thick pieces of bread, about ½ inch wide.
Spreads: On one slice of bread, spread mayonnaise in an even layer. Spread the whole-grain mustard on the other piece of bread.
Filling: Layer pickles, a couple slices tomato, pieces of lettuce, and a good amount of ham on one bread slice.
Serve: Top with slices of cheese and the second slice of bread. Press gently, or use toothpicks if not staying together, and slice diagonally then serve.
FAQs for Ham Sandwiches
What kind of ham to use?
When selecting ham for a sandwich, it is important to choose a high-quality ham that is flavorful and not too salty. Options include baked ham, honey ham, smoked ham, or even leftover ham from a holiday meal.
How do I prevent this sandwich turning soggy?
To prevent the sandwich from turning soggy, it's important to layer the ingredients in a specific order. Start with a layer of condiment, then add the vegetables, ham, and cheese on top. This will create a barrier that keeps the bread from getting too moist. Also, consider packing the sandwich components separately and assembling it right before eating.
What condiments are best on a ham sandwich?
When it comes to ham sandwiches, there are many different condiments that can be used depending on personal preferences. Some of the most popular options include mayonnaise, mustard, honey mustard, horseradish sauce, and BBQ sauce.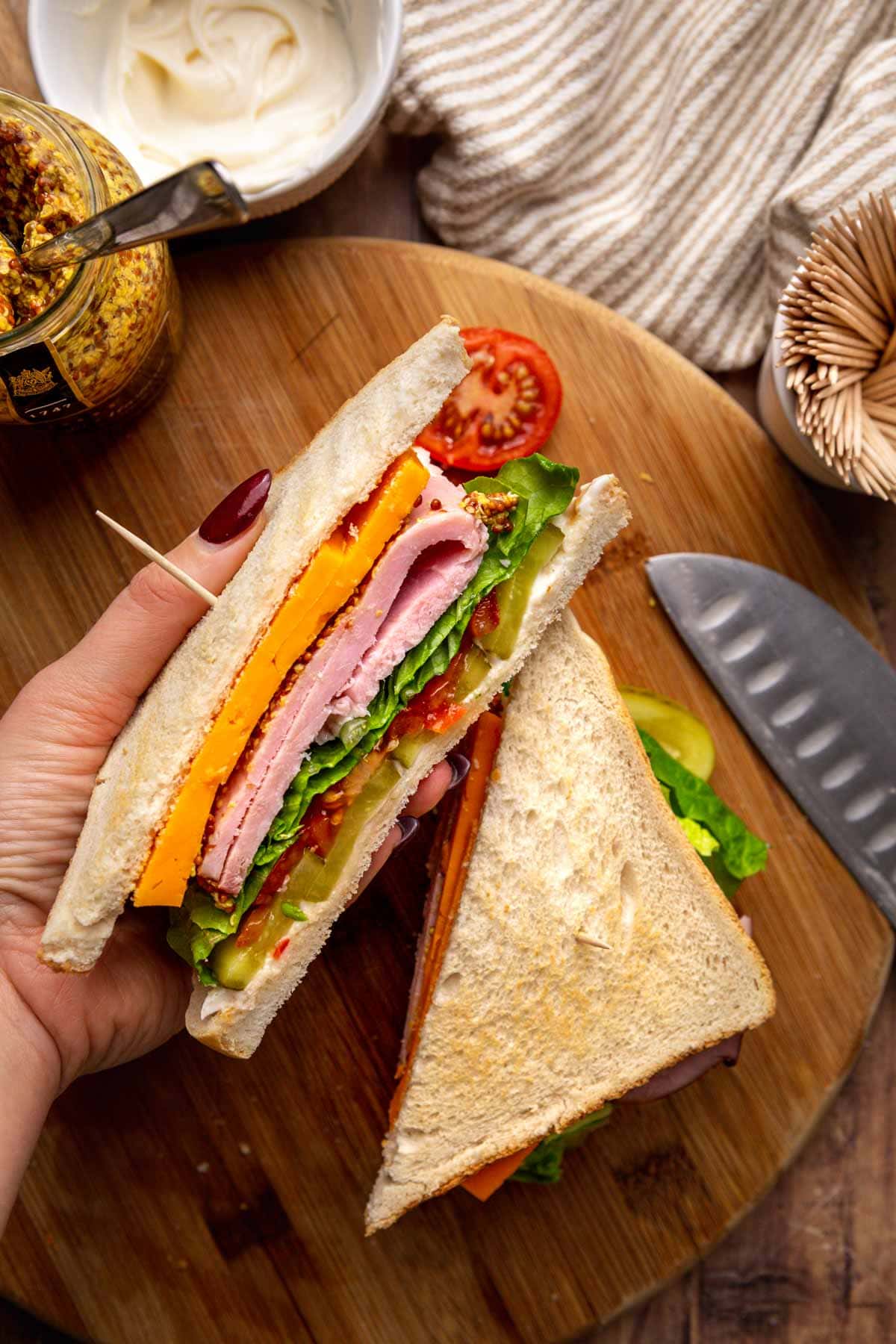 Create a free account to

Save Recipes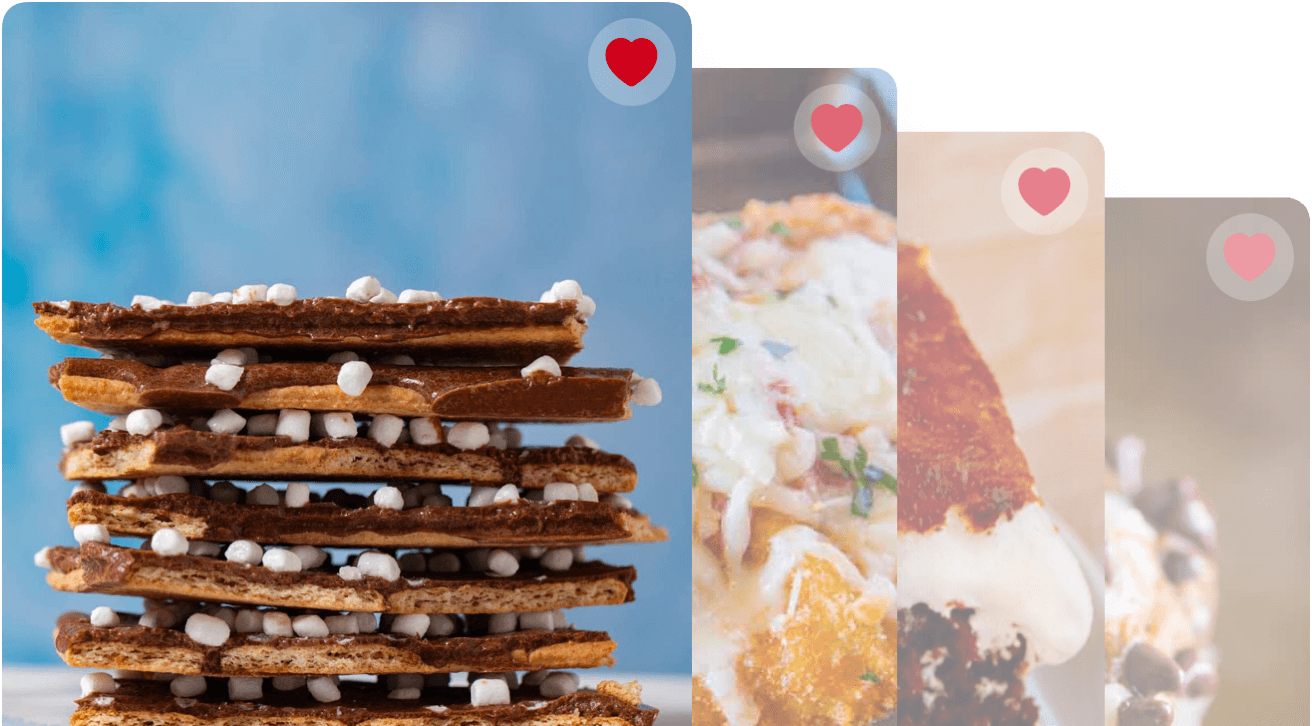 Key Ingredients
Sandwich Bread: For a ham sandwich, it is important to choose a sturdy White Bread that can hold up to the weight of the toppings without becoming soggy or falling apart. A thick, sliced bread like sourdough, rye, or whole wheat bread is a great option too. Toasting the bread helps to add some extra texture and prevent the sandwich from getting too soggy.
Mayonnaise: Mayonnaise is a classic sandwich condiment that adds a rich, creamy flavor and texture. It also helps to hold the other ingredients in place and prevent the bread from getting too dry. If you prefer a lighter option, you can substitute mayo with Greek yogurt or hummus.
Whole Grain Mustard: Whole grain mustard is a condiment made from mustard seeds and vinegar, with a slightly spicy and tangy flavor. It pairs well with ham and provides a nice contrast to the creaminess of the mayo. You can also use Dijon mustard, honey mustard, or another type of mustard depending on your taste preferences.
Pickles: Pickles add a crunch and a briny, tangy flavor to the sandwich. The long plank variety used in this recipe are a great option because they provide a nice contrast in texture to the soft bread and ham. You can use any type of pickles, such as bread and butter pickles, dill pickles, or spicy pickles, or you could swap in a pickle relish.
Vine Tomatoes: Tomatoes are a classic sandwich topping that provide a juicy and slightly sweet flavor. Vine tomatoes are a good choice because they are firm and have a nice texture, but you can also use other types of tomatoes depending on what you have on hand.
Romaine Lettuce: Romaine lettuce is a crispy and refreshing addition to the sandwich. It provides a nice crunch and adds some extra nutrition to the dish. You can also use other types of greens, such as spinach or arugula or other crispy lettuce like butter lettuce or iceberg lettuce.
Cheddar Cheese: Cheddar cheese is a popular choice for ham sandwiches because it has a sharp and tangy flavor that complements the ham. You can also use other types of cheese, such as Swiss cheese, provolone cheese, or pepper jack cheese, as an easy way to subtle change the flavor.
Variations
Bread: You can use any of your favorite kinds of bread for this Ham Sandwich recipe. Rye, challah, sourdough, whole grain, or wheat bread would all taste great in this recipe. Big loaves of crusty bread like french bread or sourdough can be used to make a giant party sub.
Panini: Make this a hot ham and cheese sandwich by adding some butter to the outside of the bread and popping in a panini press, waffle maker, or use another other grill press. Melty, creamy cheeses like Swiss cheese, Havarti, or Muenster cheese would all taste amazing as a panini.
Ham: If you don't have any leftover ham, you can make the same recipe with deli ham. If you don't like ham or want to make the sandwich even heartier, add some other deli meat like chicken or turkey.
Toppings: Try adding more sandwich toppings like onions, spinach, arugula, bell peppers, or avocado. You could also add some crispy bacon for some extra salty pork flavor and crunch.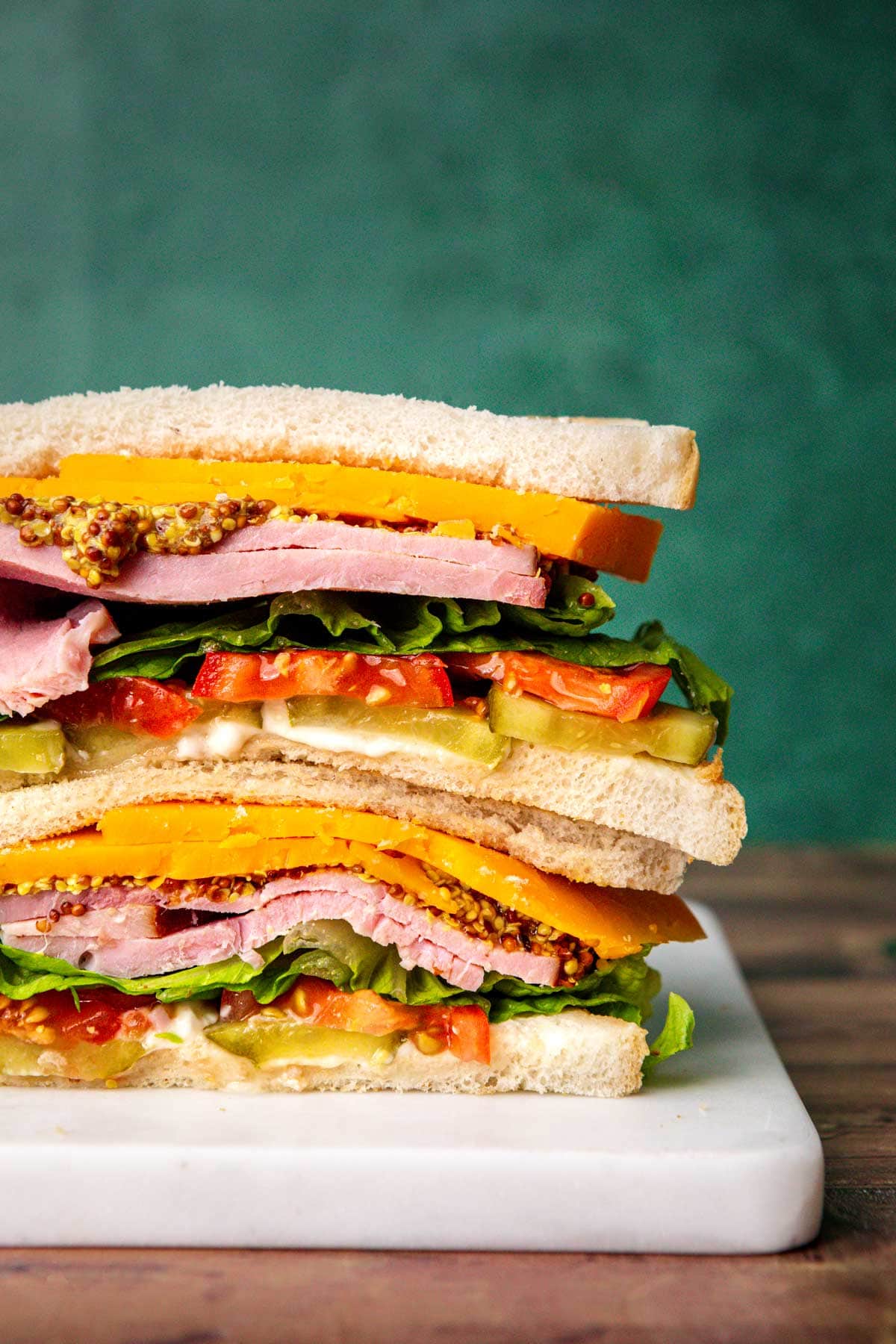 How to Serve Ham Sandwiches for a Party
Instead of using regular sandwich bread toast up 8-12 mini sandwich rolls. You can also use two large french loaves, cut in half lengthwise.
If the rolls don't fit in your toaster, or you are using a loaf, set the oven to broil and toast on a baking sheet.
Spread the mayonnaise and ground mustard over your toasted rolls.
Divide the ham and other sandwich fillings evenly into each roll.
Stick a toothpick through the center of each roll to keep them from falling apart.
Arrange the adorable ham sliders on sandwich trays with napkins to serve.
More Classic Sandwich Recipes
How to Store
Serve: Ham Sandwiches are best served fresh, and you shouldn't leave them out at room temperature for more than 2 hours. To make sure the bread doesn't get soggy, it's best to leave the condiments off until right before serving.
Store: Wrap any leftover sandwiches in plastic wrap and put it in an airtight container to seal out any moisture. It'll stay good in the fridge for up to 48 hours.
Freeze: You don't really want to freeze assembled sandwiches, because fresh veggies like lettuce and tomato don't thaw well. It's best to make these sandwiches the day you want to serve them.


Ingredients
16

ounces

ham

, leftovers or sliced

8

slices

thick sandwich bread

1/2

cup

mayonnaise

1/4

cup

whole grain mustard

8

pickles

, long plank variety

2

vine tomatoes

, sliced

1

head

romaine lettuce

, thinly sliced

8

slices

cheddar cheese
Instructions
Toast sandwich bread.

Spread mayonnaise on one side of bread slices.

Layer with pickles, sliced tomatoes, lettuce, ham, whole grain mustard, and cheddar cheese.

Top with second slice of toasted bread.

Press down gently and serve.
Nutrition
Calories:
679
kcal
|
Carbohydrates:
39
g
|
Protein:
41
g
|
Fat:
40
g
|
Saturated Fat:
15
g
|
Polyunsaturated Fat:
8
g
|
Monounsaturated Fat:
14
g
|
Trans Fat:
1
g
|
Cholesterol:
109
mg
|
Sodium:
3276
mg
|
Potassium:
1119
mg
|
Fiber:
7
g
|
Sugar:
9
g
|
Vitamin A:
14753
IU
|
Vitamin C:
17
mg
|
Calcium:
493
mg
|
Iron:
5
mg