Egg Salad Sandwich is an easy and tasty lunch with a creamy salad topped off with lettuce, tomato, onion, and served in toasted sandwich bread.
This dish takes a Classic Egg Salad and uses it for a simple, yet delicious, Sandwich Recipe. It's a great meal to make if you have any leftover egg salad, but it's also easy enough to make from scratch.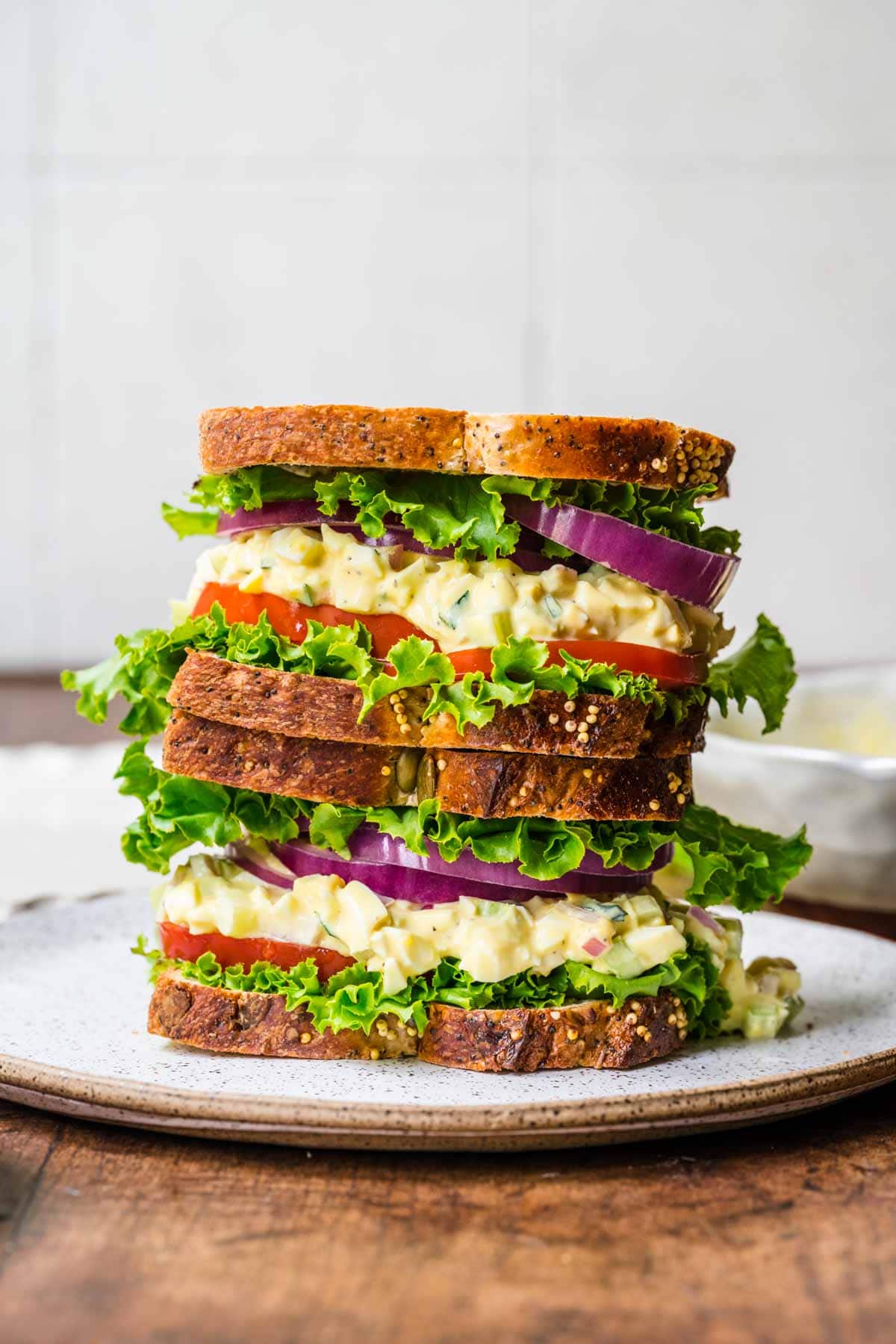 Easy sandwiches, like this one, are great for quick lunches or to meal prep for meals on the go all week long. For these sammies, a classic rich, creamy egg salad recipe is elevated with tarragon, celery, and lemon juice. Serve the Egg Salad filling on your favorite bread topped off with fresh vegetables like lettuce, tomato, and onion for a refreshing crunch. It's so good you'll want to make big batches of egg salad at the beginning of the week so all you need to do is toast a piece of bread or grab some crackers for a tasty and convenient meal.
One of the best things about egg salad sandwiches is that you can easily customize them for your taste or to use up ingredients that you already have on hand. Some common additions to egg salad include diced pickles, diced bell peppers, diced olives, diced bacon, or diced ham. Adding a pinch of herbs or spices to mayonnaise or mustard makes a big difference, like adding curry powder to mayo transforms it into Curried Egg Salad.
Another great thing about these delicious Egg Salad Sandwiches is that they are very budget-friendly. Eggs are a fairly inexpensive and nutritious source of protein for sandwiches, compared to most deli meat. Being flexible and using fresh seasonal produce is a great way to get toppings at a better price. You can even make your own homemade loaf of bread with an easy White Bread recipe to save money on your food budget.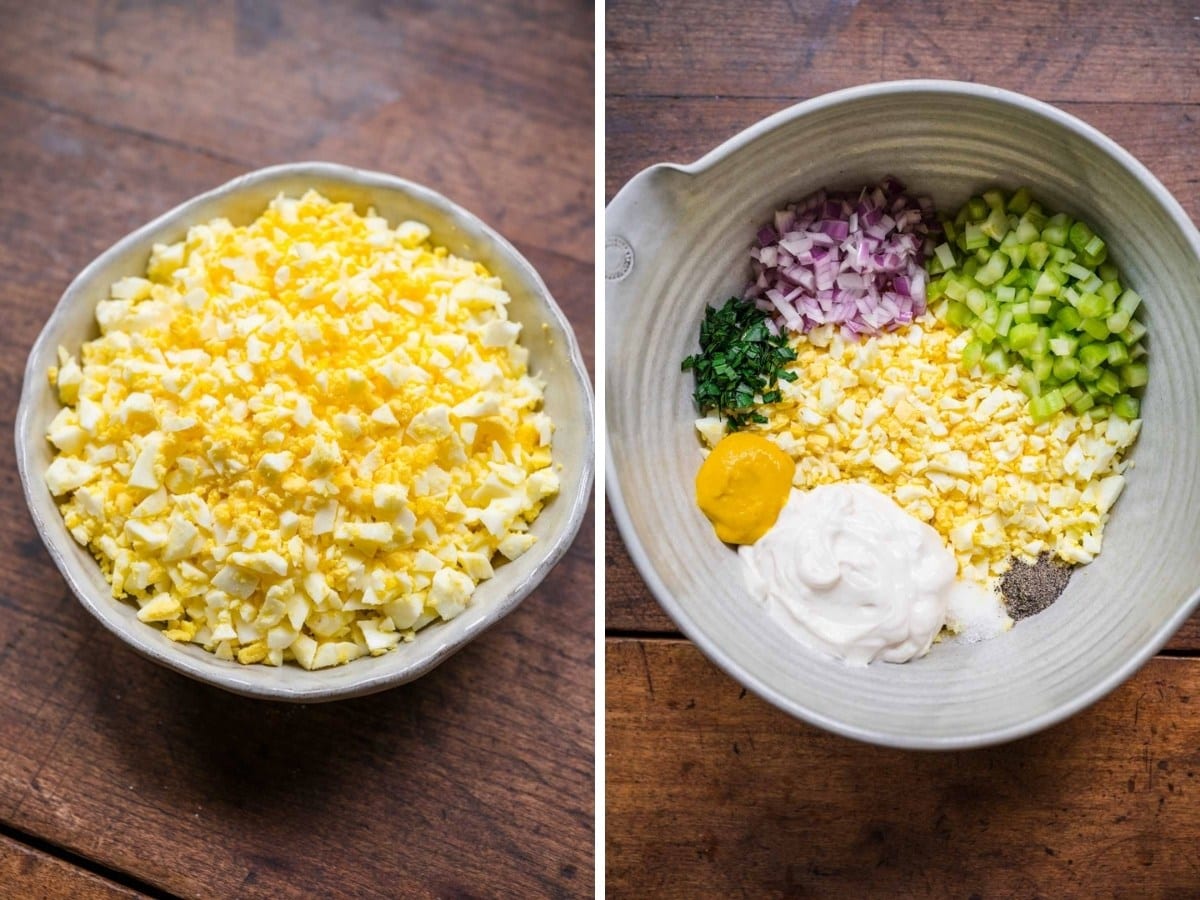 Egg Salad Sandwiches for A Crowd
This Egg Salad Sandwich recipe is the perfect lunch to serve a large party on a budget. You can double or triple the recipe easily and you can make it the day before to save time. Fancy the sandwiches up by assembling them on both white bread and a specialty type, like pumpernickel bread. Cut off the crusts and slice them into four triangles for tea sandwiches. Put a toothpick through each sandwich so that they don't fall apart. Arrange them on a platter with some specialty spreads, aka various mayonnaise and mustard with herbs like fresh dill or spices like curry powder added, for an elegant touch.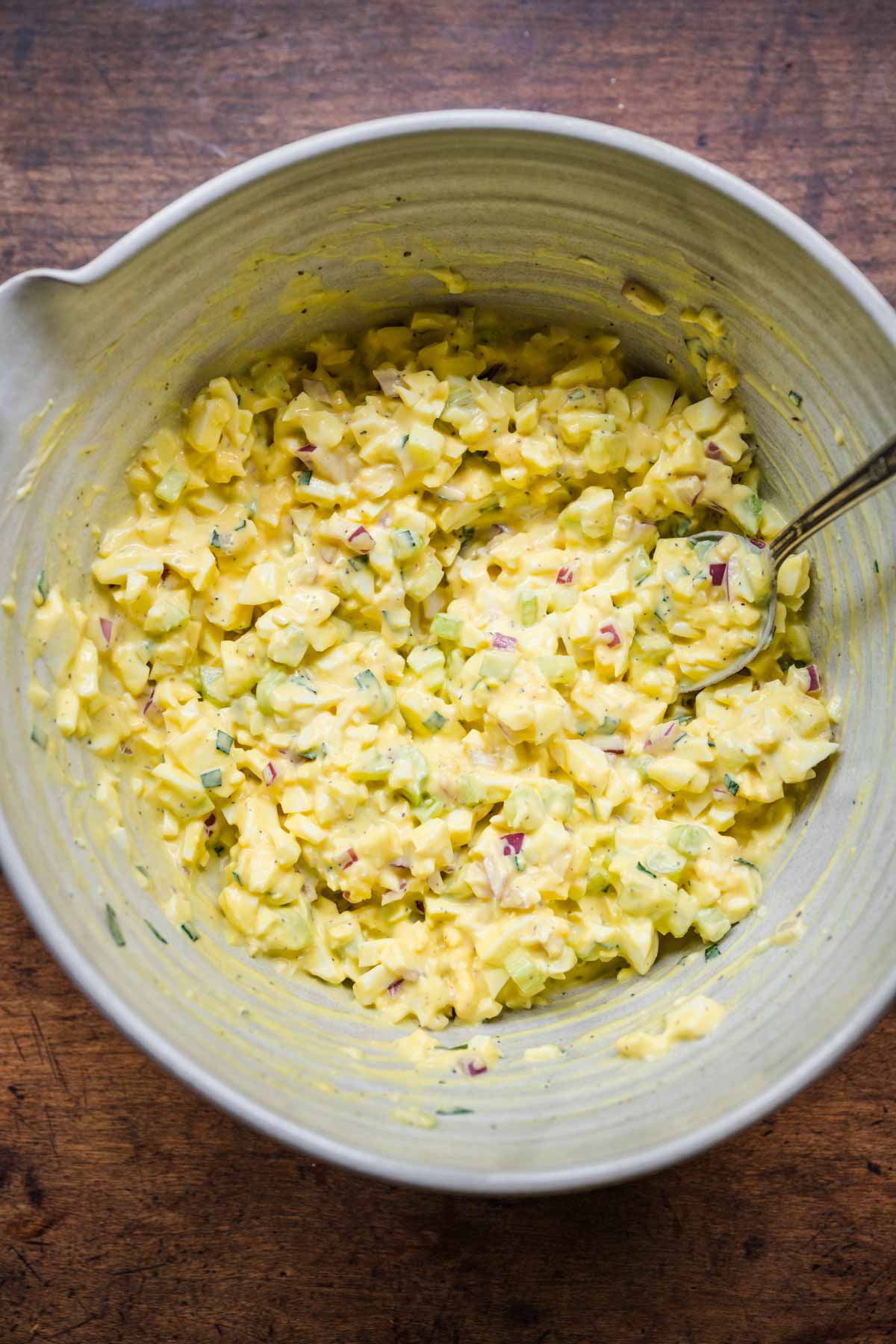 How to Make Egg Salad Sandwiches
Boil Eggs: Place the eggs in a large pot with enough water to cover them by 1 inch. Turn on the heat and bring the water to a simmer. Cover the pot and turn off the heat. Let the eggs sit for 8 minutes.
Chill Eggs: Remove the eggs from the pot and put them in an ice water bath. The ice water helps the eggs to cool quickly, and makes them easier to peel.
Egg salad mixture: Add peeled and chopped eggs to a bowl with the mayonnaise, mustard, lemon juice, celery, red onion, white wine vinegar, tarragon, salt, and pepper. Mix well, then cover and refrigerate for 1 hour.
Assemble: Lightly toast all 8 bread slices. Lay lettuce, egg salad, onion slices, tomato, and another piece of lettuce on half the bread, and finish it off with the top slice of bread. Having lettuce on the outside of the other sandwich fillings helps prevent the bread from getting soggy.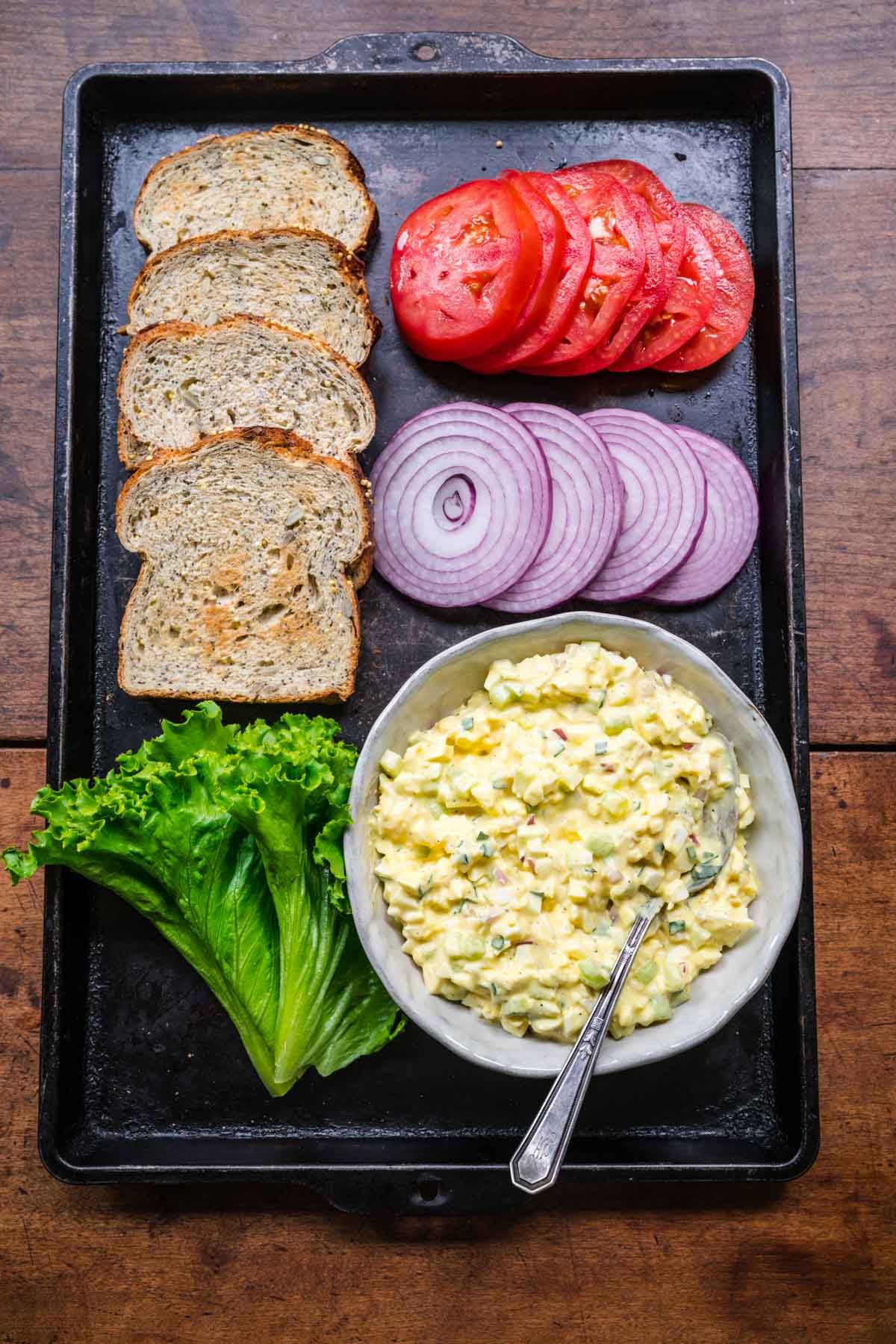 FAQs for Egg
Salad

Sandwiches

How many eggs do you need for egg salad sandwich?

In general, you will need at least 2 eggs per sandwich, but you can adjust the amount according to your preference. If you are making this recipe, you will need 8 eggs to make 4 sandwiches.

How do you keep your egg salad sandwich from getting soggy?

There are a couple ways to prevent the dreaded soggy Egg Salad Sandwich. First, be sure to toast the bread before assembling the sandwich. This will help to keep the bread from getting too moist and falling apart. You can also add a layer of lettuce or tomato to the sandwich to help absorb some of the moisture from the egg salad. Finally, consider using sandwich bread or rolls with a firmer crust, as these types of bread are less likely to become soggy when filled with a moist filling like egg salad.

Do you eat egg salad sandwiches hot or cold?

Egg Salad Sandwiches are eaten cold and the egg salad filling needs to be kept chilled if not being eaten. You should never consume mayonnaise-based salads that have been at room temperature for more than 2 hours.

Create a free account to

Save Recipes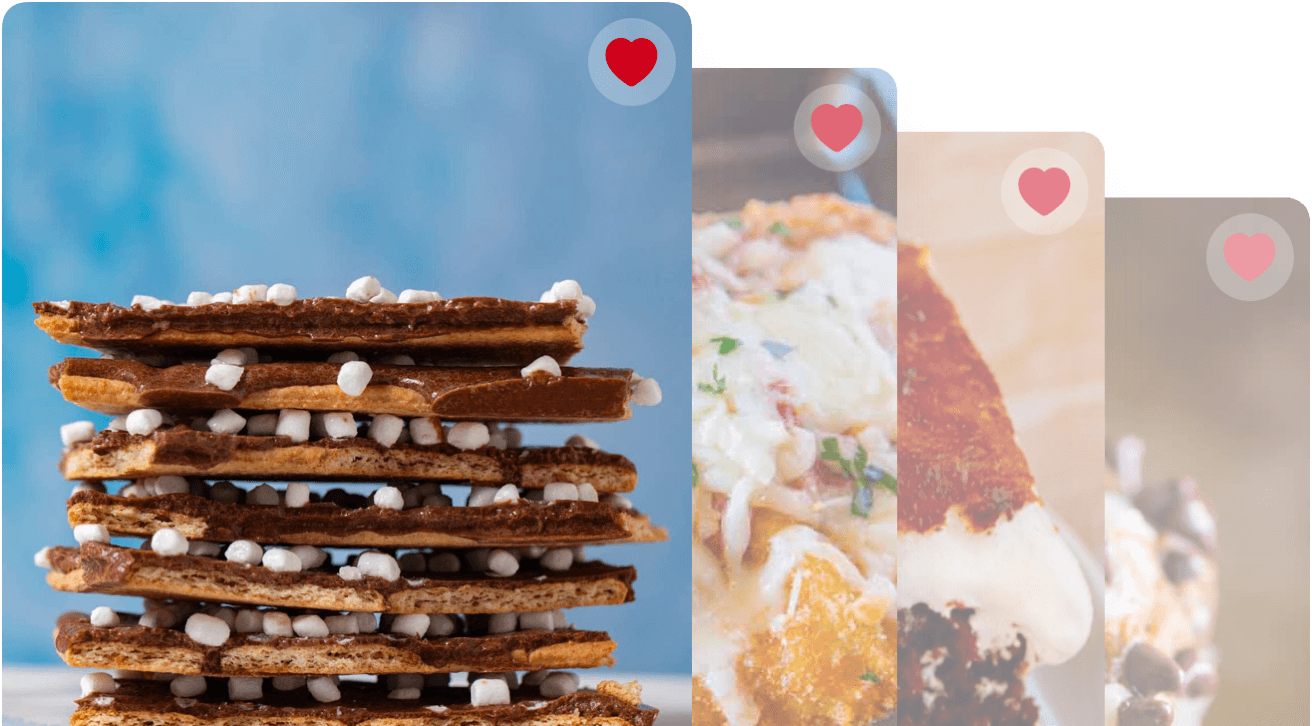 Key Ingredients
Eggs: You want to use large eggs that are hard boiled or medium boiled if you want a slightly creamier egg salad. Cool the eggs completely before you start making the filling.
Bread: You can use your favorite sandwich bread, although wheat bread or white bread are the most common choice. Ideally you want a bread that is soft enough that when you bite into it, it doesn't push the filling out but is also firm enough that it doesn't soak up all the moisture.
Seasonings: A squeeze of lemon juice, white vinegar, and some tarragon add a pop of freshness and tang to this otherwise heavy, rich mayo based filling.
Mayonnaise: Mayonnaise is a key part of egg salad to help bind the ingredients together and give the salad a creamy, smooth consistency. It also adds a rich distinctive flavor as well as moisture to the filling.
Mustard: Mustard provides a tangy, spicy flavor to help balance out the richness of the eggs and mayo. It is also a good emulsifier, helping to bind the ingredients together
Veggies: The creamy salad filling gets a flavorful crunch with diced celery and red onion. More fresh sandwich veggies are piled on top to add more texture and crunch.
Variations
Bread: Try out wheat, whole grain, sourdough, rye, French, or Italian bread to change up this sandwich. You can also wrap them in tortillas or spread them on bagels too instead of bread.
Spices: To experiment with the flavor of your egg salad, try adding different kinds of seasonings and spices to the mixture. Paprika, oregano, red pepper flakes, parsley, or garlic salt would all make wonderfully flavorful additions to the recipe. Fresh dill can be used instead of tarragon.
Sandwich add-ins: You can also add different kinds of fresh vegetables and other ingredients to the sandwich filling. Try spinach, cucumbers, or bell peppers. You could also add meat like cooked bacon, ham, or turkey.
Healthy Egg Salad: To make a healthier Avocado Egg Salad, use a mashed avocado to replace the mayonnaise called for in the recipe. You could also just add sliced avocado for an extra creamy egg salad bite.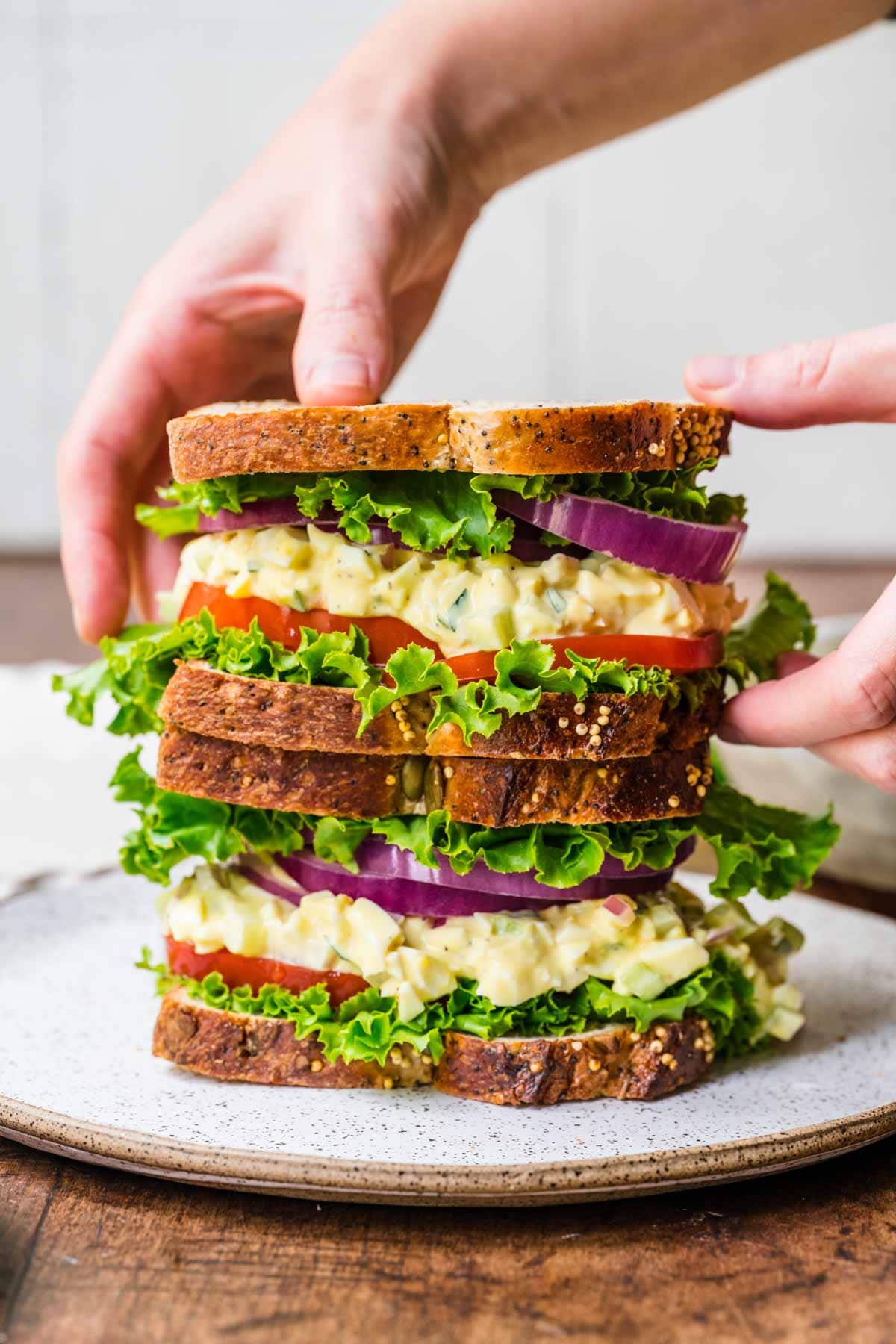 Instant Pot Hard Boiled Eggs
Place the eggs in the Instant Pot in a single layer on the wire trivet. They can be touching but you don't want to overcrowd the pot.
Add 1

cup of water

over the eggs.
Close the lid and make sure the pressure release valve is set to sealing.
Press the Manual button and set the timer for 5

minutes

on high pressure.
When the timer goes off, use the quick release method to release the pressure.
Once all the pressure has been released, carefully open the lid and remove the eggs using tongs or a slotted spoon.
Cool eggs in a

bowl of ice water

for at least 5

minutes

before peeling.
Oven Hard Boiled Eggs
Preheat your oven to 350 degrees.
Place the eggs in a muffin tin or on a baking sheet lined with parchment paper.
Bake the eggs for 30

minutes

.
Remove the eggs from the oven and place them in a

bowl of ice water

to cool before peeling.
How to Store
Serve: Egg Salad Sandwiches are best enjoyed fresh. Once you've made the sandwiches, don't leave them at room temperature for more than 2 hours.
Store: Fully assembled sandwiches won't store well as the bread will get soggy. You can store the egg salad filling separately in an airtight container in the fridge for 3-5 days.
Freeze: Unfortunately, freezing egg salad won't work well. The texture doesn't turn out the same after thawing it out. It's better just to make a fresh batch.


Ingredients
8

large

eggs

1/2

cup

mayonnaise

1

tablespoon

mustard

2

teaspoon

lemon juice

1/4

cup

celery

, minced

1/4

cup

red onion

, minced

1

tablespoon

white wine vinegar

2

teaspoons

tarragon

, minced

1/2

teaspoon

kosher salt

1/4

teaspoon

black pepper

8

slices

sandwich bread

8

leaves

lettuce

4

slices

tomato

4

slices

red onion
Instructions
Place the eggs in a large pot with cold water covering them by 1 inch and bring the water to a simmer.

Cover with a lid, turn off the heat, and let sit for

8 minutes

. Remove the eggs, place in an ice water bath, then peel.

Chop the eggs, then add in the rest of the ingredients and mix well. Refrigerate for at least 1 hour before serving.

Toast bread slices, then top with lettuce, egg salad, onion slices, another leaf of lettuce, and bread (this helps prevent sandwich sogginess).
Nutrition
Calories:
369
kcal
|
Carbohydrates:
33
g
|
Protein:
19
g
|
Fat:
18
g
|
Saturated Fat:
5
g
|
Polyunsaturated Fat:
7
g
|
Monounsaturated Fat:
6
g
|
Trans Fat:
1
g
|
Cholesterol:
376
mg
|
Sodium:
954
mg
|
Potassium:
385
mg
|
Fiber:
2
g
|
Sugar:
6
g
|
Vitamin A:
940
IU
|
Vitamin C:
8
mg
|
Calcium:
192
mg
|
Iron:
4
mg