Beef Wellington is a savory and indulgent classic English dish. Flaky pastry wrapped around a juicy beef tenderloin, aromatic herbs, and earthy mushrooms.
Fancy mains like Prime Rib and Beef Bourguignon are fantastic for holidays and special events. Beef Wellington also joins this long list of delicious, extra-special Christmas Dinner Recipe ideas.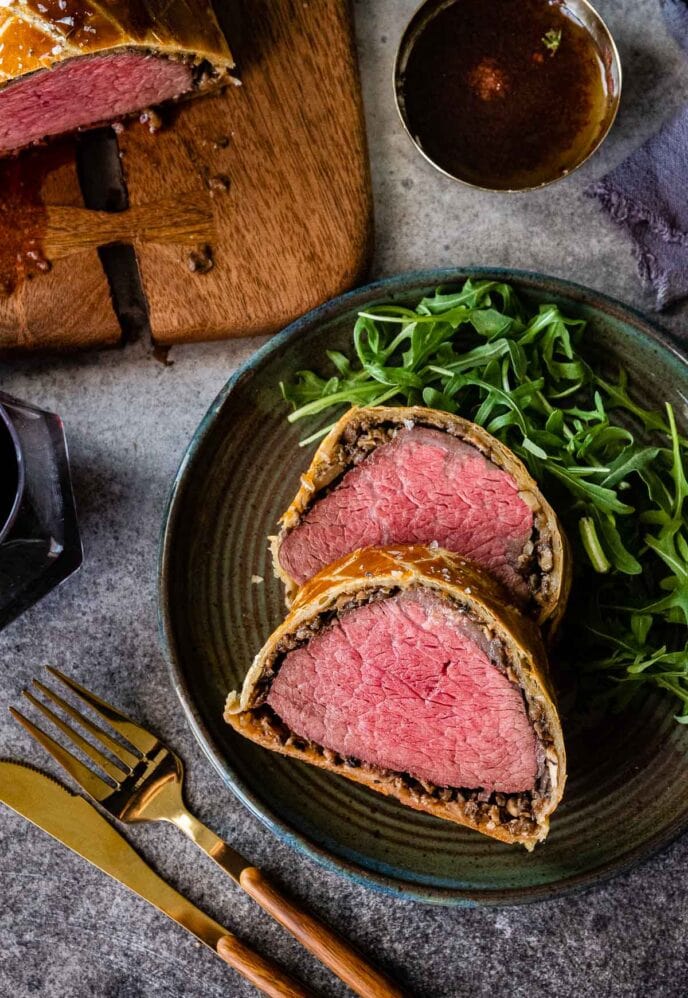 If you've watched any cooking show with Gordon Ramsay, you are probably familiar with the iconic British dish, Beef Wellington. It's a signature challenge, seemingly simple to make yet requires patience and finesse to get just right. This is why it has become a dish to make for special occasions like Holidays, Birthdays, and Anniversaries.
After seeing so many cooks get kicked out of the kitchen for undercooked or soggy Wellingtons, it can seem more than intimidating to attempt this fancy English classic. However, there is no need to shy away from this challenge. Sheer determination has brought you a version of this dish that any home chef can master. Included are some great tips to make sure this Beef Wellington recipe comes out perfect every time.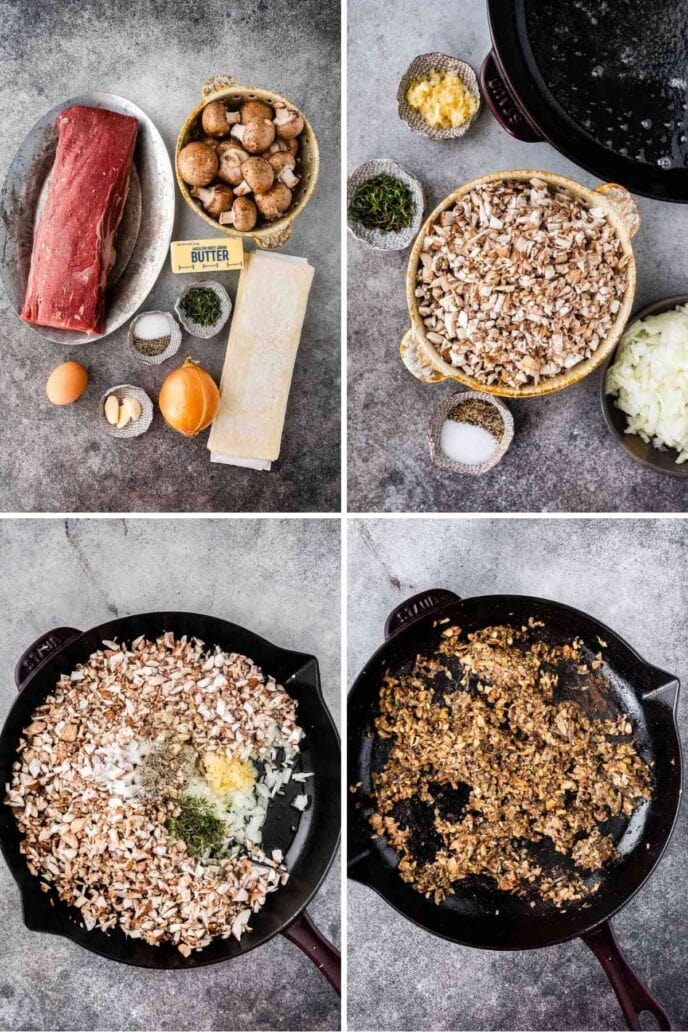 One main point to remember is to make sure there are no air gaps between the pastry and the beef. You want everything snug and sealed. This will not only result in a nicer look on the plate, it will also ensure an even cook. While this Beef Wellington recipe produces a tender and flavorful dish on its own, there is also a Red Wine Sauce made from the pan drippings to go with it.
Beef and potatoes is a classic pairing, so serve your Beef Wellington with Oven Roasted Red Potatoes, or Easy Mashed Potatoes alongside the Red Wine Sauce. You can also pair it with something lighter like a Beet Salad or Winter Pear Salad.
How to Make a Red Wine Sauce
2 cups beef broth
¼ cup red wine
When the tenderloin is done searing, remove it, and leave juices in the pan. Add in the beef broth and wine on high heat, reducing until thickened. Set it aside until ready to serve. The sauce will add a rich, luscious flavor to your Wellington
Can You Make Beef Wellington in Advance?
Why not make prepping for a holiday dinner easier on yourself? You can make Beef Wellington in advance. Just assemble and store it in the fridge up to one day before baking. This will be a time saver and you'll be thanking yourself big time on the day-of your dinner.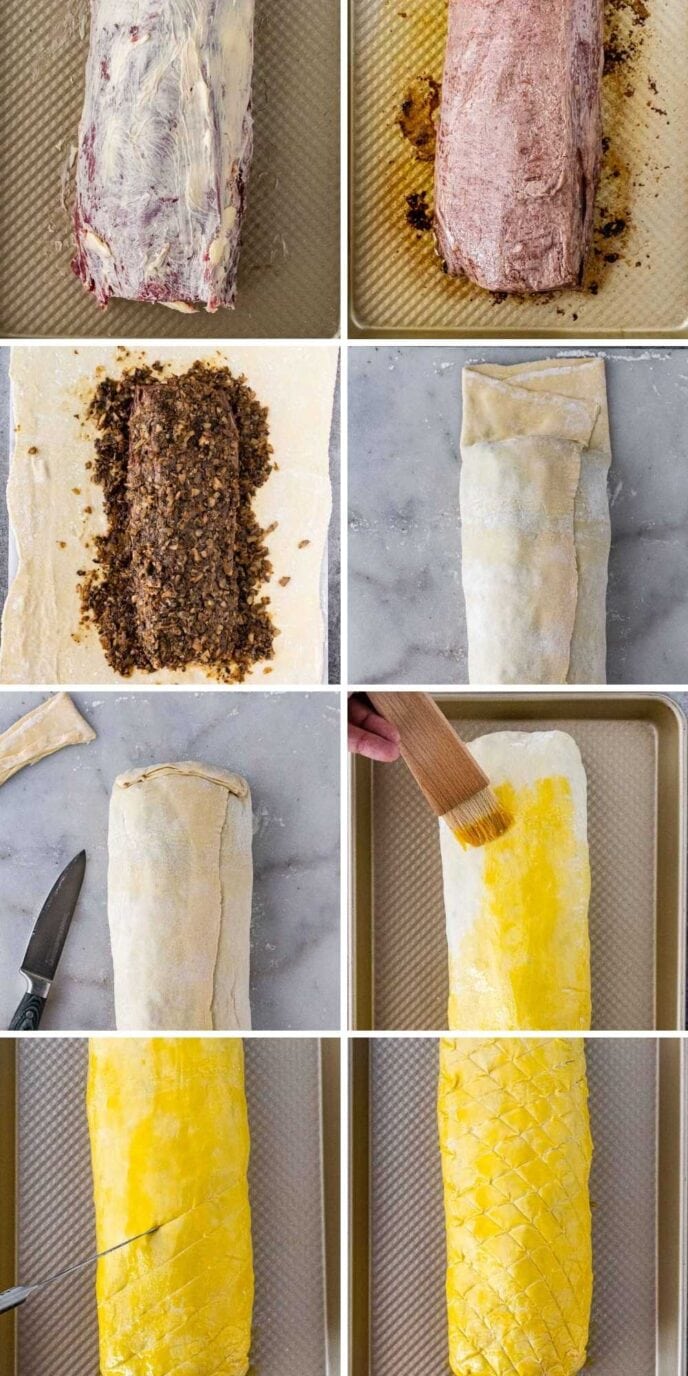 More Holiday Main Dish Recipes
Frequently Asked Questions
Where does the name "Beef Wellington" come from?
It is believed to be named after the first Duke of Wellington, Arthur Wellesley. The dish was created in celebration of his victory against Napoleon Bonaparte at the Battle of Waterloo in 1815.
How did Beef Wellington become so famous?
Julia Child hosted a TV show called "The French Chef" in 1965, in which she featured a Filet of Beef Wellington. After that, its popularity skyrocketed all over the place. It still remains a famous, popular English dish today.
Should I serve Beef Wellington at medium rare?
People usually serve Beef Wellington medium rare, however if you prefer your beef medium, leave it in the oven until the temperature reading is how you like it. Food Safety tells us it is best to let your beef come to at least 145 degrees. Therefore for a medium cook, bring it up to 150 degrees.
How should I carve the Beef Wellington?
In order to help your Beef Wellington stay together while you carve it, you should make each slice about 1-inch thick. Too thin, and it may fall apart. Too thick, and it may be too large of a slice for your family or guests.
How to Make Beef Wellington
Preheat your oven to 425 degrees and rub the tenderloin with 4 tablespoons of butter.
Roast it for 12-15 minutes, then remove your tenderloin from the oven and let it cool. Reserve the pan juices for the wine sauce.
Add 4 tablespoons of butter, the onion, mushrooms, garlic, thyme, salt, and pepper to a large skillet. Cook for 5-7 minutes while stirring frequently.
Unroll the thawed puff pastry, place the beef on top. Then carefully add the mushroom mixture all around the tenderloin.
Wrap the tenderloin tightly with the puff pastry, sealing all the edges. Next, brush it with the golden egg yolk.
Use a knife to gently score a criss-cross, diamond pattern into the top of the pastry.
Bake for 20-25 minutes, until pastry is golden brown.
Lastly, let it rest 15 minutes before carving.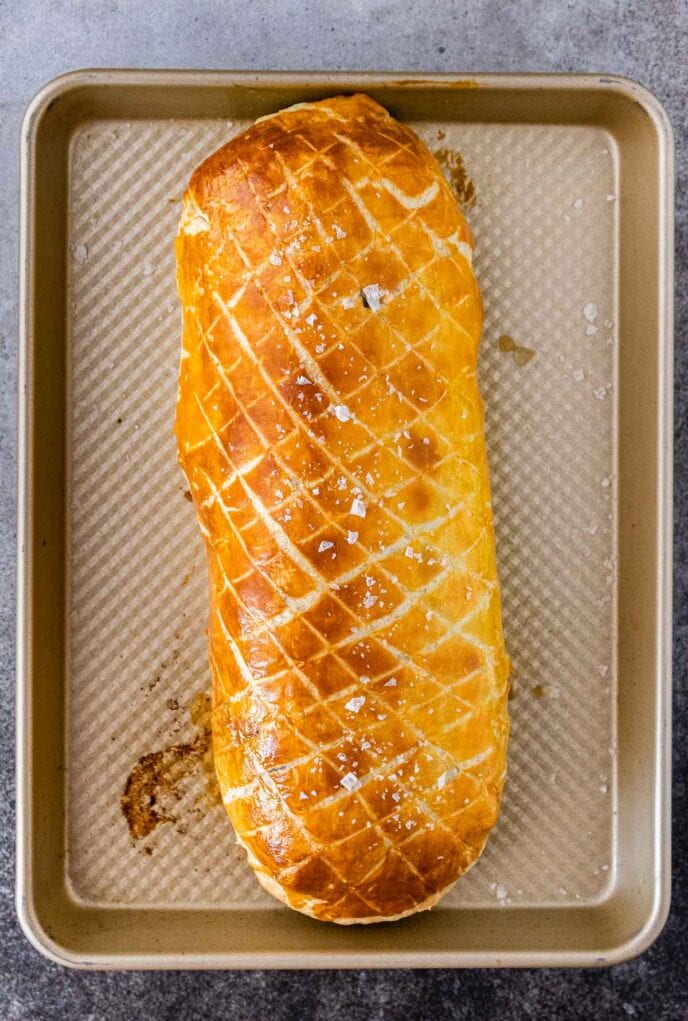 Create a free account to

Save Recipes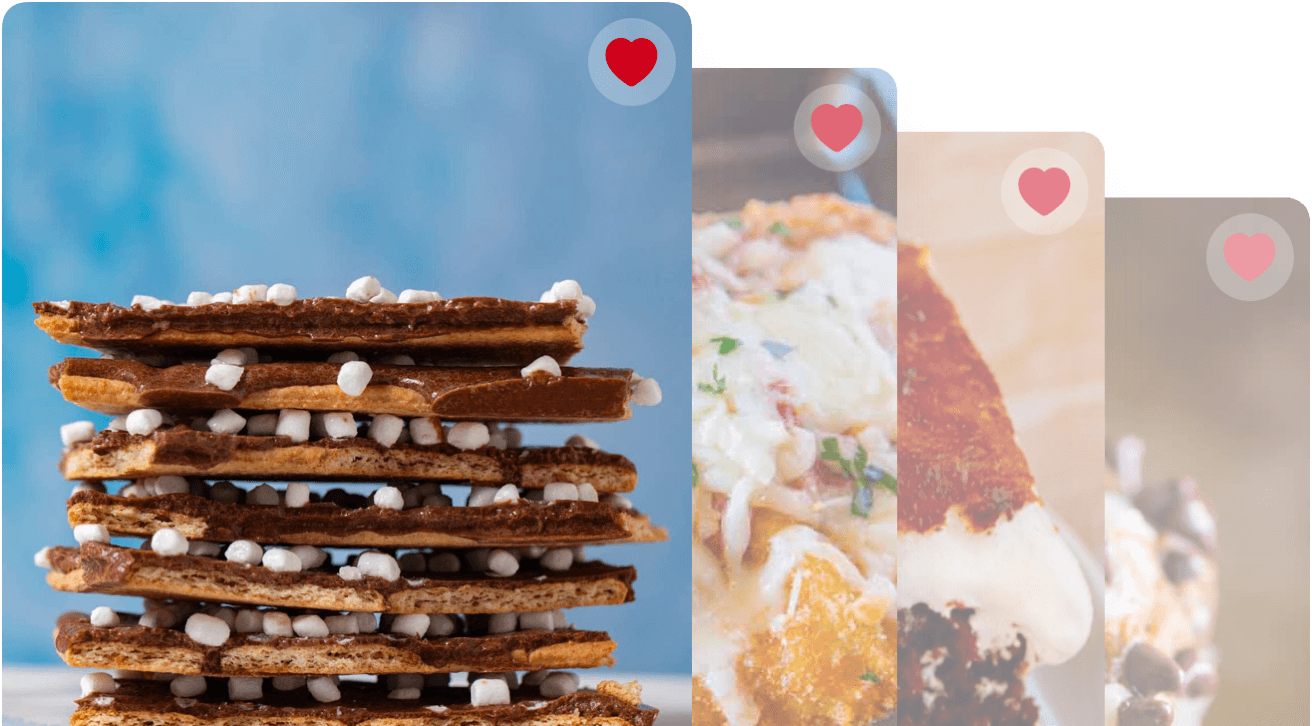 Variations for Beef Wellington
Individual Beef Wellington Recipe: Slice your meat into fillets before searing to make single-sized portions. These look amazing on the plate and require no carving. They are great for making ahead of time and freezing for fancy, but easy weeknight dinners.
Appetizers: Make Mini Beef Wellingtons by cutting your beef into 1 inch cubes. Sear the beef, then wrap with mushroom mixture in puff pastry squares. Bake for 25-30 minutes and serve to your crowd of impressed guests.
Pate: Give this dish a decadent layer by adding 2 tablespoons of pate de foie gras to the butter rub for your tenderloin.
Duxelles: Make this traditional paste by mincing mushrooms, shallots, thyme, and pepper. Sauté the mix in butter and cream, and use instead of mushroom mixture in this recipe. For a stronger flavor, use fragrant and delicious porcini mushrooms.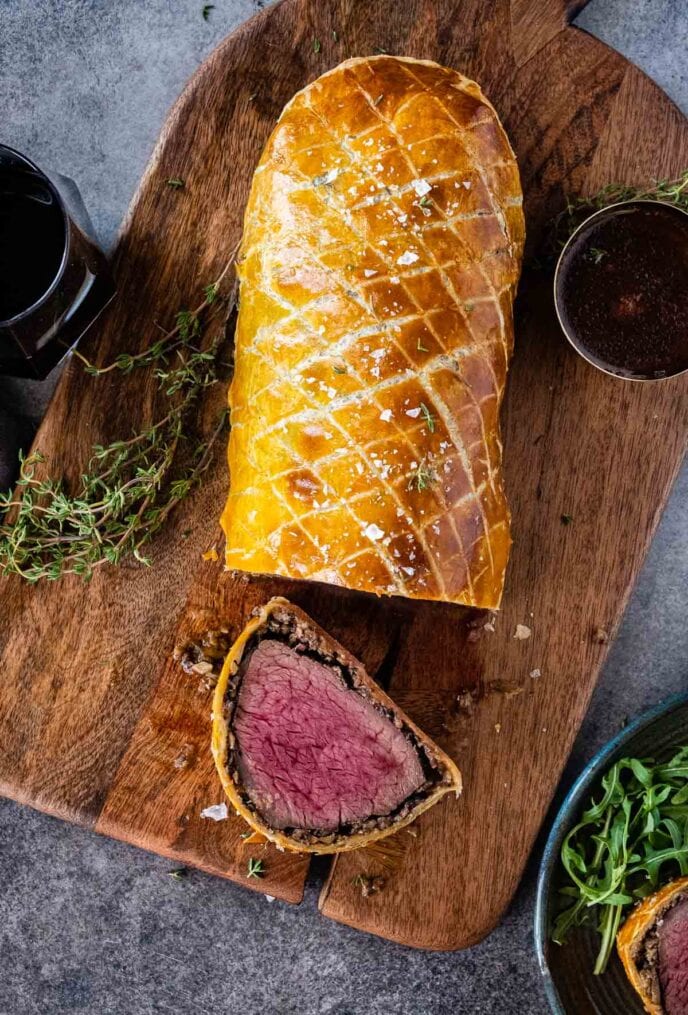 Tips for Making Beef Wellington
Press your puff pastry tightly around the tenderloin and mushroom mixture to keep the air out. This will ensure your beef is cooked evenly and will make for beautiful, restaurant-worthy slices on the plate.
Brush the meat with egg wash before you wrap it to help the pastry stick while its baking.
Prevent a soggy pastry by cooking the mushrooms until no more liquid is being released.
The wrapping is very important. Look closely for any holes, tears, or gaps in the pastry.
Bake with the seam-side down to prevent the pastry from cracking or separating.
When you score the criss-cross pattern into the top of your Beef Wellington, be very careful to not cut all the way through the pastry dough. Just gently drag the tip of your knife along the top of the dough to make the pattern.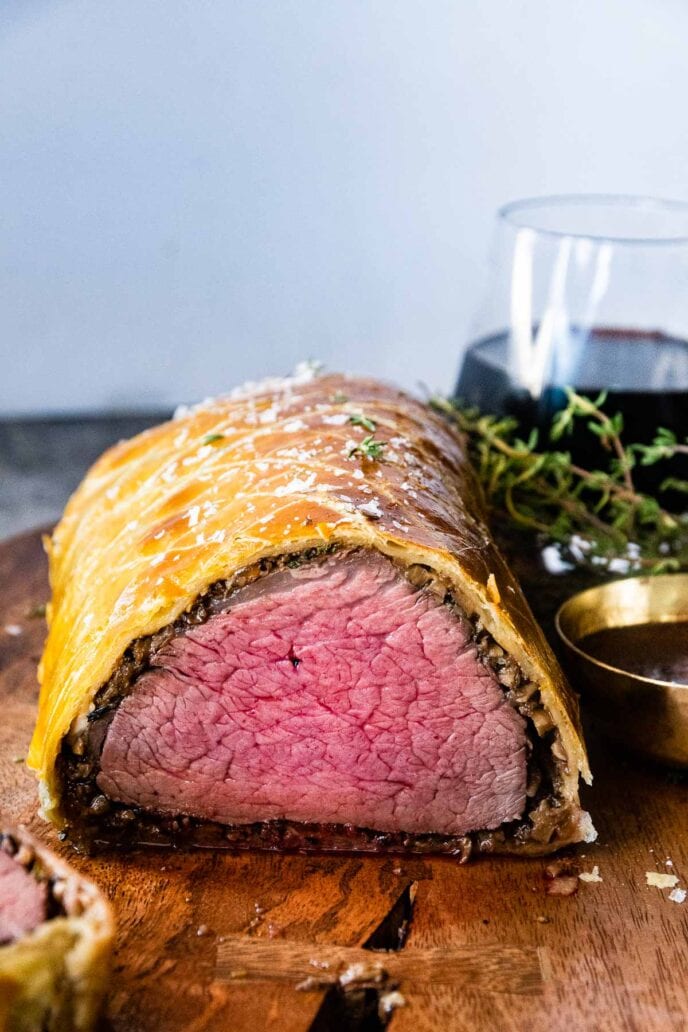 Holiday Side Dish Recipes
How to Store Beef Wellington
Serve: You can keep your Beef Wellington at room temperature for up to 2 hours.
Store: Slice into individual portions, place in a single layer in an airtight container and keep them for up to 4 days in the fridge.
Freeze: You can freeze Beef Wellington for up to 1 month. For best results, flash freeze (30 minutes on a baking pan) in cut portions before transferring to container.
How to Know Beef Wellington is Done
According to the Food Safety division of the US Dept. of Health and Human Services, beef needs to reach an internal temperature of 145 degrees F. Use your thermometer in the middle of the Wellington, and insert it until it is center of the beef to take your reading.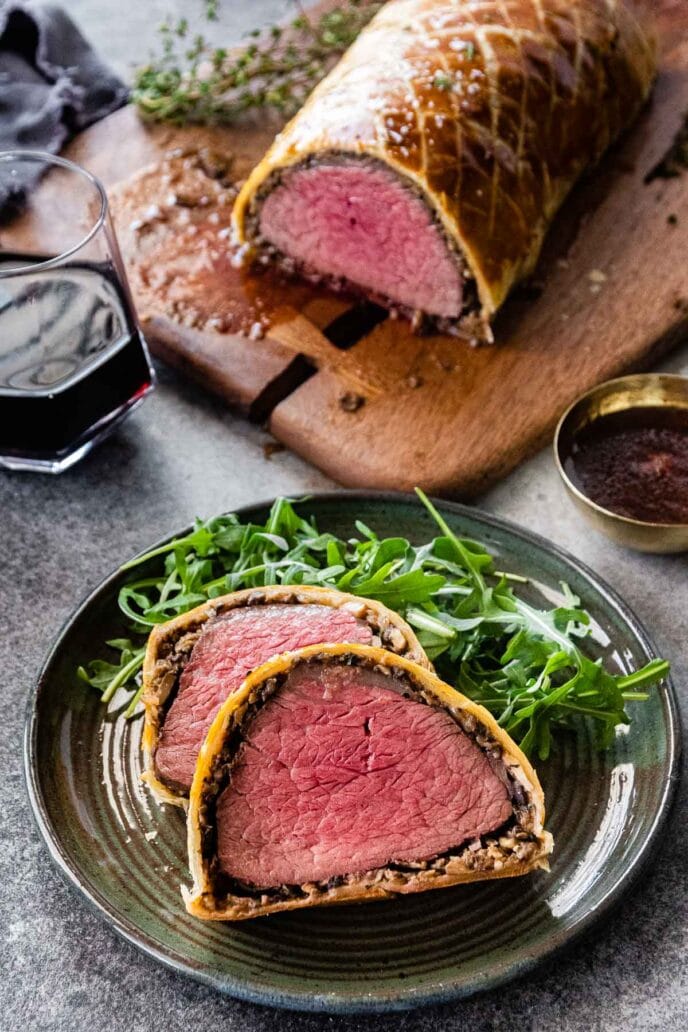 Ingredients
3

pounds

beef tenderloin

, trimmed

8

tablespoons

butter

, divided

1

yellow onion

, chopped

8

ounces

mushrooms

, chopped

3

cloves

garlic

, minced

1

tablespoon

fresh thyme leaves

1

teaspoon

kosher salt

1

teaspoon

coarse ground black pepper

1

package

frozen puff pastry

, thawed (17.5 ounce)

1

egg yolk

, beaten
Instructions
Preheat oven to 425 degrees.

Rub tenderloin with 4 tablespoons of butter.

Remove from the oven and let cool. (Reserve the pan juices for the wine sauce.)

Add 4 tablespoons of butter to a large skillet and add the onion, mushrooms, garlic, thyme, salt, and pepper.

Cook for

5-7 minutes

while stirring frequently.

Unroll the thawed puff pastry, place the beef on top.

Carefully add the mushroom mixture all around the tenderloin.

Wrap the tenderloin tightly with the puff pastry, sealing all the edges.

Brush with egg yolk.

Bake for

20-25 minutes

, until pastry is golden brown.

Rest

15 minutes

before carving.
Nutrition
Calories:
543
kcal
|
Carbohydrates:
17
g
|
Protein:
41
g
|
Fat:
34
g
|
Saturated Fat:
9
g
|
Polyunsaturated Fat:
5
g
|
Monounsaturated Fat:
16
g
|
Cholesterol:
133
mg
|
Sodium:
596
mg
|
Potassium:
753
mg
|
Fiber:
1
g
|
Sugar:
1
g
|
Vitamin A:
577
IU
|
Vitamin C:
3
mg
|
Calcium:
58
mg
|
Iron:
4
mg