Chicken Florentine Meatballs are the perfect homemade, flavorful meatballs with spinach, parmesan cheese, and garlic in marinara sauce.
This Chicken Meatball Recipe is a delicious alternative to regular Beef Meatballs. You can serve it up with your favorite Pasta Dishes for an easy family dinner.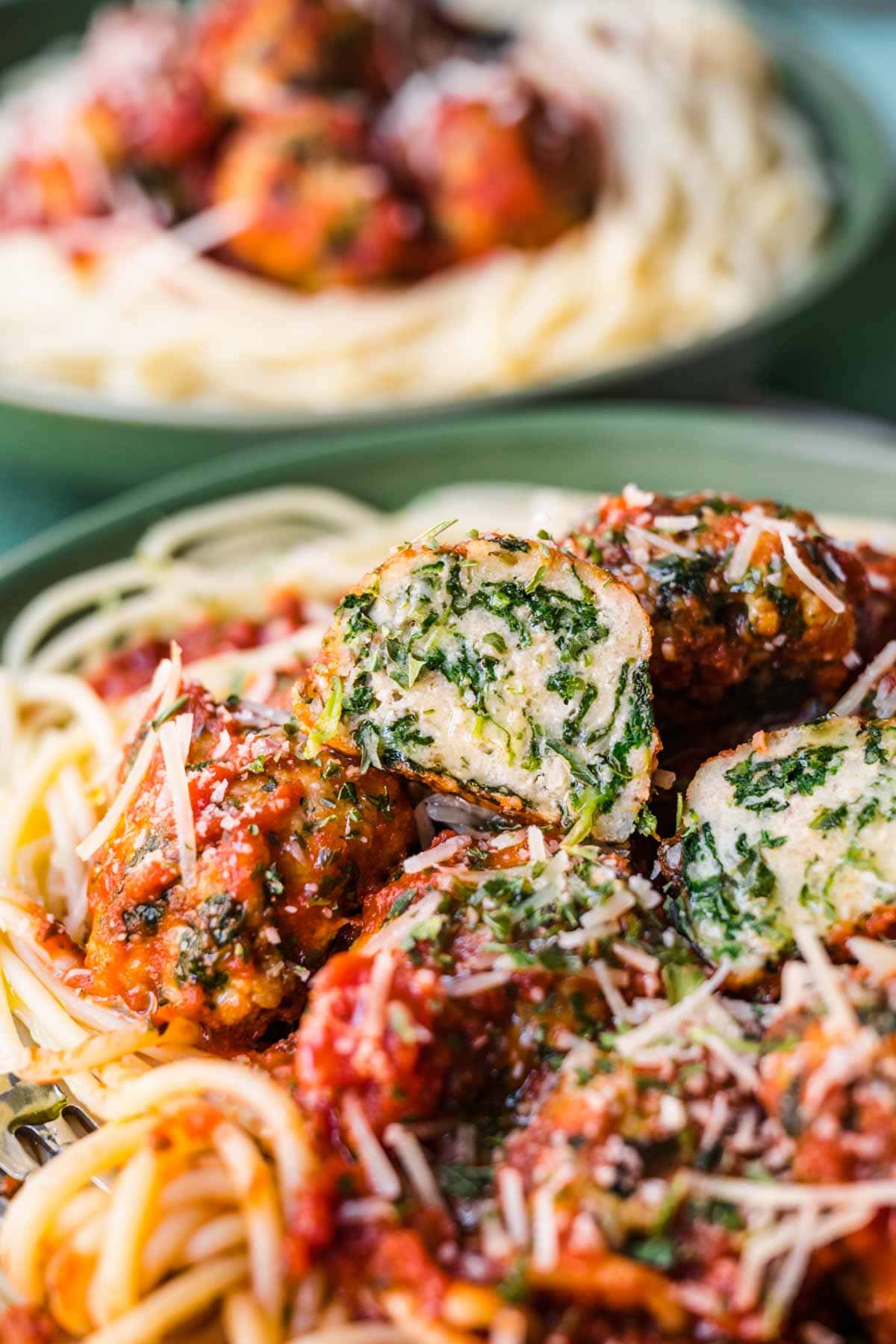 Chicken Florentine Meatballs are a great way to add some extra amazing flavor to your spaghetti dinner. Instead of just simple meatballs, you get the delicious addition of spinach, chicken, parmesan, and garlic all combined. Each amazing meatball is tender, juicy, and packed with a unique and delicious taste. Plus, the spinach brings some extra healthy veggies to the recipe.
There are lots of ways you can enjoy this simple meatball recipe. The first is to simply serve it with Homemade Tomato Sauce and spaghetti noodles. Try serving it over rice for a little twist on a tomato sauce dish. If you want to cut back on carbs, you could also serve the meatballs with sauce and spaghetti squash instead of regular pasta. Spiral cut zucchini noodles or any other type of noodles made from squash would be delicious too. To easily change up the pasta dinner try different kinds of sauce like pesto sauce, or Alfredo Sauce. Serve them on top of buttered noodles to make the meatballs the big star or the dish.
If you have any leftovers, you could also serve the meatballs as the protein in an Italian Chicken Soup. Additionally, enjoy them in a hoagie roll for an easy meatball sub. Top off the sub with your choice of cheese and sauce, and then toast it under the broiler for an excellent hot meal. There are so many ways you can use the meatballs to add to your favorite recipes.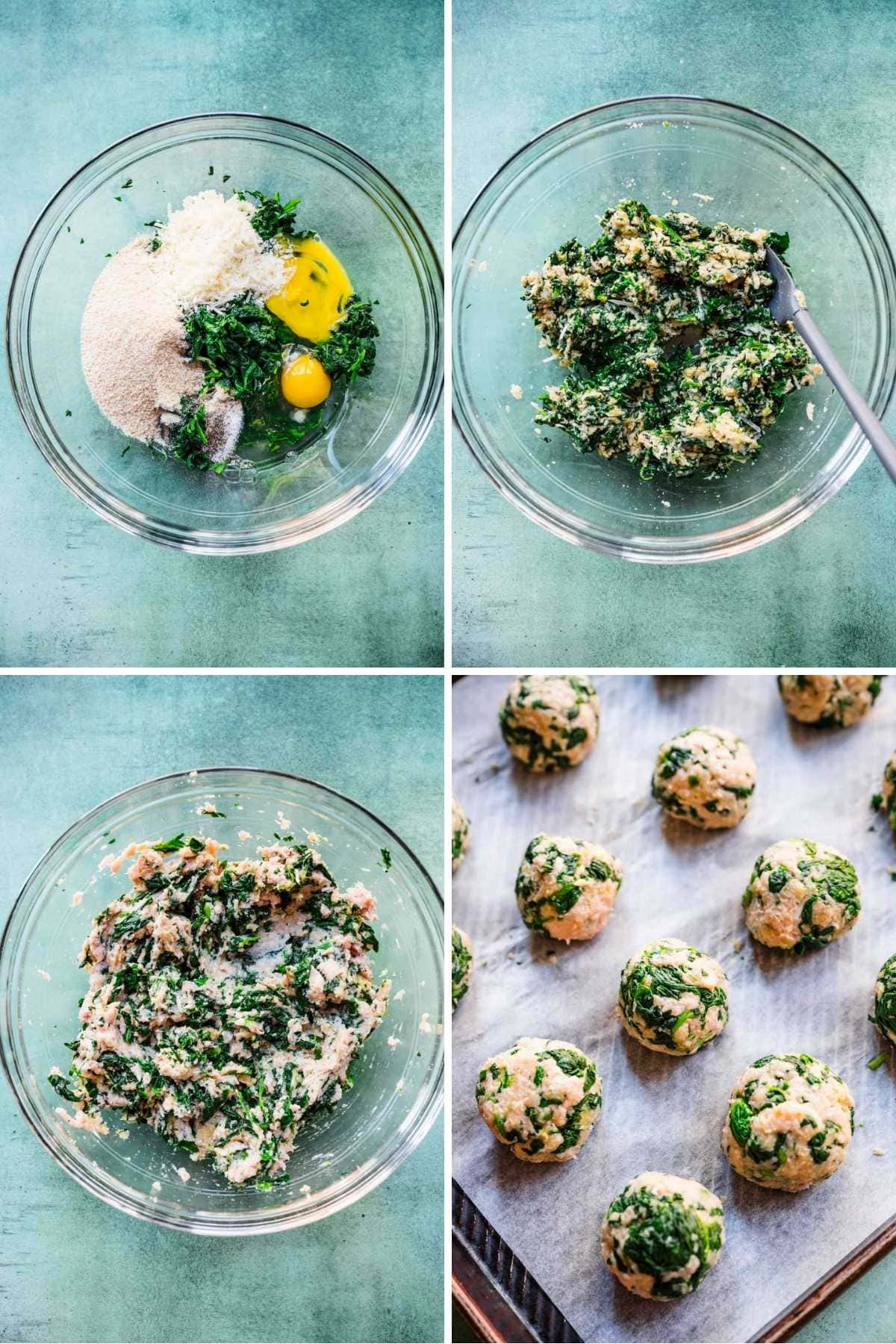 More Meatball Recipes
Key Ingredients
Ground Chicken: The chicken in this recipe tastes amazing with parmesan, spinach, and other ingredients. It's also a lighter option than typical ground beef meatballs.
Bread Crumbs: Bread crumbs are an important ingredient in meatball recipes. They absorb moisture from the ground meat and keep the meatballs from drying out in the oven.
Spinach: The frozen spinach is a great addition to this recipe that gives it a classic Tuscan feel.
Cheese: Parmesan cheese is also a delicious addition, that mixes easily with the ground meat and adds plenty of flavor.
How to Make Chicken Florentine Meatballs
Preheat: Make sure to take your spinach out of the freezer in advance so that it has time to thaw. Then squeeze excess moisture out with your hands. Next, preheat the oven to 400 degrees.
Ingredients: Combine the spinach, eggs, bread crumbs, Parmesan cheese, garlic, kosher salt, and pepper in a large bowl. Then add the chicken and mix until just combined. Be careful not to overmix the chicken with the breadcrumb mixture, or the meat will become tough.
Shape: Use an ice cream scoop or your hands to form the meatball mixture into 1 1/2″ balls. Then place them on a shallow baking sheet lined with parchment paper or sprayed with cooking spray.
Cook Time: place the baking sheet in the preheated oven for 20-25 minutes until baked through.
Serve: While the meatballs are baking, you can make the sauce mixture and cook the pasta. Once the meatballs are done baking heat them on the stovetop in the sauce to finish. Then serve them on dinner plates over a bed of pasta.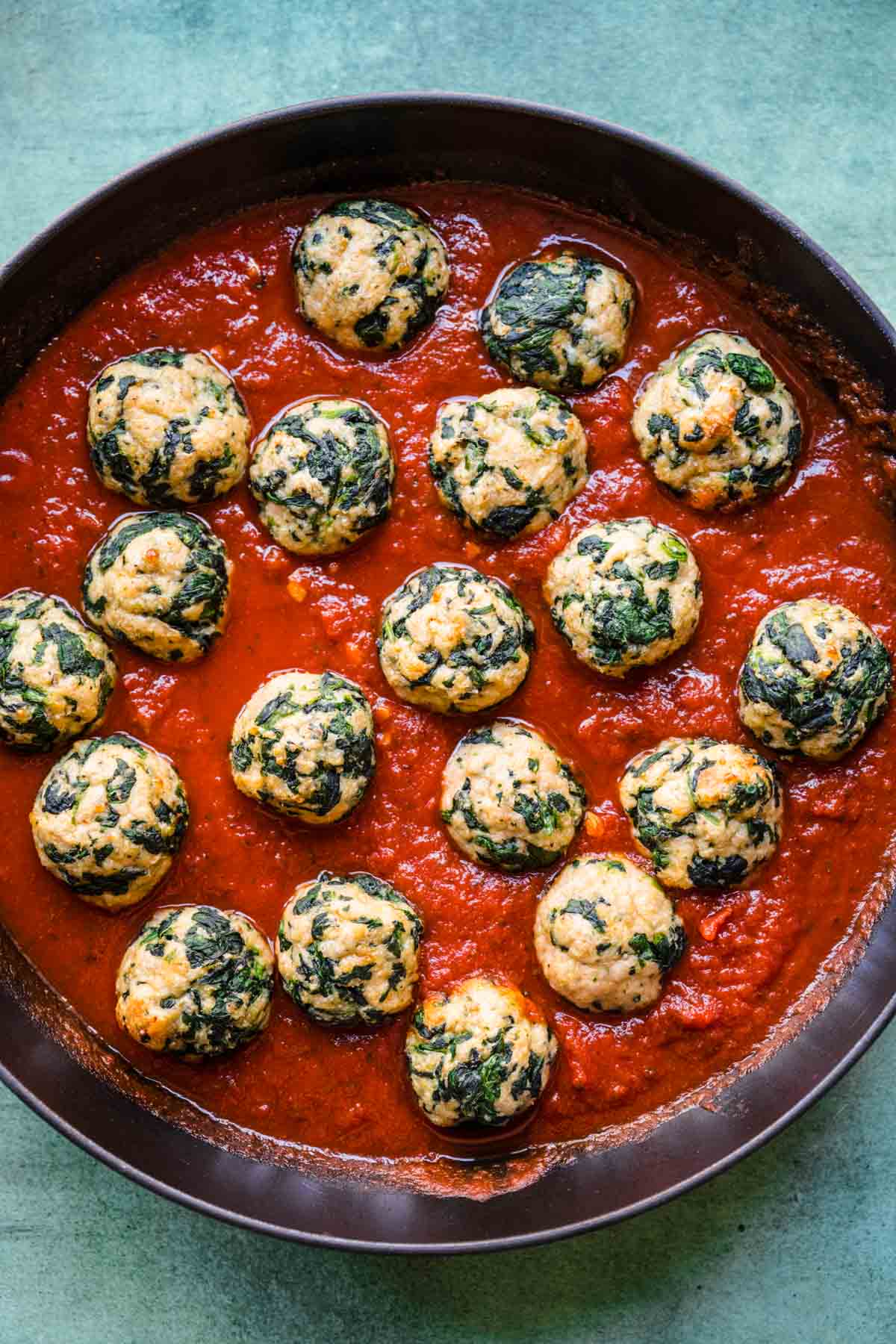 Create a free account to Save Recipes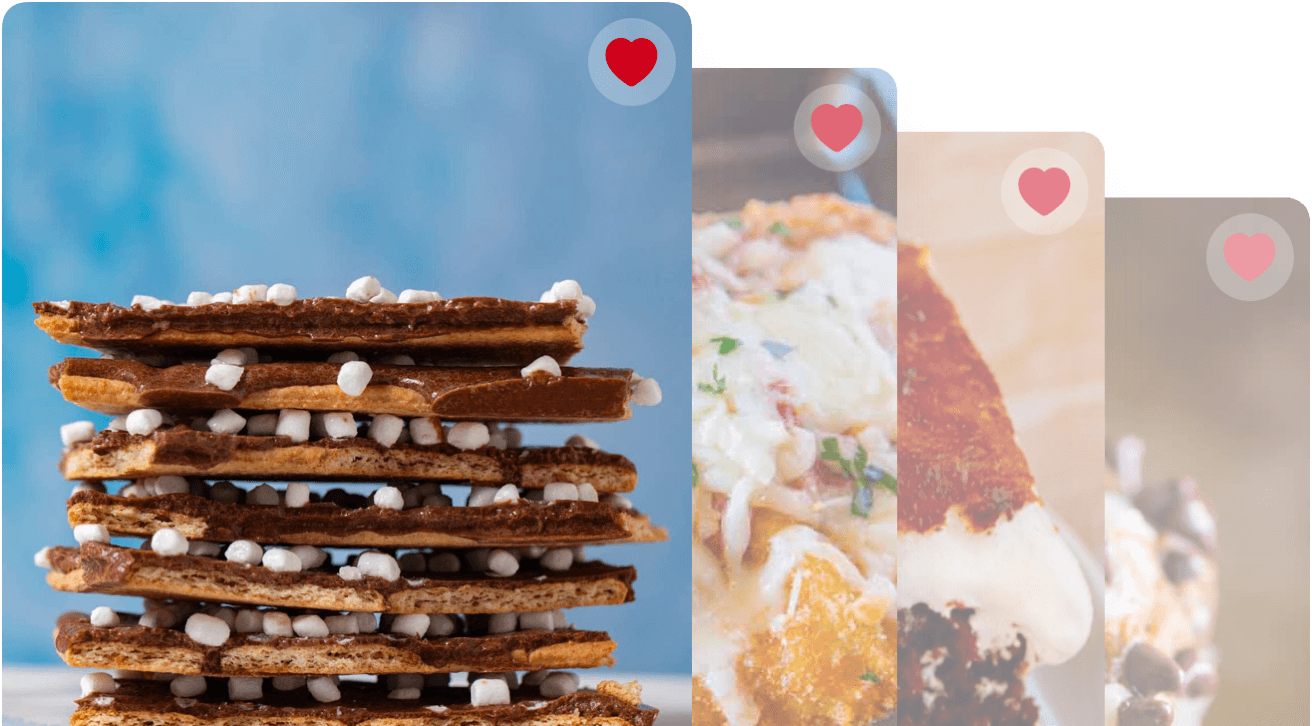 Frequently Asked Questions About Chicken Florentine Meatballs
What makes a recipe "Florentine" style?
If a recipe is Florentine, it references a style from Florence, Italy. Typically the recipe will include a protein, plus spinach. Grated cheese is also typically involved, and sometimes a white sauce.
How can I adjust the size of my meatballs?
If you like, you can make larger meatballs by using a larger scoop. Bigger meatballs will take a longer baking time so be mindful of that. Be careful not to go too large, otherwise they might not be fully cooked in the middle. You can easily make them smaller by using a tablespoon measure, or smaller to scoop them. This might be helpful to be used in soups, for kids, for bite-sized appetizers, or just for personal preference.
Variations
Seasonings: To experiment with the flavor of the meatball recipe, you can add delicious seasonings like fresh parsley, fresh basil, oregano, rosemary, red pepper flakes, and paprika.
Cheeses: You can add other kinds of Italian cheeses like mozzarella or gorgonzola to go along with the parmesan.
Meat: Instead of ground chicken, you can use other kinds of ground meat like ground beef, ground turkey, or ground pork.
Vegetables: If you want to add some vegetables to the mixture, you can cut them into small pieces using a food processor. Small pieces of yellow onion, bell pepper, or carrots would all taste great.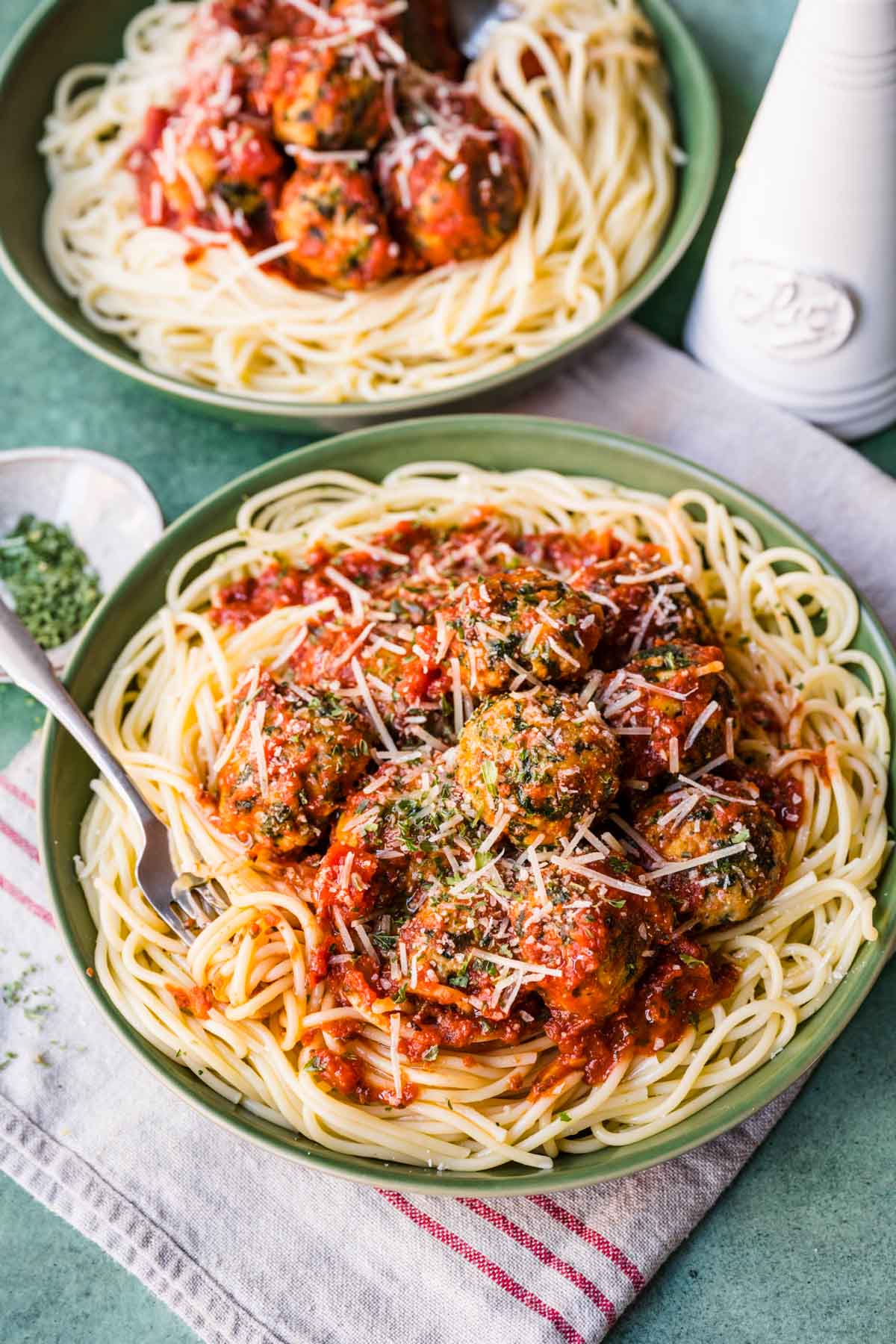 Italian Dishes
Can Chicken Florentine Meatballs Be Made Ahead?
In order to get a head start on your meal, you can make these Meatballs the night before. Follow the recipe up until you shape the meatballs and place them on the baking dish. Then cover them and store them in the fridge until the next day when you bake them. You might need to add a little extra bake time as they'll be colder going into the oven than making them fresh.
If you need to make the meatballs more than a day before you'll serve them, go ahead and bake them. Then let them cool down to room temperature and store them in the fridge. You can reheat them within a few days and serve them, or pair them with any recipe you choose for your meal.
How to Store
Serve: Don't leave Chicken Meatballs at room temperature for more than 2 hours.
Store: If you have any leftovers, you can put them in an airtight container to store in the fridge for 3-4 days.
Freeze: You can also freeze the meatballs for 3 months. Place them on a baking sheet to reheat in the oven when you're ready to serve.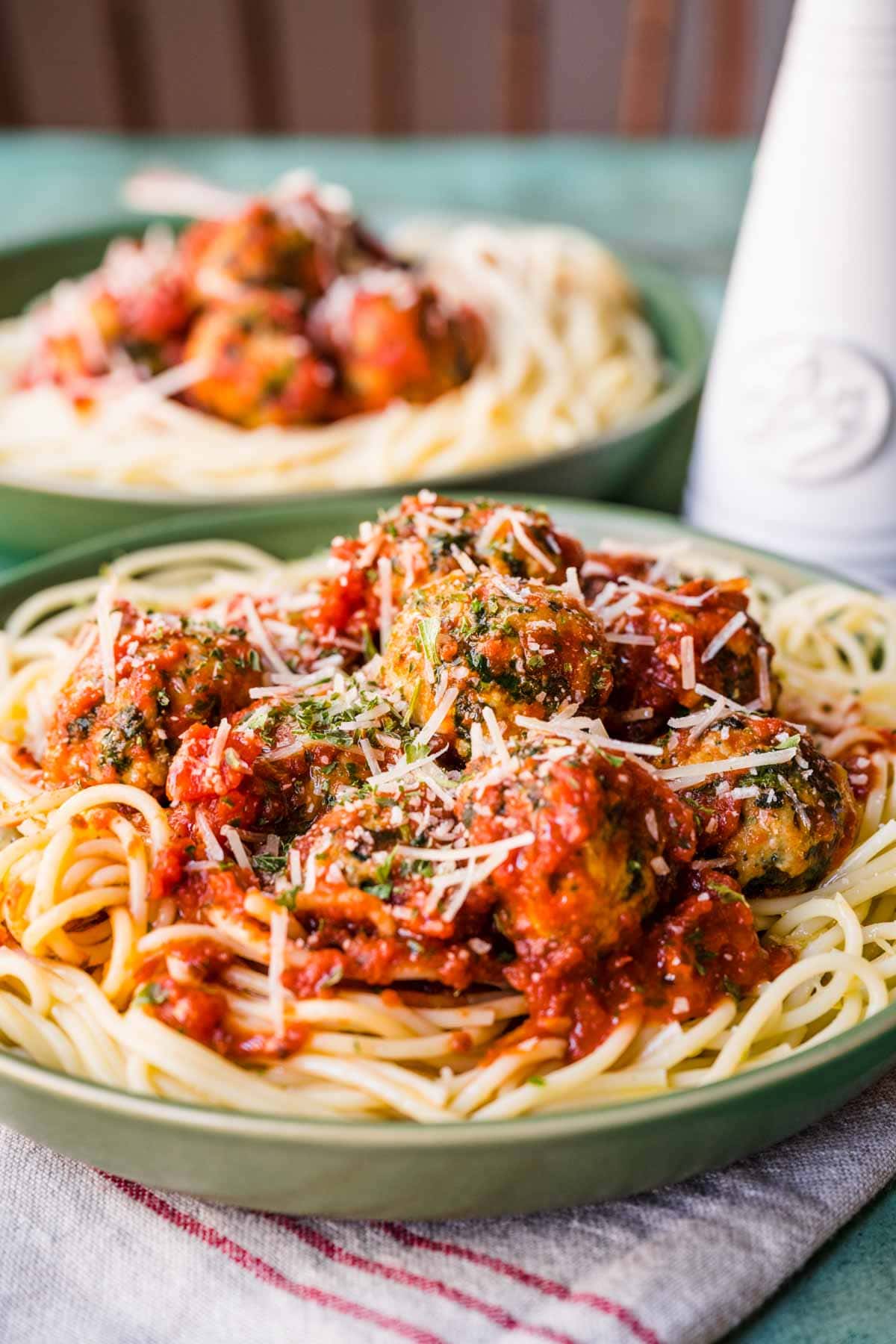 Ingredients
10

ounces

frozen chopped spinach

, thawed

2

large

eggs

1/2

cup

dry bread crumbs

1/4

cup

grated Parmesan cheese

1

clove

garlic

, minced

1/4

teaspoon

kosher salt

1/8

teaspoon

coarse ground black pepper

1

pound

lean ground chicken

3

cups

marinara sauce
Instructions
Preheat oven to 400 degrees.

Squeeze the spinach in small handfuls to remove as much moisture as possible.

In a large bowl, combine the spinach, eggs, bread crumbs, Parmesan cheese, garlic, kosher salt, and pepper.

Add in the chicken and mix until just combined.

Shape the chicken mixture into 1 1/2″ balls.

Place the meatballs onto a baking sheet lined with parchment paper or sprayed with cooking spray.

Add marinara sauce to a large heavy skillet on medium-high heat to bring to a simmer.

Add in meatballs and simmer on medium heat for

5 minutes

.
Nutrition
Calories:
229
kcal
|
Carbohydrates:
16
g
|
Protein:
21
g
|
Fat:
10
g
|
Saturated Fat:
3
g
|
Polyunsaturated Fat:
2
g
|
Monounsaturated Fat:
4
g
|
Trans Fat:
0.1
g
|
Cholesterol:
131
mg
|
Sodium:
920
mg
|
Potassium:
973
mg
|
Fiber:
4
g
|
Sugar:
5
g
|
Vitamin A:
6197
IU
|
Vitamin C:
11
mg
|
Calcium:
146
mg
|
Iron:
3
mg