Italian Roasted Vegetables are tossed in balsamic vinegar, garlic, and Italian herbs, and roasted to crisp-tender perfection on a sheet pan.
This is the perfect tasty Side Dish to go along with your favorite Italian dinners. Serve these roasted veggies on the side of Pasta Dishes like Creamy Chicken Alfredo or Parma Rosa for delicious and quick dinners.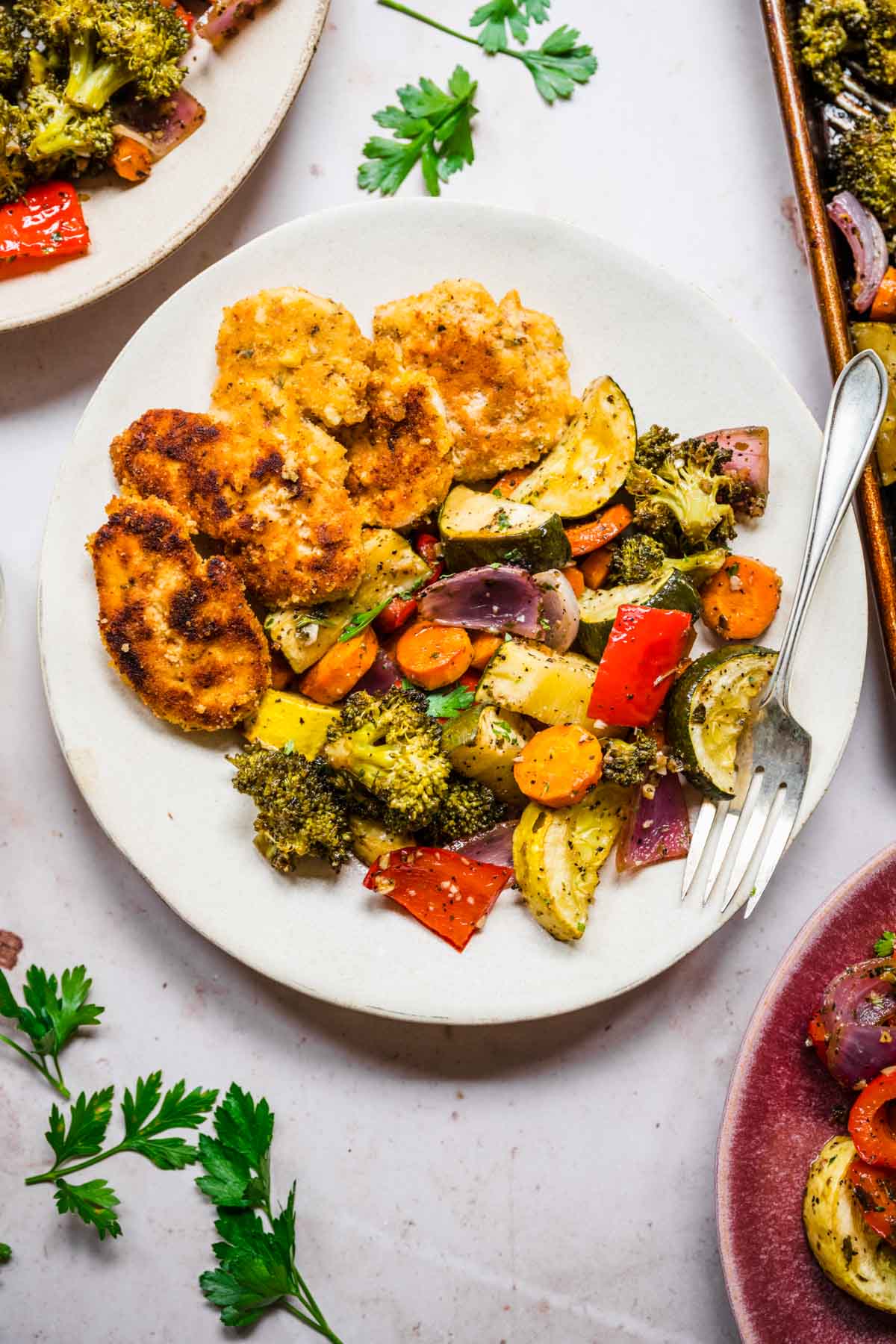 This Oven Roasted Vegetable recipe is the perfect way to make veggies crispy and flavorful without a lot of work. Simply toss the mix of garden vegetables with oil and seasonings. Then lay them on baking sheets to roast in the oven. It only takes 30 minutes to roast vegetables. Then you'll have the perfect delicious side dish for busy weeknights
There's already an original Roasted Vegetable Recipe on the blog. The difference with this one is that it's perfect to serve with Italian cooking. To get the Italian flavors, the colorful veggies are tossed with balsamic vinegar, oregano, basil, garlic, and parsley. The combination of veggies and Italian seasonings makes for the perfect blend of flavors. While the garlic and herbs add a bolder taste, they also don't overpower the natural flavor of the vegetables.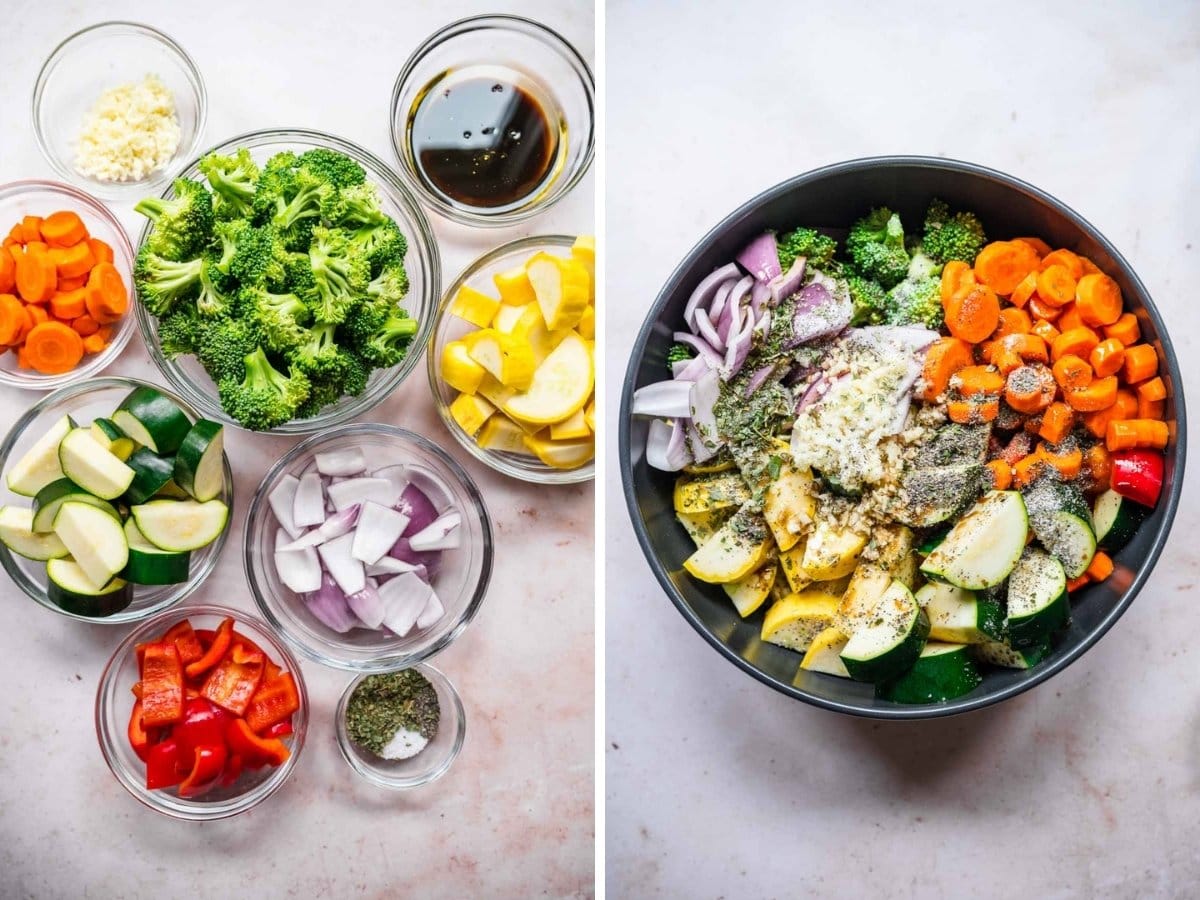 More Vegetable Recipes
Italian Roasted Vegetables are also great because They're a light side dish. A lot of pasta and other Italian dishes are carb-heavy and filling. Therefore the simple, and light ingredients in this vegetarian side make the perfect pairing with the heavy recipes you enjoy.
Frequently Asked Questions About Italian Roasted Vegetables
Why is it important to roast the vegetables in a single layer?
Roasting vegetables gives them an amazing tender-crisp texture, browns them, and caramelizes them a little bit. However if you have too many vegetables crowded together they can't get that nice roasted finish. They will steam more than they will roast, and will end up mushy. The single layer of veggies get the beautiful texture you want.
Why are the vegetables cut into 1-inch chunks?
You'll notice in the recipe that the chopped vegetables are all to be prepared in 1-inch chunks. This is important because you want all of the vegetables to cook evenly. It would not be a very pleasing bite to have smaller vegetables overcooked next to larger vegetables that are undercooked.
Key Ingredients
Vegetables: To stick with the Italian theme, this recipe uses vegetables that you'll often find in Italian cuisine. Zucchini, yellow squash, red onion, and bell pepper are quite common in Italian cooking. Then the added carrots and broccoli round out the flavors nicely.
Balsamic Vinegar: You might be familiar with this ingredient in your favorite salad dressings. Coating the vegetables in balsamic vinegar adds a combination of tangy and sweet tastes. It's an important ingredient that adds a lot of flavor dynamic to the Italian Roasted Vegetables. After baking in the olive oil and vinegar dressing, the vegetables are tender-crisp and absolutely bursting with flavor.
Italian Seasoning: Most of the herbs in this recipe are ingredients you would find in any Italian seasoning blend. Simply toss oregano, basil, garlic, and parsley over the veggies. Once they're coated, the herbs give the recipe a lot of fresh flavors and a classic Italian flair.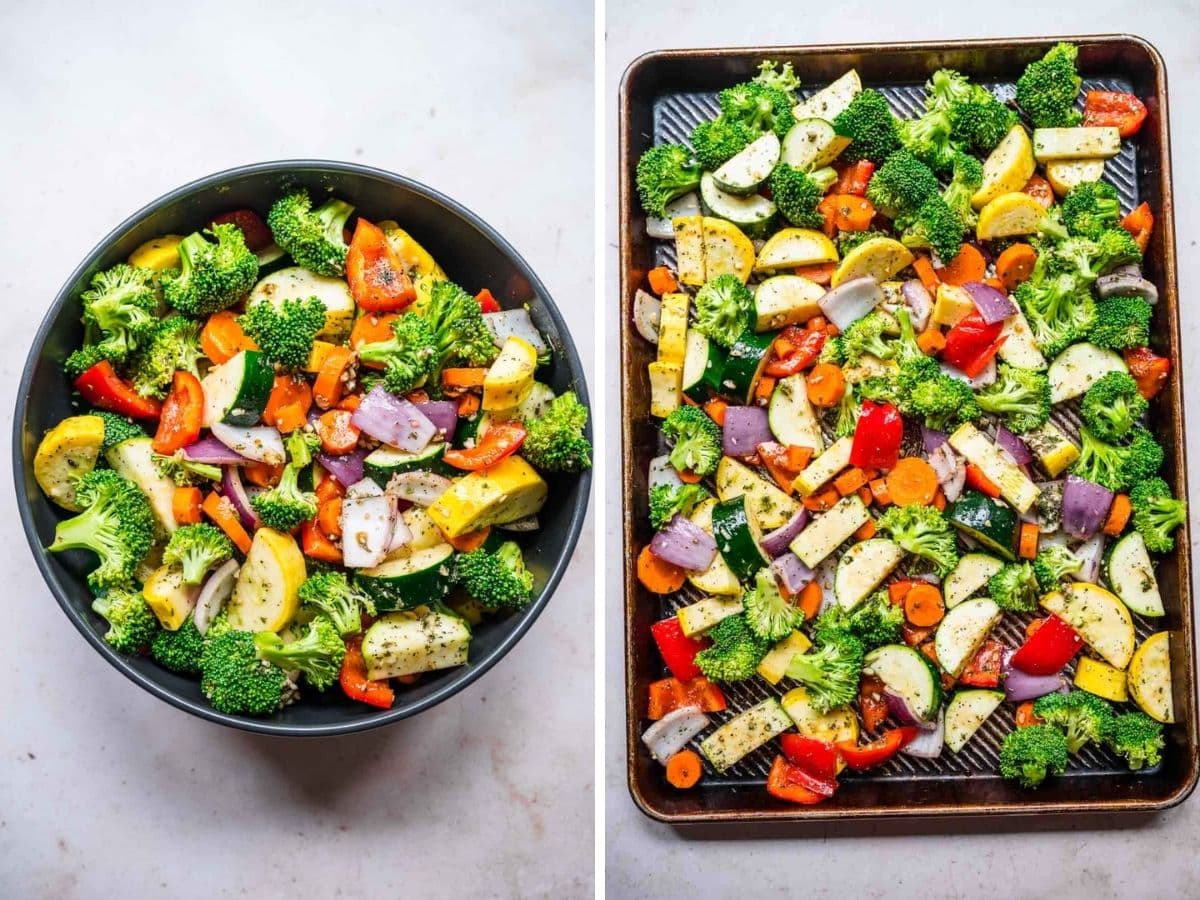 How to Make Italian Roasted Vegetables
Prep Time: Start by preheating the oven to 400 degrees. Then cut the zucchini, squash, carrots, pepper, and onion into bite-size pieces, and the broccoli into florets. If you want to make cleaning the dishes easier, you can line the baking sheets with foil or parchment paper. However, this step is not necessary.
Veggie Mix: Add the prepared vegetables to a large bowl. Then top them with olive oil, balsamic vinegar, salt, pepper, and Italian seasoning. Toss the ingredients until it's all well-coated.
Roasting Time: Lay the vegetables on your baking sheet in a single layer. If you need two sheets to make it fit in one layer, that's fine. Roast the vegetables for 20 minutes. Then open the oven, stir, and continue roasting for another 10. Once they're fork-tender, take the dish from the oven. Then garnish with parsley, extra oil, and vinegar before serving.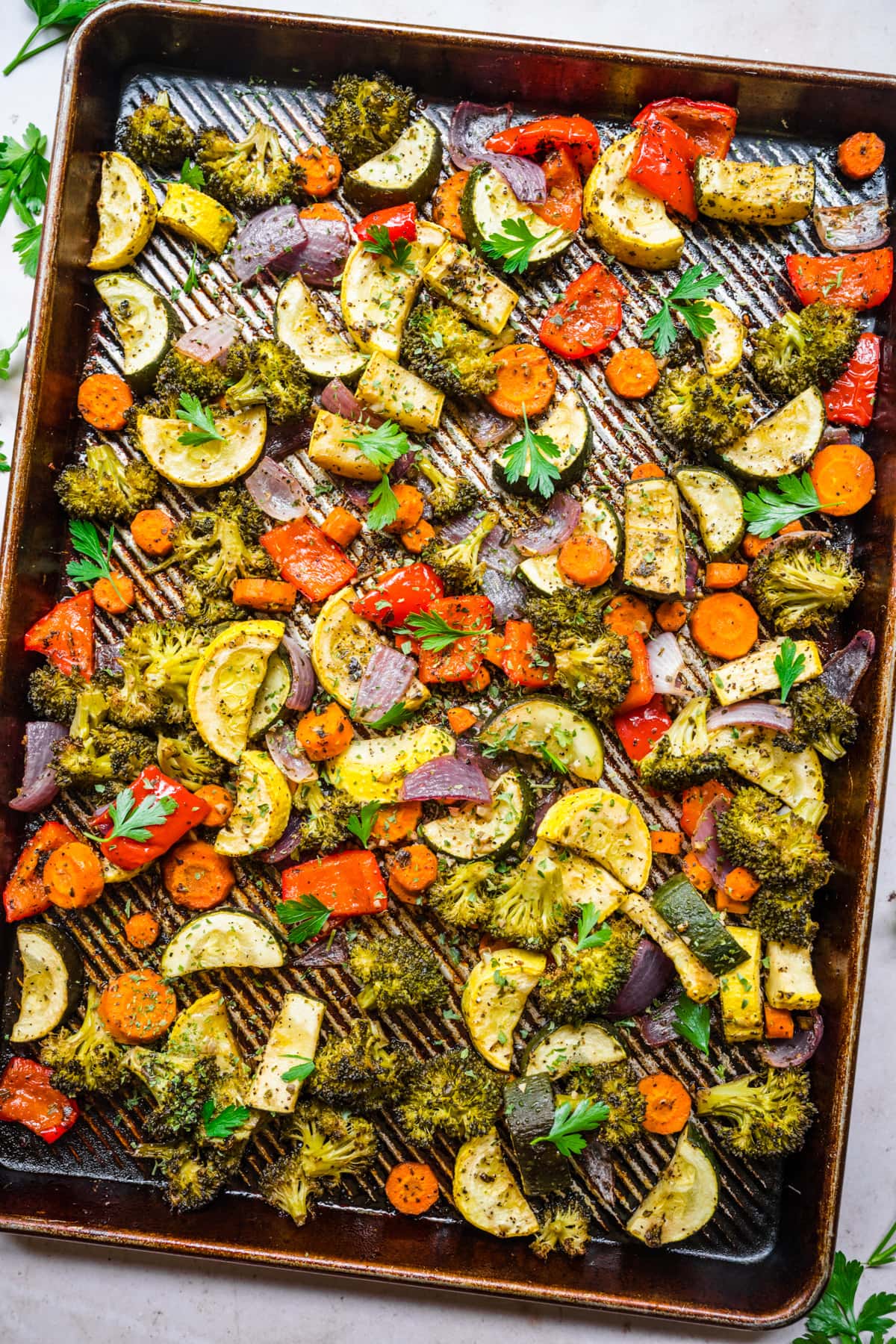 Create a free account to

Save Recipes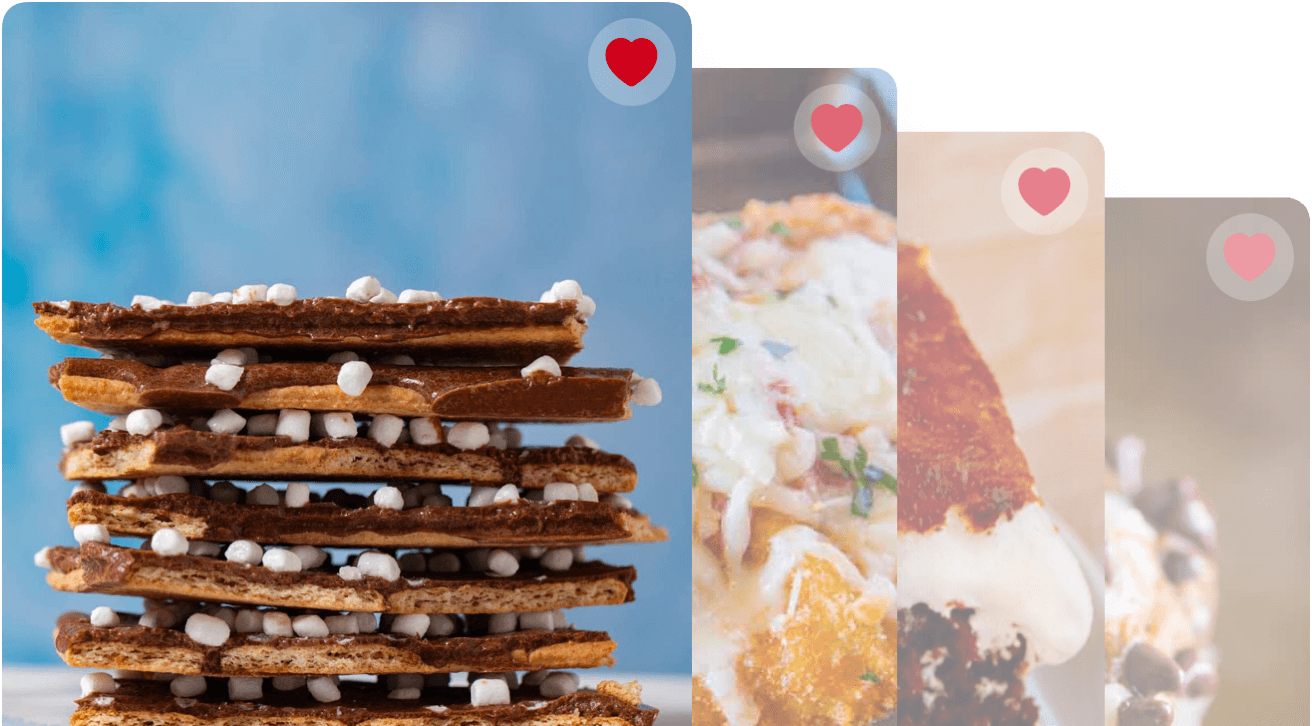 Variations on Italian Roasted Vegetables
Vegetables: For some variations, add different kinds of vegetables to the mix. You could use sweet onions, yellow summer squash, cherry tomatoes, sweet potatoes, mushrooms, or sweet peppers. Slice and toss them in along with the other vegetables. Then lay them all out on the baking sheet to bake.
Seasonings: You can also add your favorite spices and fresh herbs to the dish. Fresh basil, rosemary, fresh fennel seeds, oregano, hot pepper flakes, and paprika would all taste amazing. If you have a favorite seasoning blend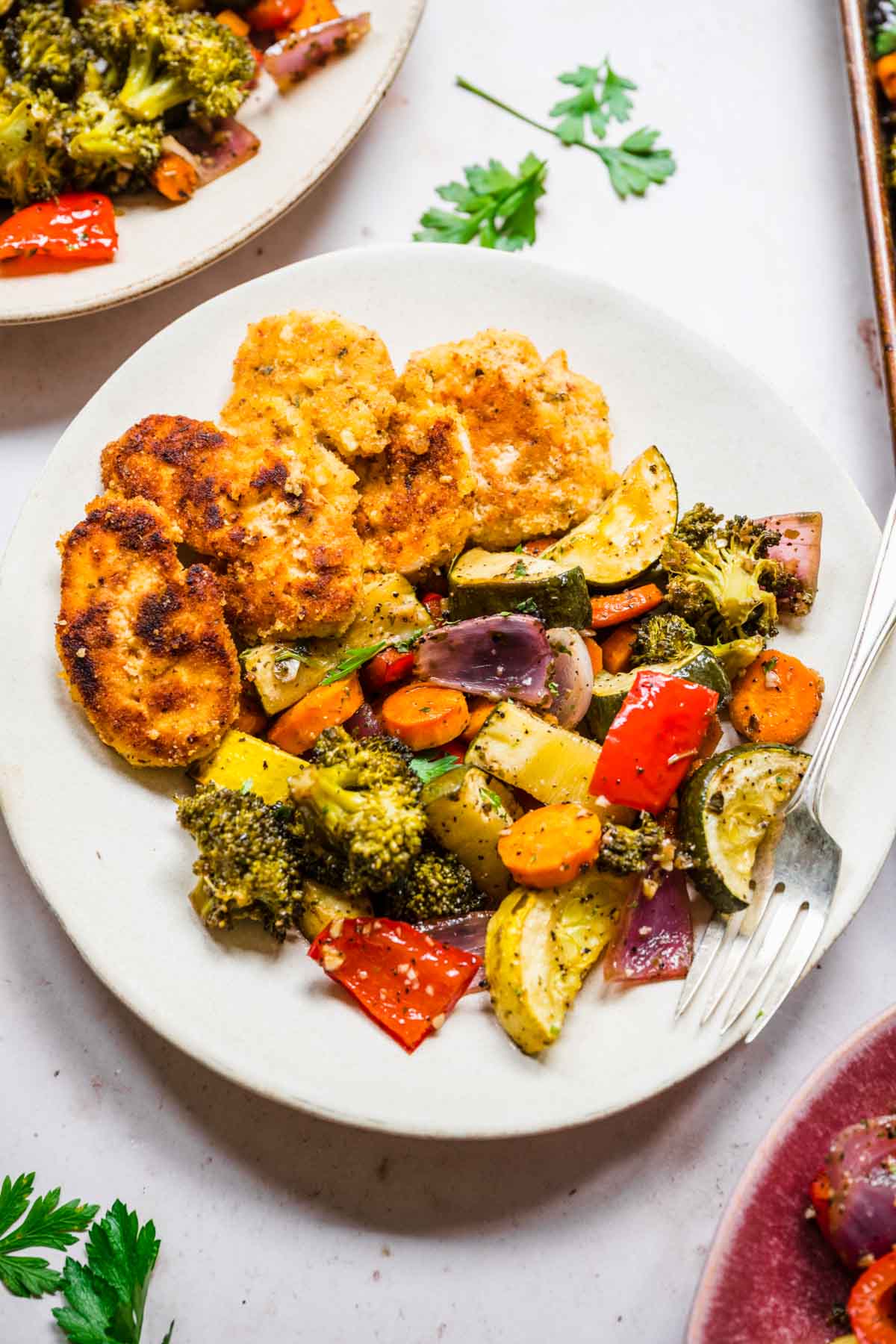 Serving Ideas
Bowls: Instead of serving these Italian Roasted Vegetables as a side dish, serve them as a topping in a delicious rice bowl or quinoa bowl. You can even go full veggie and use riced cauliflower as the base to a tasty bowl. Leave this as a Vegan dish, or add in some chopped chicken for a healthy, flavorful meal.
Wraps: These veggies would be fantastic inside a warm wrap. Veggie wraps make a delicious lunch, and are easy to eat on the go. Add in your favorite sauce for more flavor variation, some slaw, or some cold, crispy, chopped lettuce for crunch.
Carb Substitute: There are so many low-carb, or carb-free substitutes out there that can replace pasta and bread. Cauliflower rice, quinoa, zucchini noodles, and eggplant are all great options. However, why not try a classic pan of Roasted Italian Vegetables? They would make a great base for your favorite meat sauce, or any grilled, or roasted meat.
More Italian Recipes
How to Store
Serve: You don't want to leave Italian Roasted Vegetables at room temperature for more than 2 hours.
Store: Once the leftovers have cooled down, you can put them in an airtight container or cover them in aluminum foil. Then you can store them for 3-4 days in the fridge.
Freeze: For more long-term storage, put them in the freezer, and keep them for up to 6 months.


Ingredients
1

zucchini

, cut into 1-inch half circles

1

yellow squash

, cut into 1-inch half circles

2

carrots

, cut into 1/2-inch thick coins

1

red bell pepper

, cut into 1-inch chunks

1/2

red onion

, cut into 1-inch chunks

1

pound

broccoli

, trimmed and cut into bite-sized pieces

1/4

cup

olive oil

2

tablespoons

balsamic vinegar

2

teaspoons

kosher salt

1

teaspoon

coarse ground black pepper

1

teaspoon

dried oregano

1

teaspoon

dried basil

6

cloves

garlic

, minced

fresh parsley

, optional
Instructions
Preheat oven to 400 degrees.

Add the zucchini, squash, carrots, bell pepper, red onion, broccoli, olive oil, balsamic vinegar, salt, pepper, oregano, basil, and garlic to the bowl, mixing well.

Place the vegetables on a large sheet pan in a single layer. If your sheet pan is too small, use two.

Cook for

20 minutes

. Then, stir and cook for up to an additional

10 minutes

until vegetables are fork-tender.

Remove from the oven. Garnish with fresh parsley and a drizzle of extra olive oil and vinegar if desired.
Nutrition
Calories:
108
kcal
|
Carbohydrates:
10
g
|
Protein:
3
g
|
Fat:
7
g
|
Saturated Fat:
1
g
|
Polyunsaturated Fat:
1
g
|
Monounsaturated Fat:
5
g
|
Sodium:
616
mg
|
Potassium:
421
mg
|
Fiber:
3
g
|
Sugar:
4
g
|
Vitamin A:
3472
IU
|
Vitamin C:
80
mg
|
Calcium:
55
mg
|
Iron:
1
mg