Baked Creamy Polenta is an amazingly versatile, simple, buttery dish easy to make and flavored with tasty parmesan cheese.
Polenta makes an excellent Side Dish that you can use instead of rice or potatoes. It goes great with rich dishes like Red Wine Pot Roast or Hearty Beef Stew.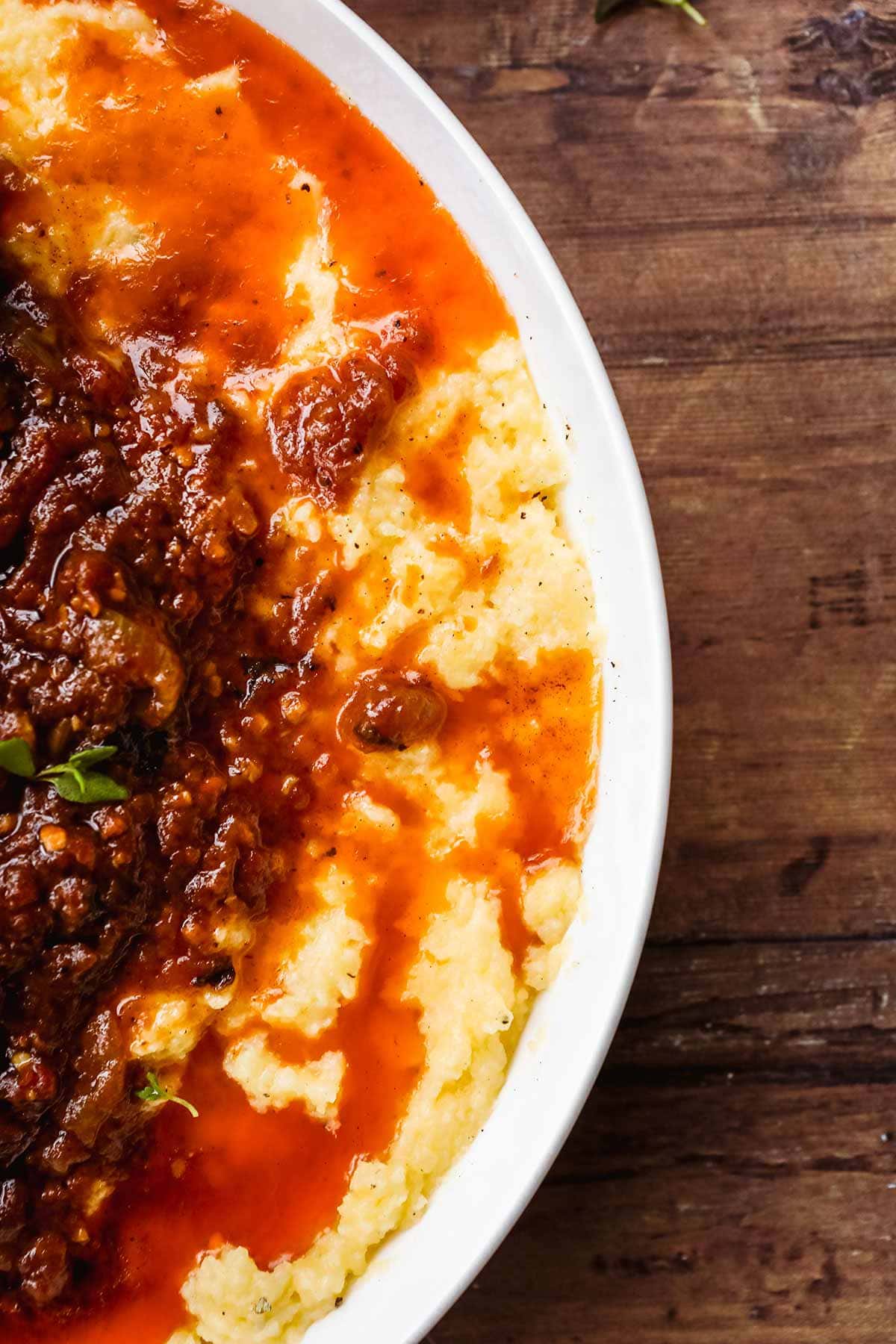 Delicious polenta is a simple recipe with a similar texture to porridge or grits. It is buttery, is easy to make, filling, and its neutral taste makes it a wonderful base on which to add other flavors. It's the perfect side to go with any cozy meal.
The next time a comfort food craving hits, you can easily make a batch of polenta in the oven. It turns out perfectly rich and buttery with a slight cheesy flavor from the parmesan cheese. The thick and creamy texture makes it a great alternative to Mashed Potatoes.
You can serve Baked Creamy Polenta with most classic dinner recipes. It tastes especially good with saucy dishes like stews and meat with gravy. The soft polenta soaks up the juices and flavor from the main dish and is the perfect filling way to finish the meal. Try it out the next time you make Beef Stroganoff, Cube Steak with Gravy, Lamb Stew, or any of your favorite recipes.
What is Polenta?
Polenta is a traditional Italian dish made with boiled yellow cornmeal and is used as a base for ragout, a saucy meat or vegetable stew. It has a mild, neutral flavor, which makes it perfect for adding seasonings, cheese, or toppings. It can be served like a porridge, such as this Baked Creamy Polenta recipe, or cooled into a loaf that is baked or fried. Polenta requires a long cooking time with plenty of liquid to soften, but you can also buy quick cooking or even pre-cooked polenta that is ready to slice and serve.
What is the difference between Polenta and Grits?
Both polenta and grits are a type of porridge made from cornmeal. While polenta is a traditional Italian dish, grits hail from right here in North America. Native Americans showed colonists how to make a form of hominy grits out of corn, and it is still a mainstay in Southern cooking. The main difference is the type of corn that is used to make each dish. Polenta uses a medium ground flint corn, which is less starchy than the dent corn typically used for grits. This makes grits creamier when boiled. There are also differences in how they are served. Grits are often served for breakfast, either sweetened with butter and sugar, or made savory with cheese and bacon. Polenta is typically served as a base or side for saucy, savory dishes, much like you'd use rice or mashed potatoes.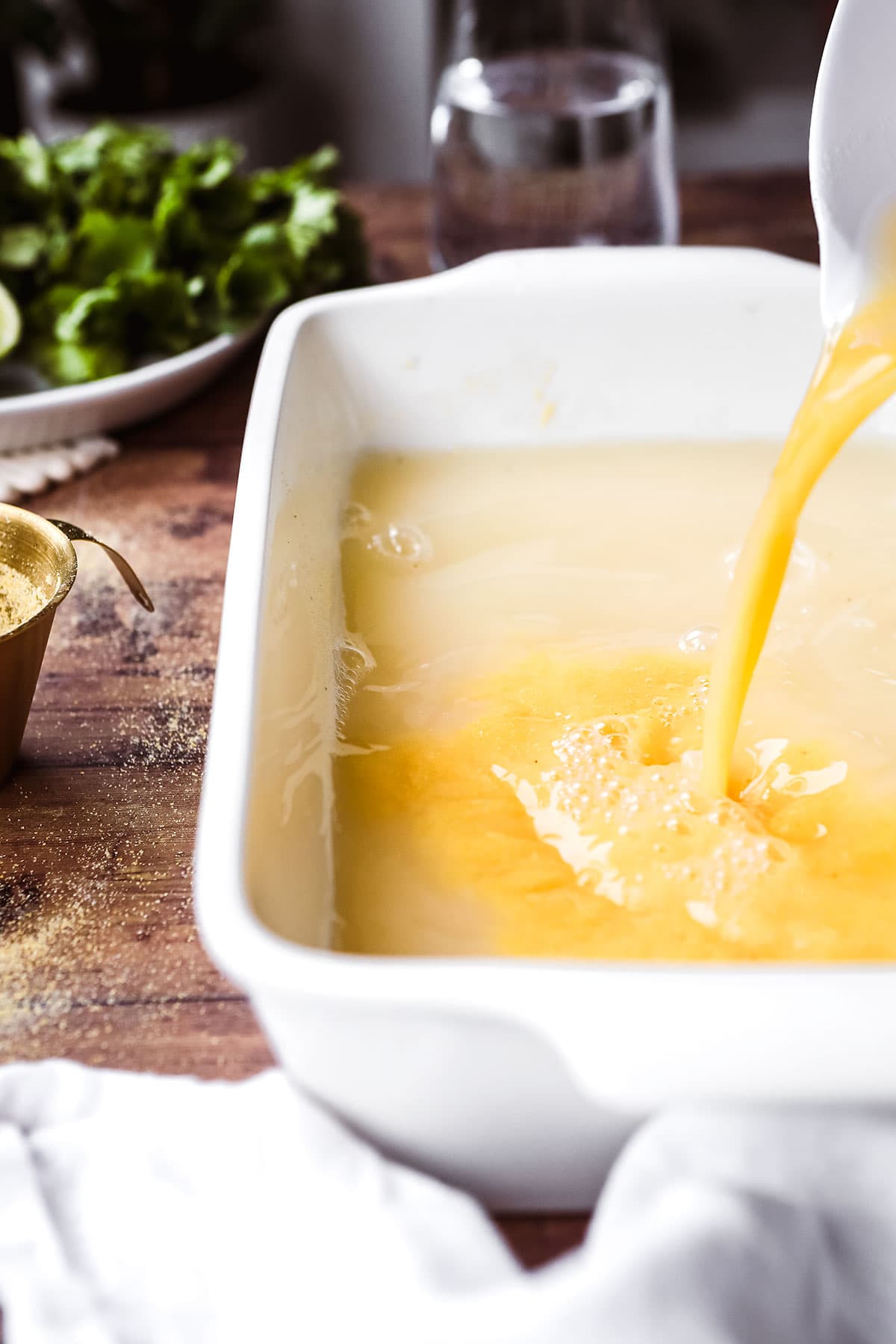 How to Make Baked Creamy Polenta
Prep time: To make oven-roasted polenta, start by preheating the oven to 375 degrees and greasing a 9×13 baking dish with butter. This step is important, otherwise, the bottom of the polenta can burn and stick to the bottom of the dish.
Batter: Whisk together the water, polenta, salt, and pepper in a large bowl. Once it is all well-combined, pour the mixture into the prepared baking dish.
Cooking time: Put the dish in the preheated oven for 60-65 minutes of cooking. When the creamy polenta dish is done, the liquid should all be absorbed into the corn mixture.
Finish: Mix in the parmesan cheese and the butter. The butter should melt and mix into the Baked Creamy Polenta smoothly. Add any extra toppings you'd like and enjoy!
Dishes to Serve with Polenta
Frequently Asked Questions
What kind of cornmeal is used to make Polenta?
Interestingly, the type of corn that Italians used to develop the dish Polenta is actually native to North America. Flint corn, a type of maize, was brought to Italy in the 1500 from the New World, where it was cultivated and became the main ingredient for the creamy porridge we now know as Polenta.
Is Polenta Gluten Free?
Polenta is naturally gluten free because it is made with cornmeal. However, if you have a severe gluten intolerance, make sure to check the package to see that the polenta you purchase is made in a gluten-free facility.
How can I use leftover Polenta?
There are many ways to incorporate Polenta into delicious dishes. Top it with sautéed mushrooms, asparagus, and sliced smoked sausage for an easy meal prep. Mix chorizo and cheese into polenta and bake it, topping it with a sunny side up egg for a delicious breakfast. You can also make yummy fried Polenta balls with leftovers. After the Polenta has been chilled, scoop 2 tablespoons at a time and roll into a ball. Dip into a beaten egg then breadcrumbs and deep fry until golden brown. Serve with marinara sauce for dipping.
How do I make Polenta vegan?
To make Vegan Creamy Baked Polenta, substitute the melted butter for melted margarine. Omit the cheese, and season with a few tablespoons of nutritional yeast and your favorite spices or seasonings.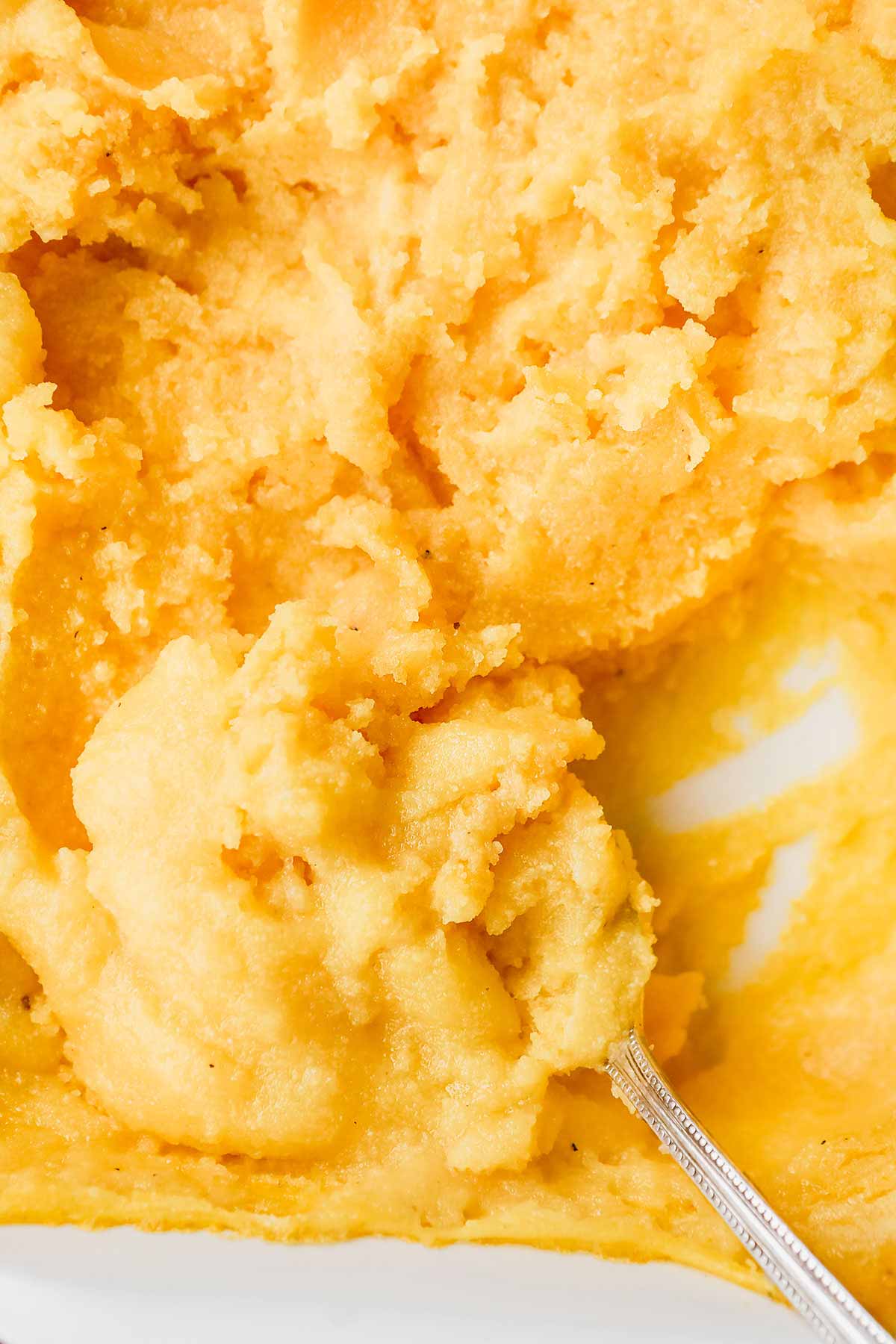 Create a free account to

Save Recipes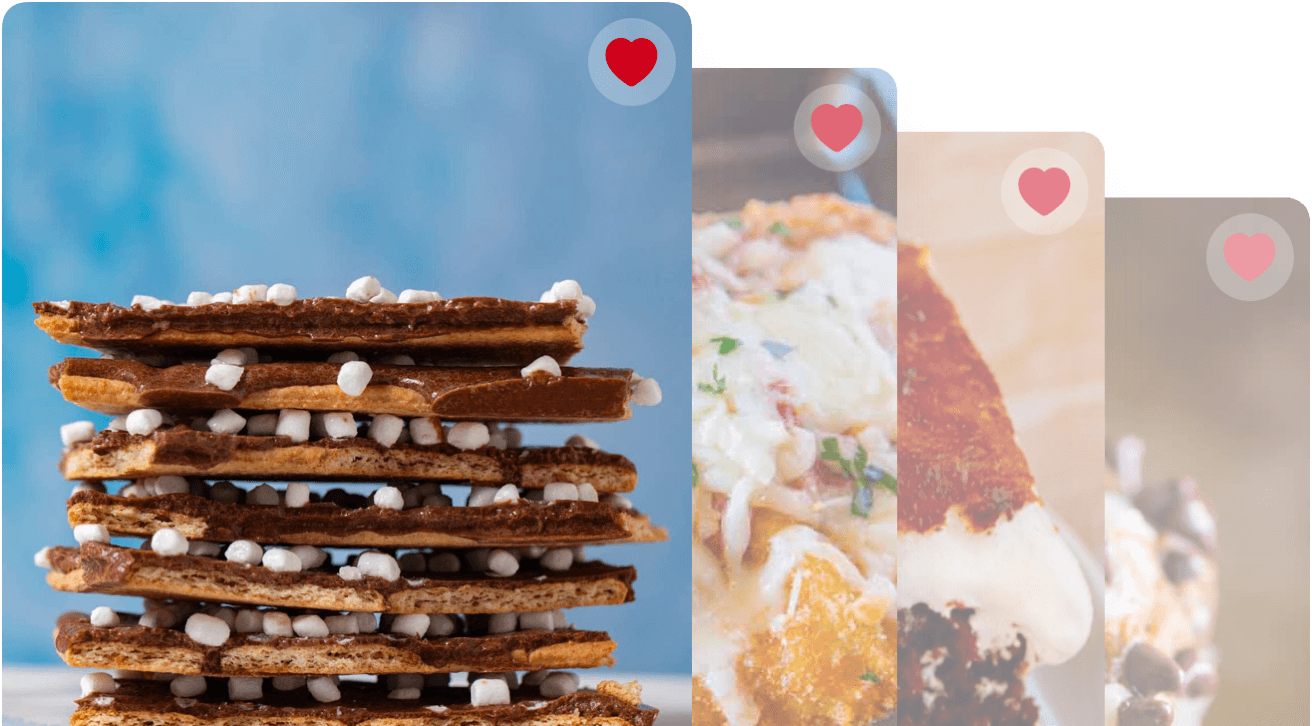 Key Ingredients for Baked Creamy Polenta
Polenta: A simple polenta base is one of the easiest things to make. The polenta is a coarse, yellow powder similar to cornmeal, and all you need to cook it is water. As it cooks, the meal absorbs the water to get its thick and creamy consistency. Butter also gives it a rich and velvety texture.
Flavoring: To give the simple Baked Polenta some flavor we've used salt and pepper, but you can add other seasonings that you'd like. The Parmesan cheese is the main flavor ingredient and makes this dish perfect to serve with your favorite Italian dinners.
Stovetop Creamy Polenta
Polenta is also very easy to make on the stovetop. You do not need to change the quantity of the ingredients listed below. Bring the water to a boil and season with salt. Whisk in polenta, cover and cook for 30 minutes on medium heat. Every 5-10 minutes, stir the polenta and scrape any sticky parts from the sides and bottom of your pan. Stir in pepper, butter, and cheese, and cook a few minutes longer if you'd like it to be thicker.
Instant Pot Polenta
To make Polenta in an Instant Pot, it's best to cut this recipe in half and increase the liquid proportion. Stir together 1 cup polenta, 4 ½ cups water, 1 teaspoon salt and ⅛ teaspoon pepper in your Instant Pot. Seal and cook on manual high pressure for 15 minutes, then natural release for 10 minutes. Stir in 3 tablespoons butter and 1 cup Parmesan cheese before serving.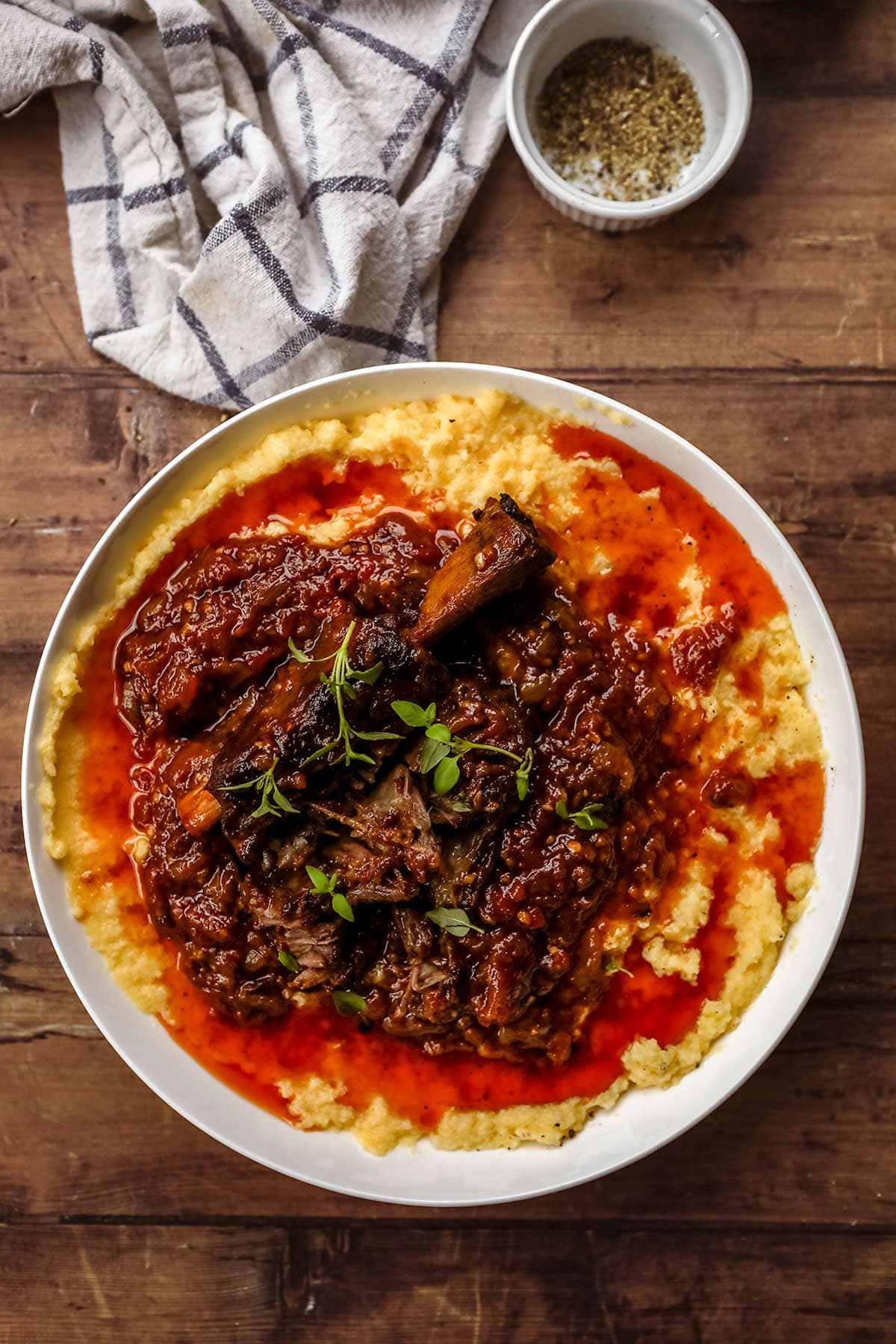 Variations on Baked Creamy Polenta
Cheesy Polenta: We've made this recipe with parmesan cheese, but you can always mix in other cheese varieties for a more cheesy polenta dish. Cheddar cheese, mozzarella, provolone, pepper jack, gouda, or even goat cheese would taste great.
Vegetable Polenta: You can also top the polenta off with roasted vegetables to complete the side dish. Fresh summer veggies like bell peppers, cucumber, tomato, squash, and wild mushrooms make great options to cook and serve over the polenta. You could also add some extra texture to the polenta by mixing fresh corn kernels into the creamy dish along with the butter.
Seasonings: For some extra flavoring, add your favorite seasonings like fresh thyme leaves, oregano, pepper flakes, garlic powder, onion powder, or paprika.
Sweet Polenta: You could also serve polenta as a breakfast dish similar to porridge. Instead of using the savory ingredients, mix in cinnamon, nutmeg, brown sugar, or maple syrup and enjoy.
Perfect Dinner Side Dishes
How to Store Baked Creamy Polenta
Serve: Don't leave this Creamy Oven-Baked Polenta recipe at room temperature for more than 2 hours.
Store: You can store leftover polenta in the fridge for 3-4 days. Make sure to cover the dish or it will dry out.
Freeze: Carefully sealed polenta can also be stored in the freezer for up to 3 months.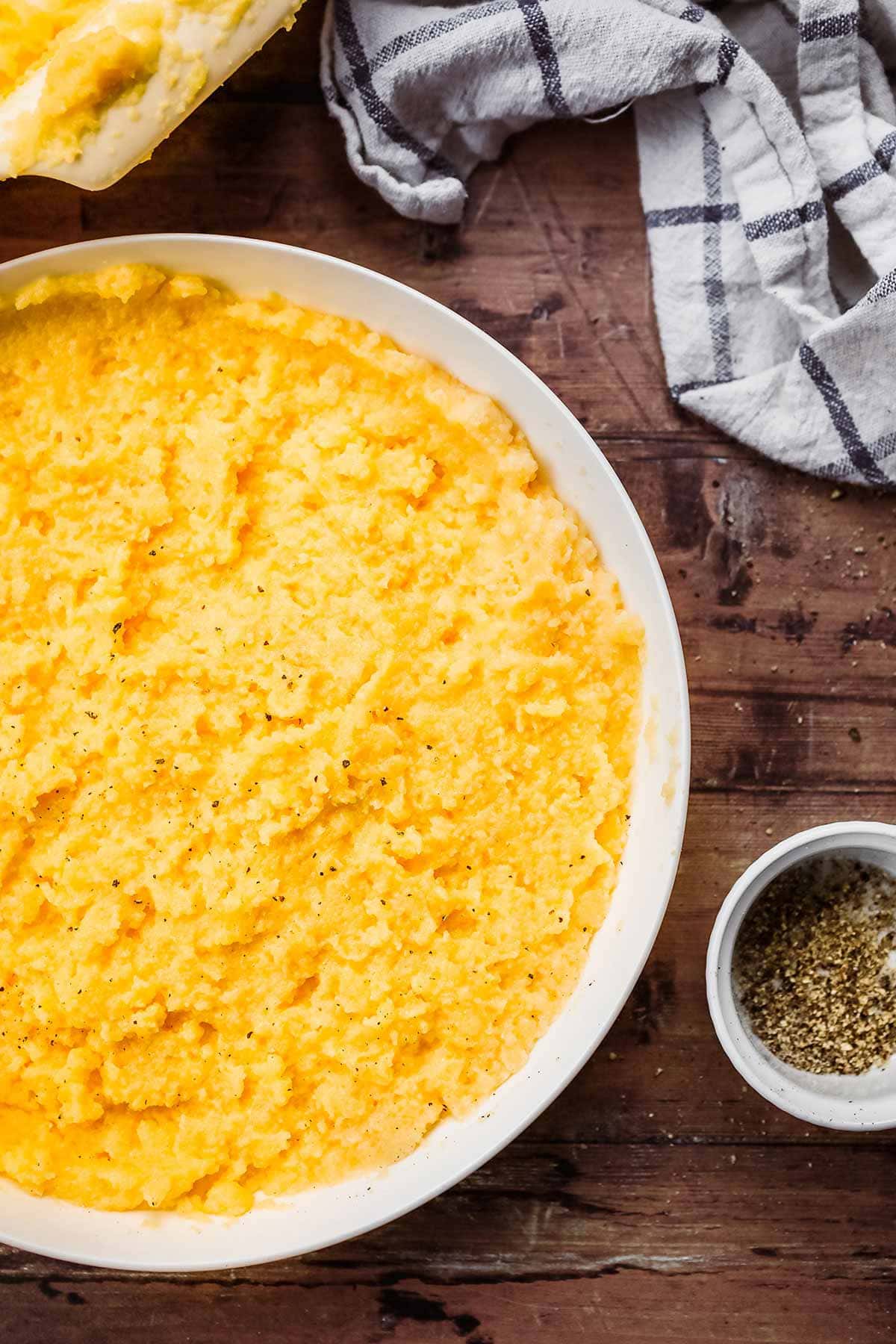 Ingredients
8

cups

water

2

cups

polenta

2

teaspoons

kosher salt

1/4

teaspoon

coarse ground black pepper

2

cups

grated Parmesan cheese

1/3

cup

unsalted butter
Instructions
Preheat oven to 375 degrees and butter a 9×13 baking dish.

In a large bowl whisk together the water, polenta, salt and pepper and whisk well.

Pour mixture into baking dish and bake uncovered for

60-65 minutes

(or until liquid is absorbed).

Remove and whisk in parmesan cheese and butter until smooth.
Nutrition
Calories:
323
kcal
|
Carbohydrates:
33
g
|
Protein:
13
g
|
Fat:
15
g
|
Saturated Fat:
9
g
|
Trans Fat:
1
g
|
Cholesterol:
42
mg
|
Sodium:
977
mg
|
Potassium:
89
mg
|
Fiber:
1
g
|
Sugar:
1
g
|
Vitamin A:
538
IU
|
Calcium:
288
mg
|
Iron:
1
mg