Make-Ahead Mashed Potatoes are perfect to make for busy holidays. Prepare these extra creamy potatoes 2 days in advance and reheat before serving.
This Make-Ahead recipe is the perfect Side Dish for Thanksgiving or Christmas. It turns out just as rich and fluffy as our Easy Mashed Potato Recipe and Slow Cooker Mashed Potatoes even after being stored in the fridge.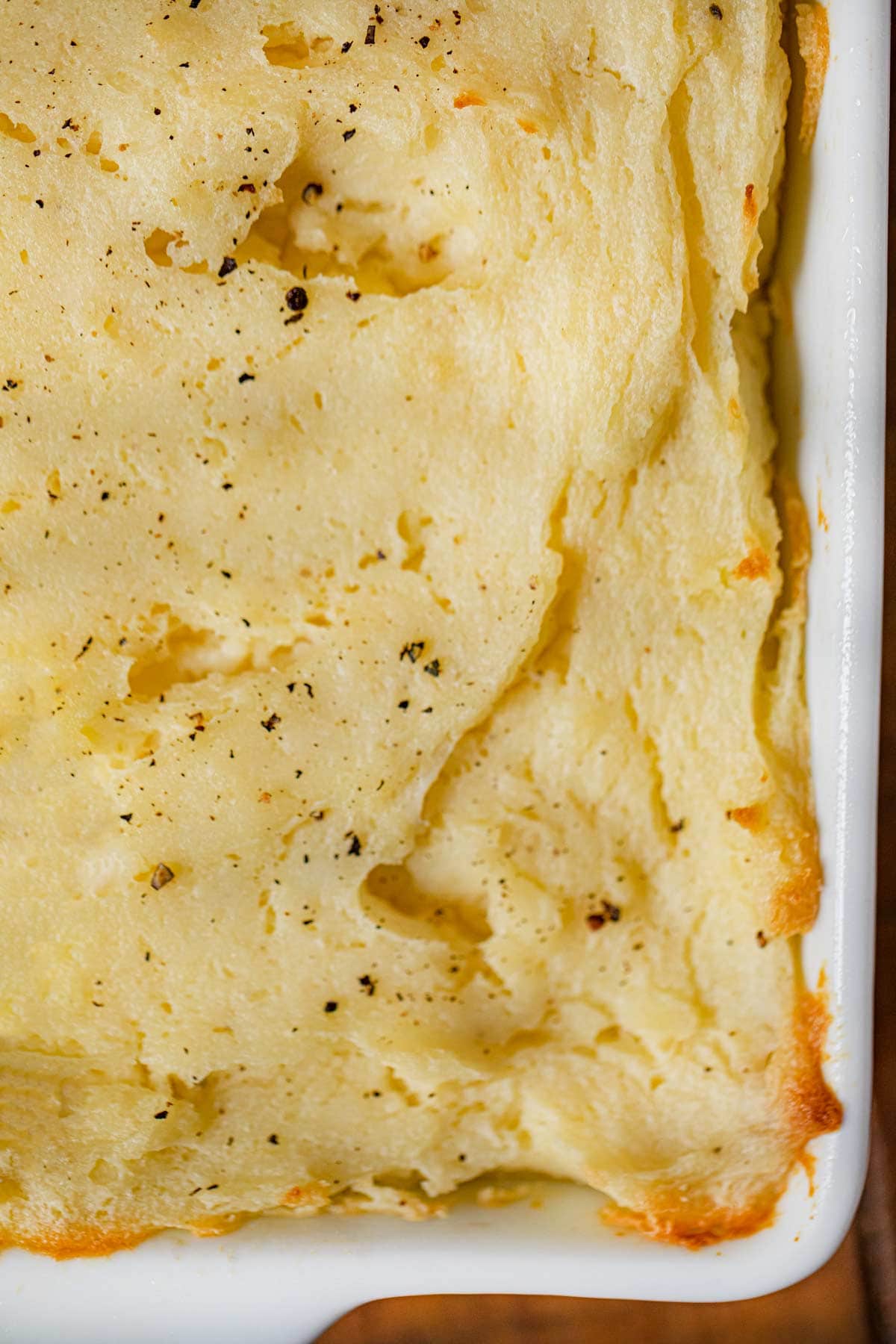 MAKE-AHEAD MASHED POTATOES
This Mashed Potato recipe is a life-saver on the holidays. Before I discovered this recipe the Mashed Potatoes were always one of the last dishes I made on the holidays. Even though Mashed Potatoes are a fairly simple recipe it's stressful trying to mash the potatoes at the same time you're getting the Roast Turkey, Cranberry Sauce, Stuffing, and other dishes ready.
This Potatoes recipe takes one thing off your plate on the day of, which on a busy holiday with lots of guests and dozens of recipes to cook, can make all the difference. With the potatoes already mashed in advance, all you have to do is pop them in the oven to heat up for a stress-free side dish.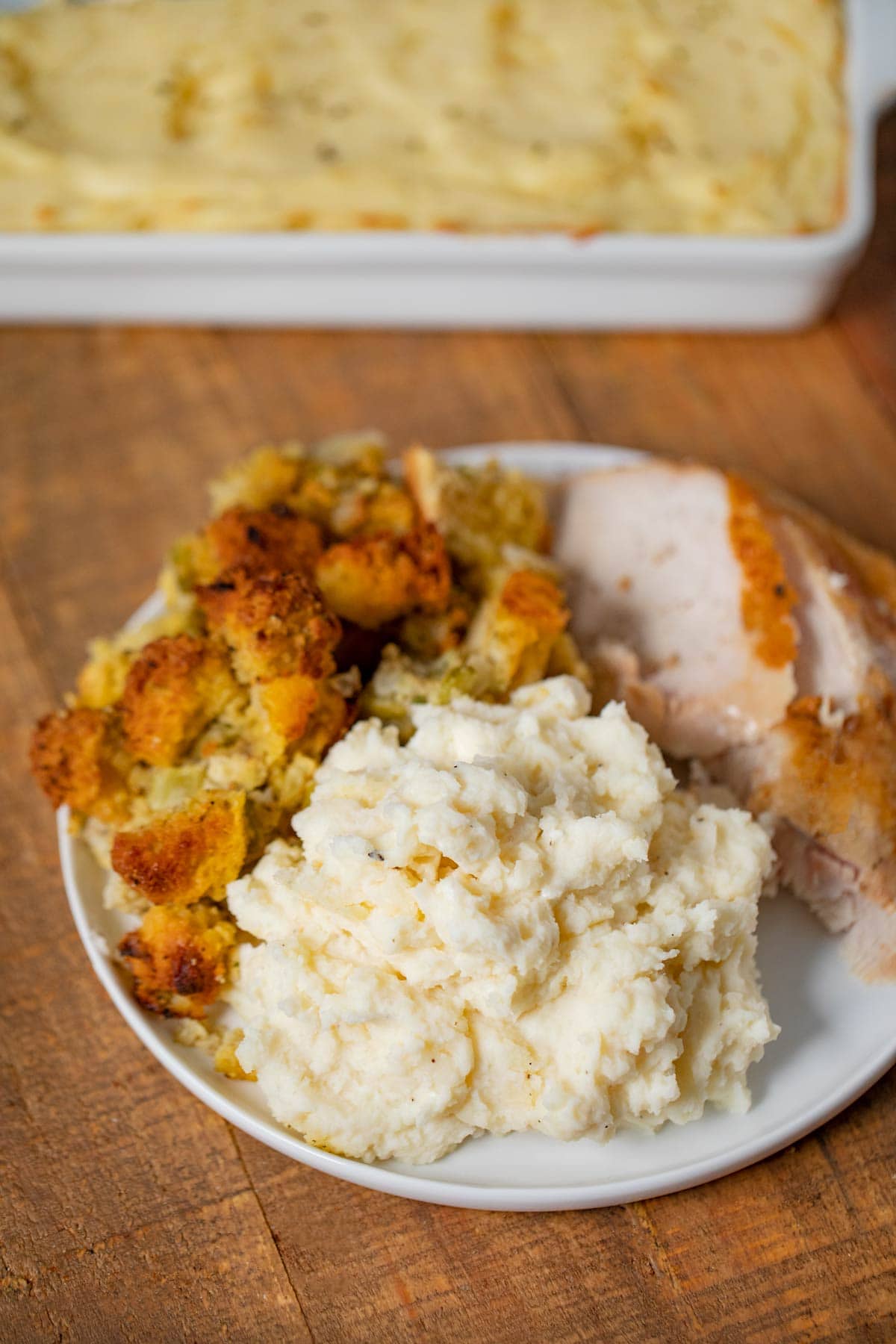 Along with how convenient it is these Mashed Potatoes may be the fluffiest, and creamiest you'll ever try. Made with sour cream, heavy cream, and cream cheese these Mashed Potatoes are unbelievably rich and ultra-creamy. Serve them with melted butter and gravy, for the ultimate, indulgent potato recipe. It's sure to become a go-to recipe that's a favorite with the whole family.
MORE THANKSGIVING SIDE DISHES
HOW TO COOK MAKE-AHEAD MASHED POTATOES
Cook Potatoes: If you don't want any peels in your Mashed Potatoes start by peeling the potatoes. Then cut them into chunks, and put the potatoes in a large pot. Pour water over the top, enough so there's about an inch of water above the potatoes. Turn the stovetop to medium heat and bring to a boil. Continue to cook the potatoes for 18-20 minutes. You can test if the potatoes are tender with a fork. Drain the water out of the pot.
Mash: Use a hand-held potato masher to mash the potatoes. Continue to mash until they reach the consistency you prefer for Mashed Potatoes.
Cream: Stir together the cream cheese, sour cream, heavy cream, butter, salt, and pepper in a saucepan over medium heat until smooth. Pour the mixture over the mashed potatoes and continue to mash until the cream is worked into the potatoes.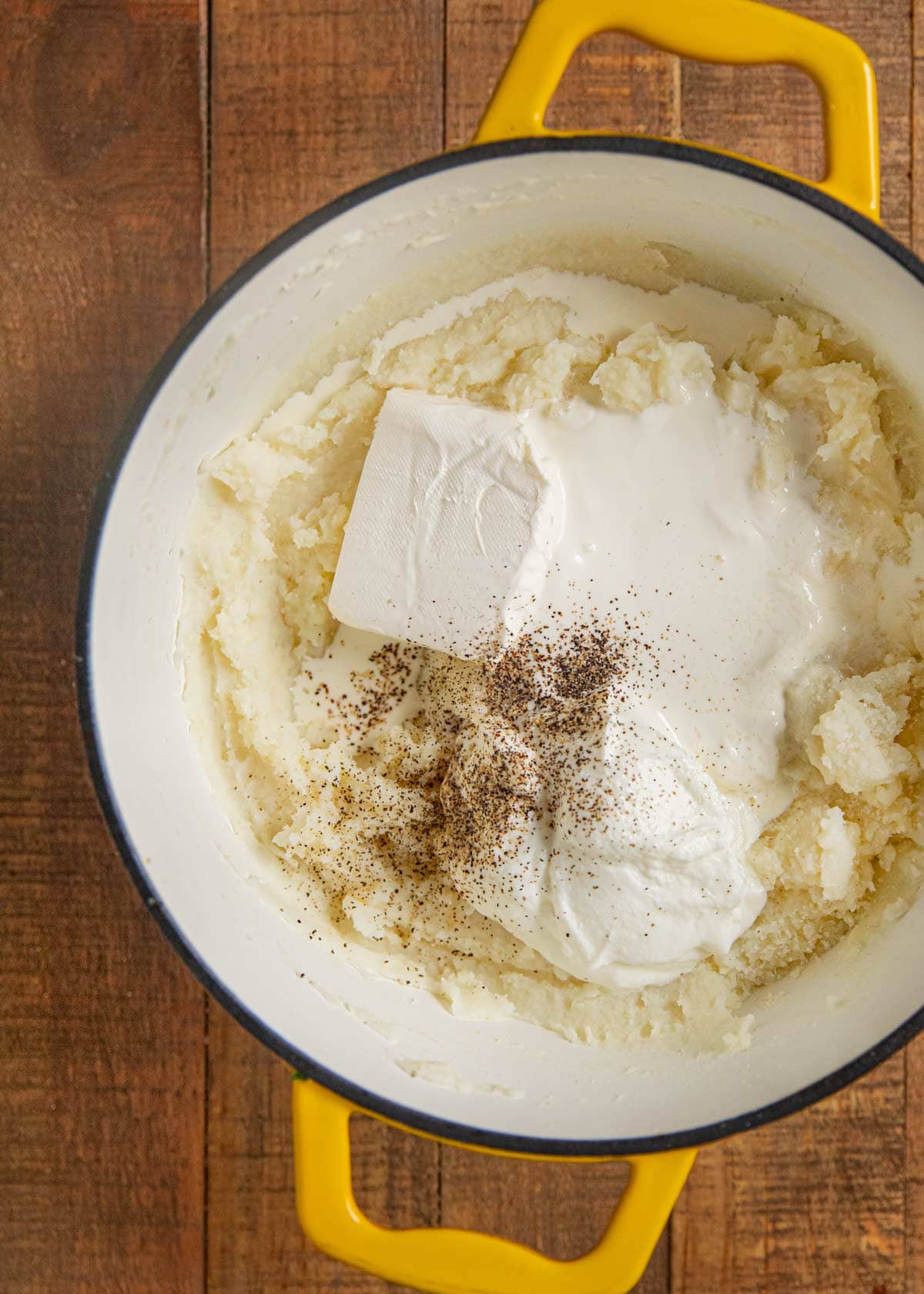 Store: Pour the Mashed Potatoes into a 9×13″ oven-safe dish. Let the mashed potatoes cool then cover them in plastic wrap and refrigerate. You can keep them in the fridge for up to 2 days.
Reheat: On the day of preheat your oven to 350 degrees. Once the oven is ready, take the plastic wrap off the potatoes and bake for 30-40 minutes. Cook until the top is lightly browned or just until the potatoes are heated through.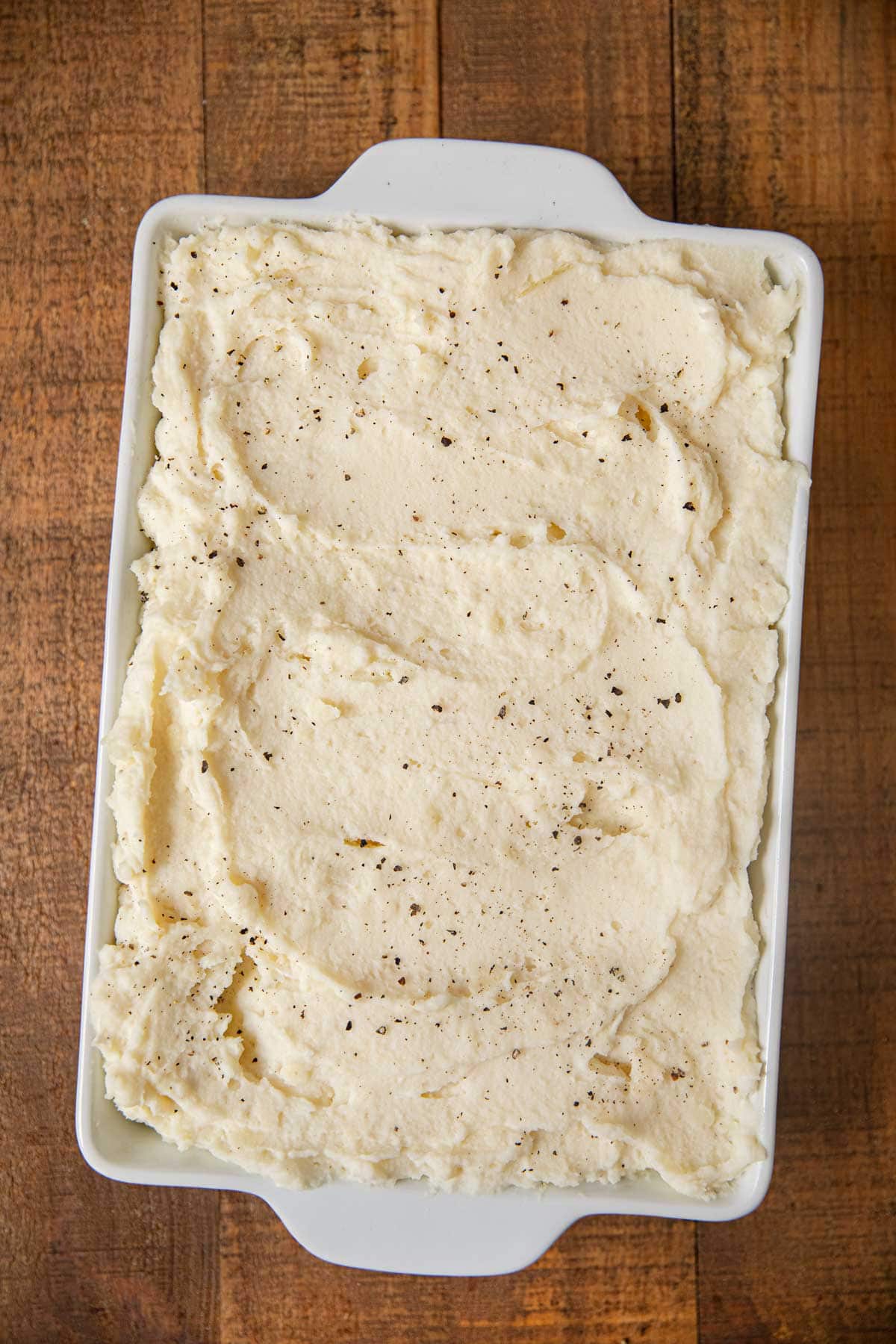 Create a free account to

Save Recipes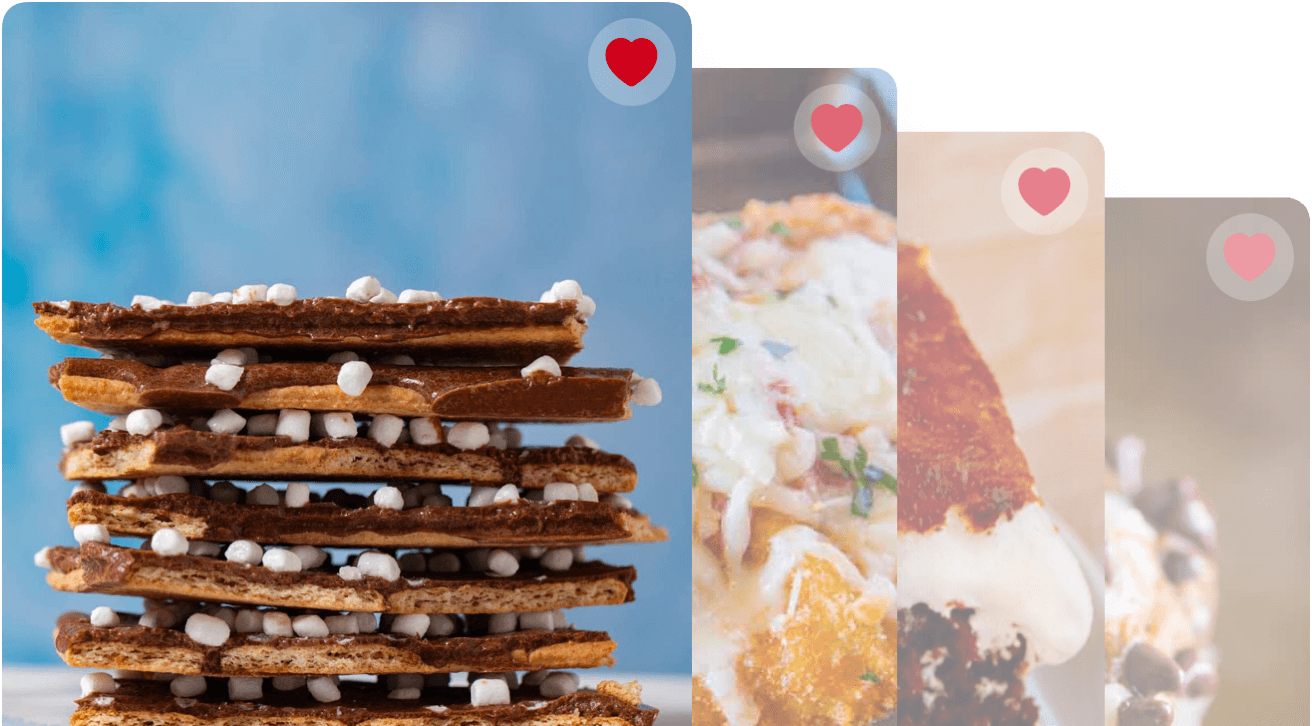 VARIATIONS ON MAKE-AHEAD MASHED POTATOES
Potatoes: Instead of using russet potatoes you can try Yukon potatoes, red potatoes, or melody potatoes in this make-ahead recipe.
Garlic Mashed Potatoes: To make this great recipe into a creamy garlic potato dish, try mixing in 3 cloves of minced garlic. You can add the garlic at the same time you add in the creamy ingredients.
Low-fat Mashed Potatoes: To make reduced-fat Mashed Potatoes, use low-fat cream, cream cheese, and sour cream. You can also use low-fat milk instead of whole milk.
Toppings: There are plenty of delicious toppings you can add to these Creamy Make-Ahead Mashed Potatoes. After you've reheated the Mashed Potatoes try adding chives, shredded cheese, or bacon bits.
MORE POTATO RECIPES
HOW TO STORE MAKE-AHEAD MASHED POTATOES
Serve: To make sure this Make-Ahead Potato recipe stays fluffy and doesn't dry out, don't leave it at room temperature for more than 2 hours after baking.
Store: To store the Mashed Potatoes, cover the dish in plastic wrap again, or put the leftover potatoes in an airtight container. It will keep well for 3-5 days.
Freeze: You can also freeze the potatoes for up to 10 months. Let the Mashed Potatoes thaw in the fridge then bake them in the oven to reheat them.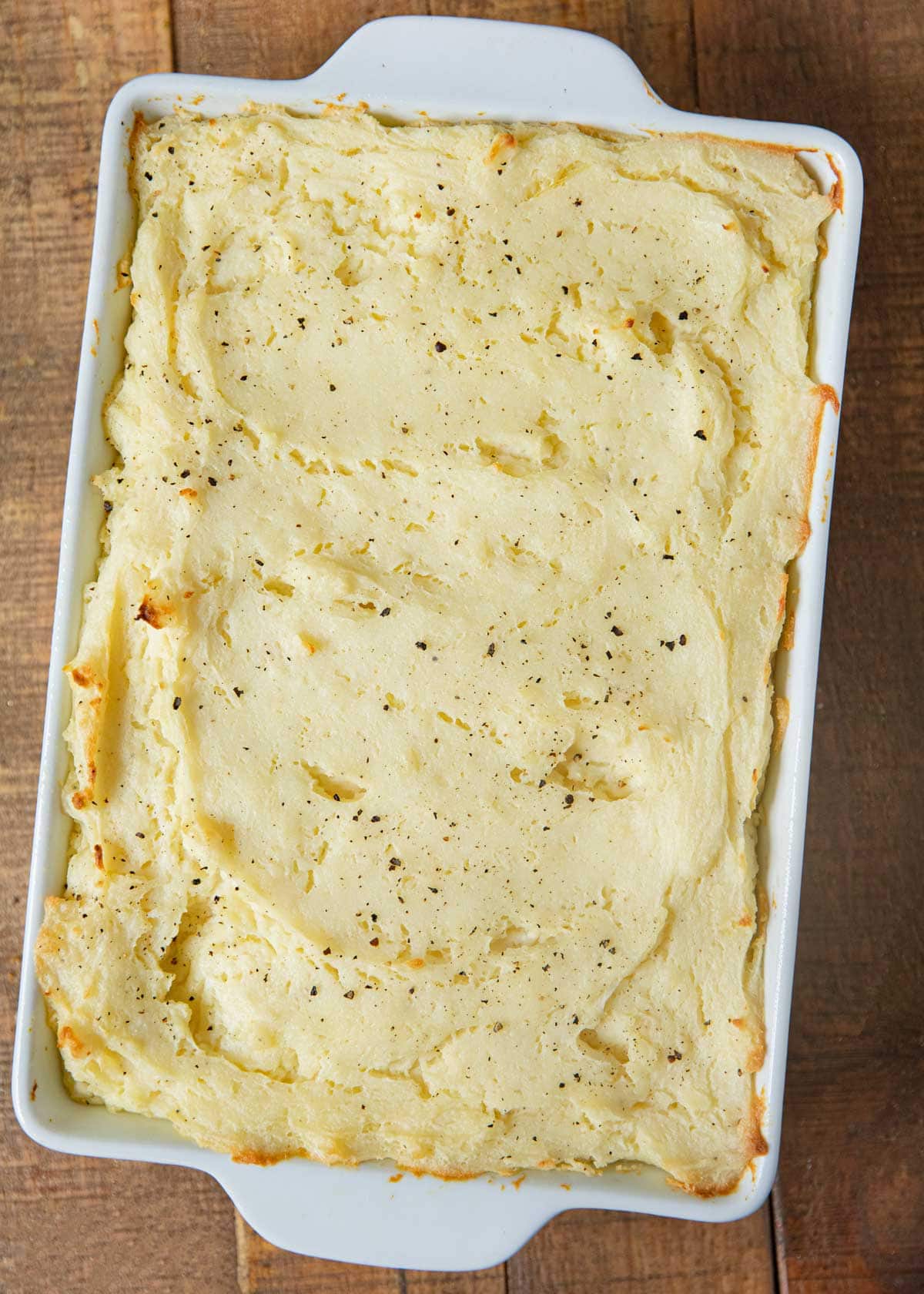 Ingredients
9

medium russet potatoes

, peeled and cut into 2" chunks (3 pounds)

4

ounces

cream cheese

, softened

1/2

cup

sour cream

1/2

cup

heavy cream

1/2

cup

unsalted butter

1

teaspoon

Kosher salt

1/2

teaspoon

coarse ground black pepper
Instructions
Add potatoes to a pot covered with water by an additional inch.

Bring to a boil then cook for

18-20 minutes

until tender.

Drain water.

Mash potatoes with a potato masher.

In a medium saucepan stir together cream cheese, sour cream, heavy cream, butter, salt, and pepper until smooth.

Pour mixture over potatoes and mash well until well mixed.

Pour potato mixture into a 9x13" baking dish, let cool for

15 minutes

then cover with plastic wrap and refrigerate for up to 2 days.

Preheat oven to 350 degrees.

Remove plastic wrap and cook potatoes for

30-40 minutes

until hot and lightly browned (if desired).
Nutrition
Calories:
266
kcal
|
Carbohydrates:
30
g
|
Protein:
5
g
|
Fat:
15
g
|
Saturated Fat:
9
g
|
Cholesterol:
44
mg
|
Sodium:
259
mg
|
Potassium:
710
mg
|
Fiber:
2
g
|
Sugar:
2
g
|
Vitamin A:
494
IU
|
Vitamin C:
9
mg
|
Calcium:
54
mg
|
Iron:
1
mg