Quick and Easy Marinara Sauce, perfect for every Italian meal. This homemade sauce is done in as little as 15 minutes but perfect in 40.
You'll love working with homemade marinara sauce in your kitchen and using it in favorite classic Italian recipes like Chicken Parmesan, Meat Lasagna, and this insanely popular Million Dollar Spaghetti.

Quick and Easy Marinara Sauce is a staple recipe, like Enchilada Sauce. It's so easy, you can make batches of it and keep it in the freezer for quick pasta meals. The best thing about this homemade marinara sauce, aside from being a base recipe, is that it is such an easy recipe to make. You can also adapt it easily for any other needs.
One of the easiest things about this recipe is that it's intentionally created it to be easily scaled up or down. If you have the space, make this recipe in quadruple batches and freeze the remaining three. This means using 2 onions instead of ½ of one, and 2 cups of broth instead of half of one cup.
The thing about pantry staples is you'll always be glad when you have them in your back pocket for quick weeknights that catch you unprepared. If you get home and nothing is planned you can thaw this sauce quickly, add to frozen meatballs or rotisserie chicken along with some pasta and you have a quick, healthy, and most importantly, homemade meal.
Even using high-quality ingredients in this easy marinara sauce makes a delicious homemade marinara that costs just a few dollars. The most important part is this: no matter how much you spend on the jarred sauce, this sauce will taste better – it always will! Fresh garlic will always win, and fresh cooking always wins over mass cooking and bottling when it comes to flavors.
You'll love adding this sauce to classic Italian recipes but it is just as easy to serve with easy pastas like Lasagna Soup, Stuffed Shells and Stuffed Peppers. You can even make it easy and serve it with easy things like tortellini, Ravioli or Meatballs and spaghetti for a quick meal.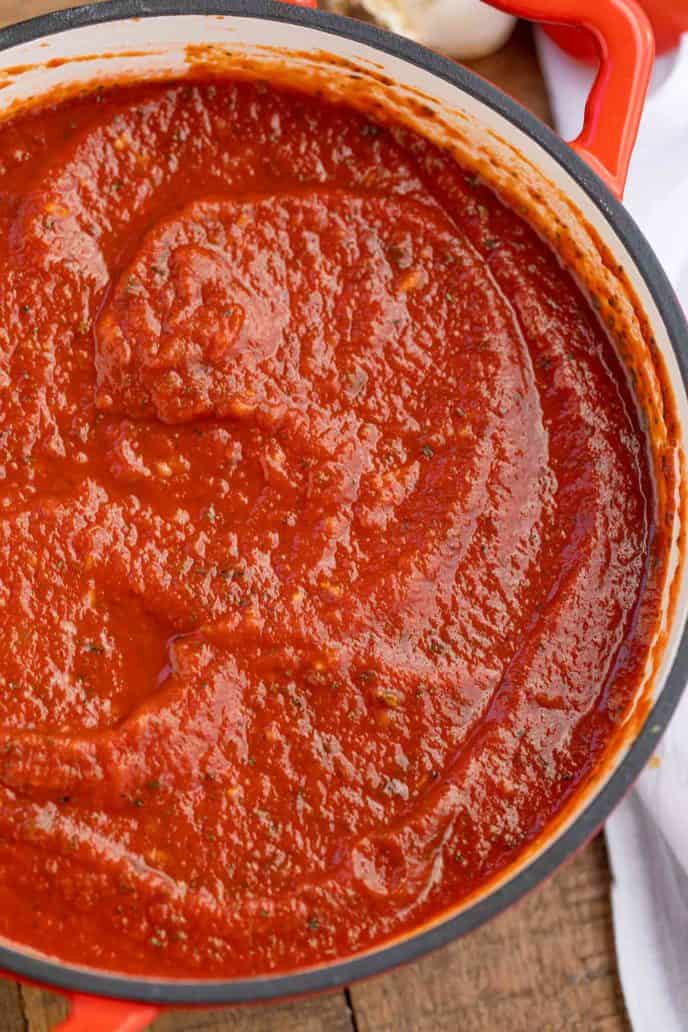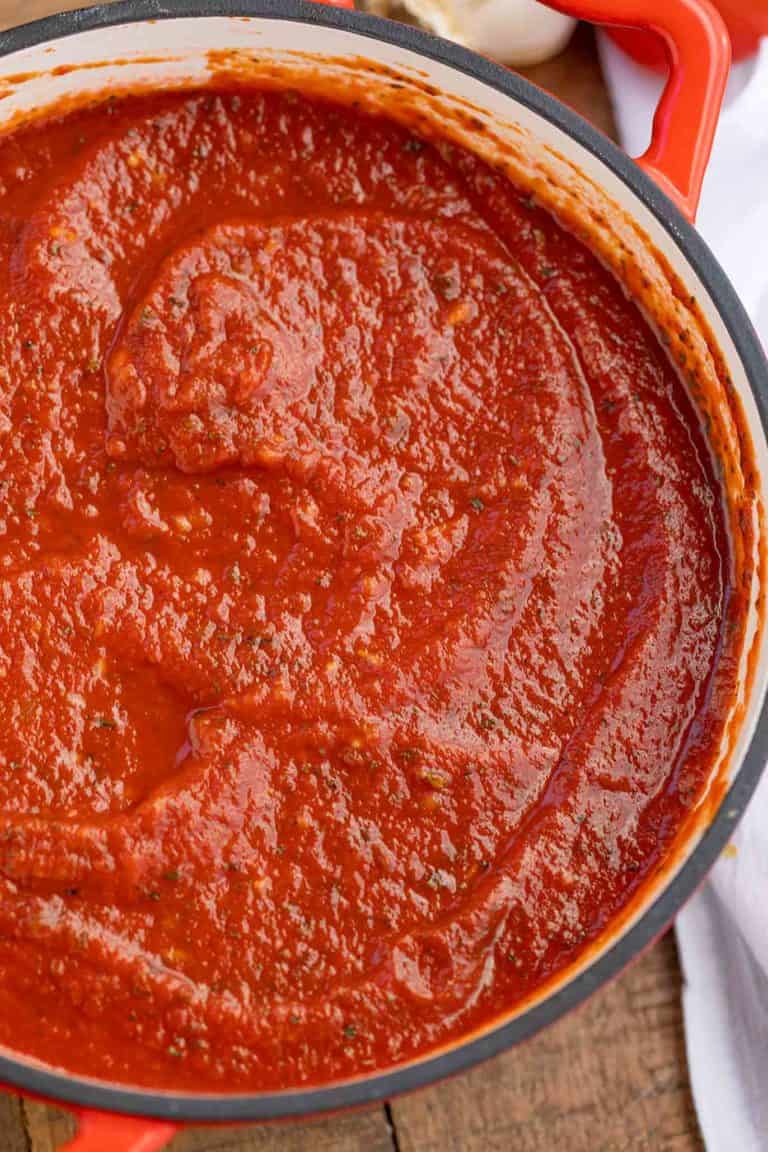 How to Make Quick and Easy Marinara Sauce
Once you try this quick recipe you'll realize how much money is being wasted on premade marinara (good jarred marinara is not cheap!). Check out the steps!
Step One: Sauté garlic and onions in a few tablespoons olive oil until fragrant.
Step Two: Add the tomato sauce and the rest of the ingredients and simmer on medium heat until ready. That's it!
More Marinara Based Recipes
Frequently Asked Questions
There are multiples ways you can play with this base marinara sauce to fit your recipes and tastes. That's what's great about this easy marinara sauce. It's lovely on its own but a versatile base for different flavor profiles.
Can I make Marinara Sauce with fresh tomatoes?
Yes, use fresh whole tomatoes and extra-virgin olive oil – go for a really juicy tomato, as ripe as you can find. Hard, Roma type tomatoes won't make for amazing flavors, this type of fresh Marinara sauce is best made towards the end of summer when ripe red tomatoes are most available.

Note: If it's chunkier from canned tomatoes, you can use an immersion blender to break it all down into a smoother sauce.
Can I use grape tomatoes in Marinara Sauce?
Yes, you can half the crushed tomatoes and add in fresh Roasted Garlic Tomatoes. I usually do a couple of pints of grape tomatoes and skip the garlic in the base recipe since the garlic roasts on the grape tomatoes.

Create a free account to Save Recipes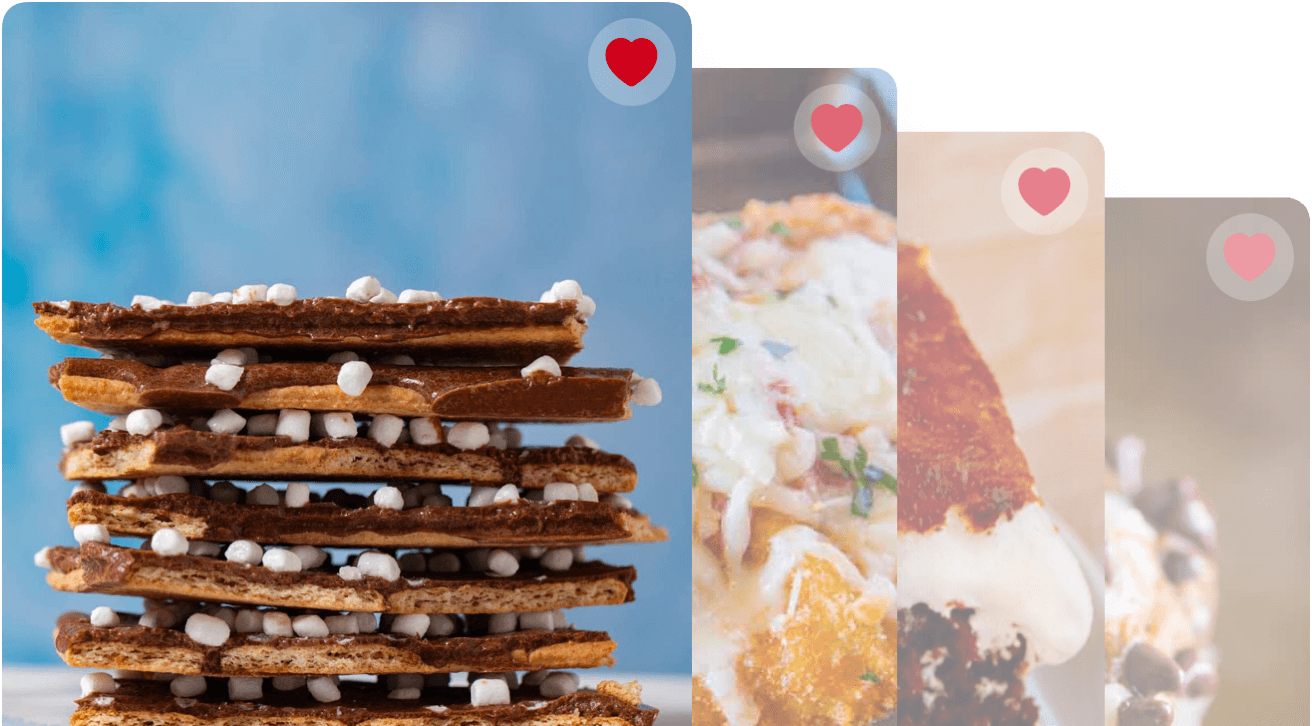 Key Ingredients for Easy Marinara Sauce
The key to the recipe is to use the best ingredients you can in the marinara sauce. These things are basic pantry ingredients so it shouldn't be hard to find missing ingredients from the store. Here are some of our favorites below if you aren't sure.
Crushed tomatoes/Tomato Puree: This recipe uses San Marzano, but Cento and Muir Glen are also great options if they're more readily available for you. If you're using a brand that may be more inexpensive, taste the crushed tomatoes first, you may need a hint of sugar to tame the acidity or maybe a small addition of white wine vinegar if the taste is bland.
Tomato Paste: Cento makes a good one, but really don't stress the tomato paste. You can even use giant glass jars of tomato paste from ethnic grocery stores.
Fresh Garlic: If there are three places you should avoid shortcut products it is in jarred garlic, jarred ginger, and bottled lemon juice, they NEVER replicate the fresh flavors well. Always use fresh garlic cloves.
Fresh Herbs: Add them in at the very end or you'll lose all the flavor benefits. Fresh basil and oregano are great flavors for this recipe, and is great to use when those plants are in full bloom.
Dried Herbs: This is a pantry recipe, so dried herbs are great in this recipe, they add great flavor, they simmer well with the tomatoes and they freeze well. Just be sure your herbs have not been in your pantry longer than 6 months or they may have lost their flavors. Dried herbs may seem like they're preserved but they do have a shelf life.
Chicken Stock: Better than Bouillon is a great option so you can add as little or as much as needed and adjust the strength as needed. You can even triple the strength when making pan sauces.
Variations on Marinara Sauce
There are multiples ways you can play with this base marinara sauce to fit your recipes and tastes. That's what's great about this easy marinara sauce. It's lovely on its own but a versatile base for different flavor profiles.
Homemade Meat Marinara: Swap chicken stock for beef stock. Brown your beef well, remove, brown your onions and garlic in a mix of the beef fat and olive oil. For a sausage flavor using straight ground beef, add some fennel seeds to the pot too.
Angry Red Marinara Sauce: Add more crushed red pepper flakes to taste (up to two full teaspoons) and add a much larger amount of garlic, up to ¼ cup of minced garlic.
Vodka Sauce Marinara: Add a ½ cup heavy cream and a ¼ cup of vodka. Omit the herbs. This is best served with shrimp or chicken. Also top with healthy amounts of parmesan cheese.
Creamy Marinara Sauce: Simmer the sauce down to a thicker consistency, uncovered instead of covered, then thin with some cream. You can also add a pinch of nutmeg since the cream adds a hint of sweetness to the marinara sauce anyway.
Tomato Soup from Marinara: For Easy Tomato Soup, you'll be adding some cream and flour to the recipe, and then thinning it out a bit to make it soupy. The soup also uses white or black pepper to taste.
How to Serve Marinara Sauce
Marinara is the classic base to almost all your favorite tomato pasta dishes. This homemade tomato sauce (marinara) can be served with so many things, including as a pizza crust dipping sauce! Yum!
Classic Amore: Serve this delicious marinara sauce with cooked pasta and a fresh basil sprigs on top. Pair with your favorite wine and garlic toast for a meal to remember!
The Weeknight-er: For those busy weeknights, chop up air-fried chicken, combine with cooked spaghetti noodles, then pour a can of your homemade marinara over top for a hearty and easy dinner. Garlic toast is an absolute must for this meal.
Party Dippers: Cook chicken wings until well done. Combine a can of your fresh marinara sauce with homemade Buffalo Wing Sauce for a super saucy snack! Then, use any extra sauce to dip your homemade Pepperoni Cheesy Bread in. Bring extra napkins!
How to Store Marinara Sauce
Serve: Marinara Sauce can be left at room temperature for up to 2 hours before it should be cooled and stored.
Store: Sealed in an airtight container, homemade Marinara will last in the refrigerator for up to 1 week.
Freeze: Marinara Sauce freezes beautifully. After cooling, portion sauce into airtight containers or seal in strong freezer bags and store for up to 6 months. Defrost in the refrigerator overnight, or heat on the stove from frozen, adding a little chicken stock if needed.



Ingredients
1/4

cup

olive oil

1/2

yellow onion

, diced

3

cloves

garlic

, minced

28

ounces

crushed tomatoes

6

ounces

tomato paste

2

teaspoons

dried oregano

2

teaspoons

dried basil

1

teaspoon

Kosher salt

1

teaspoon

sugar

1/4

teaspoon

crushed red pepper

1/2

cup

chicken broth

, (water is okay too)
Instructions
Add the olive oil and onion to the pan and sauté on medium low until very lightly browned.

Add the garlic and let cook for

15 seconds

or so until you can smell the garlic.

Add in the rest of the ingredients and simmer, covered, on low for

30 minutes

.
Notes
This post contains affiliate links.
Nutrition
Calories:
118
kcal
|
Carbohydrates:
13
g
|
Protein:
2
g
|
Fat:
7
g
|
Saturated Fat:
1
g
|
Sodium:
645
mg
|
Potassium:
545
mg
|
Fiber:
3
g
|
Sugar:
7
g
|
Vitamin A:
565
IU
|
Vitamin C:
15.7
mg
|
Calcium:
59
mg
|
Iron:
2.4
mg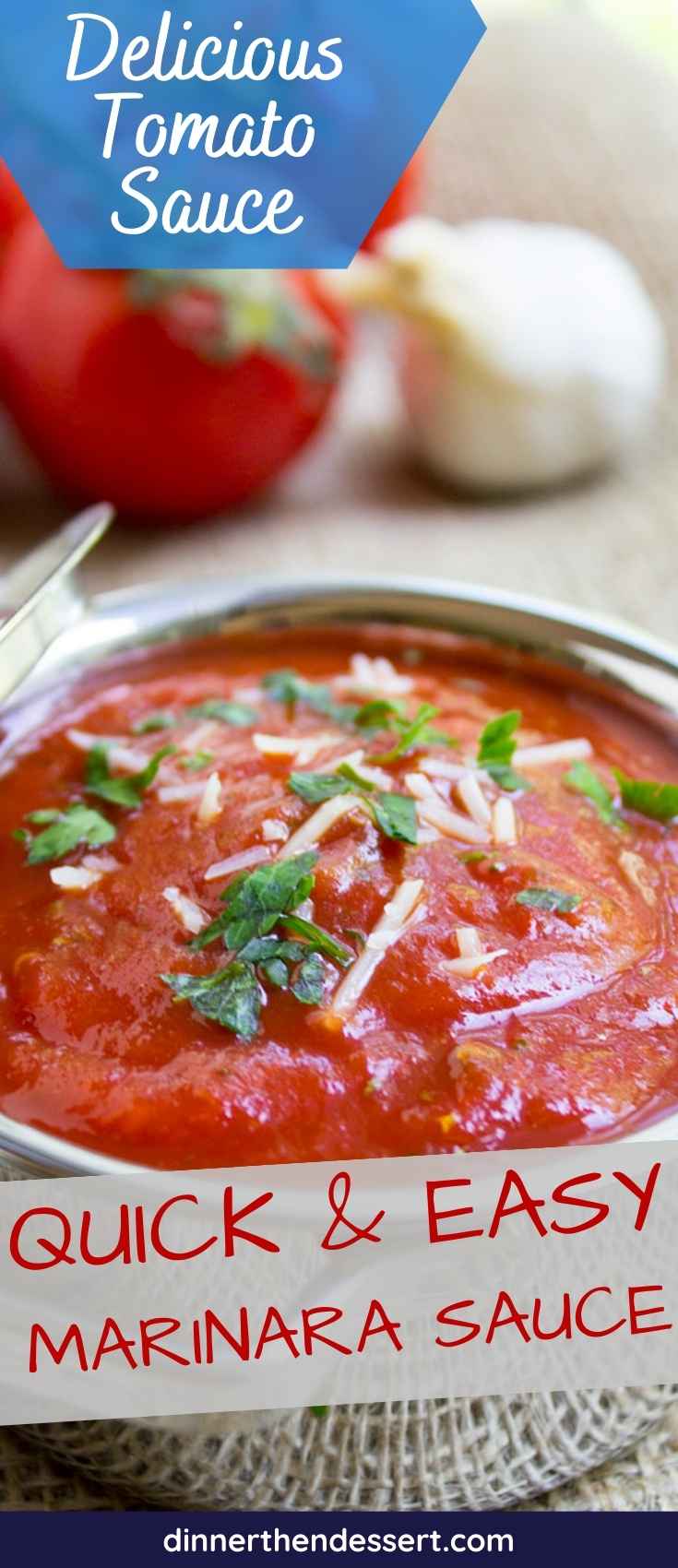 Photo used in a previous version of this post.