Stuffed Peppers with beef, rice, tomato sauce, onions and garlic with Italian Seasoning and Parmesan Cheese.
Stuffed Peppers are a classic family favorite option that we crave in the fall and winter months including Slow Cooker Pot Roast, Tater Tot Casserole and Stuffed Shells.
Stuffed Peppers
Stuffed Peppers are an easy meal you can prep ahead of time, cook ahead of time or freeze and the bell peppers are such a good vessel for the filling that reheating is easy too.
Italian Stuffed Tomatoes Recipe:
If you have an aversion to bell peppers you can even use tomatoes in your stuffed peppers. Simply buy larger beefsteak or on the vine tomatoes and core them out with a spoon. When coring out tomatoes I like to leave a 1/2-¾ inch thick tomato wall to avoid the tomatoes bursting from the stuffing.
Fill the tomatoes with your rice and meat mixture and bake as you would the bell peppers.
You can also stuff zucchini. Cut in half lengthwise then scoop out the inside of the zucchini using a spoon.
More Stuffed Pepper Recipes:
Ingredient Swaps:
Meat: You can also use alternatives to ground beef. I've used ground turkey and ground chicken in the past too. When using them I tend to add 1-2 tablespoons of canola oil to the pan so I get a good sear on the meat to form a crust.
Stuffing Mix: Sometimes instead of any versions of meat we actually use stuffing mix along with sautéing vegetables in the bell peppers.
Liquids: When putting the stuffed bell peppers into your baking dish just add a couple cups of water, chicken or beef broth to the pan. Then be sure to wrap it tightly with foil to keep the steam in. This keeps the bell peppers and the filling from drying out while they're cooked.
Grains: If you want to swap out the rice you can successfully use quinoa or couscous quite easily. If you would prefer to use brown rice use a batch that is 75% cooked or instant brown rice to cut down on cooking time. Do not use uncooked brown rice as it won't finish cooking in the time required.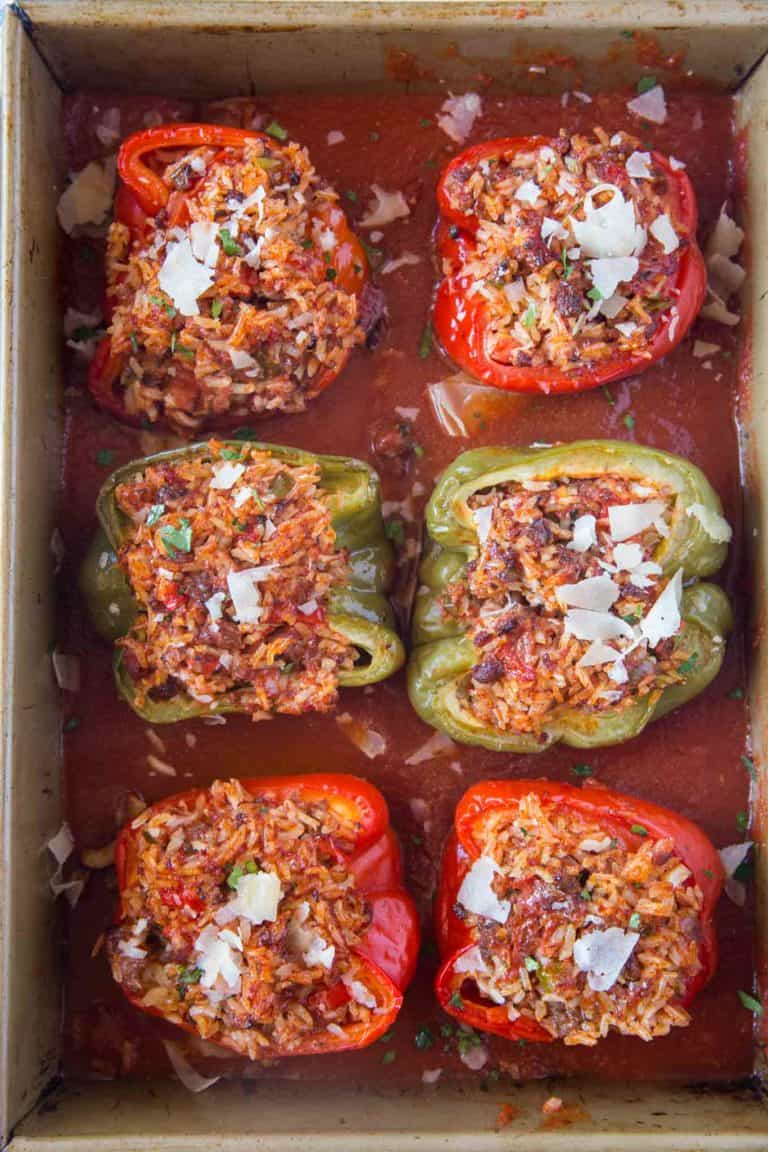 Rice:
Sometimes I don't want to use half raw or instant rice in my bell peppers. If you'd like to use cooked rice in your recipes use some of my cooking tricks below.
How do you cook stuffed peppers?
In the Microwave: This trick will cut down on cooking time if you don't have to cook rice in the peppers. Clean and cut them, then cover them with a wet paper towel on a plate and cook for 4-5 minutes while preparing the stuffing. You just cut your cooking time in half.
In the Oven: Depending on the filling, you'll want to cook the peppers for at least 30 minutes. Keeping the bell peppers covered and including a bit of liquid in the filling or in the pan will help cook the bell peppers faster by creating steam.
Parboiling: If you have a pot of water going drop the bell peppers in it for 3-4 minutes to cook them halfway before stuffing them. This leeches vitamins so I don't normally do this.
On the Stovetop: The primary thing here is to keep liquid in the pot and to keep it covered to help steam the bell peppers. Depending on the filling you could even be done in 15-20 minutes with the direct heat of a stovetop.
In the Slow Cooker: Add all the ingredients as you would below, but I suggest cutting the tops off the peppers and stuffing from the top of the pepper. Cook on low for 4 hours.
More Italian Ground Beef Recipes:
HOW TO STORE STUFFED PEPPERS:
Serve: This dish is best served fresh and hot. Keep at room temperature for up to 2 hours before storing.
Store: Place in an airtight container and refrigerate for up to 4 days. Reheat in a wok or frying pan with a little oil and soy sauce or chicken broth.
Freeze: This recipe can be frozen for up to 3 months in a sealed container or freezer safe bag. Thaw overnight in the refrigerator and reheat on the stove top in sauce for best taste.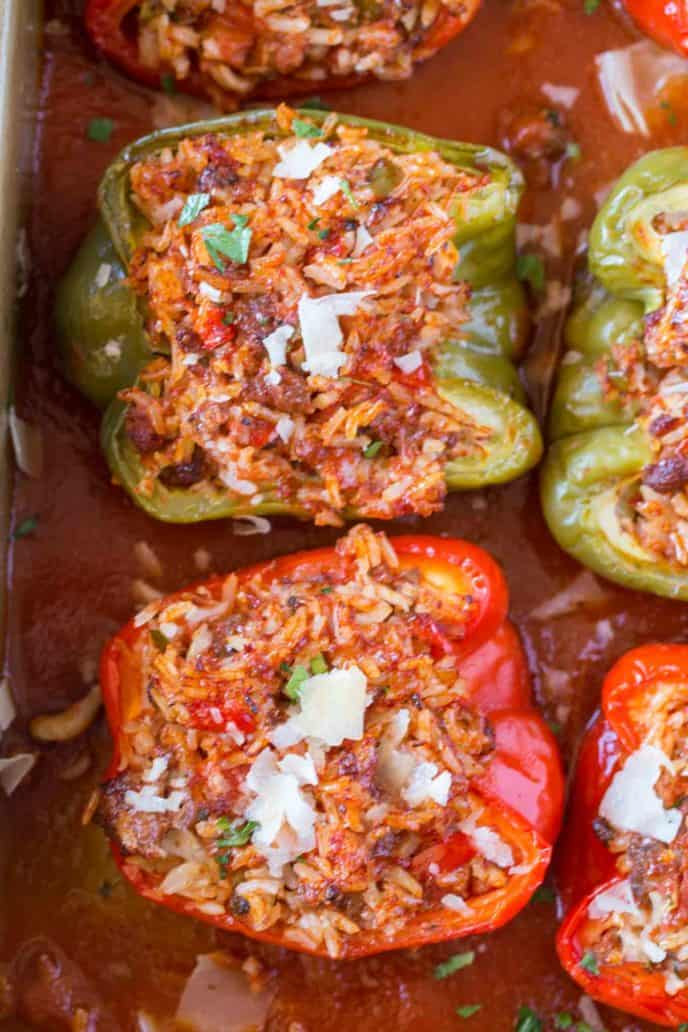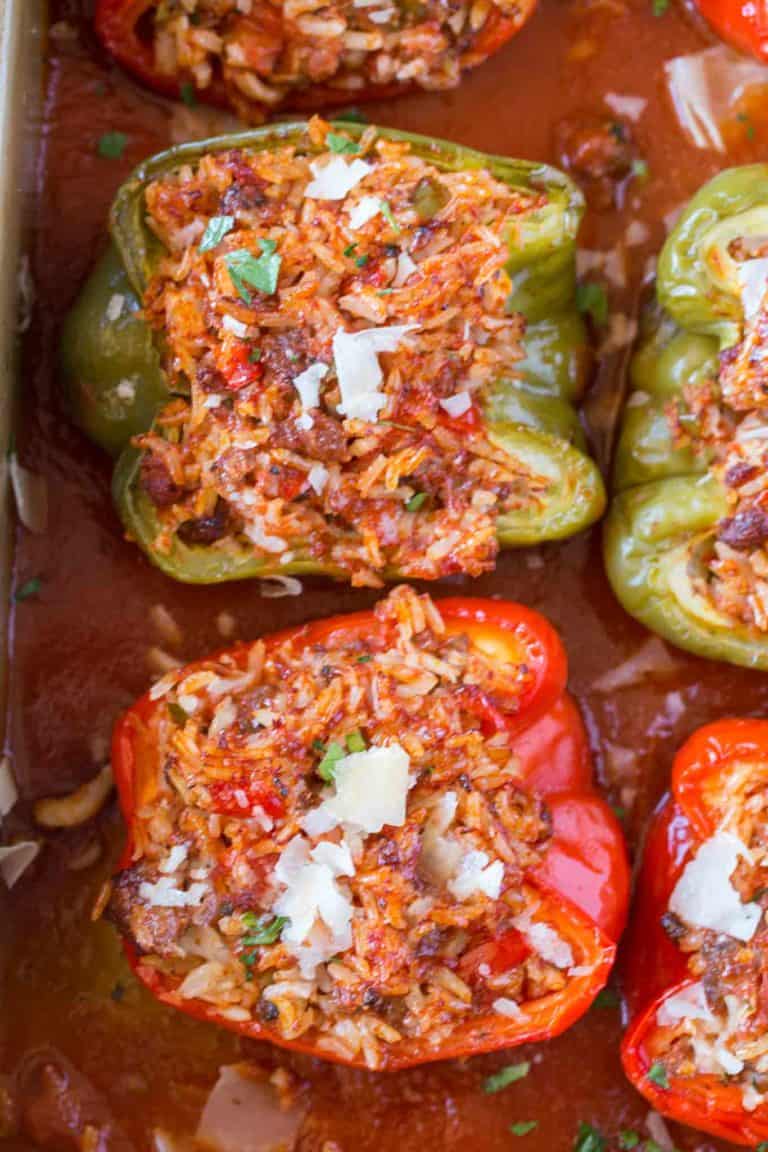 Recipe
Save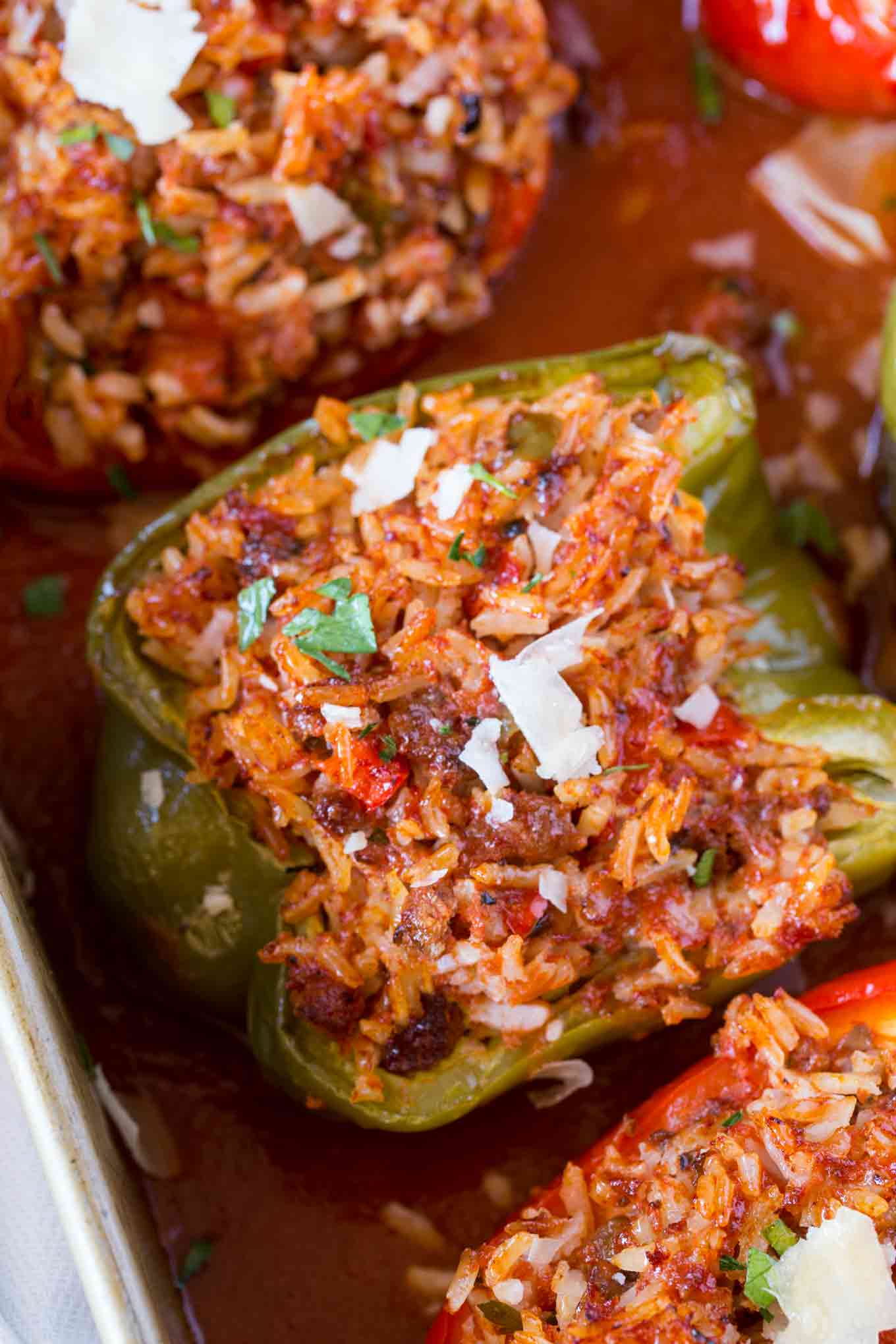 Stuffed Peppers Recipe
Yield:

6

servings

Prep Time:

10

minutes

Cook Time:

1

hour

15

minutes

Total Time:

1

hour

25

minutes

Course: Main Course
Cuisine: Italian
Author: Sabrina Snyder
Stuffed Peppers with beef, rice, tomato sauce, onions and garlic with Italian Seasoning and Parmesan Cheese.
Ingredients
1

pound

ground beef

, 85/15

2

tablespoons

olive oil

1

yellow onion

, diced

2

cloves

garlic

, minced

1 1/2

cups

instant white rice

, or half cooked plain white rice

1

cup

water

2

cups

tomato sauce

1

tablespoon

Worcestershire sauce

1/2

teaspoon

kosher salt

1/4

teaspoon

coarse ground black pepper

1

teaspoon

Italian seasoning

2

cups

beef broth

6

bell peppers

, cut in half through the stem and cleaned

Parmesan cheese

, optional
Instructions
Note: click on times in the instructions to start a kitchen timer while cooking.
Preheat oven to 350 degrees.

Heat a large skillet on medium-high heat and add in the beef breaking it apart as it cooks then remove it from the skillet and drain the fat.

Add in the olive oil and onions,reduce heat to medium, cooking for 5-7 minutes.

Add in the garlic, rice, water, tomato sauce, Worcestershire sauce, kosher salt, black pepper and Italian seasoning along with the ground beef back into the pan and mix it all together.

Add 2 cups of beef broth and the bell pepper halves to a baking dish and fill with the mixture and bake for 60 minutes wrapped tightly with foil.

Garnish with Parmesan cheese.
Nutrition Information
Yield: 6 servings, Amount per serving: 383 calories, Calories: 383g, Carbohydrates: 32g, Protein: 17g, Fat: 20g, Saturated Fat: 6g, Cholesterol: 53mg, Sodium: 710mg, Potassium: 774mg, Fiber: 4g, Sugar: 9g, Vitamin A: 4080g, Vitamin C: 159.7g, Calcium: 52g, Iron: 4.5g
All images and text © for Dinner, then Dessert.
Keywords:
beef, bell peppers, meal prep, stuffed peppers, weeknight meal
Save