jump to recipe
Philly Cheesesteak Stuffed Peppers
Philly Cheesesteak Stuffed Peppers with all the flavors of your favorite sub sandwich without the carbs and all the cheese, mushrooms, peppers and beef.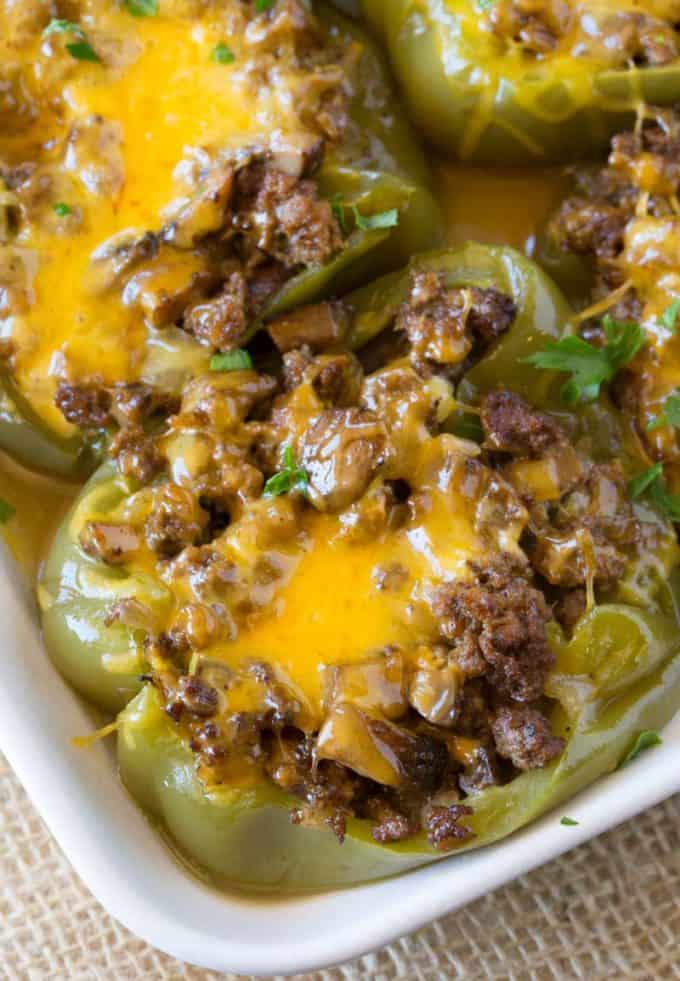 Philly Cheesesteak Stuffed Peppers are the healthier cousin to ALL the Philly Cheesesteak recipes floating around this blog. And there are a lot of them. Ten to be exact!
These Philly Cheesesteak Stuffed Peppers give you all the fun flavors of my favorite sandwich except for the bread (which I will be honest I LOVE).
Stuffed peppers are an easy way to lighten a dish without having to give up the cheese!
MY OTHER RECIPES
The meat in these Philly Cheesesteak Stuffed Peppers is cooked completely through, but if you were going to cook the bell peppers with raw meat inside I'd suggest adding 15 minutes to the cooking time.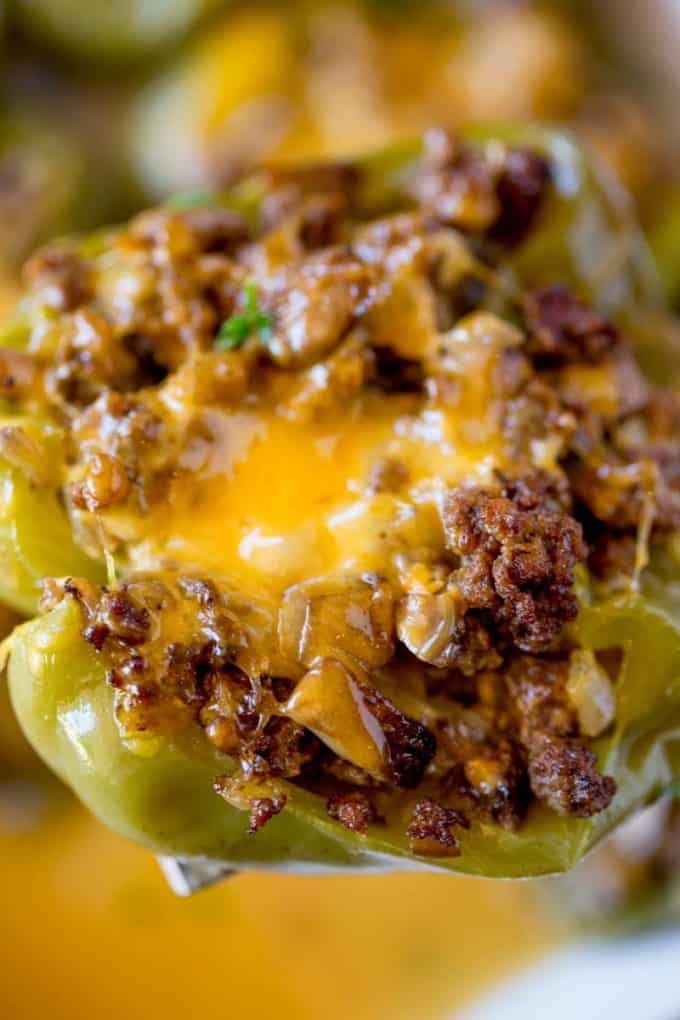 What would you serve with these stuffed peppers?
How do you cook stuffed peppers?
In the Microwave: This trick will cut down on cooking time if you don't have to cook rice in the peppers. Clean and cut them, then cover them with a wet paper towel on a plate and cook for 4-5 minutes while preparing the stuffing. You just cut your cooking time in half.
In the Oven: Depending on the filling, you'll want to cook the peppers for at least 30 minutes. Keeping the bell peppers covered and including a bit of liquid in the filling or in the pan will help cook the bell peppers faster by creating steam.
Parboiling: If you have a pot of water going drop the bell peppers in it for 3-4 minutes to cook them halfway before stuffing them. This leeches vitamins so I don't normally do this (but I did for an upcoming chicken parmesan stuffed peppers since I had pasta cooking for the recipe too).
On the Stovetop: The primary thing here is to keep liquid in the pot and to keep it covered to help steam the bell peppers. Depending on the filling you could even be done in 15-20 minutes with the direct heat of a stovetop.
In the Slow Cooker: Add all the ingredients as you would below, but I suggest cutting the tops off the peppers and stuffing from the top of the pepper. Cook on low for 4 hours.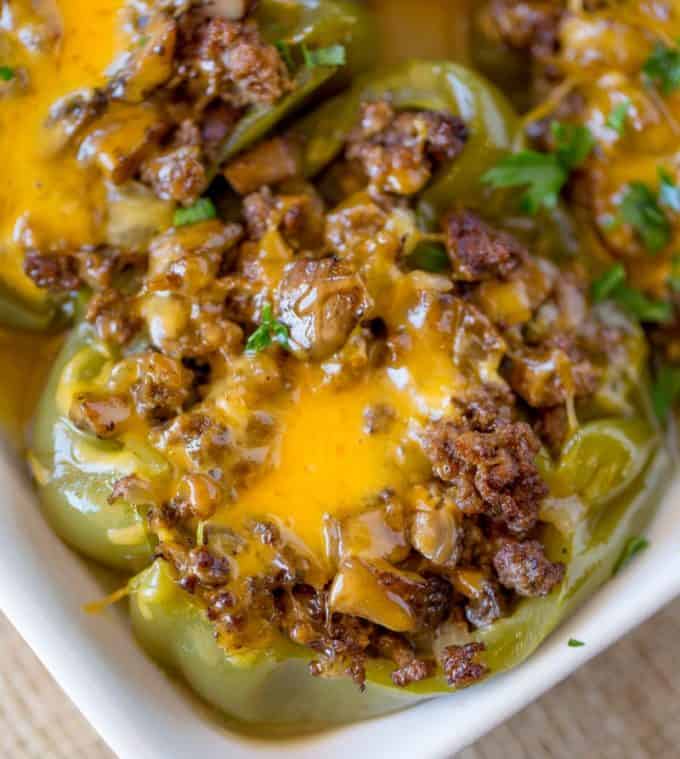 Looking for more Cheesesteak recipes? Look no further!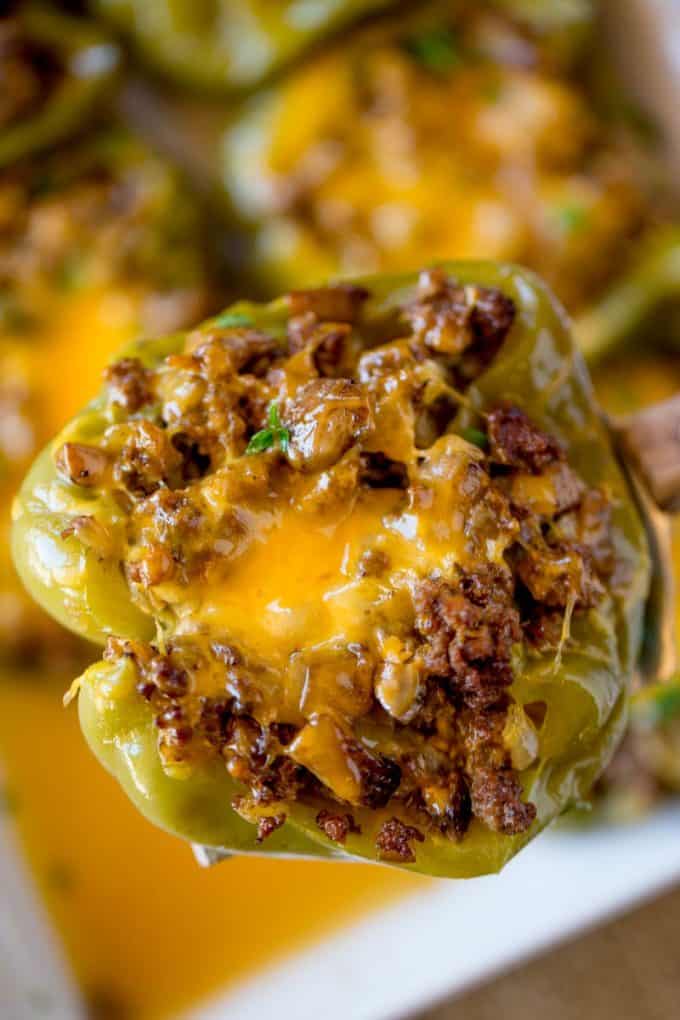 Tools Used in the making of these Philly Cheesesteak Stuffed Peppers:
Cast Iron Skillet: This is my most used pan in my kitchen, heavy, keeps heat well and gives the BEST sear ever.
Chef's Knife: This knife is one of the three most used tools in my kitchen (tongs and my pig tail flipper are the other two). I love it, I've had it for almost 10 years and it is as sharp today as the day I got it. (left column, second from the top). Mind you I love it this much even though I have a ridiculously expense knife set as well.
Worcestershire Sauce: Do not leave this out or sub it for anything else, this is a main flavor component and this brand is my absolute go-to.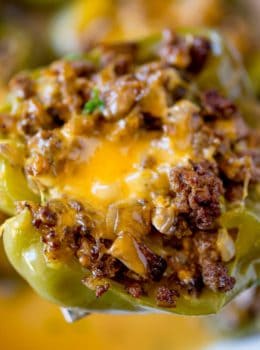 Philly Cheesesteak Stuffed Peppers
Philly Cheesesteak Stuffed Peppers with all the flavors of your favorite sub sandwich without the carbs and all the cheese, mushrooms, peppers and beef.
Ingredients:
1 pound lean ground beef
2 tablespoons butter
1 small yellow onion, diced
8 ounces brown mushrooms, minced
2 tablespoons ketchup
1 tablespoon Worcestershire sauce
1/2 teaspoon Kosher salt
1/2 teaspoon fresh ground black pepper
3 bell peppers split in half and de-seeded (through the stem)
8 ounces shredded cheddar cheese, divided
1 cup beef broth
Directions:
Preheat the oven t0 350 degrees.
Add the ground beef to a large cast iron skillet (this browns very well) and brown until a deep brown crust appears before breaking the beef apart.
Stir the ground beef and brown until a deep crust appears on about 50 or so percent of the beef.
Remove the beef and add the butter and the onions and mushrooms.
Let brown for 1-2 minutes before stirring, then let brown for another 1-2 minutes before stirring again.
Add the beef back into the pan.
Add the ketchup, Worcestershire sauce, salt, black pepper, and beef broth into the pan.
Scoop the mixture into the bell pepper halves and top with half the cheese.
Bake for 45 minutes in a covered pan.
Uncover, top with remaining cheese and put back in the oven for 5 minutes to melt the cheese.
All images and text ©
Made this recipe?
Show me what you made on Instagram or Facebook and tag me at @DinnerthenDessert or hashtag it at #dinnerthendessert.
Dinner, then Dessert, Inc. owns the copyright on all images and text and does not allow for its original recipes and pictures to be reproduced anywhere other than at this site unless authorization is given. If you enjoyed the recipe and would like to publish it on your own site, please re-write it in your own words, and link back to my site and recipe page. Read my disclosure and copyright policy. This post may contain affiliate links.