Happy 

4th

of July!!
I hope your day is filled with food, fun and the best family and friends you could hope/want in your lives! I'm a huge fan of the holidays, all of them really (even Arbor day and national paper clip day…ok I made that last one up!), and it is because we get to spend the days with our loved ones, usually surrounded by mountains of food. Today's post is a delicious food memory of mine from my grandmother.
This year I have been thinking a lot about my maternal grandmother. I have a handful of recipes in my memory bank that remind me of her. One of my favorites that she made was French Toast. She would use old French bread baguettes on a bias, use a very light milk mixture and lots of butter to make the most amazing breakfast ever. We didn't even use maple syrup on them they were so good. She had this amazing powdered sugar duster that had such an awesome "this must be a Grandma's" vibe to it and she would make our plates look like piles of powdered sugar. Then we'd pick them up, hold our breath and take a bite careful not to blow the powdered sugar off.
This recipe is different than most French toast recipes you'll find online because it doesn't use a lot of eggs. The mixture is pretty light and the bread is only dipped for a couple of seconds, which doesn't allow for a lot of soaking time. It is cooked on a griddle with a healthy amount of butter and dusted with powdered sugar.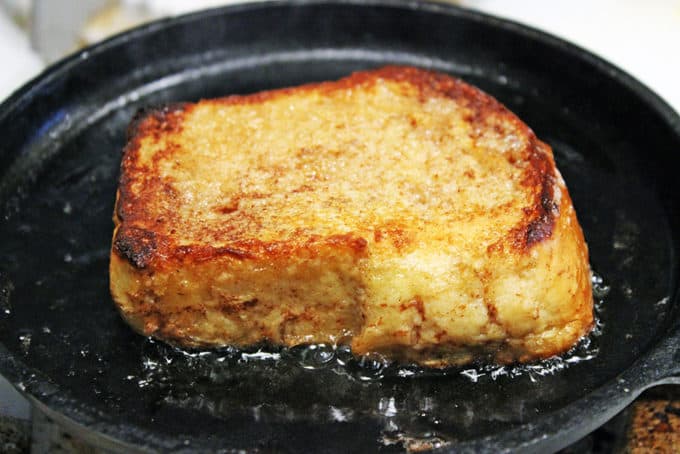 For my hubby and oldest I served it with maple syrup and almonds, but I ate mine standing by the stove with nothing more than a dusting of powdered sugar. I may have used Sweet Hawaiian Bread instead of French bread, but the essence of the recipe I grew up with came shining through. For me, food memories like this one make me smile and think back to the sights and smells of my childhood. At my grandparent's house it was the Persian rugs and the big swing set out front. The old tube televisions in the formal living room that no one was allowed it but we would run through making big laps through the house. All of that came flooding back in my head as I stood by the stove eating piece after piece.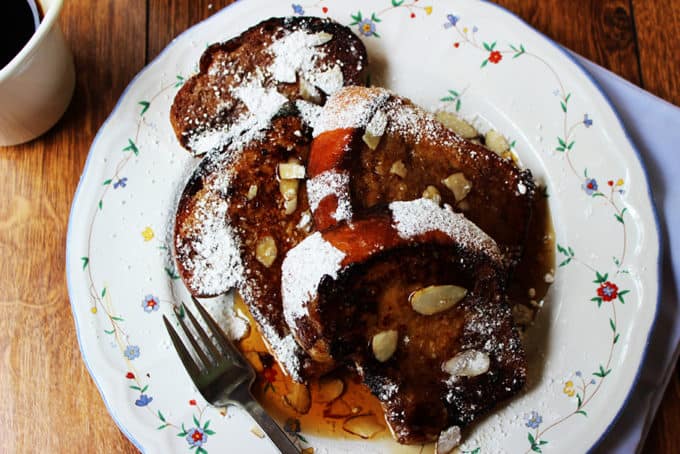 Ingredients
12

slices

Sweet Hawaiian Bread

3

eggs

2

cups

milk

1

tablespoon

vanilla extract

1

tablespoon

brown sugar

1

tablespoon

cinnamon

1/4

cup

sliced almonds

1/2

cup

powdered sugar

2

cups

maple syrup
Instructions
Whisk the eggs, milk, vanilla, brown sugar and cinnamon together in a bowl until completely mixed.

Dip the bread in the mixture for 1-2 seconds on each side.

Let excess mixture drip into bowl

Melt butter onto griddle.

Cook on medium for

3-4 minutes

, then flip and cook for an additional

3-4 minutes

.

Top with sliced almonds, a dusting of powdered sugar and maple syrup.
Nutrition
Calories:
569
kcal
|
Carbohydrates:
115
g
|
Protein:
11
g
|
Fat:
7
g
|
Saturated Fat:
2
g
|
Cholesterol:
86
mg
|
Sodium:
322
mg
|
Potassium:
479
mg
|
Fiber:
3
g
|
Sugar:
83
g
|
Vitamin A:
273
IU
|
Calcium:
383
mg
|
Iron:
3
mg
How about you? Are there any foods that bring back the best childhood memories for you? Do you recreate them often?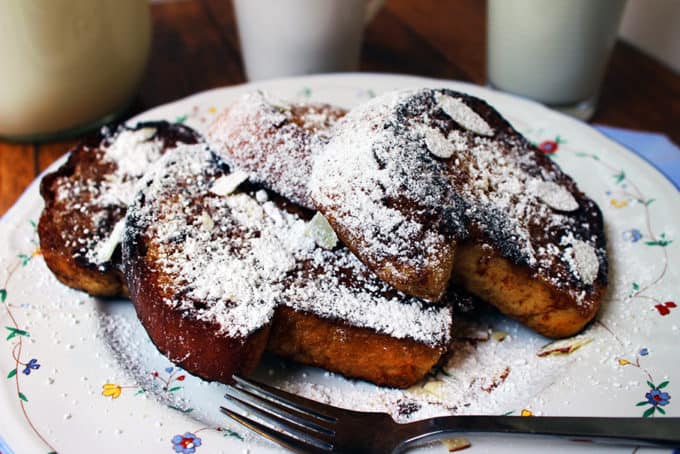 Perfect amount of powdered sugar. 🙂