Classic New York Crumb Cake just like the kind you would find in your favorite coffee shop, tender cake topped with chunks of cinnamon sugar!
Like other sweet Breakfast Recipes you've come to love, Easy French Toast Bake and Blueberry Cream Cheese Coffee Cake will contend to be made daily, as will the soft and gooey Nutella Cinnamon Rolls!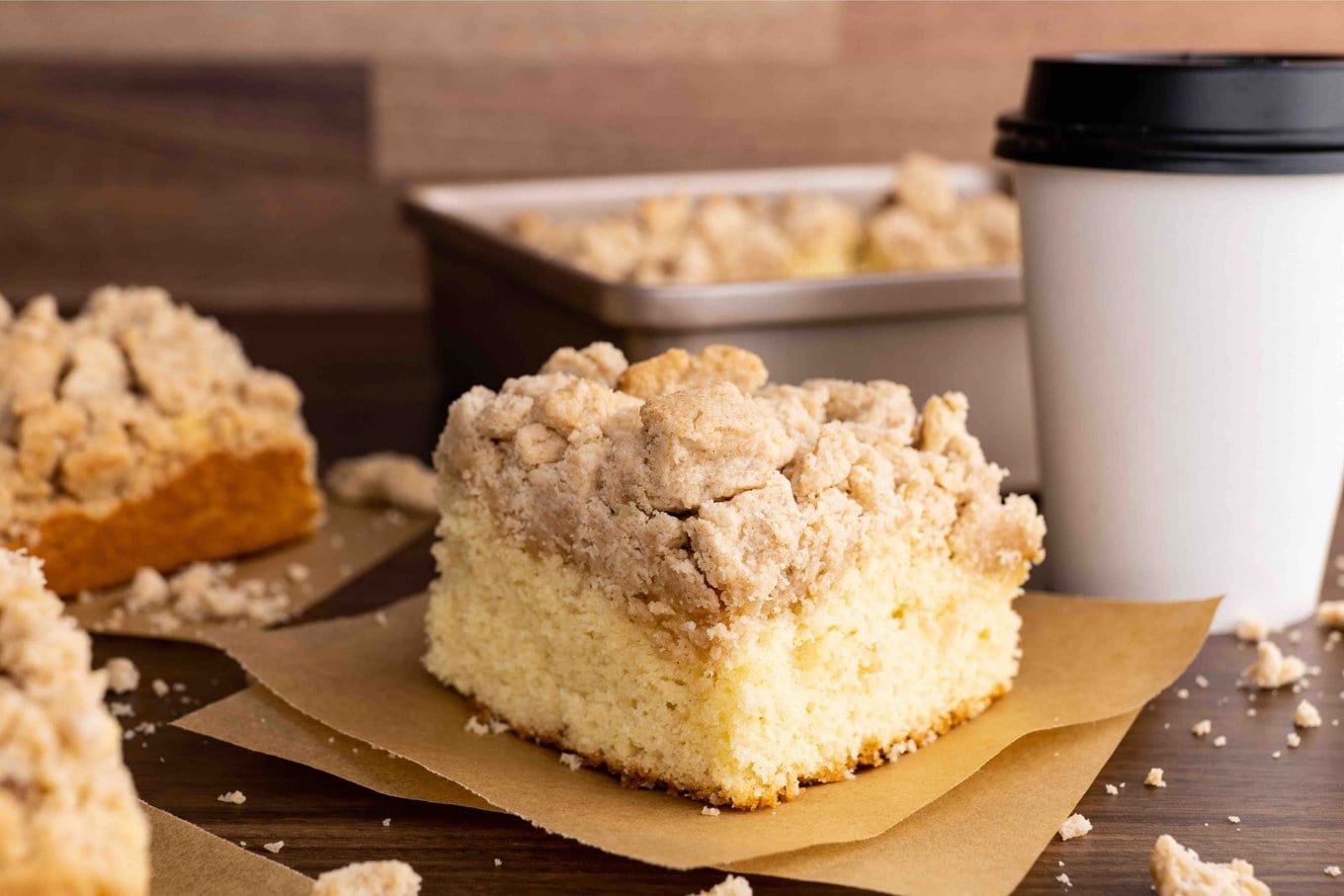 New York Crumb Cake is a luxurious copycat recipe of the old NY Crumb Cake that Starbucks used to sell years ago. It is not the current Cinnamon Coffee Cake that they've transitioned to. This is the old school giant squares of cake with the most amazing large crumb topping pieces
This isn't exactly an old fashioned crumb cake recipe, but it is a delicious option you'll love in place of the standard coffee cake. The cake portion of the recipe is a very simple one, but the topping is special. With a unique topping that you break apart into pieces before baking, and it is worth the effort.
This is THE crumb cake you will want to make for any and all brunches or treats you bring to a gathering. Or you can make the tray just for yourself and freeze the remaining 8 pieces so you can enjoy them with your morning coffee. If wrapped individually well with saran wrap then placed into a ziplock bag with the air pushed out, this cake is delicious even if defrosted.
Enjoy this New York Crumb Coffee Cake with your favorite hot morning drink, or try it with a scoop of Coffee Ice Cream and wash it all down with a delicious cold brewed Iced Sea Salt Coffee.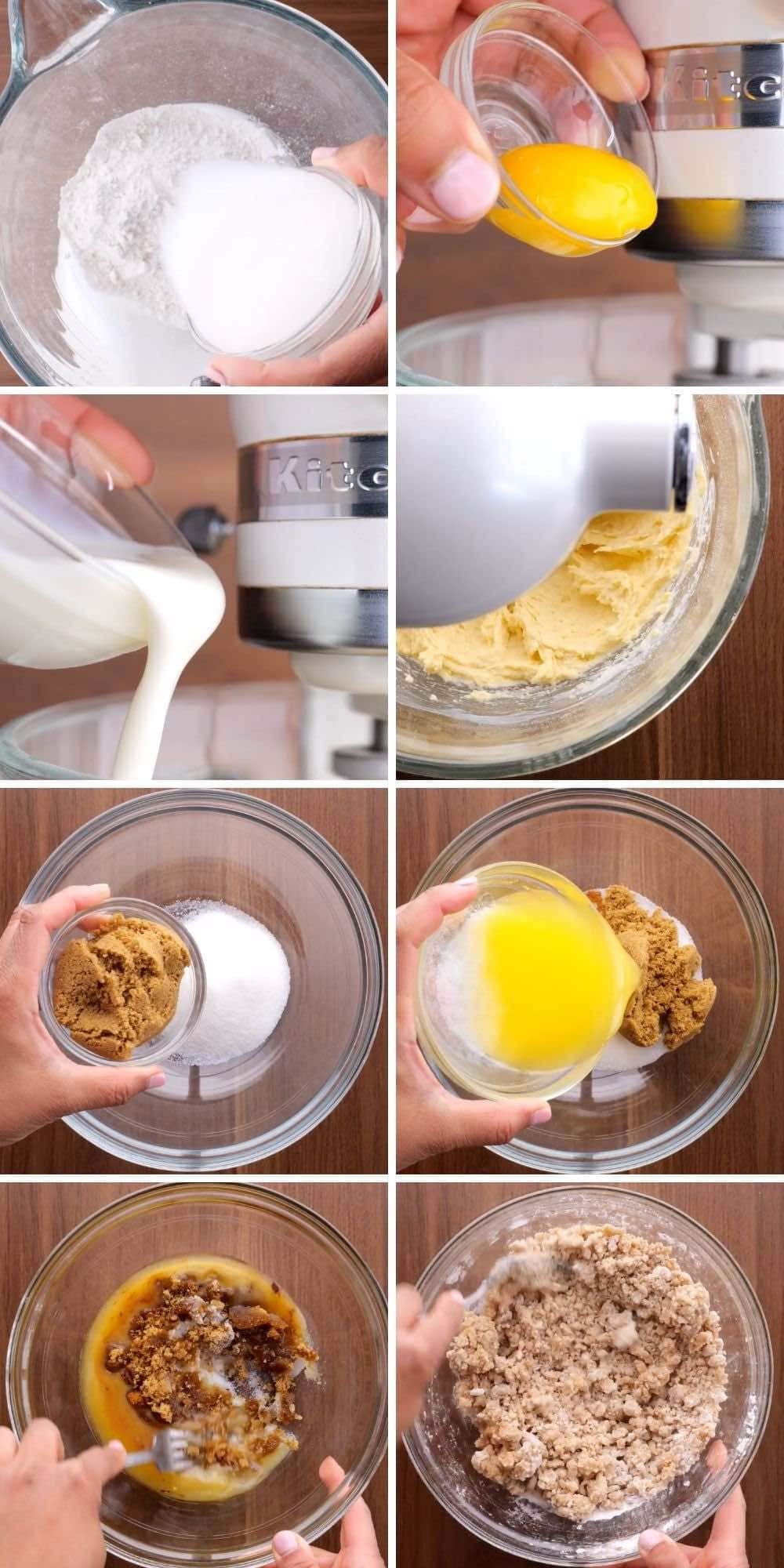 How to Make New York Crumb Coffee Cake
As for other coffee cakes, the most important tip is to use very cold butter, this will preserve the large chunks. As a taller single layer cake, cook on lower temperature. Let's check out how it is done!
Step One – Crumb Topping: Using a rubber spatula, mix the crumb topping ingredients together in a medium bowl until it forms a ball. First add the melted butter to the sugar and then add the flour – and in that order or it will become pastelike. Do not overmix this or it will not crumble! Let this sit to the side while you make the cake batter. 
Step Two – Cake Mix: Mix the wet cake ingredients including the room temperature butter and the dry ingredients together with your electric mixer and transfer cake batter into an 8×8 pan. A rubber spatula will ensure you get all the batter from the bowl. 
Step Three – Bake: Starting from the rim and working towards the center, add the crumb layer in large chunks to the top of the cake base and bake until golden brown and ready. If the top is browning too much, tent it with some foil. Cool cake on wire rack. Keep cake covered to avoid drying out.
Frequently Asked Questions
What makes this New York Style? 
While there are many versions of crumble cakes, this one is so named because of the extra thick layer of sugar powdered crumbs on top has the perfect soft nibbling texture. Additionally, the cake base itself is the perfect velvety and moist texture – not to dense and not too fluffy so you can enjoy it morning, noon, and night!
How do you make the topping for a crumb cake?
Look at the ball of topping in the above photo, this is the consistency you're looking for in the ball and the broken apart pieces. Keep the topping cold until baking or it can melt. You'll also want to keep the chunks larger and sprinkle gently over the top of the cake.
What kind of pan should I use for Coffee Crumb Cake?
This 8×8 baking pan allows for the signature square pieces, you can also make this in a Springform Pan. You can also use this 8×8 baking pan with cover because keeping this cake moist is important. Another piece of equipment that is useful for making Crumb Cake is a stand mixer. It's a workhorse and is much easier than using a hand mixer here for the crumble.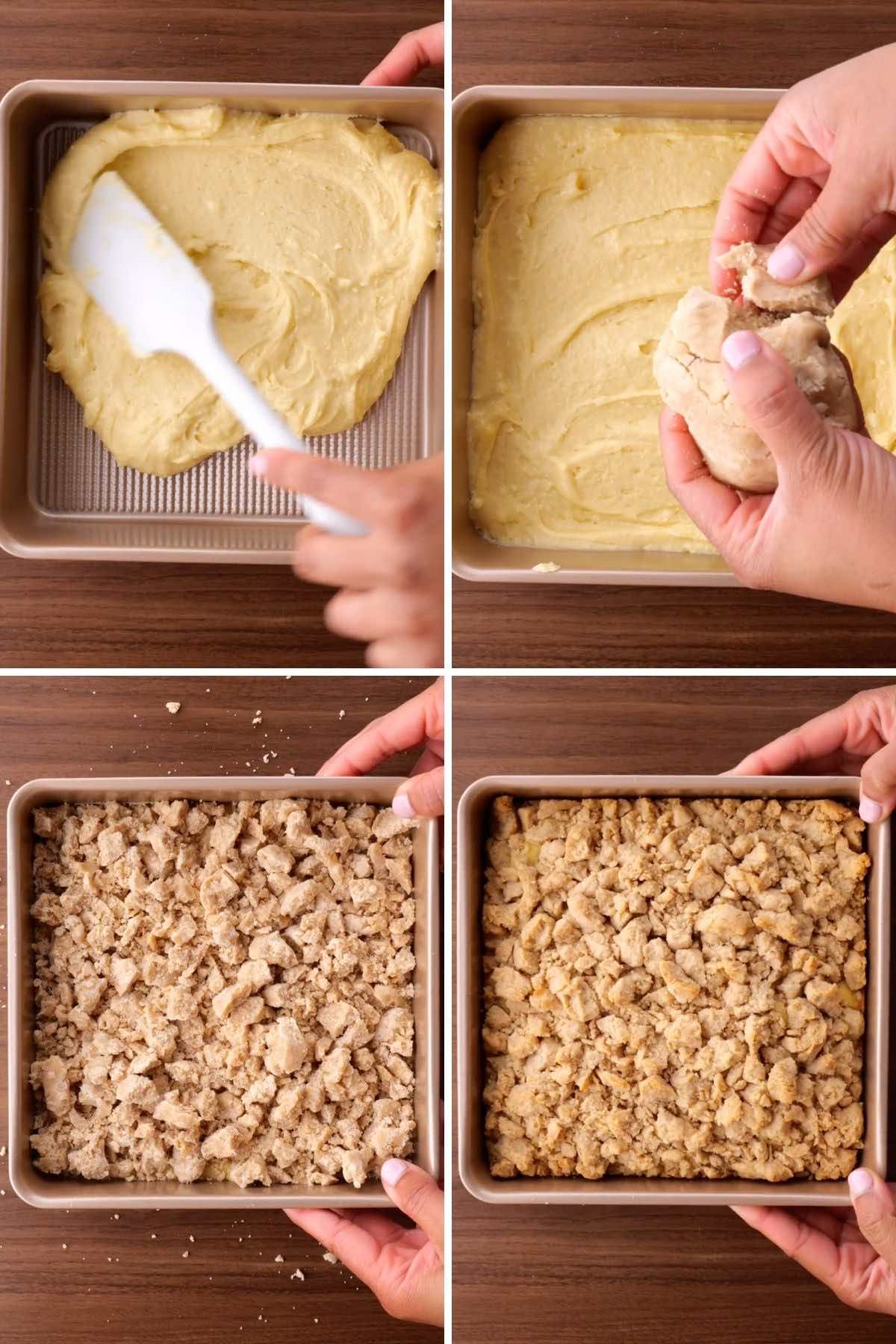 Create a free account to Save Recipes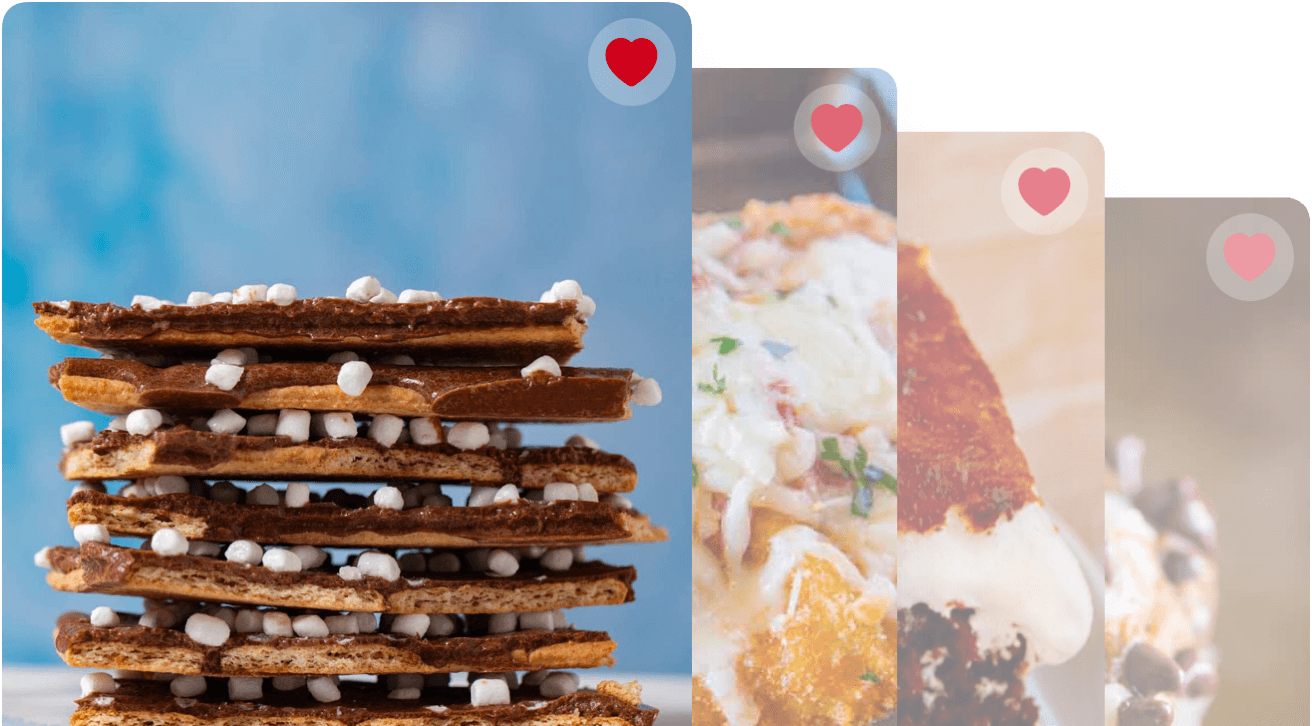 Key Ingredients in New York Crumb Coffee
All of the ingredients for this delicious recipe can easily be found in the baking section at your local grocery store. 
Flour: You can use your preferred baking flour like cake flour or all-purpose flour. 
Sugar: You can use granulated sugar or white along with the brown sugar in this recipe. 
Butter: Use unsalted butter at room temperature or melted for your mixtures to ensure the flavor is not too salty. 
Vanilla: Use actual vanilla extract for the best taste! A little bit goes a long way. 
Buttermilk: Buttermilk is slightly tangy and is important in this recipe. Try to use actual buttermilk if you can. In a pinch, you can add a bit of white vinegar or fresh lemon juice to regular milk. But be aware that the flavor might not be exact.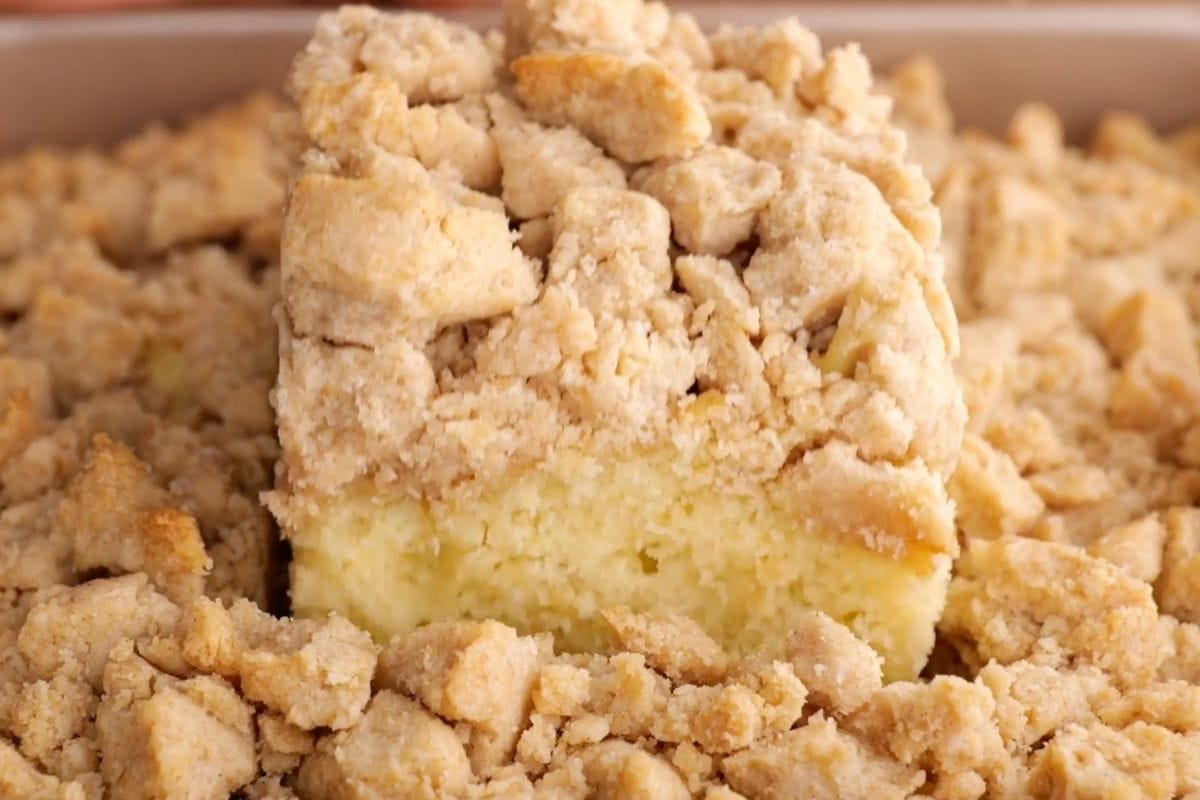 How to Serve New York Crumb Coffee Cake
This is the perfect crumb cake to serve anytime. Moist crumbs atop a buttery cake layer makes this so yummy and will soon become a family favorite!
Breakfast: As a breakfast treat, warm up a slice of the cake and serve with hot coffee and your favorite creamer. 
Tea Time: As an afternoon snack, this would go great with either coffee or black tea. A great mid-afternoon pick-me-up!
Anytime: Serve it toasted with a scoop of real vanilla ice cream for a delectable treat you'll enjoy anytime of the day! 
More Crumb Topping Recipes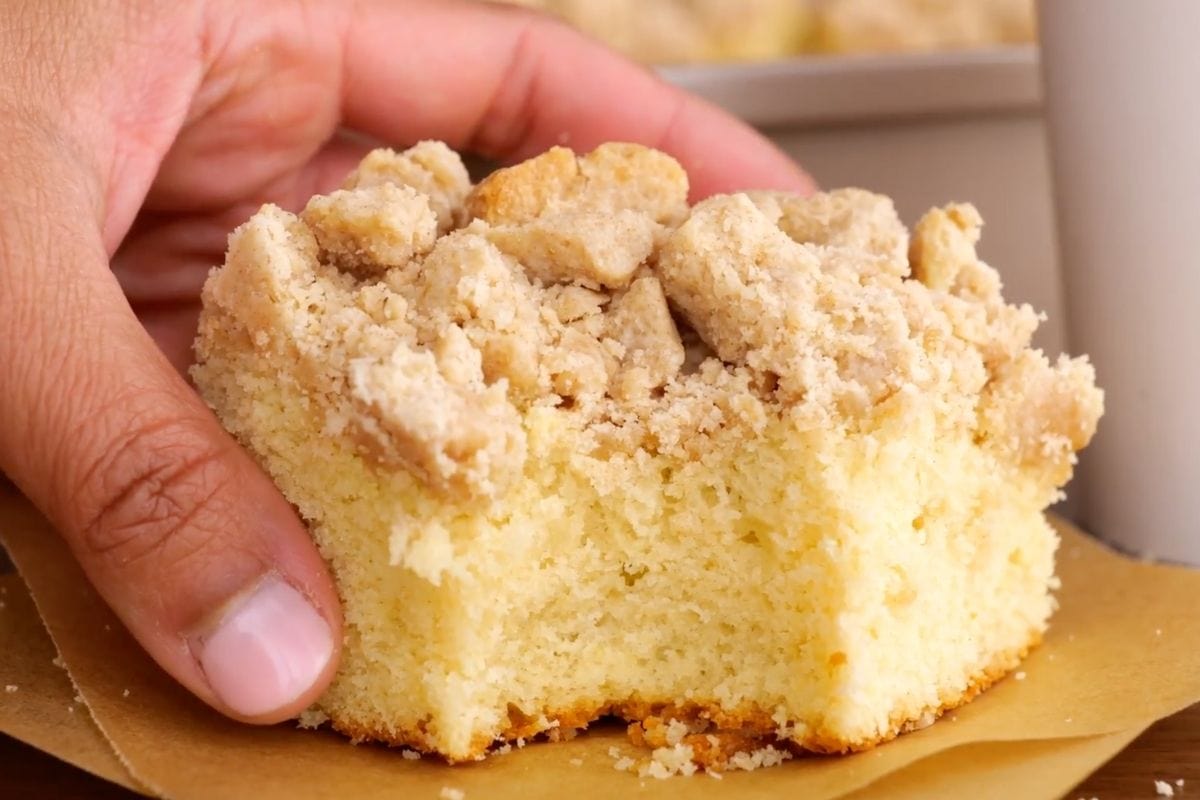 How to Store New York Crumb Coffee Cake
Serve: Once cooled, slice and serve New York Crumb Coffee Cake slightly warm with your favorite cup of coffee.
Store: Wrap tightly in plastic wrap or cover with an airtight lid and keep at room temperature up to 3 days.
Freeze: Tightly wrap the entire cake or individual slices and freeze for up to 1 month. Defrost at room temperature before serving.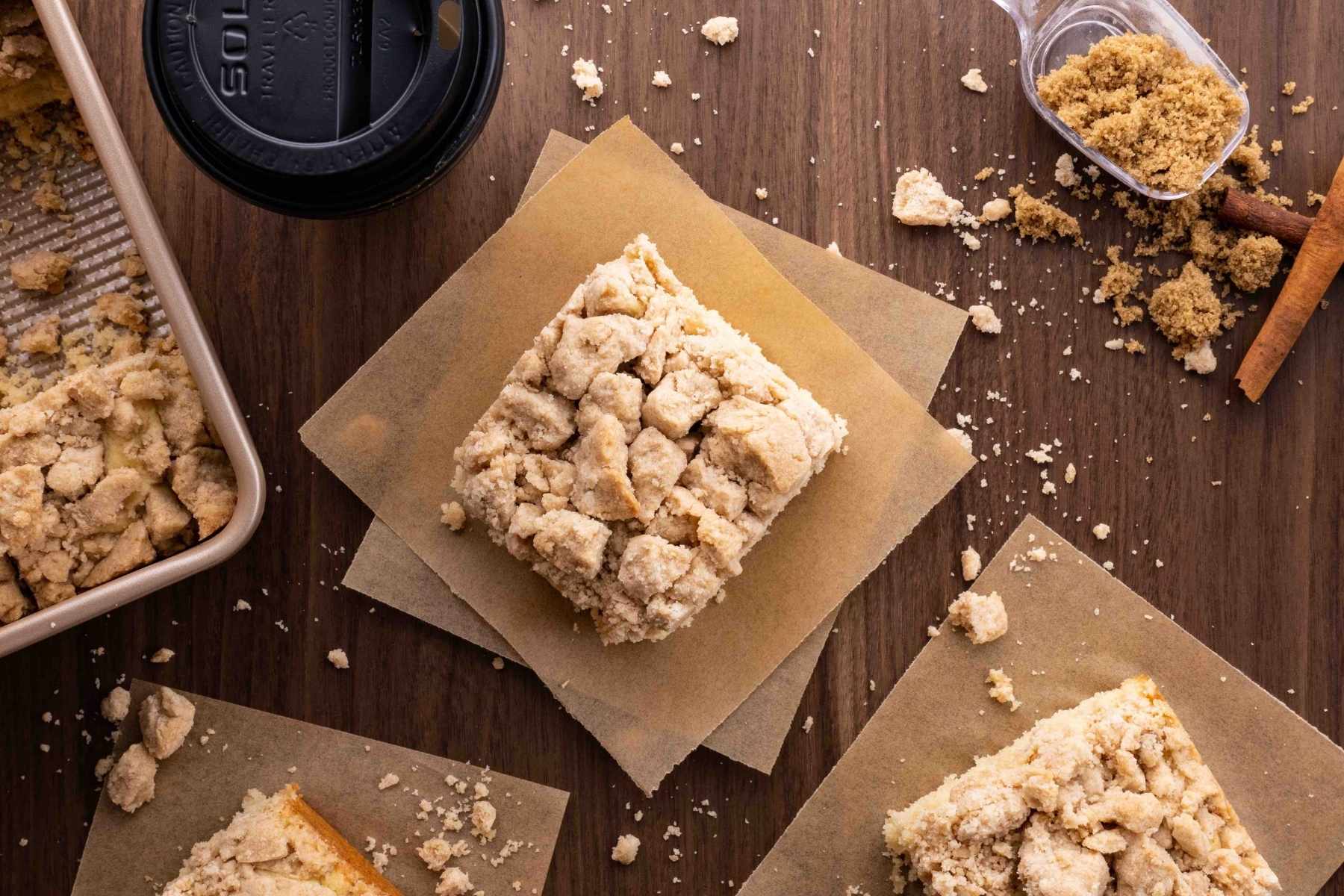 Ingredients
Cake:
1 1/4

cups

cake flour

1/2

cup

granulated sugar

1/4

teaspoon

baking soda

1/4

teaspoon

table salt

6

tablespoons

unsalted butter

, (¾ stick, cut into small pieces, softened)

1

large

egg

1

large

egg yolk

2

teaspoon

vanilla extract

1/3

cup

buttermilk
Crumb Topping:
1/3

cup

sugar

1/3

cup

dark brown sugar

3/4

teaspoon

ground cinnamon

1/8

teaspoon

table salt

8

tablespoons

unsalted butter

, (1 stick, melted and still warm)

1 3/4

cups

cake flour
Additional:
powdered sugar

, for garnish
Instructions
Crumb Topping:
Add sugar, dark brown sugar, cinnamon, salt and butter into a bowl.

Whisk together and add in cake flour until combined. Form into a dough ball.

Let sit until you are done making the cake.
Cake:
Preheat oven to 325 degrees.

Use baking spray or butter and flour a square 8×8 pan.

In a stand mixer, add flour, sugar, baking soda, and salt

On low speed, add butter in pieces.

Mix for

1-2 minutes

, or until you no longer see the butter and the mixture looks like a crumble.

Add in your remaining cake ingredients, egg, egg yolk, vanilla, and buttermilk

Mix until light and fluffy, another

1-2 minutes

.

Pour and spread cake batter into greased baking pan.

Take the topping dough and break apart into chunks about the size of marbles over the dough in a uniform pattern.

Bake for

35 to 40 minutes

, or until a knife is inserted and comes out clean.

Let cool, then dust with powdered sugar.
Nutrition
Calories:
431
kcal
|
Carbohydrates:
57
g
|
Protein:
6
g
|
Fat:
19
g
|
Saturated Fat:
11
g
|
Cholesterol:
87
mg
|
Sodium:
150
mg
|
Potassium:
71
mg
|
Fiber:
1
g
|
Sugar:
27
g
|
Vitamin A:
615
IU
|
Calcium:
35
mg
|
Iron:
0.6
mg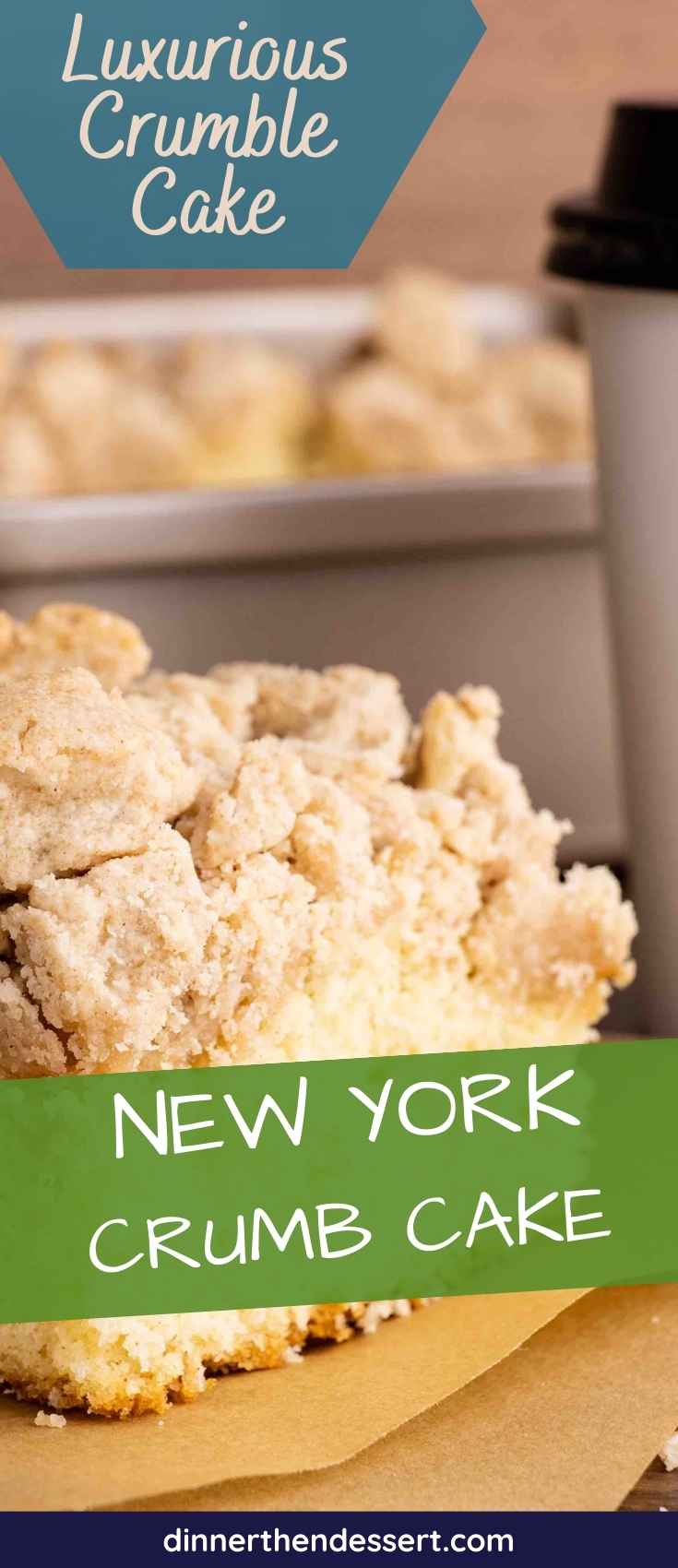 Photos used in a previous version of this post.