Domino's Mango Habanero Sauce (Copycat) has all the spicy, sweet flavor you love made anytime you crave it! Great for wings, tenders, or as a dipping sauce!
Copycat Recipes for sauces are the best because you get all the flavors of your favorite dips and sauces but you can customize them for other dishes. Like our Secret Sauce in Big Mac Sloppy Joes or Cheeseburger Casserole, the possibilities are endless!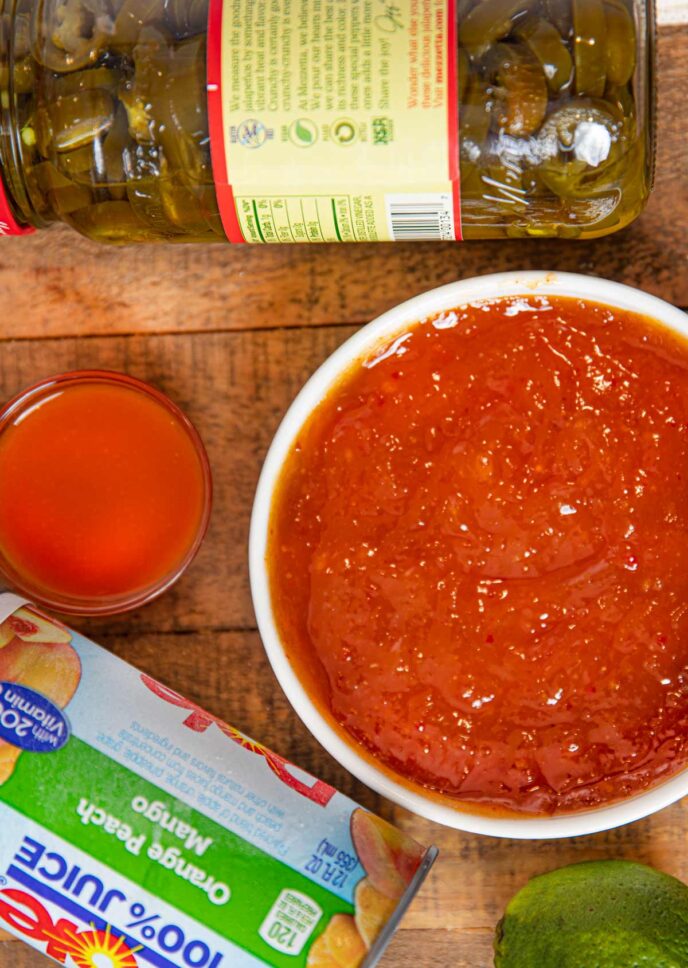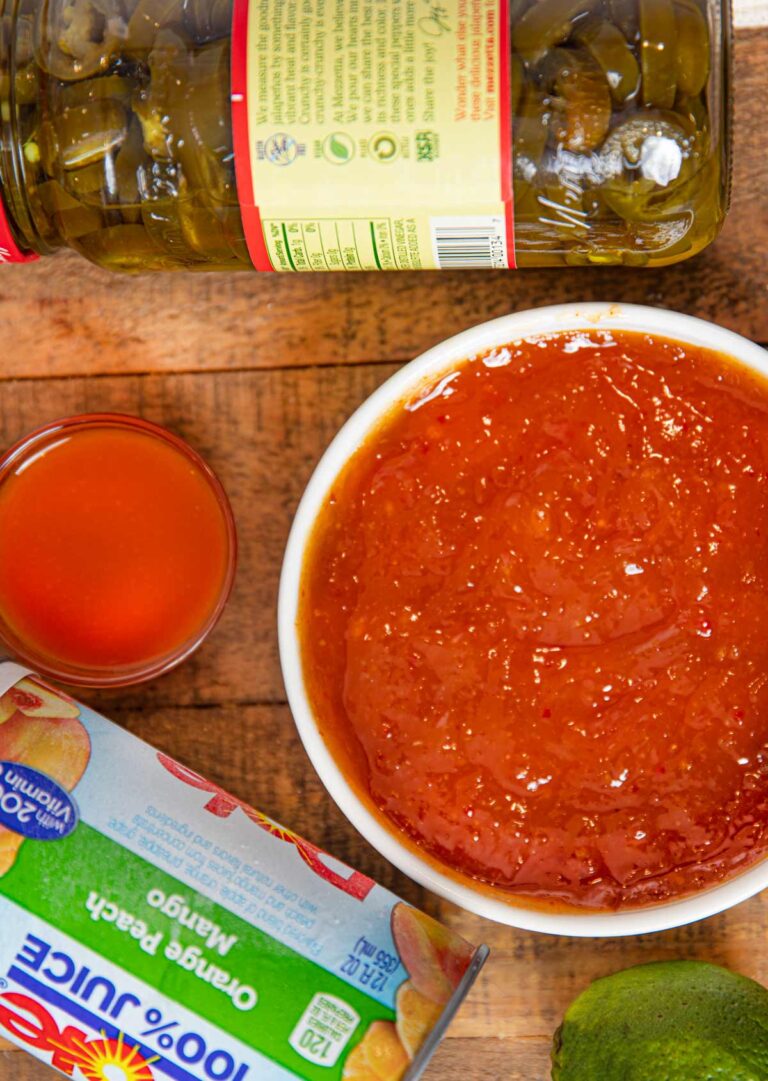 Domino's Mango Habanero Sauce
Copycat recipes the best way to capture the dishes I love, so I can have them even if they discontinue them down the road. This happened when Dominos revamped their whole menu years back.
With the Dominos Makeover, we no longer have those buttery, cinnamon treats BUT I did discover a sweet, hot sauce I never even knew I needed in my life. If you haven't had their Mango Habanero Sauce, stop what you are doing and order it. Or make this recipe because it has the exact delicious, addicting spicy flavor.
They toss their wings in this yummy sauce as well as smother their Jalapeño Pineapple Specialty Chicken in it, and don't worry that mouthwatering copy is coming soon. They even make a Chicken Habanero Sandwich, which I have below as a way to use this sauce.
The flavor profile for this sauce goes so well with meats like chicken or pork, but you can also use it as a dipping sauce for your favorite sides. It's so addicting, you might find yourself putting it on just about everything from french fries to baked cauliflower to bacon cheese bread. Seriously.
Is Mango Habanero Sauce Spicy?
The Dominos version isn't as a spicy as most Mango Habanero Sauces I've had in the past but it does still have a bit of a slow burn.
Why the Orange Mango Concentrate? Why the Jalapeno?
Well, when I work on copycats I work off of the ingredients listing from the restaurants if I can. Mango and Habanero are both at the end of the ingredient list. Domino's lists that it's sauce is made of less than 2% of these two ingredients and contains much higher quantities of jalapeno and orange juice. So an orange mango concentrate is the perfect option as well as jalapenos.
MORE DELICIOUS DIPPING SAUCES


Create a free account to

Save Recipes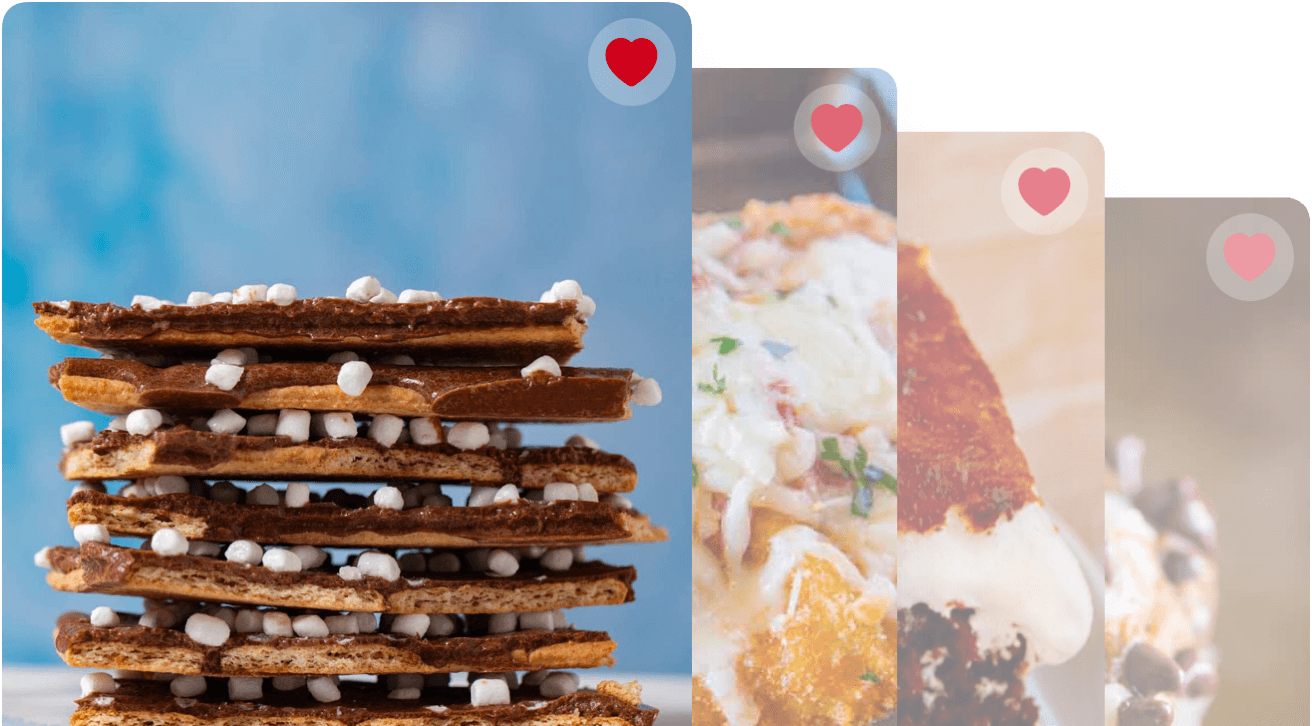 HOW TO USE DOMINOS MANGO HABANERO SAUCE
Chicken: The way we use this sauce the most is for chicken, whether substituting it for our Boneless Wings and Hot Wings, or as a dipping sauce for our Crispy Chicken Tenders.
Cauliflower Bites: Make an amazing vegetarian appetizer by tossing some Crispy Roasted Cauliflower in Mango Habanero Sauce.
Meatballs: Use this Spicy Mango Sauce for your Cocktail Meatballs instead of the chili sauce and grape jelly. Add a cup of your favorite barbecue sauce to make it even more delicious.
Spicy Chicken Sandwich: Use this habanero sauce as the spread for a chicken sandwich like on the Dominos menu. Put a generous amount on ciabatta and add grilled chicken, provolone, canned pineapple chunks, and pickled jalapeños. Bake in the oven at 350 degrees F for about 10-15, until golden brown and toasty.
What other peppers can I use?
If you want something a bit spicier than a jalapeno here are some peppers that you can substitute:
Habaneros: These will make the sauce spicier, but you'll be on point with the name.
Scotch Bonnets: Not only do these peppers look almost identical to habanero chilis, they have almost identical heat level and flavor.
Serrano Chiles: Like jalapeños, these are going to be easier to find and are very spicy. They are are going to taste much different but they work in pinch though if heat is what you are looking for.
POPULAR COPYCAT RECIPES:
HOW TO STORE DOMINOS MANGO HABANERO SAUCE
Serve: Don't leave this sauce out at room temperature for more than 2 hours. It's a homemade sauce and you don't want to risk bacteria forming, you're best storing it in the refrigerator.
Store: This sauce will stay good for about a week in the refrigerator, in an airtight jar or container.
Freeze: You can freeze this sauce for up to 6 months in a sealed container. For quick add-ins for recipes, freeze in an ice cube tray before transferring to a freezer safe bag.
Come back tomorrow for the Spicy Jalapeno Chicken Copycat!


Ingredients
12

ounce

Dole Orange Peach Mango Concentrate

, (I used Dole)

2

tablespoons

apple cider vinegar

1

jalapeno

, deseeded and deveined

2

tablespoons

lime juice

1/2

teaspoon

garlic powder

1/2

teaspoon

onion powder

1/4

teaspoon

paprika
Instructions
In a food processor add together all the ingredients and process until completely smooth, about

1 minute

.

In a saucepan, add the mixture over medium heat. Stir occasionally to prevent sticking and simmer for

10-12 minutes

or until the sauce is thickened.

Let cool before using as dipping sauce.

For additional heat, use ¼ fresh, deseeded habanero pepper.
Nutrition
Calories:
86
kcal
|
Carbohydrates:
22
g
|
Protein:
1
g
|
Fat:
1
g
|
Saturated Fat:
1
g
|
Sodium:
3
mg
|
Potassium:
136
mg
|
Fiber:
1
g
|
Sugar:
20
g
|
Vitamin A:
935
IU
|
Vitamin C:
32
mg
|
Calcium:
6
mg
|
Iron:
1
mg