Spatchcock Turkey made with herbs and spices has the backbone removed and is pressed flat for an incredibly flavorful and FAST turkey dinner, ready in only 90 minutes!
It's less than a week until Thanksgiving and we're in full swing over here cooking up turkey with all of the trimmings like Easy Cranberry Sauce, Mashed Sweet Potatoes, Baked Mac and Cheese, and Green Bean Casserole.
 Spatchcock Turkey
Spatchcock Turkey is a quick and easy way to make a Thanksgiving turkey. It only takes a few short minutes to prepare, but your guests will be impressed because it looks like you spent hours preparing the bird! I love making this turkey when the holidays come around, because it's only takes 90 minutes in the oven before it's done. That means I have more time to spend doing family activities, instead of watching the kitchen. Not to mention, it frees up a lot of oven space for other dishes, like Ultimate Pumpkin Cheesecake!
A lot of recipes call for grilling a spatchcock turkey, but I prefer to cook mine on a sheet pan in the oven. You can finish this off under the broiler for a few minutes if you want a really crispy skin. It will also give you that golden brown color that makes the turkey look like you just cut it out of a magazine.
HOW LONG DOES SPATCHCOCK TURKEY TAKE TO COOK?
A spatchcock turkey takes WAY less time to cook than a roasted whole turkey. Because the turkey is basically flattened, heat can more evenly distribute throughout the bird, making it cook faster. This 16 pound turkey took only 90 minutes to cook in the oven.
WHY DO THEY CALL IT SPATCHCOCK?
Spatchcock comes from the phrase "dispatch the cock", or split a bird open and grill it. It's really similar to butterflying, but they term "spatchcock" is used when it relates to poultry. To spatchcock a turkey, you have to run your kitchen knife down the spine of your bird and remove the backbone, then crack the breast bone so the bird will lay flat. I discard the bone, but you can save it to make stock later, too.
HOW TO MAKE A SPATCHCOCK TURKEY REALLY MOIST
Moist spatchcock turkey meat is REALLY easy to achieve with the right technique. First, don't skip the butter. The butter adds fat to the dish which helps keep the meat really tender and juicy, and the skin super crispy.
Watch your cook time and temperature. Cooking the turkey for too long or at too high of a temperature is a sure way to overcook it and end up with dry turkey breast.
Season both sides of the turkey with salt and pepper. Salt helps bring both moisture and flavor to the turkey meat.
WHAT TO SERVE WITH SPATCHCOCK TURKEY FOR THANKSGIVING

Create a free account to Save Recipes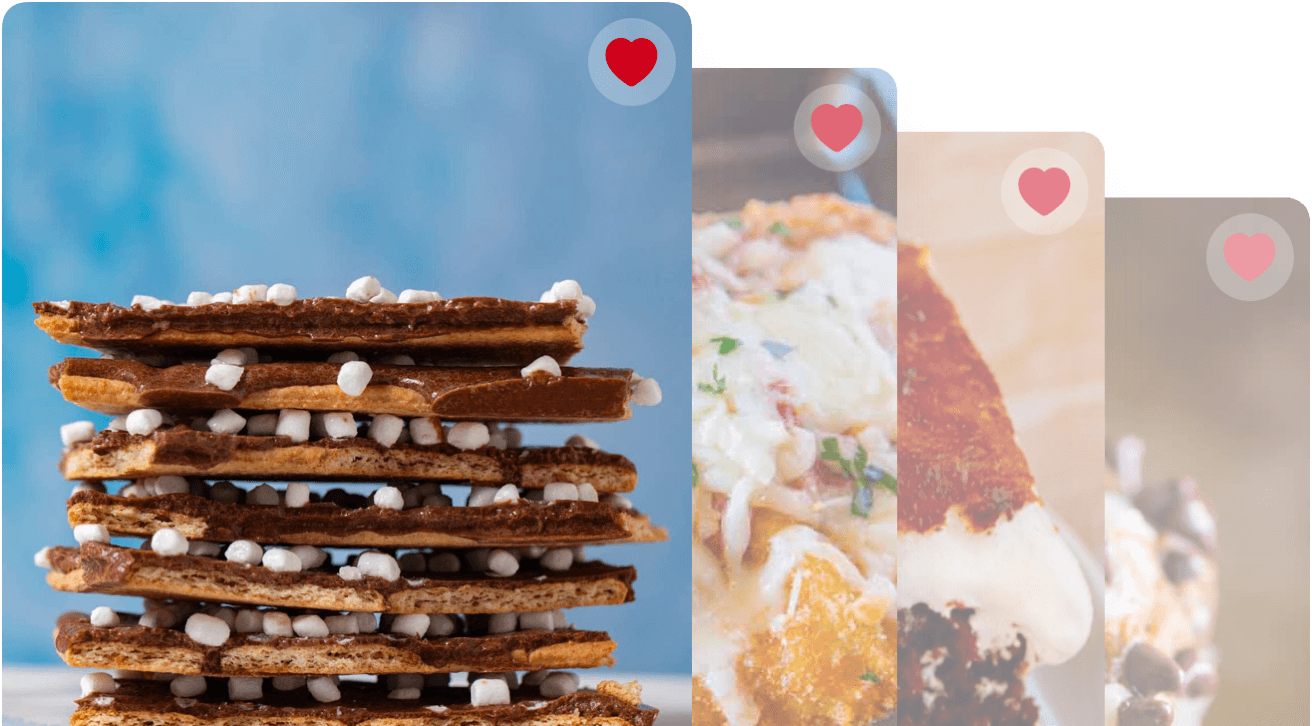 TIPS FOR MAKING SPATCHCOCK TURKEY
Spatchcock turkey cooks much faster than a roasted turkey, but it's still important to make sure it's cooked all the way through by using a meat thermometer to read the internal temperature of the middle of the thigh. It needs to be at least 165 degrees F.
If you're not comfortable using a knife, you can use a pair of kitchen scissors to cut out the backbone of the bird.
Let your turkey rest after taking it out of the oven. Just like steak, a whole turkey needs the chance to let those juices settle before you cut into it.
Don't skip the butter step! It adds a lot of flavor and moisture to the meat, not to mention it is crucial for achieving the nice crispy skin we look for in a Thanksgiving turkey.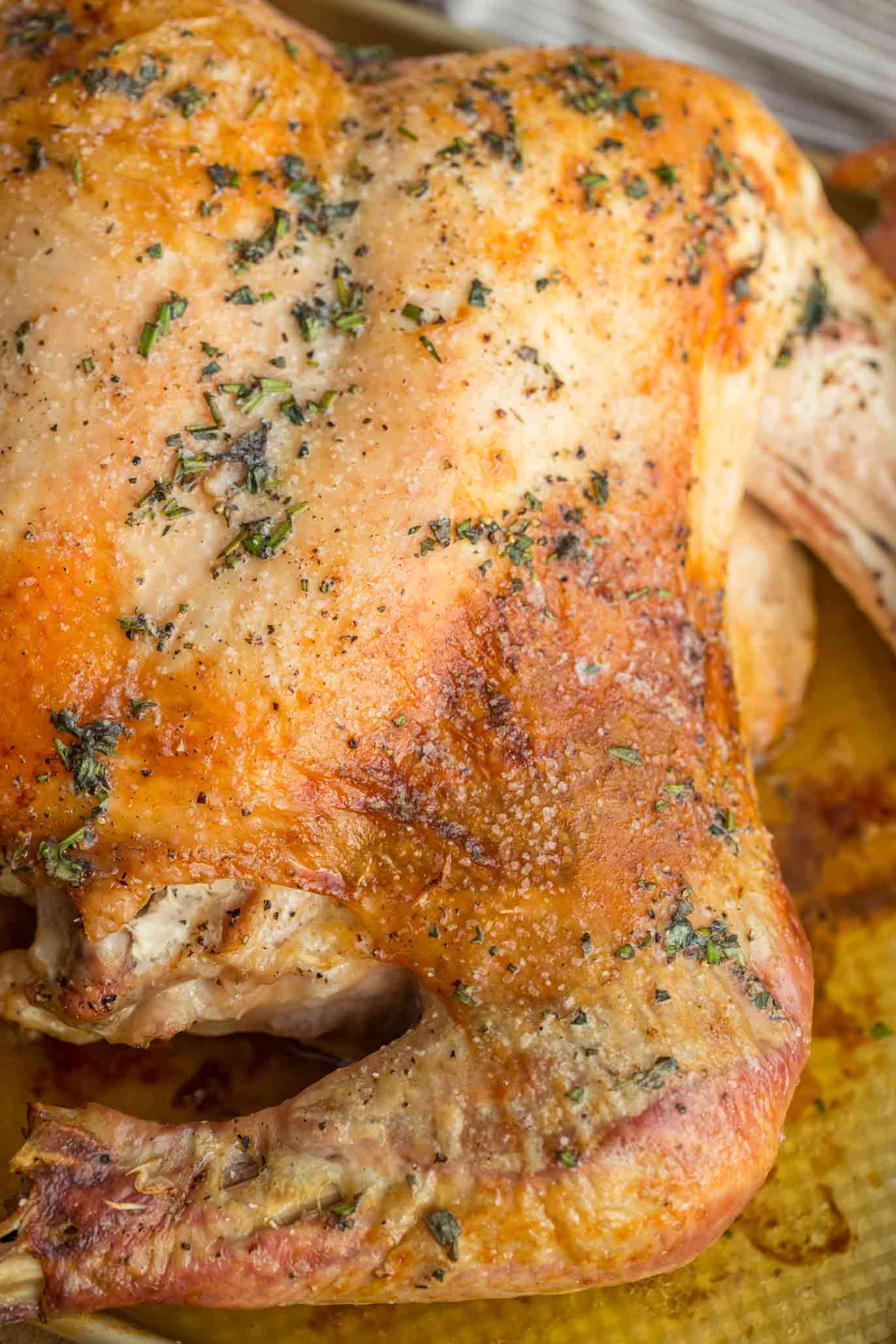 Ingredients
1

16 pound

turkey

1/2

cup

unsalted butter

1

tablespoon

kosher salt

1

teaspoon

coarse ground black pepper

1

tablespoon

fresh sage

chopped

1

tablespoon

fresh thyme

chopped

1

tablespoon

fresh rosemary

chopped

2

tablespoons

fresh parsley

chopped
Instructions
Preheat the oven to 350 degrees, remove the giblets and dry your turkey well with paper towels.

Mix the butter with the salt, pepper, sage, thyme, rosemary and parsley.

Put the turkey on a large sheet pan backbone facing up and using either kitchen shears or a large chef's knife cut out the backbone (I use a chefs knife and it took about 30 seconds) then turn back over and press the turkey down flat (you'll hear some bones breaking as it lays flat).

Rub the butter all over the turkey and tuck the wings under before roasting for 90 minutes before raising the temperature to 400 and roasting for an additional 15 minutes (don't forget to rest the turkey for 10-15 minutes before carving).
Notes
Note: click on times in the instructions to start a kitchen timer while cooking.
Nutrition
Calories:
506
kcal
|
Protein:
69
g
|
Fat:
23
g
|
Saturated Fat:
8
g
|
Cholesterol:
247
mg
|
Sodium:
797
mg
|
Potassium:
726
mg
|
Vitamin A:
425
IU
|
Vitamin C:
1.4
mg
|
Calcium:
40
mg
|
Iron:
2.9
mg