The only pie you'll need on your Thanksgiving dessert table, delicious Pumpkin pie with dark brown sugar topped with a Rich Pecan Streusel topping.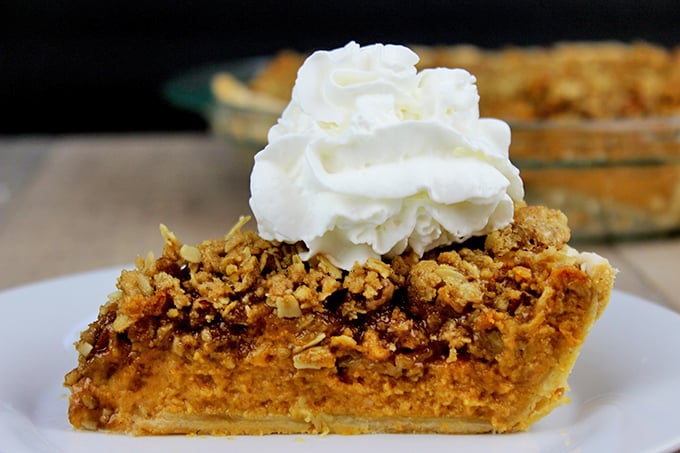 Who says you need to choose pumpkin OR pecan pie?
Now that Halloween is officially over it is time foooooorrrr…. PUMPKIN! Haha, actually I made this pie for us to enjoy for our Halloween dinner and could've posted it Friday (and I considered doing it too) but I decided that this recipe should officially fall under Thanksgiving instead of getting roped into Halloween. Not all families sit down to traditional Halloween dinners like we do because not all parents make a tradition for every possible holiday (seriously, I have traditions for everything down to Flag Day).
This recipe at first glance can and probably will seem intimidating. Don't be, it is a TOTAL fake out. I promise, no stand mixer even needed. The pie filling comes together as quickly as you can add the ingredients to the bowl and the streusel is the same. What looks like a giant laundry list is filled with mostly duplicate ingredients. So while the photos may look complicated and the recipe may look like "uhhh…not happening when I have 15 things to cook for Thanksgiving!" this is actually going to be a huge hit while being easy! I promise and c'mon, look at this topping! You can't resist this…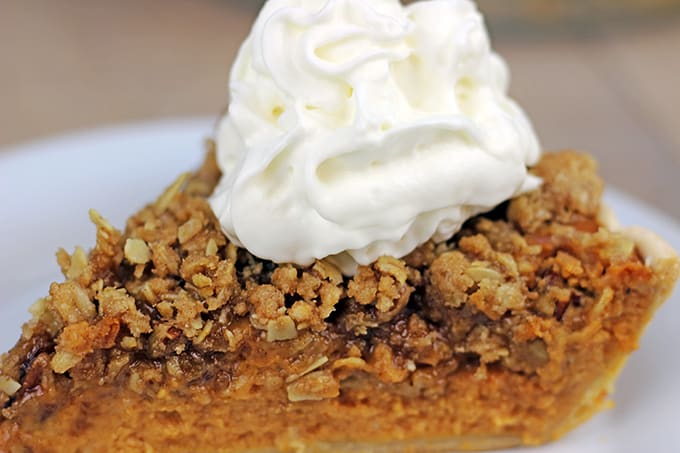 How easy? You mix the wet ingredients, then the dry. Add together and add to crust. Mix streusel ingredients and sprinkle on top. No whipping ingredients together in a stand mixer, no pre-baking the streusel or the crust. This pie is easy while making you look like a pro. And when your guests line up at the dessert table to pick what they want to eat they will be wooed by this beauty!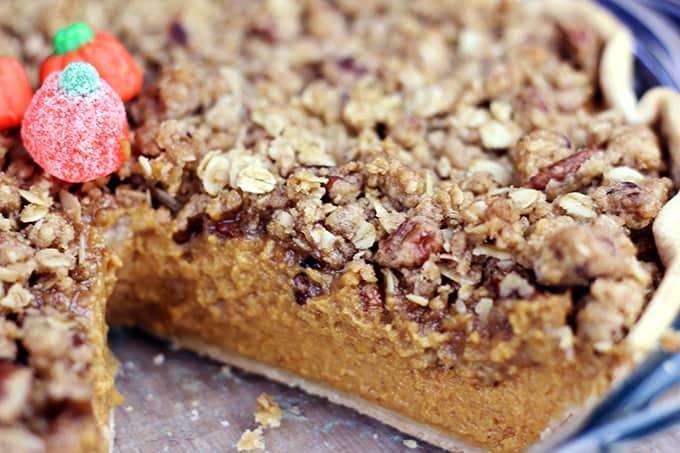 The pecans are just these beautiful little jewels sitting atop this pie and it is significantly easier to make than my most requested pie I made for clients during the holidays, my double layer Pumpkin Pecan Pie which is half pumpkin pie with a layer of pecan pie baked on top. Fun to make, but much more involved and dare I say not really even better than this one! The oats and dark brown sugar make this recipe a real winner and it just screams holidays!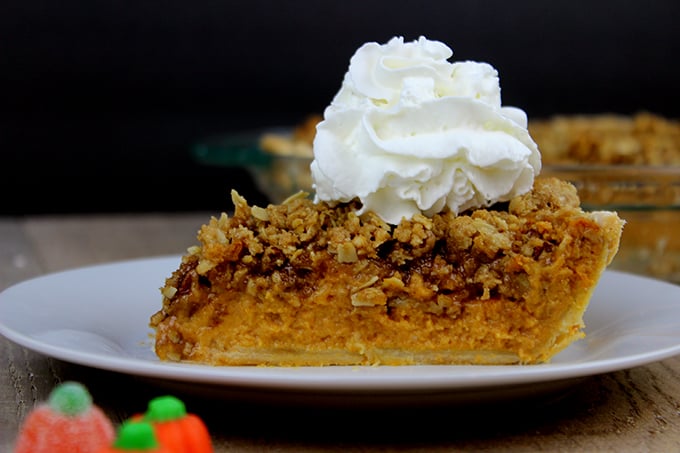 Ingredients
1/4

cup

granulated sugar

1/4

cup

packed light brown sugar

1/2

cup

packed dark brown sugar

1

tablespoon

flour

2

teaspoons

cinnamon

1/2

teaspoon

ground nutmeg

1/2

teaspoon

salt

1/4

teaspoon

ground ginger

15

ounces

pumpkin puree

12

ounces

evaporated milk

2

large eggs

1

pie crust

(you only need enough for the bottom of the pan)

1/2

cup

firmly packed dark brown sugar

1/2

cup

old fashioned oats

3/4

cup

chopped pecans

1/4

cup

flour

1/4

cup

butter

1/2

teaspoon

ground cinnamon

1/2

teaspoon

ground nutmeg
Instructions
Preheat oven to 375°.

To a large bowl, add the pumpkin puree, evaporated milk, and eggs and mix.

In a second bowl, mix sugar, light brown sugar, dark brown sugar, flour, cinnamon, nutmeg, salt, and ginger.

Add the dry to the wet ingredients.

If you are using homemade pie crust add it to the bottom of the pie pan.

Add the pumpkin mixture to the pie crust.

To make the streusel combine the ½ cup dark brown sugar, ½ cup old fashioned oats, ¾ cup chopped pecans, ¼ cup flour, ¼ cup butter, 1 teaspoon cinnamon, ½ teaspoon nutmeg

Add the walnut streusel evenly over the pie filling.

Bake for

60-70 minutes

until the middle of the pie is no longer jiggly when touched.
Nutrition
Calories:
504
kcal
|
Carbohydrates:
68
g
|
Protein:
8
g
|
Fat:
23
g
|
Saturated Fat:
8
g
|
Cholesterol:
68
mg
|
Sodium:
356
mg
|
Potassium:
380
mg
|
Fiber:
4
g
|
Sugar:
46
g
|
Vitamin A:
8610
IU
|
Vitamin C:
3.1
mg
|
Calcium:
180
mg
|
Iron:
2.6
mg