Easy Roasted Turkey Thighs make a small Thanksgiving meal a one oven dinner. Tender, browned, crispy skin and easy to make, they'll cook quickly!
Easy Roasted Turkey Thighs
Easy Roasted Turkey Thighs cook in a single baking pan alongside three other dishes in one oven making your whole Thanksgiving meal easy enough to cook in one oven.
I love easy Thanksgiving meals, one of my first was Slow Cooker Turkey with Gravy, Candied Sweet Potatoes and Green Peas which was just 7 ingredients (not counting salt and pepper) in the entire meal.
Then this year I released the whole thanksgiving dinner in 1 slow cooker post: Slow Cooker Thanksgiving Dinner (for 2!) with more than 7 ingredients but it includes stuffing!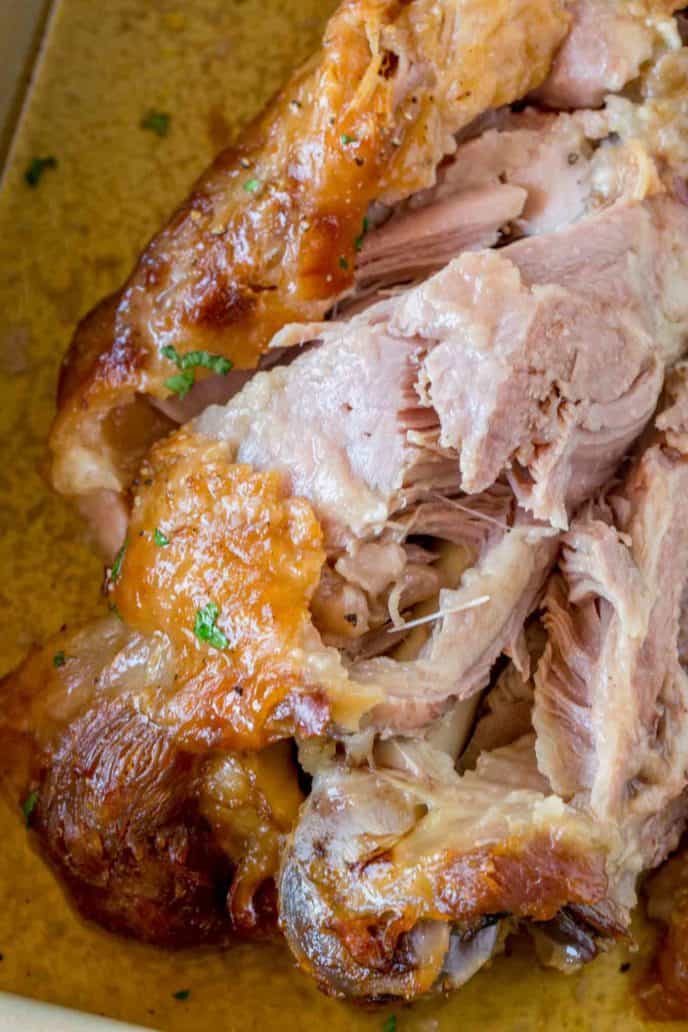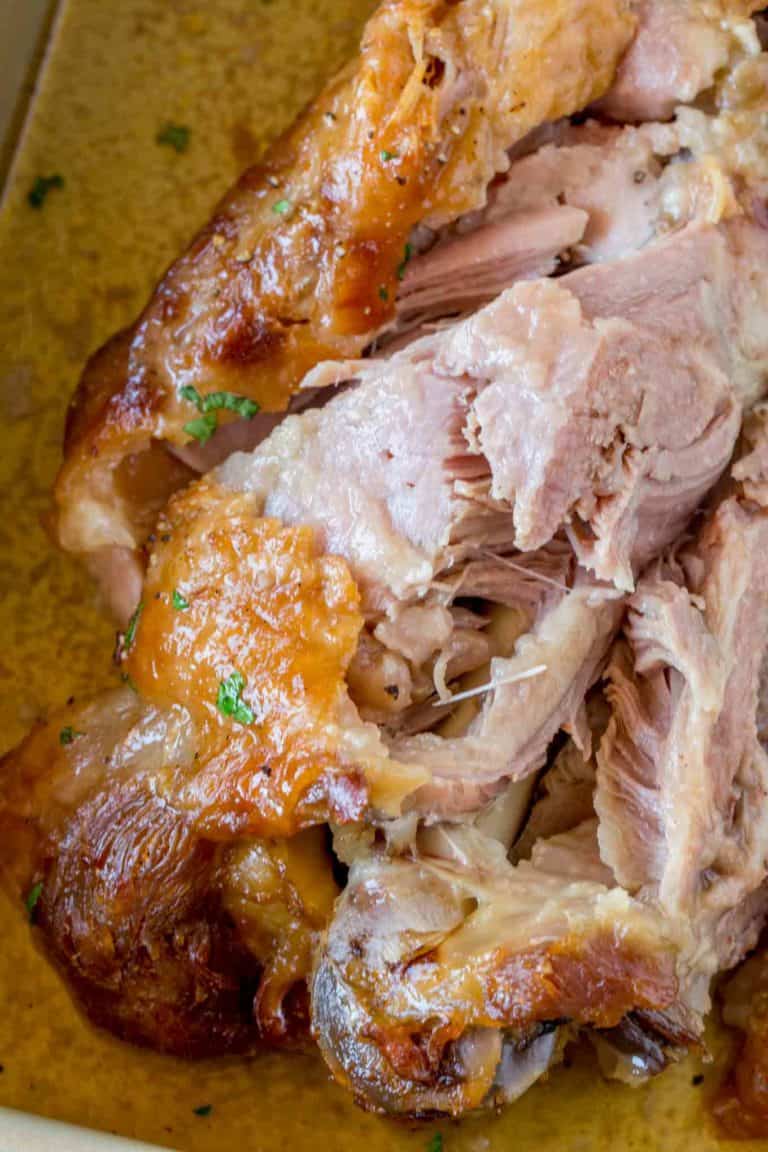 This dish is meant to be an easier way to make your Thanksgiving turkey! I already have posts for Crispy Slow Cooker Turkey Breast and Crispy Slow Cooker Turkey Thighs that can help when you don't have oven space, but this easy roasted turkey thigh is the perfect oven cooked option for a small Thanksgiving gathering.
Cooking turkey parts instead of the entire bird serves a few purposes. First it cuts WAY back on the cooking time. Second it allows you to cook more of your favorite pieces. Breasts and wings are generally considered white meat, turkey thighs and turkey legs are dark meat.
Roasting both dark meat and white meat works well, but with turkey thighs you're able to roast longer and have a deeper browning without losing the moistness you'd want in your turkey.
Looking to bump up the flavors? Yes, I stick to Kosher salt and pepper here for a reason, I want you to have the basics so you can decide how you want to season your turkey. Here are some flavor options for your turkey thighs:
Lemon, garlic and rosemary: lemon zest, kosher salt, black pepper, minced fresh garlic and minced fresh rosemary will make a delicious bird, just be careful the rosemary smell can take over anything else in the oven with the turkey.
Orange, cranberry: orange zest, minced cranberries, 1 tablespoon brown sugar, kosher salt and black pepper. This dish will play nicely with any oven neighbors.
Truffle Butter, fresh thyme: Kick up the flavor (Trader Joe's has $2.99 truffle butter right now too!) and slather the turkey in truffle butter, kosher salt, black pepper and chopped thyme for a rich umami flavor.
Bacon: Drape the turkey in bacon along with your Kosher salt and black pepper for a smoky flavor.
Tarragon, Shallots, Lemon: Fresh minced tarragon and shallots with lemon zest, Kosher salt and black pepper, this dish will perfume the rest of the oven.

See that extra browned bit by the bone in the bottom of that last picture? Thats the best part of the whole thigh! Super crispy and flavorful. My husband and I both reached for it at the exact same time. I let him win 😉
Looking for more side dishes?
Tools used in the making of this Easy Roasted Turkey Thighs:
9×13 pan: Keeps the liquids the turkey releases from ending up on the bottom of the oven and browns great.
Oven Thermometer: Easy to test if your turkey is done and safe to eat without opening the oven to check and slow down the cooking.


Ingredients
2

1-pound turkey thighs

bone in and skin on

1/4

cup

butter

softened

1

teaspoon

Kosher salt

*

1/2

teaspoon

coarse ground black pepper
Instructions
Preheat the oven to 350 F.

Pat the turkey dry with paper towels.

Season with salt and pepper.

Lift the turkey skin and stuff it with the softened butter, then pat it down in an even layer (gently).

Roast the turkey thighs for

50-60 minutes

or until the thermometer shows the turkey is cooked to 170 degrees.
Notes
* Please see additional flavor options above in the post for more variety.
Nutrition
Serving:
1
g
|
Calories:
102
kcal
|
Fat:
11
g
|
Saturated Fat:
7
g
|
Cholesterol:
30
mg
|
Sodium:
682
mg
|
Vitamin A:
355
IU
|
Calcium:
3
mg