Make-Ahead Turkey Gravy is perfect to serve with classic holiday dinners. Smooth, and flavorful gravy made with veggies, turkey drippings, and black pepper.
Between Roast Turkey, Mashed Potatoes, and Green Bean Casserole there are so many delicious dishes that make up the perfect Thanksgiving Spread, but they all taste even better with rich gravy over the top.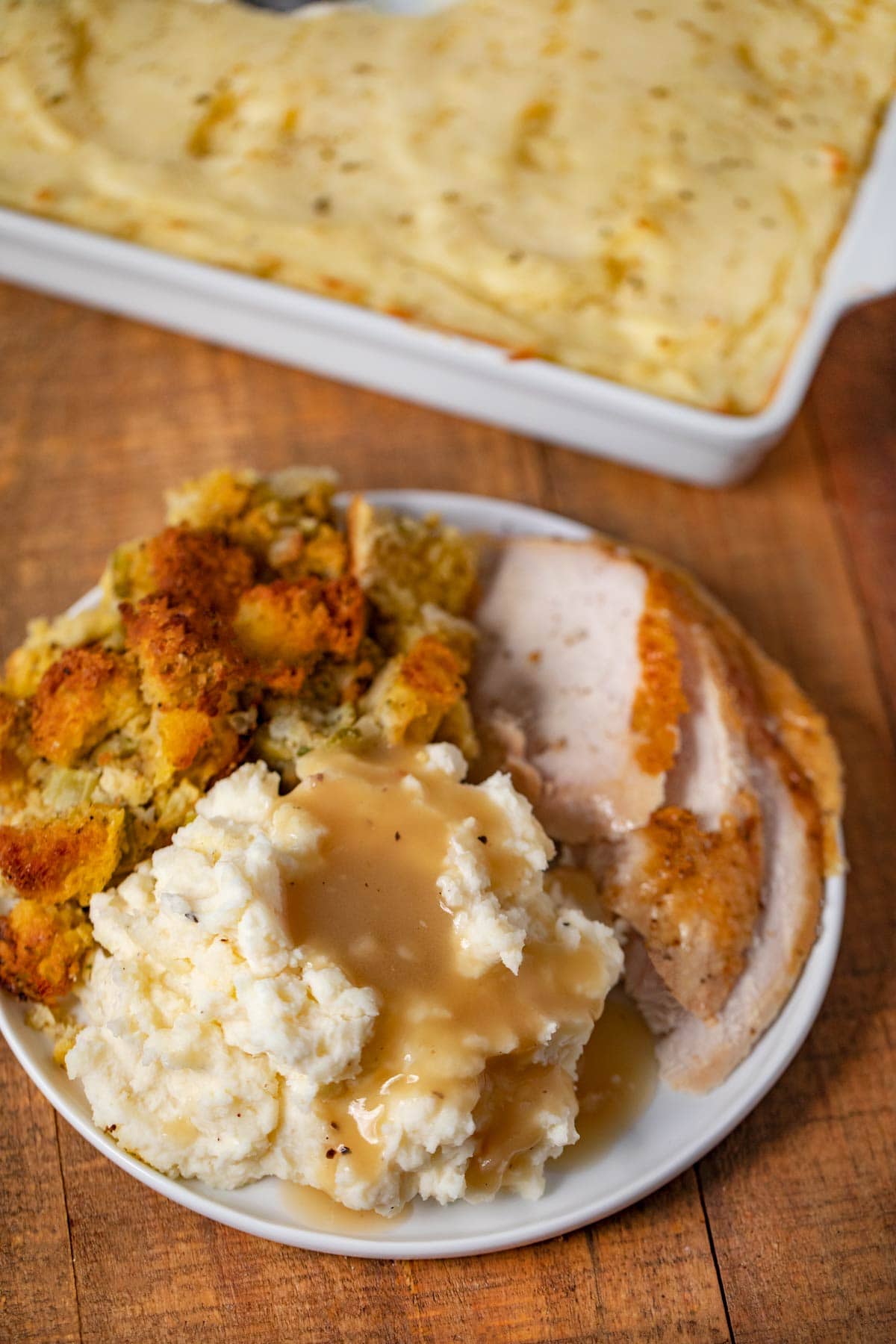 MAKE-AHEAD TURKEY GRAVY
Classic Turkey Gravy is a staple for holiday dinners, and this homemade gravy is so much better than anything you can make from a store-bought packet. It's surprisingly easy and great to prep a few days ahead so you don't have to worry about it on Thanksgiving Day.
Homemade Turkey Gravy is sure to be a hit with all your holiday guests. It's the perfect compliment to all of your favorite Thanksgiving dishes. Seriously, you could pour it over your entire plate. I even use Homemade Dinner Rolls to soak up any remaining Turkey Gravy. It's that good!
This Turkey Gravy recipe is made with wonderfully simple ingredients like yellow onions, carrots, and celery that help to flavor the turkey drippings. It comes out wonderfully smooth, thick, and creamy.
STORING MAKE-AHEAD TURKEY GRAVY
One of the best parts about this gravy is that it's easy to make ahead. Prepare the Turkey Gravy a few days before your dinner. Let the gravy cool to room temperature, then transfer it to an airtight container to store in the fridge. It will keep well for 3-4 days.
A few minutes before serving dinner, take the gravy out of the fridge and reheat it on the stove. Bring it to a boil. Check that the consistency is what you want. If it's too thick just whisk in some extra water, and if it's too runny put in some more all-purpose flour. Once it's heated and at the consistency you want, transfer it to your gravy boat and enjoy the perfect Turkey Gravy with your Thanksgiving dinner.
HOLIDAY MAIN DISHES
HOW TO MAKE TURKEY GRAVY
Start by preheating your oven to 400 degrees.
Combine turkey wings, onion wedges, carrots, and celery. Toss them in oil, salt and pepper. You can do this in a large bowl or ziplock bag.
Put them on a baking sheet and roast for an hour.
Once done cooking, transfer the turkey, veggies, and drippings to a dutch oven or larch pot. Add 8 cups of water.
Bring the mixture to a boil, then reduce the heat and let it simmer for 2 hours.
If the liquid evaporates too quickly add more water. Some of the water will evaporate, but you want to make sure the liquid level is above the turkey and vegetables.
Use a mesh sieve or other strainer to drain the liquid from the turkey and vegetables. Put the liquid back in the pot.
Turn the burner on to medium heat, and bring the gravy to a simmer.
Use a fork to mash together the butter and all-purpose flour, then whisk it into the pot.
Cook for another 6-8 minutes until the gravy is thick and smooth.
Check the taste to see if you want anymore salt or pepper. Serve right away, or refrigerate for a pre-cooked gravy recipe.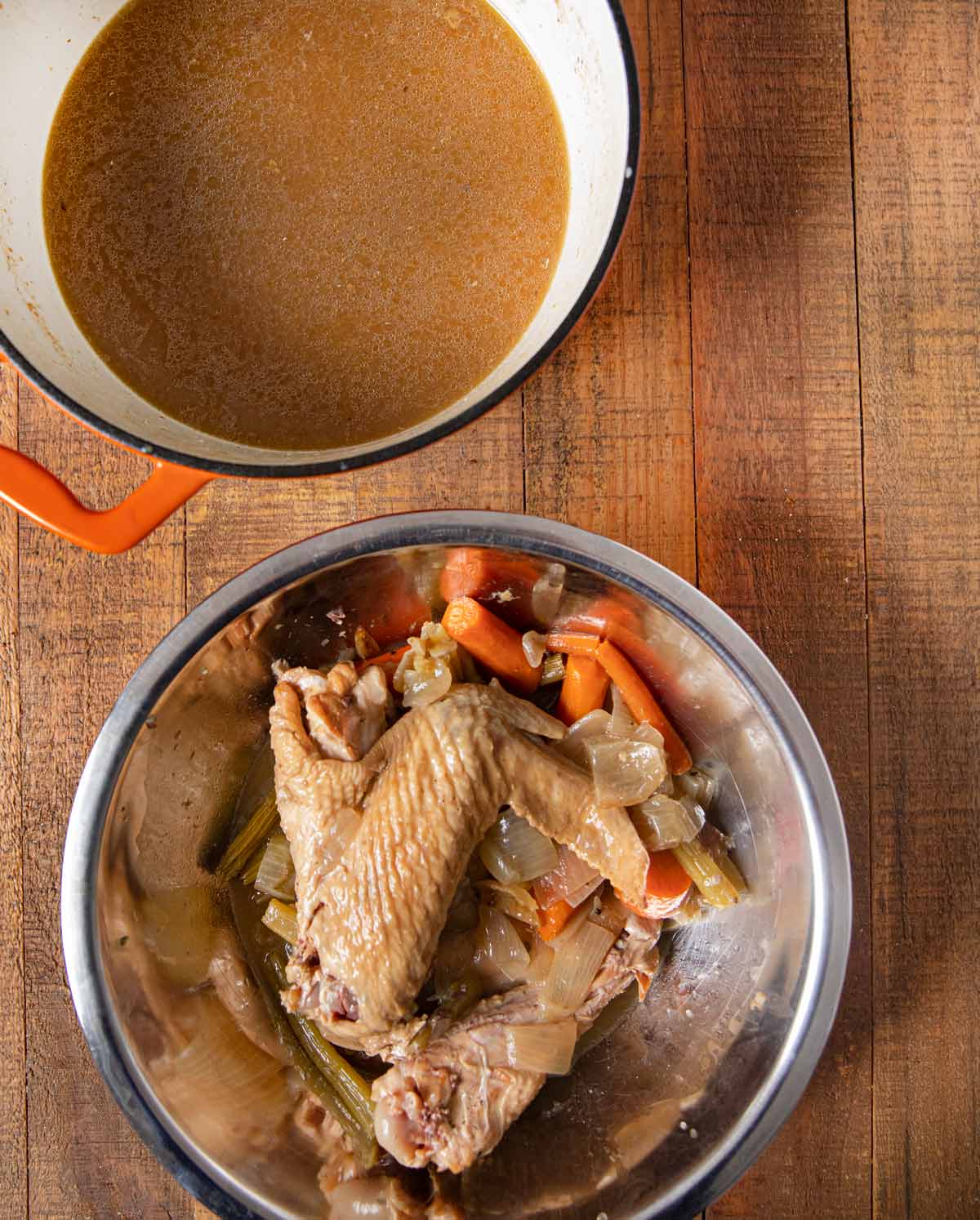 Create a free account to

Save Recipes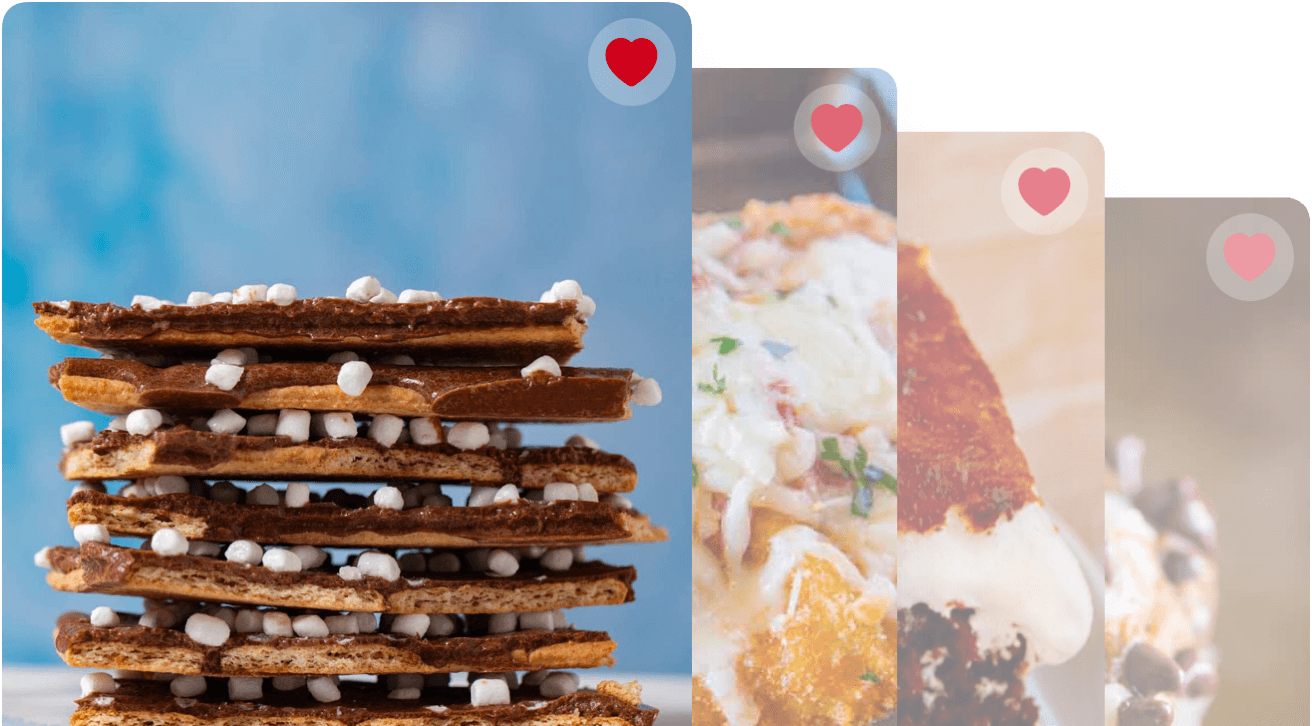 VARIATIONS ON TURKEY GRAVY
Broth: To make a richer Turkey Gravy, you can use chicken broth or turkey stock in the gravy. Use the broth in place of some or all of the water, depending on how deep you want the taste to be.
Turkey: Although, this Make-Ahead Turkey Gravy Recipe calls for turkey wings, you could make Easy Turkey Gravy with other turkey parts. Try using turkey legs, turkey giblets, or other turkey pieces.
Seasonings: To change up the flavor of Make-Ahead Gravy, you can try adding some fresh herbs. Thyme, fresh parsley, bay leaves, and sage would all make great additions to Easy Turkey Gravy.
Gluten-free: To make your Turkey Gravy gluten free use cornstarch to thicken up the drippings instead of flour. Because cornstarch is made from corn, it's naturally gluten-free, but you'll want to check your package just to make sure it wasn't cross-contaminated during manufacturing.
THANKSGIVING SIDE DISHES
HOW TO STORE MAKE-AHEAD TURKEY GRAVY
Serve: Don't leave homemade Turkey Gravy at room temperature for more than 2 hours.
Store: Once you let the Turkey Gravy recipe cool, it will refrigerate well for 3-4 days. You can store the leftovers or use it as a Make-Ahead Turkey Gravy recipe. Reheat the homemade Turkey Gravy on the stove and whisk it together again before serving.
Freeze: Flour-based gravy recipes, like this one, can last in the freezer for up to 4 months. Freeze the Easy Turkey Gravy in a freezer bag or airtight container. Let it defrost in the fridge before reheating it on the stovetop. After bringing the Make-Ahead Gravy to a boil whisk in some extra flour if the sauce needs to be thickened, then serve it as usual.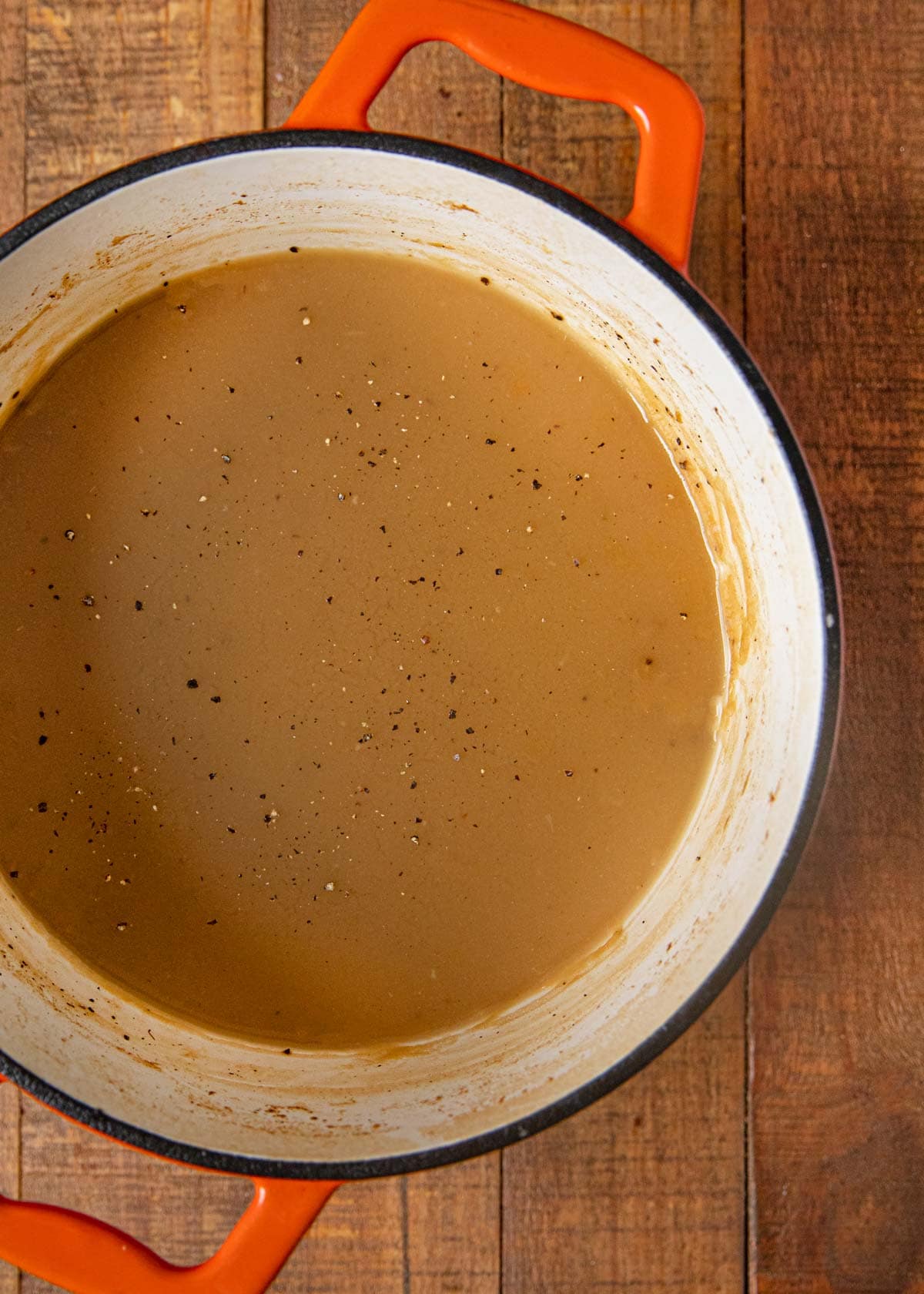 Ingredients
2

yellow onions

, cut into wedges

2

carrots

, cut into 2" chunks

2

ribs celery

, cut into 2" chunks

2

tablespoons

vegetable oil

2

teaspoons

kosher salt

1/2

teaspoon

coarse ground black pepper

2

turkey wings

8

cups

water

4

tablespoons

unsalted butter

1/2

cup

flour
Instructions
Preheat oven to 400 degrees

Toss turkey, onion, carrot and celery in oil, salt and pepper.

Roast in a baking dish or baking sheet for

1 hour.

Add turkey and vegetables and drippings to a large pot with the 8 cups of water.

Bring to a boil, then reduce to a simmer for

2 hours

.

If liquid is evaporating, add more water to keep level of liquid above the turkey and vegetables (roughly, about ⅓ of it should evaporate leaving about 6 cups of gravy).

Strain the gravy using a large strainer (fine mesh is best) then put the gravy back into the pot.

Turn on medium heat and bring to a simmer.

Mash together the butter and flour and whisk it into the gravy.

Cook for

6-8 minutes

until gravy is smooth and thickened.

Check at last minute before serving for seasonings (if you need more salt or pepper this would be where to add it).
Nutrition
Calories:
211
kcal
|
Carbohydrates:
10
g
|
Protein:
10
g
|
Fat:
15
g
|
Saturated Fat:
8
g
|
Cholesterol:
45
mg
|
Sodium:
630
mg
|
Potassium:
200
mg
|
Fiber:
1
g
|
Sugar:
2
g
|
Vitamin A:
2723
IU
|
Vitamin C:
3
mg
|
Calcium:
26
mg
|
Iron:
1
mg