Breakfast Sandwiches with easy eggs, crispy bacon, and melted cheese are the perfect savory meal to get you going in the morning. Ready in just 20 minutes!
There are lots of classic Breakfast Recipes on our blog like Pancakes and the perfect Belgian Waffles, but sometimes when you're craving something more savory these sandwiches are the way to go! They're easy, filling, and packed with natural flavors from the eggs, melted cheese, and salty bacon.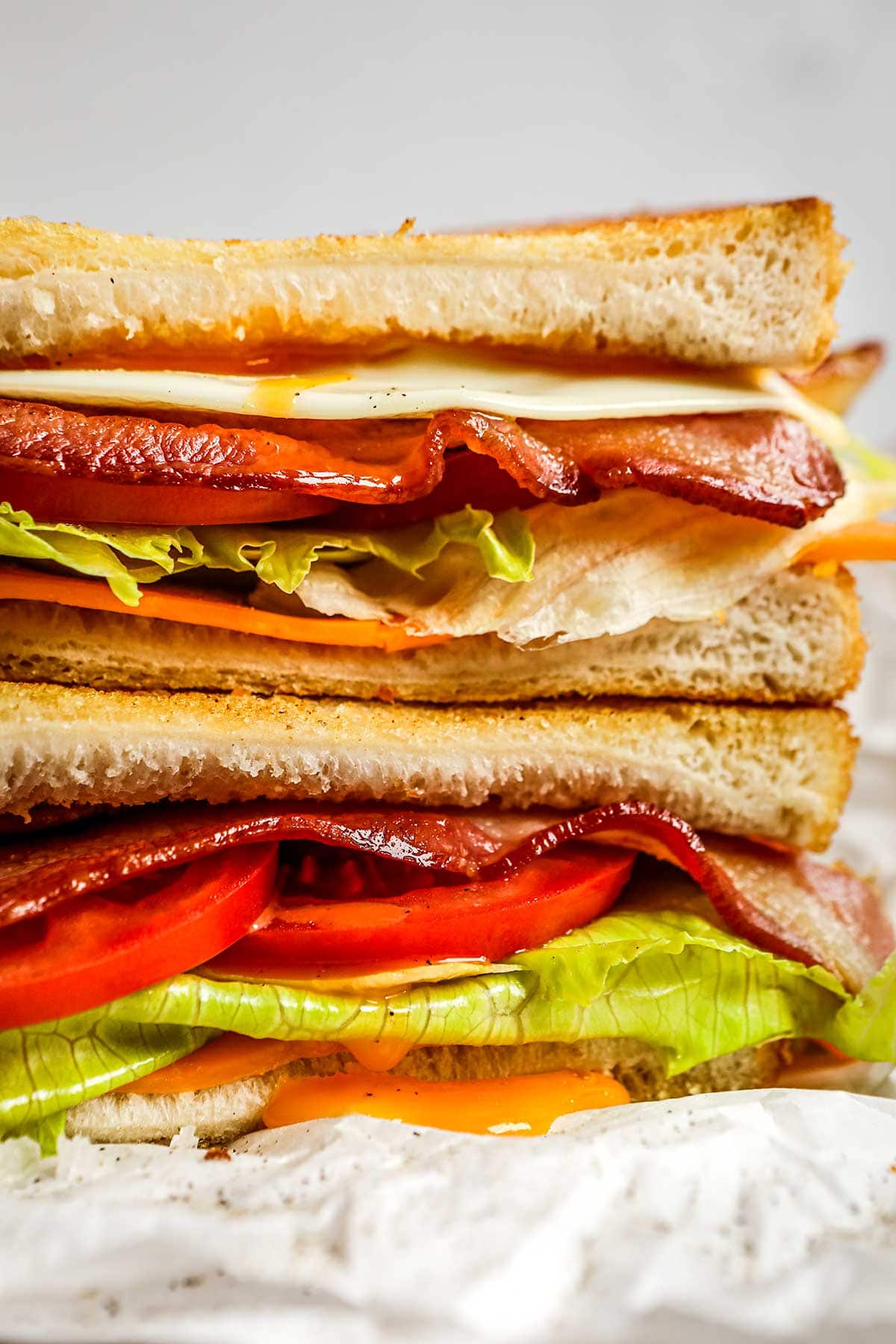 Delicious Breakfast Sandwiches are the perfect meal for any morning. Just like in a Grilled Cheese, the bread is cooked to toasty perfection in just a few minutes on the griddle. While the sandwiches are cooking, the amazing smell of bacon will fill the house and get everybody out of bed.
Bacon and eggs are probably the most classic breakfast flavors out there, and this recipe makes them easy to enjoy in a portable breakfast sandwich. Easily wrap up the finished sandwich in parchment paper and take it on the go for a busy day.
This recipe makes 4 big sandwiches, but you can easily cook up extra if you have more people to serve. You can also double up on the ingredients and make some ahead of time to store in the fridge. They make a quick grab-and-go breakfast throughout the week.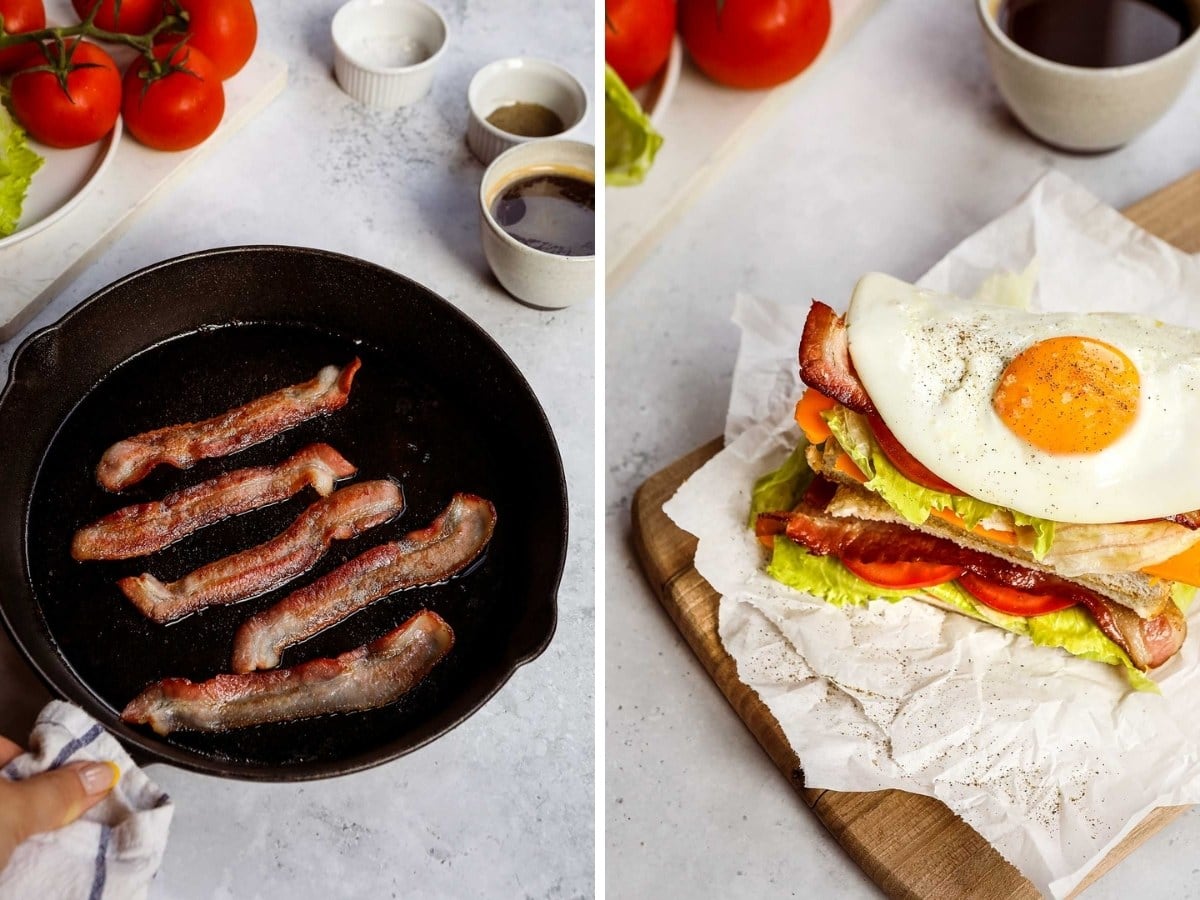 How to Make the Perfect Breakfast Sandwiches
Bacon: Put a skillet over medium-high heat to cook the bacon. Cook the bacon for about 4-5 minutes until it's cooked through, chewy, and crispy. Wipe the skillet down with paper towels to get most of the bacon grease off.
Eggs: Add 1 tablespoon of butter to the pan. Cook them to medium firmness, you want a runny egg but not a runny white. If you want to make these more freezer-friendly, beat the eggs and stir them gently as they cook for 4-5 minutes. Season the eggs with black pepper and salt.
Bread: Spread butter over one side of each slice of bread. Then add bread to a griddle on medium heat with the bread butter-side down.
Assemble sandwiches: Add cheddar cheese to the top of the bread, then the eggs, and the bacon. Top with another slice of cheddar cheese, and then finish the sandwich with the second slice of bread. Make sure the butter is facing out. If serving it right away use the tomato and lettuce in the recipe.
More Savory Breakfast Recipes
Frequently Asked Questions
What ingredients are in Breakfast Sandwiches?
This classic egg sandwich contains an egg with a runny yolk, crispy bacon, melty cheddar cheese, lettuce, tomato, and buttery grilled bread. The great thing about these versatile Breakfast Sandwiches is that you can customize the ingredients to suit your tastes or use ingredients that you already have.
How do I cook eggs for Breakfast Sandwiches?
An over easy or over medium egg with firm whites but still runny yolk is perfect for a delicious breakfast sandwich. If you're meal prepping and not eating it right away, you may want to break the yolk and flip the egg to cook it through, or beat the eggs and bake them in a pan, then cut the cooked eggs into squares to assemble the sandwiches. 
How do I make a healthy version of Breakfast Sandwiches?
To make lighter Breakfast Sandwiches, opt for leaner meats like turkey bacon or Canadian bacon. Use a whole grain bread or english muffin, cooking spray instead of butter, and swap the cheddar for a reduced fat or lighter type of cheese like Swiss.
How do I make Vegetarian Breakfast Sandwiches?
You can use a meat substitute like meatless sausage patties, or simply leave out the meat all together. Replace it with grilled tempeh, avocado, mashed black beans, or alfalfa sprouts for extra nutritional benefits. Avocado is also a terrific replacement for cheese if you are looking for a non-diary option, because it provides the same rich creaminess you'd get from melted cheese.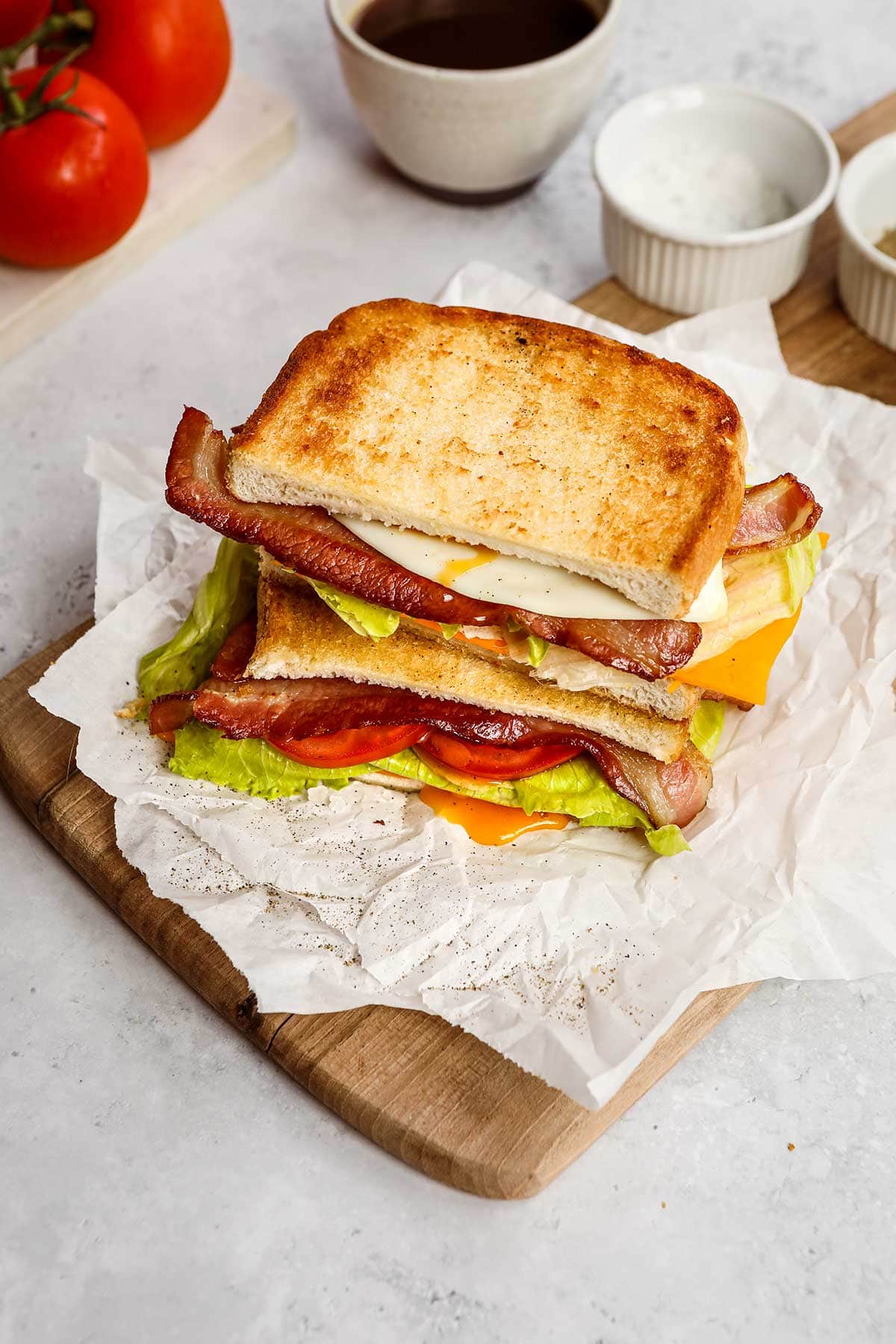 Create a free account to

Save Recipes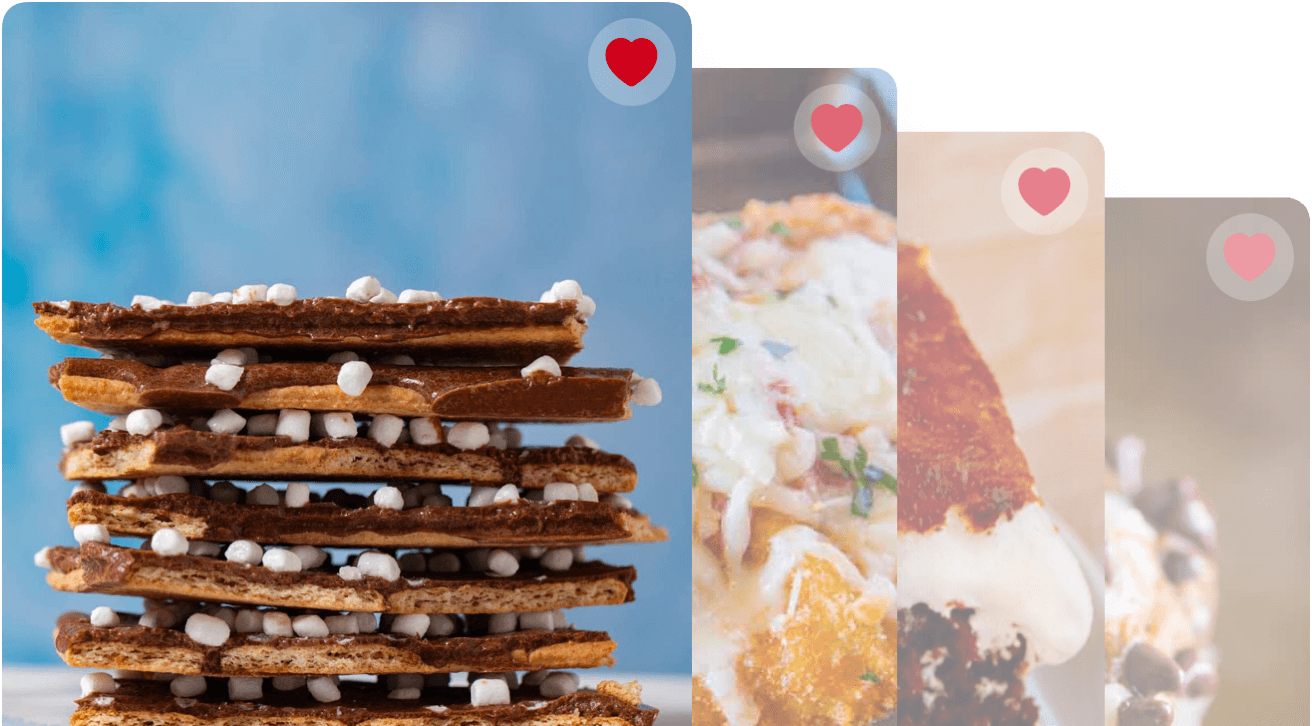 Key Ingredients in Breakfast Sandwiches
Bread: A thick sliced sandwich bread will hold up well to all the ingredients in this hearty breakfast meal.
Cheese: Cheddar is a favorite cheese to use for breakfast recipes because the sharper flavor goes great with the subtle egg and salty bacon, and it melts together with the other ingredients.
Bacon: Use a thick cut bacon to give your Breakfast Sandwiches a delicious flavor and provide and all the protein you need for a busy day.
Eggs: Choosing high quality ingredients like pasture raised eggs will make a difference in the flavor of simple recipes like these delicious breakfast sandwiches.
Toppings: Lettuce and tomato add a nice fresh crunch and acidic brightness to the other richer ingredients.
Can I Make Breakfast Sandwiches Ahead?
You can meal prep these easy breakfasts on the go for the whole family. Leave off the lettuce and tomato because they will get soggy in the fridge (they can be added just before serving if you'd like). It is also a good idea to cook the eggs through so that they reheat more easily. You can either break the yolk and flip them when cooking, or beat them and bake in a baking dish to cut into squares. Once assembled, wrap each sandwich in plastic and keep in the fridge up to 4 days. You can reheat them by placing on a skillet or baking in the oven, or enjoy them cold like a breakfast BLT!
Variations on Breakfast Sandwiches
Cheese: Instead of cheddar cheese, you can use a slice of American cheese, sharp cheddar, goat cheese, Swiss cheese, or Pepper Jack. If you don't have sliced cheese, you can also just mix shredded cheese in when you're cooking the eggs.
Meat: You can use different kinds of meat in the sandwich. Instead of regular bacon try turkey bacon. You could also add ham steak, chicken, turkey, or sausage.
Spicy Breakfast Sandwiches: For a breakfast sandwich with some heat add hot sauce, jalapeño peppers, or chipotle chilies.
Bread: You can try out different kinds of bread for this recipe like sourdough, sesame seed buns, wheat flour bread, French bread, bagels, or English muffins.
Spices: Try adding flavorful spices to your eggs like onion powder, garlic powder, chipotle powder, paprika, red pepper flakes, or an Italian spice blend.
Add-ins: There are lots of vegetables that would taste great in this sandwich like avocados, sliced tomatoes, sun-dried tomatoes, red onions, peppers, or spinach.
Egg white sandwiches: If you want fewer calories in your sandwich, try just making it with egg whites. Separate the egg yolk from the egg whites and cook them up instead. You may have to use more eggs than you usually would to fill up four sandwiches with just the egg whites
Breakfast burrito: Instead of making a sandwich, you can use the same egg and bacon filling to make breakfast tacos. Just put the filling in a soft tortilla, roll it up, and enjoy.
Condiments: Before assembling your sandwiches, spread ketchup, mayonnaise, garlic aioli, cream cheese (vegetable or scallion cream cheese would be delicious), or salsa onto the bread for extra flavor.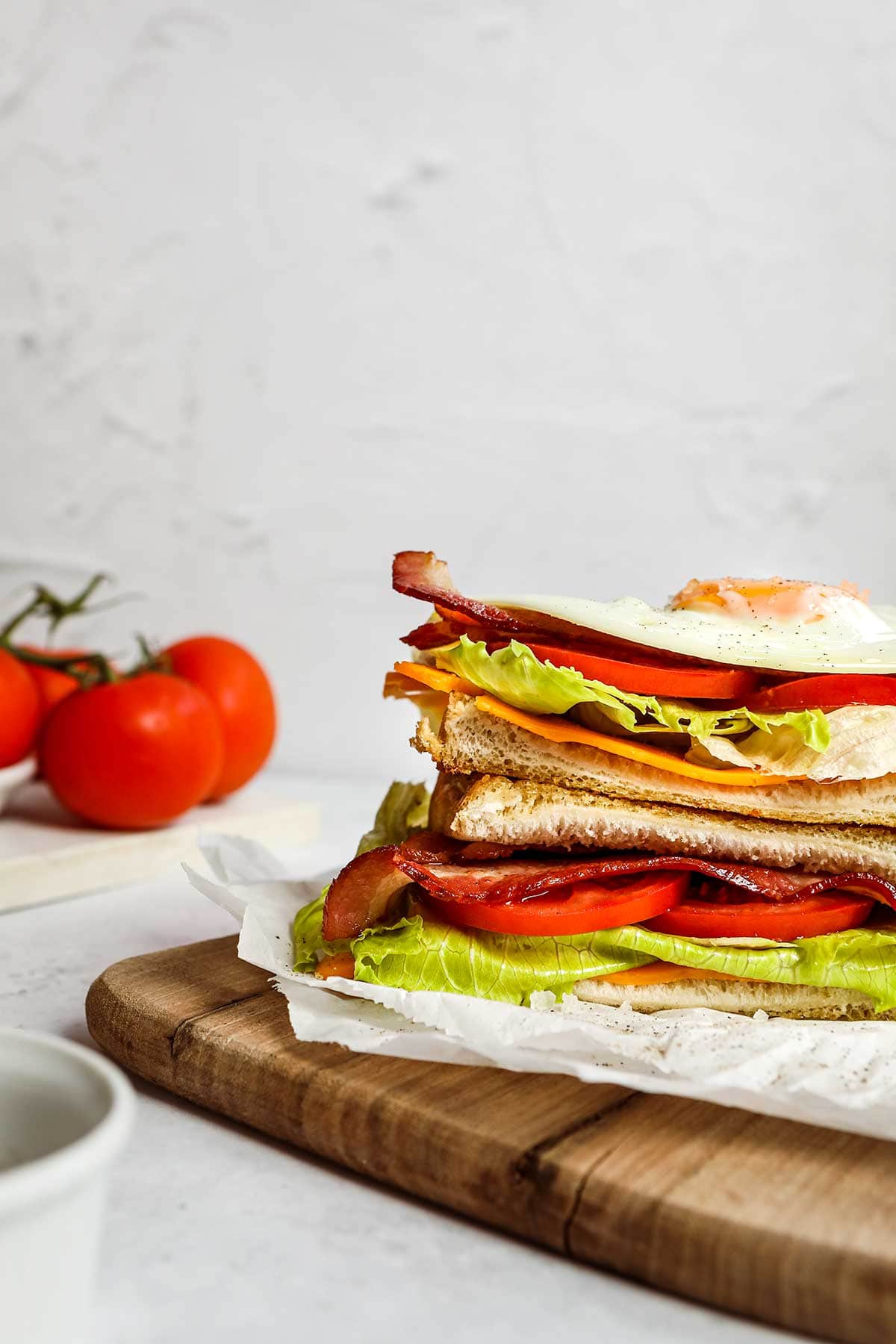 Breakfast Side Dishes
How to Store Breakfast Sandwiches
Serve: Breakfast Sandwiches are best served fresh, and you shouldn't leave them out at room temperature for more than 2 hours.
Store: To store the sandwiches, wrap them in tin foil or plastic wrap, and put them in the fridge for up to 1 week. When you're ready to reheat them, you can either do it on a skillet or a baking sheet in the oven.
Freeze: For a make-ahead sandwich you can also freeze Breakfast Sandwiches for up to 1 month. Let them thaw in the fridge before reheating them on a baking sheet in the oven.


Ingredients
16

ounces

thick-cut bacon

5

tablespoons

unsalted butter,

softened (divided)

8

large

eggs

1/2

teaspoon

kosher salt

1/4

teaspoon

coarse ground black pepper

8

slices

thick sandwich bread

8

slices

cheddar cheese

8

leaves

iceberg lettuce

2

vine ripe tomatoes,

sliced
Instructions
Cook bacon in batches in a large skillet on medium-high until chewy and crispy, about

4-5 minutes

.

Remove bacon and wipe skillet clean.

Add 1 tablespoon of butter on medium heat.

Add eggs, 2 at a time, and cook until the whites have set, but the yolk is still runny, roughly

4-5 minutes

until set.

Season with salt and pepper.

Spread remaining butter on one side of each slice of bread.

Add bread buttered side down to a griddle or large skillet on medium heat.

Add 1 slice of cheddar cheese to each piece of bread.

When the bread is golden and toasted top half the slices with lettuce, tomato, bacon and egg.

Add the remaining bread slices, butter side up (away from the rest of the sandwich).
Nutrition
Calories:
512
kcal
|
Carbohydrates:
15
g
|
Protein:
20
g
|
Fat:
41
g
|
Saturated Fat:
17
g
|
Polyunsaturated Fat:
5
g
|
Monounsaturated Fat:
15
g
|
Trans Fat:
1
g
|
Cholesterol:
260
mg
|
Sodium:
823
mg
|
Potassium:
314
mg
|
Fiber:
1
g
|
Sugar:
3
g
|
Vitamin A:
977
IU
|
Vitamin C:
4
mg
|
Calcium:
225
mg
|
Iron:
2
mg