Sheet Pan Grilled Cheese Sandwiches are the easiest way to make melty, crispy cheese sandwiches for a crowd in less than 30 minutes!
When it comes to simple, delicious, nostalgic meals Grilled Cheese Sandwiches pretty much reign supreme. Enjoy this easy sheet pan version the next time you want to make Sandwiches for dinner fast!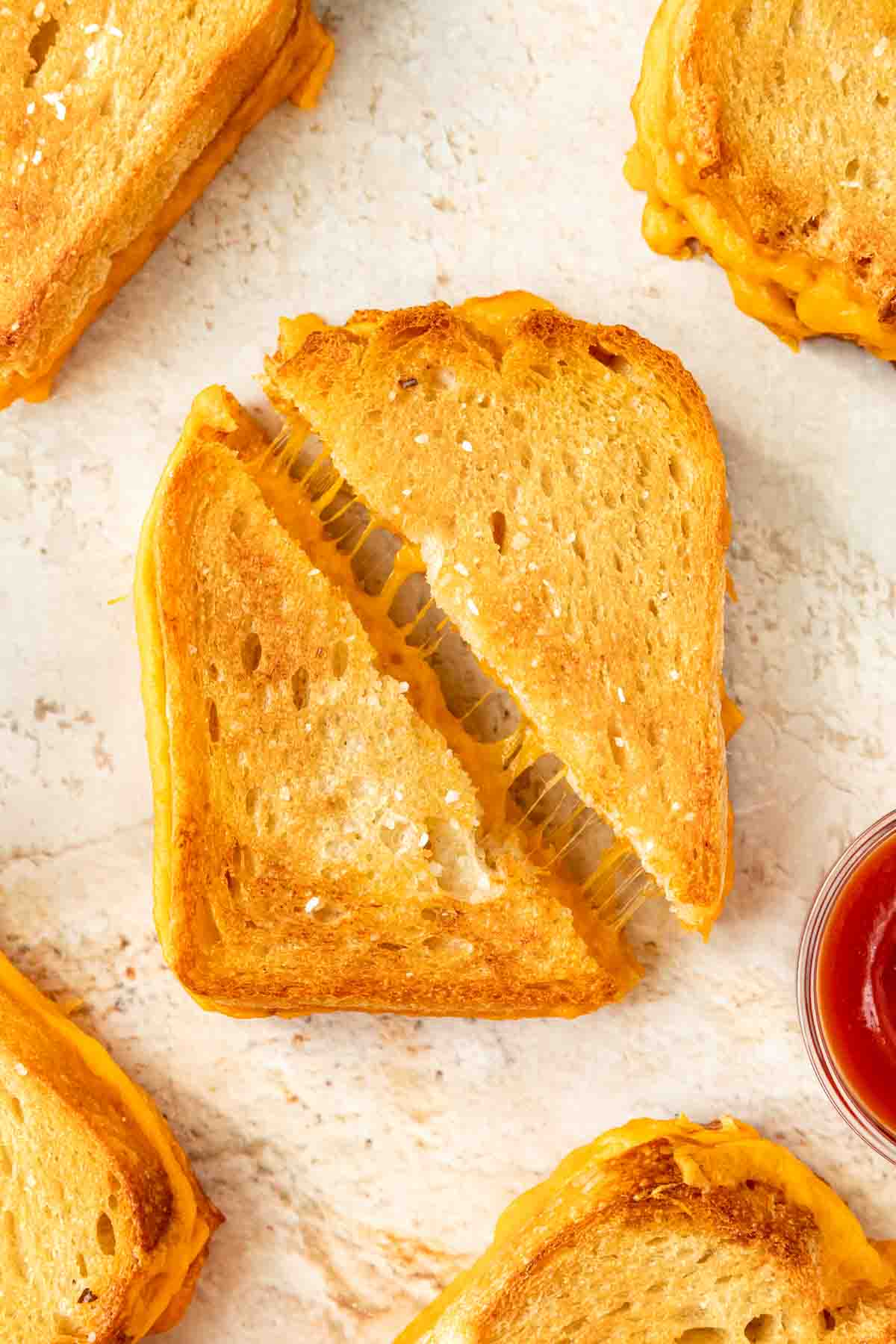 Melted, gooey cheddar cheese between slices of toasty bread is a classic sandwich that never goes out of style. They're easy to make in a few minutes with delightfully easy ingredients. Something about biting into the crisp bread and melty cheese just instantly transports you back to your childhood.
Making a grilled cheese sandwich in a cast-iron skillet is pretty easy. As long as you keep the stovetop at a nice even temperature, and remember to flip the sandwich, you'll have a delicious Grilled Cheese that's perfect for lunch.
However, if you want to make Grilled Cheese for dinner and have a lot of people to serve it can be a hassle to make on the stovetop. The small cooking surface means you'll have to make them in batches, and people either have to eat separately or wait to eat together while the sandwiches get cold. Well, with this simple sheet pan version that's all fixed. Make 8 sandwiches all at once, and enjoy!
The Oven-Baked Grilled Cheeses come out wonderfully golden brown and crispy on the outside with a melty inside. They're everything you expect from a delicious Grilled Cheese but made for a crowd. To make this classic comfort food into an even more satisfying dinner serve it up with a bowl of Creamy Tomato Soup. The sandwiches are perfect to dip, and the tomatoes and cheese just make the best combination ever!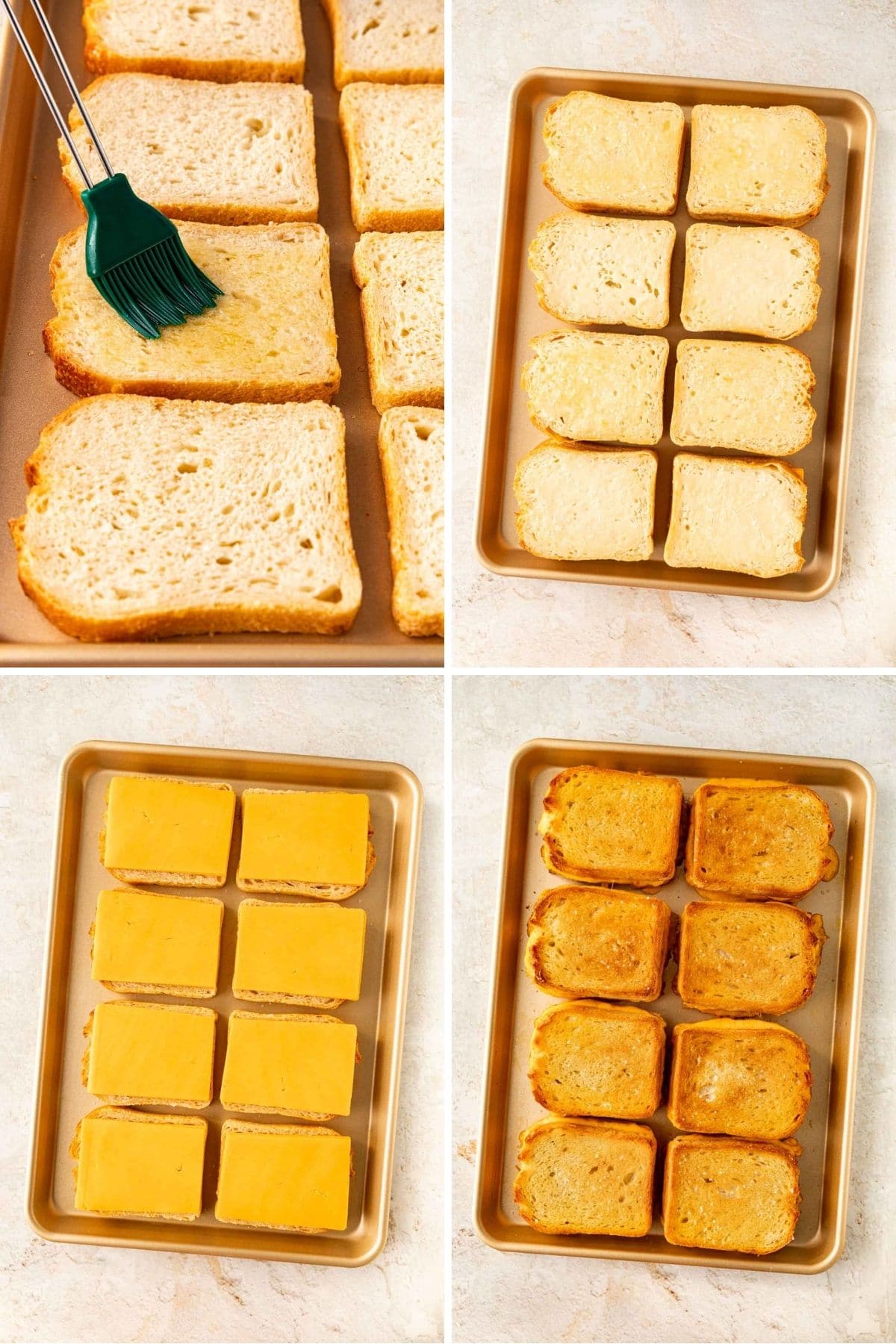 How to Make Sheet Pan Grilled Cheese Sandwiches
Prep: Start by preheating your oven to 400 degrees and melting butter in a microwave-safe dish in the microwave.
Bread slices: Brush each slice of bread on one side with the melted butter. Sprinkle kosher salt over all the bread on the same side. The melted butter will help it to stick. Place half of the bread slices on your baking sheet with the butter facing down.
Assemble: Add two slices of cheddar cheese to each of the bread slices. The cheese slices will overlap a little in the middle. Add the top bread to the sandwich. Make sure the buttered side is facing up.
Cook: Put the baking sheet in your preheated oven and cook the sandwiches for 5 minutes. Take the sheet out and flip each sandwich over. Bake for an additional 5 minutes until the Sheet Pan Grilled Cheese Sandwiches are golden brown and the cheese melts throughout.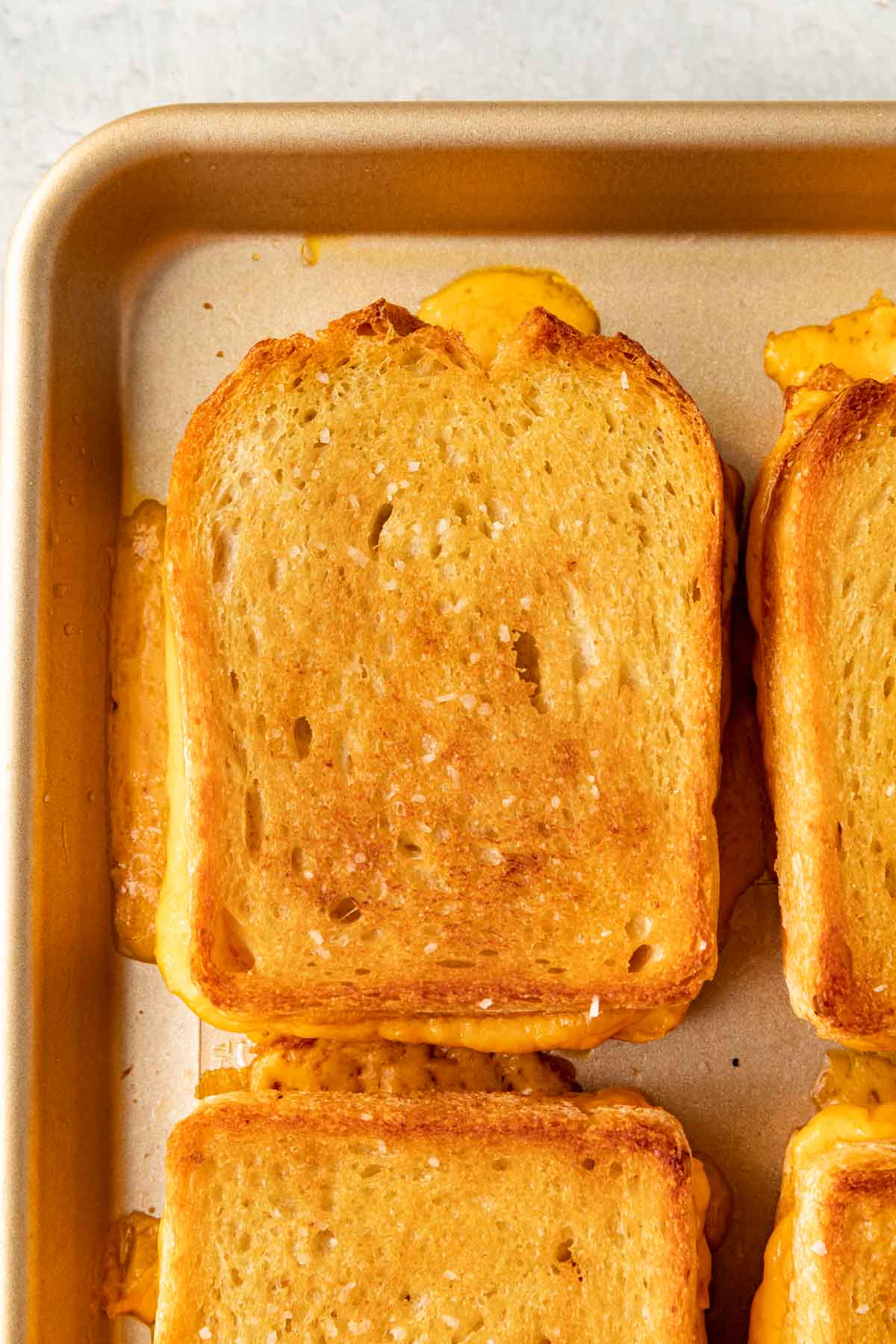 More Classic Sandwich Recipes
Frequently Asked Questions
Why make Grilled Cheese Sandwiches in the oven?
If you are feeding more than a couple of people, making Grilled Cheese Sandwiches in the oven is easy, simple, and feeds everybody at once! Get your favorite soups or sides ready to go then have these delicious, golden crispy cheese sandwiches ready to serve all at once.
Should I line the pan with parchment paper or foil to make Sheet Pan Grilled Cheese?
You may be tempted to line your rimmed baking sheet with parchment or foil for easy cleanup. However, for this recipe you will be better off placing your buttered bread directly on the baking sheet. You want the hot metal to toast the bread just like it would on a skillet. Paper would likely cause steam to build and prevent that nice crispy bread from toasting, and foil would do the same thing and possibly stick to the melted cheese.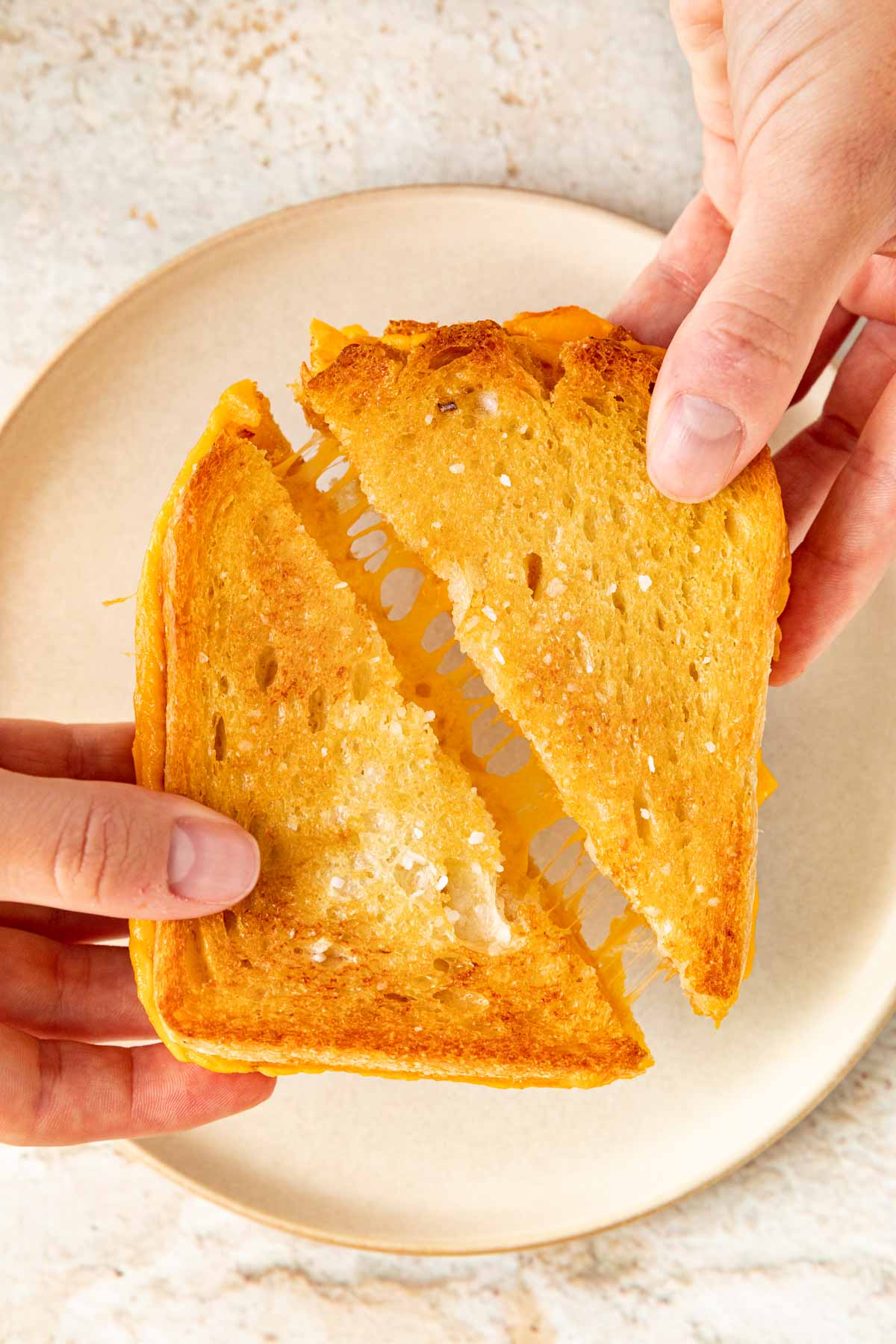 Create a free account to

Save Recipes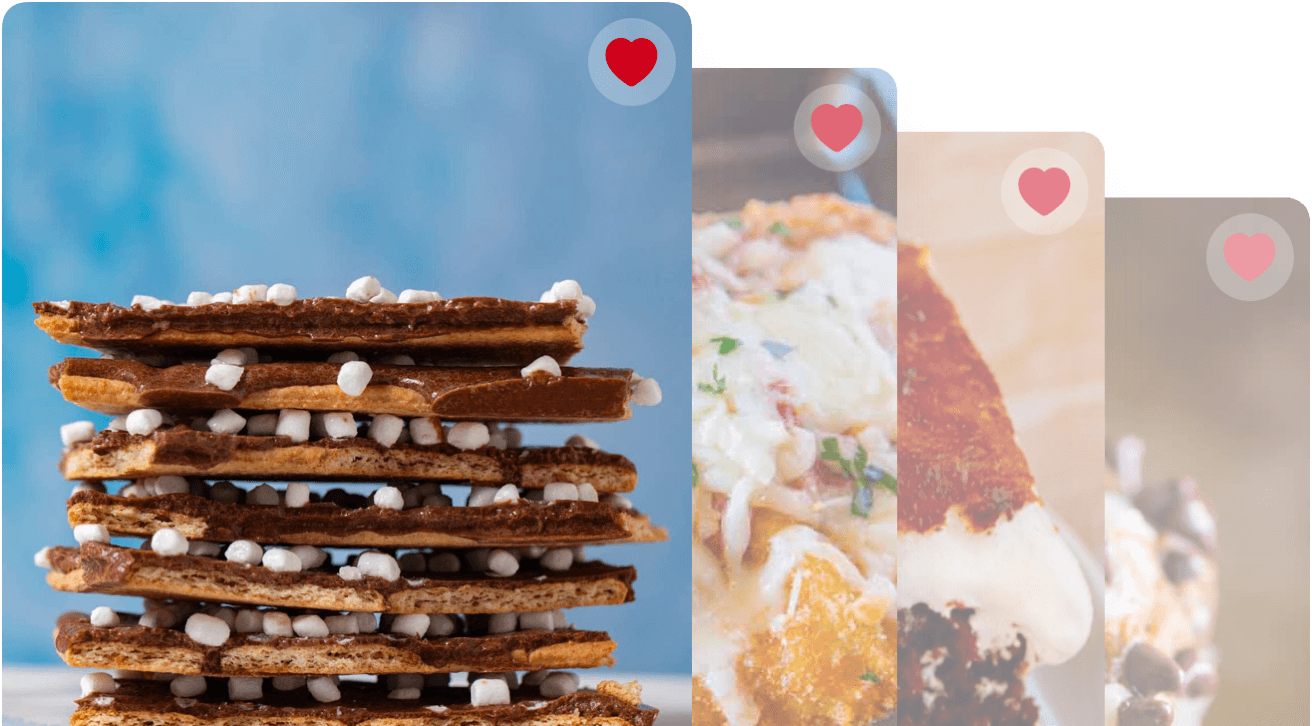 Key Ingredients in Sheet Pan Grilled Cheese Sandwiches
Bread: A thick sandwich bread, like country white bread, will make your grilled cheese sandwiches nice and crunchy on the edges while still being soft on the inside.
Cheese: Using two slices of cheese per sandwich helps it melt faster and give you that beautiful cheese pull. Use mild, medium, or sharp cheddar, or a combination of your favorite cheeses.
Butter: We always recommend using unsalted butter for recipes. Then you can control how much salt is added to your dish. For these toasty grilled cheese sandwiches, sprinkling kosher salt over the unsalted will add a delicious savory bite to the outside of each sandwich without adding too much sodium to the cheesy meal.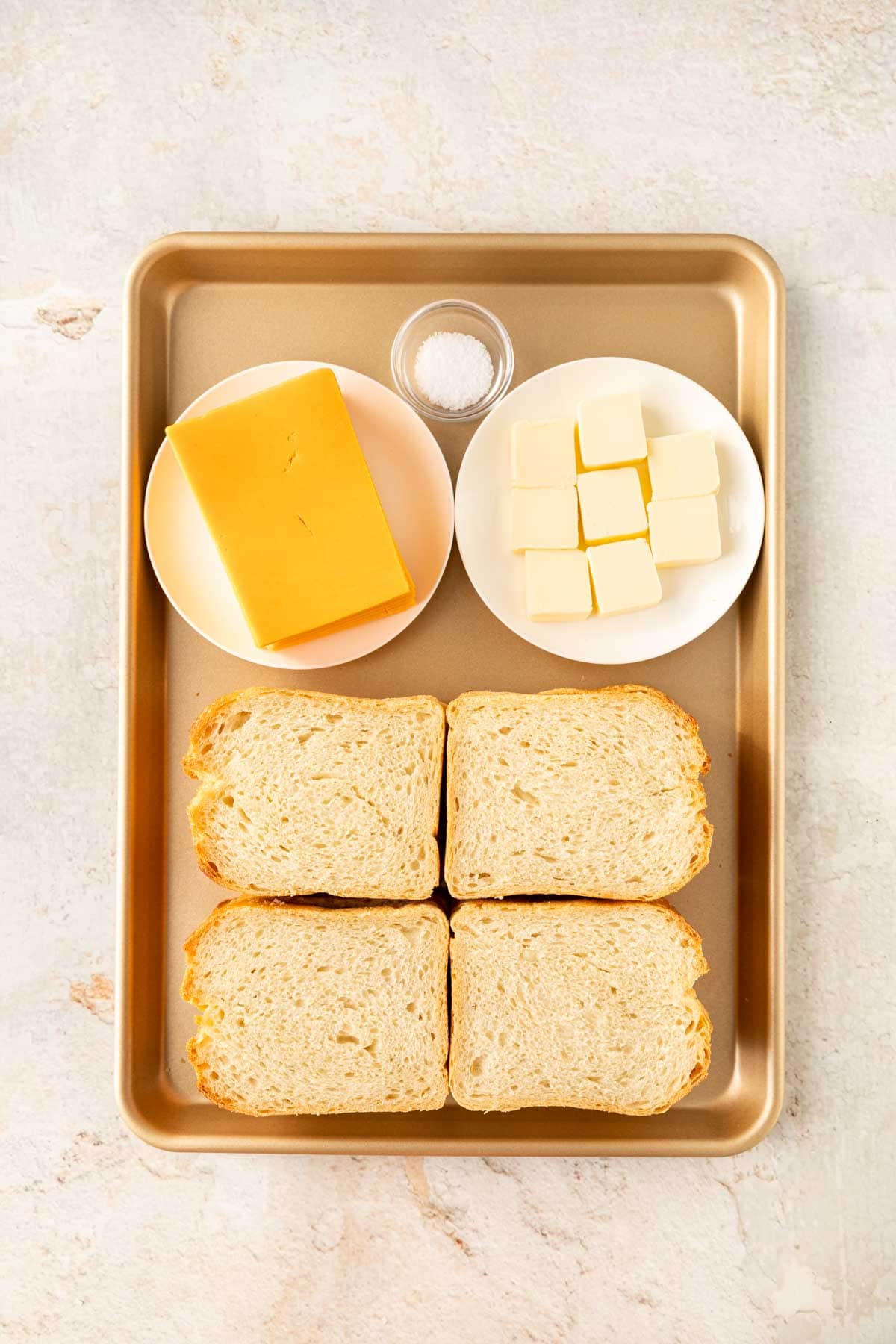 Variations on Sheet Pan Grilled Cheese Sandwiches
Cheese: You can experiment with the types of cheese you use in your Sheet Pan Grilled Cheese Sandwich. Try out your favorite flavors with white cheddar, Monterey Jack, gouda, mozzarella, provolone, Pepper Jack cheese, Swiss cheese or any combination of cheeses.
Bread: Step up your grilled cheese by asking your favorite local bakery to thickly slice a loaf of your favorite sandwich bread. Try Italian bread, French bread, brioche bread, sourdough, or wheat bread.
Vegetables: Grilled Cheese Sandwiches are a great way to use up and enjoy veggies. Try adding sliced tomato, bell peppers, spinach, arugula, onion, and mushrooms. They're a great way to get some fresh flavor and extra texture in your sandwich.
Meat: Sandwiches are also a great way to use up leftover meat. You can add in some Grilled Chicken, ham, bacon, or turkey for some extra protein and delicious flavor.
Mayo: Instead of butter, try using mayo to grease your slices of bread. Place the bread mayo-side-down on your baking sheet to cook.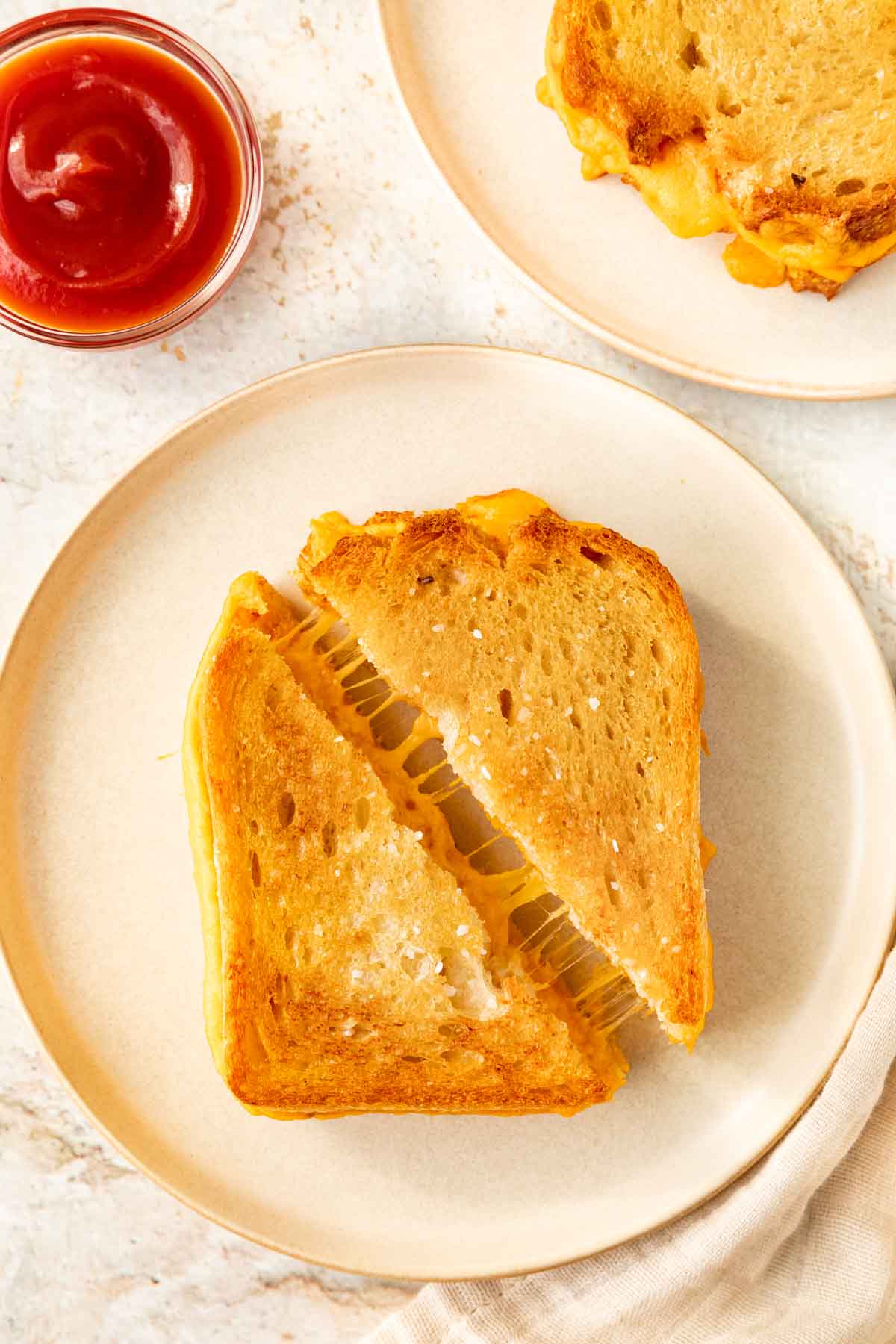 Sheet Pan Grilled Cheese Meal Ideas
Mexican Style Grilled Cheese: Use a combination of Pepper Jack and cheddar cheese, along with sliced jalapenos and shredded chicken or carnitas, for a Mexican inspired sandwich. Serve with Tortilla Soup.
Italian Style Grilled Cheese: Sprinkle Italian seasonings over sliced mozzarella and provolone, and sprinkle parmesan and garlic powder onto the buttered bread. Serve with Italian Wedding Soup.
Caprese Grilled Cheese: Layer sliced mozzarella, fresh basil, and sliced tomatoes inside rustic bread. Serve alongside a fresh garden salad with balsamic vinaigrette.
French Grilled Cheese: Use brie or camembert cheese with thin slices of pear inside rustic French bread. Serve with fresh fruit.
Breakfast Grilled Cheese: Add ham or bacon to your Sheet Pan Grilled Cheese Sandwiches and serve with scrambled eggs.
Cheeseburger Grilled Cheese: Use up leftover ground beef from tacos or Sloppy Joes by sprinkling it over cheese slices before baking and serve with french fries.
Pizza Grilled Cheese: Layer mozzarella, pepperoni, and your favorite pizza toppings inside Italian bread. Dip into warm marinara sauce.
Ideas for Serving Sheet Pan Grilled Cheese Sandwiches
Kid Cutouts: Cut sandwiches into fun shapes before baking to get kids excited for lunchtime!
Party Buffet: Put out an assortment of cheeses so guests can build their own sandwich before they all bake together.
Strips for Soup: Slice each sandwich in half, then half again lengthwise to make strips perfect for dunking into a mug of tomato soup.
More Easy Sandwich Recipes
How to Store Sheet Pan Grilled Cheese Sandwiches
Serve: Don't leave your Sheet Pan Grilled Cheese Sandwiches at room temperature for more than 2 hours.
Store: Grilled Cheese is best enjoyed fresh, but if you have leftovers wrap them in plastic wrap and store them in the fridge for up to 24 hours. Reheat the Grilled Cheese in your oven or on the griddle.
Freeze: Kept sealed from moisture, you can also freeze the sandwiches for up to a month but they are best served fresh.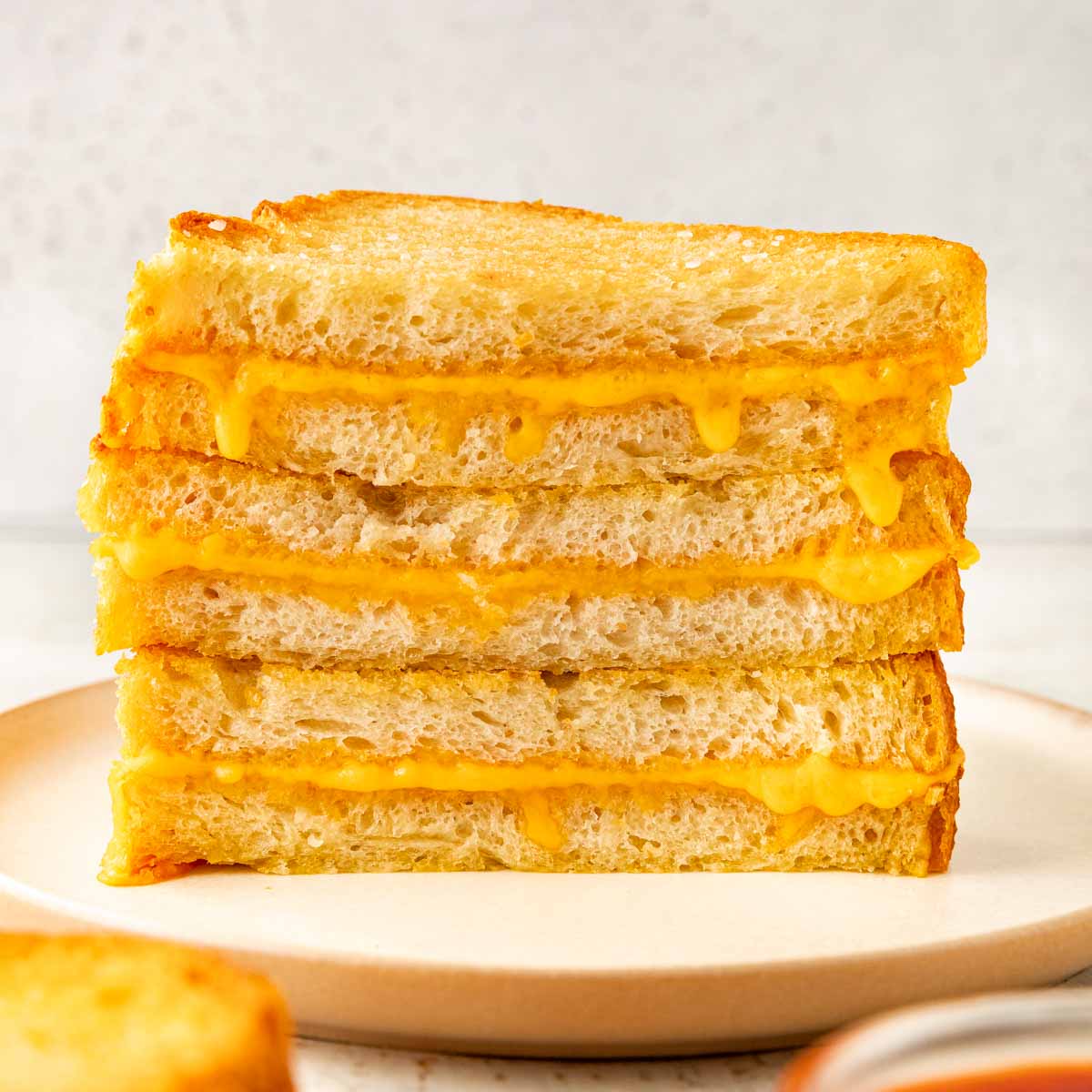 Ingredients
8

tablespoons

unsalted butter

, melted

1

teaspoon

kosher salt

16

slices

thick sandwich bread

16

slices

cheddar cheese
Instructions
Preheat oven to 400 degrees.

Brush butter on one side of each slice of bread.

Sprinkle with kosher salt.

Add 8 slices buttered side down to a large baking sheet.

Add 2 slices of cheddar cheese.

Add the remaining bread slices, butter side up (away from the rest of the sandwich).

Cook for

10 minutes

, flip and cook for

5 minutes

.
Nutrition
Calories:
370
kcal
|
Carbohydrates:
25
g
|
Protein:
13
g
|
Fat:
24
g
|
Saturated Fat:
15
g
|
Cholesterol:
66
mg
|
Sodium:
749
mg
|
Potassium:
91
mg
|
Fiber:
1
g
|
Sugar:
3
g
|
Vitamin A:
691
IU
|
Calcium:
379
mg
|
Iron:
2
mg