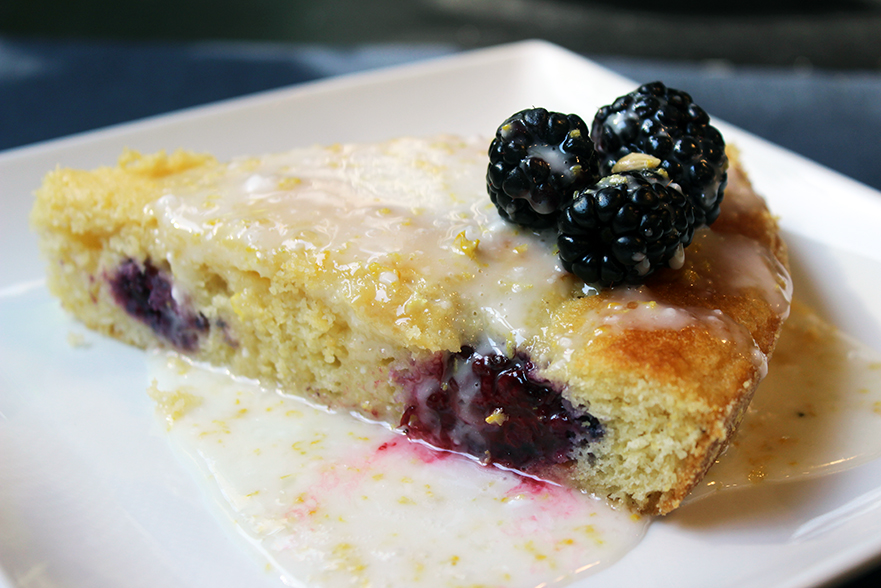 I'd like to start this recipe with a great story about how my great grandmother hand ground dried corn into cornmeal for a secret family recipe, but this is what happened… I had just finished making some Cornmeal Pancakes and I had a half a cup of cornmeal left over. I looked over at my fresh produce and saw a couple of lemons left over from my Garlic Paste recipe. So what did I do? I looked online for lemon cornmeal recipes.
A few hundred pins and a fair bit of googling turned up a delicious sounding cake recipe I thought looked great! With some fresh blackberries thrown in, we were less than an hour away from a delicious brunch dish.
Position rack in center of oven and preheat to 350°F. Butter 9-inch-diameter cake pan with 2-inch-high sides; coat with cornmeal. Combine flour, cornmeal, sugar, baking powder, and salt in large bowl; whisk to blend.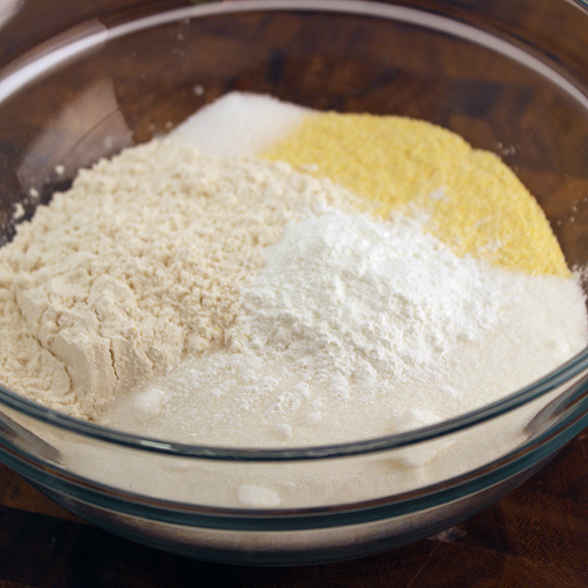 Whisk buttermilk, eggs, lemon peel, and vanilla in small bowl. Pour buttermilk mixture and melted butter into flour mixture.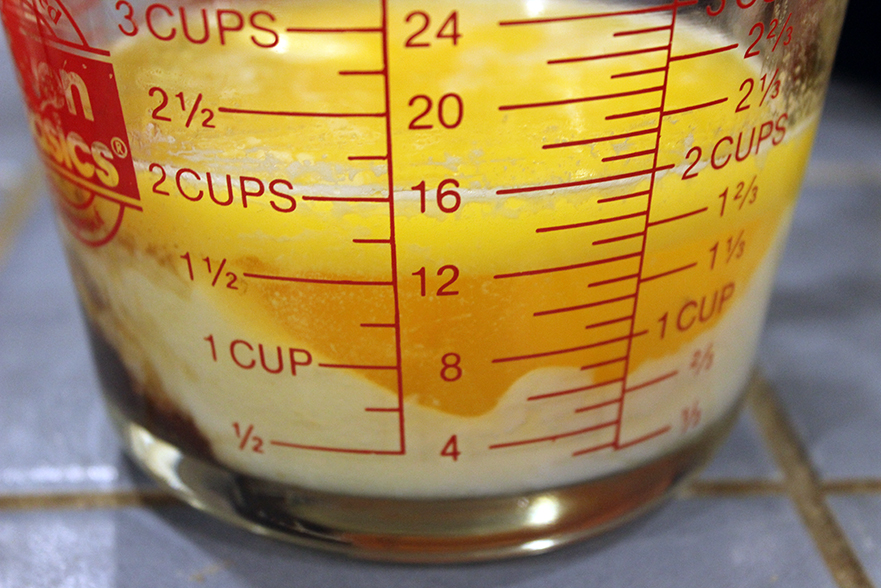 Gently fold liquids into flour mixture until just blended (do not stir). Press the blackberries gently into the cake. Spread evenly in pan.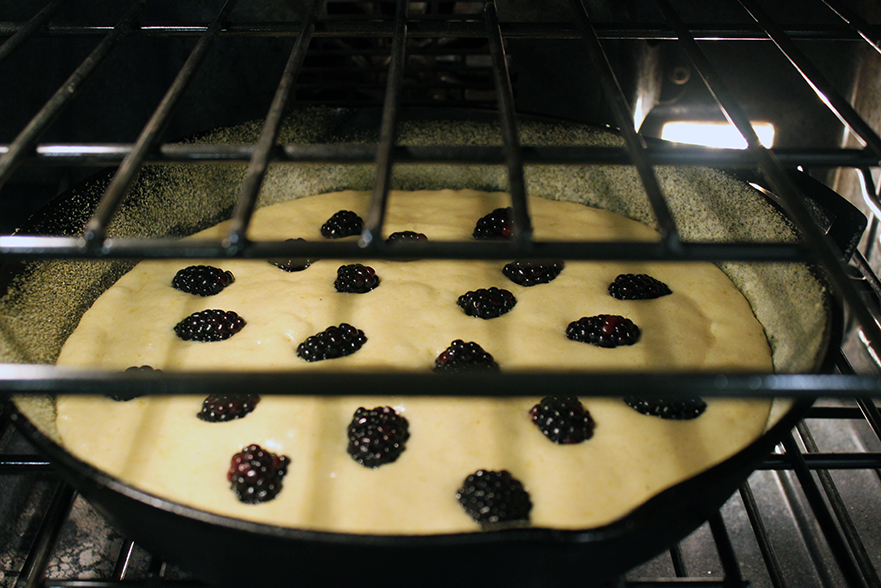 Bake cake about 30 minutes, until it springs back when gently touched.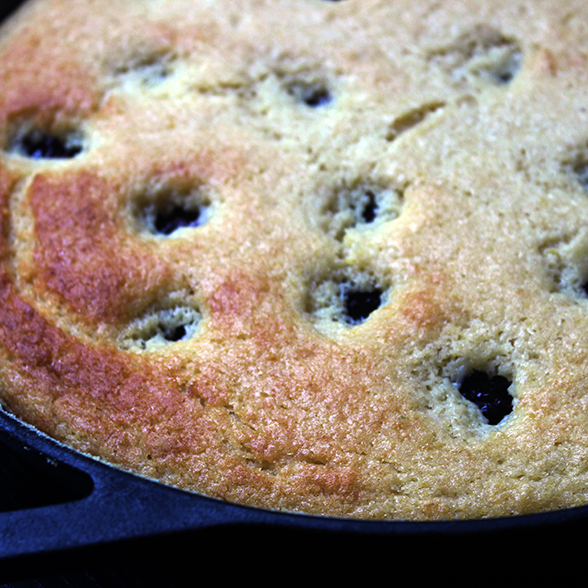 Combine powdered sugar, lemon juice, lemon peel and vanilla extract in a small bowl.
Stir with spoon until smooth and paste-like, adding more lemon juice by 1/2 teaspoonfuls if glaze is too thick to pour.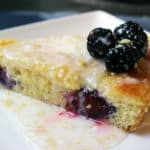 Lemon Cornmeal Cake with Blackberries and Lemon Glaze
A satisfying brunch dish with a familiar cornbread taste with fresh fruit and lemony glaze.
Ingredients
1 1/2

cups

all purpose flour

1/3

cup

yellow cornmeal

3/4

cup

sugar

3 1/2

teaspoons

baking powder

1/2

teaspoon

salt

1

cup

buttermilk

2

large eggs

1

tablespoon

finely grated lemon peel

3/4

teaspoon

vanilla extract

1/2

cup

(1 stick) unsalted butter, melted, cooled

1/2

pint

blackberries

, washed and gently dried

Glaze:

1 1/2

cups

(packed) powdered sugar, sifted

2

tablespoons

(or more) fresh lemon Juice

zest of one lemon

1

tsp

vanilla extract
Instructions
Position rack in center of oven and preheat to 350°F.

Butter 9-inch-diameter cake pan with 2-inch-high sides; coat with cornmeal.

Combine flour, cornmeal, sugar, baking powder, and salt in large bowl; whisk to blend.

Whisk buttermilk, eggs, lemon peel, and vanilla in small bowl.

Pour buttermilk mixture and melted butter into flour mixture.

Gently fold liquids into flour mixture until just blended (do not stir).

Spread evenly in pan.

Bake cake about 30 minutes, until it springs back when gently touched.

Let cool.

For glaze:

Combine powdered sugar, lemon juice, lemon peel and vanilla extract in a small bowl.

Stir with spoon until smooth and paste-like, adding more lemon juice by 1/2 teaspoonfuls if glaze is too thick to spread.

Pour over the cake
Recipe Notes
Adapted from Epicurious/Bon Appetit: http://www.epicurious.com/recipes/food/views/lemon-cornmeal-cake-with-lemon-glaze-and-crushed-blueberry-sauce-352048