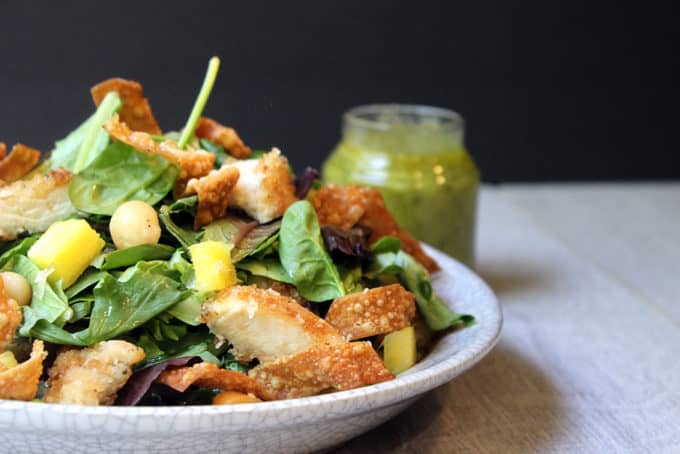 I promised you on Thursday that there would be a round two to the Macadamia Crusted Chicken recipe and here it is! It is a really easy reinvention, turning the chicken into a salad topper and the salsa into a dressing in about 30 seconds. Mixed greens are topped with fresh chopped pineapple, macadamia nuts, crispy wonton strips and leftover crispy chicken. We re-imagine the salsa into a delicious vinaigrette with the addition of rice vinegar and olive oil.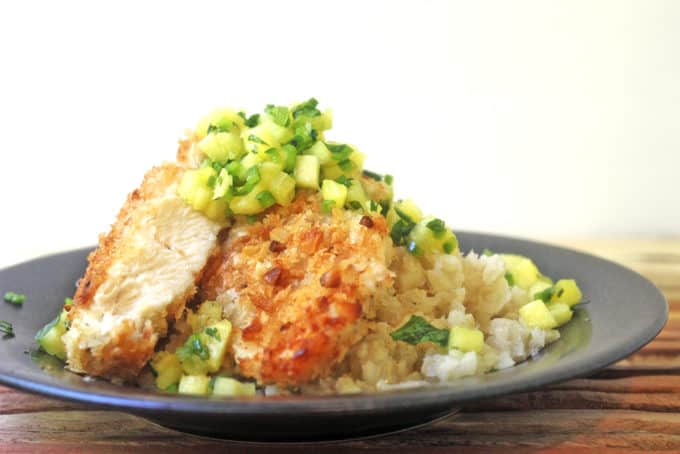 This salad is a tropical escape and even with the addition of the olive oil, this dressing is a light accompaniment to the salad. You can also use grilled chicken in this salad, the rest of the flavors are bright enough that it will still be completely delicious!
This week has been a wonderful one! Yesterday I celebrated my anniversary to the greatest person I have ever met and on Thursday Clinton Kelly from The Chew actually retweeted me. Excuse me while I have a total nerdy moment. I mean, c'mon…how cool is this! If it wasn't the week of our anniversary, this alone would have made my week.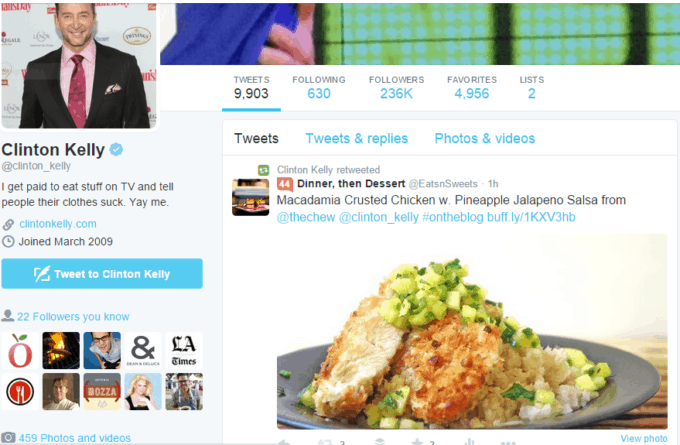 Have you ever been on Twitter and had a celebrity moment? This blog is six weeks old and in that time I have been retweeted or favorited by some of the coolest people: Clinton Kelly, Sarah Moulton, Wolfgang Puck (I nearly screamed out loud when this happened) and Emeril Lagasse. Before the blog, I was not quite sold on the concept of Twitter. Seeing the level of interaction I have experienced in such a short period of time, I am now a convert.
The irony of it is I grew up in Los Angeles and have had many interactions with celebrities who aren't chefs and they've never fazed me. A couple of days ago my husband and I were driving in Yountville, CA and drove past French Laundry only to see Chef Thomas Keller in the picture window of the kitchen just a dozen feet away working with his staff. I was in complete and utter shock and just wanted to drive up and down the street to get another glimpse. Being the amazing husband he is, he completely understood why I completely freaked out and actually got excited for me. Isn't he the best?
I've gone off topic, haven't I? We were here to make a salad! Don't worry, we will be done with this salad in just a couple of minutes!
Chop up leftover macadamia chicken. Great eaten cold, or you can put in 350 degree oven for 8-10 minutes. Put mixed greens in a bowl. Top with pineapple and macadamia nuts.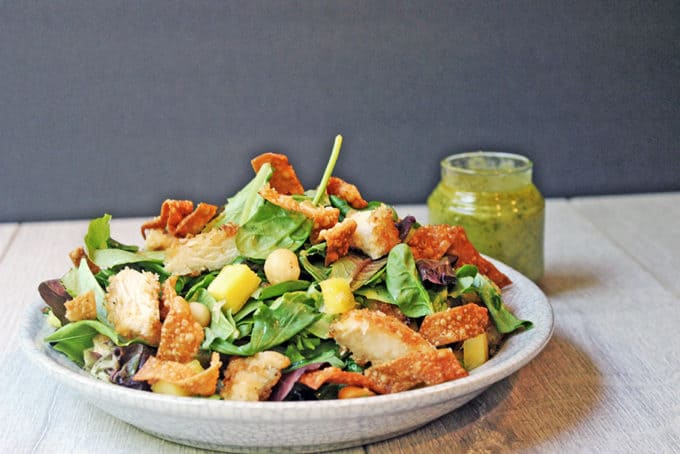 To make dressing:
Combine leftover pineapple salsa with rice vinegar, olive oil and cilantro in food processor until smooth.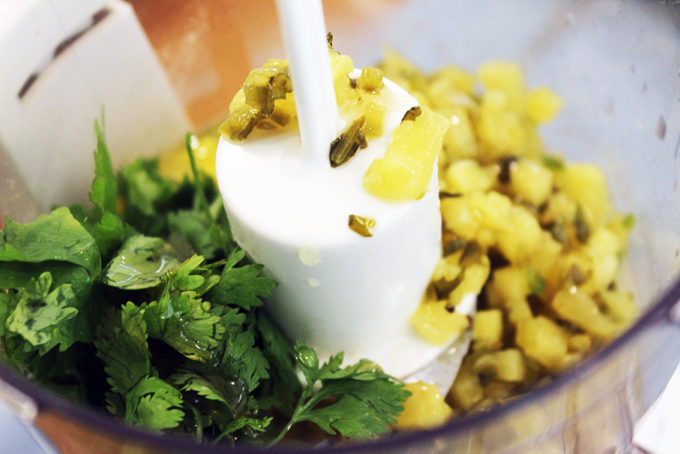 Finally lets top the salad with the crispy wonton strips. You can buy these pre-made if you would like, but I had just made an easy shortcut ravioli using wonton wrappers so I had extra left over. I cut them into half inch wide strips and fried them in canola oil for about 20 seconds. Then I let them drain and cool on a baking sheet.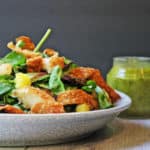 Tropical Luau Chicken Salad with Crispy Wontons
Ingredients
Mixed Greens

Leftover Chicken from Macadamia Crusted Chicken

Chopped Pineapple

, in 1/2 inch chunks

macadamia nuts

wonton wrappers

oil for frying

Dressing

Pineapple Salsa

3

tbsp

Rice Vinegar

6

tbsp

Olive Oil

1/4

cup

chopped cilantro
Instructions
Put mixed greens in a bowl.

Top with pineapple and macadamia nuts

Chop up leftover macadamia chicken. Great eaten cold, or you can put in 350 degree oven for 8-10 minutes.

To make dressing:

Combine leftover pineapple salsa with rice vinegar, olive oil and cilantro in food processor until smooth